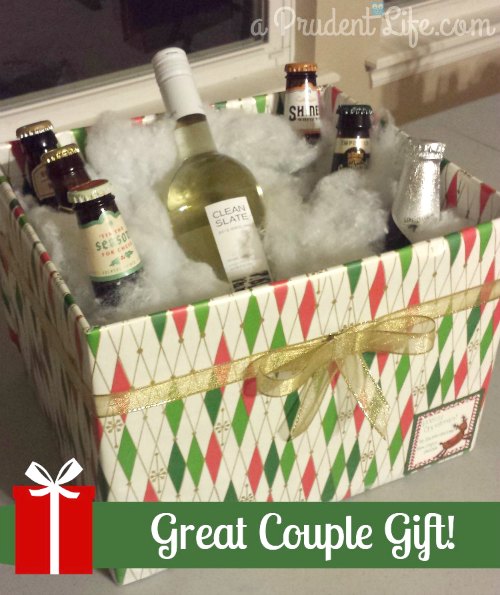 Need a last minute gift for friends or siblings? I've got a super cute solution.
Sorry I don't have better pictures, this was an unplanned project & post. After it was done, I decided it needed to be shared with the world!
We started with a bottle of wine (for her) and six individually selected bottles of beer (for him). Then, out of the blue my husband asked if we could pack them in snow.  My first thought was along the lines of "you've got to be kidding me, it's almost 10:00, I'm exhausted, and now you want SNOW?!?".  Second thought was that it was a brilliant idea. Dang him!
It all came together quickly. I wrapped the outside and visible interior of a liquor store store box. Next, I added the ribbon & bow. This was much easier to do before filling the box.
Then I let it snow, let it snow, let it snow!  I started with a layer of polyfill on the bottom of the box before wrapping each bottle with more polyfill. It worked perfectly to have the wine in the middle and three beers on each side.
The bottle are all protected from breakage, so it's functional AND adorable.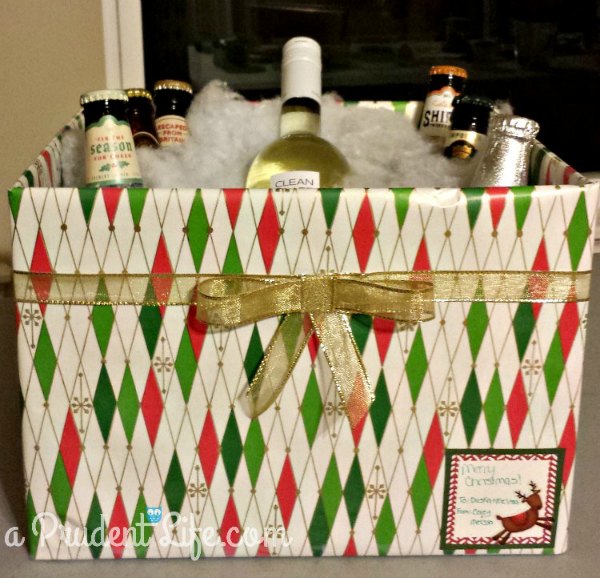 For more Christmas ideas check out my Wrapping Station or the  REALLY Last Minute Christmas Link Party.