Are you looking for the perfect inspiring or funny letter board ideas for spring? I've got you covered!
I scoured the internet for spring quotes AND then spent some time writing my own. I ended up with 24 phrases perfect for your letter board this season.
Don't have a letterboard? They'd also be great written on post-it notes around the house to make you laugh or inspire you to keep going as we push through the final month of winter. Or you can check out the great deals I found on letter board/ letter combos at the end of the post.
I added a few of my favorites around our house so you could see them in action!
6 Late Winter / Early Spring Letter Board Quotes
Until Next Time,
Old Man Winter
Source: Polished Habitat

Don't Let the Door
Hit You on the Way Out,
Winter. I Already
Spring-Cleaned the Glass.
Source: Polished Habitat

If Winter Comes,
Can Spring Be
Far Behind?
Source: Percy Bysshe Shelley

Hello,
Spring Fever
Good Riddance,
Flu Season
Source: Polished Habitat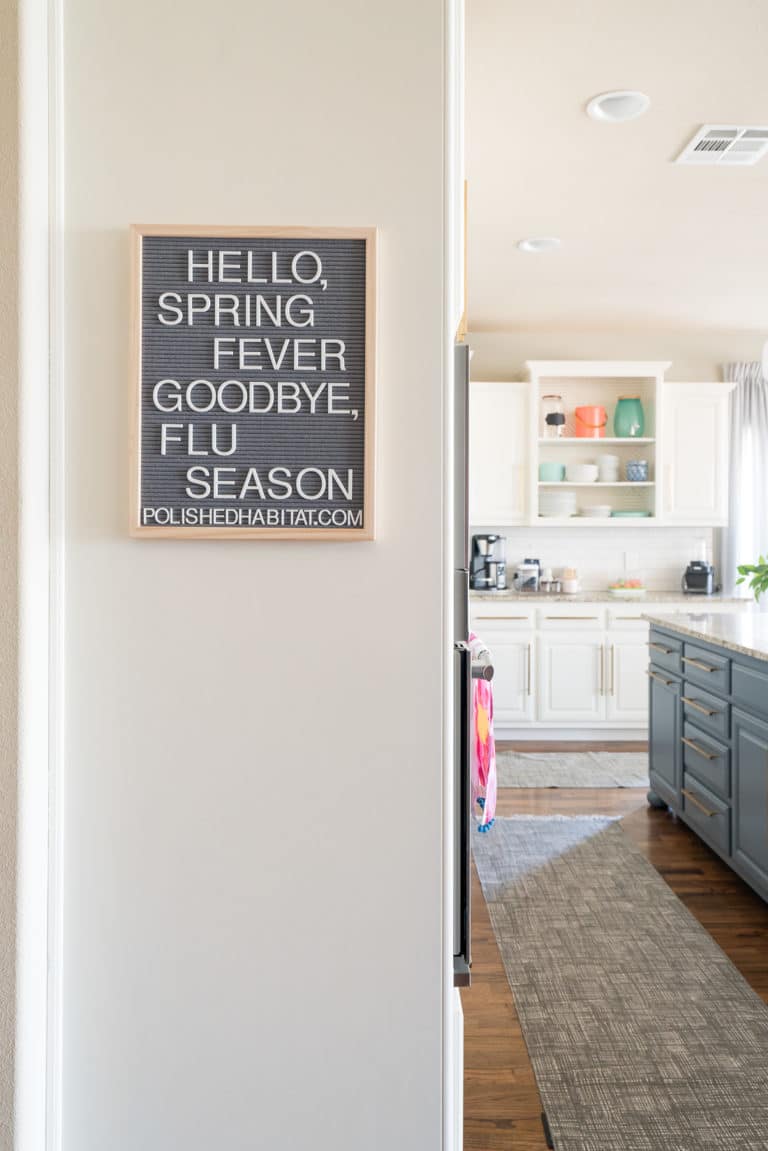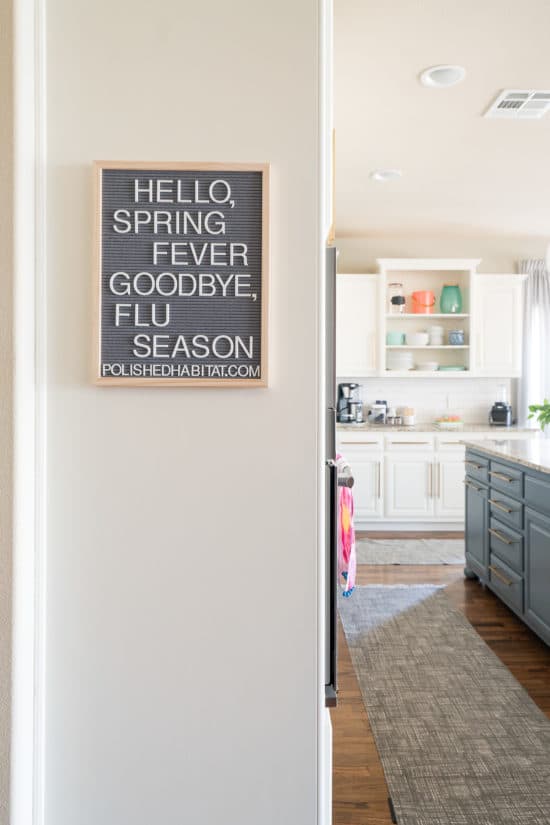 Despite the forecast,
live like it's spring.
Source: Lilly Pulitzer
If We Had No Winter,
the Spring Would Not
Be So Pleasant.
Source: Anne Bradstreet

8 Funny Spring Letter Board Phrases
Now Auditioning:
Spring Cleaning Fairies
Source: Polished Habitat
Spring Flowers:
Life's Gentle Warning
That Bathing Suit
Season is Coming.
Source: Polished Habitat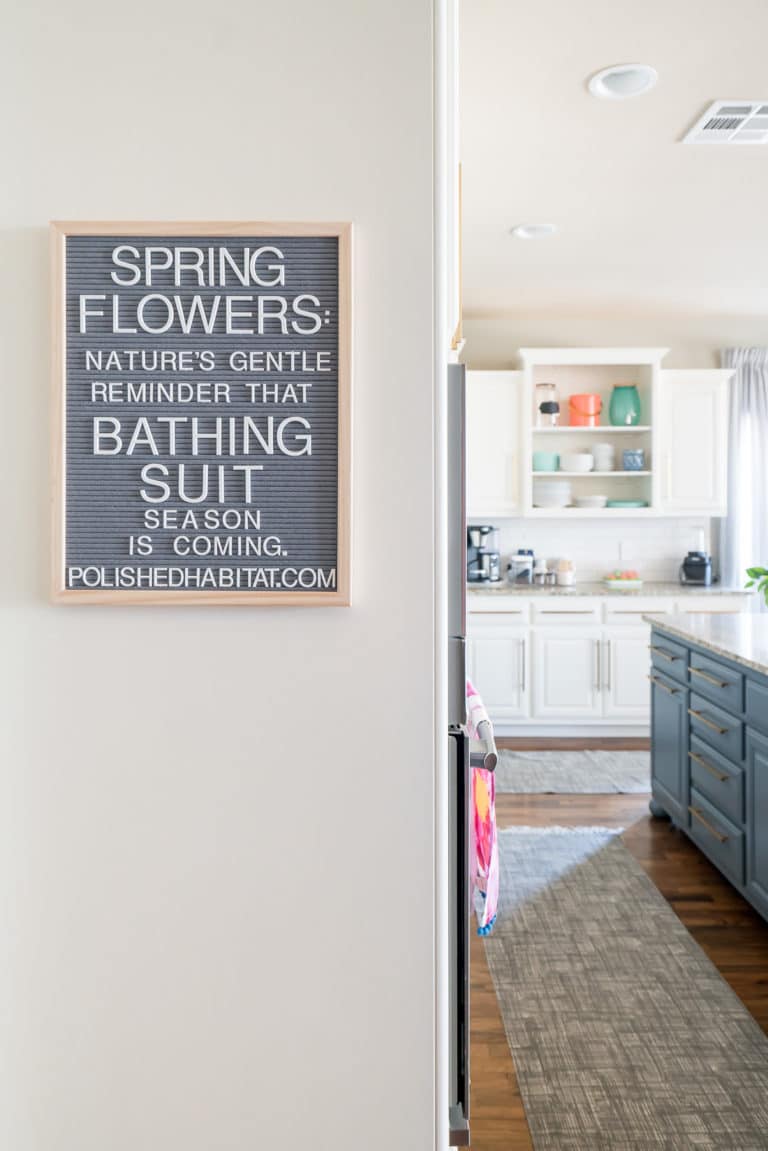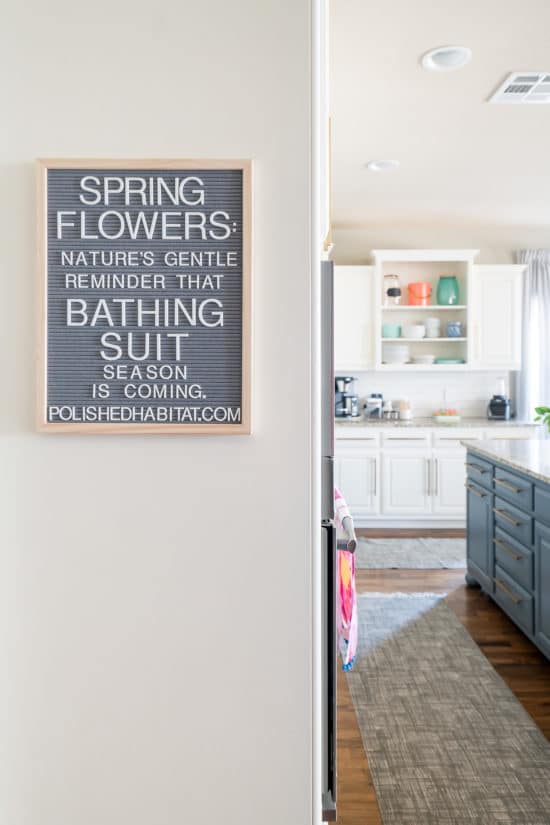 If Eating Cake is Wrong,
I Don't Want to Be Right.
Source: Lorelei Gilmore
It's Spring:
Open the Windows
and Pretend To Clean.
Source: Polished Habitat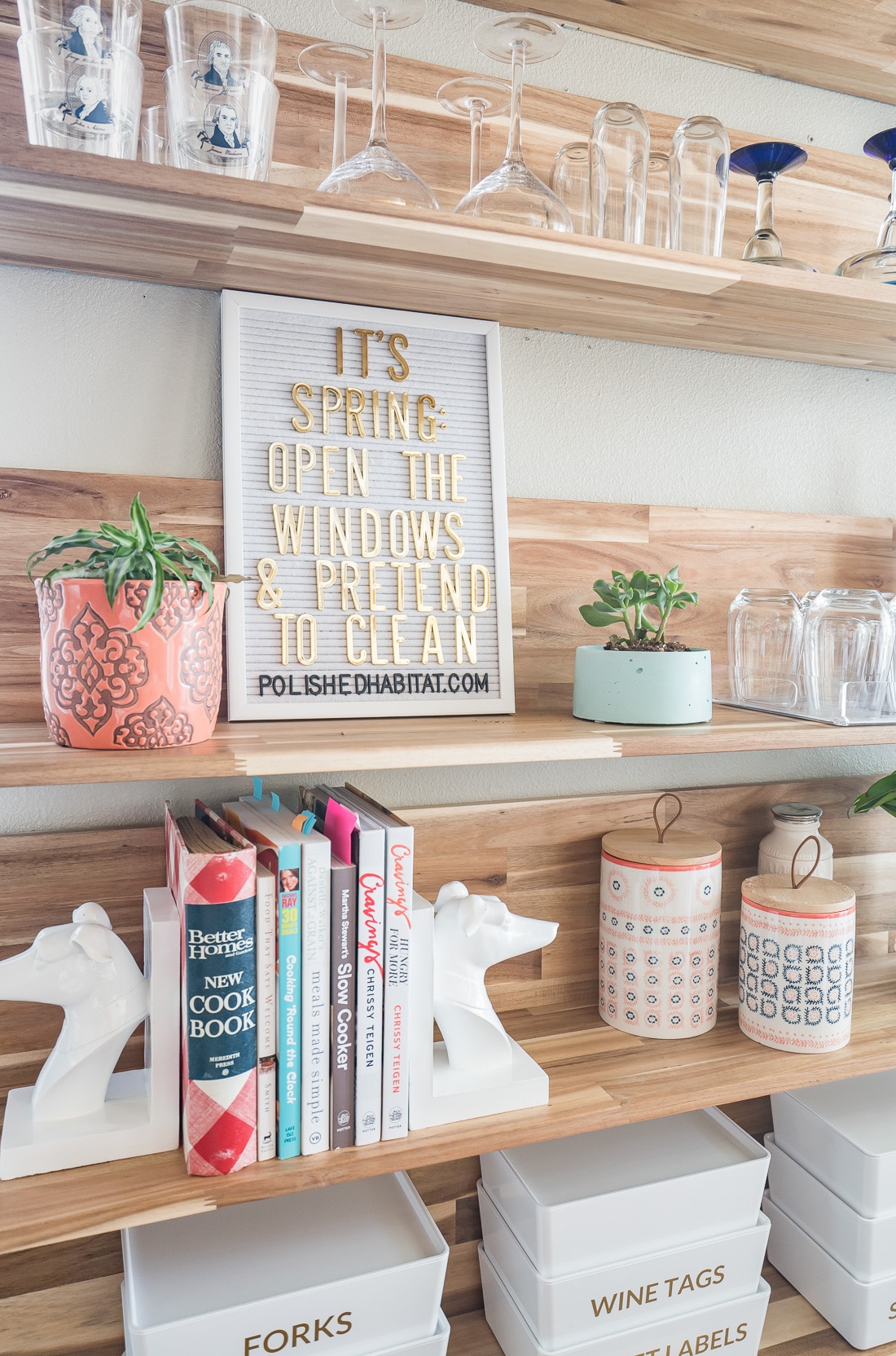 Spring is Nature's
Way of Saying,
'Let's party!'
Source: Robin Williams
The Gifts of Spring:
Flowers
Frozen Drinks &
Flip-Flops
Source: Polished Habitat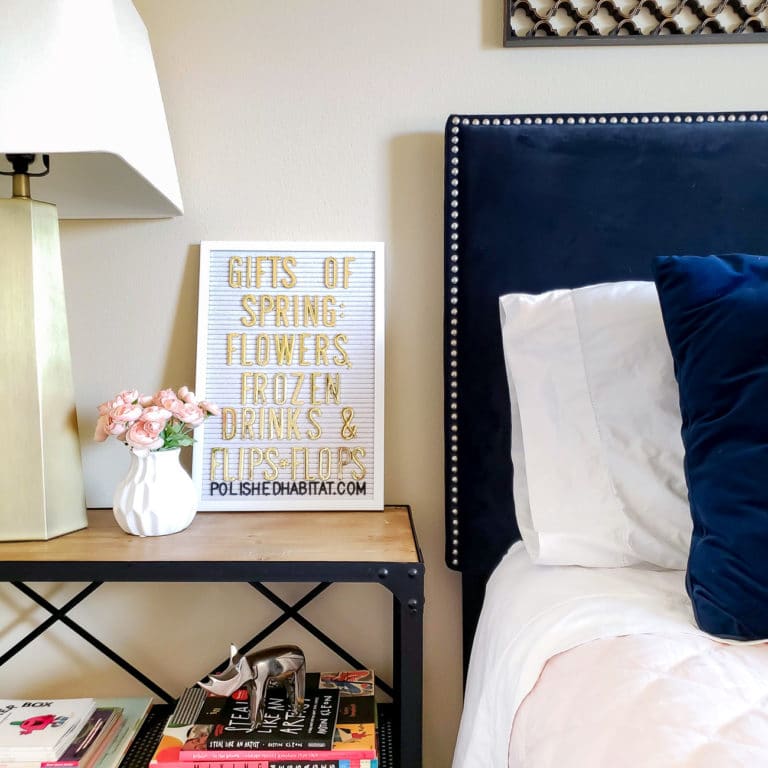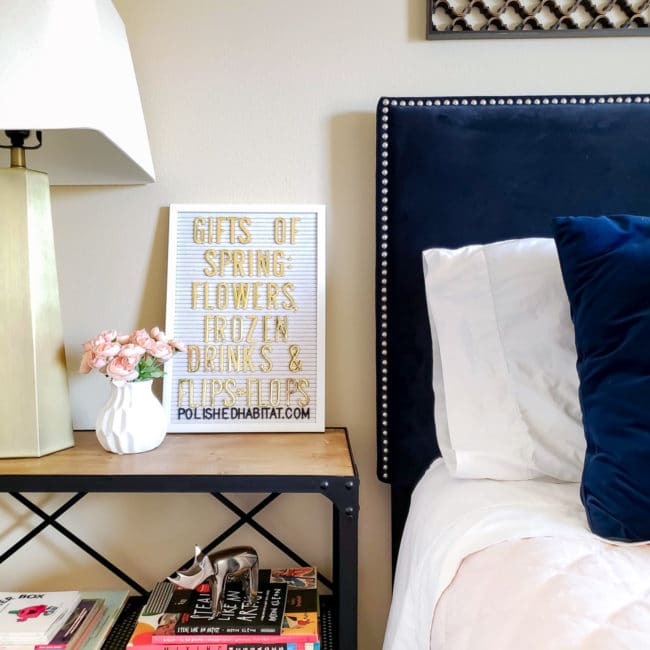 Spring in Oklahoma:
Taco Tuesday with a Side
Of Tornado
Source: Polished Habitat
A Day Without Sunshine
is Like, You Know, Night.
Source: Steve Martin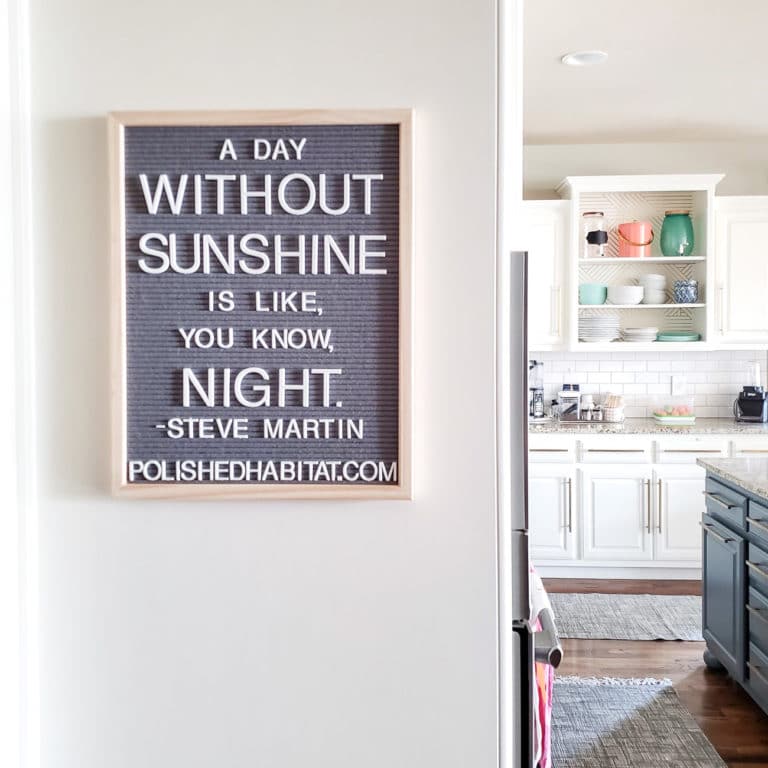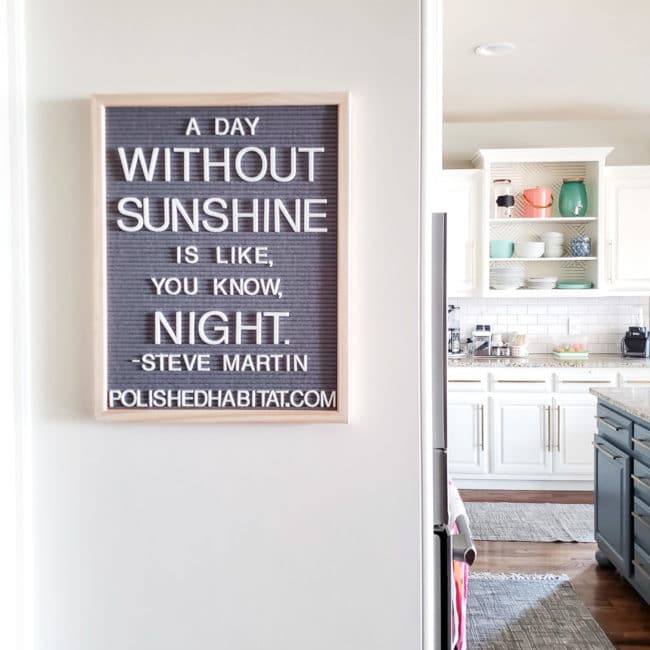 10 Inspiring Spring Letter Board Phrases
In Winter,
I Plot and Plan.
In Spring,
I Move.
Source: Henry Rollins
Spring is the
Time of Plans
and Projects.
Source: Leo Tolstoy

Some Old-Fashioned
Things like Fresh Air
and Sunshine are
Hard to Beat.
Source: Laura Ingalls Wilder
Don't Wait for Someone
to Bring You Flowers.
Plant Your Own Garden
and Decorate Your Own Soul.
Source: Luther Burbank

Weeds are Flowers Too,
Once You Get to Know Them.
Source: A.A. Milne
Live Life
Like Spring –
Always Finding
a Way to Bloom.
Source: Polished Habitat
*This one is also available as free spring printable art in either pink or blue!

It is Only the Farmer
Who Faithfully Plants Seeds
in the Spring,
Who Reaps a Harvest
in the Autumn.
Source: B. C. Forbes
The Way I See It,
If You Want the Rainbow,
You Gotta Put Up With the Rain.
Source: Dolly Parton
Live Life in
Full Bloom
Source: Unknown

Love & Tomatoes
Grow Here
Source: Polished Habitat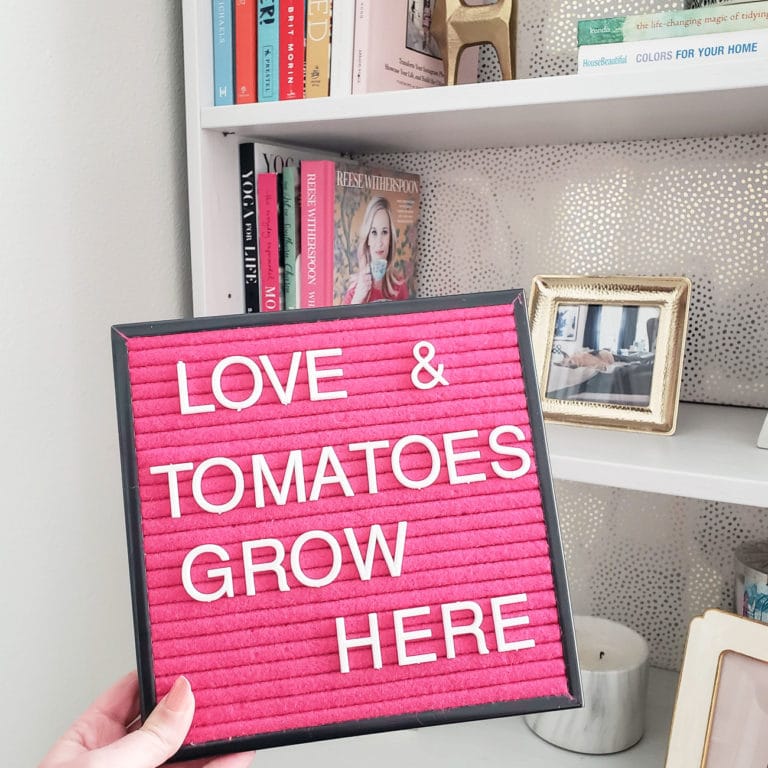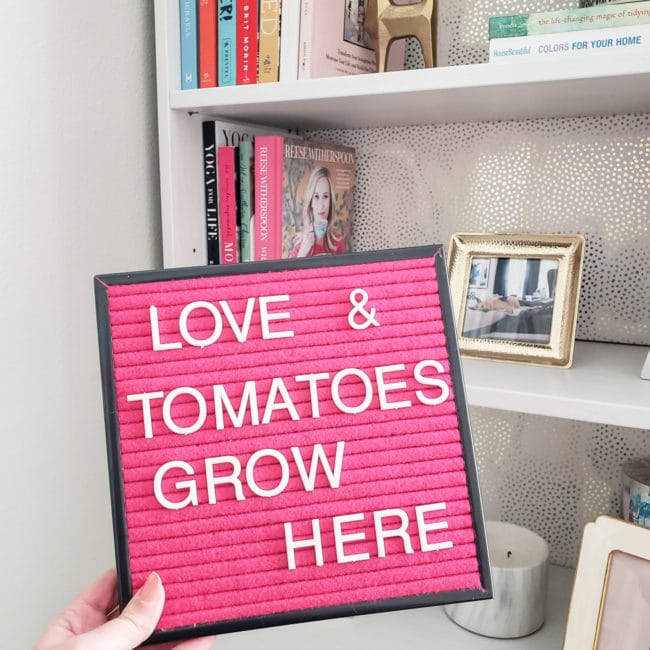 You may have noticed I have a few different fonts sizes and color options for my letter boards. Most were random lucky clearance finds!
That said, I've found that the letters from Target tend to fall out of my boards, and the finish of the Target gold letters is REALLY inconsistent, so I don't recommend them even though I showed them on my board.
I found some other higher rated, but still affordable options online…several of which I currently have in my shopping cart. #addicted
1″ Gold Letters
Pink Letters (I NEED these!!!)
2″ White Letters
3/4″ Bronze Letters
1″ Navy Letters
1″ Silver Letters
And if you need a board, here's a few that look like really great deals!
12 x 12 Board w/ Letters & Emojis
12 x 12 Double Sided Black & Gray w/Stand
12 x 16 Gray
12 x 16 Black
12 x 18 Gray w/ White, Teal, & Pink Letters
Now that I've shared all my favorite spring letter board quotes, I want to hear your favorite.

Add it to the comments below and then head here to my letter board ideas for the rest of the seasons!