Wow, I woke up to a nice surprise this morning. Amanda from Well-Groomed House nominated me for a Liebster award.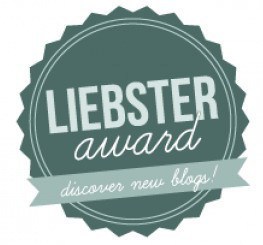 I confess, as a new blogger, this was another one of those things I didn't know anything about. So much to learn! After doing some reading, I found out it is a way for the blogging community to recognize new bloggers. You can't see me, but I'm doing a little happy dance and feeling discovered!
Here's how it works:
Liebster Award Rules 
1. Thank the blogger who presented you with the Liebster Award, and link back to his or her blog.
2. Answer the questions from the nominator; list 10 random facts about yourself, and create 10 questions for your nominees.
3. Present the Liebster Award to several other bloggers, who have blogs with 200 followers or less, whom you feel deserve to be noticed. Leave a comment on the blogs letting the owners know they have been chosen.
4. Upload the Liebster Award image to your blog.
Here we go!
Amanda sent me some great questions – some of them were not so easy to answer!
1. If you didn't blog what would you do with all your spare time?
I'm pretty sure spare time is a myth. 🙂  In 2011, I was finishing my bachelor's almost full time, working more than full time, selling  our old house & building a new house – ALL AT THE SAME TIME! I expected to have lots of spare time when all that was over. But it never happened!
2. Cat or dog person? Or both?
100% dog.  We have a German Shepherd, Maddie, who pretty much rules the house.
3. What is your most prized possession?
Does Maddie count? I mean, she's microchipped that she belongs to me, so she's a possession right? Other than that, it seems like everything is replaceable.
4. What is your most favorite post you have written (please link)?
I was pretty thrilled with how my Give Thanks DIY Wall Art turned out. Once it's published, I think my house tour will be my favorite. This is our third home and the first one that hasn't been purchased to be a stepping stone. We still have some projects and big blank walls, but I love it anyways!
5. Describe yourself in three words.
Balanced, punny (but not pun!), klutzy
6. What is one skill or hobby you have that is totally opposite from blogging?
My degree is actually in Accounting. It's NOT a hobby, but it is VERY different from blogging. I've had to learn that in blogging (and life) perfection is not required. Accounting needs perfection.
7. What do you love / hate about social media?
I LOVE building relationships with people who I never would have met in my offline life. It's so amazing to see all the creative ideas and advice everyone has to offer. I HATE that there are so many social media platforms to balance.
8. What are your future plans or goals for blogging?
I want to provide content that truly helps people live better in small ways.  Life is so short and so precious, but so many of us get caught up with day to day tasks that we either forget to enjoy today, or forget to plan for the future. I want to bring a balance of both of those things to my readers (and myself!).
And don't tell anyone, but I'd love to be on Rachel Ray! Kinda bizarre since I don't like being the center of attention.
9. Who is your biggest influence? I'm going to briefly pretend there was an S on the end of influence. The first blog I started following around 2008 was Hip2Save. Colin is very down to earth and funny, but she still provides very valuable content
Iheartorganzing is pure deliciousness. Can't get enough of it.
But if we go back to influence being singular, my real answer is Jesus. Being a Christian helps me find balance and peace in our crazy world!
10. Laptop or desktop? Mac or PC?
PC laptop, Android tablet, and occasionally Mac desktop. Of the three, I'm most attached to the Android OS. In fact, I  just gave my iPad 2 to Target during the $200 giftcard promotion so I could buy a Galaxy Tab 3. And I love it.
11. If you could have any super power what would you choose?
Today, I would like my fingers to type EXACTLY what my brain is thinking without typos, word swaps, or the need for proofreading. Tomorrow, I may want to transport myself with the blink of an eye.
Random facts about me:
1. I got married on my 19th birthday (14 years ago!)
2. My grandma's birthday is one day before mine AND she also got married on her 19th birthday.
3. I LOVE cheesy Christmas movies and Christmas music.
4. I was the last member of my extended family to be born in Minnesota – everyone migrated to Oklahoma around the time I was born.
5. My husband thinks I have way too many shoes and purses. He's wrong.
6. I took two trips to New Orleans to help restore homes after Katrina. I had amazing experiences both times and recommend serving with Samaritan's Purse to anyone interested!
7. I love nail guns.
8. I also love nail polish.
9. I kissed the Blarney Stone on my 18th birthday.
10. I'm hooked on So You Think You Can Dance, even though I know I CAN'T Dance.
Now the fun part – I get to nominate other new bloggers! Here are my top picks:
…and here are your questions:
1. How did you come up with the name of your blog?
2. Iphone/Android/or Neither?
3. Did you have a favorite childhood pet?
4. When do you start decorating for Christmas?
5. Favorite Christmas ornament?
6. If you could pick five celebrities to follow your blog, who would they be?
7. Beauty product you can't live without?
8. Favorite type of exercise?
9. What's the most important thing on your to do list today?
10. Favorite social media platform (Twitter, Instagram, Facebook, etc)
Thanks again to Amanda at Well-Groomed Home for nominating me! Go check out her awesome door knob revamp – wish I would have tried it at our old house. Scary ugly knobs.