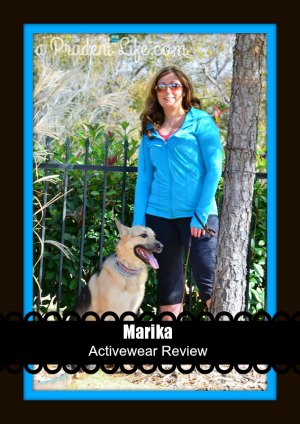 A huge part of living a prudent life is taking care of your body. Making good food choices and exercising today will leave you in better shape to enjoy your future. I know this, and try to live it, but sometimes I still need a burst of external motivation to exercise. I received an invitation to review Marika activewear, and thought some new gym clothes would give me one more reason to get to the gym, so I jumped at the opportunity. Most of my workout gear is C9 from Target and it has always gotten the job done. I was excited to try a higher quality brand, but pretty skeptical that I would be able to tell a difference.
I was SO wrong! I received the Sanded Flat Waist Capri in Black and the Adrenaline Acceleration Jacket in Caribbean Sea. When I took the items out of the box, I could immediately feel the difference. The capris were much thicker than my others, but not in a bad sweatpant kind of way. More in a "wow, I don't have to worry about these being see-through & they feel so luxurious" kind of way! They fit true to size, the waist was a great height for me, and they stayed in place during yoga. How could I not love a jacket that comes in "Caribbean Sea" blue? It's not just pretty – it's functional. My main intention when I selected it was to wear it to and from the gym now that the cooler weather has arrived. THEN I realized it would be great for days I have to run into Target on my way home from working out. THEN I realized it's great to walk the dog. THEN I realized it was really comfy to wear around the house. AND THEN I crafted in it. Not on purpose so I could reference it in the review, just because I was living in it. I didn't realize this until I was editing the pics for my DIY Wall Art Tutorial. My favorite features of the jacket are thumb holes that allow the tops of my hands to stay warm outside, the zippers on the pockets to keep keys from getting lost, and the super soft dry wik material. The hood also comes in handy on extra cool days. I did order one size up on the jacket and I'm glad I did. I think a medium would have been too snug.
The original prices on Marika are a little higher than what I normally spend. Luckily, they seem to have good sales. At the sales price, you are getting a much higher quality product at a great price.
 THROUGH 3/21/14 ONLY: Get 30% off  CLEARANCE items using code MADNESS30

I received these items at no charge for review, however all opinions are my own (as always). Links may be affiliate links, which means you get the same great prices & I get a small commission for referring you, which helps pay for the blog. Win win!