We made it! Five crazy weeks from the time we began, our blood, sweat, and tears have culminated into an absolutely dreamy glam organized master closet.
I thought my first One Room Challenge was tough when I transformed our pantry. Then the garage was even more challenging this spring.
Clearly, my pattern is to just keep pushing us to the limit, because the closet project felt way worse than the garage. Thank goodness the end result was 100% worth the struggle.
I think I may start sleeping and working in the closet. That's normal, right?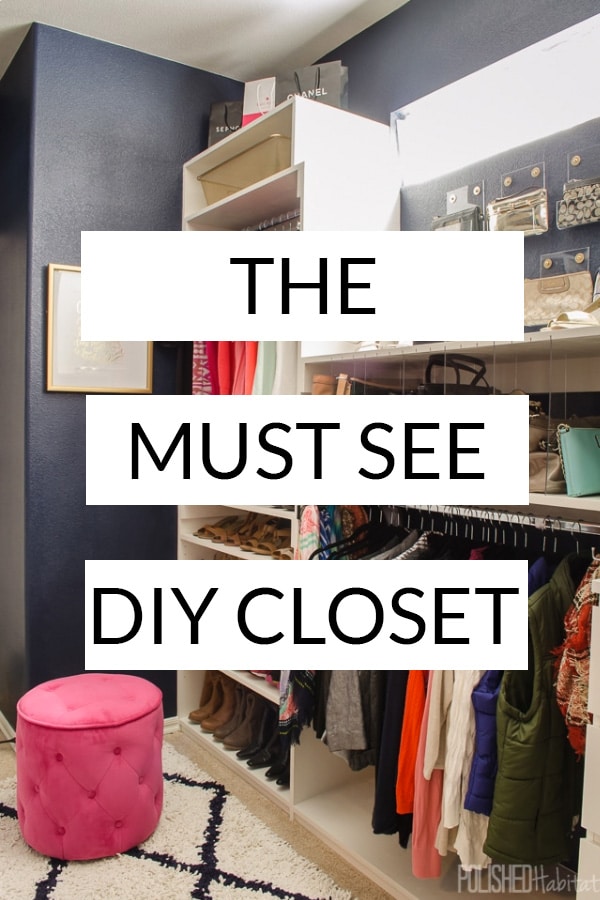 Today's post is going to be all about the photos, but you can find the full source list here.
If you are wondering what I'm talking about, we gutted the master closet down to the drywall 5 weeks ago as part of the One Room Challenge. Yes, I'm crazy. Luckily there were over 150 other crazies like me, also beating their heads against walls wondering why we decide to do this challenge twice a year. You can follow my progress starting in the week one post, and check out the rest of the rooms at the host blog, Calling it Home.
Let's remember where we started – with a beige on beige on beige dysfunctional closet.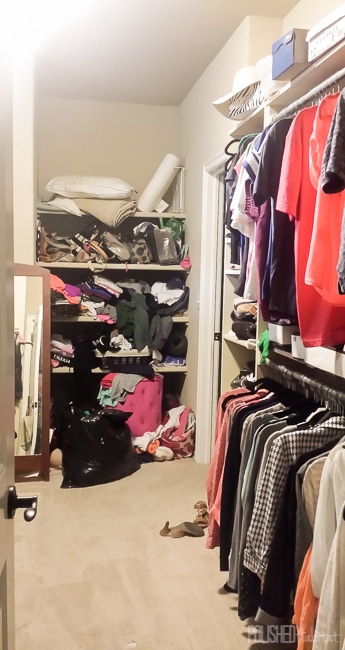 DIY Master Closet Before & After
I came up with a grand design plan, with no idea if we actually had the skills to implement it. There are some bloggers with KILLER building skills, but I'm not one of them. While my husband is willing to help (and I couldn't have done it without him), he's not a master woodworker either.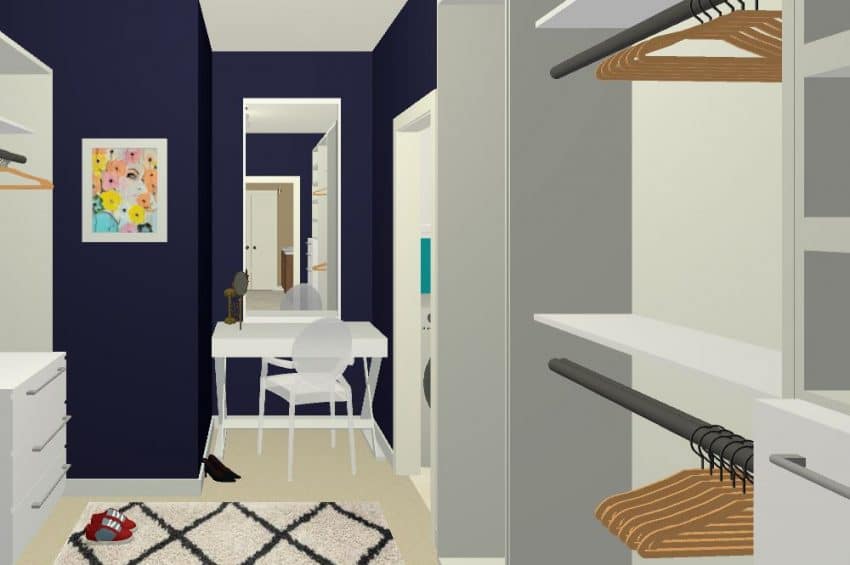 Lucky for us, hard work can overcome lack of skills. You might cry, but the following pictures are proof that persistence wins.
Are you ready?
It's good.
I'm kinda in awe that it's mine.
I'd pretty much love you forever if you took a second to pin your favorite pictures as you go. Really. Forever.
Oh, you want to SEE the pictures? Here we go!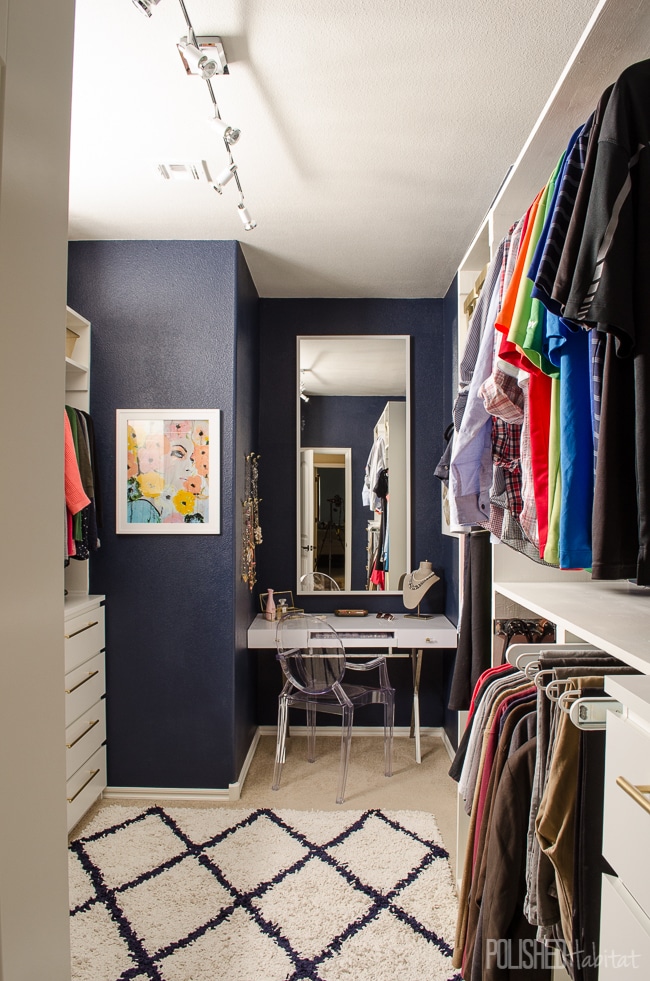 Pretty dang close to my mock up, right???
Let's take a closer look at HIS side. We used an Ikea MALM dresser, added glam hardware, and attached the shelving right to the dresser to create the built-in look without having to build drawers ourselves.
The shoe shelves are all adjustable, and we left space to create a bit of a staging area for him. The wooden tiered stand is a family heirloom from my grandparents. I love having something old among all the new!

ORGANIZING TIP:
I also have a post on how to organize dresser drawers!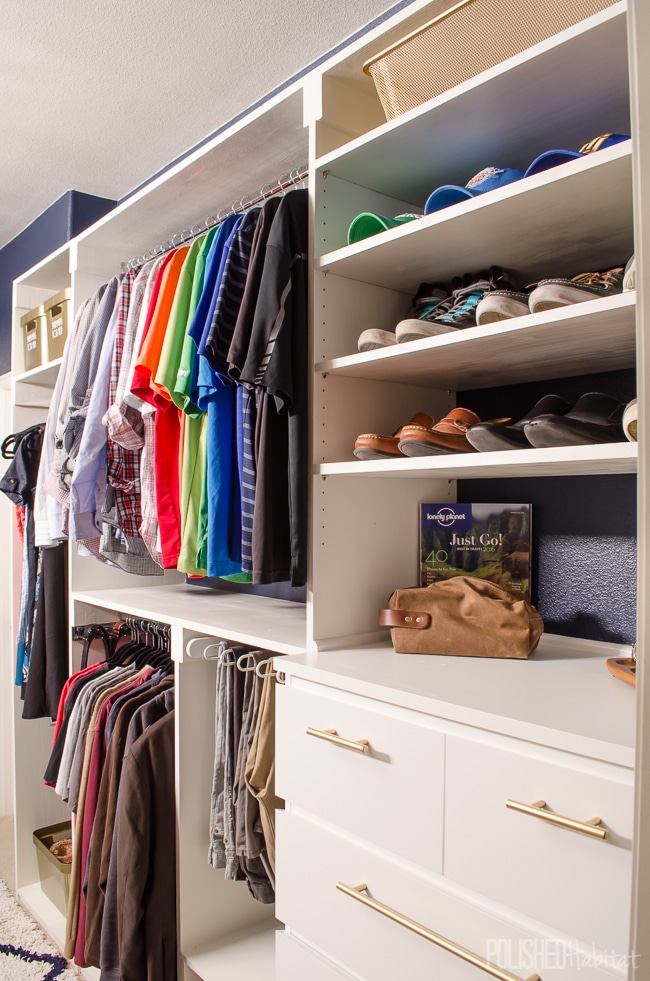 Next to the dresser, he has lots of hanging space, including a pull out pants rack. So fancy.
As you can see, I also got a little bit of his side for my dresses. Luckily he's good at sharing.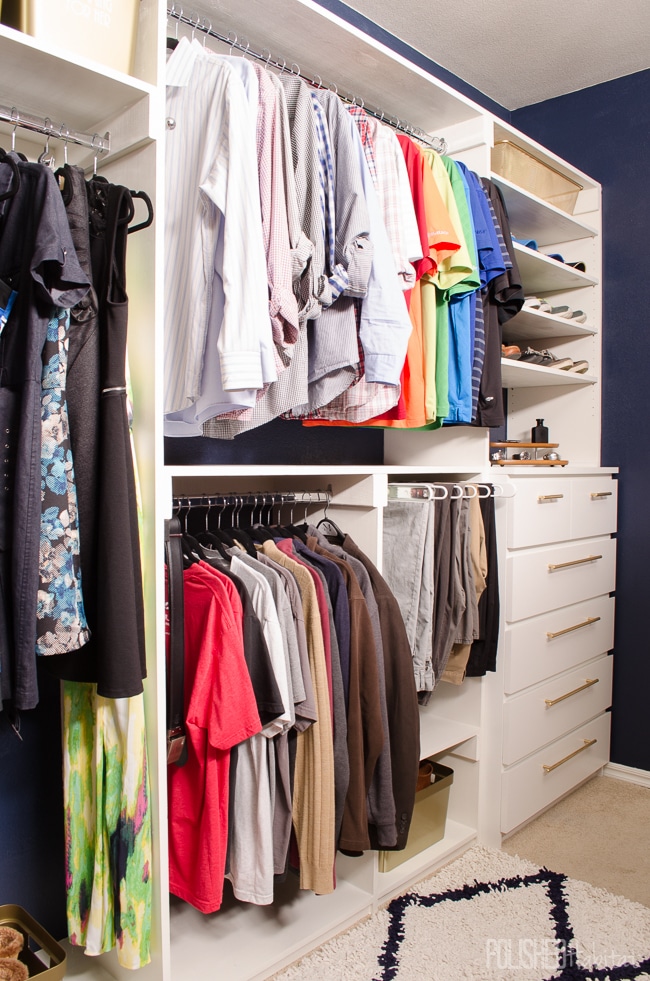 One of my favorite new features is the pull out valet rod. I've never been so excited to think about packing!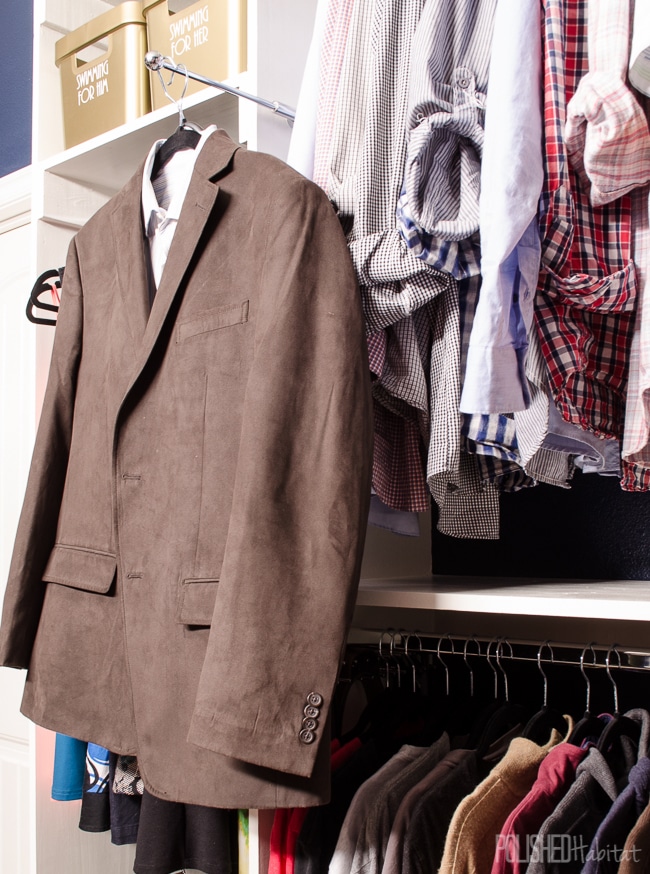 But enough about him, 95% of you are more excited about the glam goodies on my side, right?
The former abyss of disorganized, too-deep shelving is gone and now I've got a dream vanity area!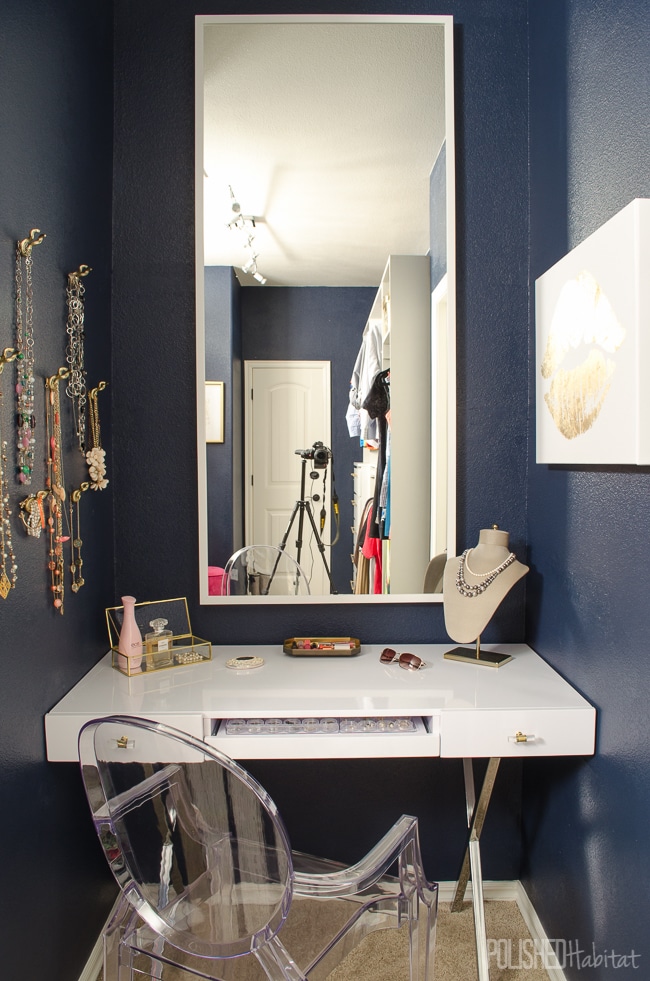 Last week I mentioned not knowing how I was going to hang the necklaces on the wall, and I had nightmares of ending up with pushpins because I was out of time. But sometimes you get lucky.
I found some amazing gold ram horn drawer pulls at Hobby Lobby and knew they'd be perfect the moment I spotted them. I threw those suckers in the cart before someone else could swoop in and steal them from me.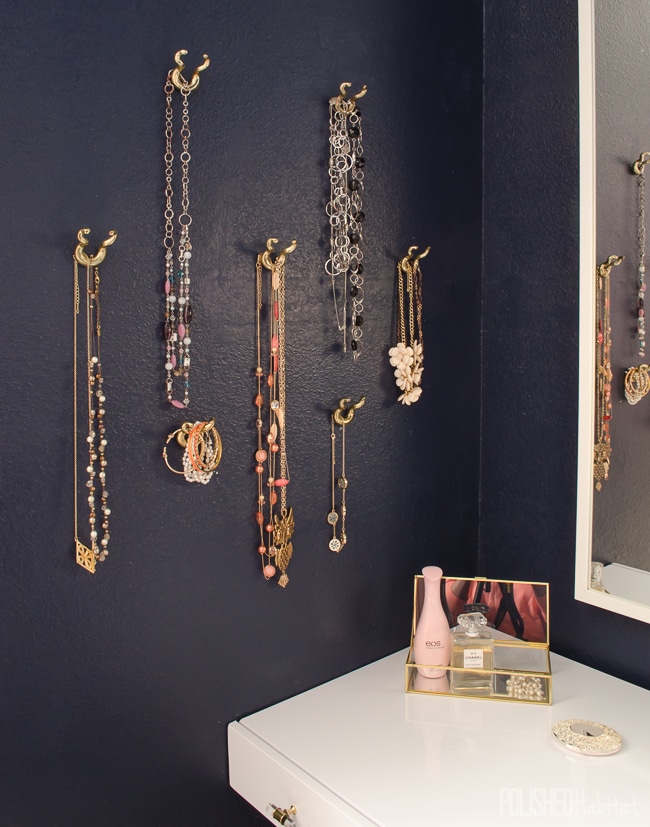 I also found some clear bead organizers that turn what is supposed to be a keyboard tray into ideal earring organization. Have I said "dreamy" lately? Please don't pinch me, I don't wanna wake up.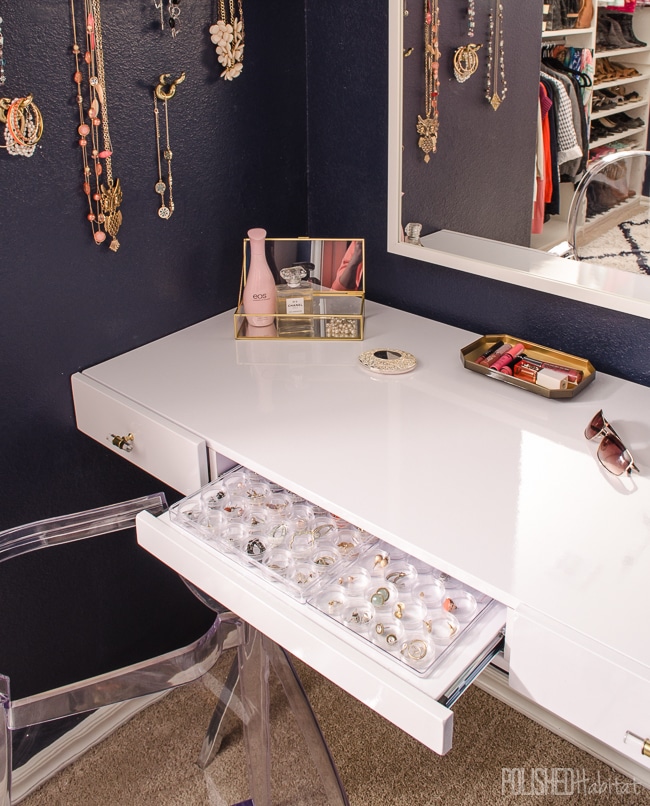 I'm not sure I ever thought I'd have art in the closet. But I love it!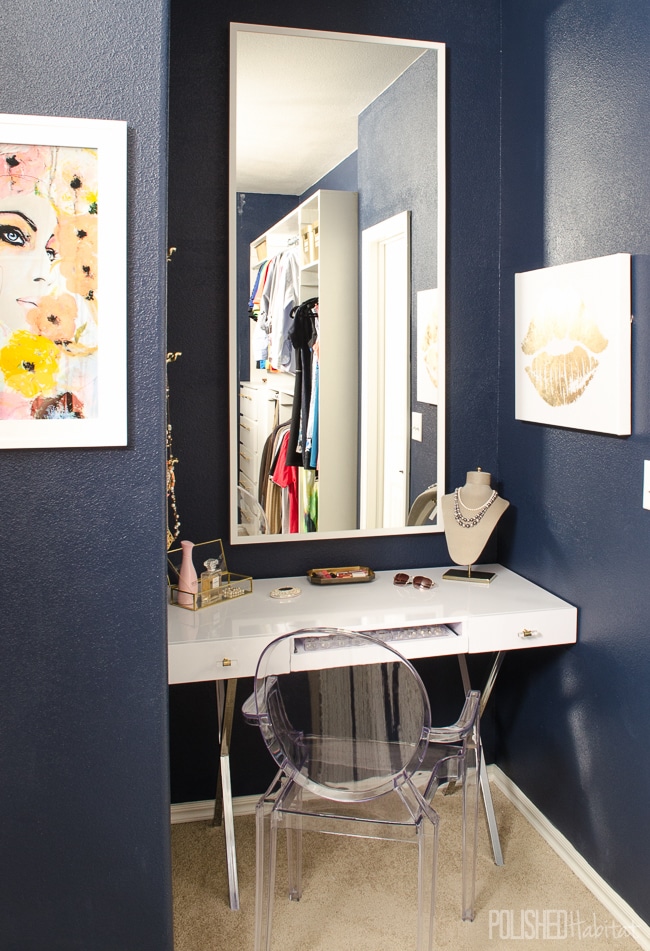 Let's check out another SCARY before of what used to be his side and is now mine.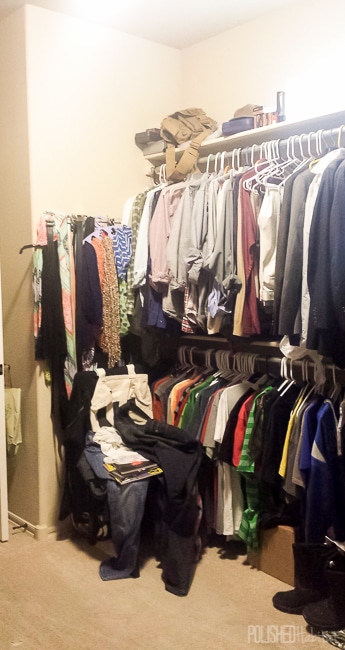 And now from the same angle…I have no words. I could spend an hour just scrolling back and forth between this before and after.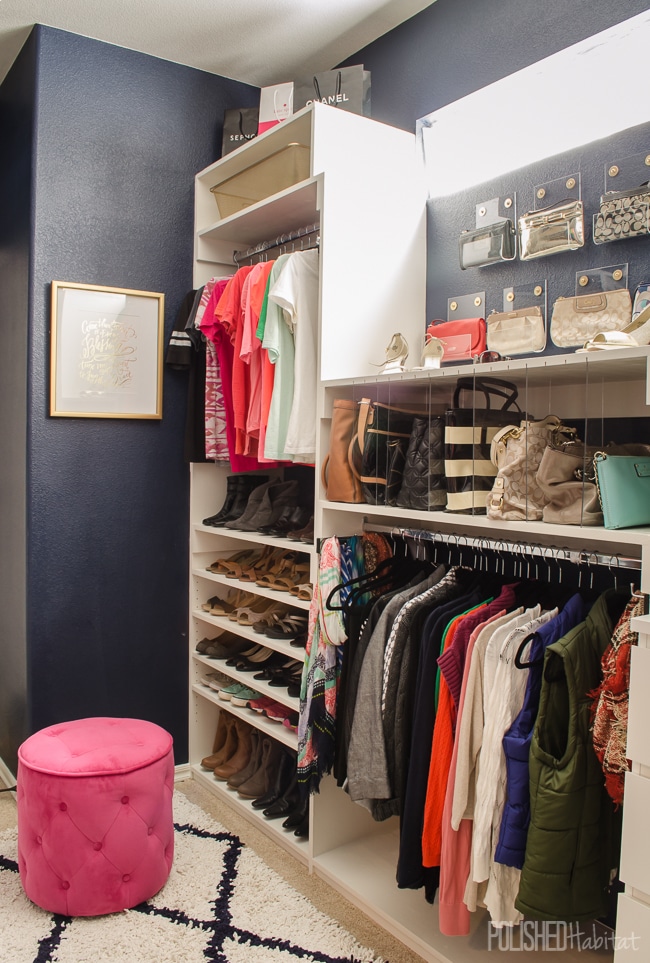 This was our first time working with acrylic, and while the end result was well worth it, I can't say it is our favorite medium to work with. I'm over that now though, because hello beautiful purse storage! Here's a link to the tutorial.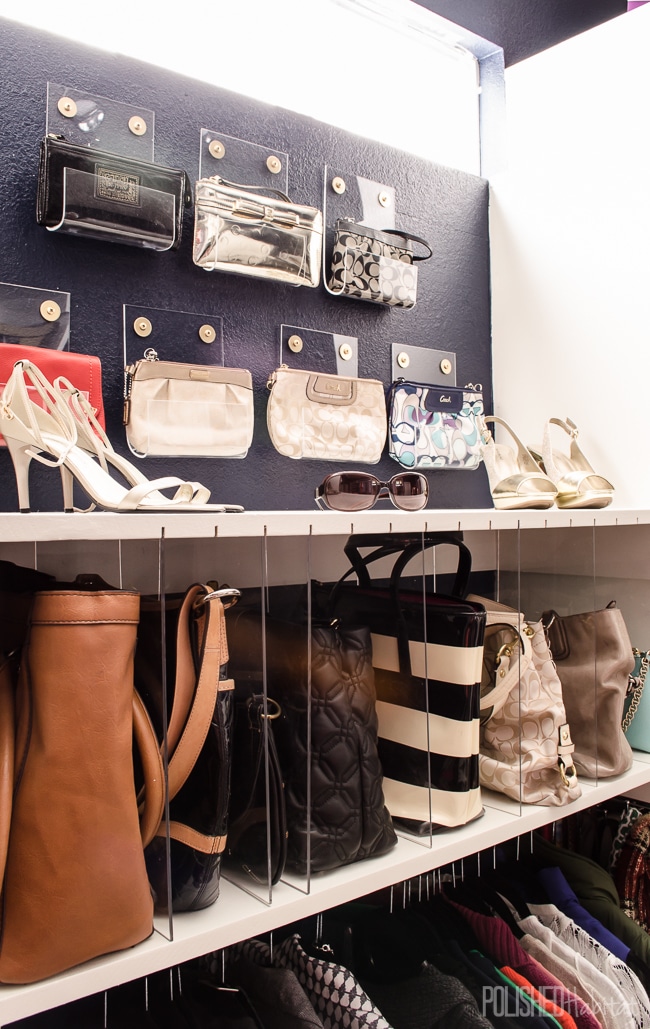 Purses are absolutely art to me, and I love that my little collection can be on display.
The REAL reason behind the clutch storage was that the window used to be obstructed by shelving. It made me crazy and one of my prime design challenges was figuring out how to maximize storage without putting a shelf directly below the window, which blocks the light. I had no idea my functional dilemma would turn into the best part of the room.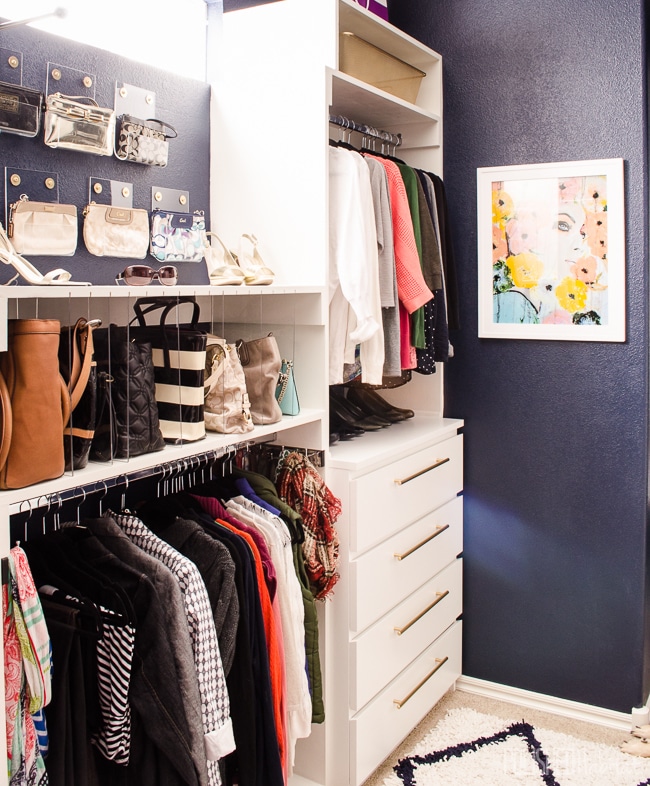 Um, did you notice the dog paw photo bomb? Maddie's a big fan of the closet too. Photography fail.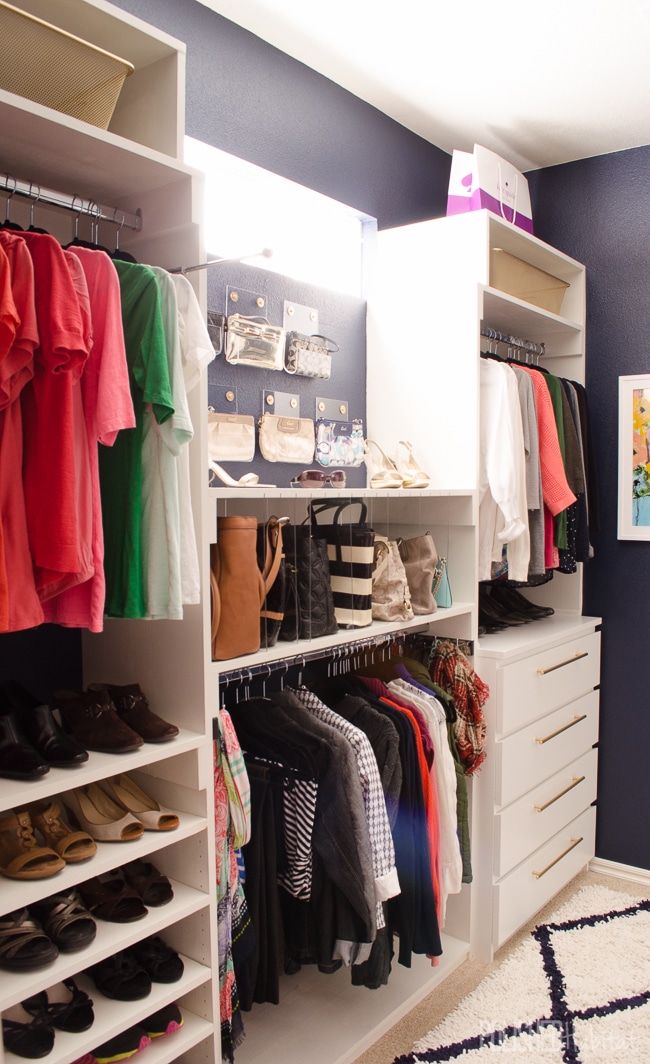 I've got a pull-out valet rod on my side too. It's like playing dress-up without having to dress up.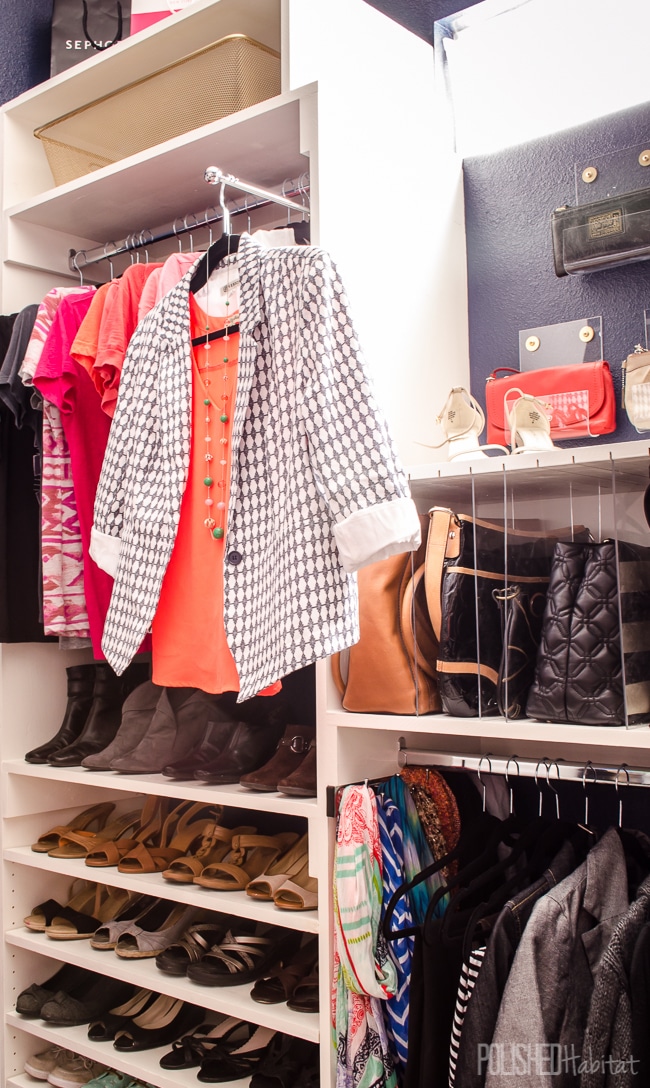 The scarves also got some pull-out organizing action.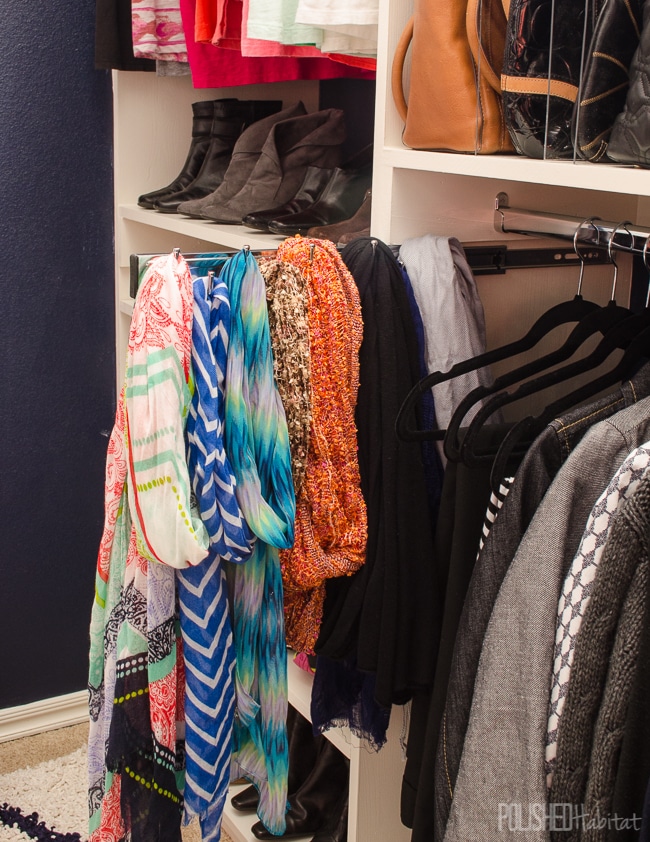 I saved my favorite photo for last. Let's remember what I used to see in this spot. Notice how sad the purses are. For obvious reasons, I was agitated every time I went in the closet.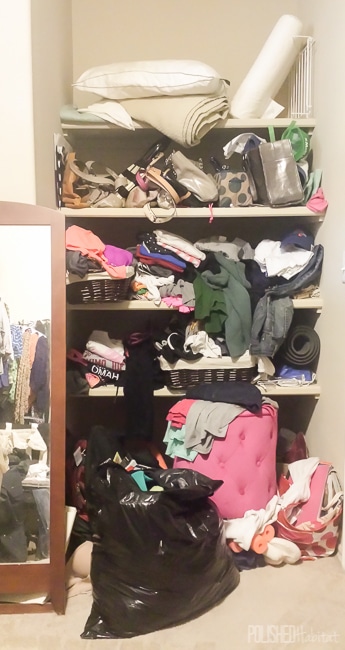 The vanity with the reflection of the rest of the closet makes me SO DANG HAPPY. No more agitation. Just bliss.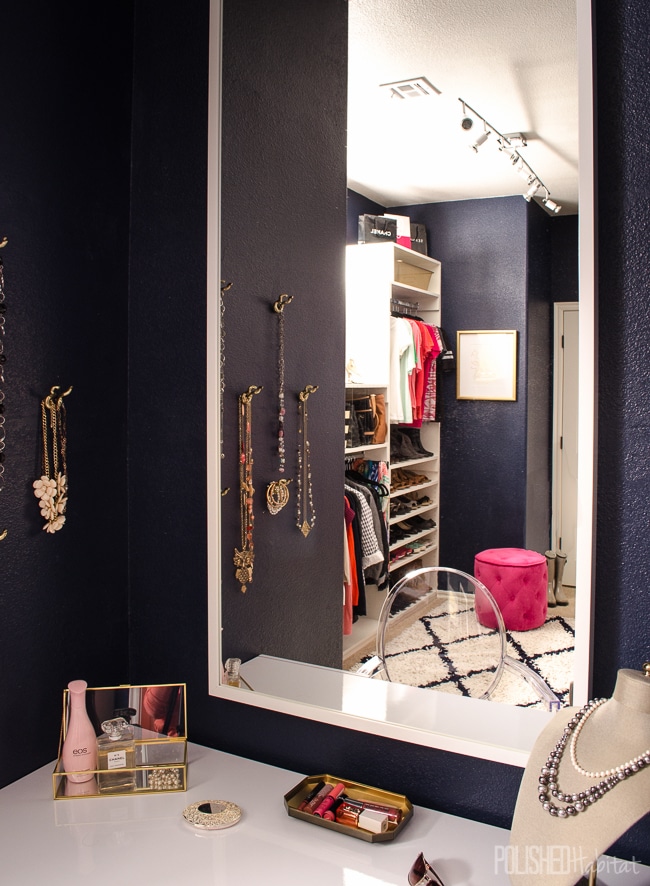 My biggest hope is that these before and afters show someone that they can turn their cluttered mess into something that gives them life instead of sucking the energy from them.



In January 2019, I finally got around to organizing the clothes drawers in the closet! What a world of difference that has made. Be sure to check it out next!
If you have questions about any of the products or colors I used, or want to read more about how we saved BIG MONEY in closet, your next step is this post with the source list.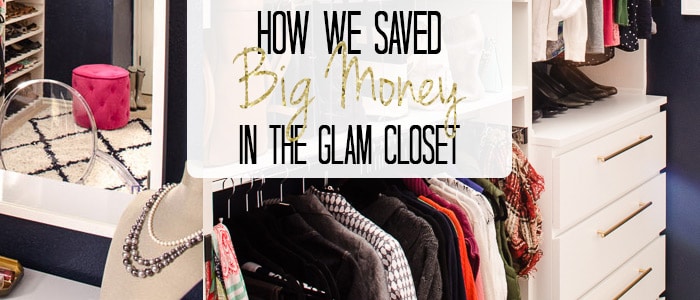 See the whole closet makeover week by week:
Week #1: Skeletons In My Closet
Week #2: There's No Going Back Now
Week #3: Road Trips and Close Calls
Week #4: Adventures in Closet Building
Week #5: The Final Countdown
Week #6: It's Done – The Final Reveal!!!
Follow Up: Source List & Money Saving Tips