Oh, boy. You know what leads to my worst decisions in both style & budget? My lack of patience, combined with a dose of vanity.
This Low Budget, High Style lesson hurts the most. I'm going to show you some things around the house that I never should have purchased. It's bad enough when your tastes change and you want to replace old furnishings, but when you have things you never LOVED, it's extra annoying to look at them. Spending money impulsively can lead to some serious high budget, low style mistakes.
Luckily for all of us, I was able to figure out what motivated me to make the purchases I regret the most. Once I narrowed down the root cause, I realized it might save someone else some mental and financial heartache if I confessed my design sins so you could learn from my mistakes.
Mistake #1: Buying things to match other things you don't love
Before we painted the office gray, it was the same boring beige as the rest of the house. We had gray curtains, which did NOT work with the walls.
So I wanted new curtains.
To match the walls I knew we'd eventually paint.
What?!? Not my brightest move.
The new curtains did look better. Until we painted the room gray.
And now I HATE them.  Vehemently.
Considering my desk is framed by said curtains, it's a problem. These old pictures really don't do them justice.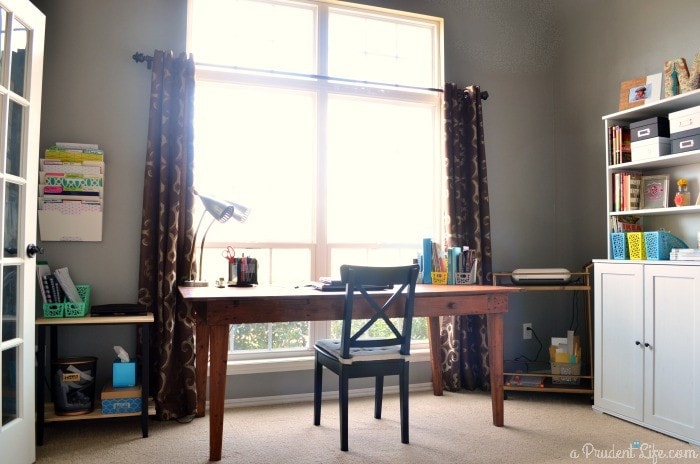 Every day, I wonder why I picked them out.
But then I remembered – I bought them to match the walls I didn't love. Doh.
Do your budget a favor and make a game plan for your room BEFORE picking up things like rugs and curtains. Don't build on the things you DON'T love just because you are inpatient to decorate a space. Trust me. It hurts.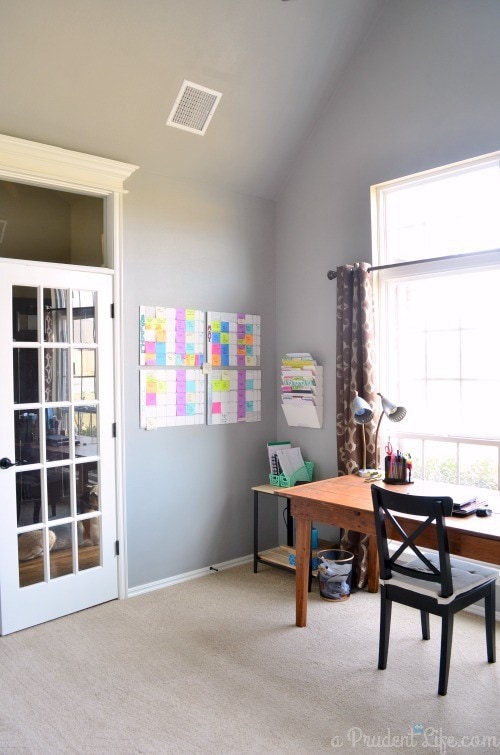 BONUS MISTAKE: While it was a strategic move to leave the top section of window open so we could get some light in even with the curtains closed, it doesn't work in the room either. The lower curtains distract from how large the window really is. AND the room faces west, so the afternoon sun is brutal and for a few hours my husband can't work at his desk because of the glare. And intense heat. FAIL!
The new office has full height curtains! Can you believe this is even the same room?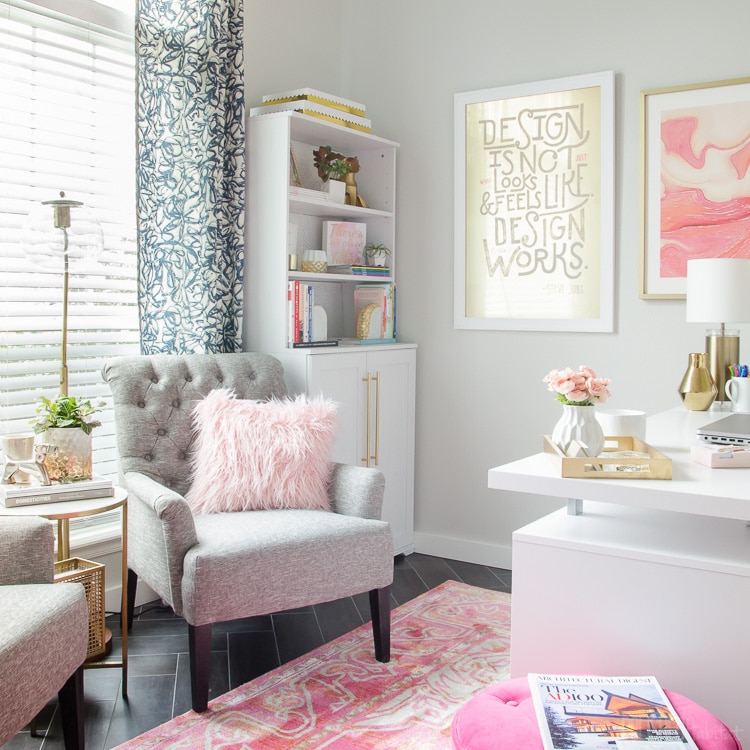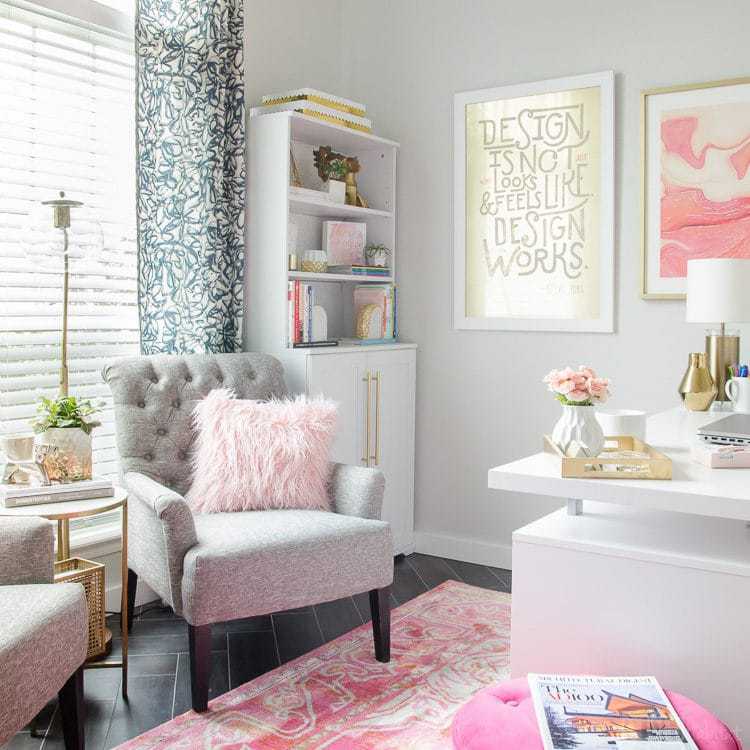 Mistake #2: Buying as a set
So as dramatic as I made mistake number #1 seem because it's the one that literally surrounds me every day, mistake #2 is probably my most embarrassing.
When we built this house 3 years ago, it was quite a bit larger than our previous homes so we had some empty rooms upstairs. I knew enough not to spend our retirement decking out the house all at once. Besides, a home should be built over time.
I was so wise and mature.
Then our entire extended family was coming over and I suddenly had no patience and needed the little tv space upstairs furnished. ASAP.
We found a small couch with a chaise on one end that was the perfect size, color, fabric and price. Score!!!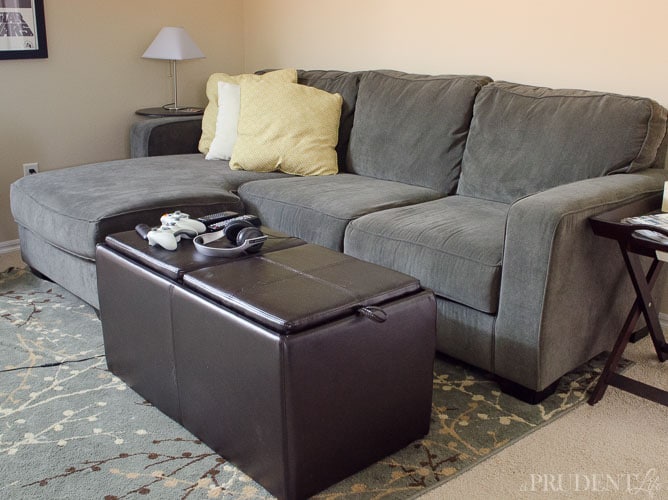 Not TOO embarrassing, right? The rest of the room is still a mishmash of furnishings from our old house.
But then I got all crazy and insisted that we also buy the coordinating armchair for the other side of the room. Which we didn't really need, and in my gut, I knew I didn't even like the fabric. The size and shape were great, but that's not a reason to impulse by a non-necessity!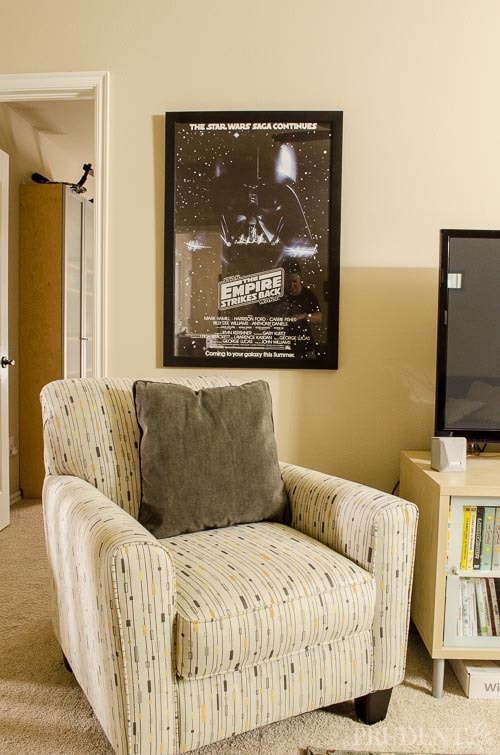 My husband tried to save me from myself. He tried to reason that maybe we should just get the couch. He knew that chair was ugly. But I got even uglier than the chair and insisted that he come home with it. Ouch.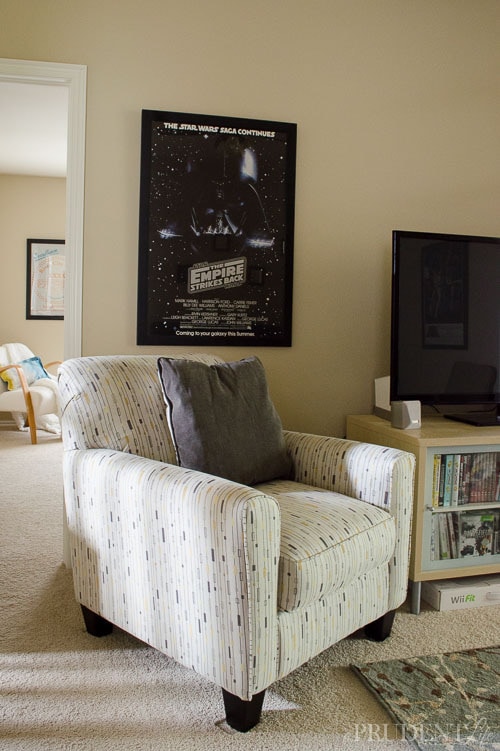 It's pretty much never a good idea to go to a store and buy a whole matching set of furniture. You need to put together things that YOU love over time.  Our current living room is an example of this.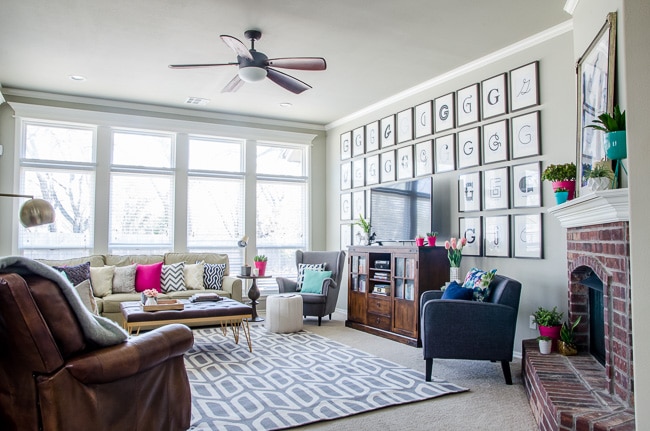 But the worst reason ever to buy multiple pieces at once is impatience, especially when the impatience is fueled by the vanity of wanting to have furniture before people come over.
Mistake #3: Buying things to fill empty walls in a hurry
Oh boy. This fail is a close cousin of number 2. When we were having overnight guests for the first time, I had a moment of panic that the walls in the guest room were stark naked. I felt the need to fill them quickly. The good design killer combo of impatience and vanity struck again.
The walls are a really tough area for us. We have a hard time finding art in our price range that we LOVE. So the number of empty wall in the house can be embarrassing. Especially for a graphic designer husband and decor blogger wife! In most of the spaces, we've been patient until the perfect inspiration strikes, like the typography gallery wall in the living room.
In a moment of weakness, I found some art that I thought would work size wise in the guest room. Ugh. Let me reiterate what we learned in step 2. Buying things because they are the right size is NOT okay unless you love them.
Turns out it wasn't even the right size! A large square piece would have been better. But even worse, the art isn't even our style.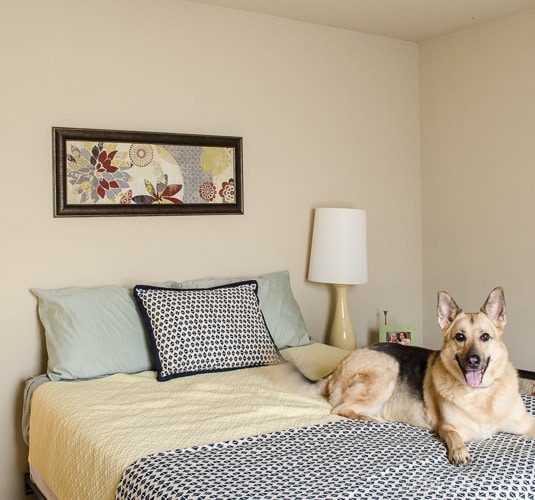 It's really not smart to buy things you don't LOVE. Especially when it's generic art and you hang TWO coordinating pieces in the same room. I shouldn't have bought the first one, but going for TWO is worthy of some kind of design jail sentence. I know better.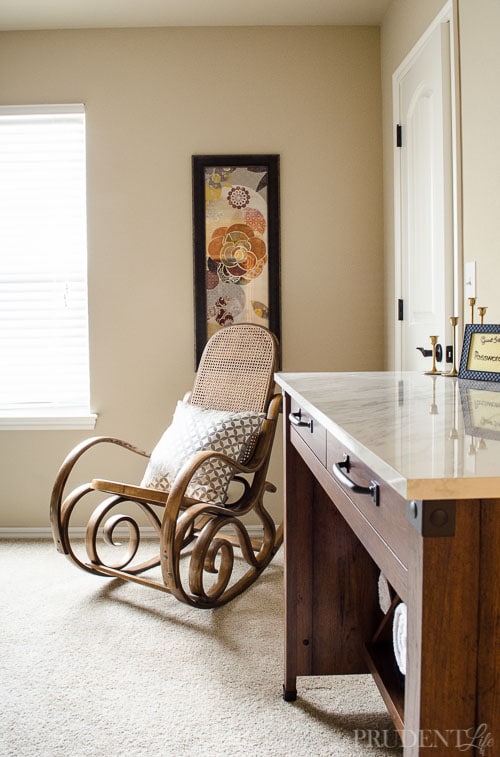 But I was INPATIENT.  Thankfully I came to my senses when it came to other rooms in the house.
Our entryway is the best example of being patient. The walls were blank for THREE years waiting for the perfect art. We finally found it at a local art festival!  We were drawn to a large original canvas, but the asking price was WAY over our budget.  Instead of spending thousands of dollars , we purchased 9 signed prints for $25 each.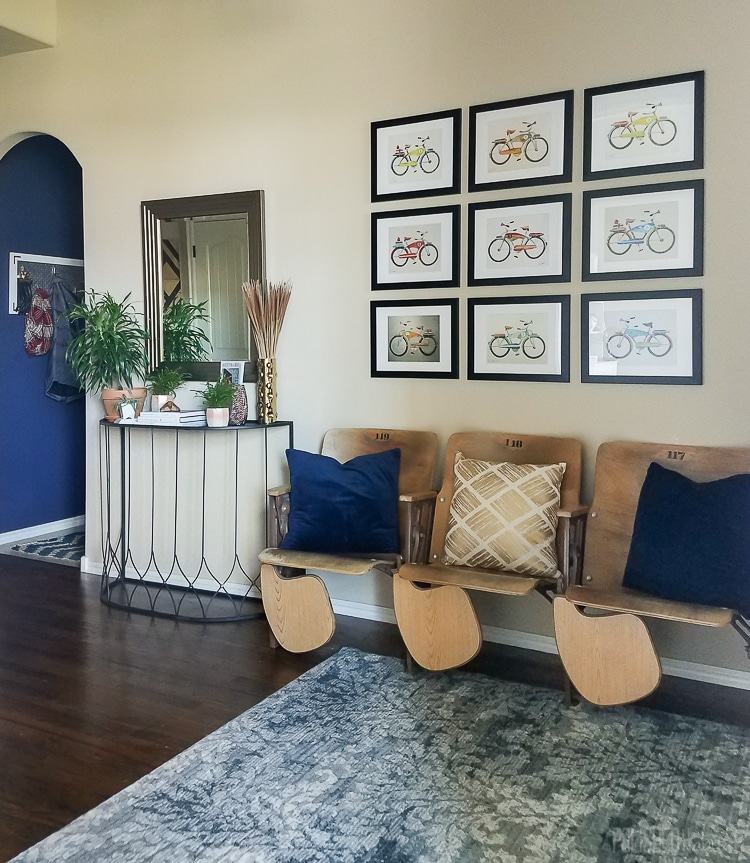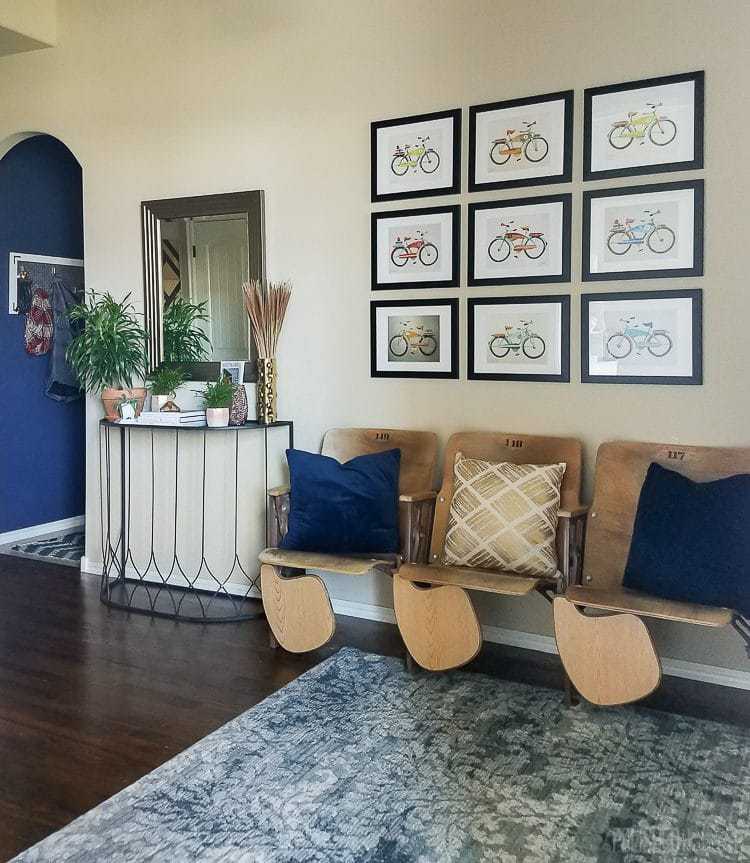 The money I spent on the curtains, chair, and generic art could have been put towards something that we LOVED and that would work in the house longer term. Buying impatiently on impulse is an easy way to blow your whole budget and still not end up with a stylish home. Don't do it. Just say NO until you have at least an outline of a plan for your room.
Learn from me!
Now that you know what NOT to do, it's time to read about the FIRST step we should all take before updating a room. There's even a worksheet!