Over time, I've figured out that I'm able to keep the house looking great much longer when I've built organization into our decor.
Now, when I design a room update, I start off by thinking about how we use the space on a day to day basis.
I've got a few examples to show you what I mean and hopefully, they will inspire some ideas for your own home.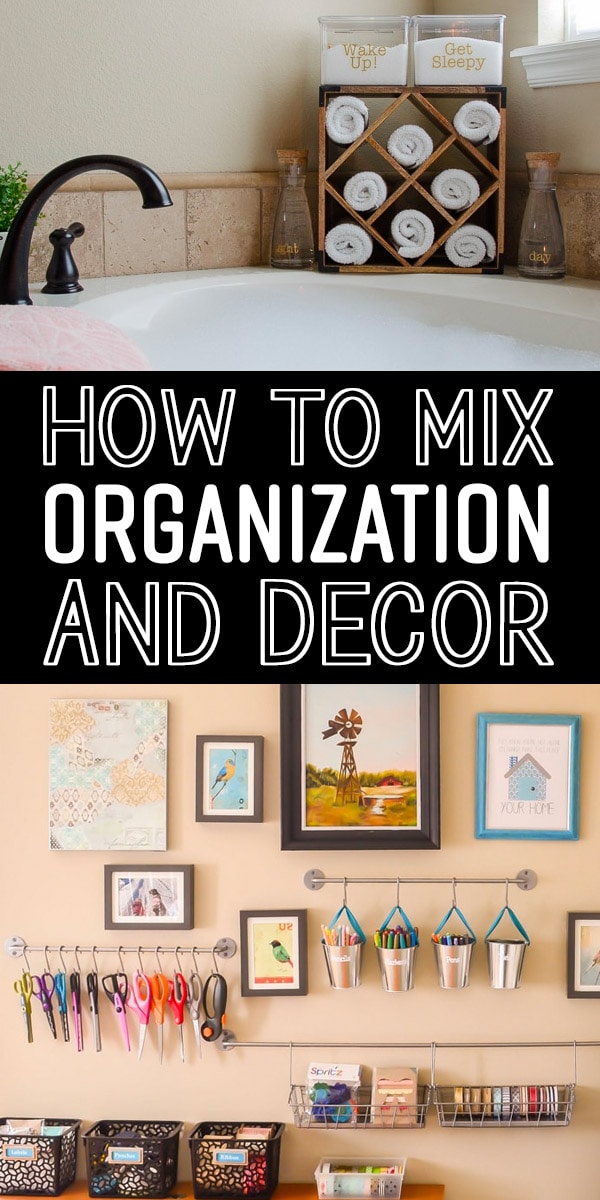 The first project that really made me think about incorporating organization into a design was my craft space. The room is half guest bedroom, half craft room.
I didn't want my guests to feel like they were invading my space when they visited, but I also wanted the craft area to feel like me.
TIP #1: Use Vertical Space on Your Walls
I came up with the idea of a gallery wall that blended artwork and storage. The same colors I used in the gallery wall are repeated throughout the room to give both areas one cohesive feel.
This concept would also work great in a home office or even a bathroom!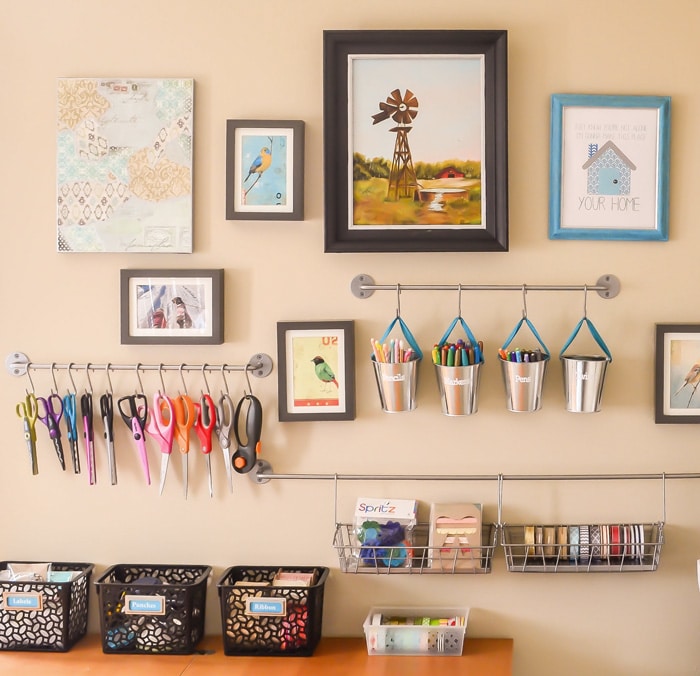 We've also gone vertical in the very small entryway from our garage, adding chic containers for mail that needs some sort of action as part of our paper decluttering process.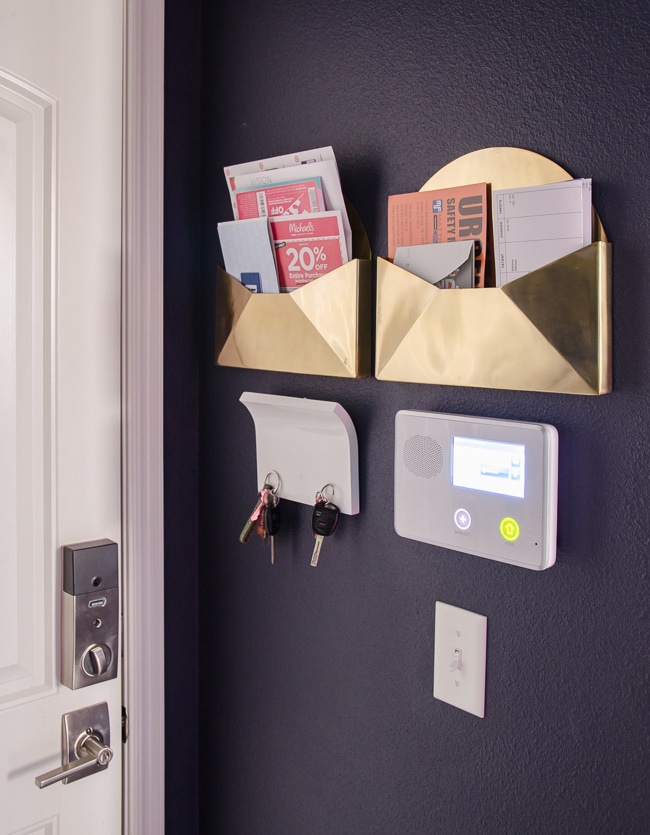 TIP #2: Upgrade the Ugly Stuff
Instead of using various plastic soap dispensers, I got two pretty glass dispensers, along with a container for sponges to keep everything tidy on the counter.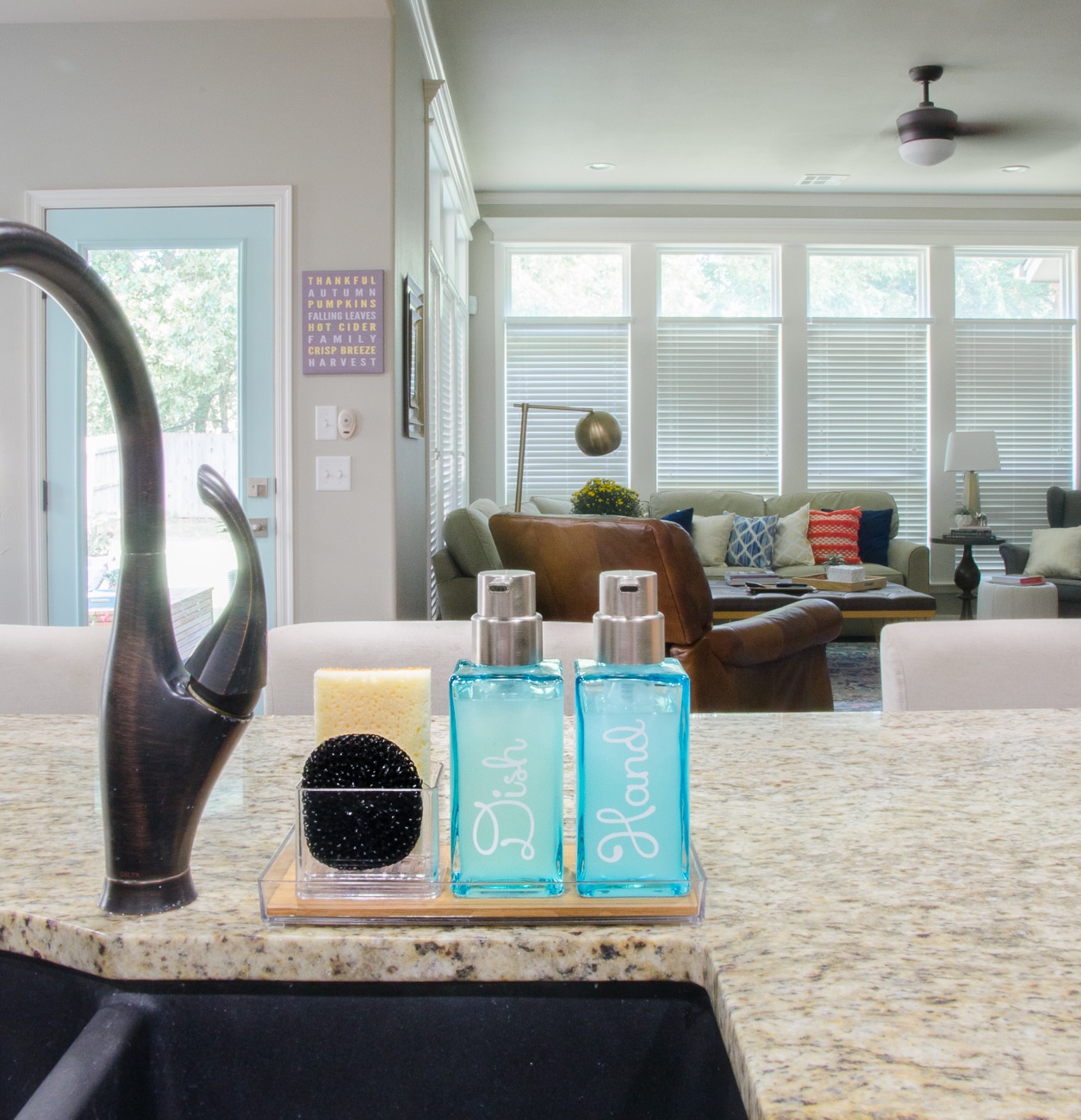 In the bathroom, I used to end up with various bubble bath bottles and bags of bath salts cluttering the surround.
Organizing them in glass bottles and labeled containers around a wine rack used for washcloth storage looks so much better!

One of my craziest organizational ideas was to use a real estate box to create a wall-mounted trash can for the laundry room. We don't have floor space for a traditional trash can, so dryer lint and clothing tags always ended up cluttering the top of the washer and dryer.
It would have been totally functional to just put the clear bin on the wall, but I took ten minutes to make it pretty. Now it's a quirky functional art piece and blends into the room.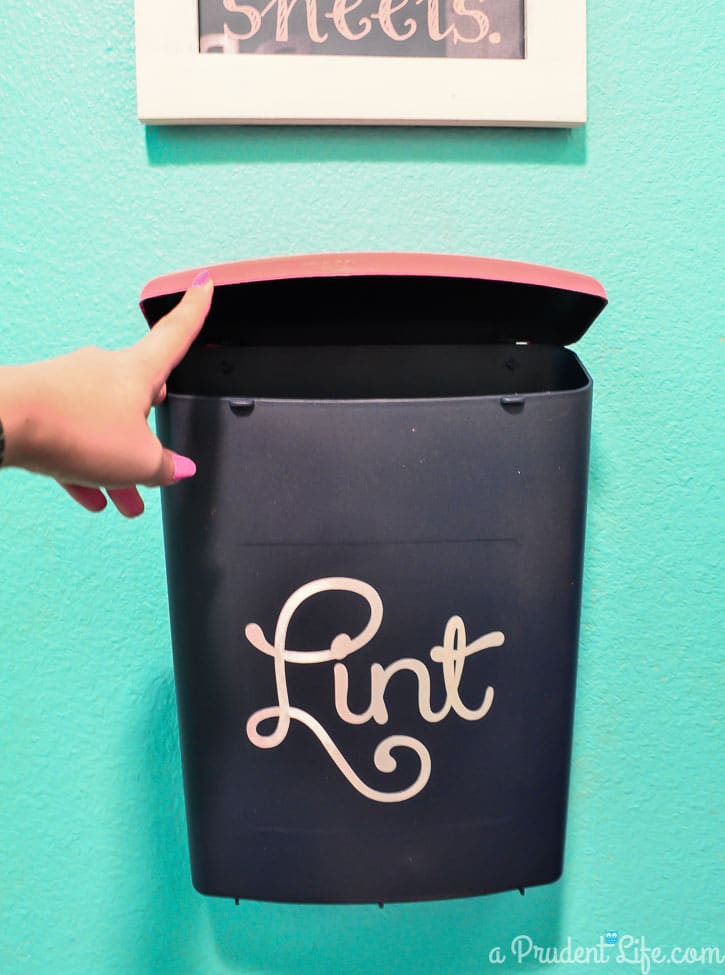 TIP #3: Pretty Labels Keep Things Pretty
Consistent labeling throughout a room is a great way to elevate a good organizing project into great home decor. Our pantry has a glass door, so everything inside can be seen from the kitchen.
I'm a huge fan of labels because they tend to KEEP things organized long term. I had several different types of containers, but using the same font on each one pulled them all together.
They would have been just as functional with all different labels, but consistency turns them into decor.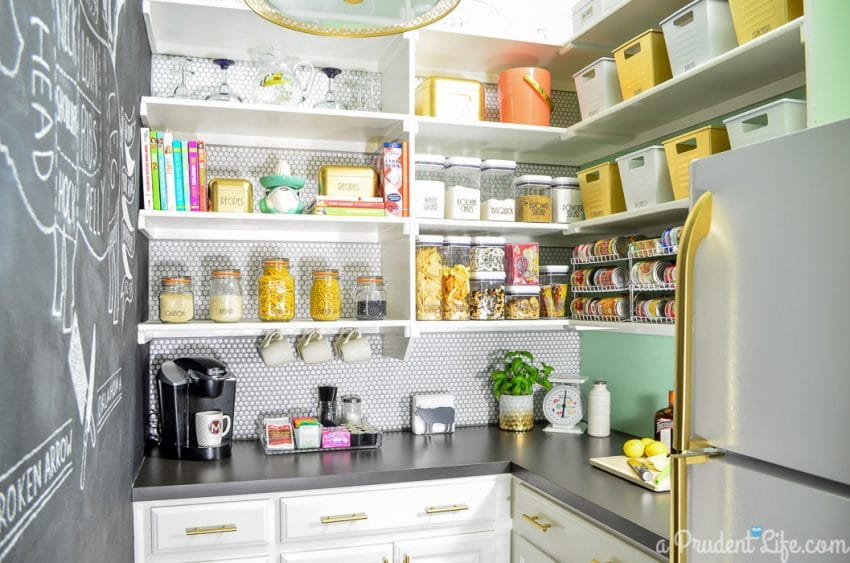 Here's a closer look at the labels.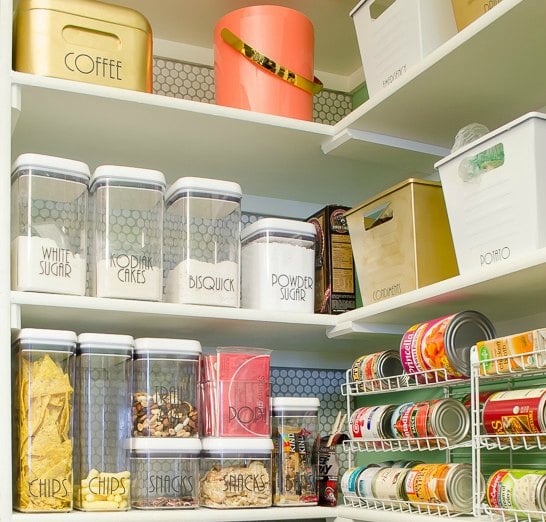 I used the same technique in my office.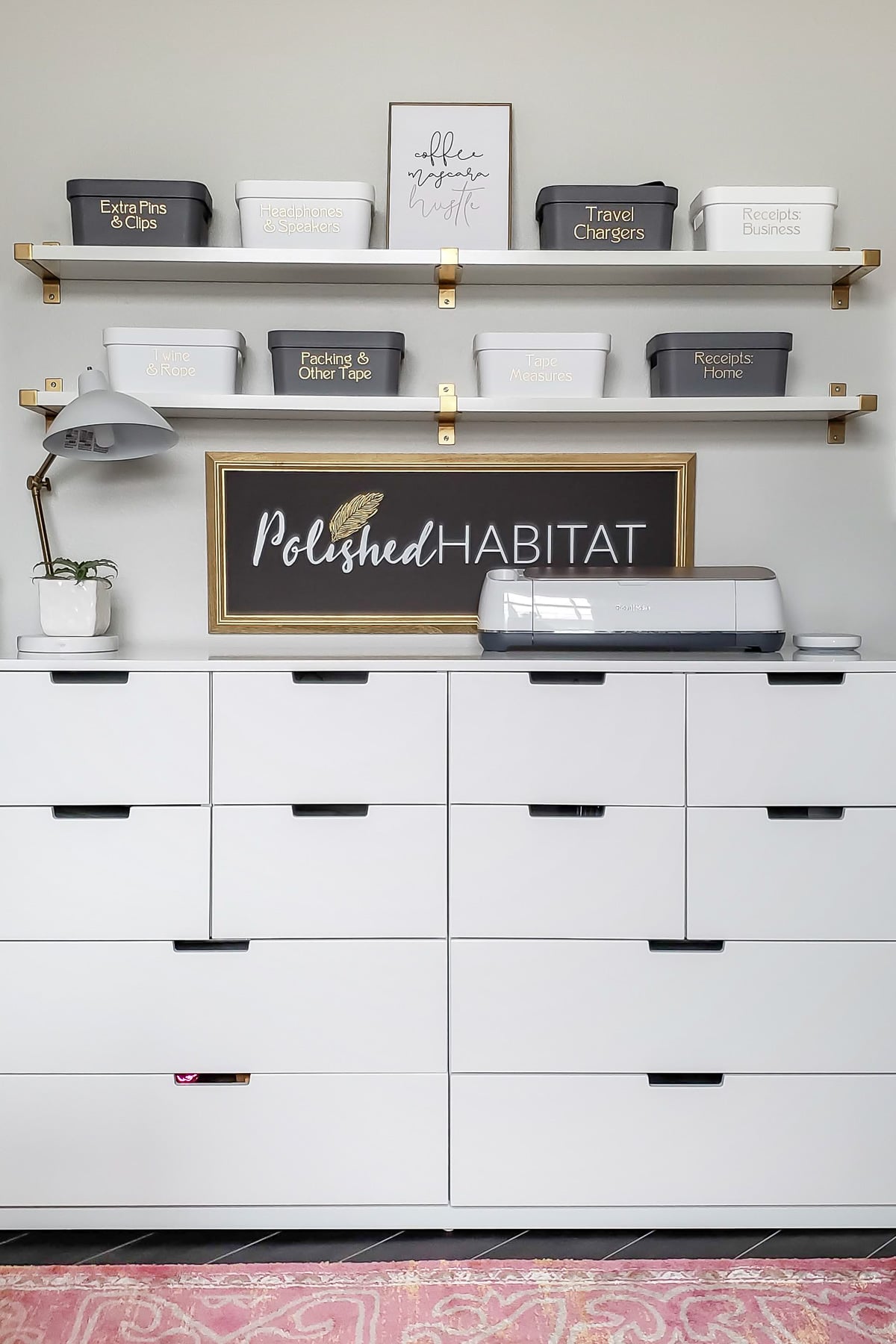 While the pantry has clear bins so we can see when we need to restock, I picked solid bins for the office wall for a less-cluttered and more streamlined look. The labels are a little hard to read in this picture, but they're way better in real life.
TIP #4: Pegboards are Powerful!

I'm a newish fan of pegboards and I don't know what took me so long to figure out how great they are. They turn a mishmash of almost anything into a pretty displayed collection. And they can be painted any color to match your style!
In front of our treadmill, I turned a blank wall into a mini-gym with the pegboard pulling everything together.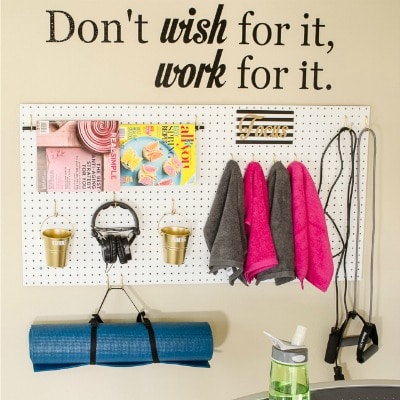 The garage is a more traditional space for pegboard, but even out there you can upgrade them for a custom look. Sandwiching ours between two IKEA KALLAX units created a fun wall of storage above our DIY Workbench.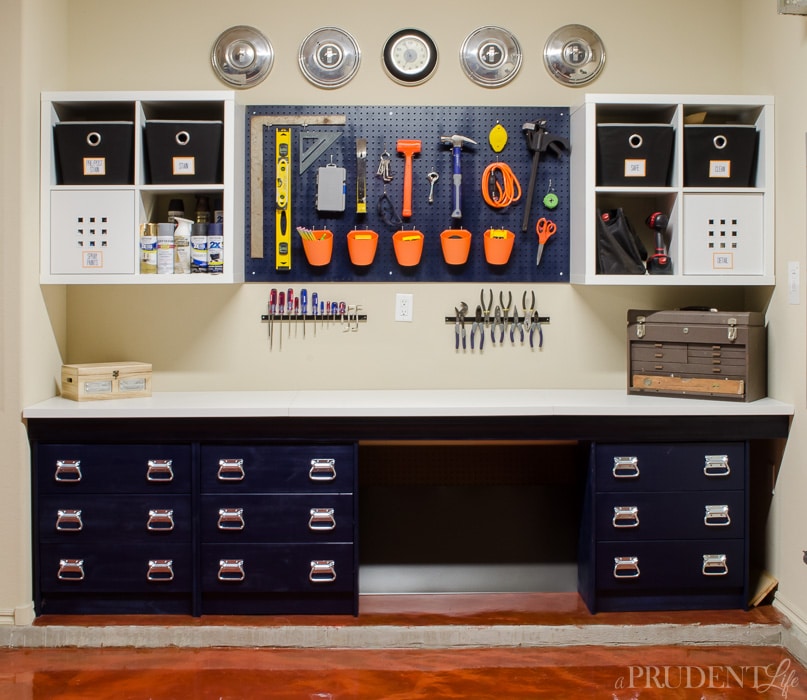 TIP #5: Use Hidden Organization to Everything Tidy
As much as I LOVE a project that keeps our stuff looking great out in the open, some things just need to be hidden. I realized that the more organized the inside of our cabinets become, the more likely we are to keep the countertops clear.
While this tip doesn't directly affect our decor, the impact is still huge.
Our kitchen looks SO much better when there isn't clutter all over the island! I couldn't live without my bin for dirty kitchen towels now.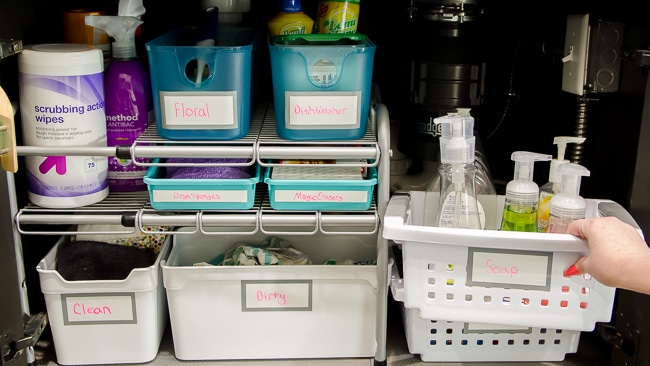 The same principle applies in the bathroom.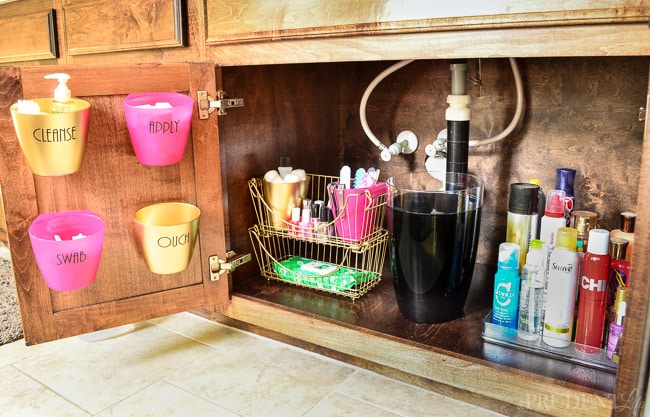 Even taking some time to reorganize our bathroom drawers has helped keep the bathroom counter clean. When I know there is a designated spot for everything, I'm more likely to put it away.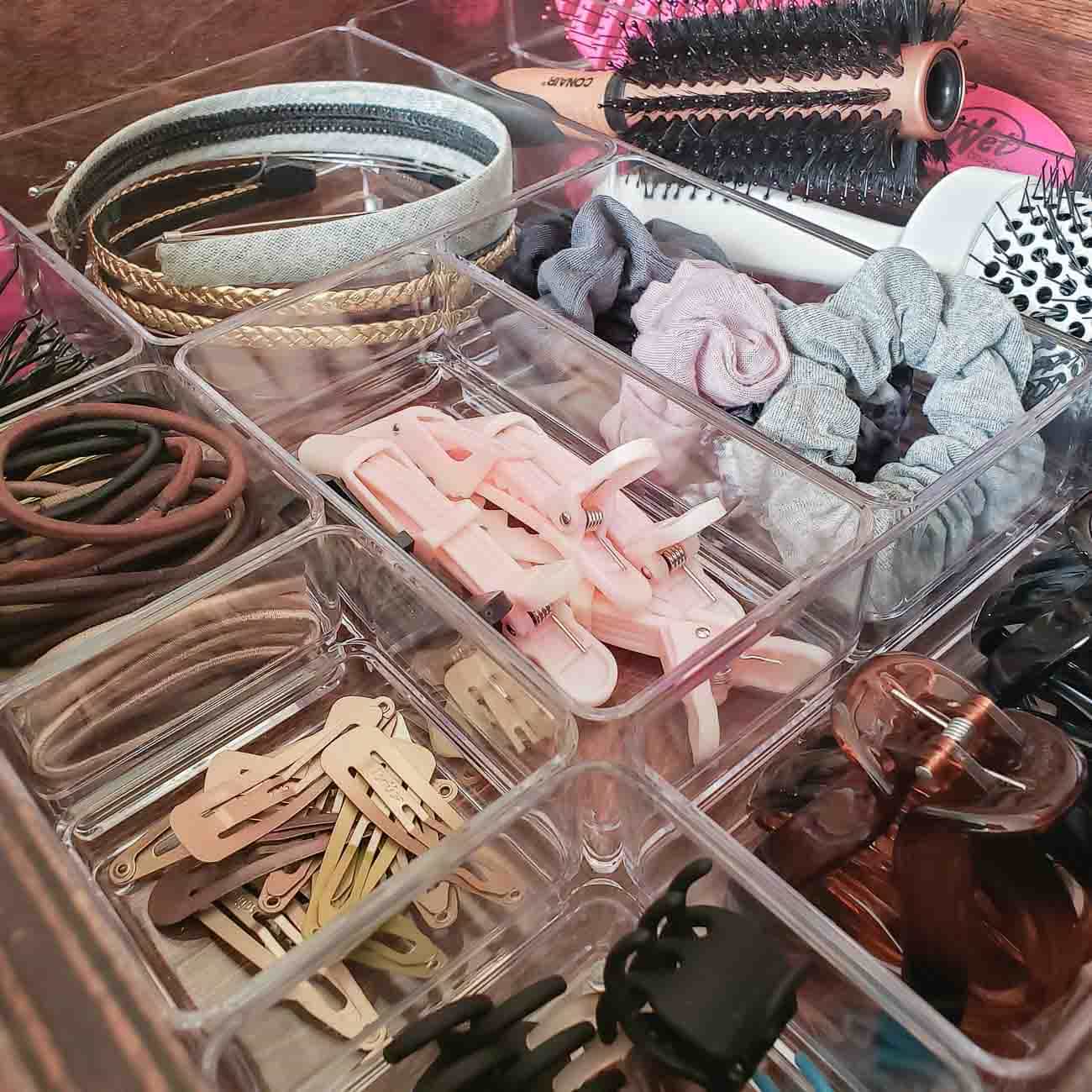 Hopefully seeing this inspiration from around our house will motivate you to tackle some spaces in your home. I know I'm ready to work through our still-messy areas!
If you need to declutter first, head over to my best decluttering tips next.