While I was supposed to be grocery shopping at Target, I found some fun clearance placemats that matched the colors of my new craft room. They were only $1.98, so I grabbed two without having an exact plan for using them. Worse case scenario I could always use them as….placemats! Please tell me you all get sucked into spending way too much time getting to the actual grocery section when shopping at Target 🙂
Although these would have been great as placemats, I realized it would be really easy to make a pillow out of them. I even had some iron-on fusing web on hand for curtains I've been meaning to hem for….oh….two years! I also had a cheap IKEA pillow that was losing it's stuffing. The seam was ripped and I hadn't bother fixing it because I wasn't loving the color of the pillow.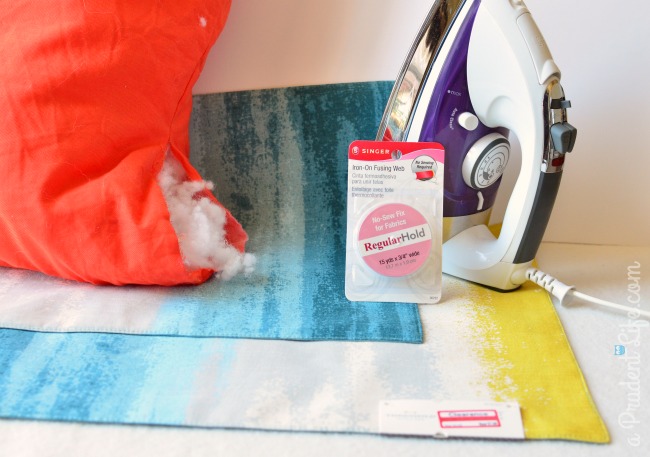 I decided to apply the fusing web about 1/2 inch from the edge to give the finished pillows a border. I cut out about six inches off the web on the bottom edge so I would have a place to insert the stuffing. Starting with a full strip and cutting out the middle gave me exactly the right amount of fusing web to seal up the pillow after I stuffed it. Make sure you move the cut out section away from the iron & your pillowcase before continuing!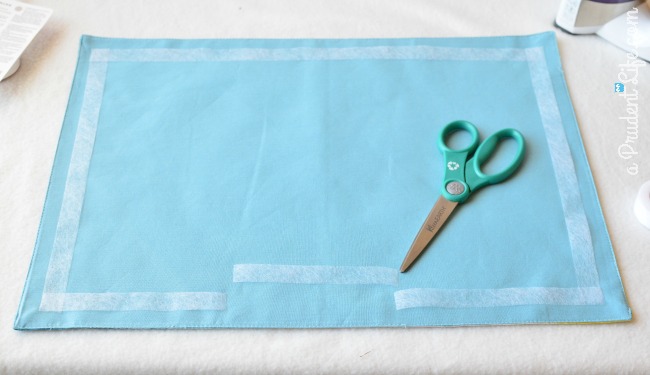 Next I put the 2nd placement on top and ironed away! The directions said to hold for 10 seconds, but these placemats were pretty thick. I had to go over most areas more than once. It still only took two or three minutes to have everything fused.
When I was done ironing, my opening was just the right size to stuff my new pillow.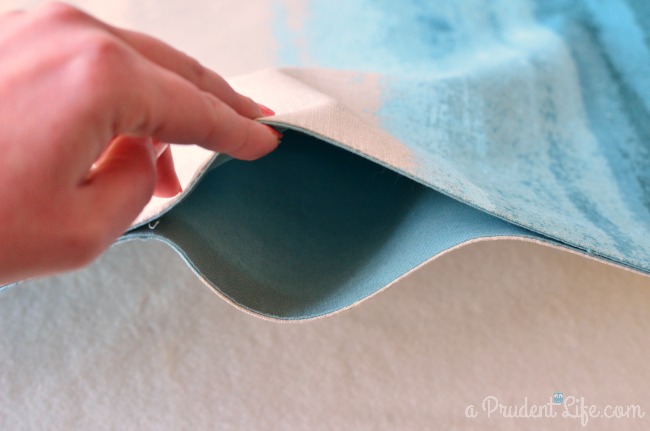 Once my pillow was stuffed, it was time to iron the opening. I used the piece of fusion web I cut out earlier. I found it easiest to stand the pillow up at about a 45 degree angle. It was a little tricky to iron this section because of the stuffing. But by "tricky" I'm talking a 2 on the 1-10 difficulty scale while the rest of the project is a 1. So easy!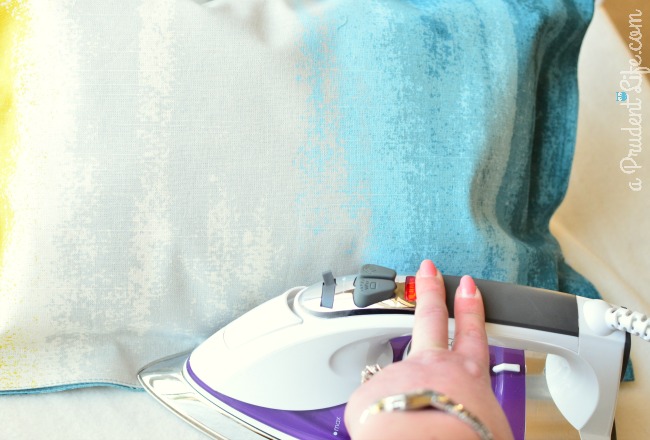 And that is it! Here's a close up of the finished pillow.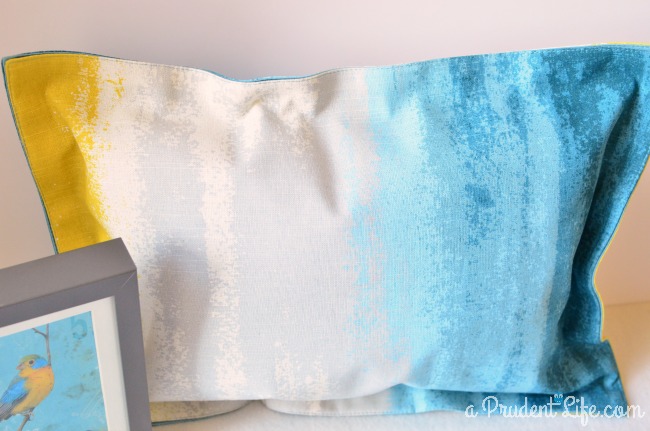 Start to finish the placemats were transformed in under ten minutes. For me, the cost was $4 – just the placemats. It would be a little more if you had to buy the iron-on fusing material and/or the pillow stuffing. Even with those other costs, this DIY pillow is more frugal than buying a new one!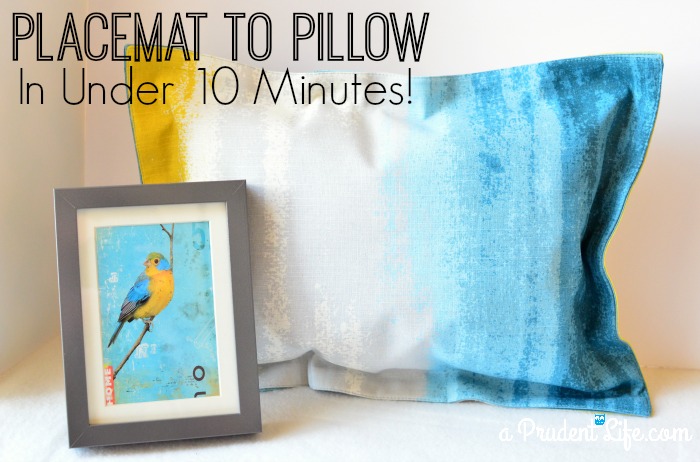 Isn't that little bird cute too? He was in a clearance postcard pack at IKEA & looks great hanging on the craft room wall. See why I couldn't pass up the placemats? They match my little birdy so well!
Don't miss any of the craft room series!
Craft Room PLUS Guest Room – Reveal Part #1
Craft Room Organizational Details – Reveal Part #2
{Create} Art & Refinished Frame – Craft Room Project #1
Placemat Repurposed into No Sew Pillow – Craft Room Project #2
Cork Board Upgrade:Drab to Fab – Craft Room Project #3
Clearance Lamp Customization – Craft Room Project #4
3 Frugal Frame Updates- Craft Room Project #5
$30 End Table Makeover – Craft Room Project #6
Post linked up at these great parties: Hit Me With Your Best Shot, Link'n Blogs, Work It Wednesday, Craft Frenzy Friday, DIY Showcase Sunday, Link It or Lump It, Save Money Monday, Share It Sunday, Frugal Crafty Home, Twirl & Take a Bow, Show & Tell Wednesday