Happy Friday friends!
I was hoping to have a new organizing post for under the kitchen sink today, but holy cow, the plumbing under our island-based sink was fighting me at every turn. I THINK I've finally got a perfect solution, so look for that Monday.
Instead, I wanted to share a quick announcement you may have seen on Facebook or Instagram this week. I'm hiring and you might be just the person I'm looking for!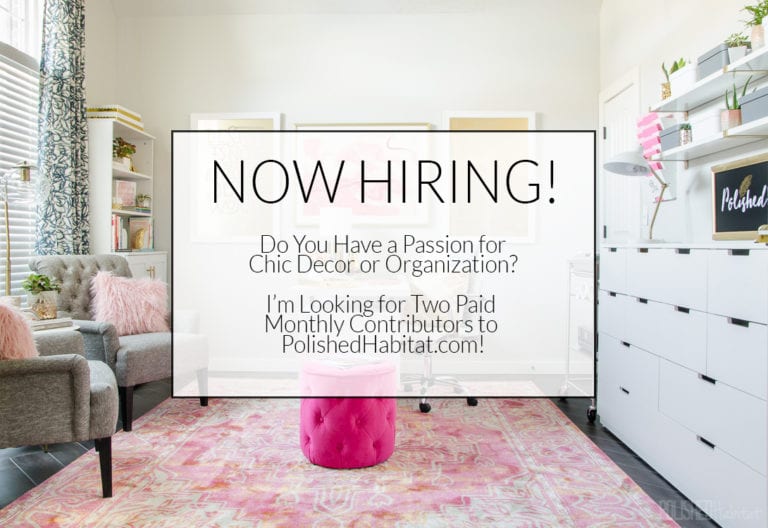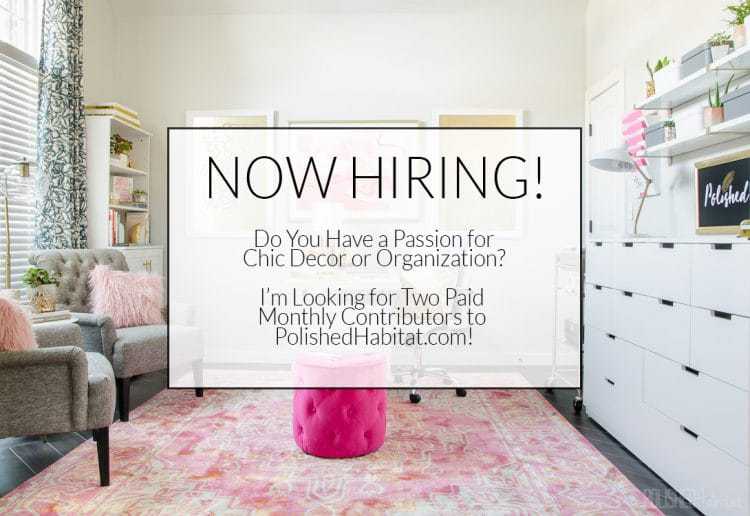 I've always had big dreams for Polished Habitat, but I didn't want to achieve them at the expense of working 24/7/365. That's definitely not the example I want to set for you guys either. Long hours are totally appropriate at times, but they aren't a good long-term game plan. I always want my decor to work smarter, so it's time for me to do the same thing.
I've had the vision of a magazine-like approach, but with fewer trees killed. A spot where I'm the editor and a major content contributor, but that I'm able to let other people share their expertise and talents with you as well. I'll still be involved with every post you see on Polished Habitat, but a couple times a month we'll have posts written by contributors. Basically you're going to be getting more ideas for the same low price. Why yes, still for FREE!
Specifically, I'm looking to add one person to show us their stylish organizing ideas. A second person will be tasked with giving us affordable decorating tutorials.
If your style complements mine, and you are passionate about one of those topics, I'd love for you to apply. You don't have to have a blog, but I am looking for people with great photography skills.
There are lots of details about the position HERE, and if those all sound good, you'll find the link to the short application at the bottom of the document.
I hope you're all as excited about this as I am. I've already had some amazing applicants, so I know we have a ton of great new posts to look forward to this year. The HARD part is going to be picking only two people.
Have a great weekend!