Welcome to week #2 of our master bedroom makeover! If it's your first time visiting, or you missed what I'm up too, you can get all caught up with the before photos and my plans in the week #1 post.  The short version is that I'm playing along with a group event called the One Room Challenge, and I've got 4 weeks left to totally transform my master bedroom. Yikes!
Here's a reminder of the direction we're headed in the room.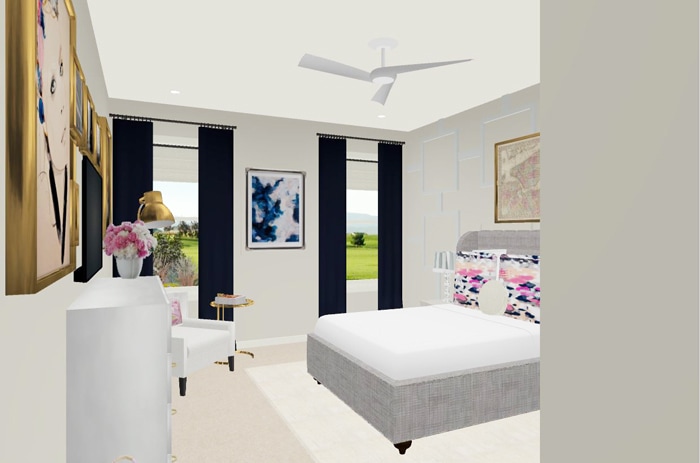 This weekend was all about picking a wall paint AND getting the space painted. The thing I love about the One Room Challenge is that you have to make decisions to keep moving forward. Sadly, that doesn't mean it's easy to choose.
I thought I was going to do a light to medium gray, but I just couldn't get an exact image in my mind for what I wanted. Warm gray, cool gray, I had no idea!
Thank goodness for paint samples. I made a list of colors I wanted to try, then left it at home when I went to Lowes. Fail! I did have my grocery list from the week before and tried to hand it to the paint guy. It didn't work.
So, I winged it and picked 6 colors to test out.  After getting them on the wall, I had a better idea of what was looking good, but nothing was quite perfect. A quick trip back to Lowe's and I had 4 more samples. Here's what it looked like with all colors on the wall.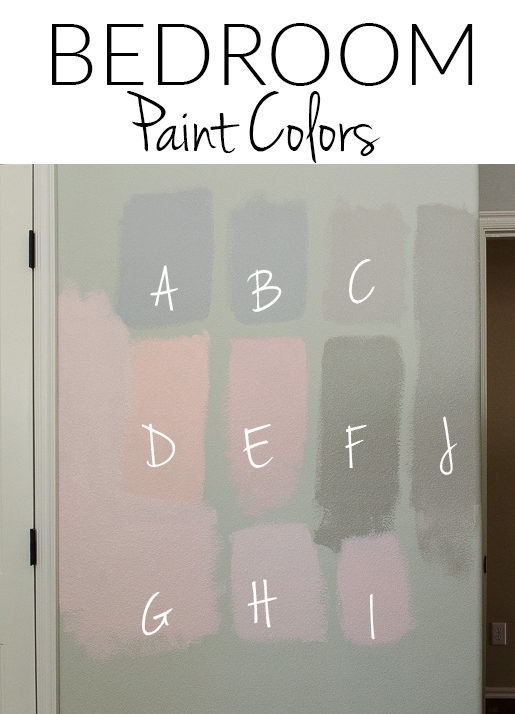 Here's the legend in case you see something you like!
A: Valspar Gravity
B: Sherwin-Williams SW1476 Gray Sanctuary
C: Sherwin-Williams SW7015 Repose Gray
D: Valspar Baby Blush
E: Sherwin-Williams SW2037 Mad About Pink
F: Sherwin-Williams SW3476  Mindful Gray
G: Sherwin-Williams SW6581 Verbena
H: Sherwin-Williams SW6567  Anemone
I:  Sherwin-Williams SW6588 Diminutive Pink
J: Sherwin-Williams SW3476 Mindful Gray custom mixed at 75%
As you probably noticed, I got a wild craving to paint the room pink! The Baby Blush and Mad About Pink were a bit too dark, so three of the four colors I went back for were softer pink options. So intriguing, right!?!
When painting samples, we've learned the hard way in the past that it's really important to test them on different walls. Each area of a room gets different light, and it's amazing how different the same color can look like on each wall.
Here's the same 10 samples between the windows.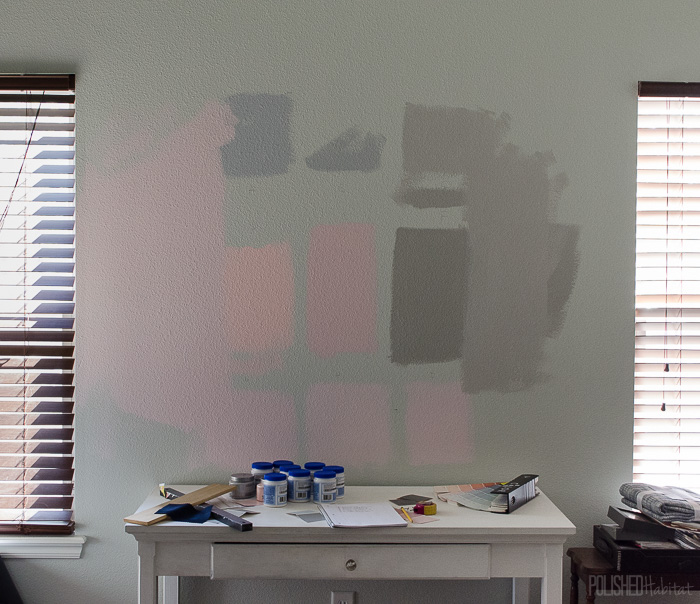 And here is the same 10 on the wall next to the windows.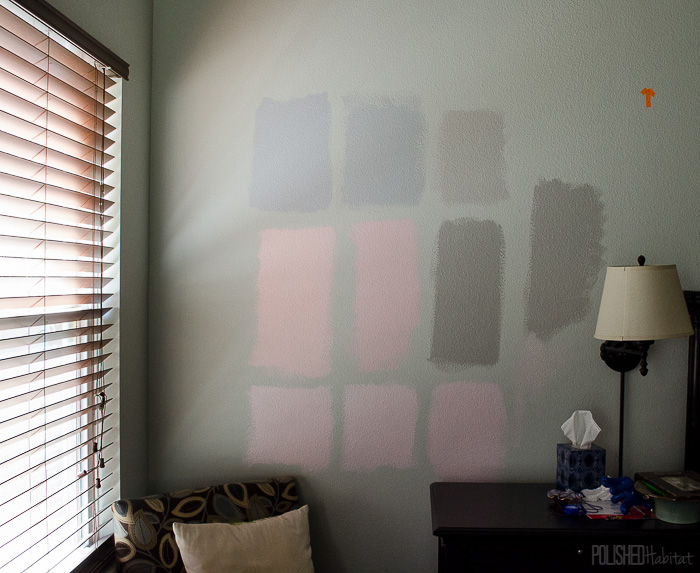 After looking at each set of colors on the wall throughout the day, I landed on two favorites. Verbena (the one from the lower left corner) and Repose Gray (upper right) both had some serious potential!
So what do you think? Should I go pink?  Even though we may already have picked and be painting, I still can't wait to hear your thoughts!
I'm off in Salt Lake City for a conference through Sunday, but I'm dreaming of all the things I get to work on in the bedroom when I get home.  The new bed arrived and I peeked in the box before I left. So exciting!
Now that you've seen what I've been up to, make sure you check out the rest of the One Room Challenge participants at Calling It Home!