If you've been around the last couple weeks, you've seen the first two posts in the Organizing with Style series – how to organize your laundry room, and ideas for organizing with baskets & bins. This week is all about bathroom organization!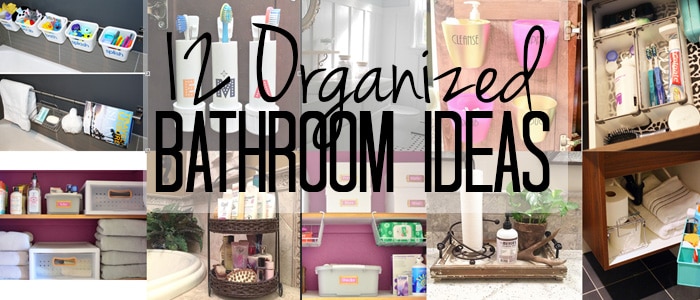 The first idea is a great example of how easy organizing with style really can be. Kate from Back to Blueberry Hill submitted her photo with the #organizingwithstyle hashtag last week as part of the challenge I host along with Angela from Blue i Style. Angela and I agreed that the simple way Kate stored Q-Tips & cotton balls in clear jars was so smart. The functional white products blend perfectly with her pretty white bathroom. Sometimes we overthink organization, and this shows how easy it can be.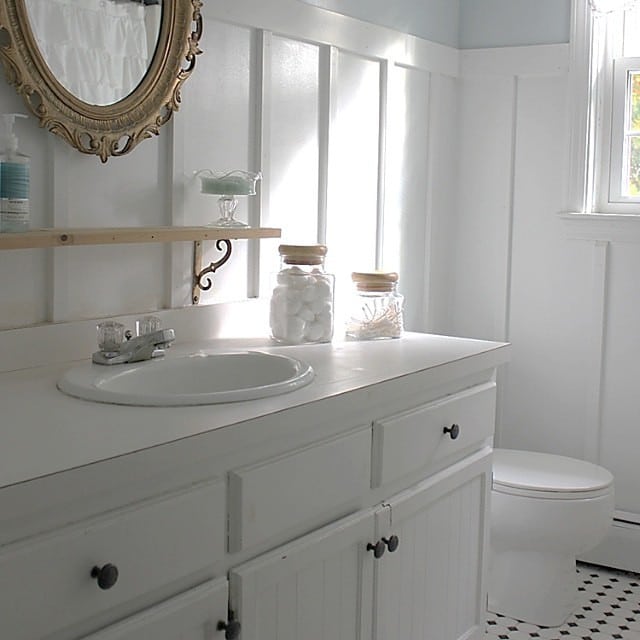 Another simple, but effective idea came from instagram user quartersonconservatory. She used a tray to gather both functional items and decor in one spot. These items sitting directly on the counter may have looked cluttered, but with the tray, they become an organized collection.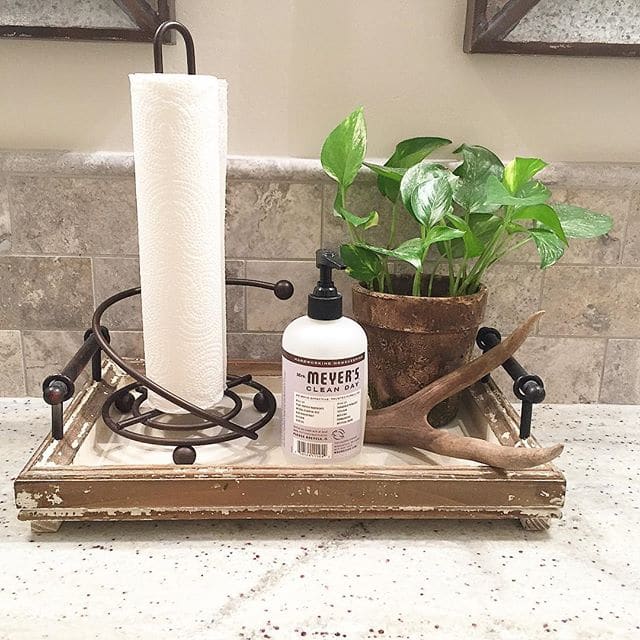 The final countertop idea comes from Michelle, aka Elleson513.  She conquered the clutter that can form around a bathtub with a double tray! Now she can have her pick of products AND it looks good. A similar basket system would work great on a vanity.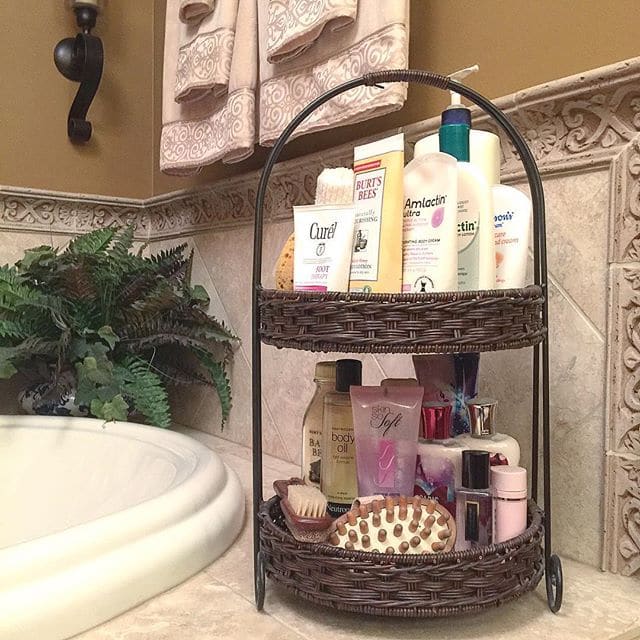 If you don't have space to gather products on top of the counter, I came up with a way to keep them hidden, but still easy to find. Using a tiered spice rack under my bathroom sink has been a game changer. Now I can see what I have without sending a search and rescue team to find hairspray.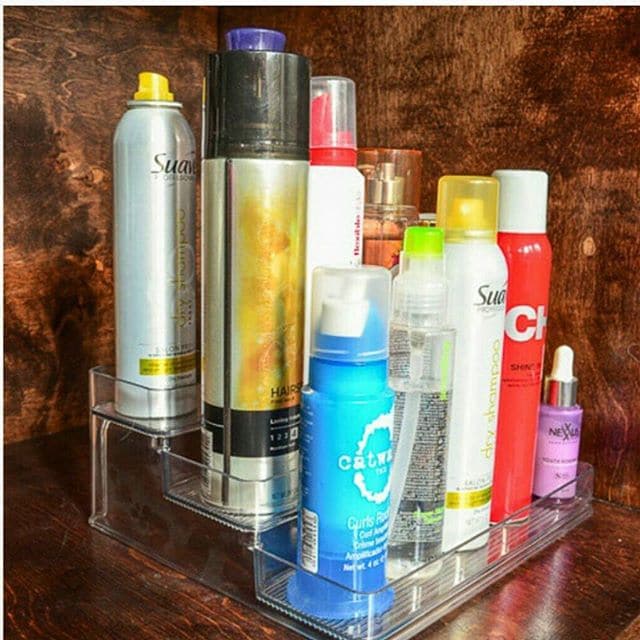 The cabinet doors in your bathroom are often unused gold mines of organizational goodness. We found THREE fun ways to use them!
First is my own. I added labels to the $0.99 IKEA BYGEL containers and stuck them to the door with Command Strips. Now my face wash, makeup sponges, Q-Tips, and wax strips are easy to find. On a day to day basis, having these item handy saves me time AND frustration.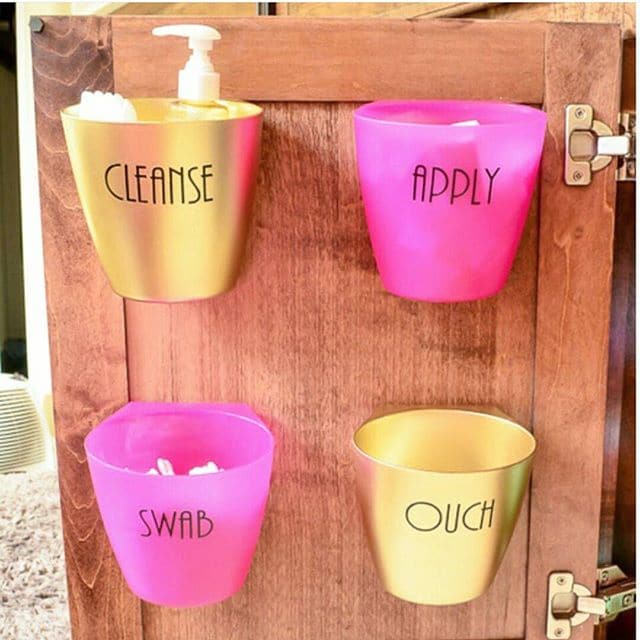 Angela from Blue i Style also made the most of her cabinet door by adding storage. A cute metal bin affixed to the door with Command Strips keeps kids items – like toothbrushes, washcloths, and combs – easily within reach.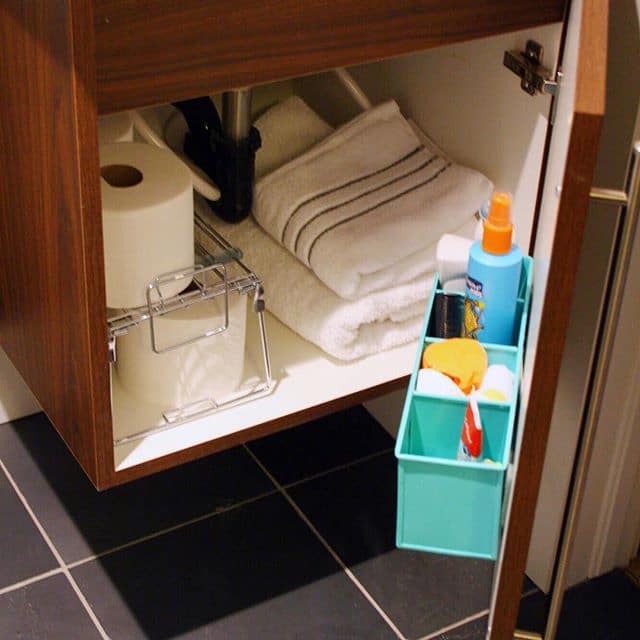 Stephanie from Crafting in the Rain  took the door idea and combined it with a DIY to create custom toothbrush holders for her kiddos. Brilliant!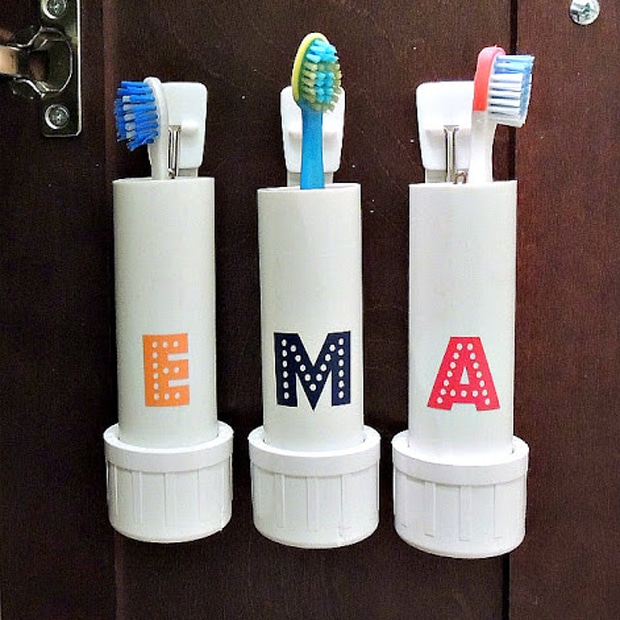 Speaking of kids, what do you do with all the bath toys? Especially when your kids share a bathroom with guests? Angela always has great organizing ideas, but this may be my all time favorite. She installed a Grundtal rail that holds her boy's bath toys on a day to day basis. She even drilled holes in the bottoms of the bins to allow the toys to drain.  The bins can be easily removed and traded out for a more relaxing set of items for adults.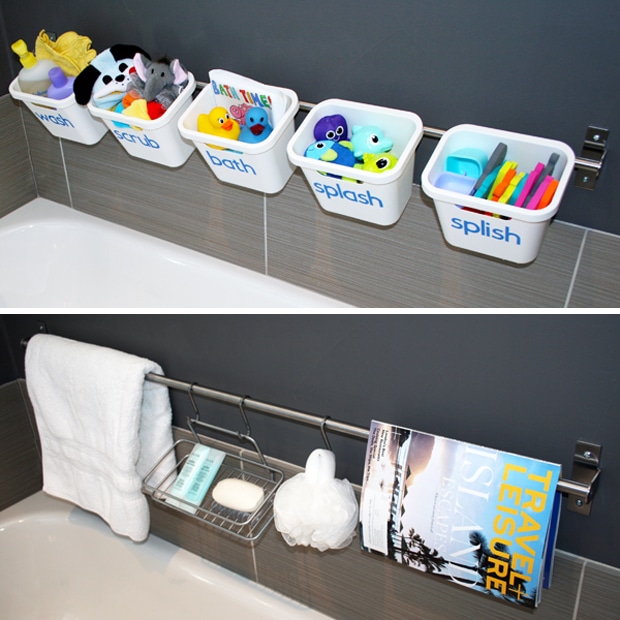 When we moved into this house, I was beyond excited that we FINALLY had a closet for towels in the actual bathroom. Then the closet became a cluttered mess within the first year. After some thought, I set up a system that has kept the closet organized for over 18 months now. It's one of my favorite spots in the house! You can see the whole post here, but I'll give you the highlights now.
Up top, I added inexpensive photo boxes for items we don't need all the time. Things like extra toothpaste, razors, and travel size goodies. Under shelf bins helped me use vertical space that would have just been empty.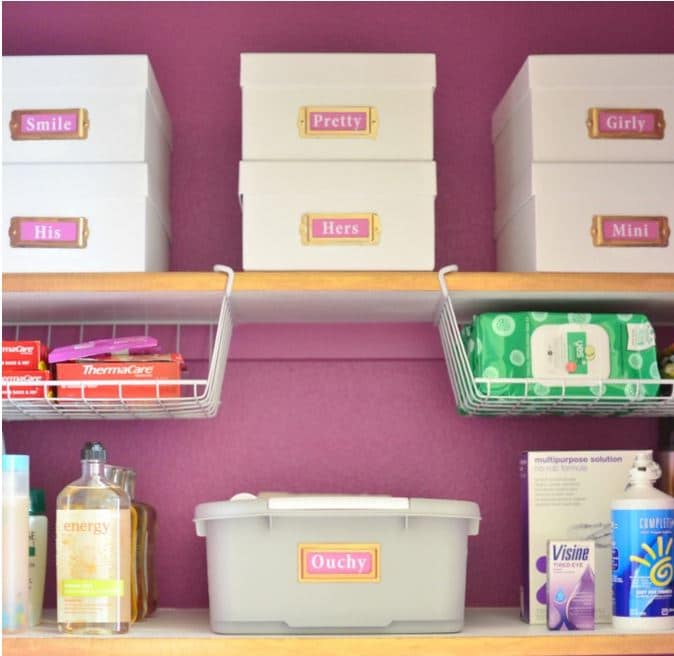 The lower shelves were maximized with plastic storage drawers. I LOVE these things. My favorite is the one on the bottom shelf that holds washcloths AND helps the big towels stand up in neat stacks. Double duty for the win!

When storage space in the bathroom is insufficient, get creative and think outside the box- or rather, outside the bathroom. Angela added a stylish cabinet in the hallway, just outside the bathroom, which provides storage for towels and toiletries.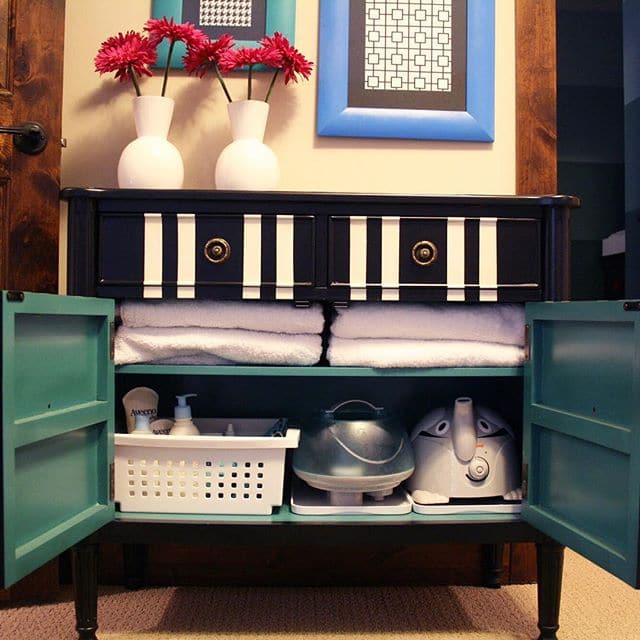 And lastly, who doesn't want to chance to peek inside someone's drawers?! Here's a glimpse inside Angela's. She grouped like items together and organized them by frequency of use. The top drawer includes many daily use items. Plastic bins make it easy to quickly put everything back in place. Lining the drawers with a fun, adhesive shelf paper and adding pretty silver labels to the bins add punches of style that motivate her to keep the drawer organized.  Just looking at the picture is motivating me to go reorganize our top drawer!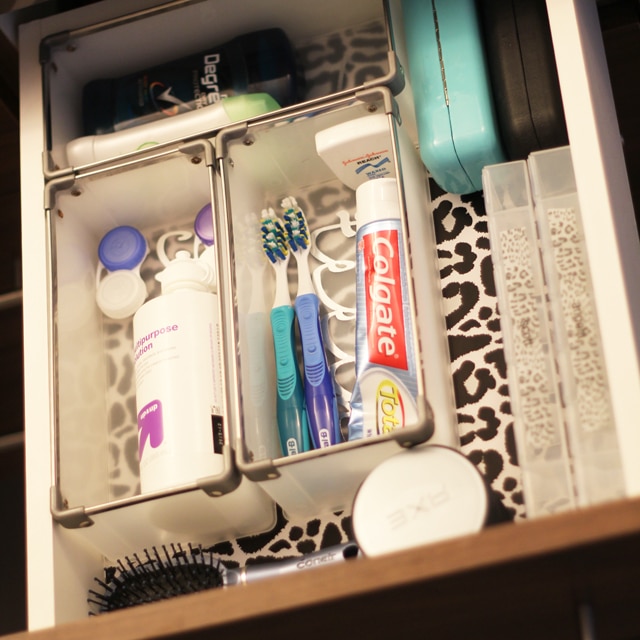 I made a handy pin below so you can save a cheat sheet of all these ideas on your bathroom or organizing board!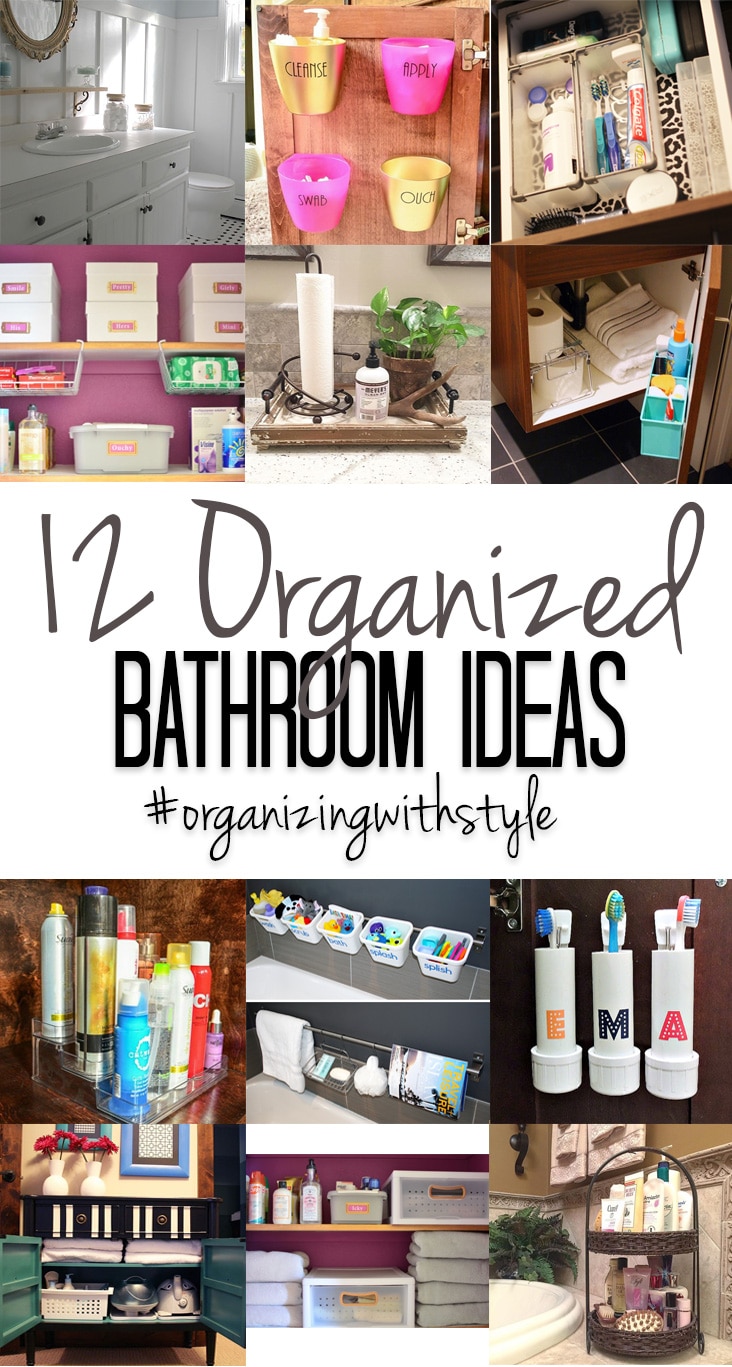 I hope you've been inspired over the last three weeks to organize your home with style! This is the last week for the series this season, but we're already making plans to bring it back in January. We'll be tackling tough spaces like kitchens, offices, and more.
In the meantime, I'm sure there will be MANY new organizing projects shared here and at Blue i Style. We can't help ourselves. We love sorting and labeling!