The past few years, I've been on a mission to organize my life and home in a way that reduces stress and makes me less cranky…most of the time. 🙂
The biggest lesson I've learned so far is that improving tiny habits or removing small frustrations really does add up to huge changes.
One of the little life hacks I've come up with has been intentionally using my cell phone as more than just a distraction.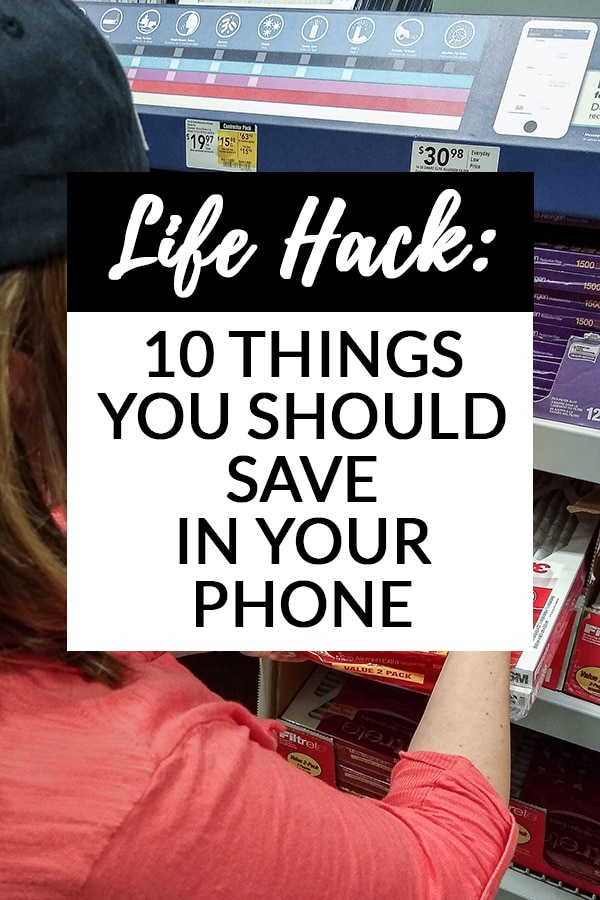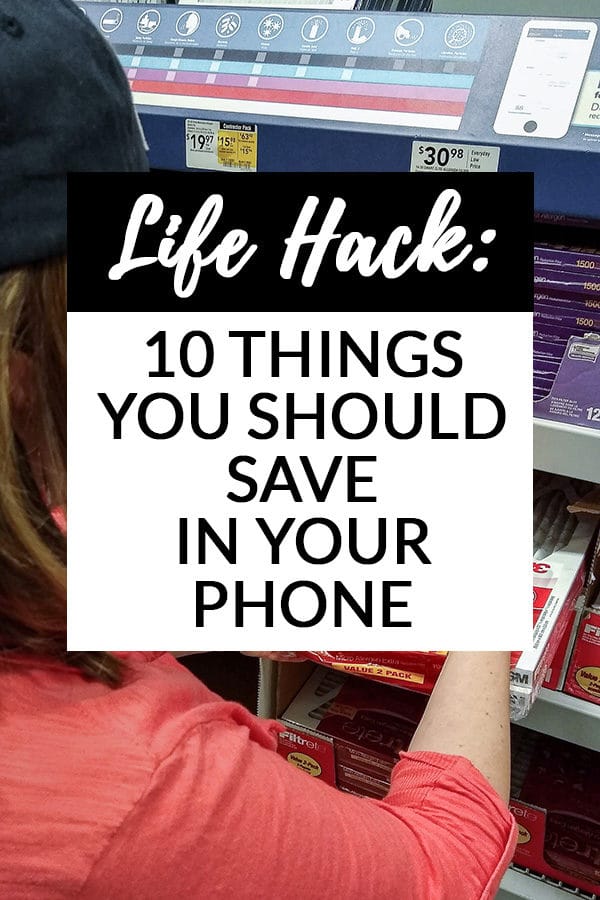 In my Organizing with Alexa post, I talked about using the Echo + my phone for my grocery list so that I can add things to the list from anywhere.
That alone has been a game-changer and you do it without the Alexa part. My mom keeps hers right in the notes app that comes with your phone.
But to REALLY organize your life, you can also use your phone for anything you find yourself looking up repeatedly.
I'm a fan of keeping things simple, so I don't even recommend downloading a bunch of different apps.
Anything I'm going over today can be stored in your favorite notes app, the free Google Docs app, or some of my screenshots are from an app called Airtable.
I started using it to organize my business, and now I've found that it works really well for my personal stuff too. The free version should do everything you need for home.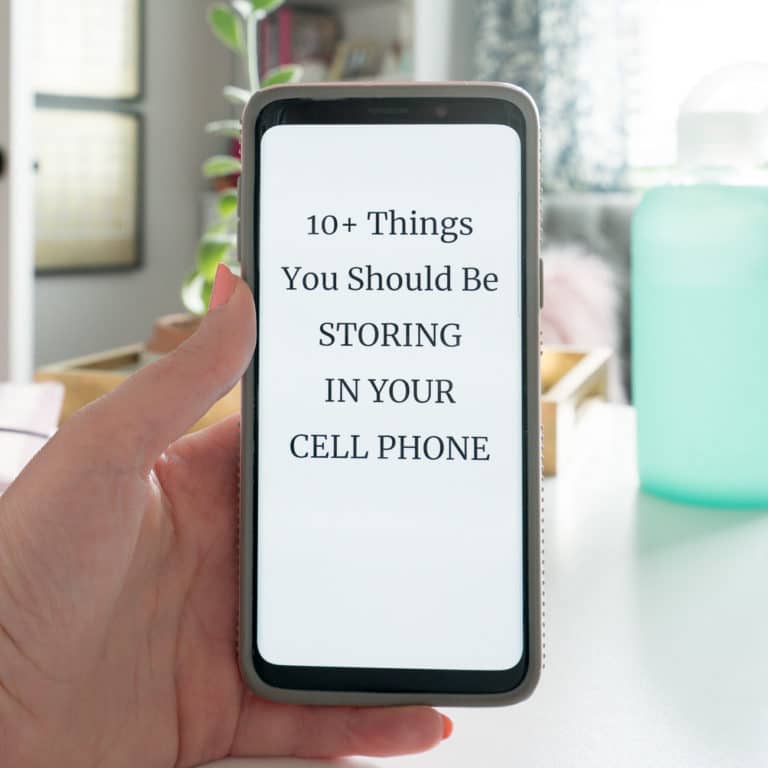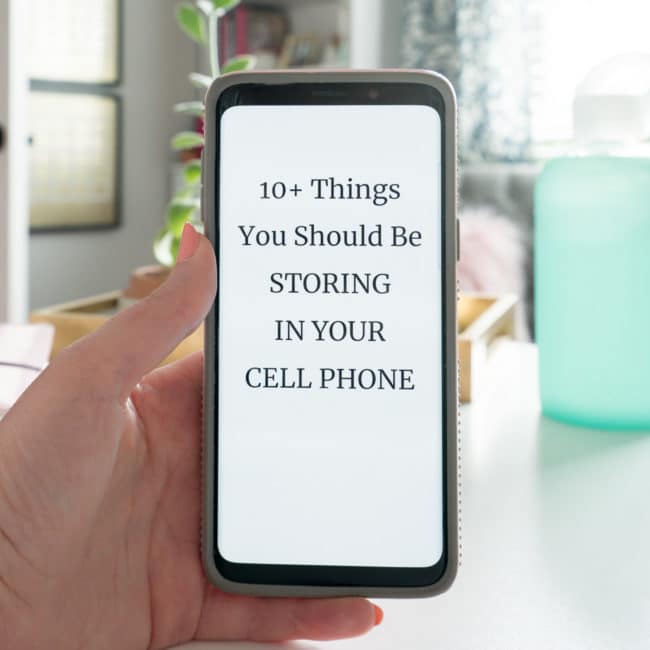 Don't obsess over the perfect solution, anything you use to take notes in your phone is great as long as you can easily find the items again.
The key is to get the items on the list below logged somewhere you can find them again. For example, if you use a Google Doc, you can put everything in one document called Important Info and you'll be done!
Household Maintenance
This will look a little different for everyone based, but here's what we include.
1) Air Filter Sizes & Quantities – I can't even count the number of times we've been at the hardware store picking up one thing, remembered we also need air filters, and not been able to buy them because we don't know the size. Or worse, we've bought the wrong size and had to return them.
Now I feel so organized with the details in a note on my phone!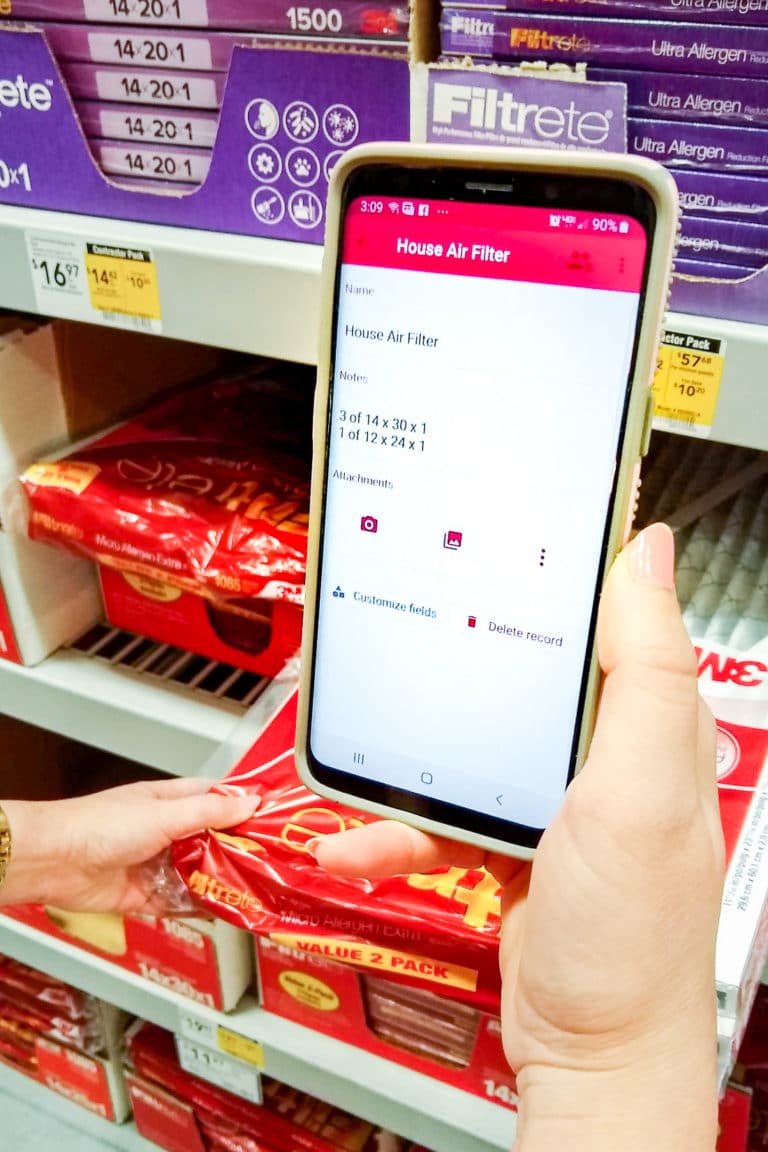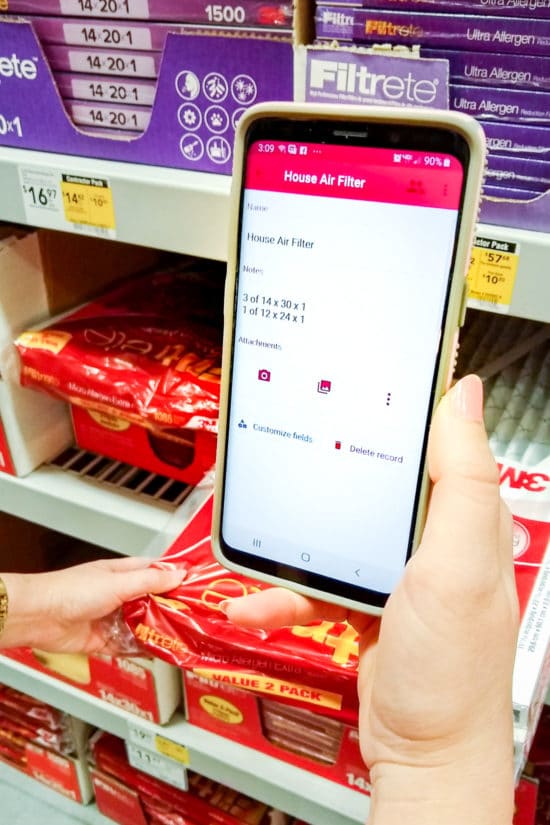 2) Special Light Bulbs – Just when I thought looking at all the air filters trying to remembering sizing was bad, I encountered the light bulb aisle. Our back exterior flood light takes a bizarre halogen bulb that never seems to last as long as it should.
And I HATE when it's burnt out because it's so dark when we let the dogs out. But we'd always have to get the ladder out to remove the old bulb before going to buy a new one.
Not anymore! It's added to the household list in our phones, along with the recessed light bulb sizes our fixtures need.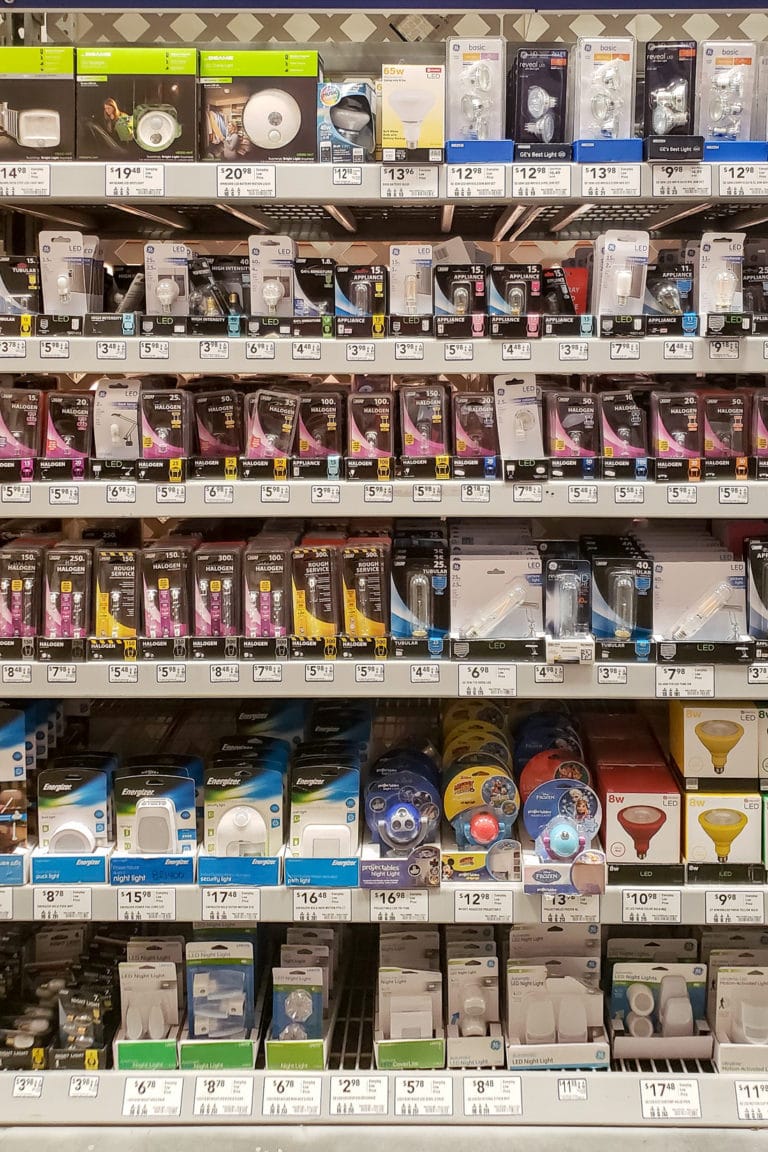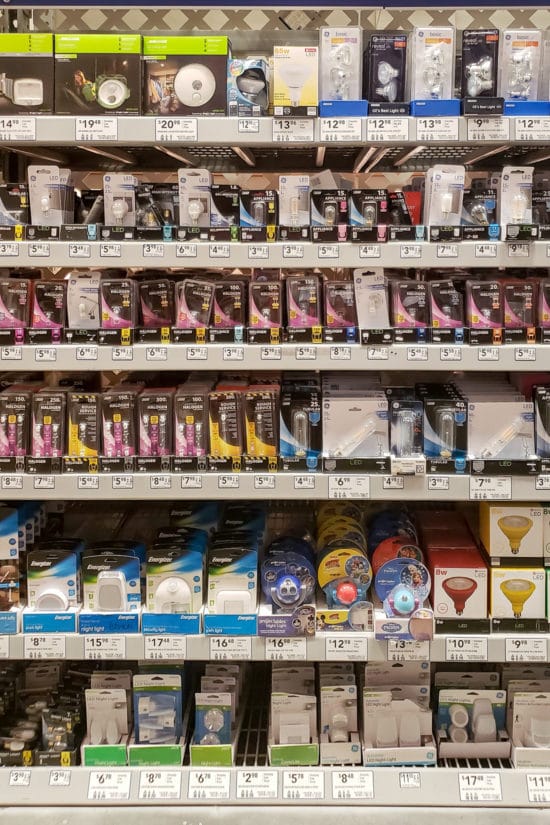 3) Fridge Filter Model – These are expensive, so at least now we can always buy the right one first without playing the guessing game at the store.
Next up, Automobile Maintenance
While everything in the section could be looked up in the store, we have wasted SO MUCH TIME in the past looking things up over and over again. Here's a few things we keep on our list.
4) Wiper Blade Sizes
5) Oil Change Items: Last Changed Date/Milage, Oil Filter Size, Oil Type & Quarts needed
6) Car Air Filter Details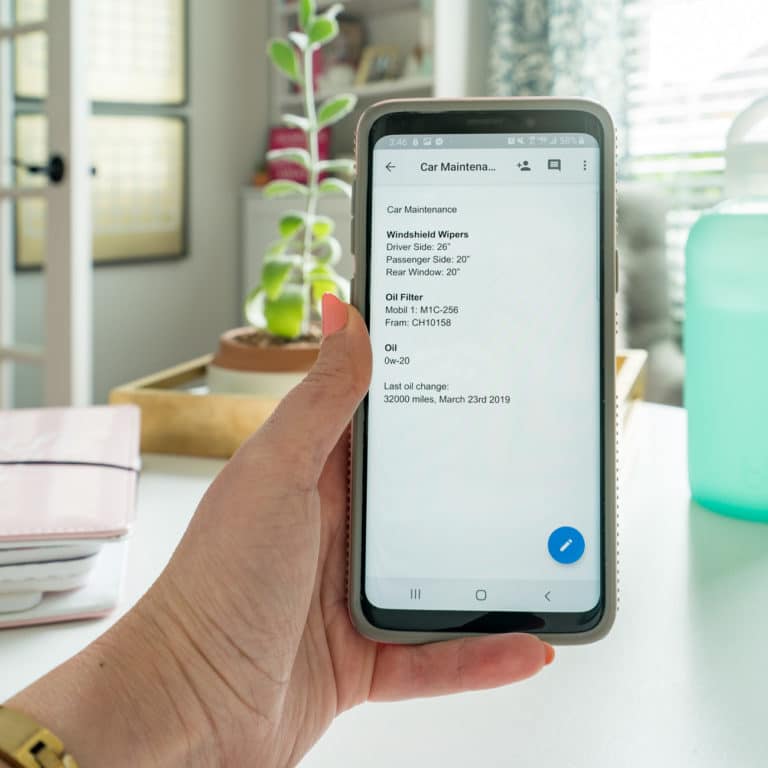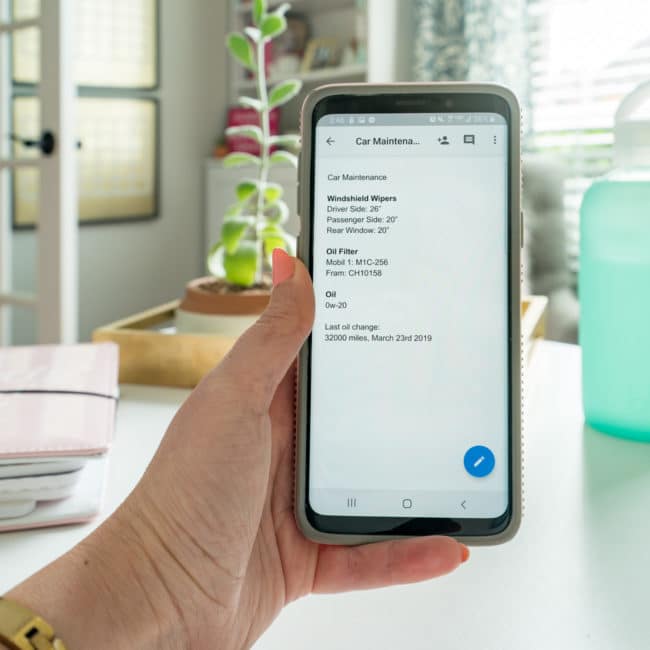 7) License Plate Numbers: Most paid parking spaces in Tulsa now require your license plate number, but inevitably I forget that until I walk to the kiosk and then I have to go back to the car. Or rather I did!
Now I keep the license plate number handy in my phone. A reader in the comments mentioned that it's also very handy when you're parking at a hotel and they ask about your vehicle.
Medical Related Info
8) Medication & Prior History List: Have you ever been at the doctor trying to remember medications dosages to fill out a form?
Make it easy by logging them in your phone and keeping the list up to date. It's also a good idea to keep a list for your spouse and kids in case of an accident. The hospital always needs this list to make sure they don't cause any interactions.
In addition to the medication, it's handy to log any prior surgery, imaging, and/or diagnosis dates. It's so much easy to just write them on the forms from your phone than to sit and try to recreate timelines in your head.
9) Doctor & Pharmacy Names/Contact Info: Make a list of your primary care doctor along with any specialists you've seen and their contact info. It's easy to forget the name of someone like a dermatologist you see once a year. Let your phone remember it for you and free up your mind for something else!
Keeping Track of Names & Places
10) Neighbors / New People You Meet – This was actually one of the first random things I started storing on my phone and has been SO helpful. I started a little list of neighbors when we first moved into this neighborhood and I would walk Maddie and run into people.
I still do it when I meet someone new, making a note of their name and anything else I should remember the second we stop talking. I think this would be super helpful if you have kids and meet other parents at school events.
11) Gift List & Ideas – When you're having a conversation with a family member and it leads to a gift idea in your head, log it in your phone before you forget. The same things goes if you're shopping and see a possible gift idea.
12) List of Restaurants You Want to Try – I know we're not the only ones who waste a lot of time trying to figure out where to go to dinner. We often fall back to the same spots even though I know there are tons of places we'd like to try. We just never think of those places in the moment.
Now I have a list on my phone and I can add to it when a friend mentions a fabulous new restaurant. Using Airtable, I can even sort it by area of town or by food type!
We also have a few favorite spots that we forget about because they aren't in places we drive by often. I keep those on the list too.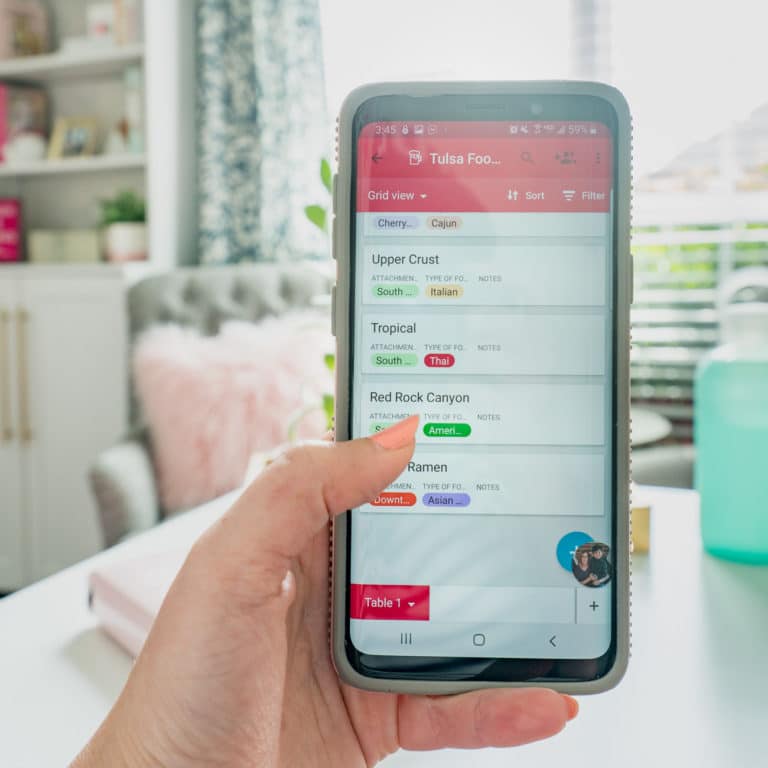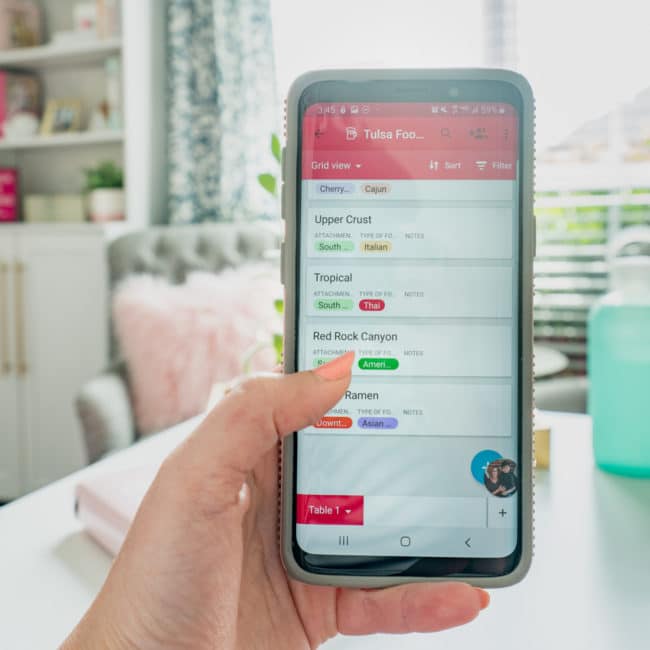 13) List of Wines/Beers/Coffees You Love – We've been to a couple of wine and beer tastings, which are fun, but not that helpful without a system to log your favorites. There are apps for this, but I find it just as easy to make a list in my phone.
For any that I really like, I either enter a note about it right away while we're in line for the next booth or snap a picture of the bottle and make a note when we get home.
All these small things have added up and make our life easier and more organized at various points each month. I hope you'll implement the ones relevant to your life ASAP and that you'll find the same benefits!
Now I want to hear from you!
Let me know in the comments below what else you store in your cell phone to make life a little bit easier.