Whoa. How is it already week #3 of 6 in the One Room Challenge? I had a fabulous trip to Salt Lake City last week, but in between all the learning and the fun with friends, I was thinking about all the things we've got to knock out in the bedroom in the next three weeks. Somehow right before I left, we did finish painting three walls and the ceiling (everything except the feature wall). Stay tuned to the end of the post to enter a giveaway for my FAVORITE wall painting tool, the HomeRight Paint Stick.
If you're a first time visitor, welcome to the madness! You can get all caught up on the before photos and my plan for our Uptown Meets Downtown bedroom back in this post.  Once you've read that, hop back here for the latest happenings in the room.
Last week, I left you wondering if we would go with a pink or a gray for the walls. I think the majority ended up voting for gray, but I'm a rebel! Three of the walls are going to be Sherwin-Williams Verbena, which is that gorgeous, soft pink. The feature wall behind the bed will be the same white as the ceiling.
To make my final decision, I painted a large section of the wall between the windows Verbena on one side and Repose Gray on the other so I could see what they looked like with the art from Minted.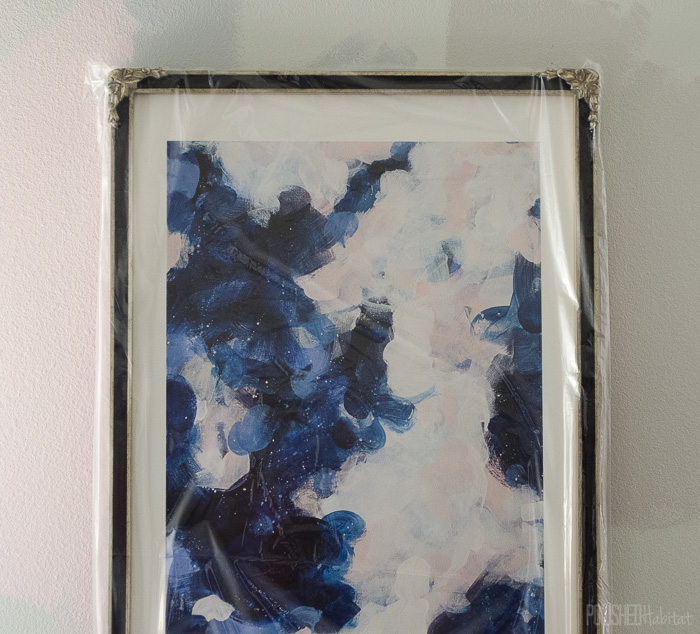 Seeing the moody art pop against the pink sold me. It definetely wasn't the safest of the two options, but for me, the ORC is all about taking risks and pushing myself to try new ideas.
Once I did the hard work of picking a color, I still needed to get that pink on the wall.  If you remember the closet One Room Challenge, I partnered with one of my favorite DIY brands, HomeRight, on all the posts. They are back this week because I can't paint a room without a HomeRight Paint Stick!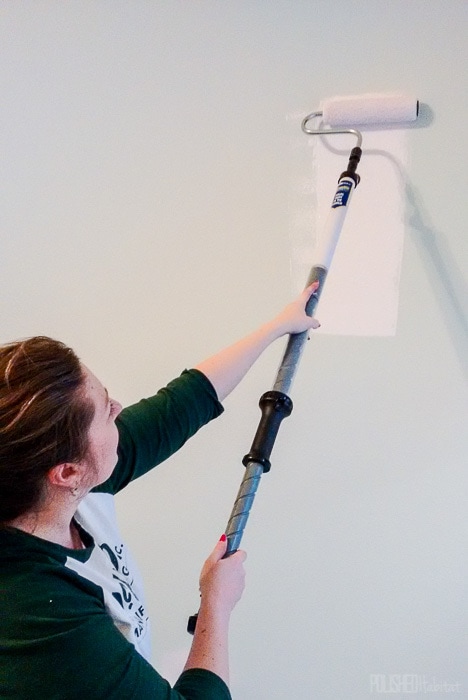 The Paint Stick holds a TON of paint in the handle, so I save so much time not having to bend over and reload the roller again and again. Instead, I can paint a HUGE section of wall without reloading it. Just twisting the handle releases more paint onto the roller. Brilliant! Since HomeRight is awesome, they're also providing a giveaway for a PaintStick at the end of this post! Woo hoo!
After two coats of pink on the wall and two coats of white on the ceiling, here's what the room looked like!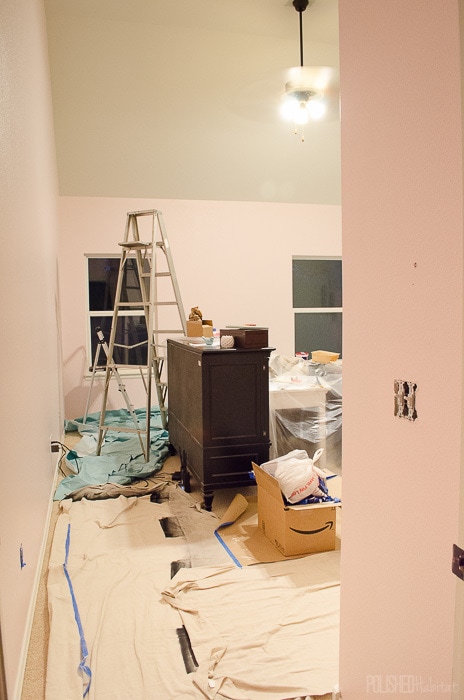 We are loving how much the color changes from BARELY pink in the sunlight, to more attitude at night. I can't wait to get all the art up. Here's what the other side looks like now.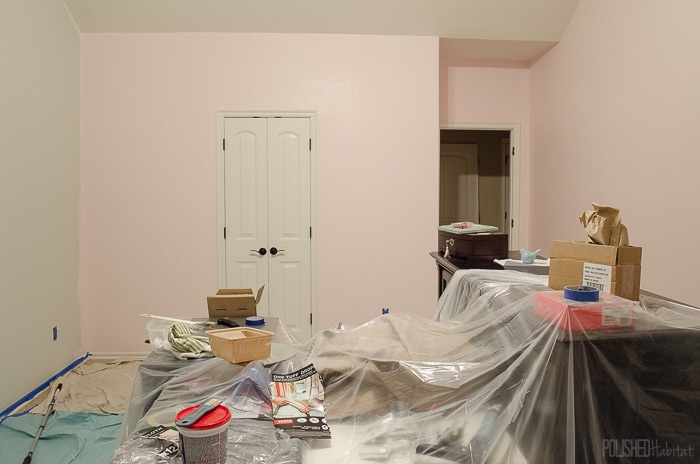 That wall that isn't painted will be the feature wall behind the bed. In the original plans, it was going to be a very symmetrical grid feature, but I had a new vision! I think I'm going a different, more random-diagonals direction, but we'll see how good we are at figuring out angles. It could be AMAZING if it turns out like I see it on my head, but we'll find out when we start working on it this weekend.
When I returned from my trip, we shifted things around the room so I could paint the furniture. I'm pretty sure the dresser weighs the equivalent of an elephant, so there was no way we could move it to the garage for painting. Thankfully, Rust-Oleum has the Metallic Accents line of non-spray paint that I can use in the house. I went with the color Sterling Silver and it is incredible. I may love it more than gold spray paint, and that is saying A LOT!
Here's a peek at my progress.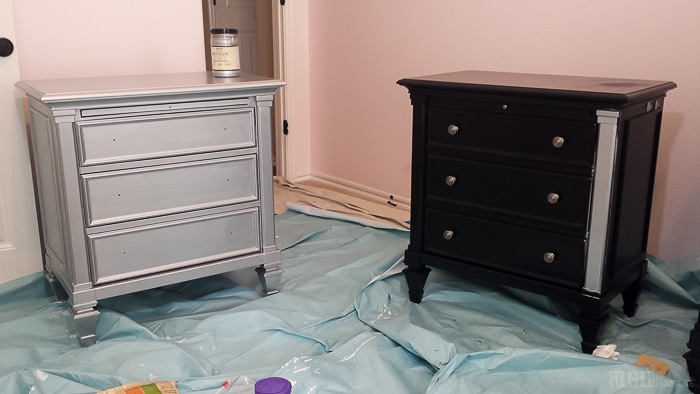 Can you believe how much better the nightstand looks in silver than in it's original black finish? It's like it was MADE to be that color!
Oh! And the bed that I spent literally 20+ hours picking out arrived and is PERFECT. I'm working on a post of all the things I learned trying to pick out a bed online. Who knew there were so many potential pitfalls!?!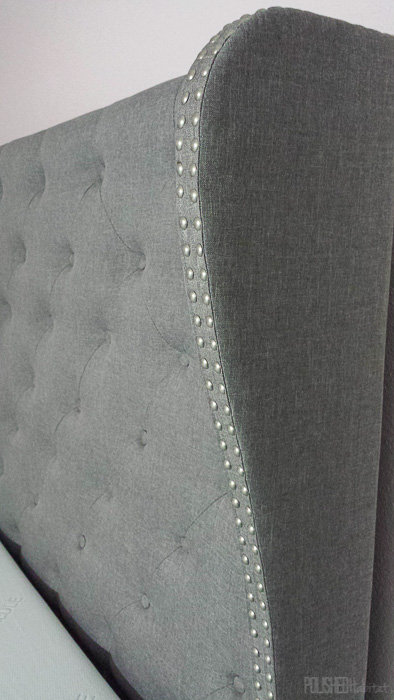 The two large Leigh Viner pieces for the wall across from the bed were also delivered while I was gone, and are even more gorgeous in person! Here's a snapshot of one of them. I'm in love.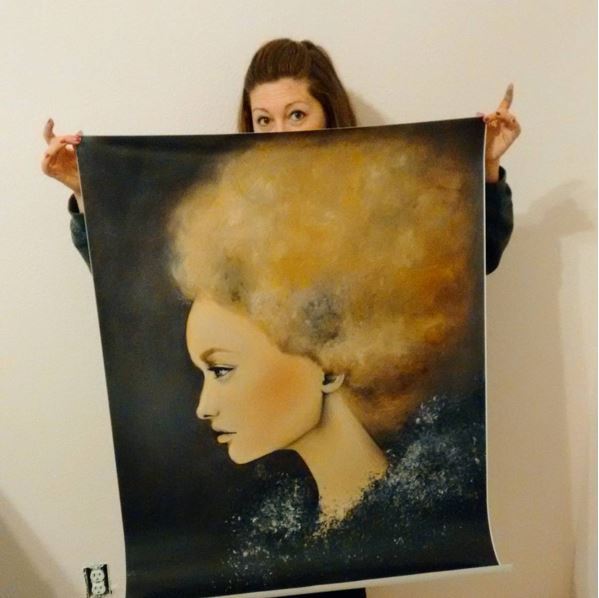 Along with the UPS driver's workout from delivering all those goodies, our credit card got a serious workout. I finally decided on a rug (this one) and a ceiling fan (this one).
It's funny, I thought I barely got anything accomplished this week, but it turns out that big progress was still made. I'm still VERY nervous that the clocking is ticking down too quickly though. We still have to start AND finish the feature wall, build a zillion picture frames, install the fan, blinds/drapes, and style the room. I haven't settled on bedding or an accent chair, and will need a variety of accessories to finish out the space. Oh, jeez, and that super-secret art project of the bed has been started as a draft on paper, but not actually started at full scale. Send wine and energy bars!
Before you head over to Calling It Home to check out the rest of the One Room Challenge spaces, make sure you enter the Paint Stick giveaway below. You can also get one more chance to win a Paint Stick over at Blue i Style. She's making over her master bathroom during the One Room Challenge, and just happens to have been painting this week and giving away a Paint Stick as well!
On your phone or tablet, click "A Rafflecopter Giveaway" to enter. If you're on the computer, you should see a form below.
a Rafflecopter giveaway


In 2013, Melissa founded Polished Habitat to share her passion for intersecting style and function to make everyday life more beautiful and less stressful.

She does this by sharing easy home organization tips, home decor tutorials, and creative ideas to help readers think outside the box, no matter their budget.

Her work has been featured in print in Better Homes & Gardens and Room to Create Magazine, and online by HGTV, House Beautiful, Buzzfeed, & more.

In 2018 & 2019, Melissa was named as a Style Maker by Better Homes & Gardens. In 2019, Polished Habitat was shortlisted for the Amara Blog Awards Best Interior Styling Blog - International.

Latest posts by Melissa George (see all)