Well, hello there! It has been a few months since I've been over here hanging out with all of you, so I'm thrilled to be back today sharing a peek at my Christmas Table and dishing on all of the ways I was able to pull it together so inexpensively!
I'm going to outline my money-saving tips for How to Set a Luxe for Less Christmas Table. And yes, it really can be done!
One of my favorite spaces to style is our dining room. I truly love a full, layered and luxurious table, especially at the holidays!
This is prime season for entertaining, but hosting expenses can certainly add up quickly. Food and beverage costs are sometimes more difficult to minimize, but saving money on the decor? I am here to help you with that! Come and see the 6 ways I saved on this tablescape. You just might be surprised!
[*Affiliate links were used in this post.]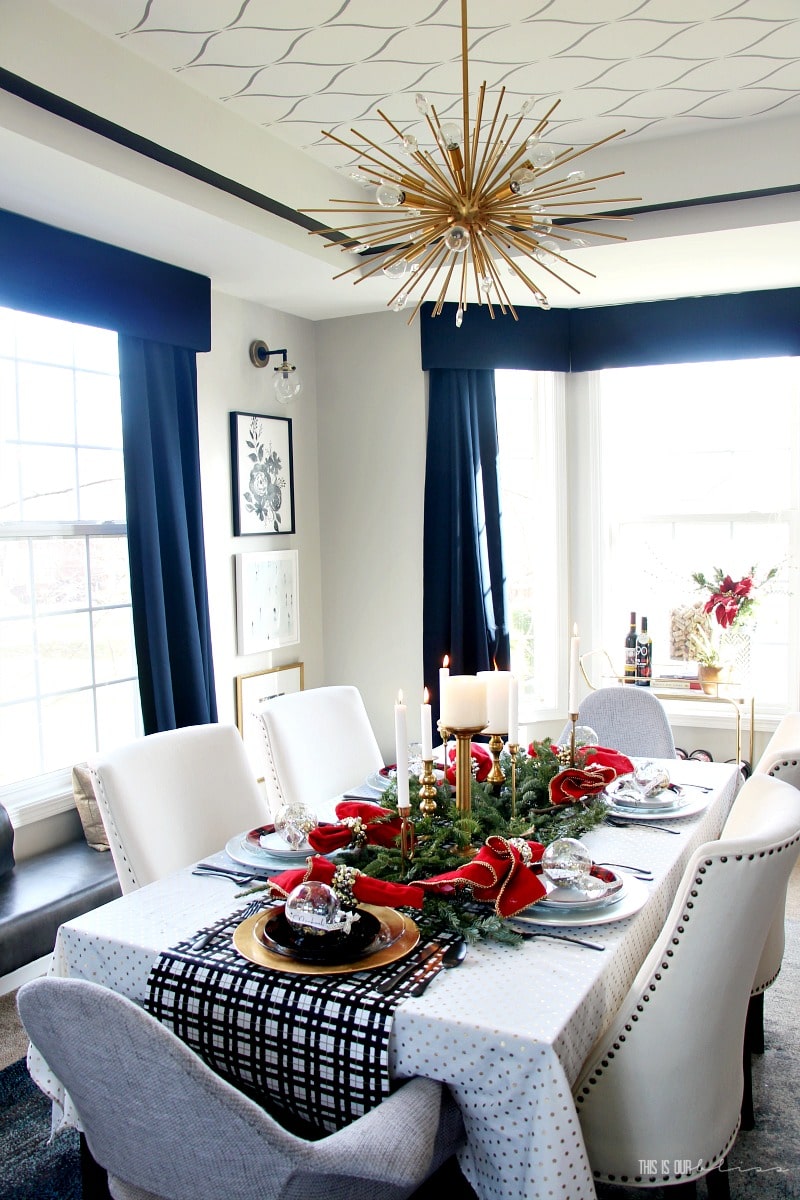 1 | THRIFT THE ESSENTIALS
It's no secret the thrift store is my BFF. I could spend hours perusing the aisles and grabbing pieces to add to my decor stash. You can't beat the prices and if you go often enough, you really can score some fabulous items in excellent condition.
One item that is almost guaranteed to be found at your local thrift store is a plethora of brass candlesticks. Now, if gold is not your thing, these candlesticks are a prime example of something that can be taken home and easily transformed with a little bit of spray paint.
I tend to buy things and spray them GOLD, but silver, copper, bronze or even black would look beautiful on the variety of candlesticks laying around at the thrift store.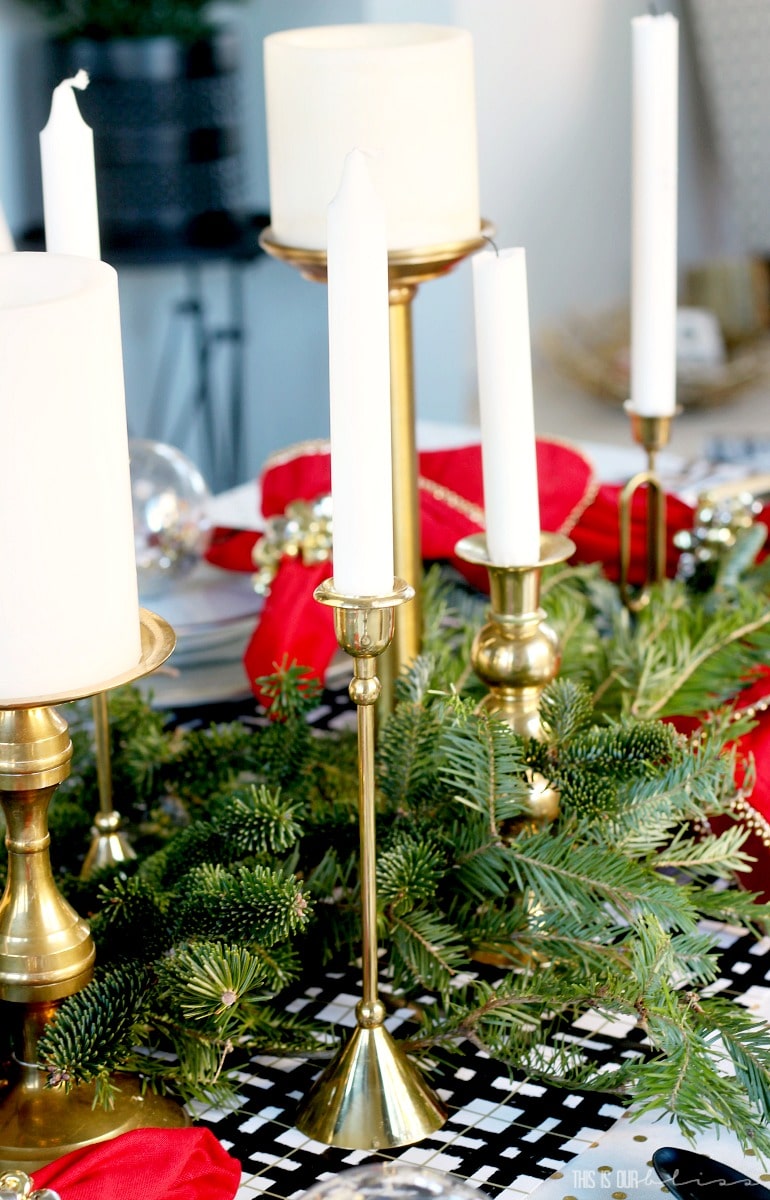 I love finding ones with unique shapes or bases to create some dimension on the table. Yes, you can totally mix and match the candlesticks. They don't all have to be the same or be set-up in a uniform pattern. Sometimes staggering them across the middle is my favorite look.
Here are two more examples of how I use candlesticks on various tablescapes throughout the year… [and yes, they were all thrifted for 50¢ to $3 a piece!]
Tulips & Tapers Spring Tablescape
Chic Sips & Sweets Halloween Table
The plaid appetizer plates were also purchased at the thrift store for $2. Another savvy score! Since you might not be able to scoop up plaid plates are your local store, these are a great alternative and these ones are, too!
2 | DIY THE FINISHING TOUCHES
A quick, easy [and personalized] DIY is the perfect finishing touch to your table! I made both the ornament place cards and the Christmas bell napkin rings using supplies from my local Dollar Tree.
Creating a personalized place card for your guests is that extra touch that goes a long way in making them feel special and welcome in your home.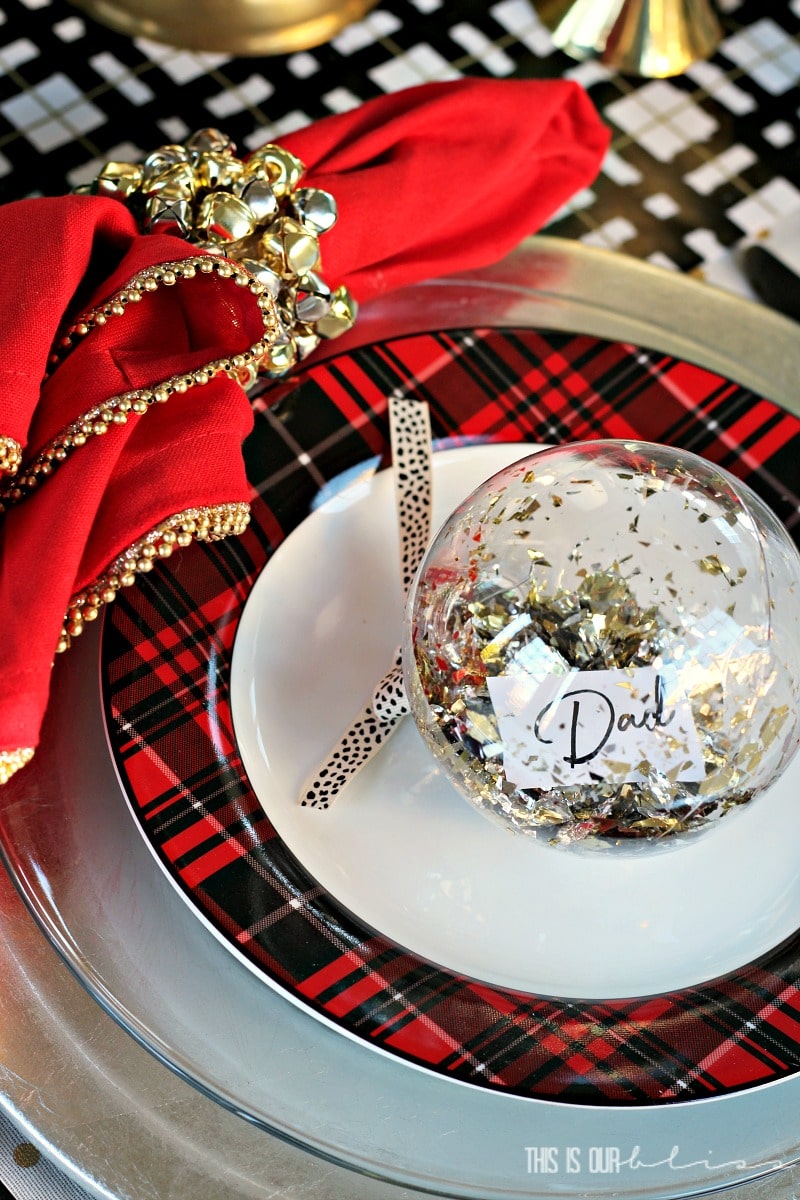 And believe it or not, the table runner is a DIY I made using a $2 roll of wrapping paper! Think outside the box when it comes to creating a full, layered table.
I grabbed a tablecloth I had on-hand and in order to add some pattern play and dimension, I simply cut a piece of wrapping paper and placed it along the table down the center. Easy peasy! The good news is I didn't even use the entire roll, so I still have plenty left to wrap a few gifts with!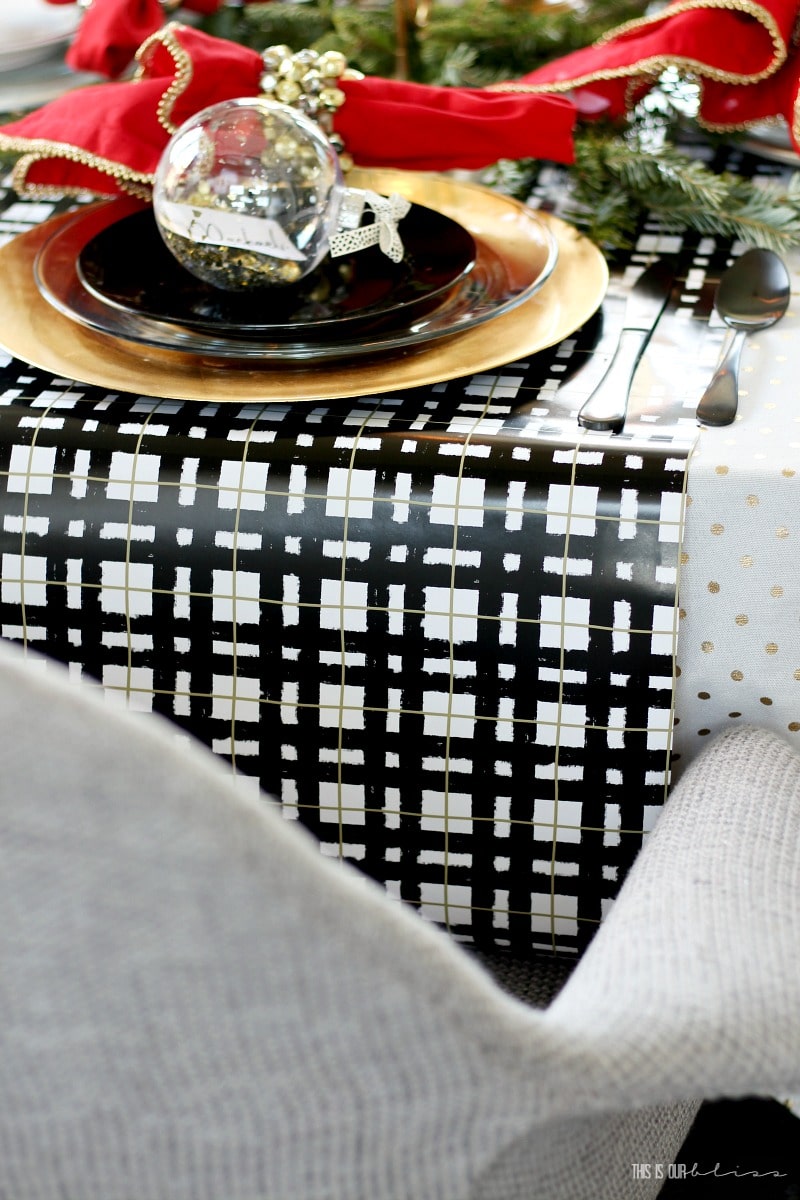 3 | SHOP THE POST-HOLIDAY SALES
Who doesn't love a good bargain?! While it's not something I do each year, there are times when I head out for an hour or two on December 26th to do a little post-holiday shopping. You simply can't beat the deals on all of the Christmas decorations.
I tend to hit up Hobby Lobby and Michaels a couple of times in the days following because the prices keep getting slashed! You can score new ornaments, stockings, wrapping supplies, dishes, etc. for up to 90% off. These beautiful red napkins with gold beaded edges were clearance items I picked up last year for 80% off and I was lucky enough to get the last 2 sets of four they had on the shelf!
I knew they would be perfect on my Christmas table the following year! Since I went completely neutral and metallic in the dining room last year, I was pretty certain I would be craving some classic red 🙂
4 | USE WHAT YOU HAVE
While I do thrift lots of pieces and stalk the clearance aisles, I also like to go to my stash and pull out the basics. Shopping your house is an excellent way to find exactly what you need. Sometimes all you need to do is go into the next room to find it!
The charger plates, tablecloth, clear plates [Dollar Tree finds] and black metal flatware [under $2 per piece!] I already owned, so simply had to pull them out and build from there!
5 | MIX & MATCH YOUR DISHES
You do not need to go to an expensive home furnishings store and purchase an entire set of dinnerware. I repeat, you do not have to have the full collection! If you have a set of China, then by all means, pull the beauties out and use them, but totally not necessary.
You can set a beautiful table using everyday dishes and they do not all have to match! I used a mix of gold and silver charger plates, clear plates from Dollar Tree and since the plaid appetizer plates came in a set of four at the thrift store, I simply used 2 black plates from my cupboard and placed them at the heads of the table. There are no hard and fast rules. Set the table how you want it to look!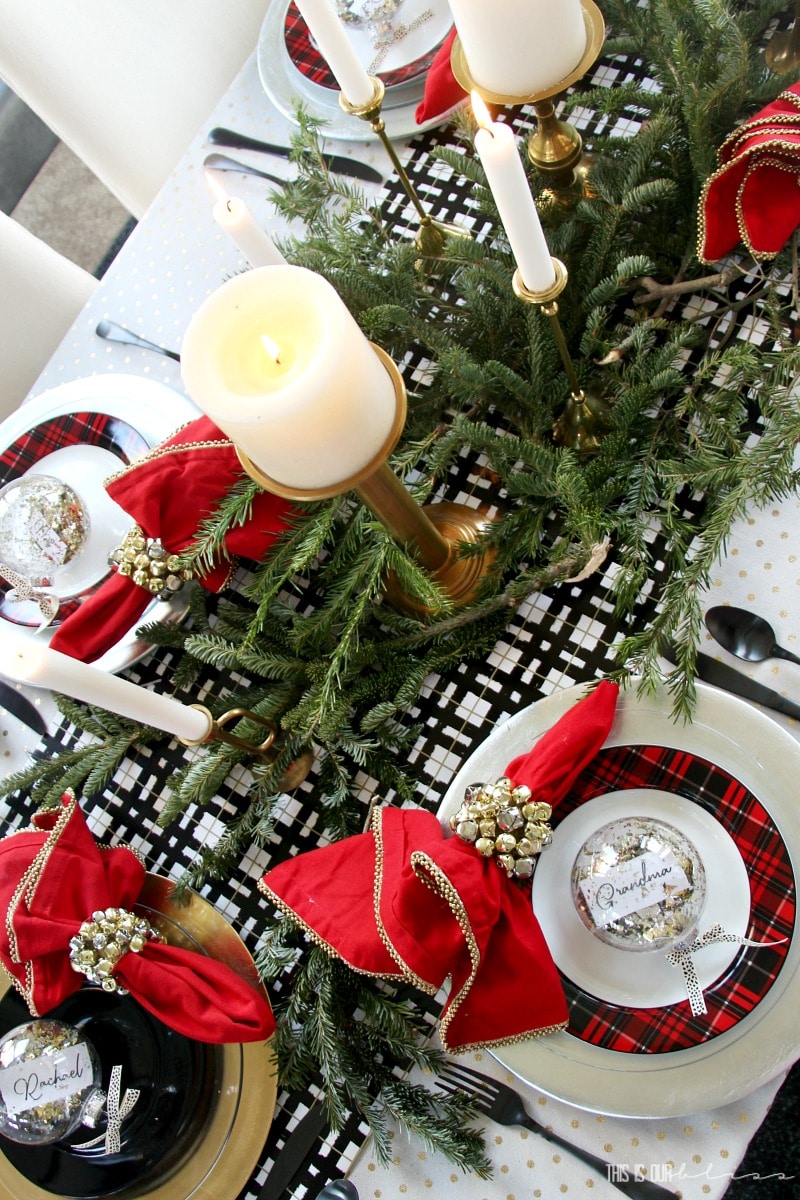 6 | GRAB FREE CLIPPINGS
This is a goodie! Did you know you can go to your local Home Depot or Lowes store and ask the sales associate if they have any scrap Christmas Tree clippings? They will walk over to a garbage bin near their tree cutting area and check for you. If they have some, they will hand them over.
If not, they may tell you to check back at another time that week when they know they'll be doing more trimming. I used 6 or 7 clippings down the center of the table for a fresh, natural and seasonal vibe.
You could also place them in a vase or multiple vases and stagger them along your table as well. They smell wonderful, look great and they are FREE! There isn't a better money-saving tip than how and where to score FREE holiday decor, right?! You could also clip your own twigs and branches from the backyard to bring inside to your table. Either way, it's a great idea to use natural elements to give your space some life!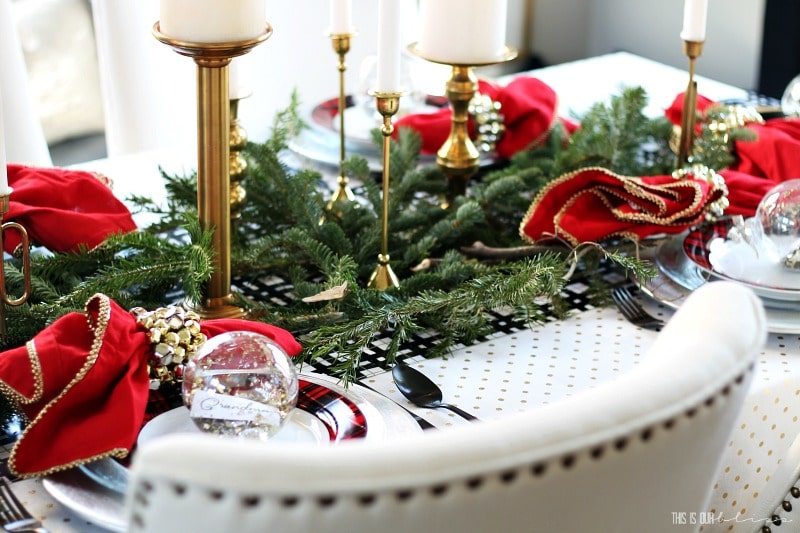 What do you think? Are you contemplating ways to spice up your Holiday table on the cheap? Setting a Luxe for Less table truly is simple! Don't overthink it and don't overspend! No one will know if you don't tell them! $1 dinner plates…50¢ candlesticks…and free tree clippings are essential ingredients for a beautiful Luxe for Less Christmas Table.
Wouldn't you agree?!
I'd love to hear your money-saving tips when it comes to hosting and entertaining for the holidays! What do you do to save money during this busy [and costly] time of year?
Thanks, Melissa for having me back today and thanks to all of you lovely Polished Habitat readers for making me feel so welcomed over here and allowing me to share my tips for How to Set a Luxe for Less Christmas Table! I hope you all have a wonderful holiday season!
You can check out more of my Christmas projects so far this year below:
5 Minute Holiday Hostess Gift
DIY Pom Pom Wreath Photo Ornament
Holiday Gift Guide for the Home-Girl
A Simply Red Christmas Family Room
DIY Dollar Store Christmas Bell Napkin Rings