Any Denver Broncos or Peyton Manning fans out there??? If so, I think you'll love this! But don't fear if you aren't a football fan, or worse, you're cheering for the Seahawks this weekend. You can adapt this project to fit any interest!
I needed something fun to wear to a Super Bowl party. Instead of buying some Broncos gear, I thought it would be a great opportunity to try out the Silhouette Heat Transfer Material, which let's you make custom apparel. It's so much more fun when you are one of a kind!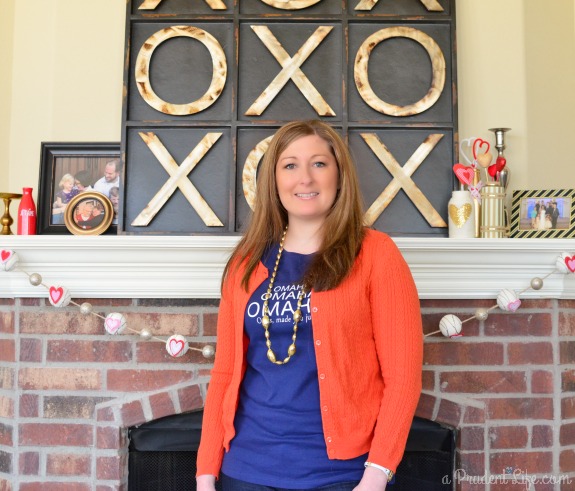 The Story Behind the Shirt
In last week's playoff game against the Chargers, Peyton Manning yelled "Omaha" 44 times before he snapped the ball. The Chargers thought they had figured out the code, and ended up jumping offsides MANY times during Peyton's Omaha outbursts. Which is a great thing if you are a Denver fan! For my Superbowl shirt, I decided to pay homage to the Omaha success.
Enough about football! Let me show you how to make your own shirt!
Download my file at the end of the post or design whatever you would like in the Silhouette software & cut using Silhouette Heat Transfer Material in the color of your choice. If you create your own design, make sure you mirror the image before you cut. It should look backwards. I had no problem using the default settings for the material with no mat.
When the cutting is finished, it will be pretty hard to see the cuts, but they are there. Find the end of your image and cut below it with scissors to detach it from the rest of your blank material.
Carefully peel the backing away from the design. I was impressed with how well it separated without pulling up the letters. It should be looking like this: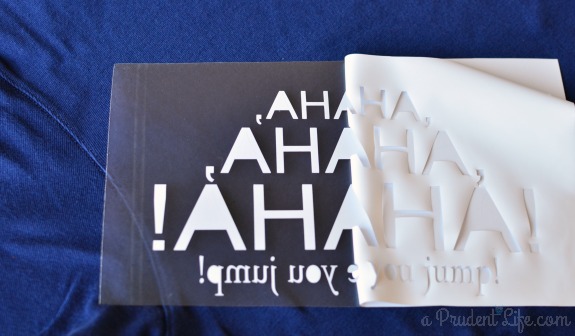 Next, weed out the negative spaces (the stuff in the middle of the A's & O's).

Now you are ready to place it on your shirt. I actually put the shirt on and held up the letters to figure out where I wanted them placed. For me, it ended up looking best to have the top of the words about 4 inches down from the collar. I tried several things to make sure it was centered, but in the end it was pretty much eyeballed.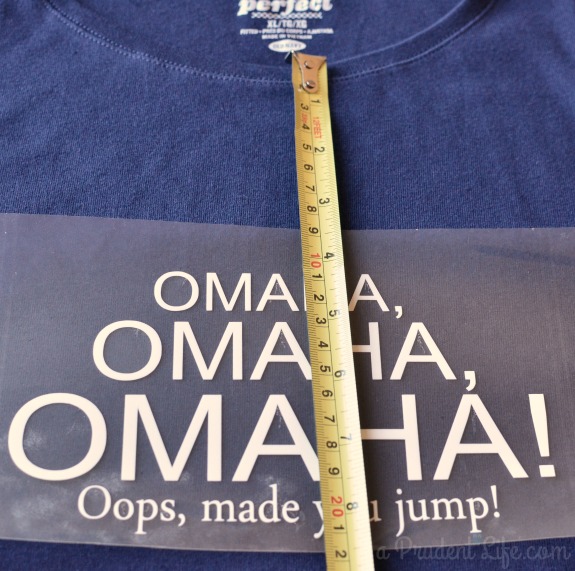 Once you are happy with the placement, the instructions say to place a cloth over the design, and then apply firm pressure with the iron set on no higher than cotton for 45-60 seconds. That did NOT work for me. I tried. And tried. NOTHING was sticking. Super frustrating. I tried more pressure, I tried 90 seconds. Still nothing.
Determined to make it work, I made several more adjustments and then low & behold I had a T-Shirt! You should probably start with the manufacturer recommendations in case my iron is wacky or I was missing something. If that doesn't work for you, here is what I did differently so you can try it at your own risk!
1) Iron temp – My iron says 3 is cotton & the numbers go all the way up to 6. I tried 3 & 4 with no success. Finally, when I got up to 5 things started sticking.
2) Overlay – I was using a really thin flour sack dish towel as my "cloth". Then I switched to use the piece of parchment-y paper that came in the box with the material. It worked much better!
3) Surface – We have an over the door style ironing board, and it does have some give. I wondered if it was preventing enough pressure from being applied. I switched to a table (with a blanket between the table & shirt) and it seemed to help. Be careful if you try that though. The constant heat could damage the table surface.
Even with those adjustments, you have to be careful when checking for adhesion. As you can see, sometimes some letters stick and others don't. Just put the clear sheet back down and keep on ironing & rechecking every 45-60 seconds.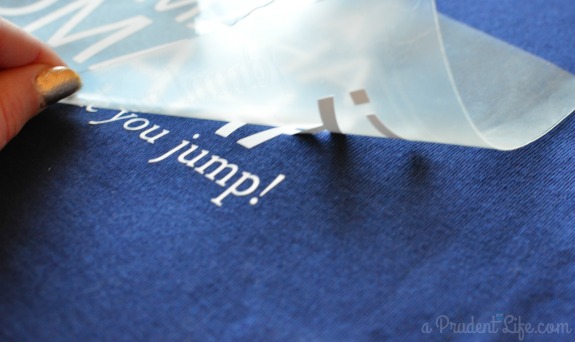 Pretty soon, everything will finally stick and you'll have a custom shirt!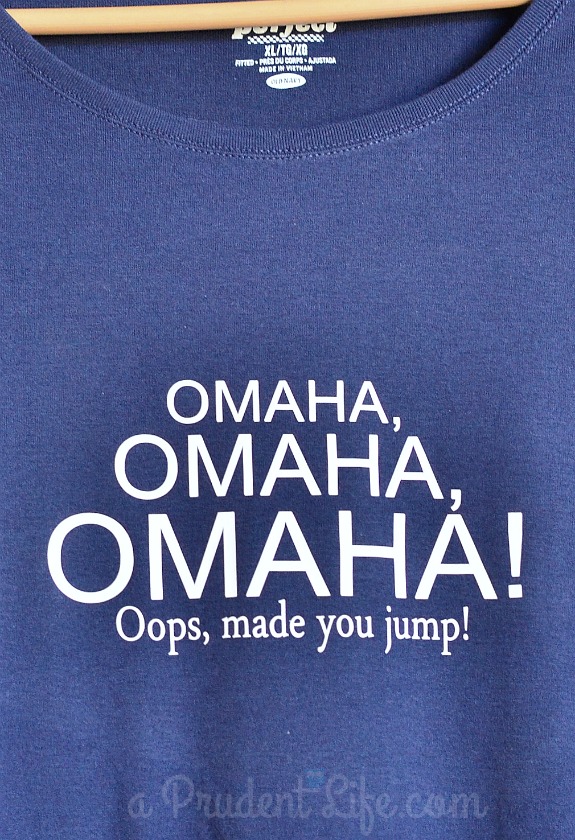 Here is my finished product all styled up for Super Bowl XLVIII!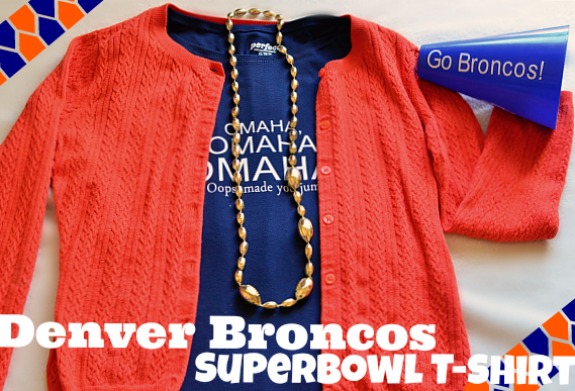 As long as you aren't going to the same party as me, feel free to use my design to make your own Omaha shirt. File is being shared for personal use only!
To access the file click here: Omaha Silhouette .studio File
Because the file is a .studio and Google can't read those, there is no preview. Your screen should look like the screenshot below. Click download and it should begin downloading for you.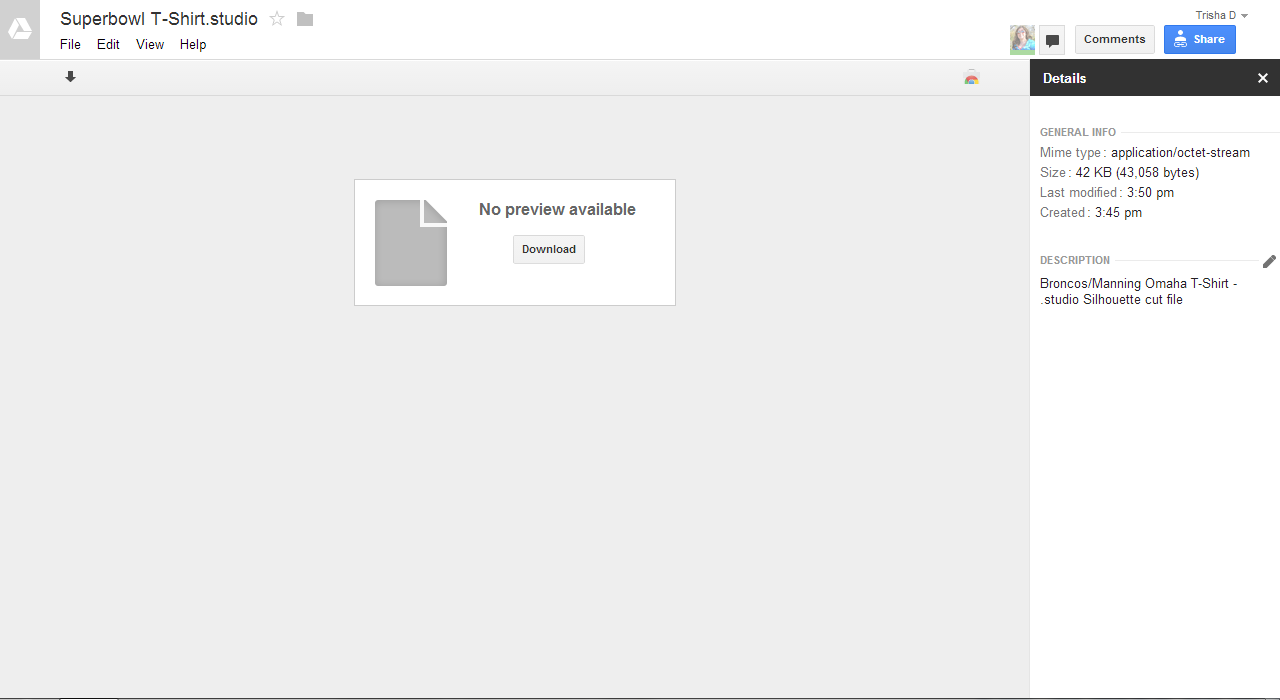 If any of you try this, I'd love to see pics of you wearing your creation!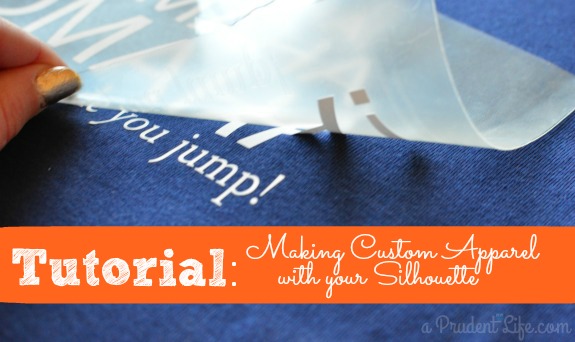 Go Broncos! 🙂
Are you attending a Super Bowl party? Check out my easy Super Bowl Host Gift!
Looking for more Silhouette projects? Here are my favorites!
[metaslider id=3558]
Post shared at: Hit Me with Your Best Shot, Do Tell Tuesday, Work It Wednesday, The Makers, Moonlight & Mason Jars, Inspire Me Please