I'm going to guess that I'm not the only one whose budget-reality isn't an exact match for their decor-dreams.
Sometimes I'm totally good and patient and other times I feel like my inner Veruca Salt (from Willy Wonka) is screaming "I want it now!" When Veruca appears, spray paint is my antidote.
For $3ish, I can either totally revamp something I own, or stretch my budget by turning something affordable into exactly what I want. Adding a fresh item here or there always makes me feel like I'm moving the right direction.
When I looked around my house and realized how many different ways I've used spray paint, I knew I needed to share them all in one spot so you have an easy reference when you need to calm your inner-Veruca!
Transform A Side Table
In the bedroom, I needed a glam table by the reading chair. I found some gold wire tables online ranging from $150-$1,500 and loved the style, but the price tags were above what I wanted to spend.
I found the perfect solution at Lowe's! Their $40 outdoor table + spray paint = the perfect solution under $50!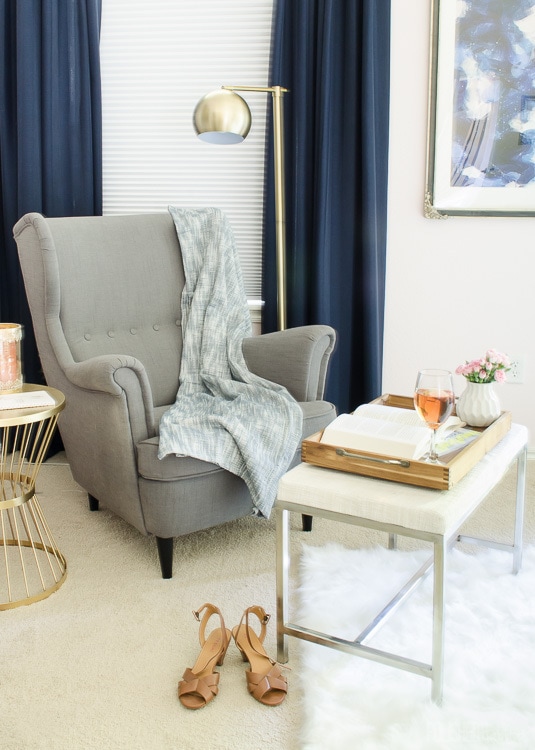 Get Party Ready
After the Super Bowl one year, I found some Pepsi party tubs on clearance. It was perfect for keeping drinks cold, but so UGLY. A couple coats of metallic paint and a vinyl sticker later, it looked expensive!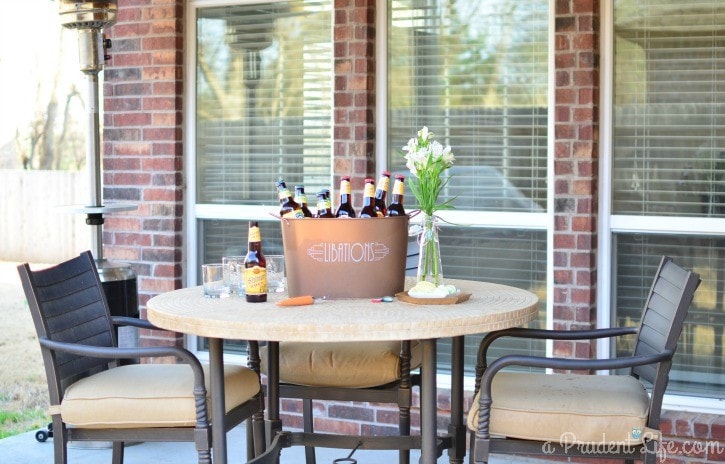 Make Cheap Plastic Look Like Metal
In the pantry, the plastic Dollar Tree bins look metal and have held up surprisingly well after almost two years. They added a TON of organized storage for just $8 worth of bins and two cans of spray paint.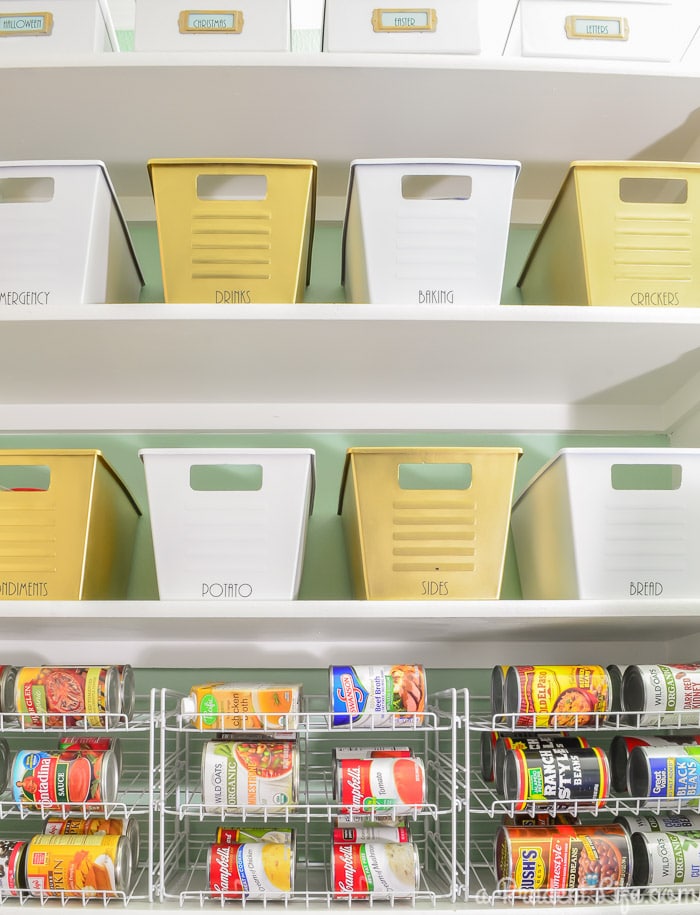 Updating Light Fixtures with Spray Paint
Spray paint is a magic remedy for both old and new lamps and fixtures. If you have any outdated fixtures you hate but can't replace yet, try painting them to hold you over. I did that with a lamp that wasn't working for me anymore. Coral glossy paint and some gold Rub & Buff gave it new life.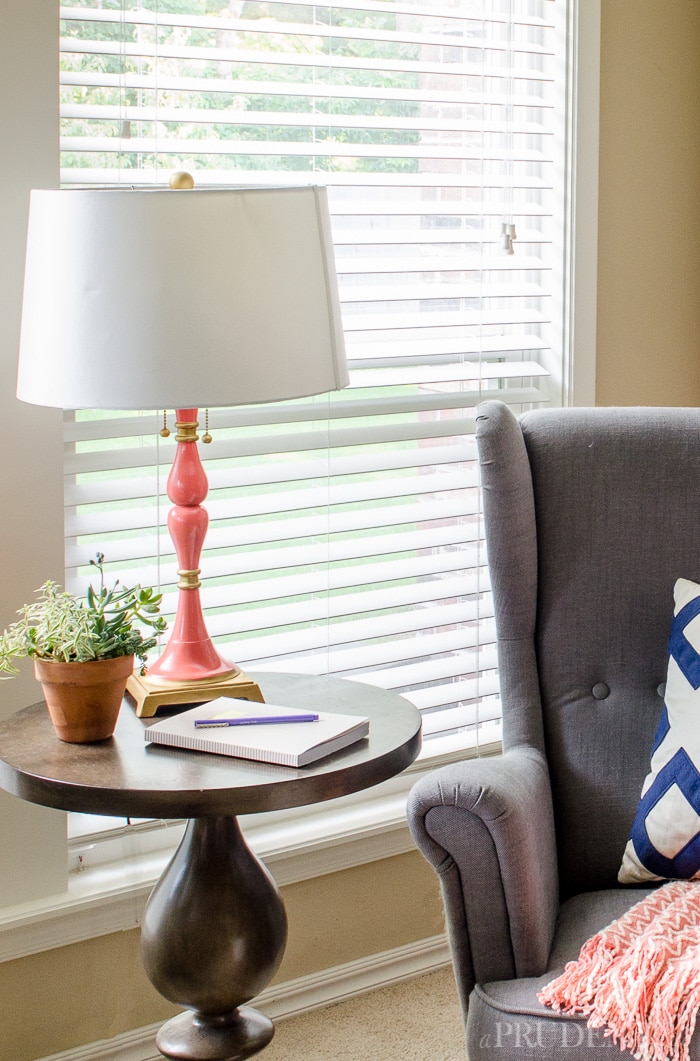 It doesn't have to be an old light to benefit from a coat of paint. In the pantry, I couldn't find the light fixture I wanted in my price range. When I found one the right price and shape, but wrong color, I gave it two coats of gold paint and it was suddenly perfect!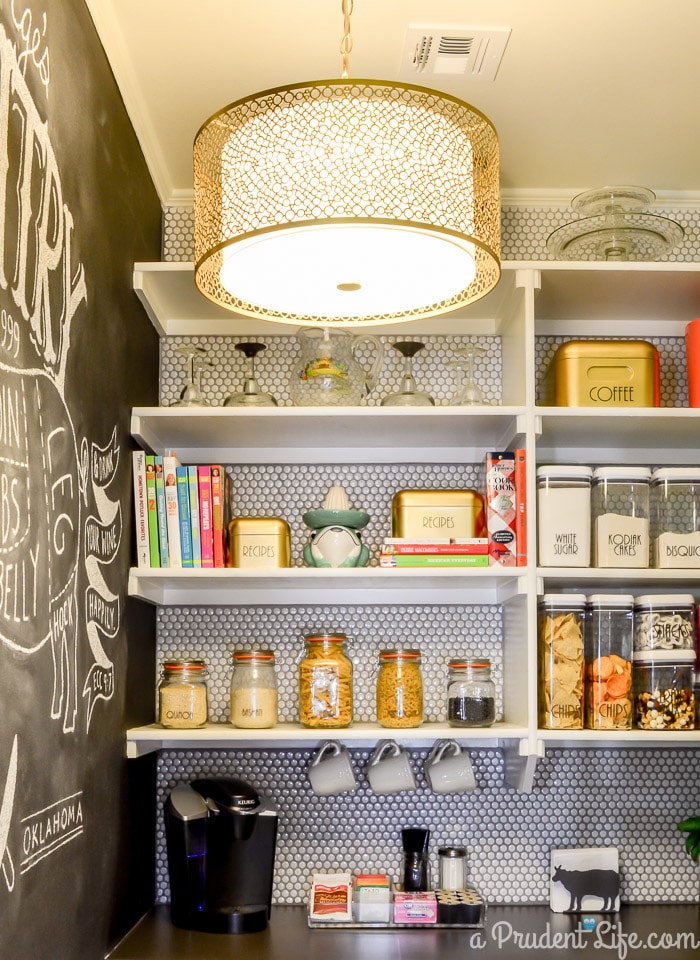 Custom Curtains
Tall curtains are expensive, but I desperately needed some in my west facing office. IKEA makes an affordable option, but I wanted something bolder than plain white. Believe it or not, you can spray paint a pattern onto fabric!
After using them awhile with daily opening and closing, I do think this would be best for curtains that stay open most of the time. Little black dust-flakes from the paint appear on my white desk sometimes. The curtains still look good, but the flaking isn't ideal.

Save Money on Cabinet Hardware
This one is my ALL TIME FAVORITE! I found the best, affordable cabinet hardware on Amazon (affiliate link). The same style comes in multiple lengths and package sizes, but only in a satin silver finish. While the original finish is actually really nice, I wanted gold in both the pantry and master closet. Spray painting them has worked out perfectly and they have held up great. Full tutorial here.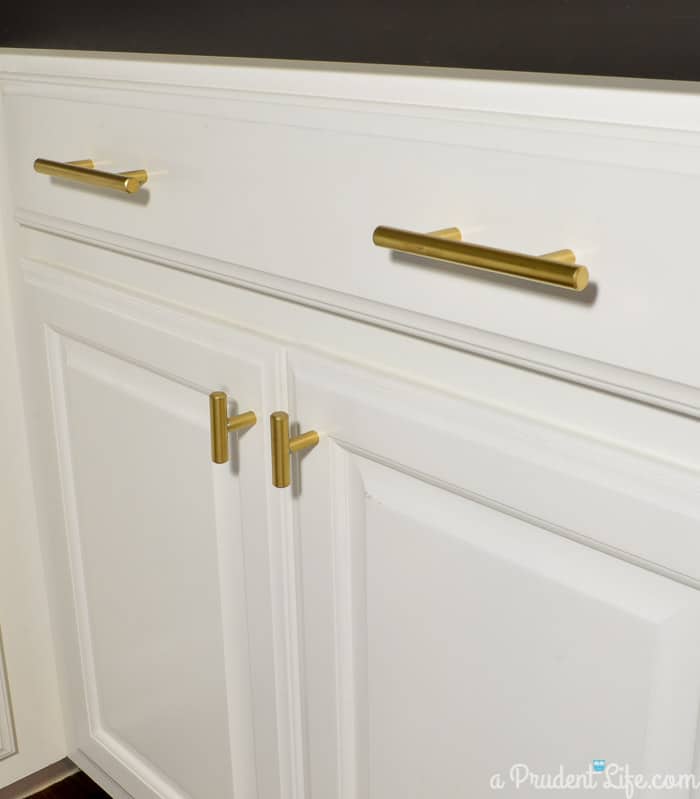 In the closet, I used the 15″ version on our MALM dressers and it makes the IKEA pieces look so much more expensive!
Customize Your Home
Back in the pantry, I couldn't stop with the gold spray paint. I was adding personality to the space left and right, and the fridge was feeling left out. Since it was a basic, inexpensive model, I got brave and painted the handle and brand label. Now the previously ugly fridge is one of my favorite parts of the room!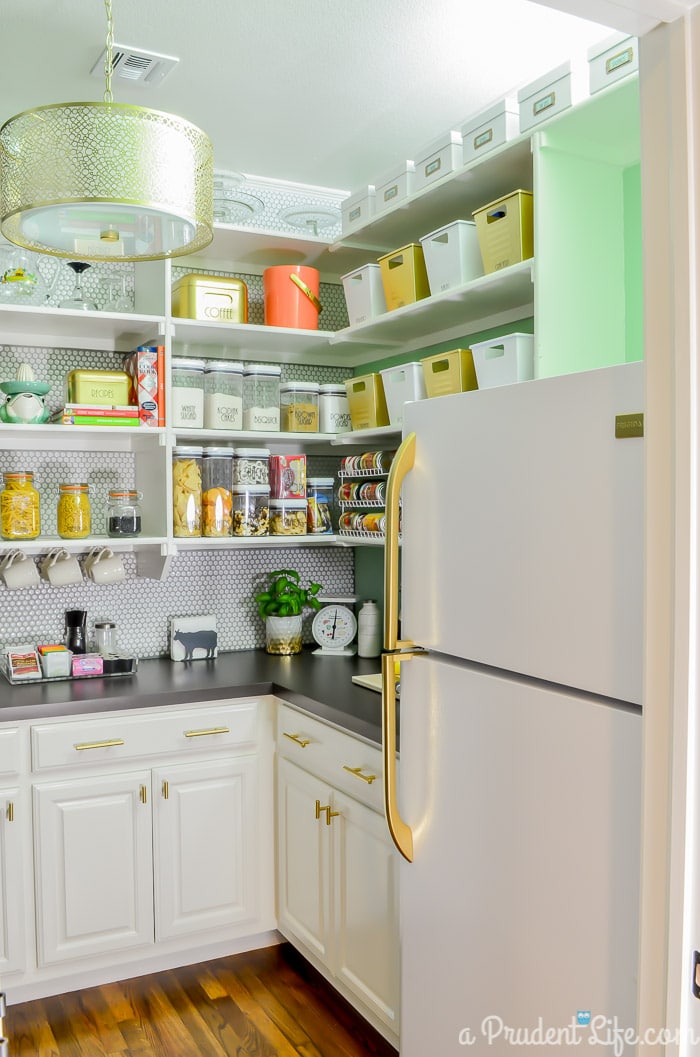 Make Affordable Art
We have a hard time finding affordable art that we really love, which has left some really boring walls around the house. So far, I've tackled two art projects with spray paint, and I'm sure there are more in my future!
In the guest room, we used spray paint and wood stain together to get an aged look on cheap fence pickets.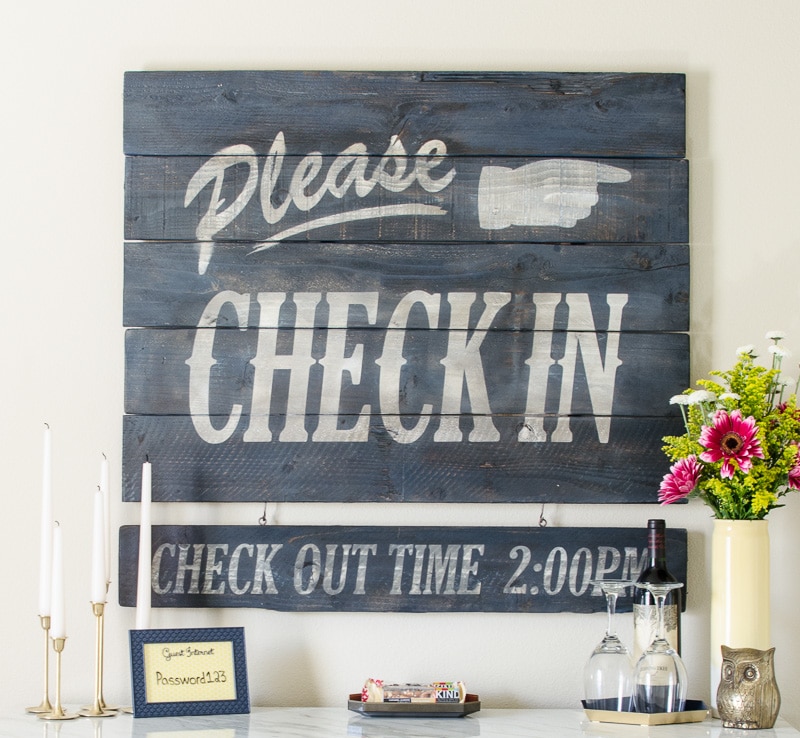 In the entry, I did a much quicker and totally FREE project using scrap wood, spray paint, and tape that we already owned to create a modern, glam art piece.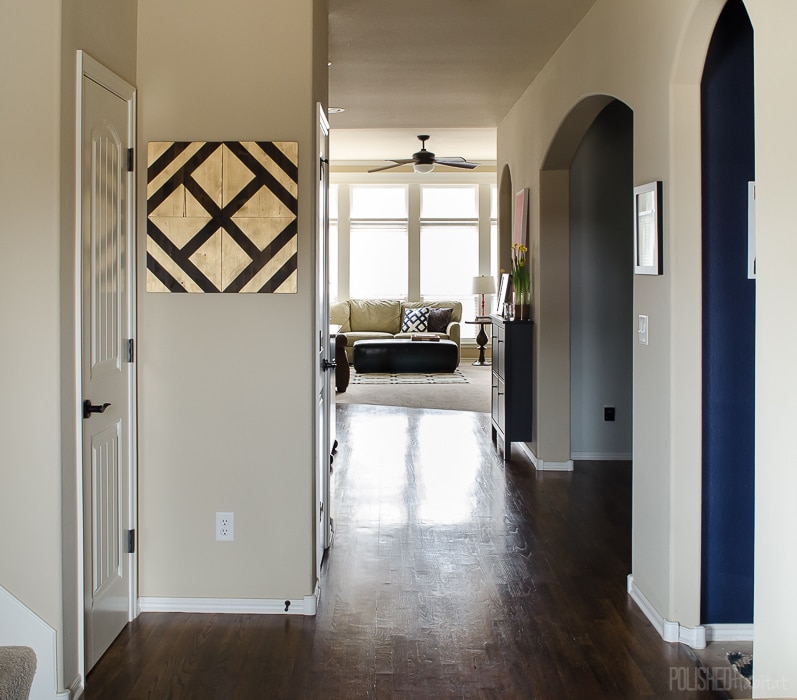 Disguise Your Kleenex
Did you notice the Kleenex box on my nightstand in the master bedroom reveal? I don't think I mentioned it in the post, but I found a $4 clear glass vase at WalMart that perfectly fit a square box of tissues.
Then, I gave it a coat of gold mirror paint to hide the box. Functional beauty at it's best! Spray paint can make dollar store vases gorgeous as well!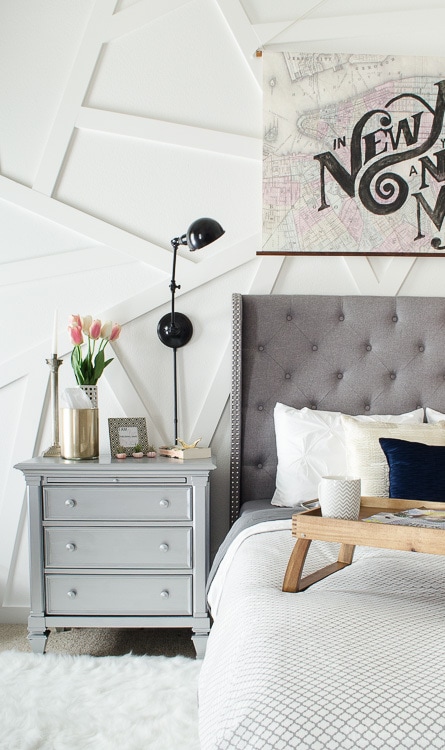 Whew! I can't believe I came up with 12 different projects, and I'm sure I forgot others. What do you use spray paint for in your decor?
Don't forget to pin the image below to your DIY Projects boards so you'll have it handy next time you need cheap project inspiration!