I think it's pretty well established that my favorite go-to DIY item is a bottle of spray paint. The downside of my obsession is that my garage floor and hands frequently end up coated in paint. At least they did before. I finally figured out the trifecta of mess-free spray painting!
First, I found out about spray paint grips. They are total lifesavers on big projects, and give you more control on small projects. Best of all, they are easy to move from can to can, so you only need one. I use the Rust-Oleum Comfort Grip
 (affiliate link) and recommend it highly!
Even when I'm using the grip, I tend to either get over-spray on my hands OR I touch my project while it is still wet.  To protect my hands, I started wearing disposable gloves. Pretty obvious, but it took me years to figure out that easy trick, so I thought maybe it would save someone else's hands from hours of scrubbing! You can get a box of 100 for under $10 on Amazon or at most hardware stores.
With the hands covered…literally…I still had an overspray situation. I might have been in trouble a few times in the past for spray painting too close to the cars. Whoops.
I also learned the hard way that getting spray paint all over the garage floor is a painful mistake. When we decided to do the copper floor, I spent HOURS with a wire brush and chemicals making sure I removed enough of the spray paint so that it wouldn't mess up the coating.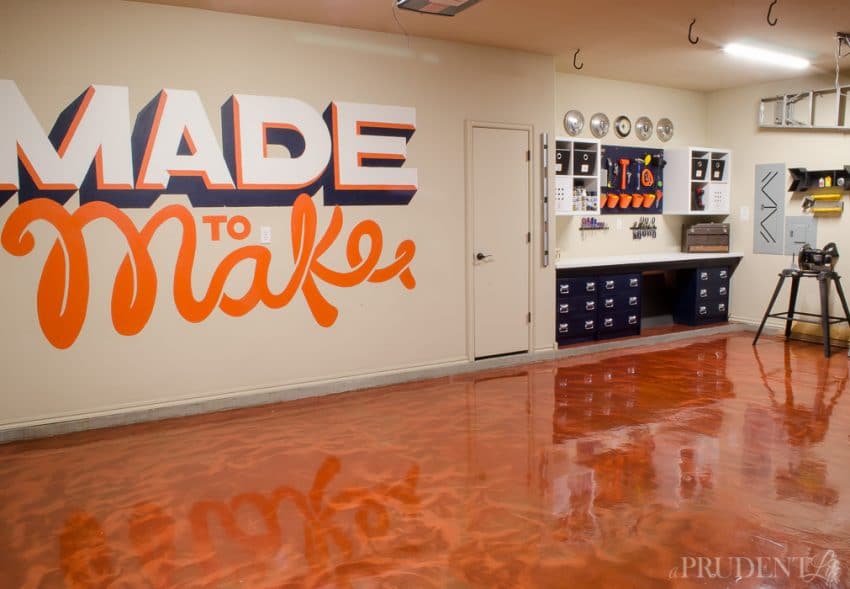 Then, once the floor was garage makeover was done, I wasn't sure how in the world I was going to keep up my spray painting obsession without ruining our new space.
Thankfully, one of my favorite brands launched the perfect new product right after we revealed the garage! I was talking to HomeRight at a blogging conference this spring, and they mentioned their new Spray Shelter.
Angels might have been singing as I realized I'd still be able to paint in the garage without ruining anything.
Once I tried out the Spray Shelter myself, I fell in love with it.  When someone on Instagram asked how I spray paint now that the floor is done, it prompted me to ask HomeRight if they would be willing to sponsor a post and do a Spray Shelter giveaway. As you've probably guessed by now, they said yes, so don't miss the giveaway at the end of the post!
The Spray Shelter comes in a freakishly small bag, which makes it easy to store. I admit not being 100% sure we'd ever get it back into this bag, but the photo below is actually AFTER we packed up the shelter ourselves.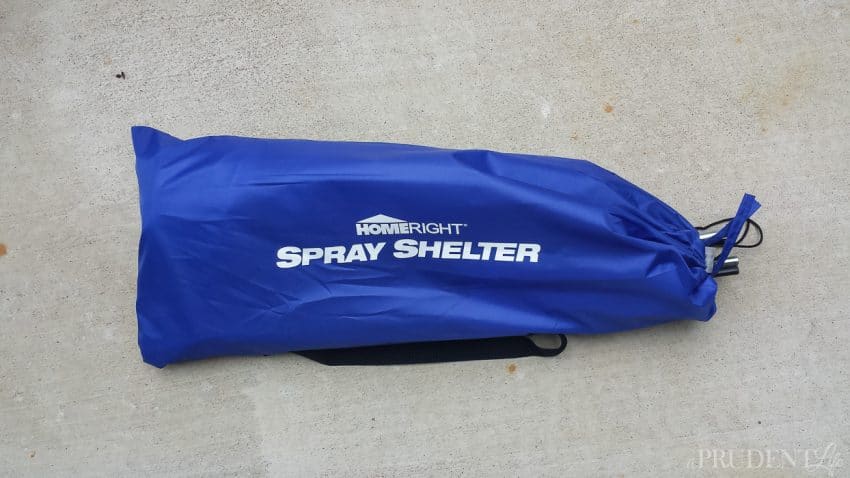 The shelter comes with stakes for using it outside or you can use it in the garage. Just make sure to add a tarp under it to protect your floor! It would be best to have a tarp a little larger than the shelter.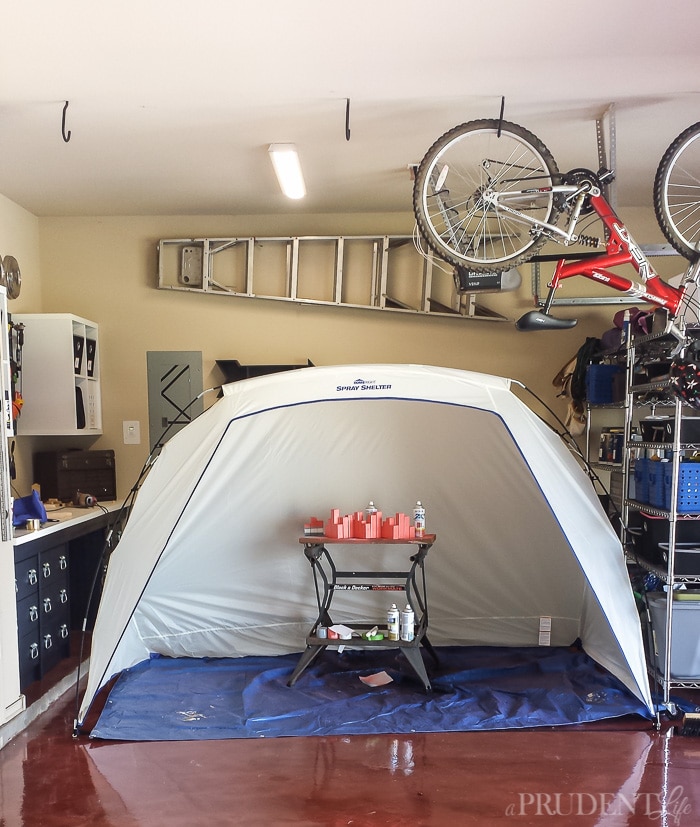 The first time we put the Spray Shelter together, we did it in a space that was the same size as the finished shelter. It wasn't the easiest because the posts that hold everything up are really long. I'd recommending using an area about twice as wide as the shelter itself for set up. If you need to, it can be moved after it is assembled.
We ended up moving ours to the other side of the garage so I could access the tool bench.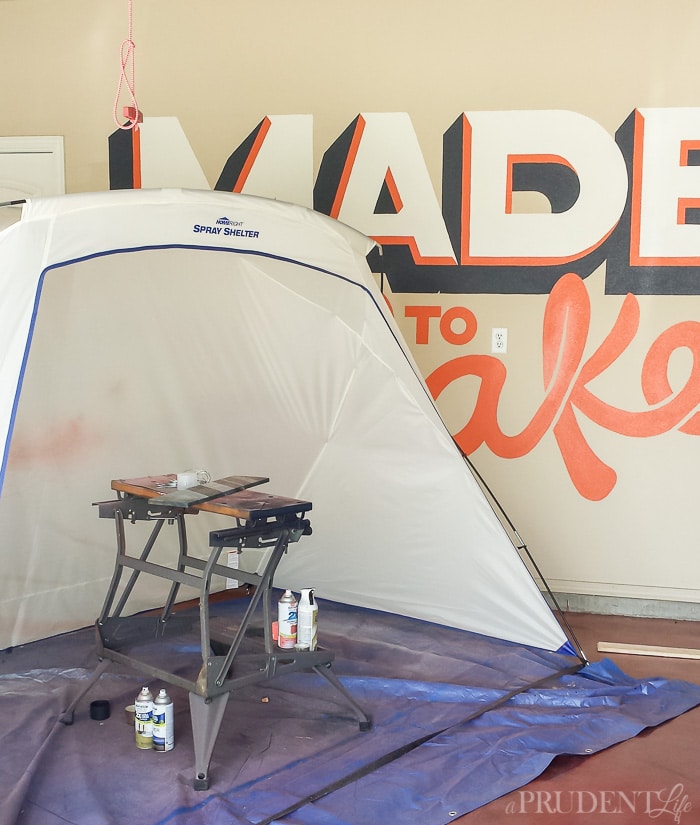 So far, I've used the shelter to make guest room signs, the modern centerpiece, and for a lamp makeover you haven't seen yet!
When I was done with those spray painting projects, I set a stop watch to see how long it would take us to pack up the Spray Shelter. I had to roll up the fabric part twice because it was too wide the first time, but even with that small snafu, it was only 5 minutes and 11 seconds. I bet next time it will be even quicker!
Enter the giveaway below for the chance to win your own HomeRight Spray Shelter. Giveaway ended & winner notified. BUT, the Spray Shelter is now available on Amazon
! (Affiliate link)