I'm in the middle of a big quest to get all the storage areas of my home de-cluttered & beautiful. Each space I've tackled has remained organized, so I know that the key is having a great system in place.
This week it was time to tame the beast that lives under the kitchen sink. Don't be frightened, here comes the ugly before!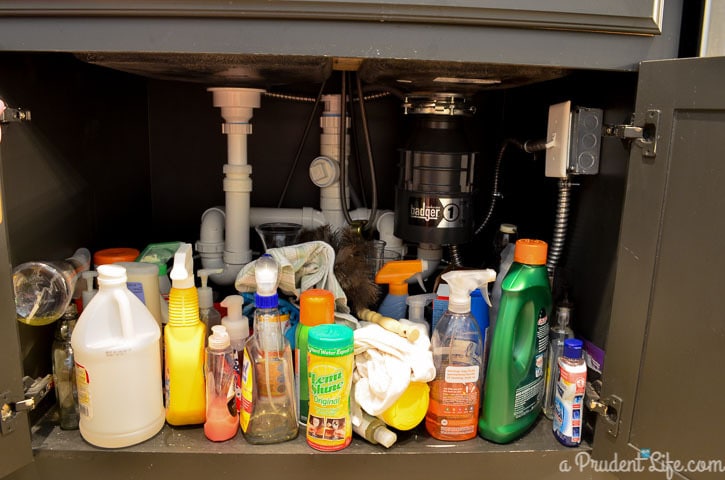 It was a jam packed mess! Sadly, I didn't stage it to look like that. It just happened over time. Ick!
But now it's beautiful!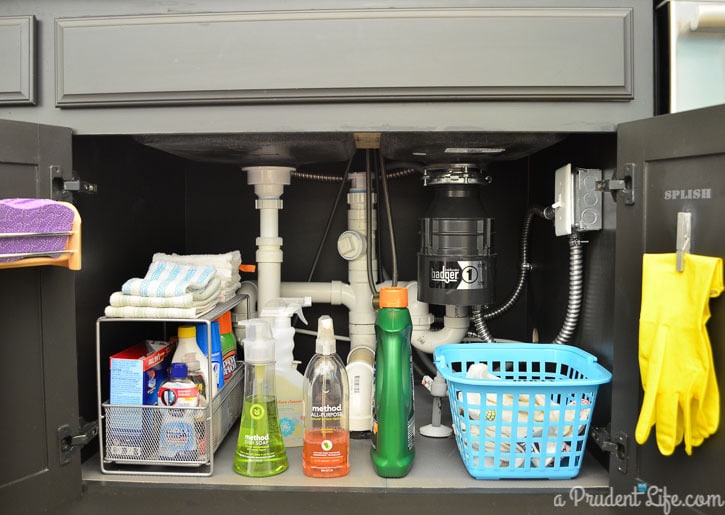 While I was organizing, I came up with the 5 Keys to Great Under Sink Organization.
1. Be brutal – What really makes sense under the sink and what doesn't? For example, tangled among all our plumbing lines, I had a bunch of vases. I never used them because I couldn't easily see or even reach them. They found a new home in our dining room buffet.
I  moved any non-kitchen cleaning supplies to the laundry room.
Our sink is in an island, which means all of our plumbing runs into the floor instead of to the back of the cabinet. And all that plumbing gets in the way of my storage! If you have a sink with traditional plumbing, you may not have to be quite as brutal 🙂
2. Go vertical – I found a metal drawer & shelf unit on clearance (similar here or  here). Items that belong in the kitchen, but aren't used daily were corralled into the basket. Having the shelf on top gave me the perfect place to store cleaning clothes! I love using that previously wasted space.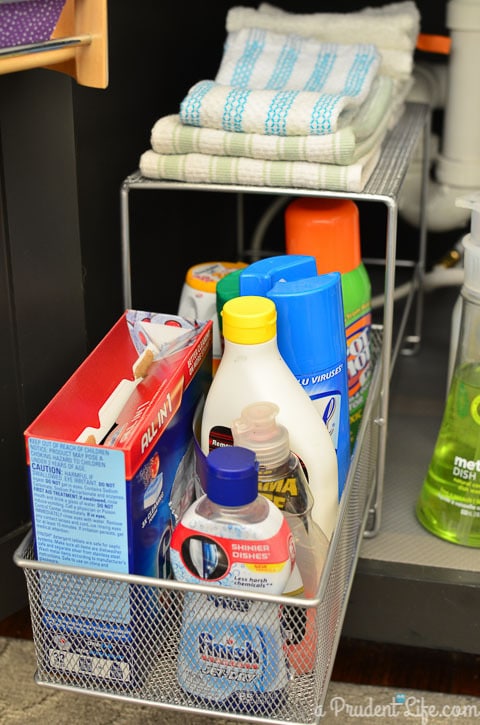 3. Use the doors – The backs of your cabinet doors are an often underutilized gold mine of storage! On the left door, we had installed a small shelf/towel bar right after we moved in. It's perfect to store new sponges and the drain plugs.
On the right door, I added the cheapest storage solution EVER!!! I painted a couple of clothes pins silver with craft paint, then attached them to the cabinet with super glue gel. I use them to hold dish washing gloves and a flyswatter since we seem to let 10 flies in the house every time Maddie goes in or out this time of year!
To finish of the door, I added some humor with labels.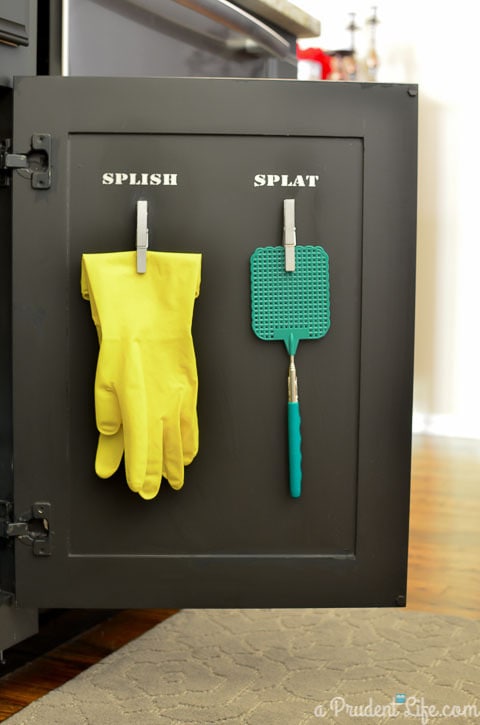 I used scraps of brushed chrome vinyl I had leftover from my Father's Day sign for the labels. The labels & clothes pins are both shiny up close!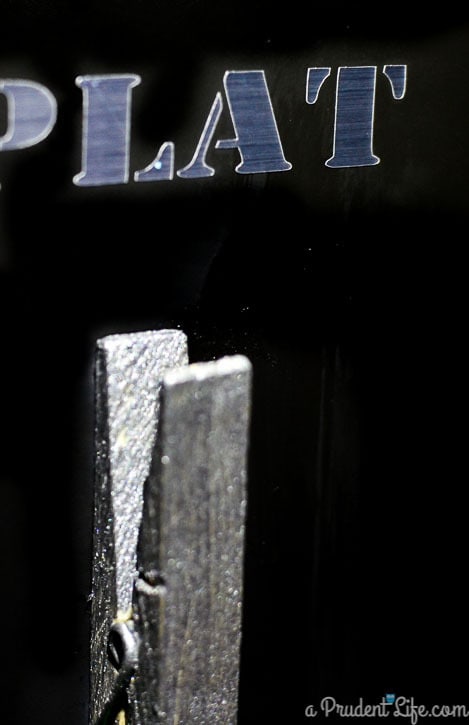 4. Designate a spot for wet/dirty cleaning rags – Our cabinet was such a disaster before that I occasionally couldn't tell what was clean and what was dirty.  I ended up washing cloths that were probably clean. To solve that dilemma, I picked up a plastic basket at Dollar Tree to hold all of our dirty kitchen towels. Of course I had to cut out a little silver label for it too 🙂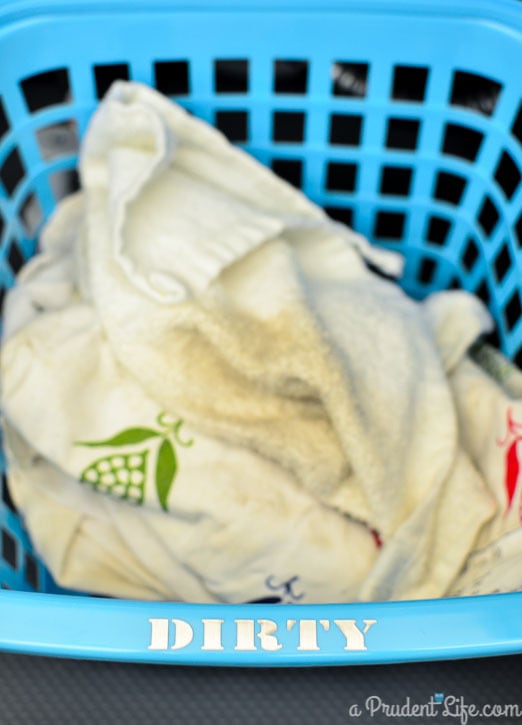 PS: Be sure to use this tip to keep towels smelling fresh!
5. Line the bottom of the cabinet  – In every house we've lived in, the under sink cabinet shelf gets abused and dirty. The black paint just amplifies the problem. I had some rubber shelf liner from IKEA left over, so we used it to cover up the abused paint and protect the wood. And practicality aside, it just looks better! To attach it securely, my husband suggested carpet tape. It worked perfectly!
2020 Update: We tested out a new under kitchen sink organizer and it's working really well since it was designed to work around plumbing. See the update here!
You can also see how we organize the kitchen sink area on top of the island.

The best part of this organizing project is that it was really quick, but has stayed organized over time. So, if your cabinet looks like mine did before, take 15-30 minutes and implement the 5 keys today!
Does your bathroom vanity cabinet also need some love? Check out my new bathroom under sink post!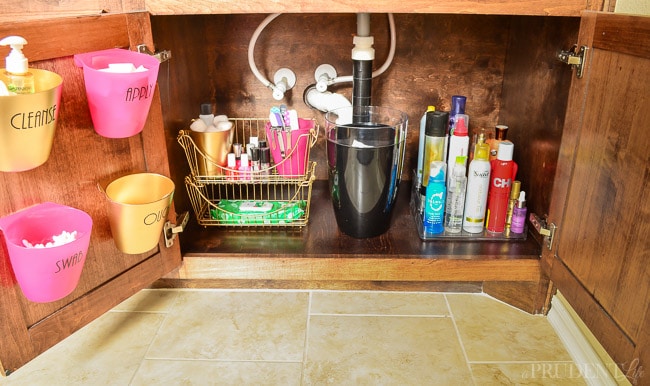 Wanna see more organizing posts?
[metaslider id=3436]