It's already time for my 2nd Expressions Vinyl Ambassador Challenge post! If you missed the last one, I'll recap! Each month I receive the same themed package of vinyl that a few other bloggers receive. We all are free to create whatever we want, and then we all post our projects the same day AND Expressions Vinyl throws in a giveaway so someone can win and make their own awesome projects! This month, the giveaway is for a $100 gift card! After my project, you'll find the giveaway & links to all the other projects. Giveaway ended 🙁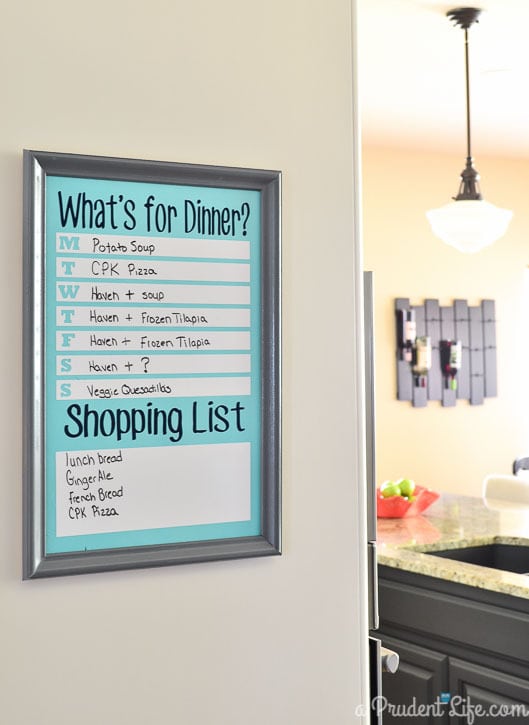 When I found out the Ambassador Challenge was a "Back to School" theme this month, I knew I wanted to make sometime related to organization.  For me, back to school time feels a lot like New Years. It's the perfect time to get organized and have a fresh start.
We have been on a roll of dining out WAY too much lately. It is killing our budget and the scale.  The challenge pack I received from Expressions Vinyl included Dry Erase Vinyl, so I decided to make a nice meal planning board for the kitchen. I think this will be a HUGE help in changing our habits!
The first step was laying out a design for my menu board in my Silhouette software. When I'm designing something wider than my Silhouette can cut (I have a Portrait), I still change the page size in the software so I can see the full design at once.  Once I am happy with the design, I cut it in sections. Usually this mean rotating some items 90 degrees so they will fit.
I wanted to really take advantage of being able to cut the dry erase vinyl and not just use it as a solid sheet. The design I landed on included drawing a rectangle for each day of the week. Then I added an initial for each day. Putting the letters inside the square meant the letters would be cut out and end up the color of the wood board. You can't do that with a normal dry erase board!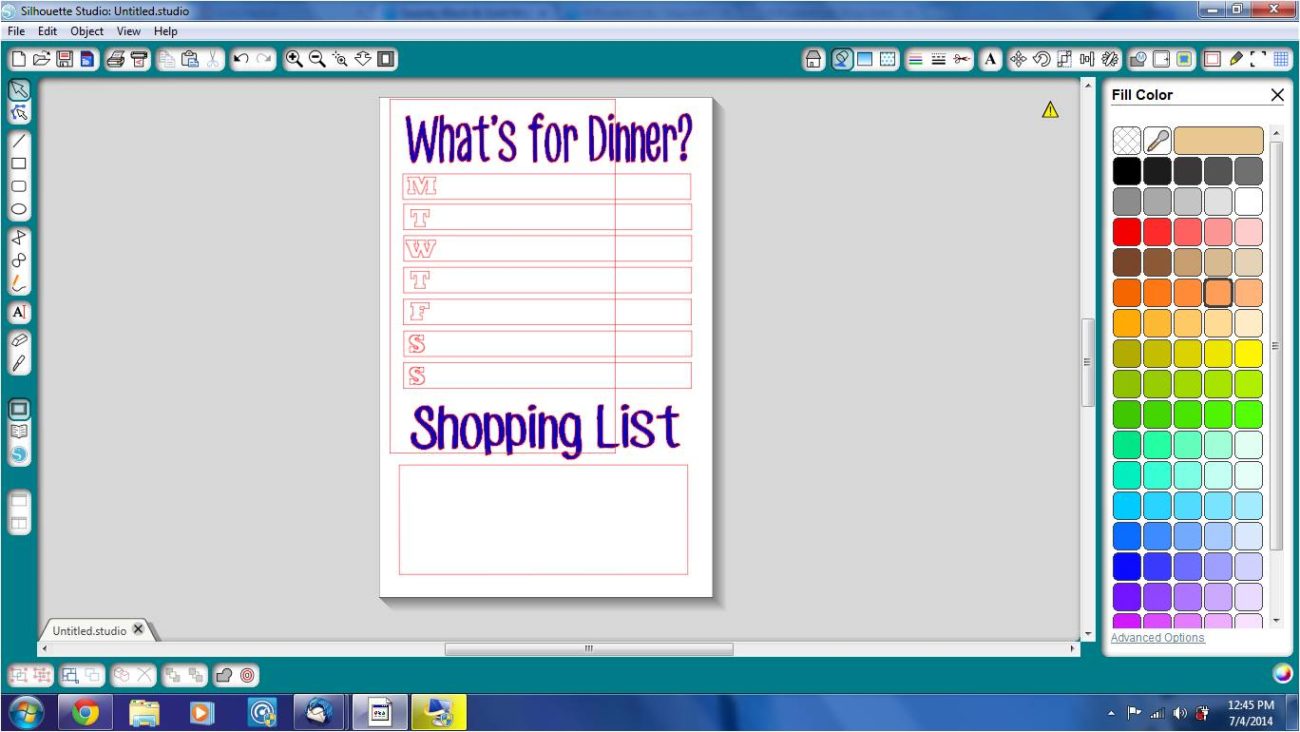 Once I finished my design, I had a piece of wood cut at the hardware store to be 12″ x 18″. We also picked up a piece of molding to make into a quick frame. We cut the molding to fit and gave it a couple coats of the same gray gloss spray paint I had left over from my cork board makeovers.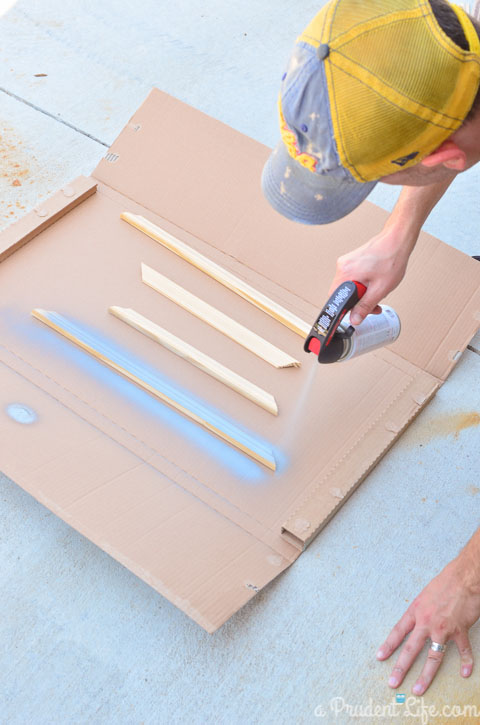 The board also got a few coats of spray paint in a pretty ocean color.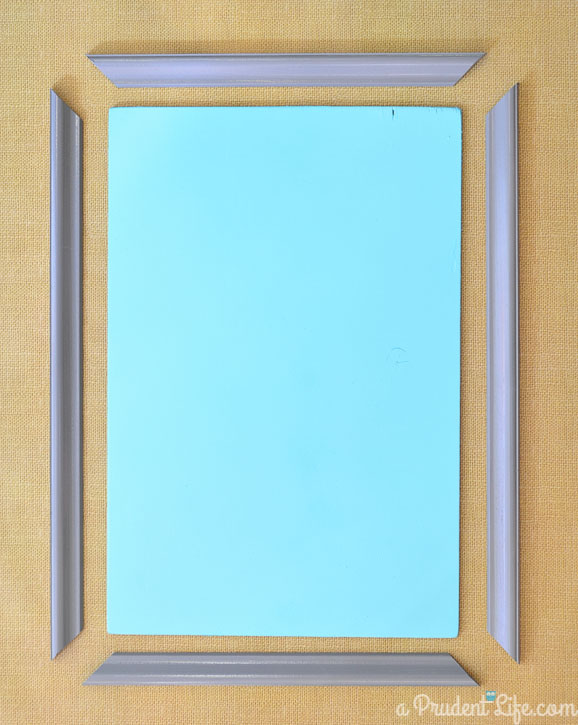 I used an awesome super deep navy called Steel Blue from Expressions Vinyl for the text. I love that I found another way to incorporate navy into the house!
We dry fit all the pieces to make sure the measurements were correct.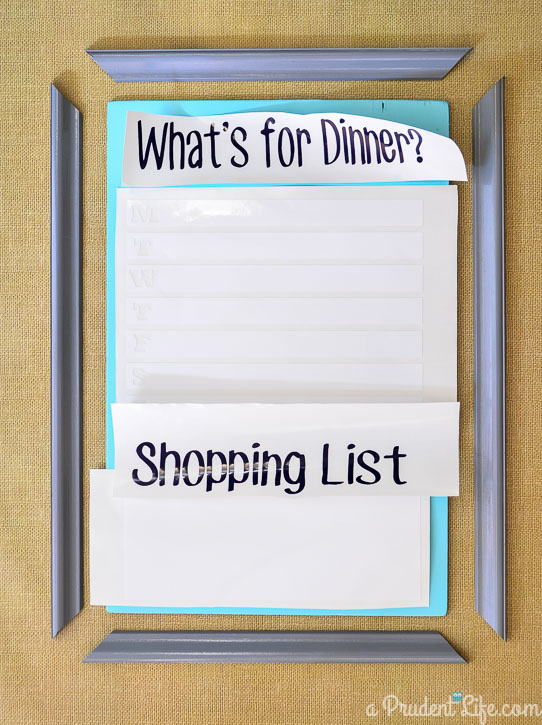 Instead of applying the pieces individually, we taped them into place on our kitchen counter and applied one piece of transfer tape to the entire design.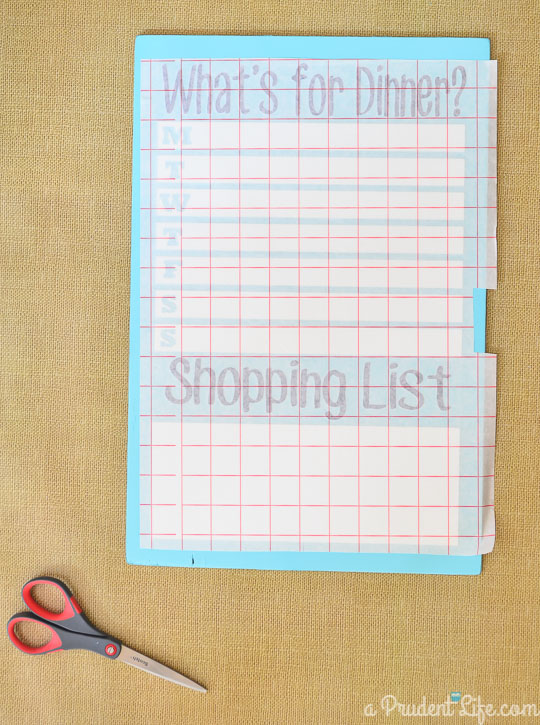 It worked like a charm!!!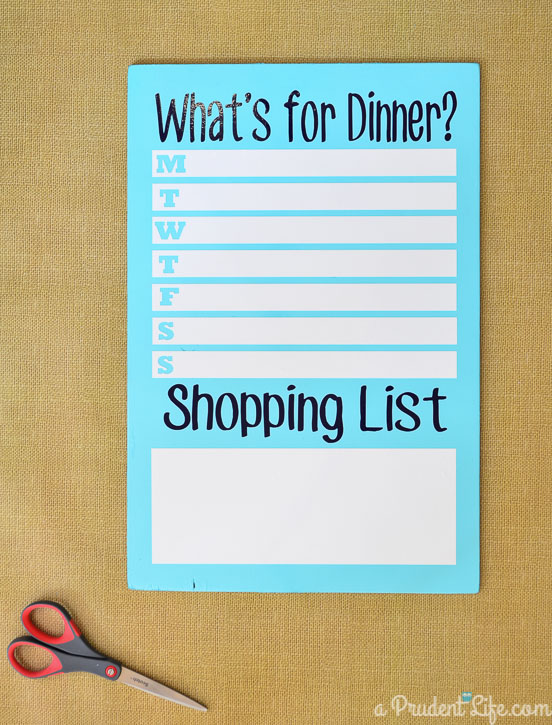 With the board all vinyl-ed up and beautiful, it was time to add the frame.  First we used super glue gel to attach all four sides of the frame together. Since this is more of a faux frame and not really holding glass, the super glue was perfect.
After the frame had dried (about 30 minutes), we used more super glue gel to attach the frame to the menu board.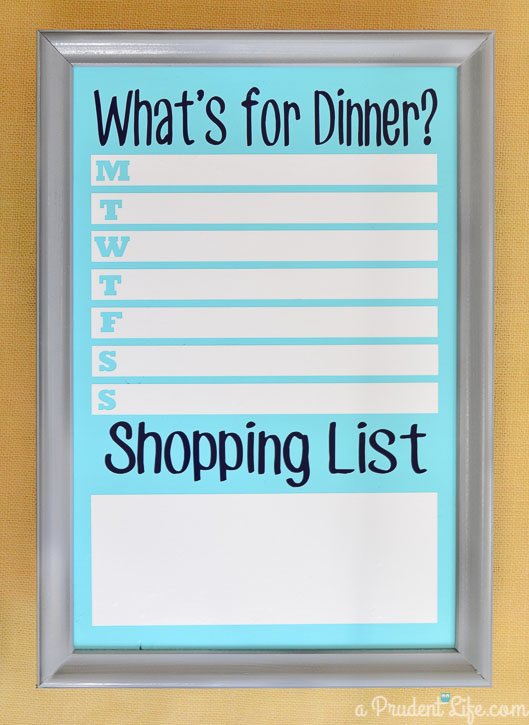 I let that dry over night and then used those magical Command picture hanging strips to add the menu to the end of our cabinets.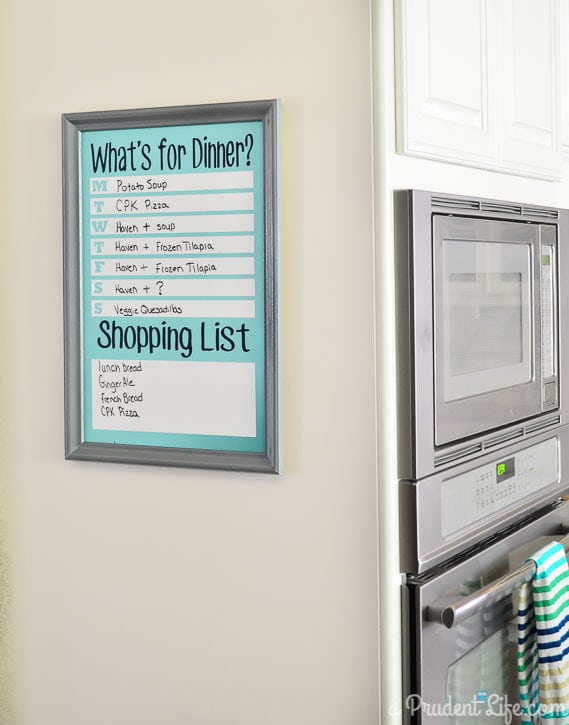 I LOVE LOVE LOVE having the board out in the open because we have to walk past it constantly and will be reminded to make a plan and then follow the plan. Plus, we'll feel some healthy guilt if we walk past it to eat out on a day we were supposed to eat at home.
I probably should have made a faux menu plan so you'd all be impressed, but I try to stick to reality around here. The week I took this picture, I was going to be in Atlanta for a blogging conference. We decided to figure out what we could make the fastest, with the least number of items needed at the store. I'm sure that next week the board will be full of gourmet four course meals. Or maybe not.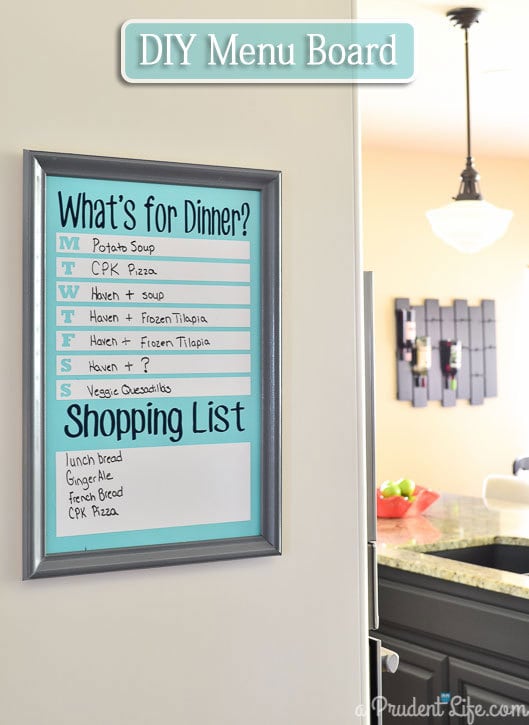 I've also got to say that I have been crazy impressed with how well the dry erase vinyl works. I can't tell any difference when writing & erasing between this and the pricey white boards I've used in the past.
I also received some awesome chalkboard vinyl in my ambassador pack. It would be an great alternative for this project! I picked the dry erase because I prefer writing with a dry erase marker day to day and because I wanted it to be a bright happy menu board. But, I can't wait to use the chalkboard vinyl on another project.
Are you ready for some more great back to school ideas?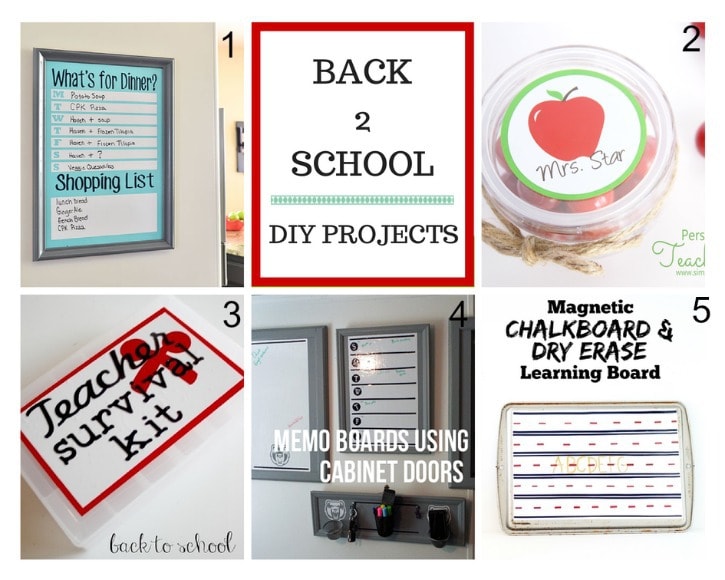 1. Menu Board by A Prudent Life
2. Teacher Gift by Simply Designing
3. Teacher Survival Kit by Delicate Construction
4. Cabinet Door Memo Board by Designs by Studio C
5. Learning Board by Girl Loves Glam
Each month I participate in the Ambassador Challenge from Expressions Vinyl, although the materials are provided along with compensation, I'm free to create whatever I want. All opinions & ideas are my own! 
Wanna see more organizing posts?
[metaslider id=3436]
Need even more organizing inspiration? Follow me on Pinterest!
Follow A Prudent Life's board Organize Your Home in Style on Pinterest.
Latest posts by Melissa George (see all)