Today I'm launching a new mini-series! There aren't any B-list actors involved, but I promise lots of organizing tips & fun budget decor for your laundry room.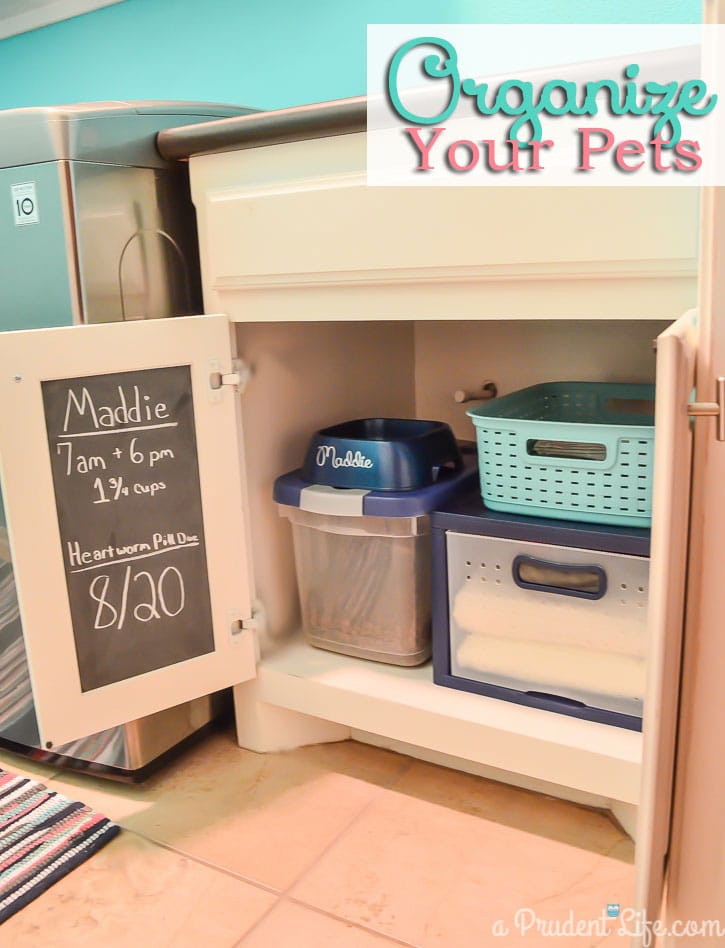 Here's what we were dealing with before – boring basic builder beige. The floor and cabinets are in great shape, so this was a VERY budget friendly makeover. I'll do a budget breakdown in the final reveal post.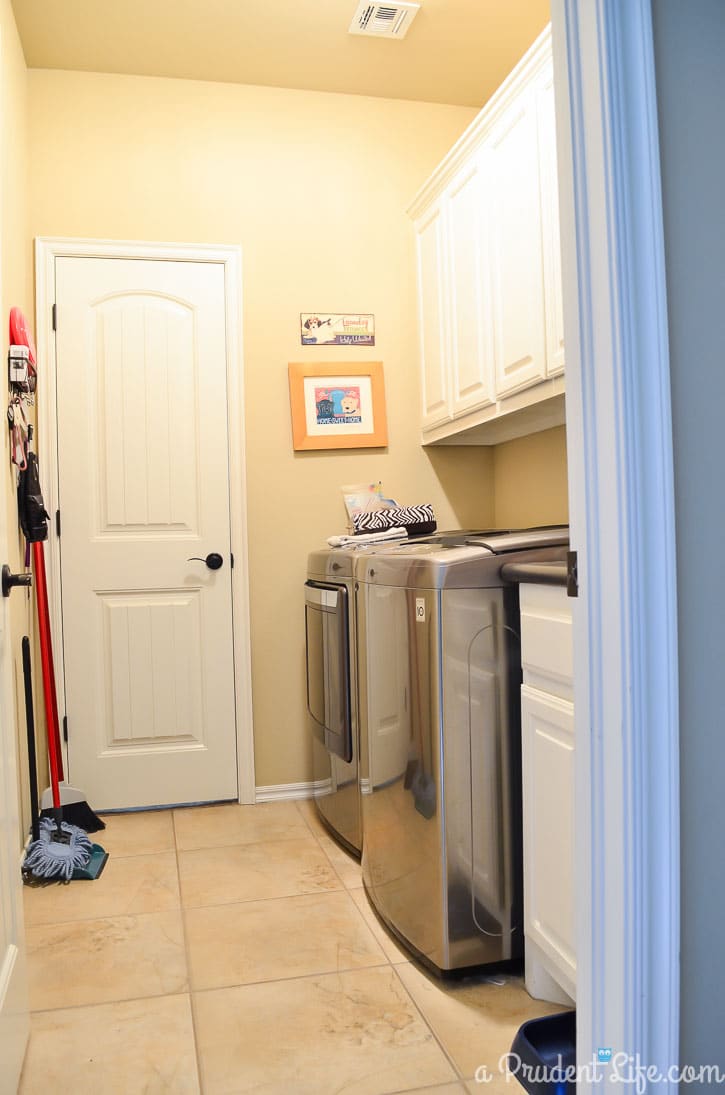 Other than the B-O-R-I-N-G situation happening in the room, all of the storage had become cabinet versions of junk drawers. For example, we had Maddie gear hanging on the wall, in the upper cabinets, and in the lower cabinet. My first challenge in this room was to create an organized pet station. Now everything Maddie-related goes in the lower cabinet.
Wondering who the heck Maddie is? She's our extra adorable German Shepherd!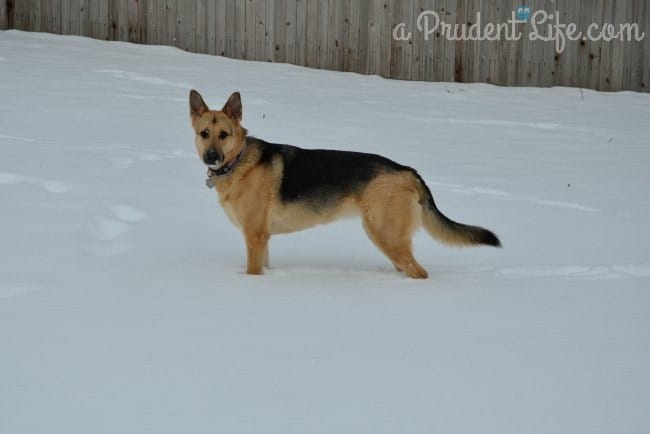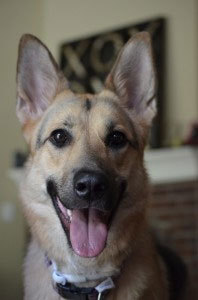 Here's what it looked like before I started. PROBABLY a bad idea to keep a bottle of bug spray with her food.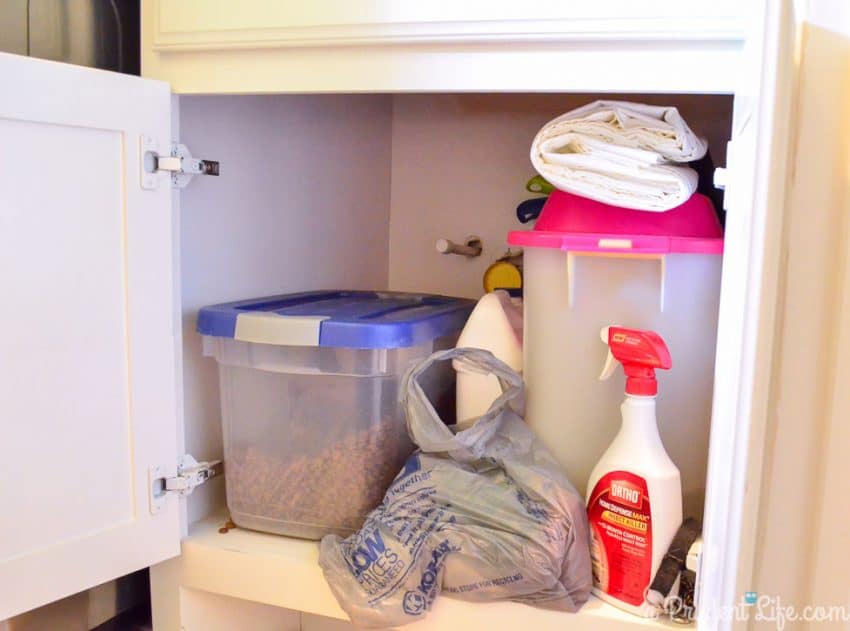 Random Side Note #1: If you are wondering about the plumbing lines, we had them installed when the house was built in case we ever wanted to do a sink in the laundry room. We couldn't decide if a sink or counter space was more important. Then we had the bright idea to have them go ahead and install the lines because it was WAY cheaper than trying to have plumbing added later. For now, we love having the flat counter top. In 10-15 years when we need a new washer/dryer, I may switch to stacked machines, which would give me room for a sink AND counter space. Okay, back to the present! The first step was clearing everything out of the cabinet & adding a leftover piece of chalkboard vinyl to the inside of the door.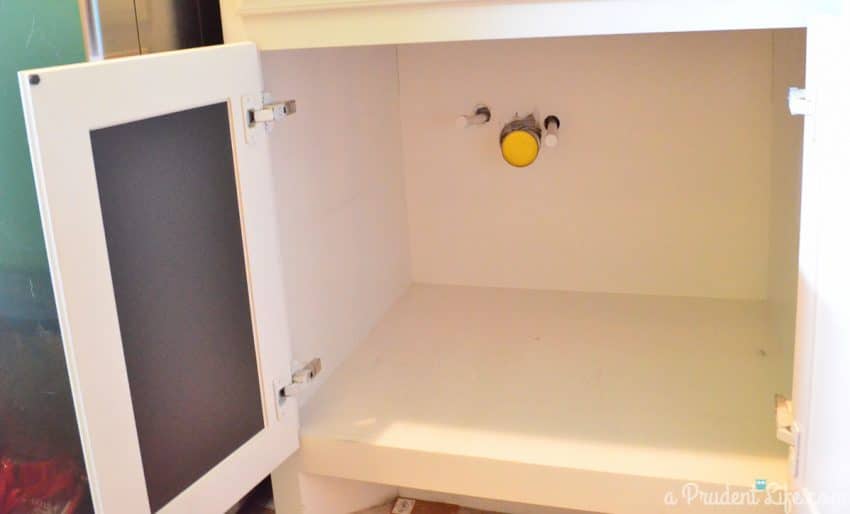 The chalkboard is one of my favorite additions to the room. Now we can leave notes to pet sitters and remind ourselves when Maddie's heartworm pills are due!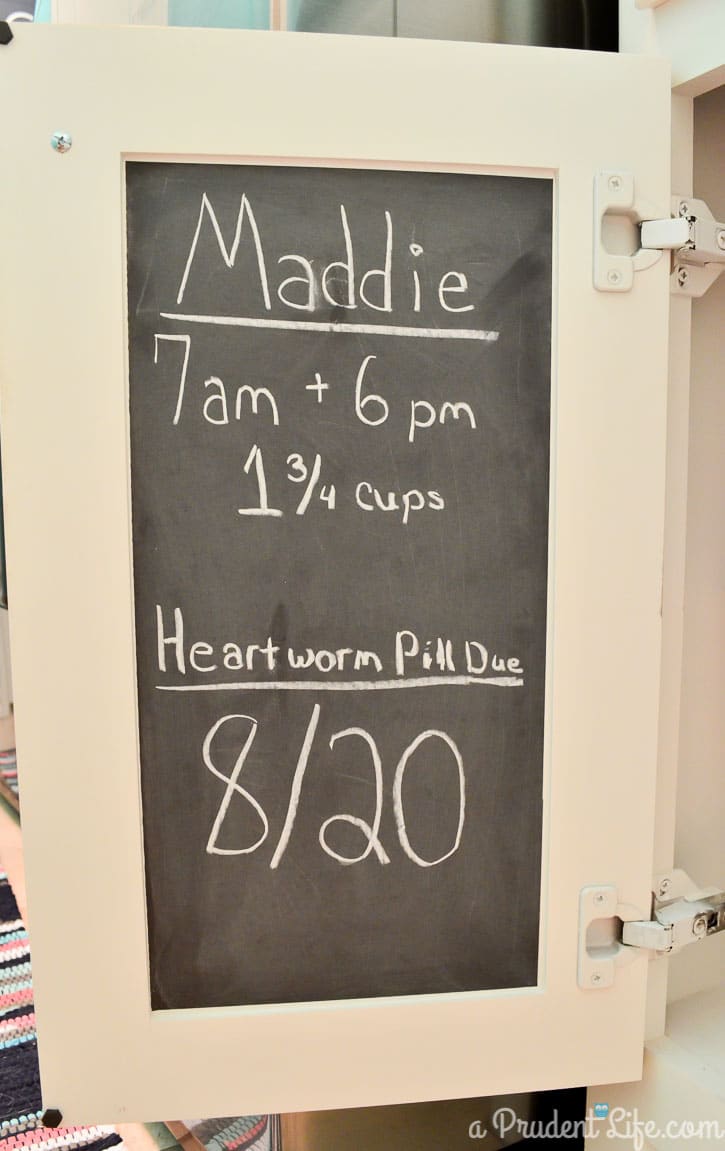 I also personalized Maddie's food bowl with some silver scrap vinyl – cute & free!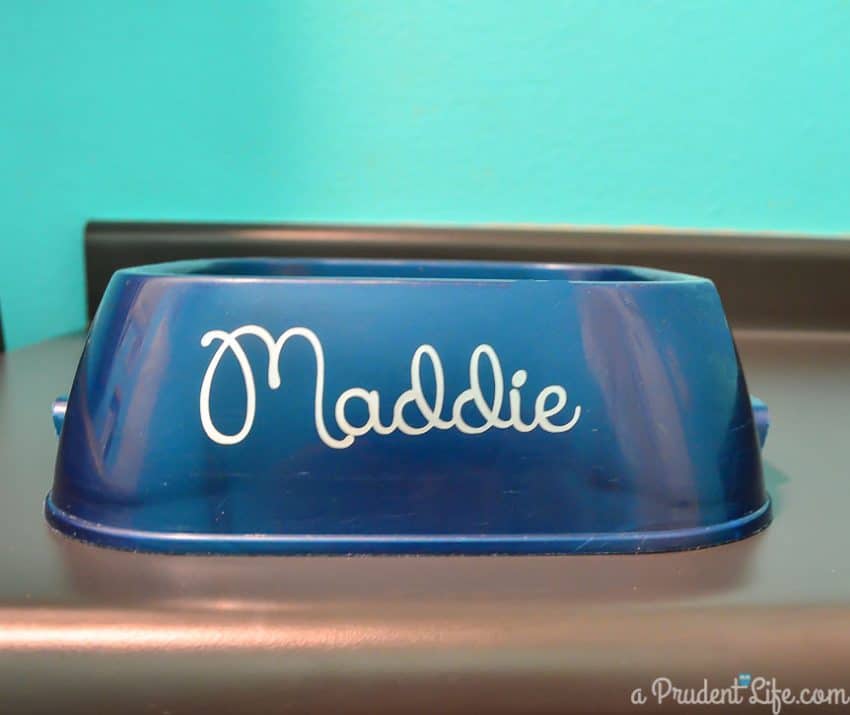 The bowl and food container are the same ones we already had, which helped with the budget. I did buy two new storage containers for this cabinet. Plastic drawers became one of my favorite organizing tools when I discovered them during the bathroom closet makeover. They provide great storage and you can stack things on top of them!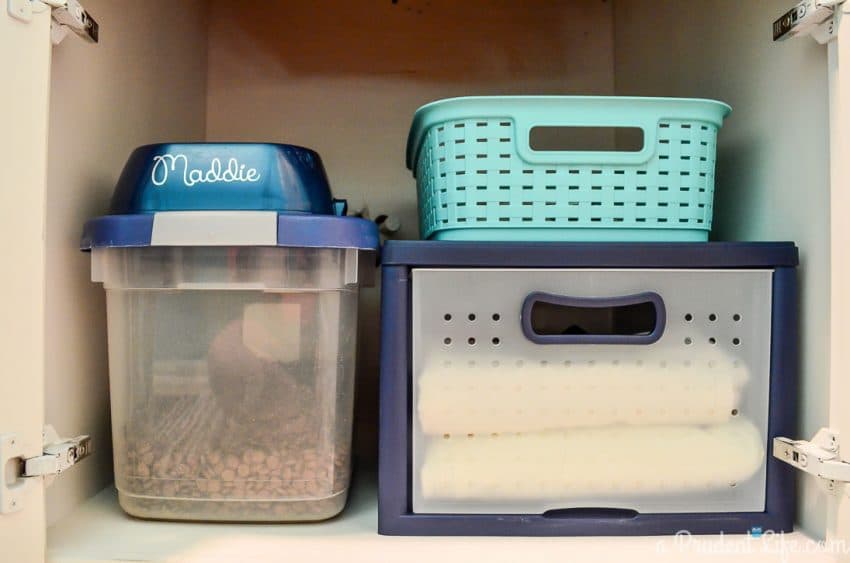 You may be wondering why it looks like there are sheets in the drawer if this is a dog cabinet. It is, and there are! Random Side Note #2: A couple times a year, we try to take a long weekend at some nice pet friendly cabins a few hours from our house. Maddie loves it! She doesn't ever jump on any of the furniture….except the bed. We can certainly not let her get on the bed while we are awake, but more than once we have found that she jumps up with us in the middle of the night. Which leads to us trying to de-dog hair a comforter in the morning. Even though the cabins are pet-friendly, we don't want to leave a mess. SO, brilliance struck one trip and we take an old flat sheet with us to cover the bed. When it's time to go, we fold up the sheet and the comforter is hair free. Wow…this post is full of segways…and not the fun mall cop kind. I could tell you about the time we got to ride segways, but then I'd probably lose the 3 of you still reading all the text and not just looking at the pictures 🙂 In addition to the Maddie sheets, the drawer holds extra leashes, collars and a collapsible water bowl for long walks. Don't be fooled, we rarely take long walks necessitating a folding water bowl. I used the teal open container for more frequently used items, like grooming supplies and medication. Normally I would have subdivided this basket into smaller sections, but for now everything fits nicely in a single layer. If I add items to this basket later, it will get dividers.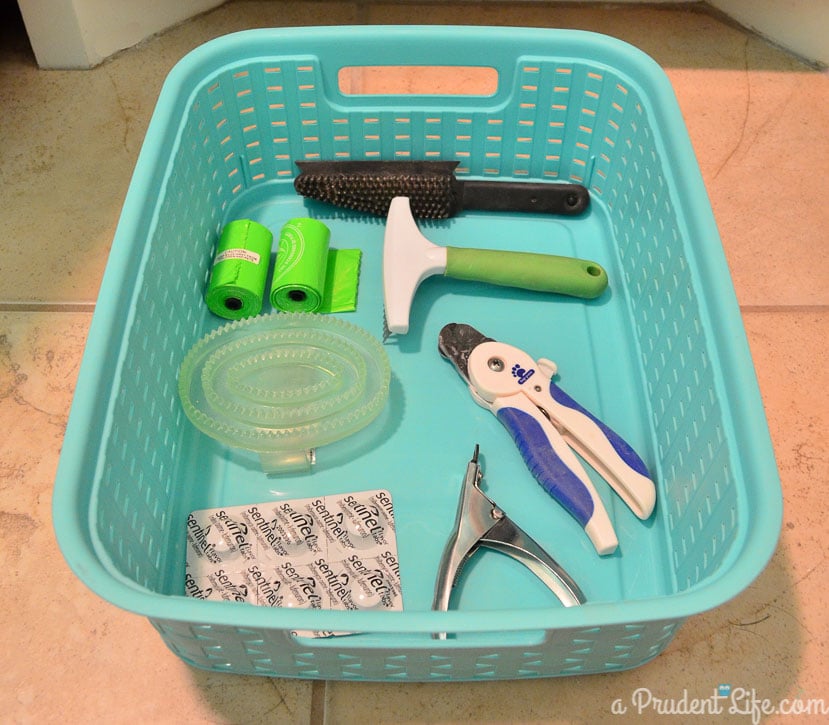 I love having this cabinet cleaned out and dedicated to just to pet supplies. My favorite part is definitely the chalkboard door though! In case you need any of the pieces in this post, I added a clickable supply list (affiliate links).
Supply List
Chalkboard Vinyl – Expressions Vinyl
Brushed Silver Vinyl – Expressions Vinyl
Storage Drawer & Basket – Target (In Store Only)
And lastly, this photo has some great teasers for the rest of room. The rug was the inspiration for all the colors I used, including the bold walls. I can't wait to show you project #2 for this space. Make sure you are signed up for emails so you don't miss it!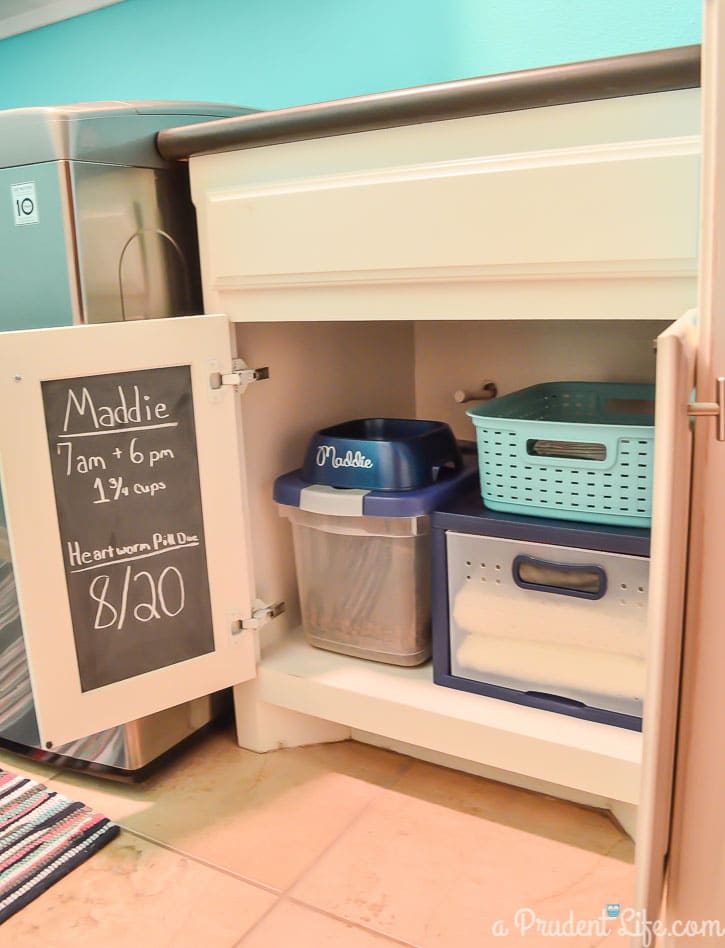 Want to see more? Here's the full series!
[metaslider id=3142]
Need more laundry room inspiration? Follow me on Pinterest!
Follow A Prudent Life's board Laundry Room Ideas on Pinterest.
Want to see more dog-related posts? Check out the fun DIY artwork I made using Maddie's silhouette!