I hate throwing away or even recycling glass & plastic containers. It seems so wasteful! Instead, I try to wash them out and stash them for future projects. Today I'm going to show you how I turned three items that were headed to the recycling center into a frugal Valentine's Day centerpiece.
I started with a bottle of Honest bubble bath, a large ibuprofen bottle, & one glass beer bottle.
Looks like a bunch of trash after a weekend, right?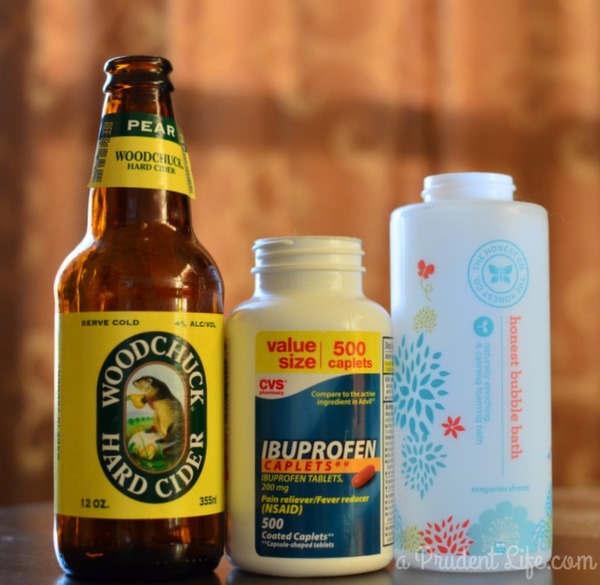 Let's start with the Honest bubble bath. The Honest Company is already great about minimizing packaging waste & using non-toxic  ingredients, so I was really glad I could give this bottle a second life.
First step was painting the lip & top of the bottle.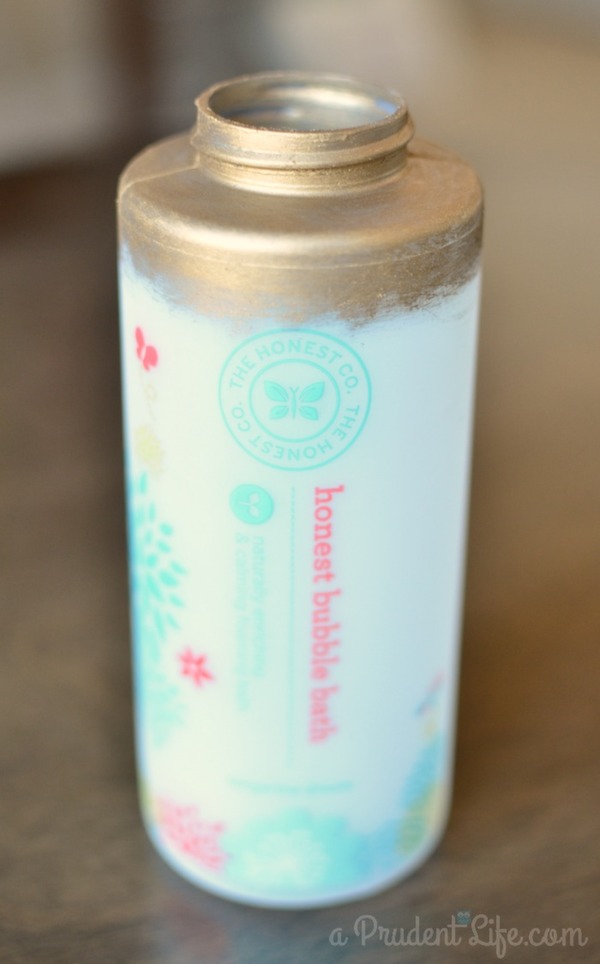 Next, I cut a coordinating piece of scrapbook paper & wrapped it around the body of the bottle. This paper came as part of a pack I already had on hand from the Dollar Spot at Target.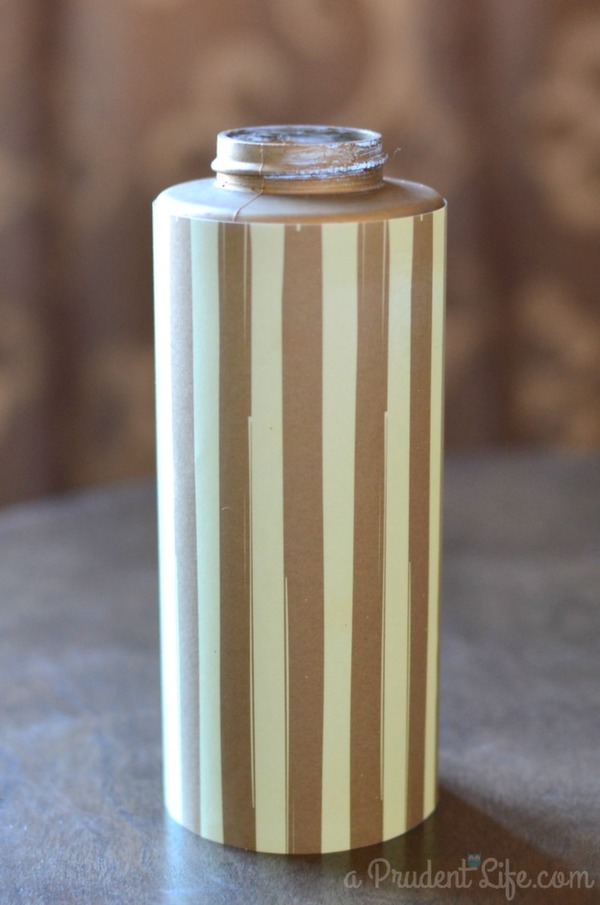 I glued some ribbon around the lip of the bottle to conceal the screw top ridges. I also added two bands of ribbon to the body of the bottle to finish the look. This burlap/sequin combo ribbon came from Hobby Lobby  – it was only $1.50 for the whole roll!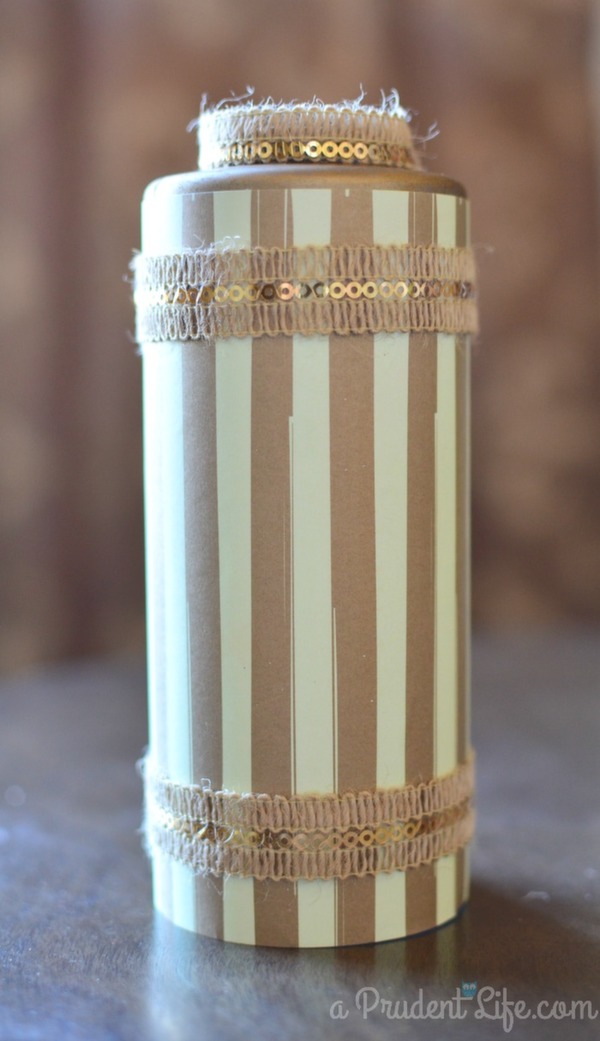 Next up, I tackled the ibuprofen bottle. I decided to use some yarn to give the bottle a soft feel.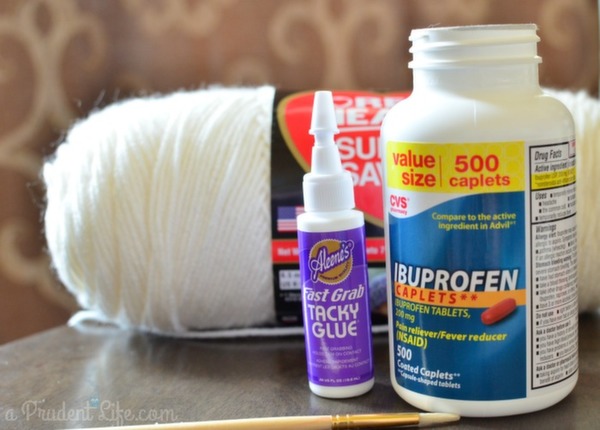 I started at the bottom and spread glue about an inch up all the way around. Then, I started wrapping round and round and round. Working in one inch increments was perfect with the Fast Grab glue. I think you could also do this project with regular school glue. I  should have either removed the label or spray painted the bottle a solid color before I started with the white yarn.  After the first layer, I could see the color variation underneath between the dark & light parts of the label. To fix that problem, I just added a second layer of yarn and the problem disappeared!

Once both layers of yarn were done, I cut out a heart from a super sparkly piece of fabric I found with the felt squares at Hobby Lobby.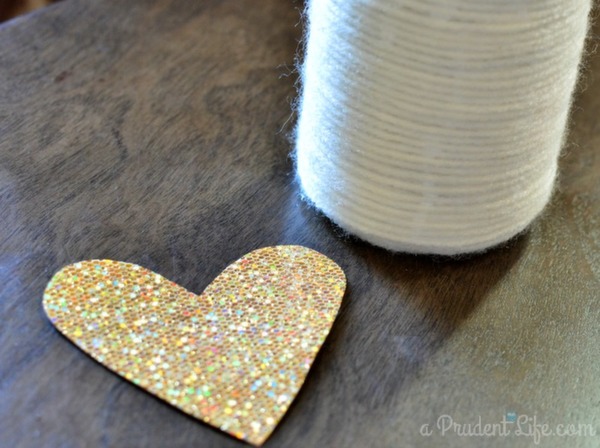 Stay tuned for the final result of vase two!
Vase number three was also an easy transformation. I started by removing the label from my bottle. I peeled off as much as I could with some water, then used a little fingernail polish remover to get rid of the stickiness that was left.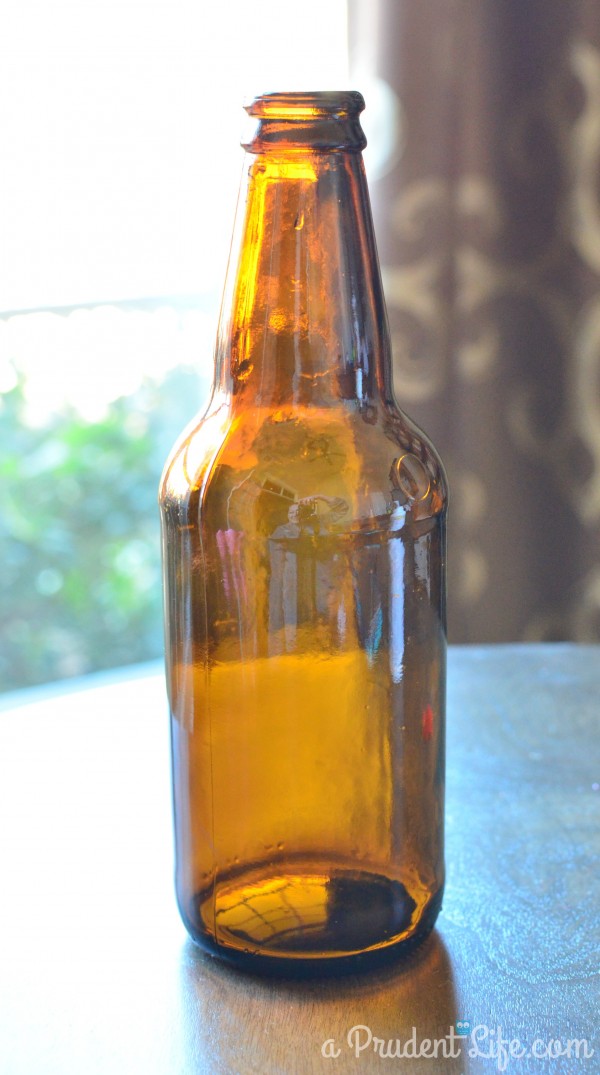 The amber bottle was actually pretty good looking once the label was removed. But, in order to make it fit in, I needed to add a little sparkle. I took it outside and applied one coat of Krylon Metallic Gold spray paint. Much better!
I also added a small piece of Valentine ribbon around the neck.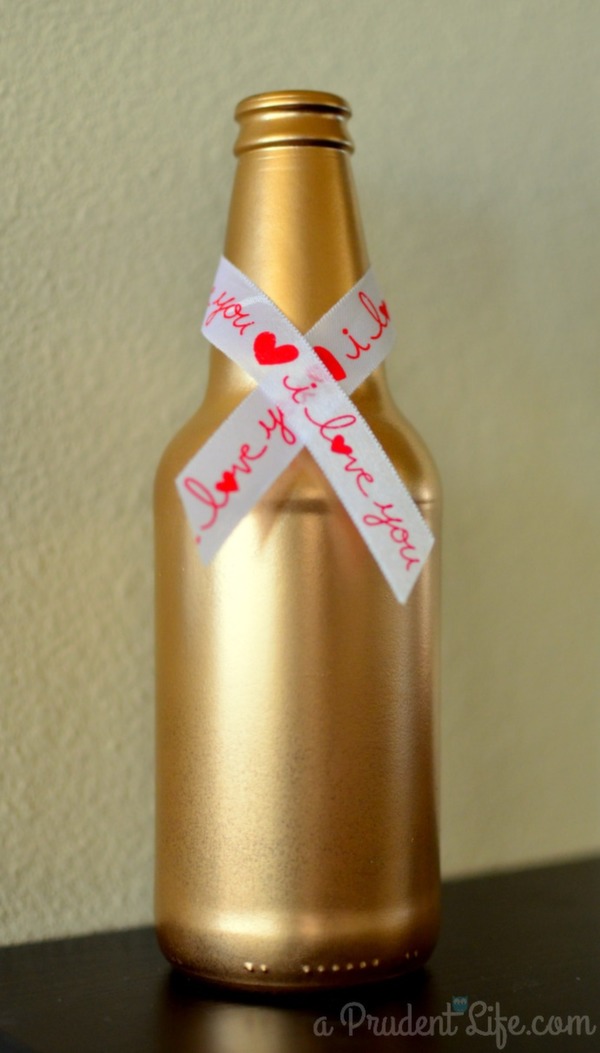 All three transformations were fast & frugal – my favorite combination! Before I called it a day, I made a couple heart shaped "flowers" from pipe cleaner. Here's a little tutorial!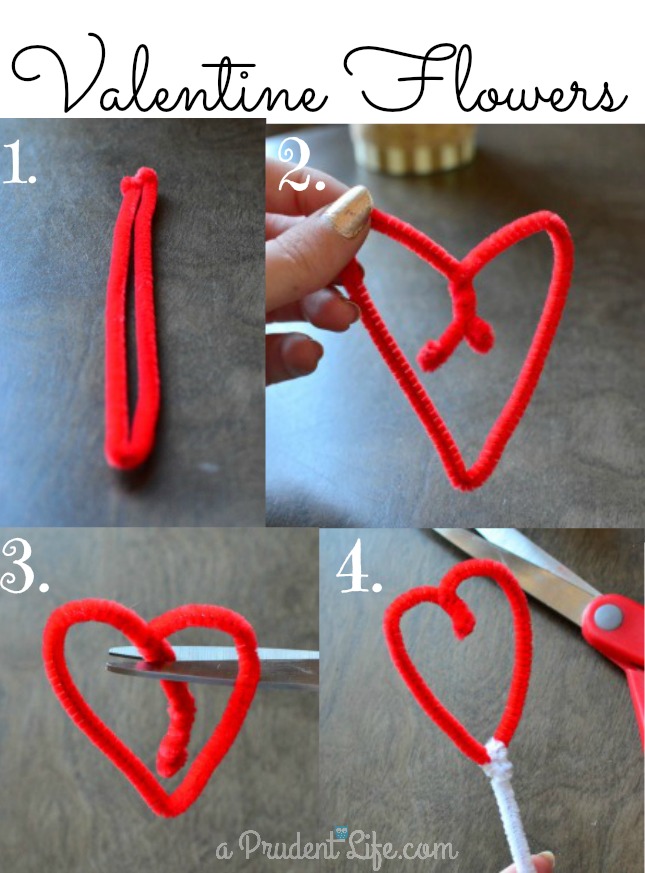 Okay, are you ready to see how it all came together? In addition to the pipe cleaner hearts, I added some foam heart picks from Dollar Tree and I glued a paper heart to a pipe cleaner for the yarn vase.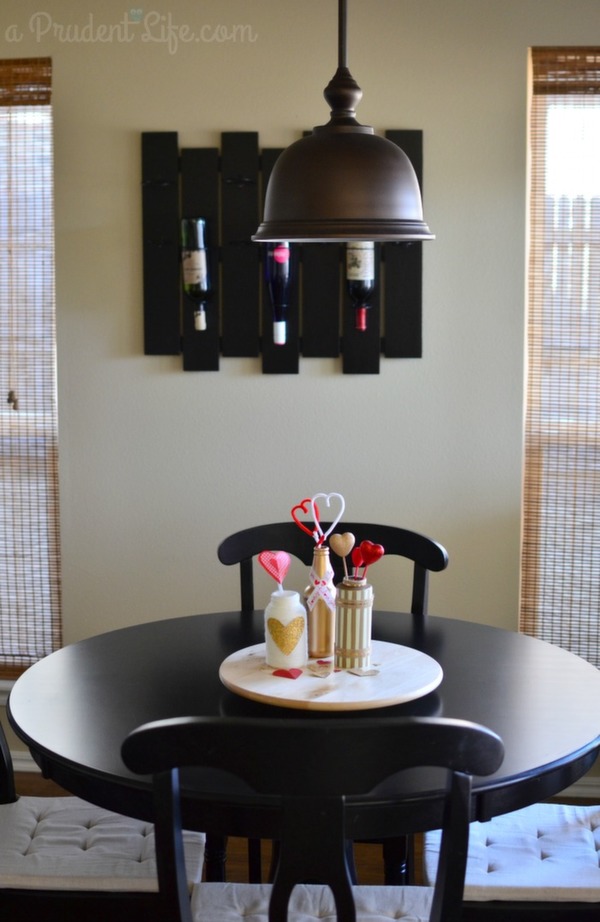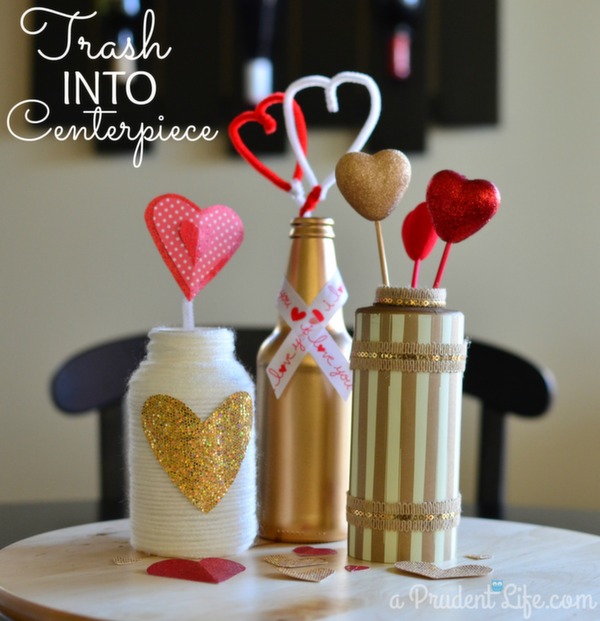 I had almost everything on hand to complete this project.
Here is a breakdown of what I spent:
Ribbon (Hobby Lobby): $1.50
Gold Sparkly Fabric (Hobby Lobby): $1.50
Pipe Cleaners (Target): $1.00
Foam Heart Picks (Dollar Tree): $1.00
Total Cost: $5 for an entire centerpiece!
If you needed to purchase the spray paint, yarn or scrapbook paper, it would add a few dollars. It only takes a tiny fraction of the spray paint, yarn & ribbon, so you'll have plenty left for more crafting!
Here's one more look at the finished project!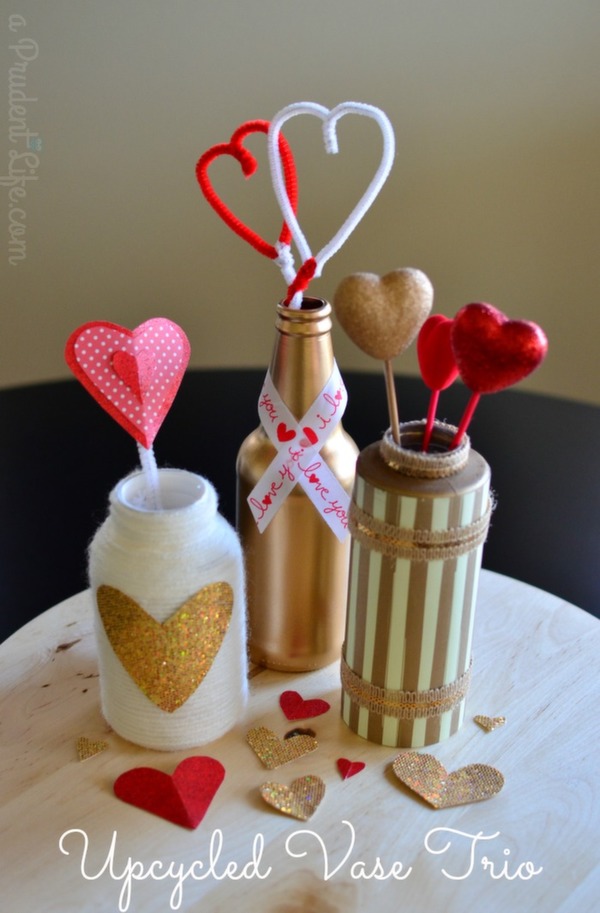 If you love this project, I'd love you to subscribe to my blog.
There is a field to enter your email address and/or follow me in the right hand side bar.
Have a great week!