BIG news today! Over the new few weeks, A Prudent Life is getting a new name. This has been rolling around my head for almost a year, but fear kept me from moving forward.
It feels a little crazy (and scary) to be changing the identity you guys have grown to recognize over that last two years. But I hit the point that it was even crazier to stick with something that didn't feel right anymore.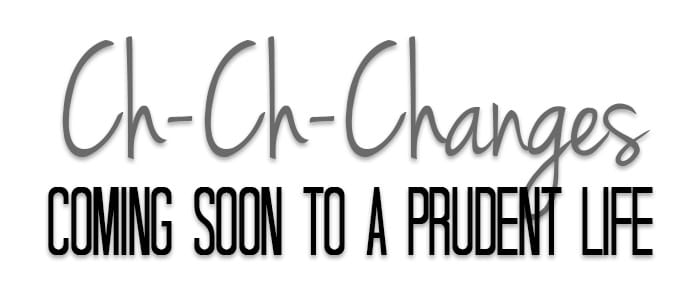 I came up with the name A Prudent Life during a lunch break when I desperately needed to do something creative to balance my analytical job. Initially, I thought I'd be writing about a wider range of topics, even including personal finance. But as the months passed, it was clear that I was most passionate about home design and organization. Between my reader survey and just watching which posts are popular, it was clear my audience was into those same things.
I should have seen this coming based on my LONG-term obsession with houses. Some 18-year-olds were trying to get into clubs, and I was way more interested in getting into open houses. But I didn't clue in that I REALLY would be happier following that passion for over a decade.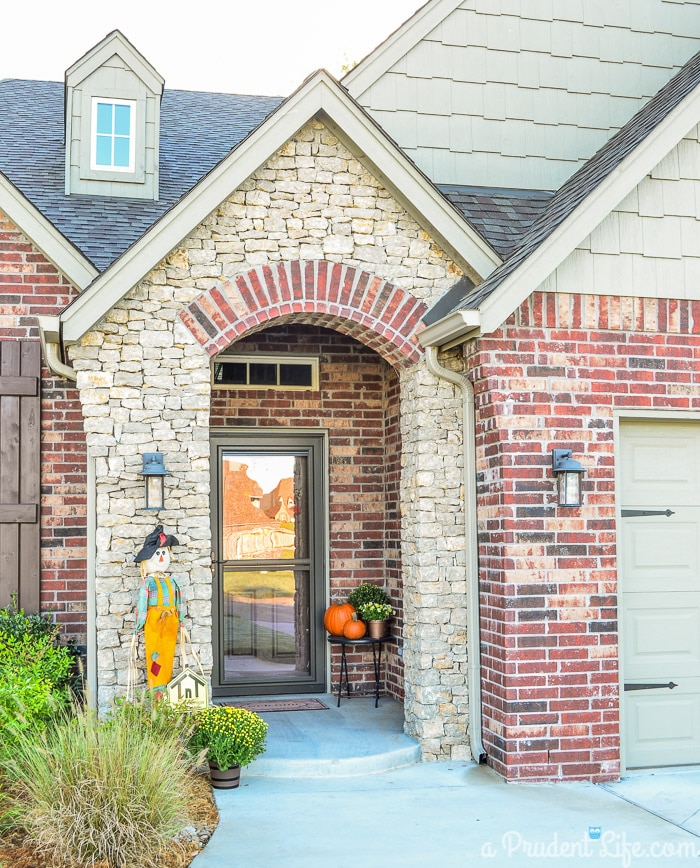 As the blog has shifted to 95% decor and organizing, the name A Prudent Life wasn't making that much sense. It was the most awkward when meeting brands because it didn't convey my focus. And as funny as this is, I really dislike saying the word "prudent" out loud. Not really the best situation when you are trying to grow your business.
I've been thinking about a bunch of different ways I can grow the brand beyond the blog. The growth in income is vital, and logical or not, I felt stifled by the old name. I've got plans to offer edesign services, local decorating/organizing, and maybe one day even a booth selling a mix of handmade and curated items. The name A Prudent Life didn't fully make sense for any of those ventures. Really, it doesn't even make sense for the Etsy shop I have now!
The downside of the whole name changing business is that it is REALLY hard to come up with a name that has both a web address and social media accounts available. With so many creative people in the world, along with people who buy every good domain they can think of to resell them at a profit, it feels really overwhelming to find a new name. Add in the fact that I wanted to be passionate about the name and what it means to me, and I felt like I was giving myself an impossible assignment.
Thankfully, once I had stopped mulling a change and decided I definitely wanted to move forward, good 'ole brainstorming worked!
I listed out words in columns of adjectives and nouns, using an online thesaurus as a reference when there was a word I particularly liked the meaning of.
Words like fresh, style, create, polish, home, dwell, haven and habitat.
Playing mix and match with the words, a few combos weren't bad, and even had the domains available, but they also weren't striking me quite right.
Then I tried Polished Habitat. Interesting. I liked it. Before overthinking anything, I sent it to a friend for a gut reaction. She liked it. I felt like I was onto something, so I typed it up in the style I've been using on my images.


Oh, I might be in love.
Pretty soon, I realized I was already thinking ahead to the logistics of changing my entire online identity. I envisioned introducing myself and my blog name with new confidence. And forget the idea of a booth, I saw the name on a storefront! Clearly I was on the right path.
The final step before taking the plunge and buying the new web address was making sure I had really thought through the meaning of the name. I needed to know WHY it resonated with me.  
Here's what I realized about each word:
Polished – While polished works literally to describe the kind of stylish organizing projects I LOVE to create, it's actually reflective of something deeper.  I feel like the best way to live life is to make the best out of what we are given in any particular moment. The best option is to polish the circumstance as well as we can and be grateful. Sometimes it's actually polishing a secondhand item or revamping something you already own to save money, and other times it's doing a random act of kindness to polish someone else's day. Polishing is a about making something the best version of itself (or the best version of yourself!)
Habitat – I love that habitat encompasses more than just our house, even though our home is definitely the center of our habitat.  It perfectly describes that the focus is on homes, but still gives me a little leeway to occasionally talk about other stuff impacting our lives.  
With new clarity on the the meaning of my new identity, I knew I was ready for the hard work of making the change.
The plan:
Over the next few weeks, you'll see my social media accounts switch (you don't have to do anything!) and I'm hoping to change the logo and website address by 10/1. All the old content will redirect automatically. If you forget and go to polishedhabitat.com after that date, the magic of the internet will switch it up and send you to polishedhabitat.com.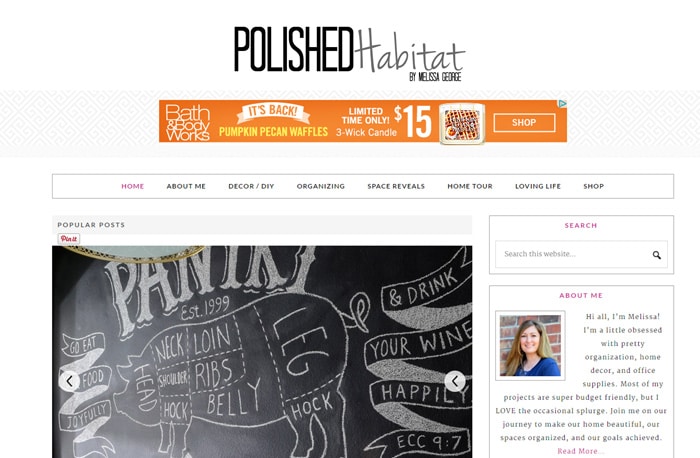 What's not changing:
Content – You can still expect the same stylish organizing ideas, money saving DIY decor ideas, and room makeovers that mix DIY projects with fun splurges. I've got some fun stuff coming up over the next month, like our full office reveal, lots of organization in the tiny entryway from the garage, and starting 10/8 the ONE ROOM CHALLENGE. Yep, it's already been six months and it's time for the next round. Since you're bearing with me through this rebranding business – I think you deserve a little secret. I'm taking on the Master Closet! Please start preparing yourself for the horror of the before photos. I've had it on the list to fix the dysfunctional storage in there for a long time. It seems that in the meantime I gave up and it's a FEMA-level disater. 
Me! – My approach to projects hasn't changed. I'll still be showing where I save and when I think it's worth it to use some of those savings for a big impact. Humor will still be added every time I can make myself chuckle.  I don't know if any of you are ever laughing, or if you're just rolling your eyes, but I figure it's worth the attempt even if I'm the only one who thinks I'm funny. ?
So what do you think? Am I crazy?