Adding function & storage to your home could be as simple as a few furniture swaps!
There's quite a trend of minimalism happening right now, and I agree that we should routinely declutter and get rid of unnecessary products. Or better yet, make sure we REALLY need anything new we're bringing into our homes.
That said, I'm sure you've noticed I'm NOT a minimalist at heart. Having extra things on hand makes me very happy IF they're organized, and I can find them.
But what if you live in a house with limited closet space?
There are some natural spots around almost every home or apartment where storage potential is overlooked.
By swapping out or adding a few key pieces of furniture, you can reduce visible clutter and add function to every room of the house!
I was browsing around on my new favorite spot for affordable furniture, HomeDepot.com and came up with some examples to show you what I'm talking about!
We'll start with the living room, then move onto the entryway and bedroom.
Living Room Storage Furniture
Whenever we're shopping for new coffee tables, I'm generally not considering anything other than the look. That has been quite an oversight, especially when we lived in a rental with limited closet space.
The next time we upgrade, I'll be looking for one that has a lower shelf!  They're available in every design style and functional for any stage of life, especially if you add baskets or storage boxes.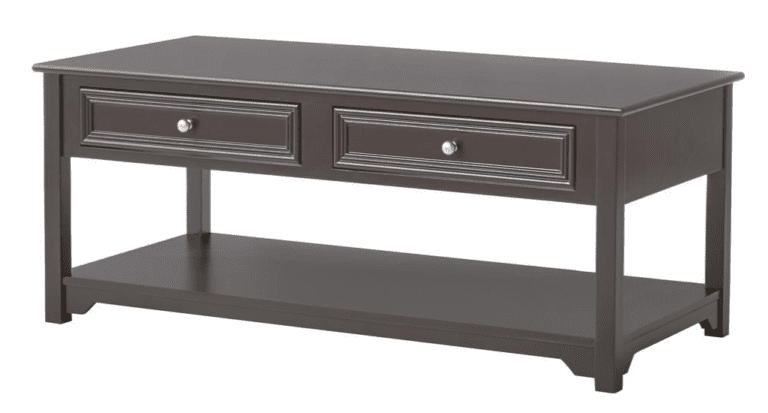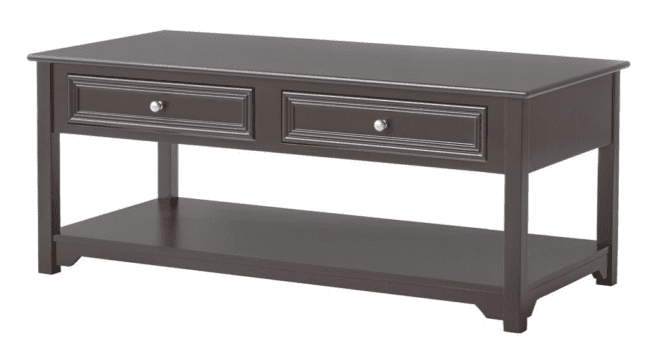 ---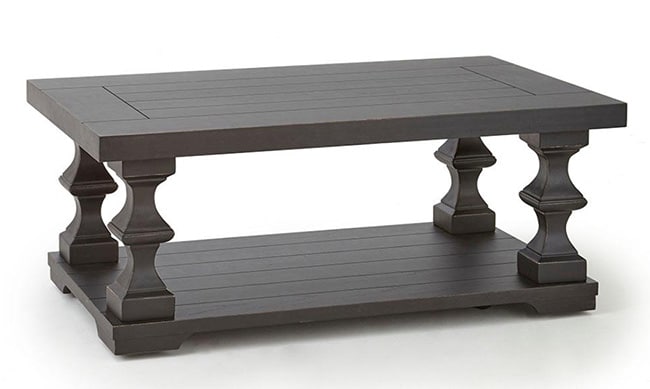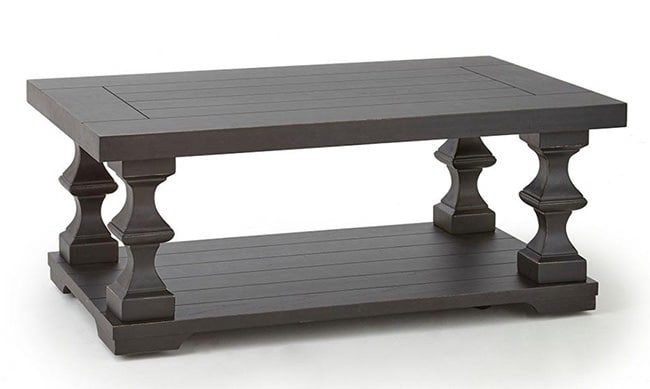 Pedestal Base
That one is an amazing value right now!
---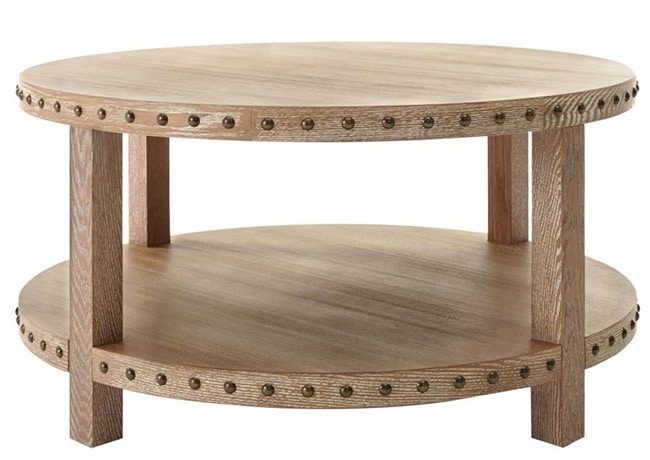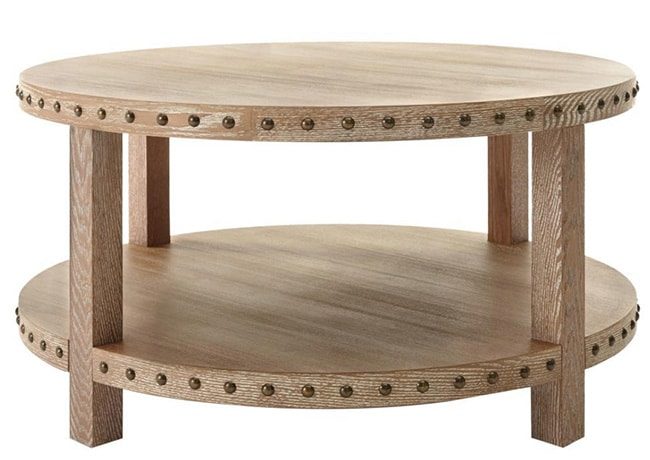 ---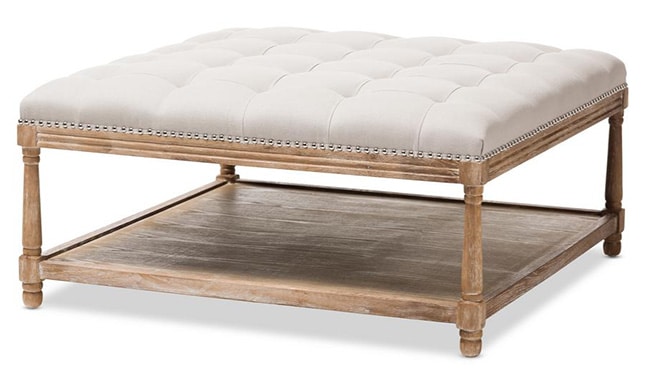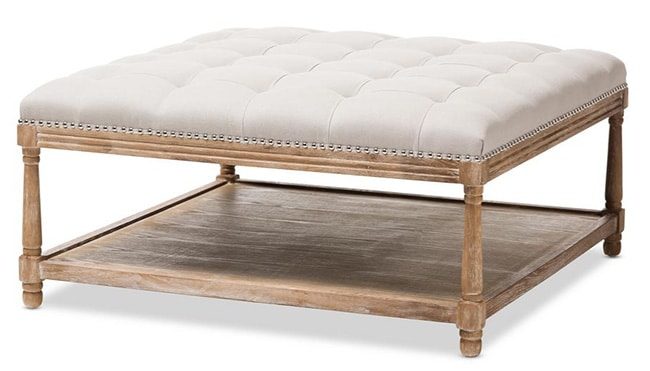 Tufted Fabric Top & Wood Shelf

This one is a bit pricier than the others I choose, but also a great size, combo of fabric and wood,  and classic look.  Plus, it's still under $500!
---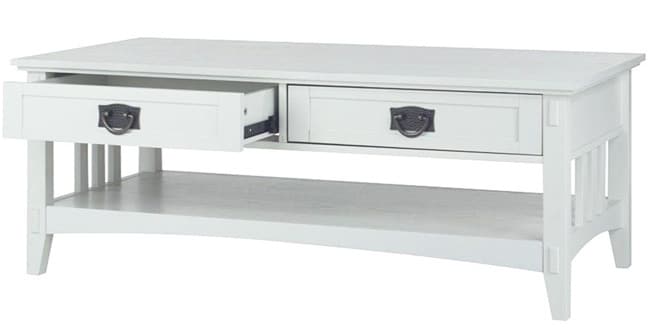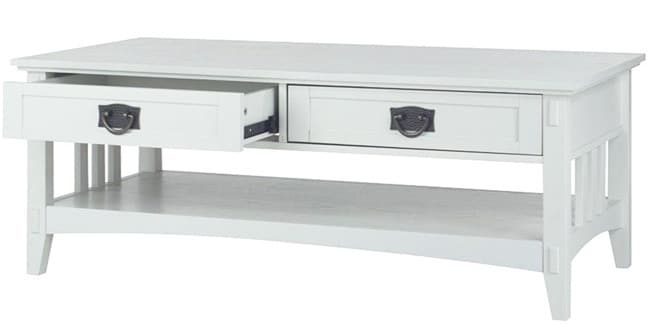 ---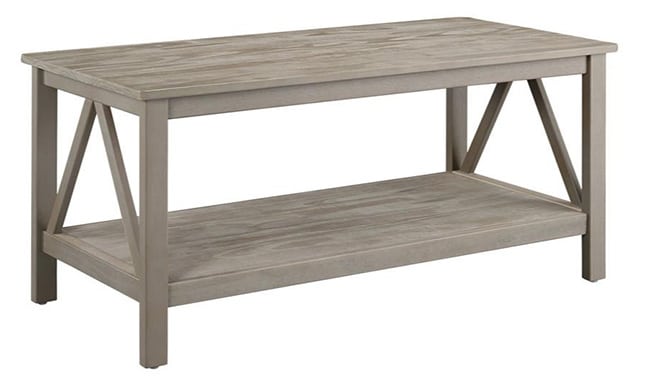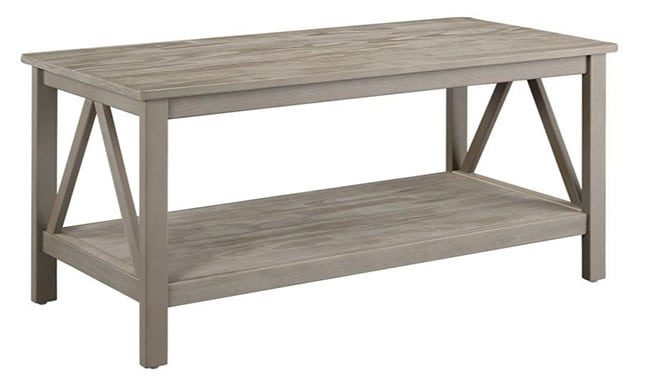 Cross Leg Storage Table
This one comes in two finishes and the price is AMAZING.
---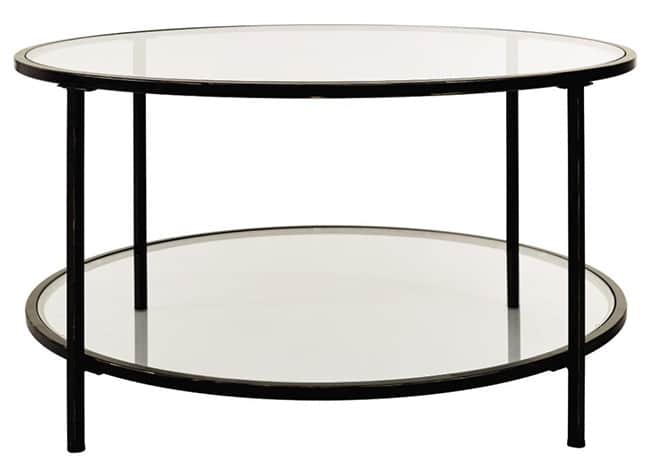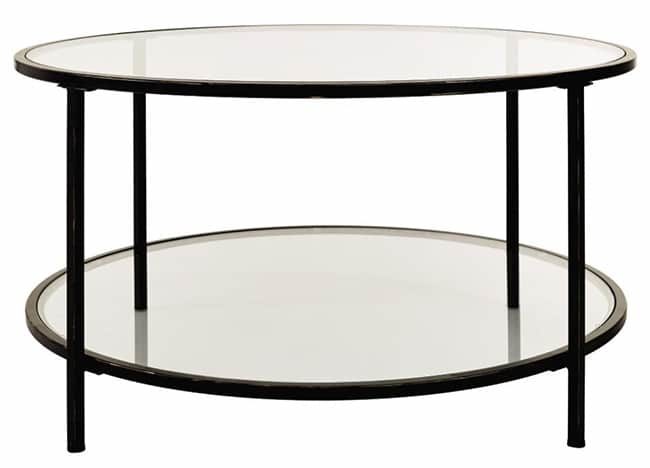 Round Glass Table
The bronze is pictured above, but it's also available in antiqued gold or silver.
---
Still wondering how much difference that one shelf can make? Here are some ideas!
Things to Store on a Lower Coffee Table Shelf
Make a Library
Fill the open shelf with stacks of books. You should have room to stack them with the pretty spines out all the way around.
Stylish Toy Box
Add matching open baskets or boxes to stash toys. They'll be at the perfect height for your kiddo or pooch to help clean up themselves.
Entertainment Center
Video game controllers making you crazy? Toss them into a cute box on your shelf! You can do the same with the games, movies, and extra remotes.
Create a Mini Office
Use pretty closed-top baskets or boxes to conceal notecards, stamps, envelopes, etc. Whether you need to send a bill or thank you note, everything will be together. So much function hidden right in plain sight!
Throw Blankets
You can mix things up and have throws on one side of the shelf, and a storage basket on the other.
Create a Beauty Station
I've heard from many of you that your bathrooms have serious storage issues. The shelf on your new coffee table could hide a box of nail care supplies like the one I put together in a photo box. In fact, anything in the photo box post from batteries to crayons could work on your new coffee table shelf!

An alternative to the lower shelf design would be an ottoman with storage inside. 
If your space is large enough, I love a big square ottoman. And think of everything you could fit inside – even unexpected items like extra paper goods!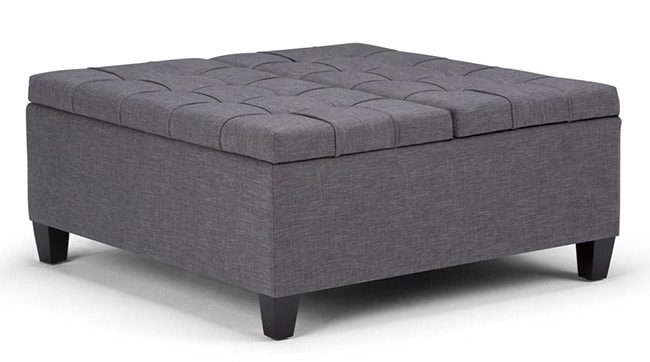 Square Storage Ottoman
I love this gray linen, but it comes in NINE colors!
---
For a more compact living space, I'm obsessed with this industrial/vintage option. It brings big style at a small price. I think we might actually need one for the guest room upstairs.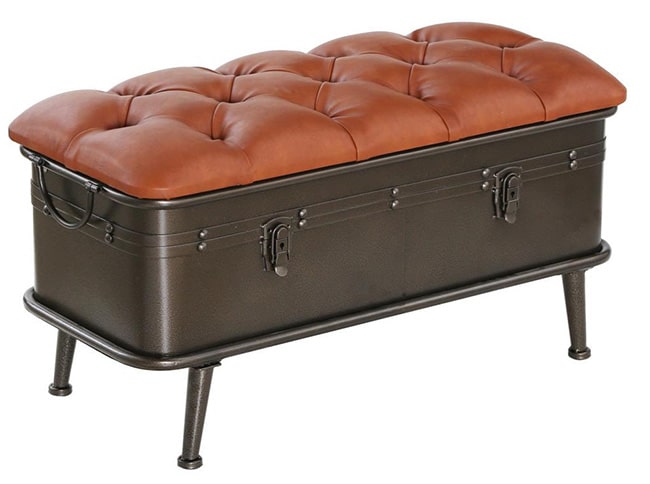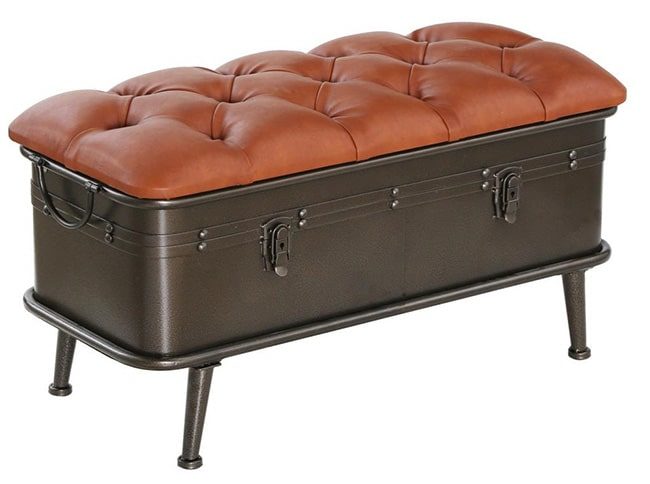 Leather + Metal Storage Ottoman

---
This final coffee table/ottoman solution is the smallest, but the most multi-functional!
If you purchase multiple cubes, you can keep them pushed together as one unit most of the time, but then separate them for additional seating when entertaining. They'd look great as either 2 or 3 side-by-side, or 4 to create a larger square.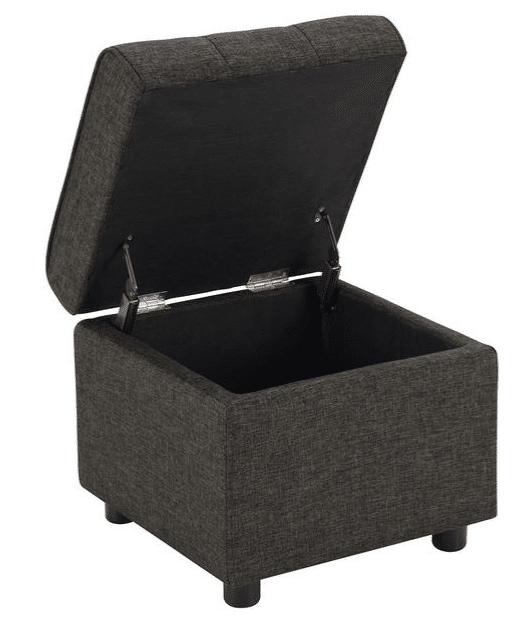 Small Square Storage Ottoman
Bonus Living Room Tip: In addition to adding storage to your coffee table, you can also swap out end tables for additional storage. We switched our pedestal style for a unit with drawers last year and I LOVE having the drawer space.
Entryway Storage Furniture
While the coffee table option will work in any home, this idea requires a bit of wall space. That said, I found options that take up as little as 2 feet all the way to up to 7 feet. While the ideal scenario would be placing your choice by the front door, some of the possibilities are gorgeous enough to fit anywhere.
We're going to start big because ever since I saw this awesomeness, I've been dreaming of ordering it for our own entryway. It adds a ton of storage and looks like a custom built-in.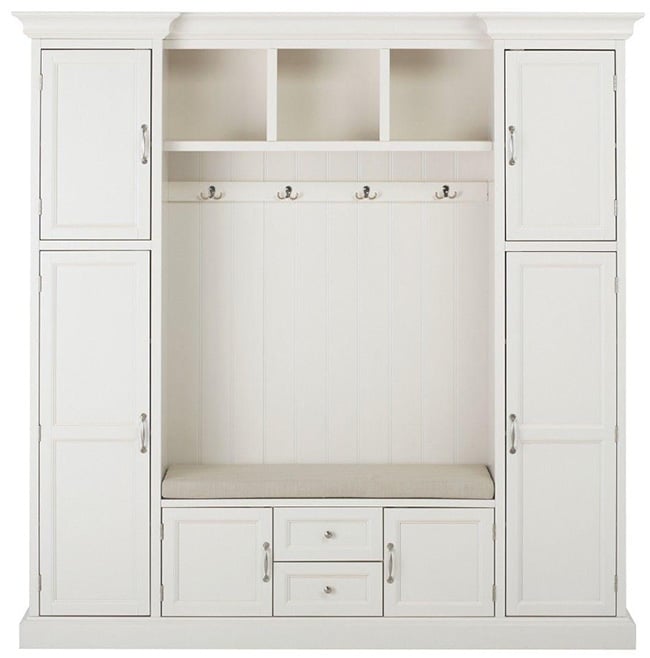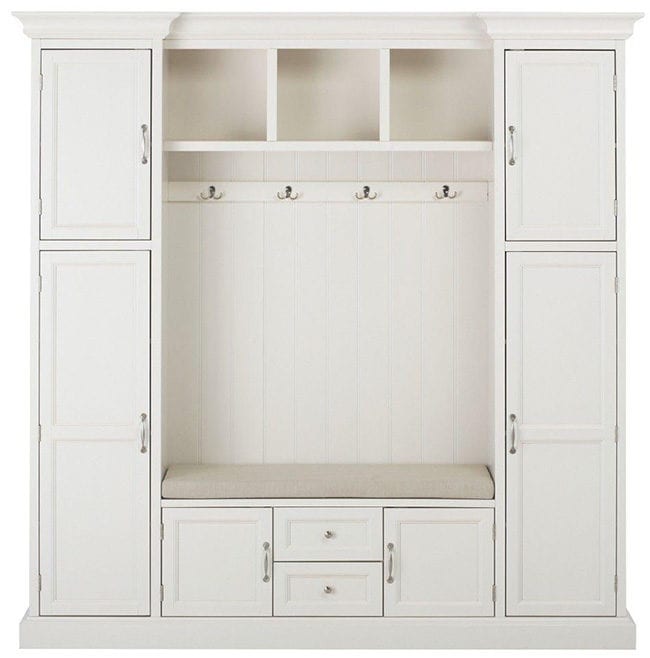 Large Mudroom Furniture with Storage
---
If that piece is above your space limits or budget, there are tons of configurations available. This example is a bit more compact,  but still has amazing storage potential with all the upper shelf space.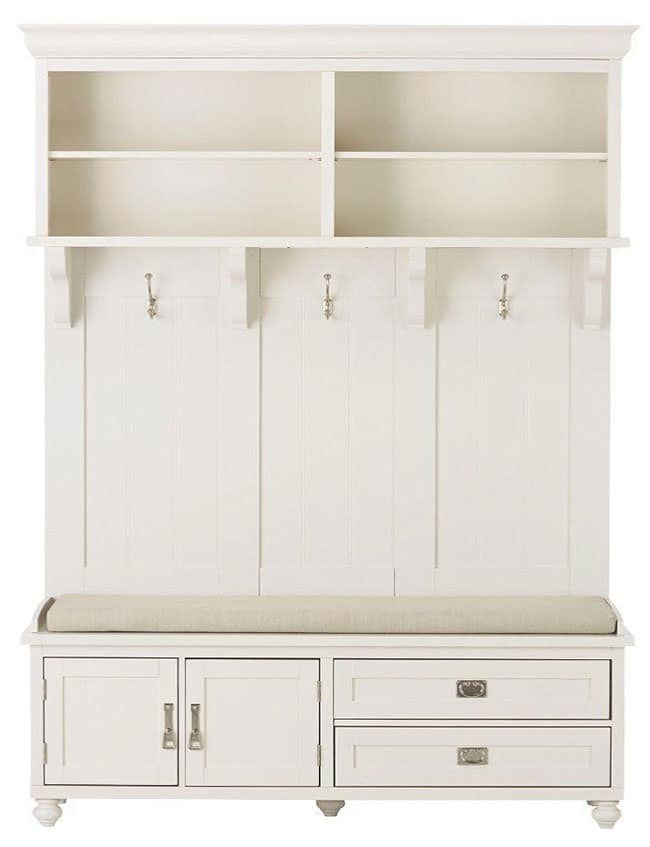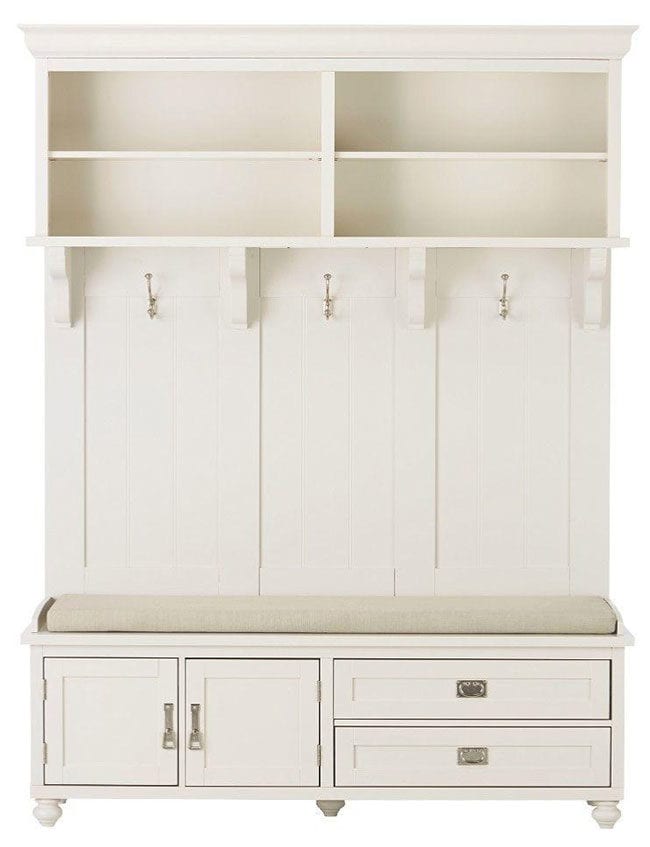 Mudroom Furniture with Bench & Storage
---
Scaling down the size and price another step, this piece still has storage for coats, backpacks, & shoes. I'd probably do square baskets on the lower shelf to corral the shoes.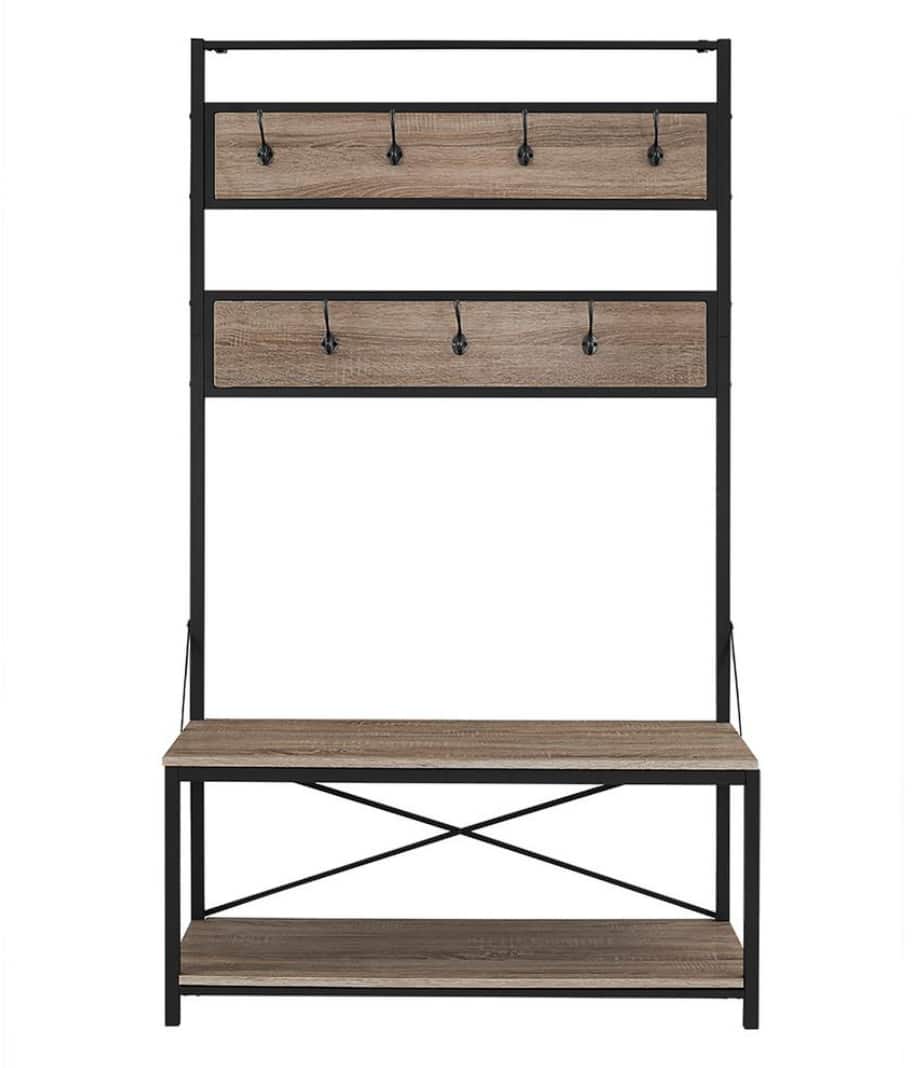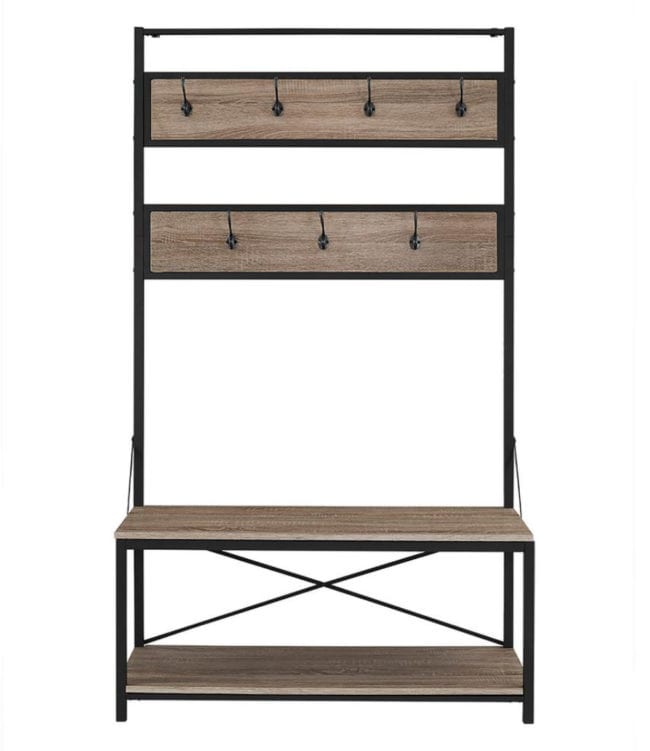 Hall Tree with Bench & Storage
It even comes in multiple finishes!
---
My last pick will work in as little as two feet of wall space! Plus, it's affordable & highly rated.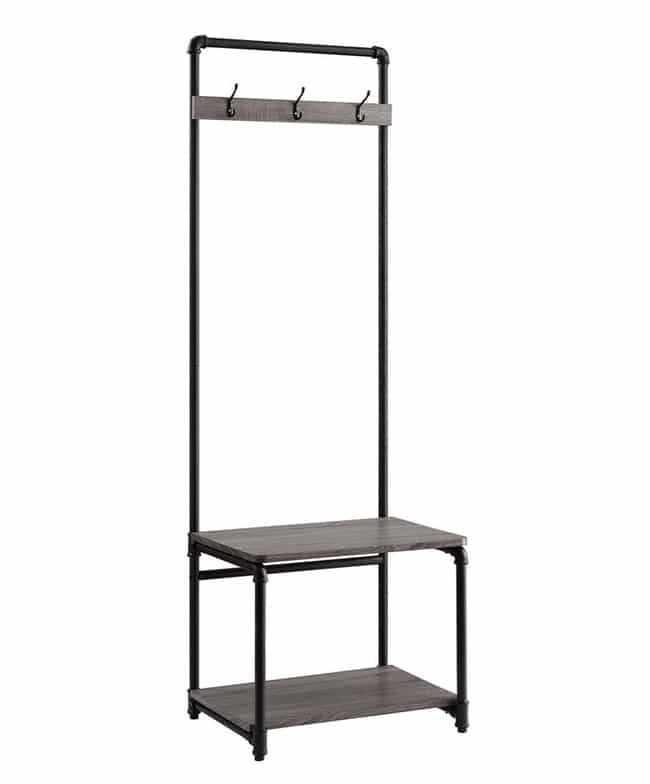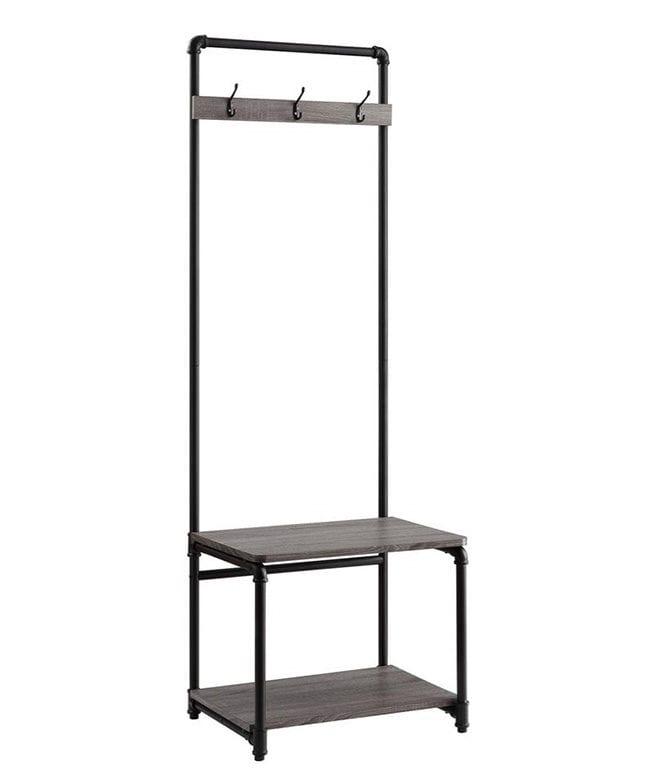 Compact Hall Tree
Any of these options are ideal for coats, shoes, and backpacks. And not just for kids! I never have a great spot to leave my laptop bag, and Corey's often ends up on the floor in our
tiny entry from the garage
.
It's a tripping hazard!
But wait, there's more. Please tell me you read that out loud in your BEST infomercial voice.
In the summer, we need quick access to our pool bag, beach towels, and sunscreen. They'd be perfect inside one of the larger mudroom pieces. In the winter, I'd use the same space for gloves, scarves, and hats.
---
Bedroom Storage Furniture
Just like the coffee table shelf, nightstands might be able to store more than you have previously considered. If your bedside tables don't currently have drawers, they could be working so much harder for you!
I mentioned nail care items in the living room section above, but the nightstand is also perfect for anything you can't fit into your bathroom. Makeup and jewelry can be neatly organized within the drawers!
Nightstand drawers are ideal for smaller clothing items like undergarments or swimwear. To think all the way outside the box in this area, you could even create a little craft station right inside your nightstand!
Luckily, you don't have to give up style for storage. Here are a few beautiful options!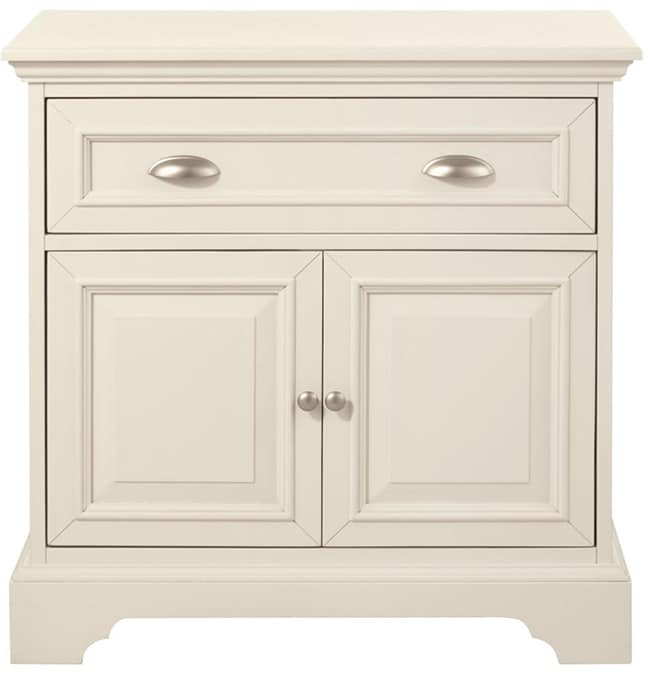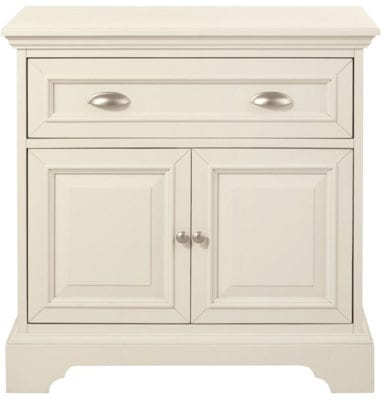 Cream Nightstand with Drawer & Shelf Storage
---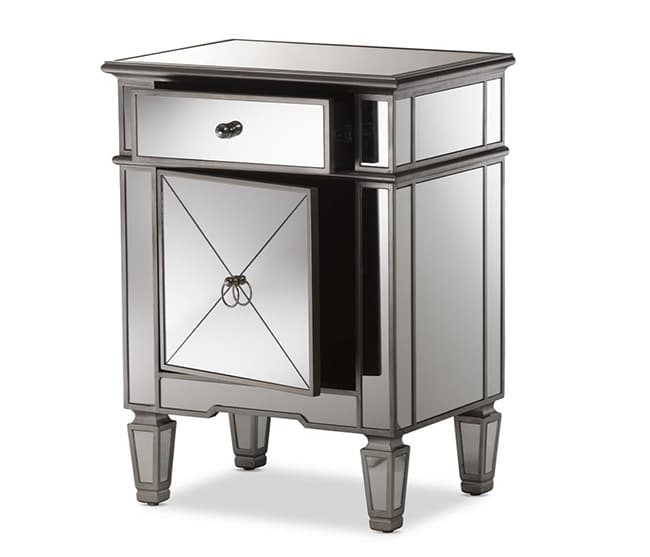 Mirrored Nightstand with Storage
---
This one is technically a nightstand, but would be gorgeous anywhere in the house!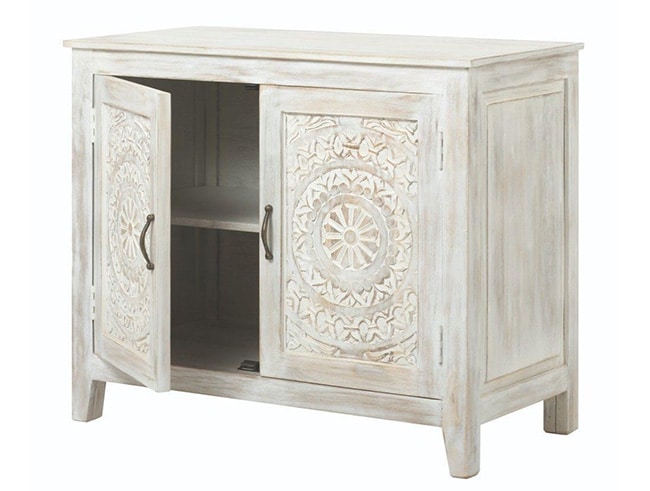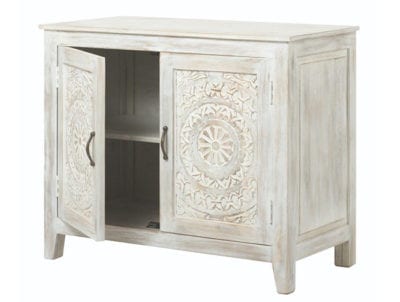 Carved Front Storage Nightstand
---
Bonus Bedroom Tip 1:
If you need a desk at home, but have no space for an office, consider swapping out one of your nightstands for a desk. I even found one that's under $100 and only 31″ wide for smaller rooms!
Bonus Bedroom Tip 2:
Is your jewelry out of control? My mom tucked a jewelry armoire into the corner of her bedroom, and now everything is organized!
I had no idea they came in so many different styles. My mind is churning about whether I NEED one myself now! I sorted them down to only the highly-rated styles for you here.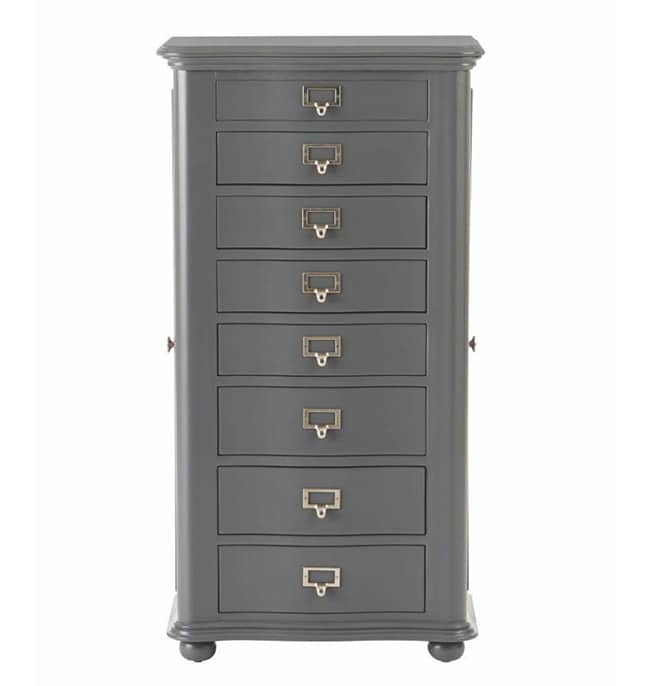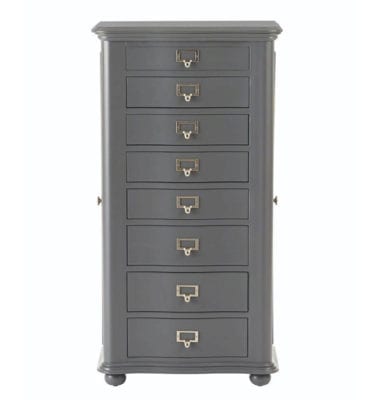 Did you get any new ideas today?
And did you know that Home Depot had all this awesome furniture available online?
I really like that you have the option to have things delivered directly to your home or to the store if you don't want something sitting on your porch all day!