Over the past few years, I've tried to become more and more conscious of the brands I support with our bank account. If I find out how much a brand participates in charitable endeavors or that they take extra steps to be environmentally-friendly, I'm more likely to support them over their competitors.
It's a small thing to grab one brand over another while shopping, but when I think of all the retail dollars we spend, I realize that we have the power to support brands that are a force for good. 
Every time there is a tragic oil spill in the ocean, I'm impressed to see animals being cleaned with Dawn. In fact, this year, they're celebrating their 40th anniversary of helping save wildlife!  Since 1978, they have saved more than 75,000 birds and marine animals. 
In the hustle and bustle of grocery shopping, I had forgotten that every time I buy a new bottle of Dawn, I'm helping encourage their efforts. Dawn is the only dishwashing brand trusted by wildlife experts for decades and heralded for its "tough on grease, but gentle on skin" formulation. 
The anniversary also reminded me that Dawn can be used for so much beyond the dishes. It's the perfect mix of tough on oil and grease, but gentle enough to be used on animals, so why the heck have I only been using it in the kitchen sink?

I'm challenging myself to start using Dawn in place of harsher (and often more expensive) cleaners. To cement it as an option in my mind, I thought I'd test it out on some things around the house.


How to Clean Combs & Brushes
It's inevitable. Each time I'm packing for a trip, I'm suddenly aware of the desperate need to clean my hair brushes and combs. I try to do the job, but water never gets rid of the grossness.
Then I had the epiphany that Dawn would probably do the trick!
Here's the nasty build-up that I couldn't get out of my fine tooth comb. And this is after I tried to clean it with water!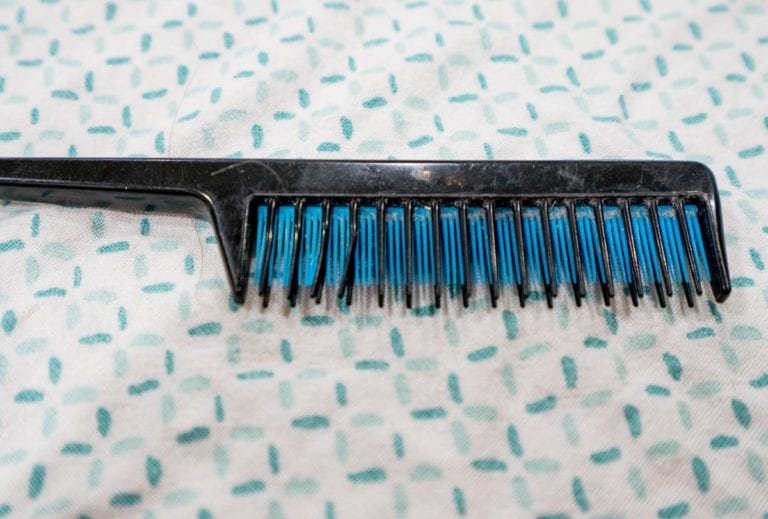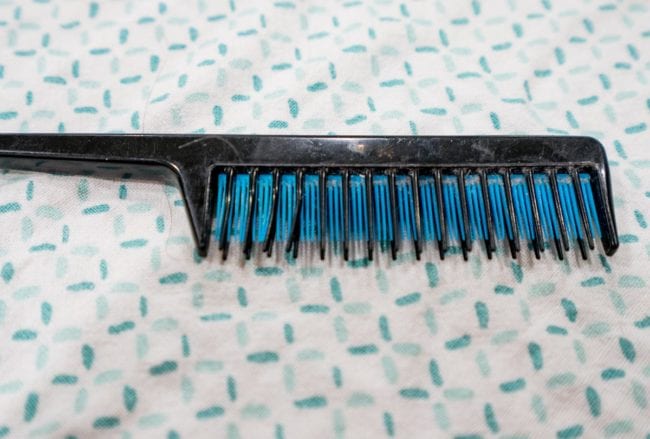 A small baking dish is the perfect shape to soak combs and brushes in a solution of Dawn and warm water.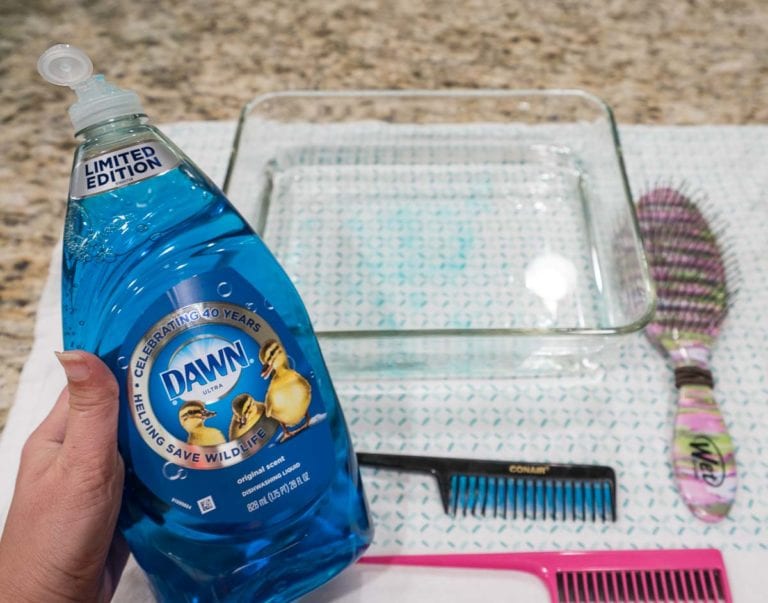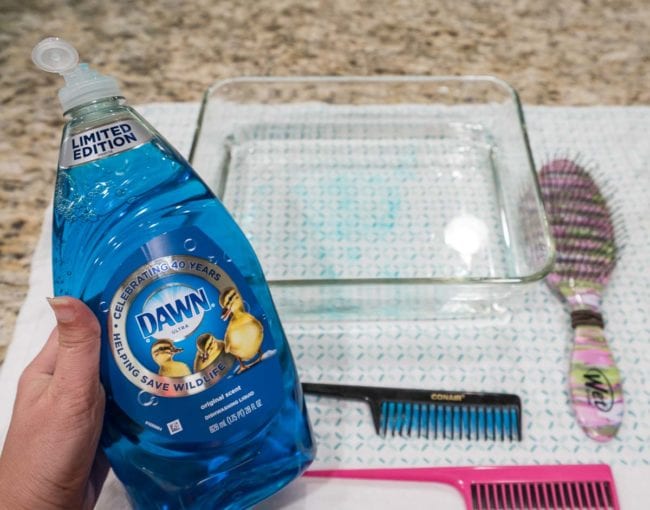 I used a comb to stir up the water and then left everything to soak for a while to loosen up all the build-up.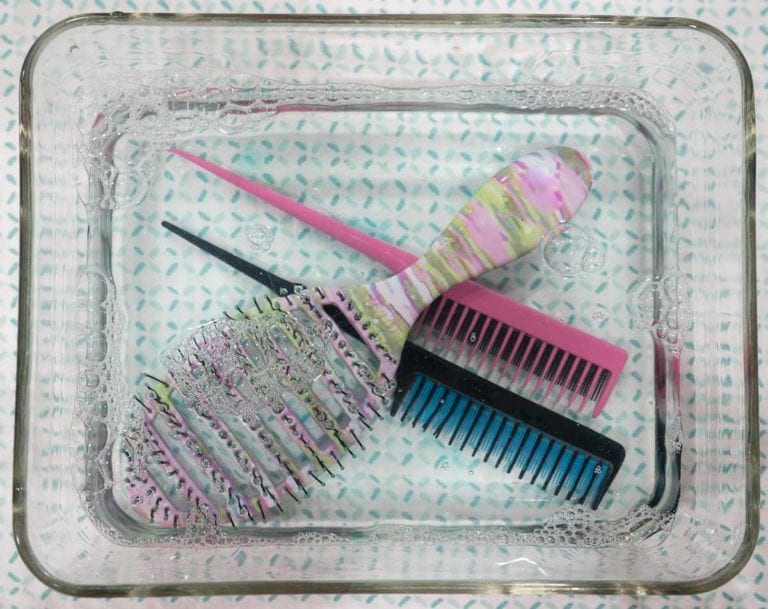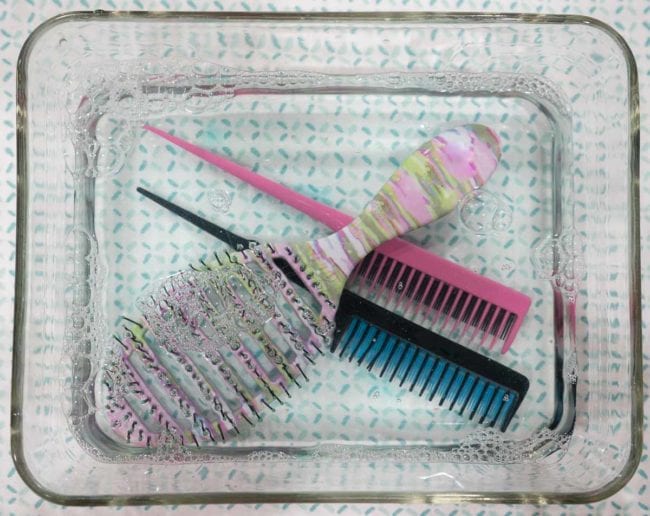 After an episode of Suits, I grabbed a dental flosser and used the pointed end to finish the cleaning job. You can see how the comb came out of the Dawn solution in the middle of the picture below. Then, the sections on the right are after I flossed them. It worked!!!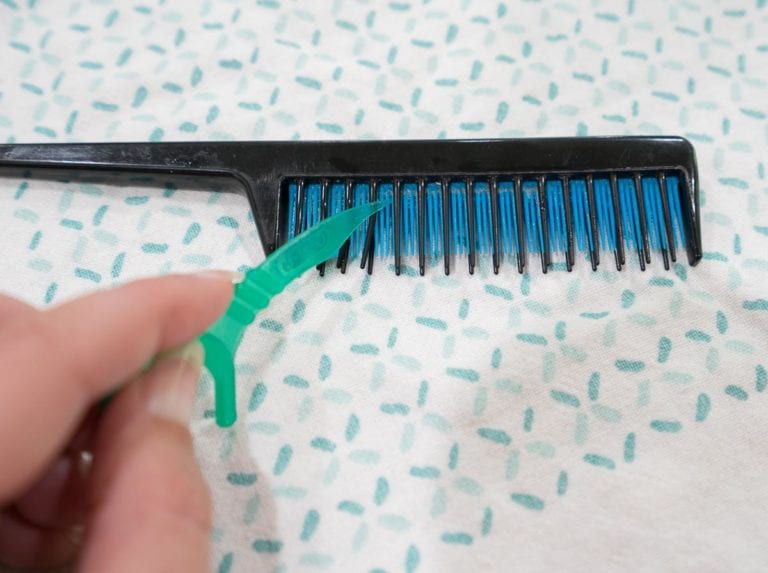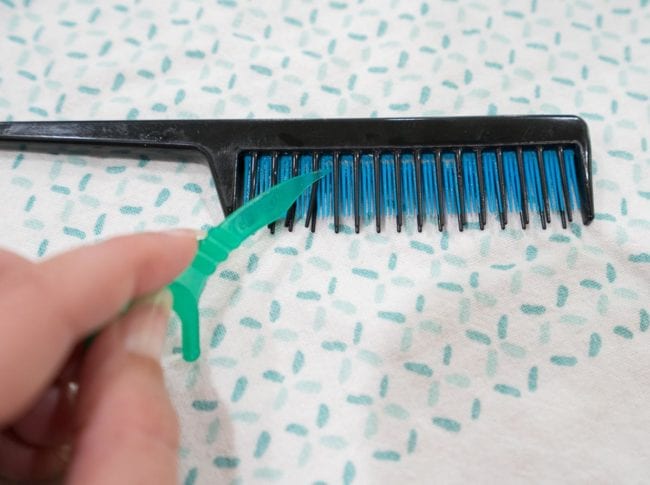 How to Clean Garden Tools or Hand Tools
Since I already had the Dawn solution in my dish, I figured I might as well continue putting it to work. If you have any greasy tools in the garage, this is a simple way to clean them up!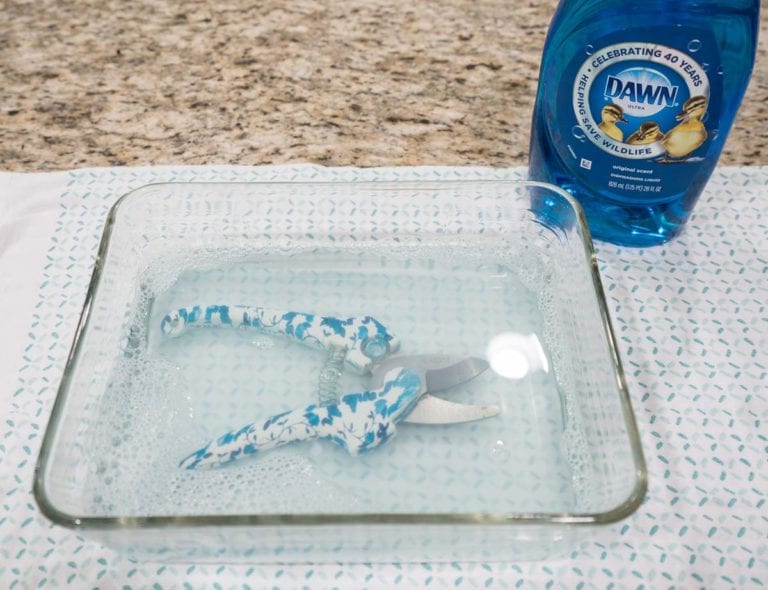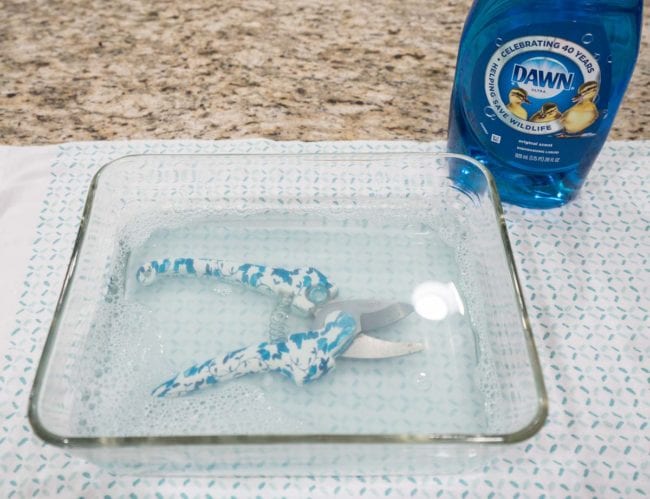 How to Remove Grease From Hands
Speaking of the garage, right after we returned from the lake, the battery in Corey's car completely died. For some reason, you have to disassemble half his engine compartment to get to the battery, which meant he was a greasy mess by the time he was done.
Instead of using regular hand soap, he used Dawn. Like any great blogger husband, he thankfully thought to ask if I wanted pictures since he knew I was working on this post!  It did a great job getting the grease off his hands AND even his ring.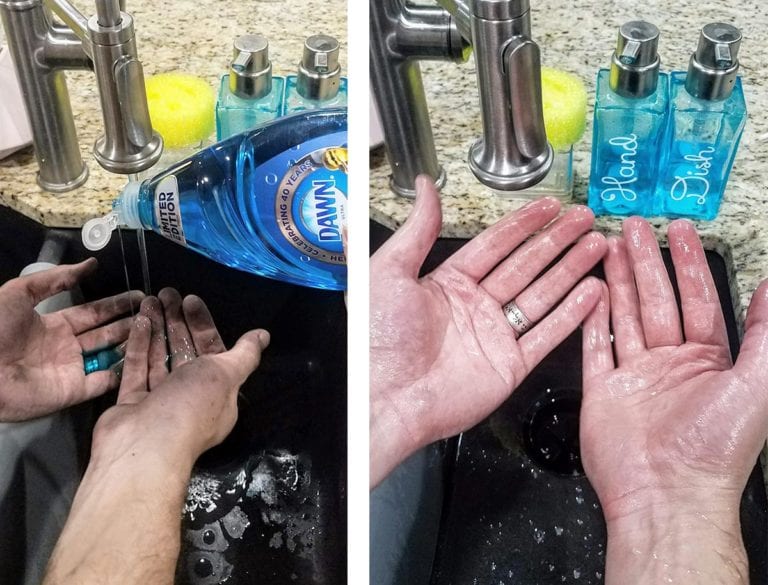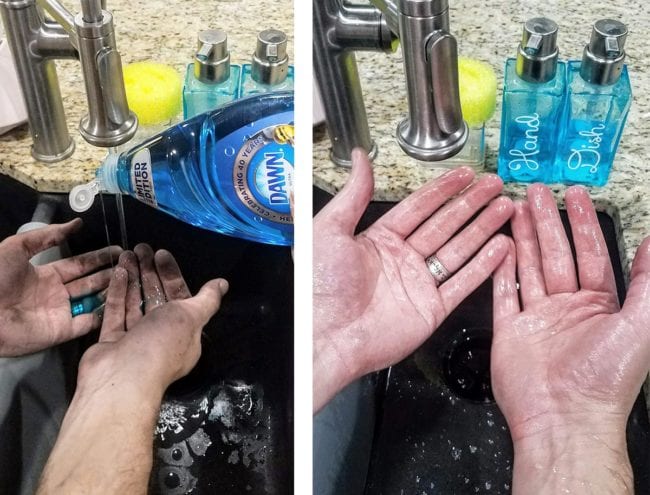 Cleaning Your Cooler / Ice Chest
So…like my hair brushes, we rarely think to clean the coolers. Turns out you just need the garden hose and a couple drops of Dawn to make the task easy.
Washing the Windows
It only takes a few drops of Dawn mixed into a spray bottle of water to create a very frugal and effective window cleaner! Unlike vinegar, this option isn't stinky, which makes it way better in my book.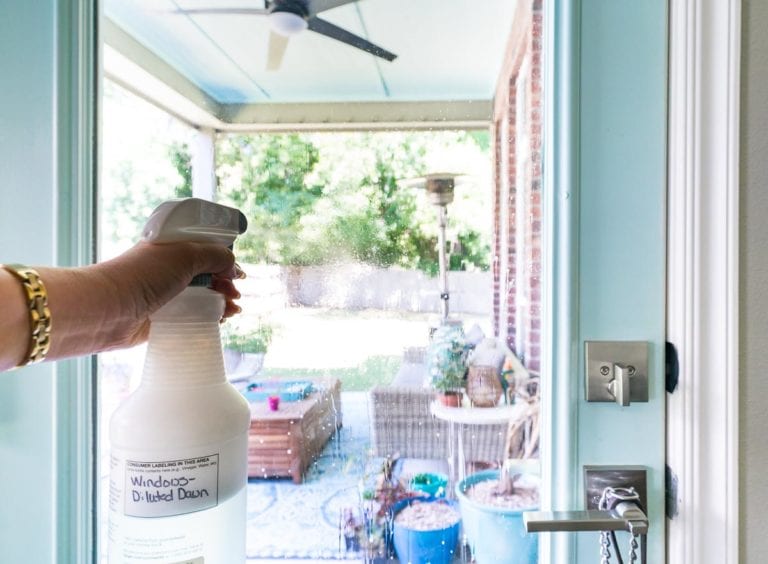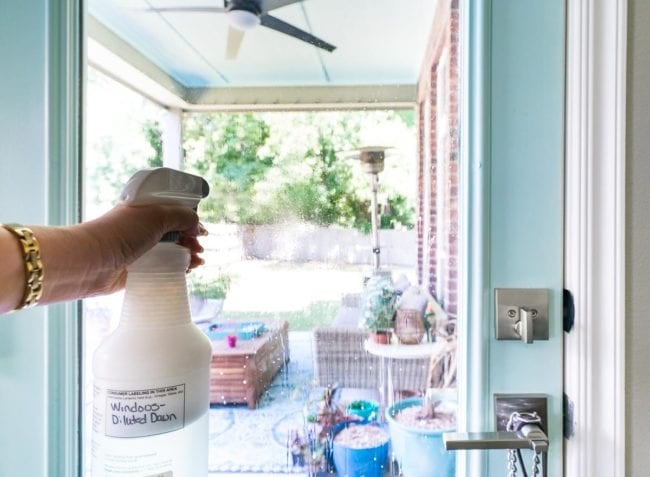 It worked great getting the Maddie nose prints off the back door, so we'll have to suck it up and clean all the living room windows soon. You can even use the same solution to clean your shower glass and countertops!
Removing Oil From Garage Floor
At some time or another, it seems we always spill some kind of oil in the garage. In fact, we've got a scary mess under the lawnmower right now! We've never been sure how to clean it, so we've done an outstanding job ignoring the situation.
I read a tip online that Dawn is perfect for the job, and now it seems way less intimidating. Guess what we'll be doing Saturday morning before it gets too hot?
Grease Stains On Clothes
Have you ever gotten grease or cooking oil on a piece of clothing and known it would inevitably come out of the wash still discolored?
I would never have come up with this one on my own, so I'm not taking ANY credit, but it's too good not to include on my list! Angela from Blue i Style has a great post showing exactly how to get those grease stains out using a specific magic Dawn formula!
I'm sure there are another 70 ways we could be using Dawn, but getting the garage floor and living room windows clean will be AMAZING things to cross off our list. Heck, even finishing the dishes would be a win today!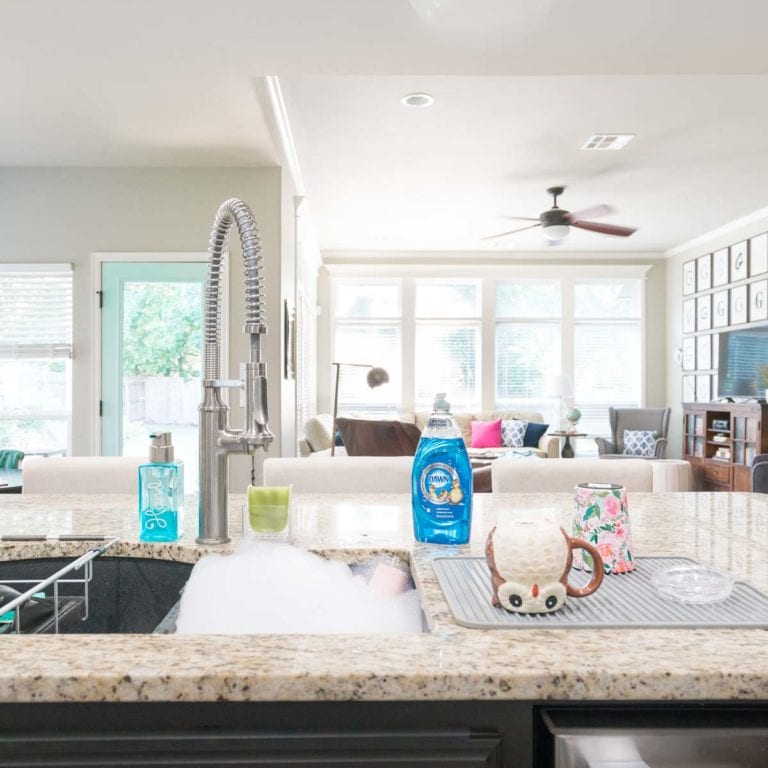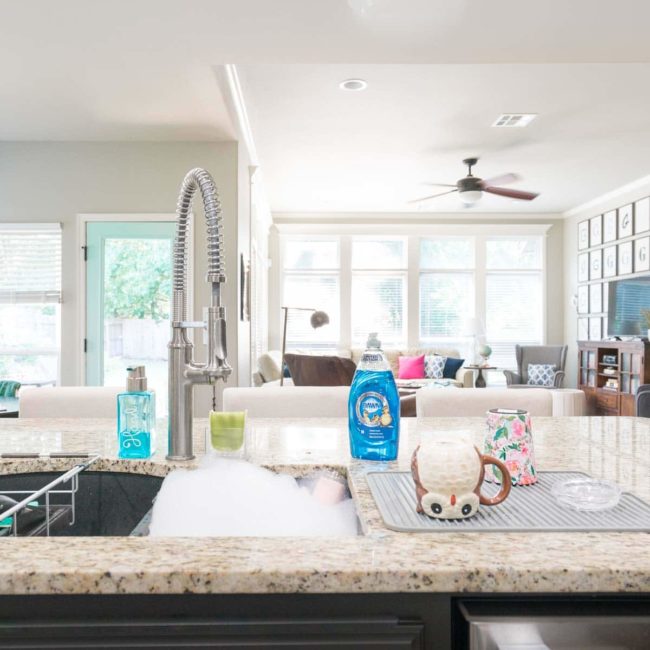 Remember how we started off talking about choosing Dawn because they have helped save so many animals over the last 40 years?

Dawn wants to show you the amazing things their wildlife partners do. For their 40th anniversary of helping save wildlife, they are hosting the first ever Golden Duck Contest for a VIP Wildlife Experience!
From now until 11:59:59pm ET on October 6, 2018, visit Target or another local retailer, purchase a 40th Anniversary Bottle of Dawn dish soap, take a photo of the full receipt, and submit it here.   Complete the registration form for a chance to win an exciting wildlife experience.
The winning families will be flown to Dawn's wildlife partner locations for a behind-the-scenes look at how they are helping wildlife and the animals they save!
Sounds amazing, right?!?
Fingers crossed one of you will win a trip AND all of you will "win" a cleaner house with some of today's tips.
If you have other Dawn cleaning ideas, add them in comments below so everyone can benefit. Clearly, I need all the cleaning help I can get!