Anyone ever notice that smoke detectors like to start beeping for a replacement battery around 3 AM? Or that your wireless mouse battery always dies right in the middle of the most important project of the year?
Despite all the battery minor-emergencies that pop up in our lives, my prior battery storage solution was a lovely shoebox, stuffed in a cabinet.
I give you Exhibit A: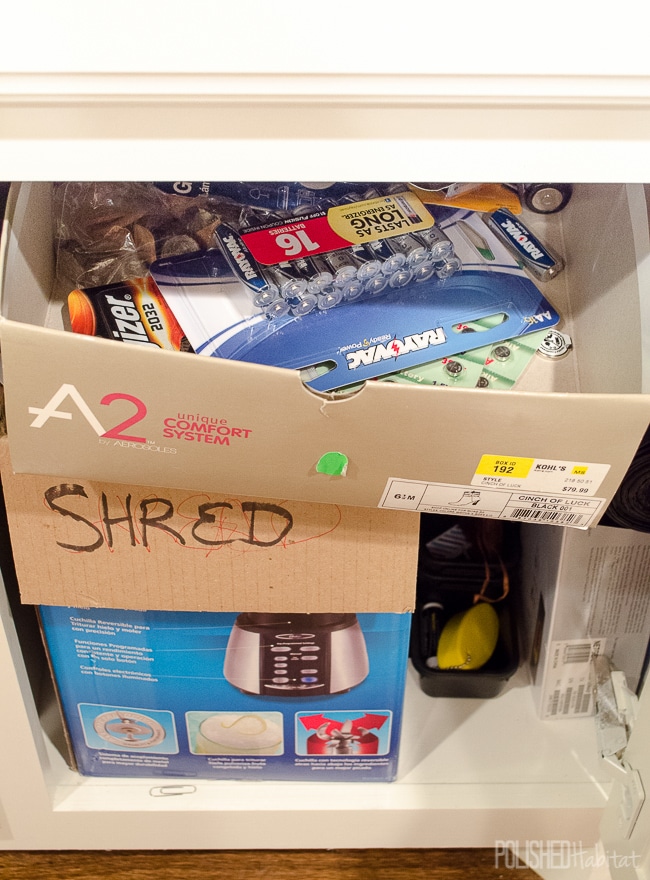 Yikes, right?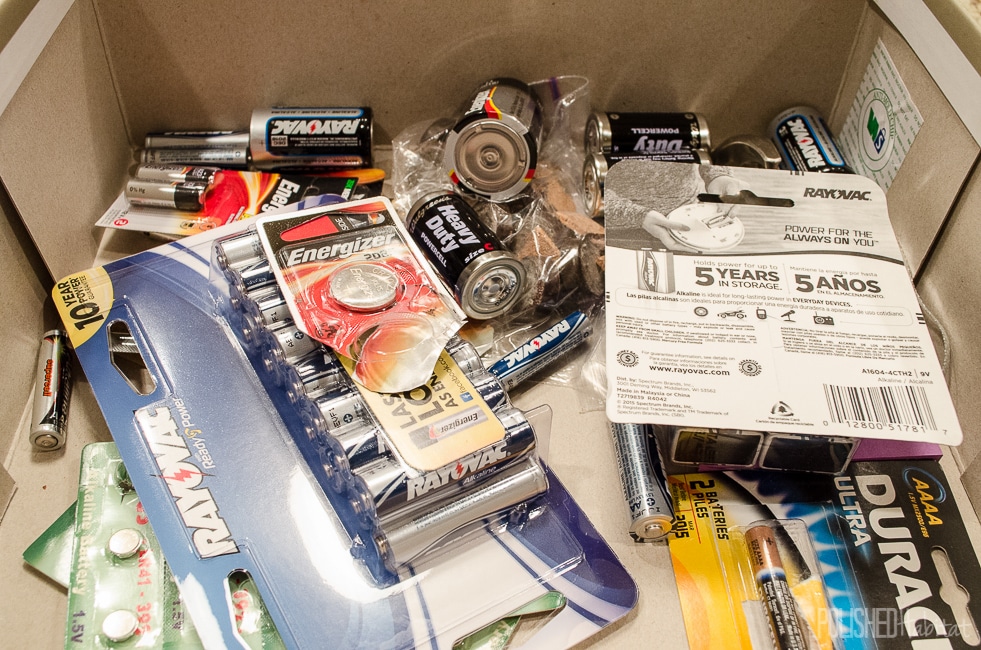 Right before Christmas, we had the lovely chirping of a smoke detector wake us up. New building codes mean we have a BUNCH of smoke detectors. I think there are 8 of them. And it always takes serious sleuthing to figure out which one is unhappy. So, there we were, in the middle of the night playing FIND THAT CHIRP.
And then….
We realized there were no 9V batteries in the house. Big fail. Which is totally what happens when things are a mess – we have no idea what we have, so we either run out or buy double.
So off the husband went to WalMart at 3 AM. And as he went, I vowed to come up with a battery storage solution very soon.
I was planning to attach some bins to the back of a cabinet door, because you know I love some good cabinet door storage! Then I had a wacky thought – does someone already MAKE a battery organizer? Well, yes they do! An hour down the dangerous rabbit hole of Amazon, I had done some serious research of the gazillion options available and picked the perfect solution for us. The exact model is no longer available, but this one has great reviews and the same affordable price!
My original plan was to mount the organizer on a cabinet door, but when I saw that it came with anchors for the wall, I realized it would get pretty heavy and probably should go on a wall.
I wanted it to be out of normal sight, but still easy to access.  We picked the wall behind the laundry room door as the perfect spot. I'm pretty excited to have the batteries out of the kitchen.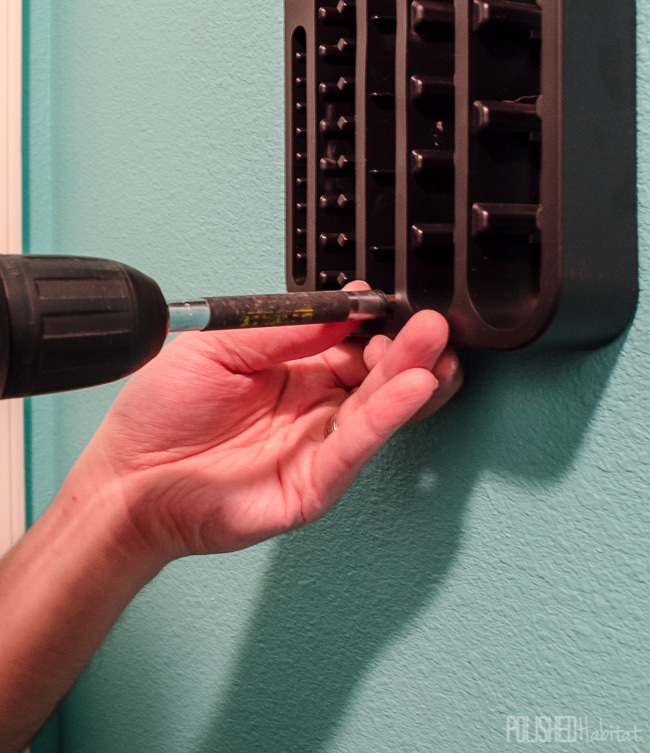 A few screws and anchors later, we were in business. The anchors that came with the organizer were a bit flimsy and bent when we tried to hammer them in, so we did swap them out for some others we had.
Although it's not as pretty as my normal organizing projects, the fact that this solution took 5 minutes and is tucked behind a door makes it a total winner in my eyes.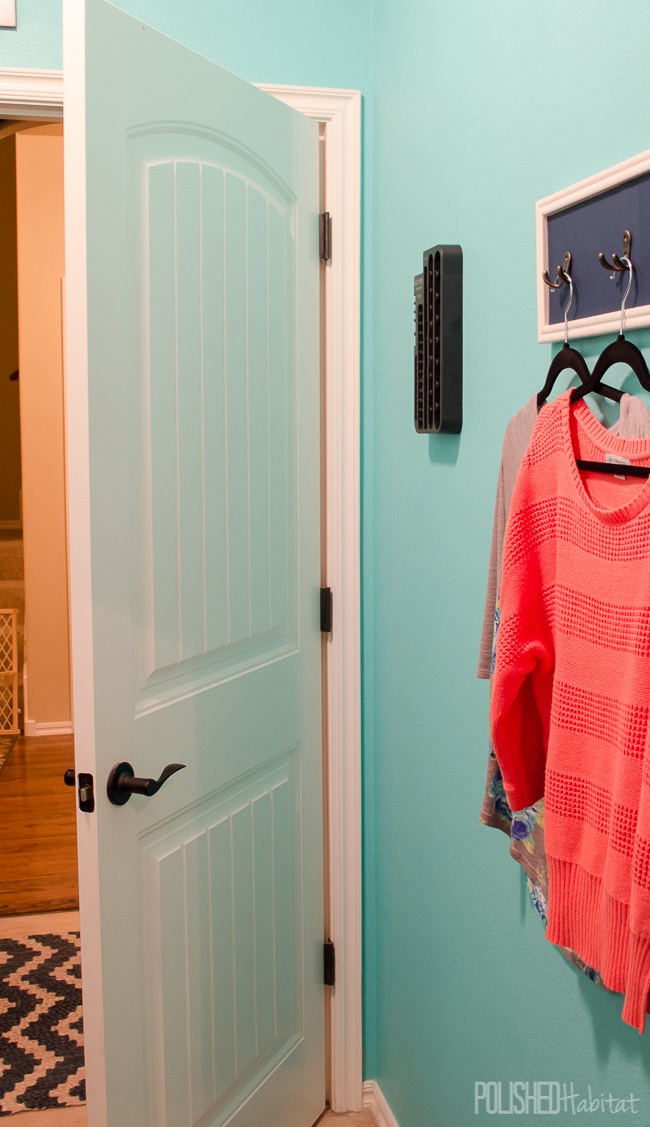 Now I'll always know with a quick glance which types of batteries we need. Ahh. So lovely!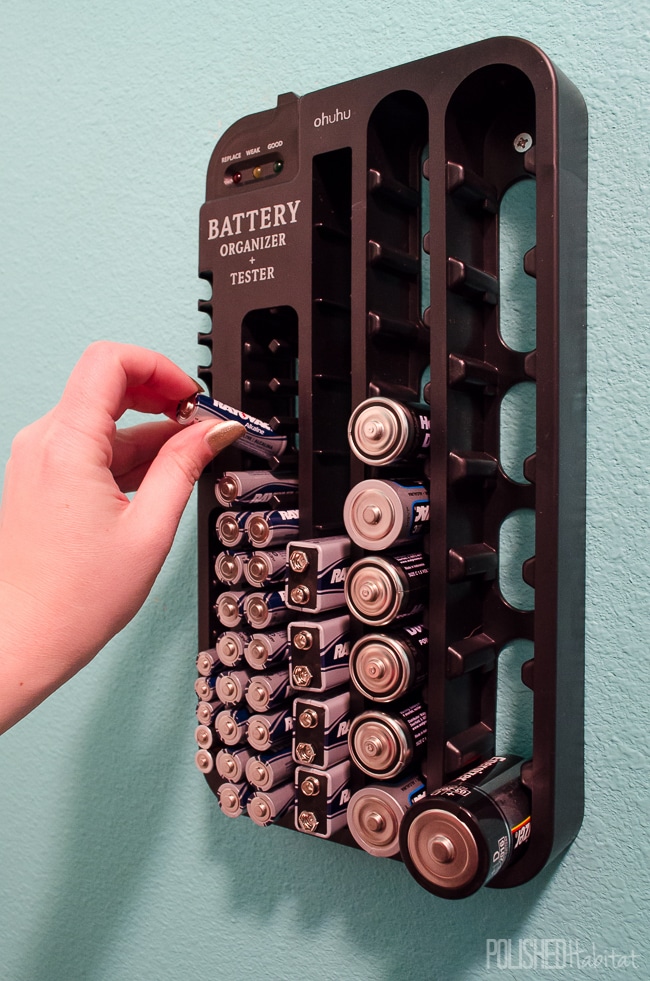 I did have a big moment of sadness when we realized the button/watch style batteries don't stay in the slots for them on the side. They rolled right out!
Since we have some other really weird batteries (what the heck is a AAAA for?), I realized it wasn't that bad that the button batteries didn't fit, because I still needed a small bin for the other ones. I put them all in a small container in the laundry room cabinet. Mark that down as another problem solved!
2019 Update: This solution is still going strong and still reigns as one of my favorites EVER. We use it constantly, and it's easy to know what we have "in stock" at a glance.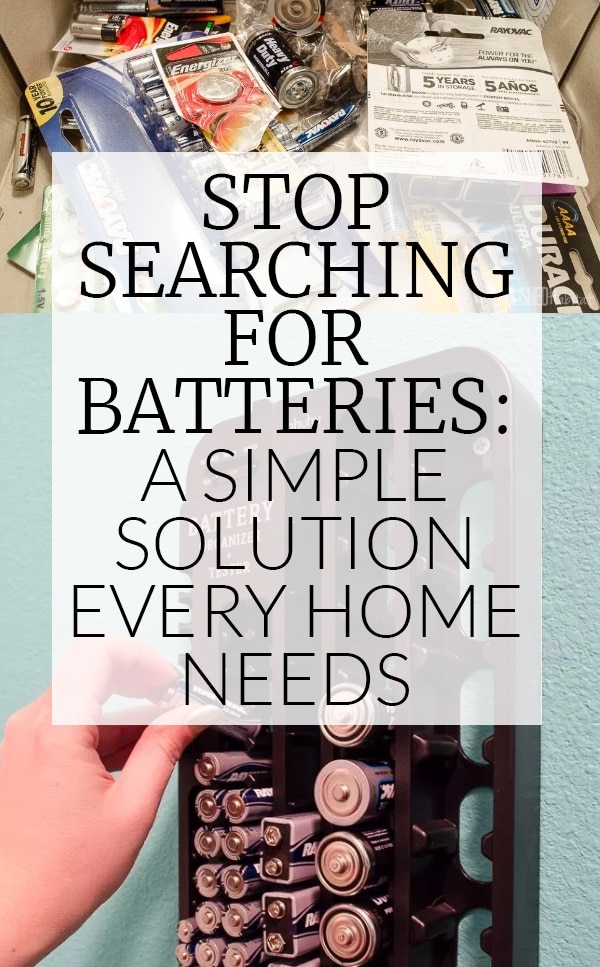 If you are renting or have plaster walls that you don't want to drill into, I spotted another battery organizer made for drawers that was pretty interesting too. You can see it on Amazon here.  The before and after photos from the listing make me so happy!