With Thanksgiving behind us, I'm rolling full steam ahead with Christmas decorating. I've still got a few other projects in mind, but the halls are pretty well decked!
In our home, Christmas starts as soon as you walk in our front door with my embroidery hoop Merry Christmas in the entryway.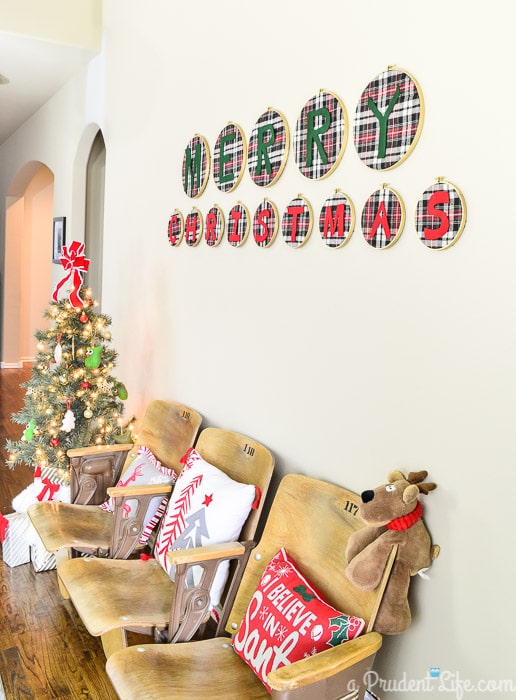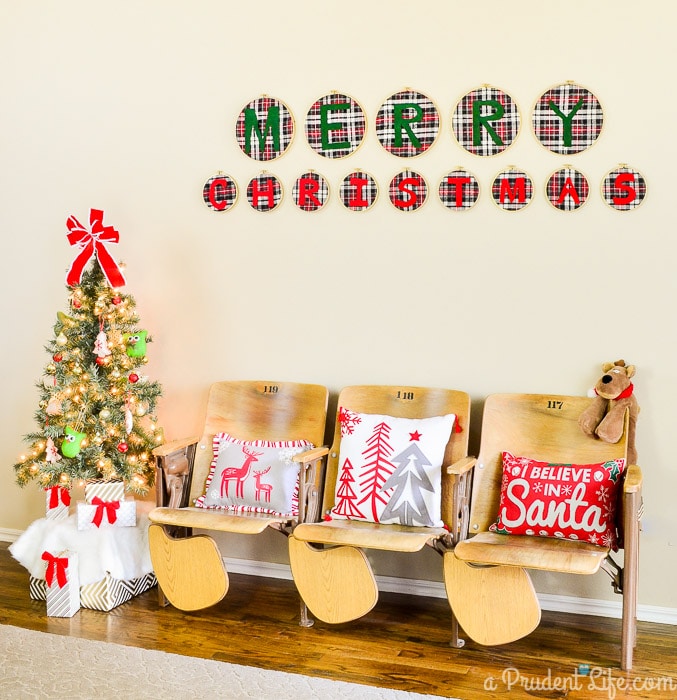 Since I spend a lot of time in the office, I thought it needed some holiday cheer too. The bookcase was the perfect place to work in a couple family Christmas photos!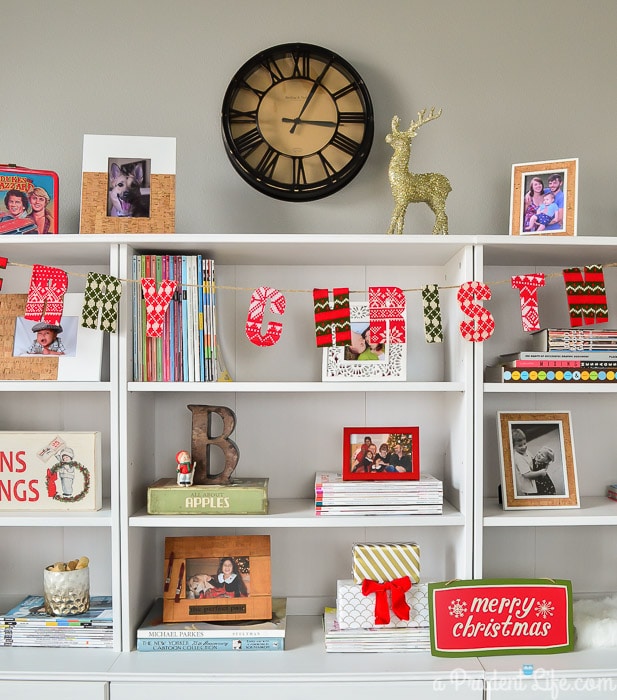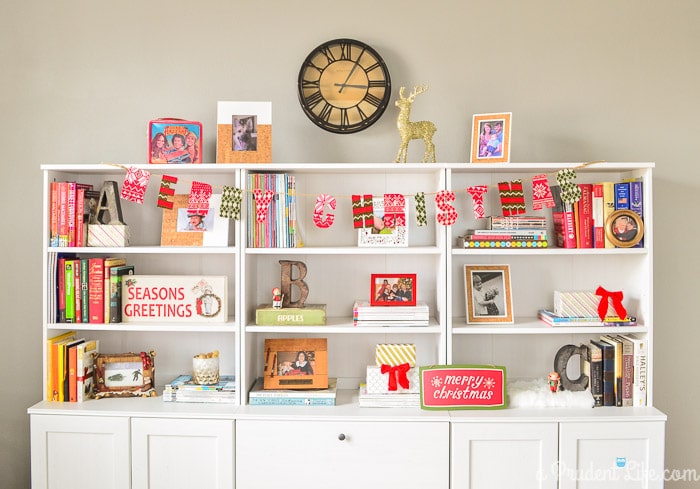 I've been buying candlestick holders at thrift stores for months to prepare for my dining room centerpiece this year! Some of them still have their original brass finish and others I painted. I love the way the mixed finished look on my runner. The runner is just a piece of faux fur from the fabric store.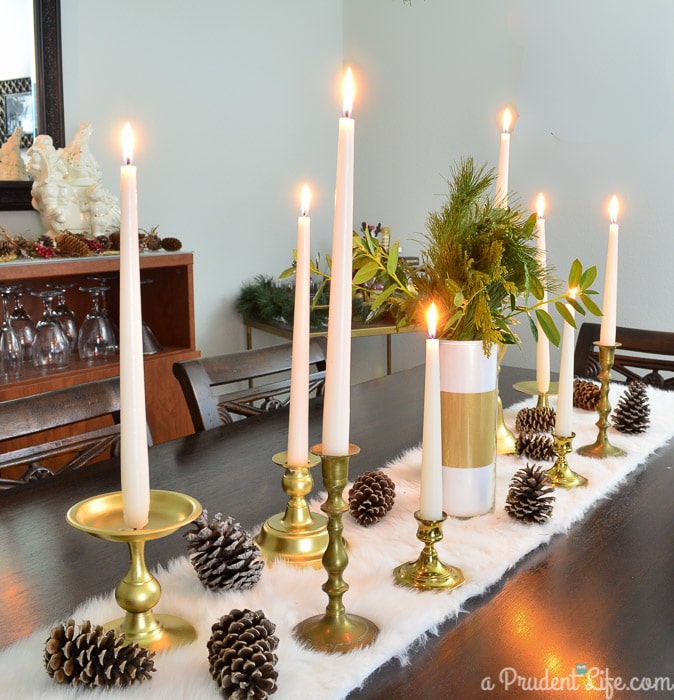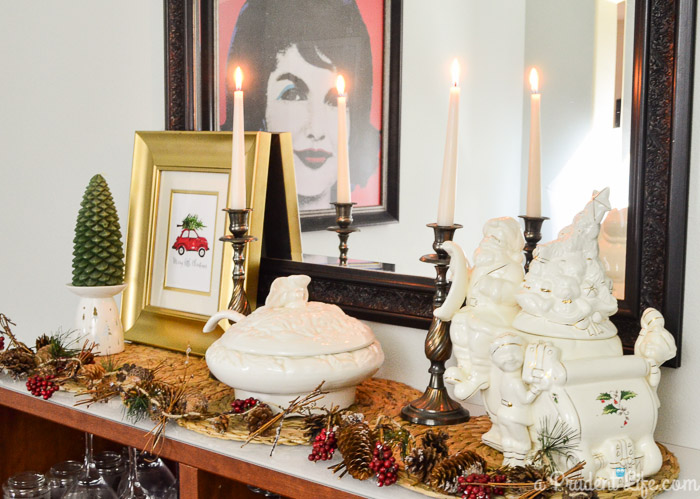 The Red Christmas Beetle print from Craftberry Bush makes me happy every time I see it! You can find it here.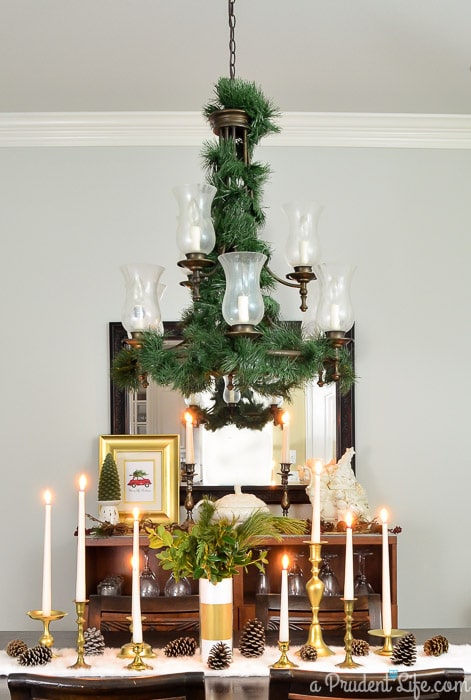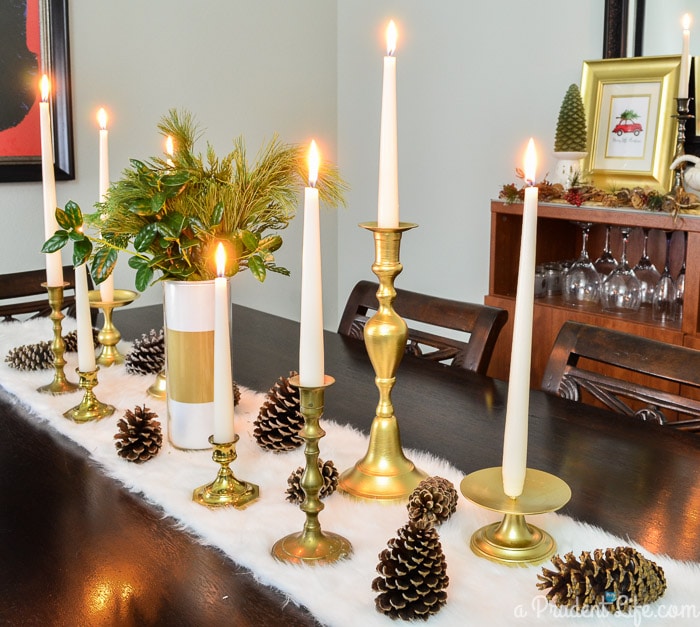 I'm just loving our living room this year. The new gallery wall makes the room feel complete!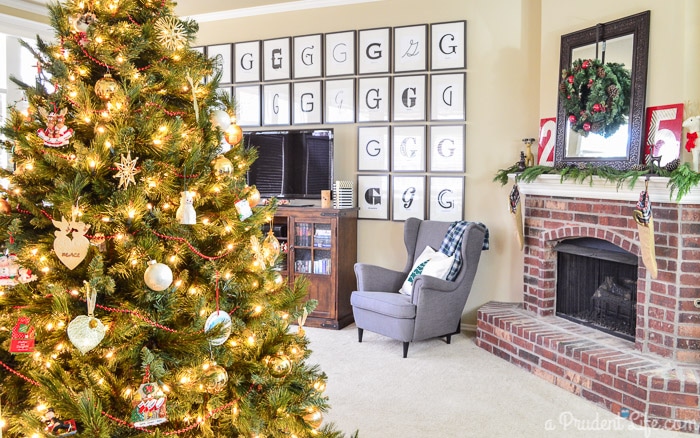 I'm a sucker for a full, simple tree with white lights. Most of our ornaments are sentimental, which makes decorating the tree really special. And how ridiculously cute is that crazy Christmas sweater rabbit?!?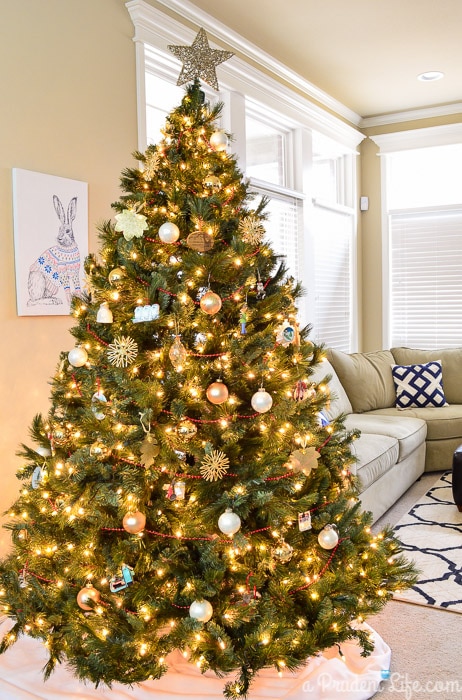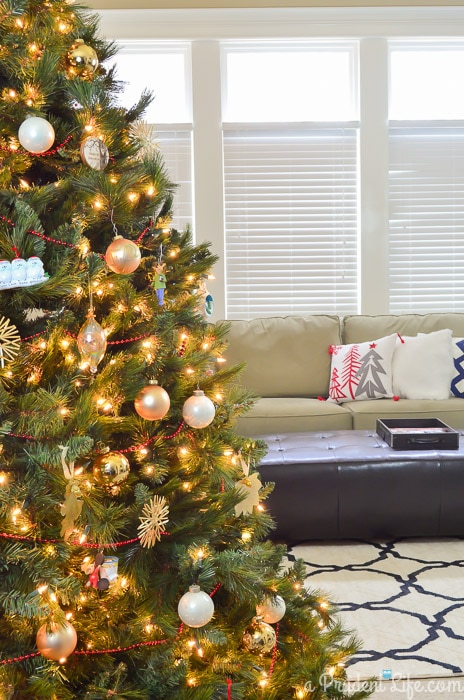 I had a small strip of plain flannel left after making my hoop art & stockings, so I made a little scarf for Ed. He's nice and warm now.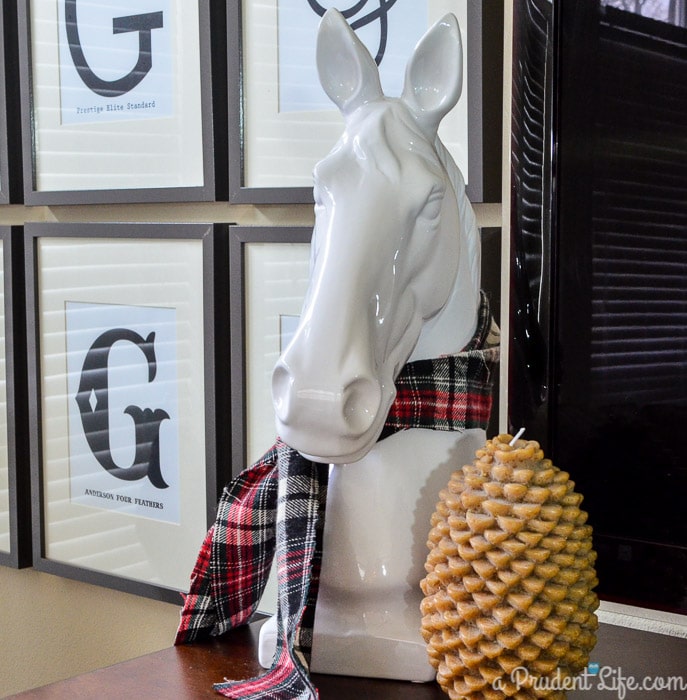 For the fireplace mantel, I got a little creative. Aka cheap. The stockings were a great semi-DIY (tutorial here). The mirror we actually pulled right off our upstairs guest bathroom wall. I probably need to find a mirror from somewhere else in the house to hang in the bathroom! The wreath, deer, and stocking hangers are all from prior years, but new to the mantel.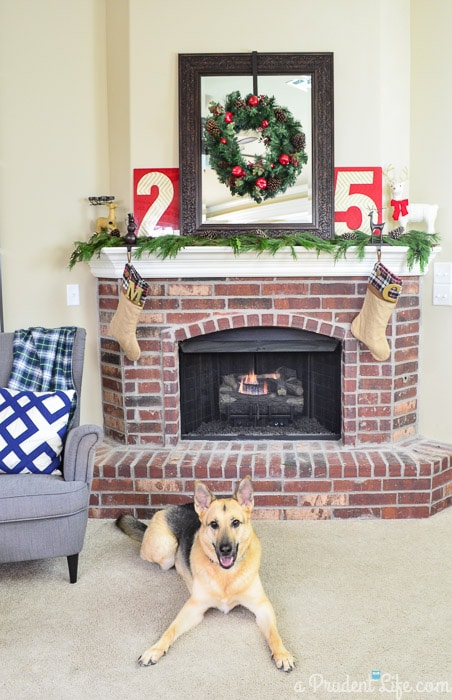 The 25 might be my favorite. Mainly because I didn't buy them to be Christmas decorations. They are gas station price numbers that we picked up at the same time we got the auditorium seats for the entry. We have 6 or 7 of these acrylic numbers and I'm eventually going to hang them on the wall in a collage.
As I was getting ready for Christmas, I suddenly remembered that the numbers were red and I dramatically RAN through the house to figure out if I could be so lucky as to actually have a 2 & 5. I'm pretty sure I jumped up and down when I found them. That counts as exercise, right?
Anyways, the numbers are actually clear. I added some pretty gold wrapping paper behind them to up the Christmas glam and give them a modern flare.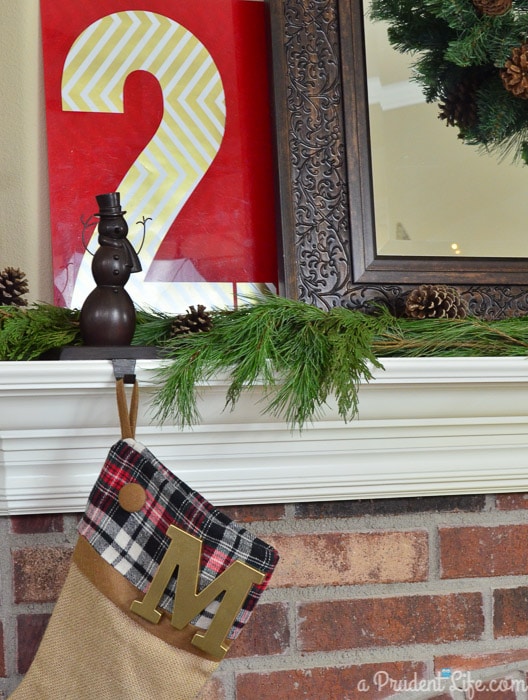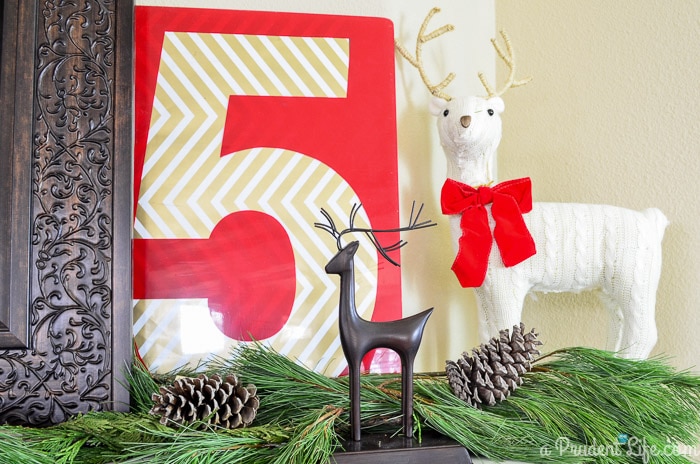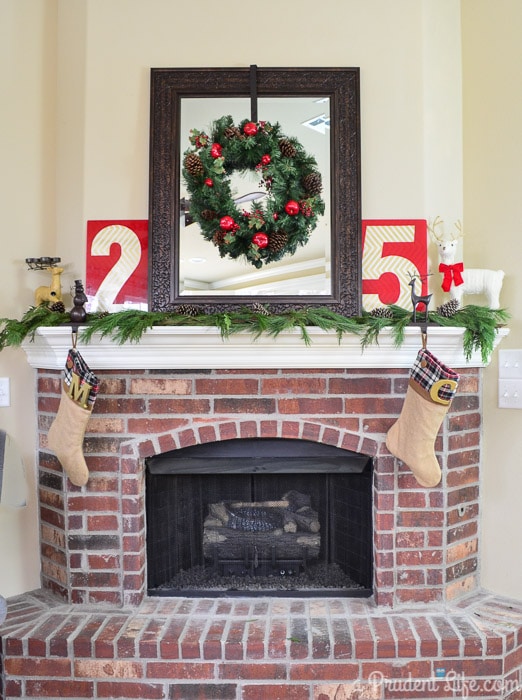 That's what I've got decorated so far! I have a few other fun projects in the works for Christmas. I'd love you to subscribe to my emails so you don't miss them.