Before we had even gotten the Christmas decorations out, we switched all our letter boards out to new sayings for this special time of year! I'm still LOVING that I can update our home decor this way before digging our seasonal boxes out of the attic.
From movie quotes and lyrics from Christmas music to original letter board sayings I came up with myself, I hope you find the perfect sentimental phrase or funny quote for your own felt board on my list below!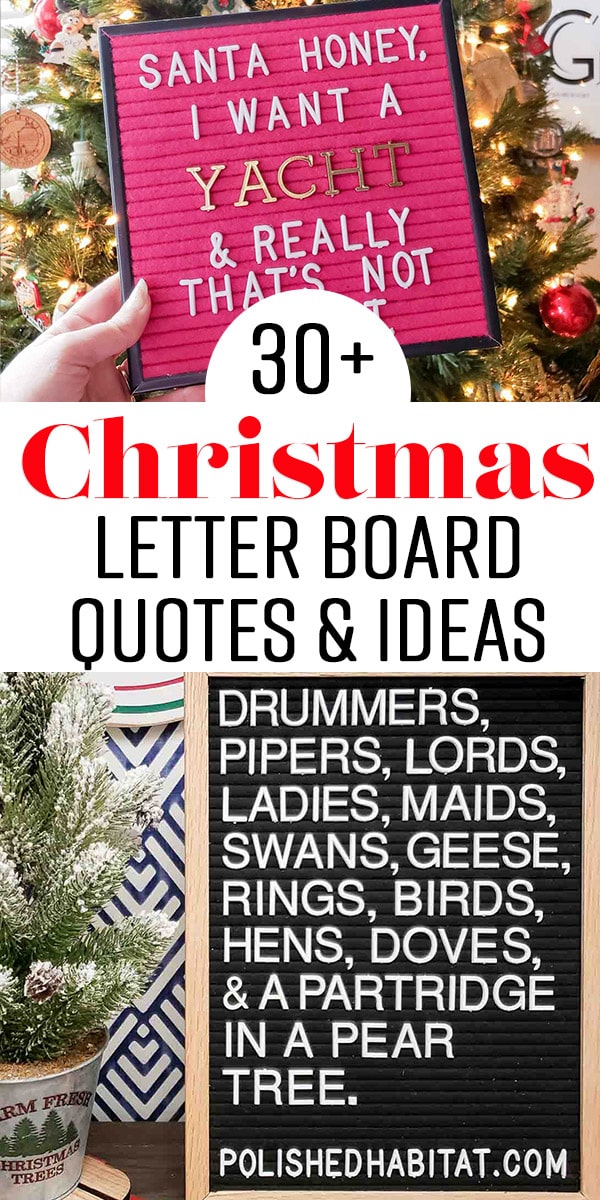 I broke them out by source, with the exception of the special section of short phrases for small boards.
Letter Board Quotes from Favorite Christmas Movies & TV
The Best Way
To Spread
Christmas Cheer
Is Singing Loud
For All to Hear.
-Buddy
(From Elf)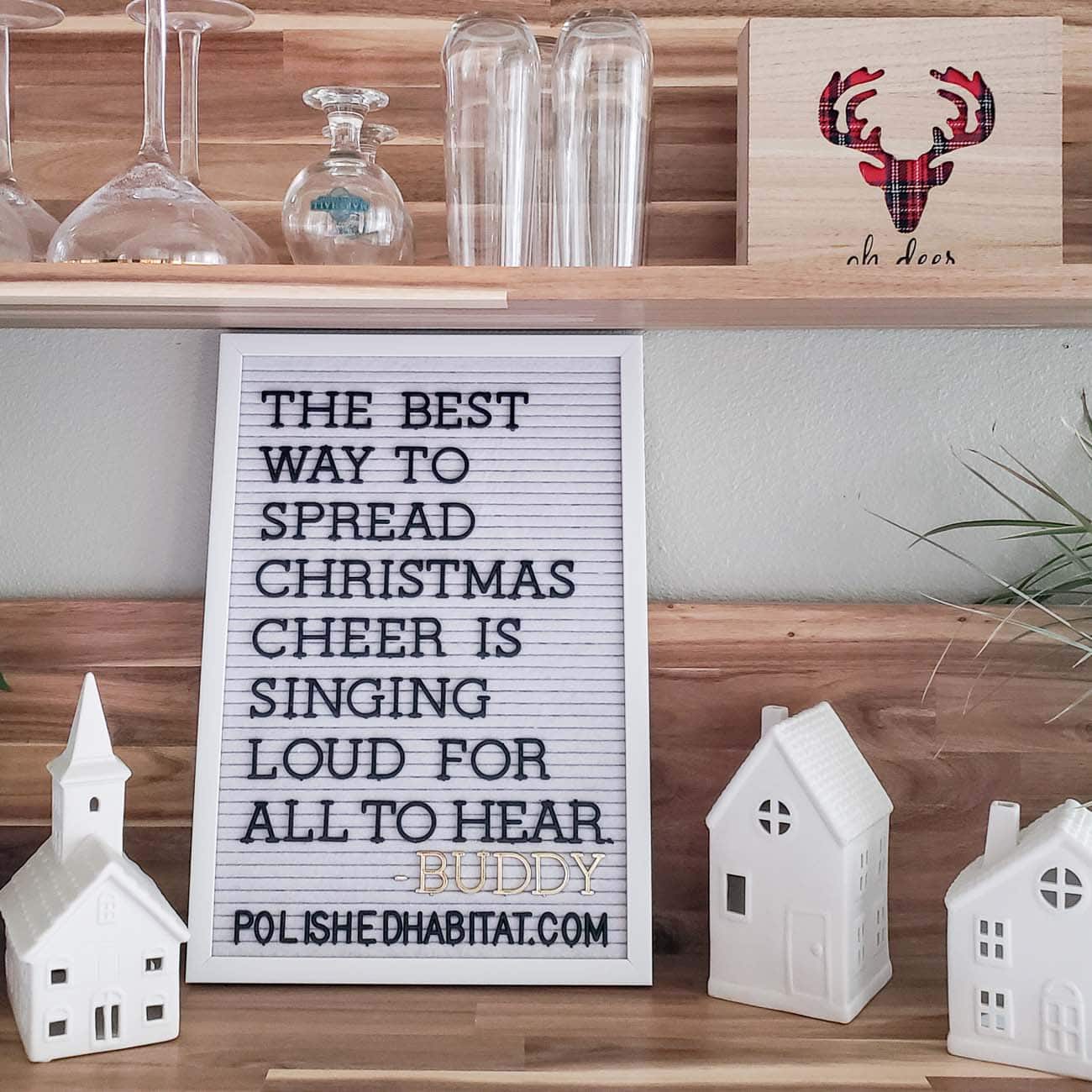 There's Room For
Everyone On The
Nice List.
-Buddy
(From Elf)
Christmas Spirit
is Not Something
You Can Turn Off
Like a Faucet on 12/26.
-Lorelai Gilmore.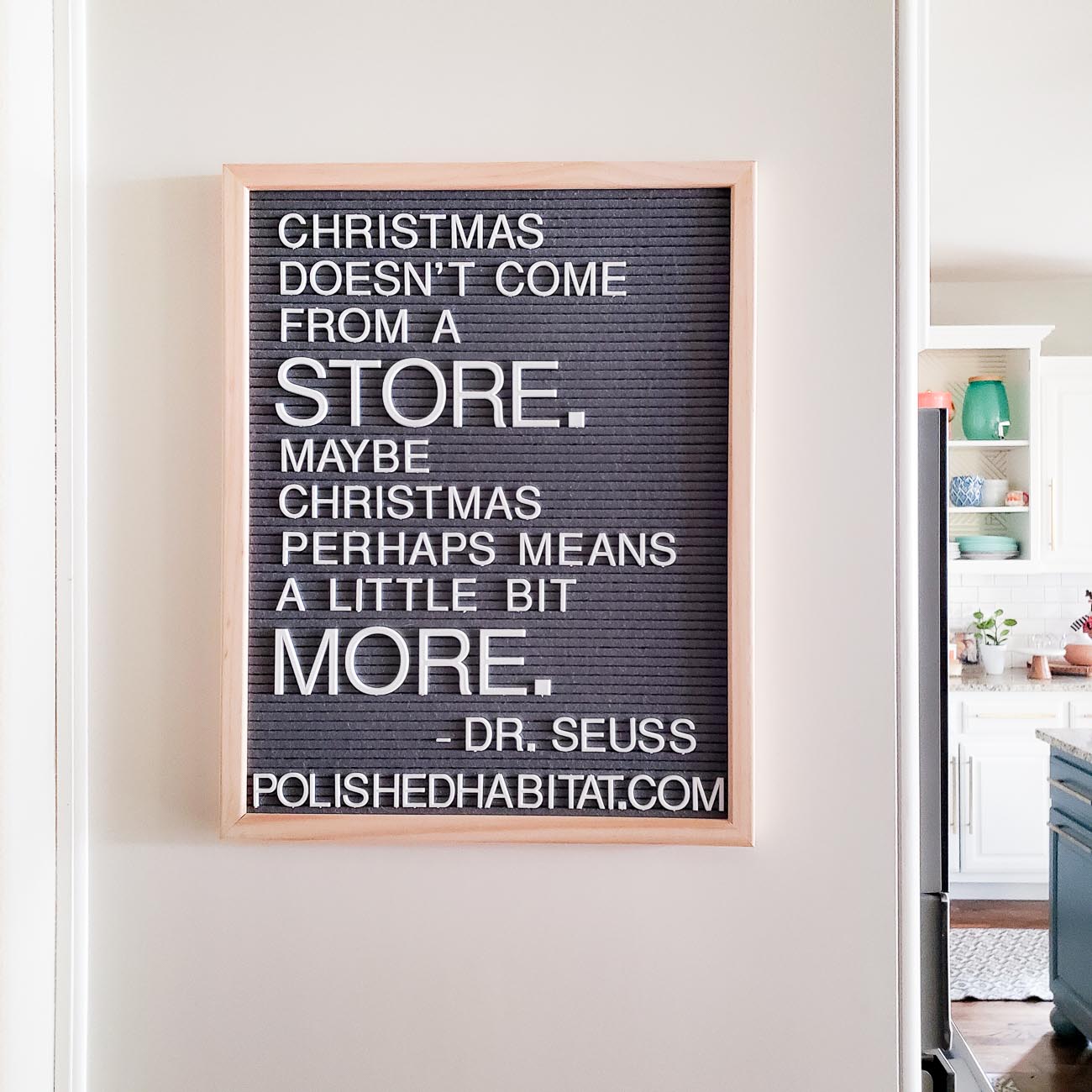 Christmas Doesn't Come
From a Store,
Maybe Christmas
Perhaps Means
A Little Bit More.
-Dr. Suess
Merry Christmas,
Ya Filthy Animal
(From Home Alone)
The True Spirit
of Christmas
Lies In
Your Heart.
(From Polar Express)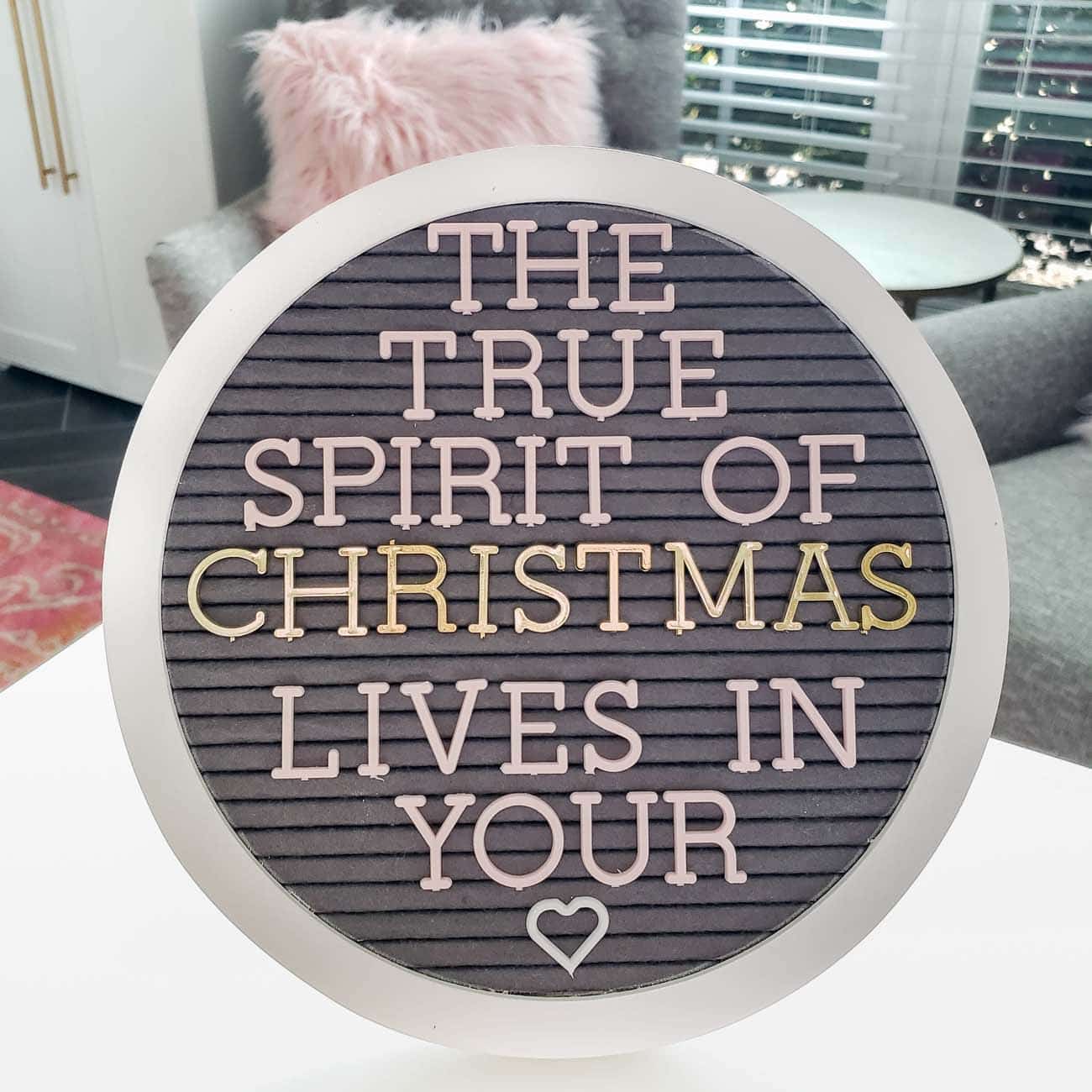 PS: I'm loving my new round letter board! It has an easel attached to the back so it works well on my desk.
Christmas Quotes from Songs & Poems
We've Been Good,
But We Can't Last.
Hurry Christmas,
Hurry Fast.
Brightly Shown
The Moon
That Night.
All I Want
For Christmas
Is You
Dasher, Dancer
Prancer, Vixen
Comet, Cupid
Donner, Blitzen
& Rudolph
Santa Honey,
I Want a
Yacht, &
Really That's
Not a Lot.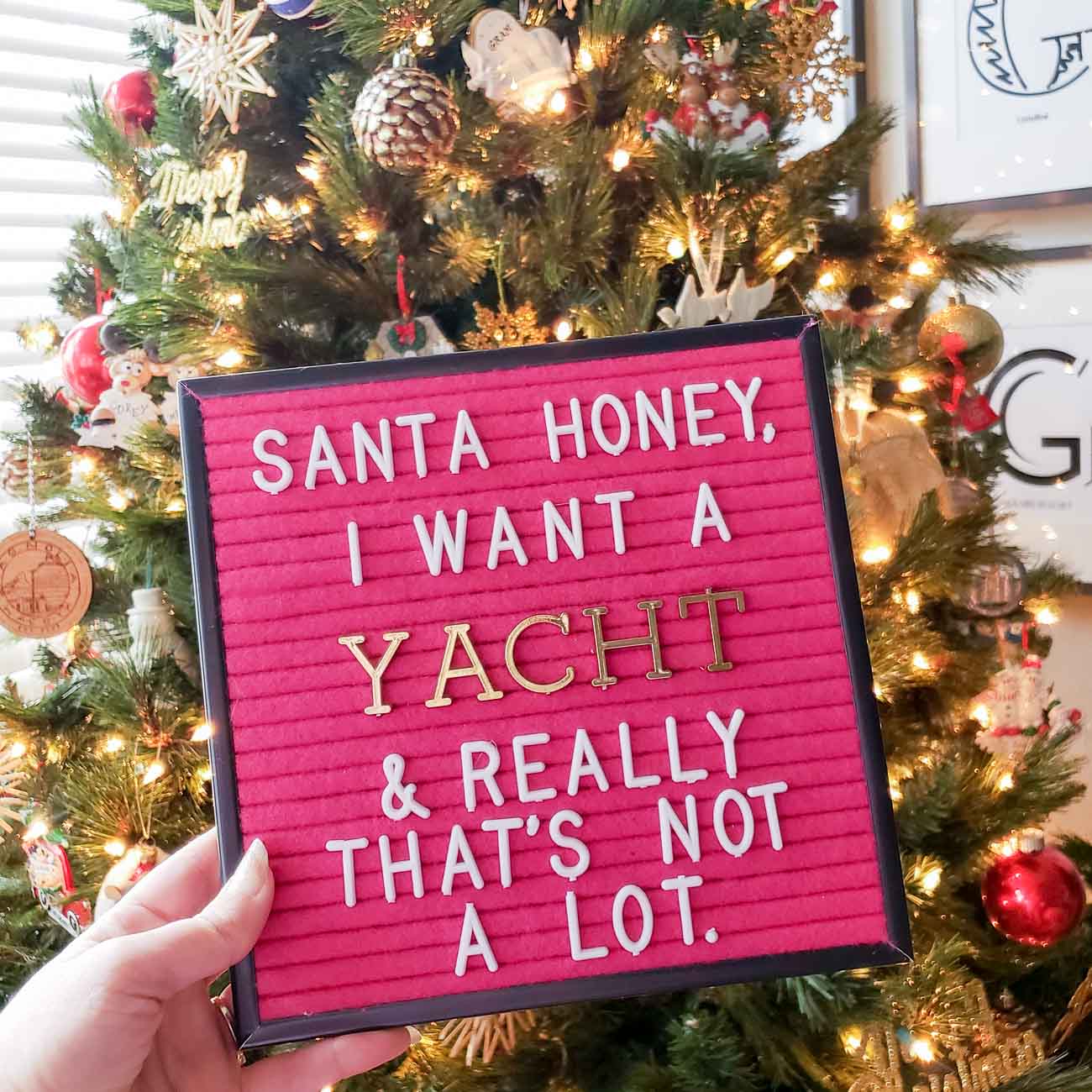 Let There Be
Peace on Earth,
& Let It
Begin With Me.
The Stockings
Were Hung
By the Chimney
With Care.
It's the Most
Wonderful Time
of the Year!
I'm
Dreaming
of a
White
Christmas.
Hark How the Bells
Sweet Silver Bells
All Seem to Say
Throw Cares Away.
It's the Most
Wonderful Time
For a Beer.
It's Beginning
To Look
A Lot Like
Christmas.
Polished Habitat Original Christmas Letter Board Ideas
Aren't Diamonds
Basically Coal?
Maybe I Should
Be Naughty!
That's A
Hard Pass
on the
Figgy Pudding.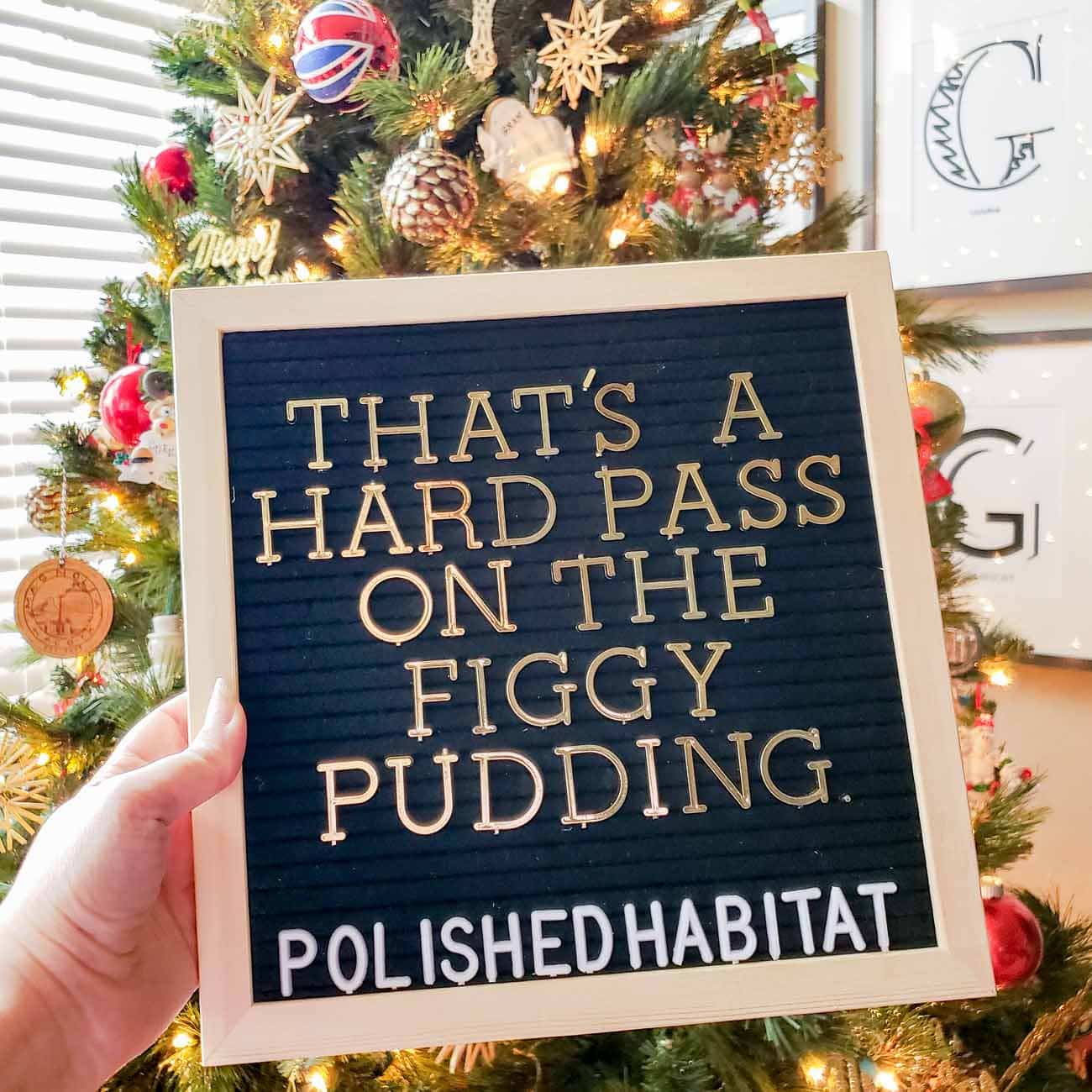 Every Move
You Make,
I'll Be
Watching You.
– Santa
Don't Forget
That the
Batteries
Are Not
Included.
There's a Good Chance
I'm Watching
Hallmark Movies
While Drinking Wine
& Wrapping Gifts
This one is technically a song too, but it's my twist on fitting all 12 Days of Christmas on a felt letter board.
Drummers, Lords
Ladies, Maids,
Swans, Geese,
Rings, Birds,
Hens, Doves,
& A Partridge
In a Pear Tree.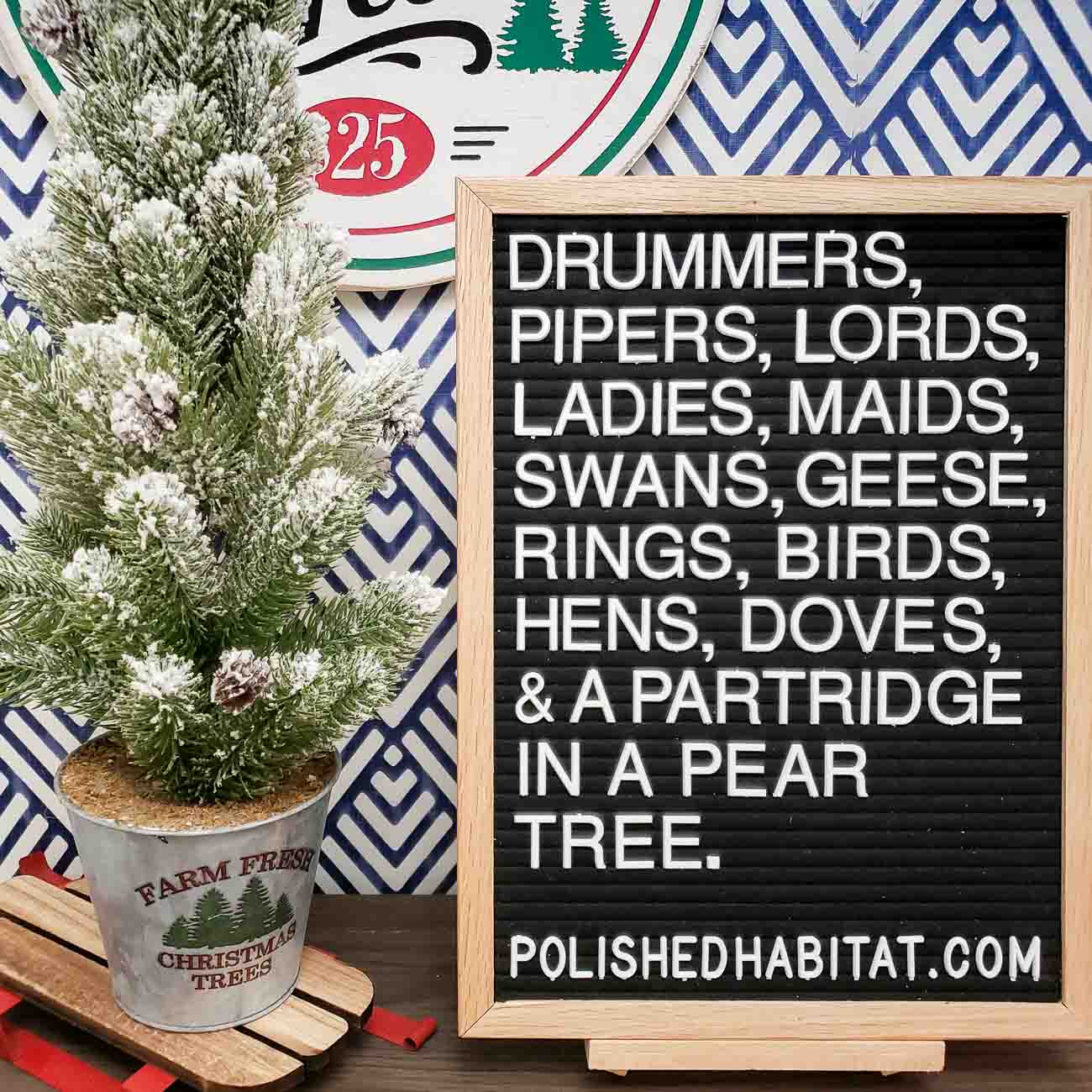 Meet Me
Under the
Mistletoe.
Perfect Christmas Sayings for Small Letter Boards
The
Thrill
of
Hope
(I got this idea from our trip to Magnolia Market in Waco. I hadn't seen this lyric as decor before and LOVE the sentiment.)
Merry
& Bright
Hark the
Herald
Angels Sing
I
Belive.
Alexa,
Deck the
Halls.
Alexa,
Wrap the
Presents.
Santa!
I Know Him!
-Buddy
(from Elf)
Let
It
Snow
I
Smell
Snow.
– Lorelai Gilmore
All is Calm,
All is Bright.
Pa Rum
Pum Pum
Pum
His Eyes
How They
Twinkled.
Next up, pin the image below to your Christmas board and then check out the rest of my letter board ideas for other seasons, including New Year Letter Board Quotes!