Tired of the hard water stains covering our glass shower doors, we finally figured out how to get them clean in an afternoon with no chemicals!

Let's just mark this down as my most embarrassing post to date.
I'm going to show you our nasty shower glass doors that I COULD NOT get clean, no matter what I tried. We're talking homemade cleaners, chemicals, magic erasers, and brute force with scrubby sponges.
Nothing was making the glass clear again. Hard water is MEAN stuff. But I finally found a way to clean shower doors!
I thought we were just going to have to claim that it was frosted glass until we could pay the big bucks to replace it. Then I remembered that HomeRight,  my favorite brand for painting tools, also makes a SteamMachine.
I reached out to them to find out if anyone had ever used it on shower glass for serious hard water stains.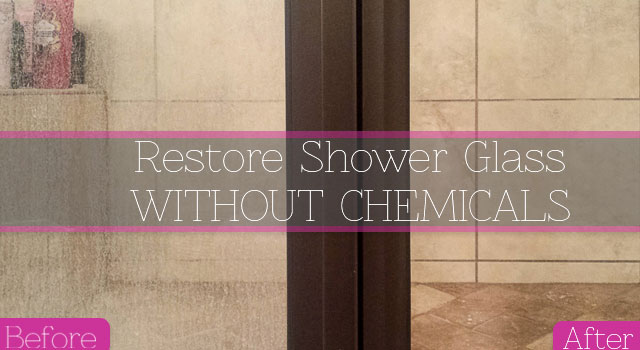 Although I am absolutely claiming the SteamMachine as my new best friend, it is NOT as easy as waving the steaming wand and having a beautiful shower.
The process still takes some hard work and time, but the cost savings over replacing the glass make it 100% worth the effort!
The SteamMachine comes with tons of attachments for everything from cleaning the oven to removing wallpaper. I tried out a few different options before landing on the best system for cleaning the shower glass.
You'll also need a jug of distilled water and a spray bottle of white vinegar.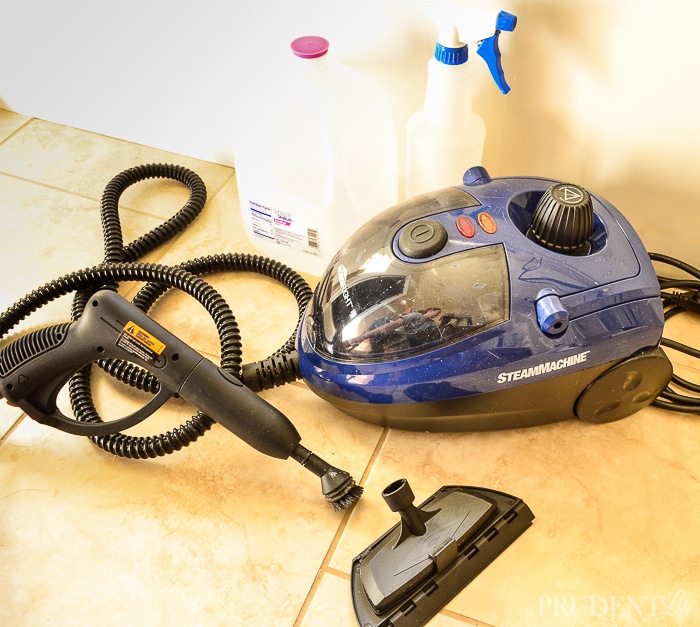 How to Steam Clean Shower Glass
1. Fill SteamMachine with DISTILLED WATER and let it preheat per instructions.
2. In your first section, spray the glass with vinegar, letting it soak around 2 minutes.
3. Using the Nylon Utility Brush
 on your SteamMachine, scrub the glass from top to bottom while steaming.
4. Spray with vinegar again.
5. Use the squeegee attachment on the SteamMachine SLOWLY from top to bottom. You'll probably need to re-squeegee a few areas without steam so you end up with a dry door.
6. Evaluate your dry door and repeat steps as necessary!
After some hard work, your glass should go from this: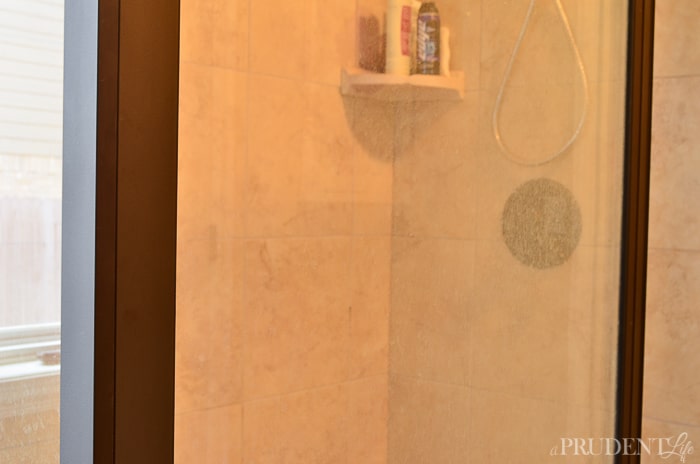 To this: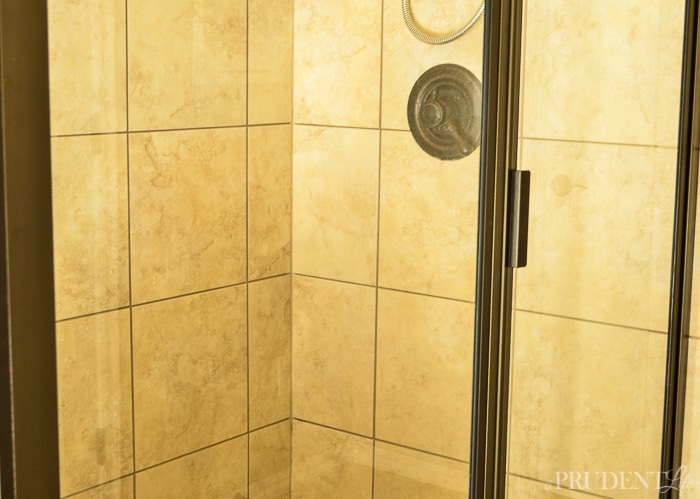 It's so crazy to be able to see all the way through the doors!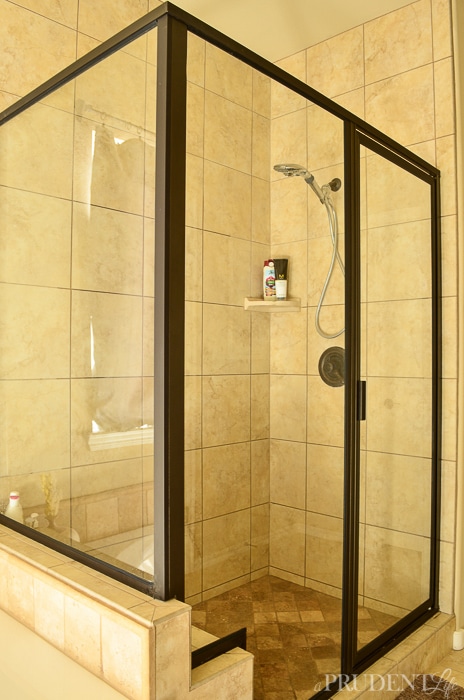 I was on a roll with the glass, so my husband wanted to try it on the tile too. The small nylon brush is perfect for grout.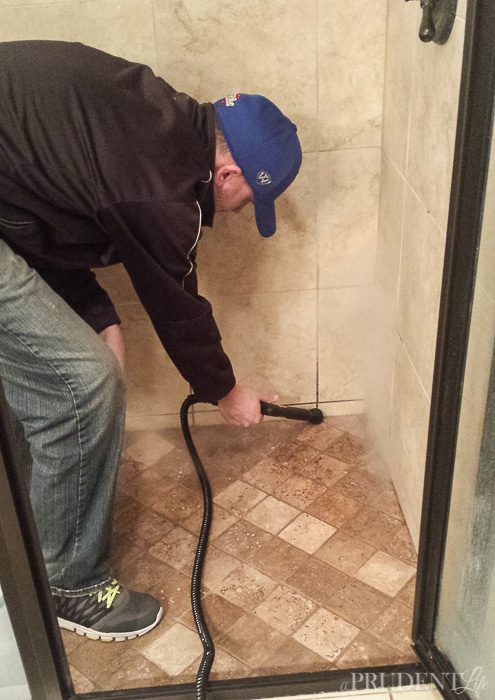 It also worked on the nasty hard water infested track at the bottom of the door. And notice that you can't even see the tile through the glass in this before pic.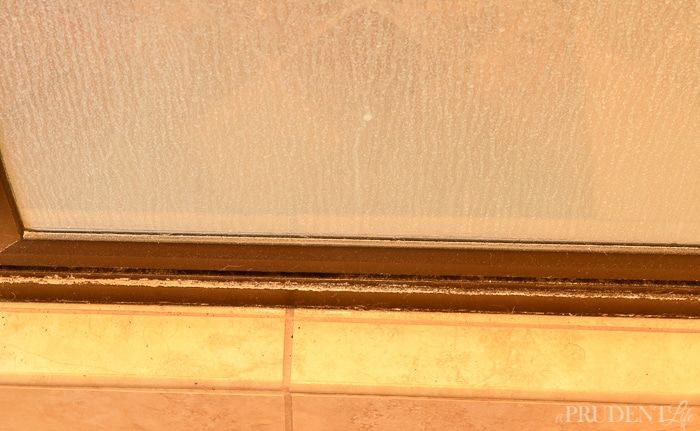 It isn't perfect after, but it's SO much better! I need to work a little more on the last few spots. They aren't nearly as noticeable in real life, but now that I have this zoomed in picture, I feel the need to attack them 🙂
Check out the glass – you can see the shower floor! The floor isn't dirty by the way, the tiles are all different colors. Just in case you were wondering!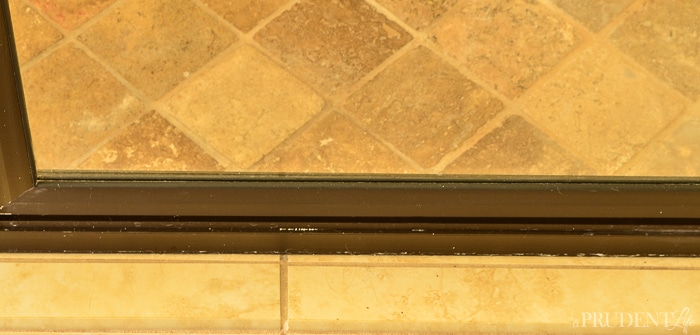 Like I mentioned before, this transformation was not as simple as magically steaming years of hard water away.
It took me a few hours to have this dramatic after. I gave myself AND the nylon scrubbing brushes a serious workout.
It would also be a great idea to wear some kind of gloves. I didn't, and the handle of the SteamMachine had my hand pretty raw after a couple hours of intense use. I didn't really care because I was busy doing the clean glass happy dance, but the next day I realized I should have grabbed some gloves.
I've got big plans for my little SteamMachine now. As soon as it's warm enough, I'm going to use it to wash all the windows. Our tile floors, granite countertops, and glass cooktop are also on the list. It's a good thing it's fun or I'd be dreading that to do list!  Update 1 : Over the past year, the steamer has been AMAZING for getting wrinkles out of curtains, duvets, and even clothing. 
Keeping the Shower Glass Clean
ONE YEAR UPDATE:  To KEEP your shower glass from getting so bad now that it's gorgeous again, pick up a suction cup squeegee.  Then, get in the habit of quickly using it after every shower.
We've been doing this in the year since I originally shared this post and it has made a HUGE difference. I think I've only cleaned the shower walls once since then, and they are still clear thanks to the new daily routine.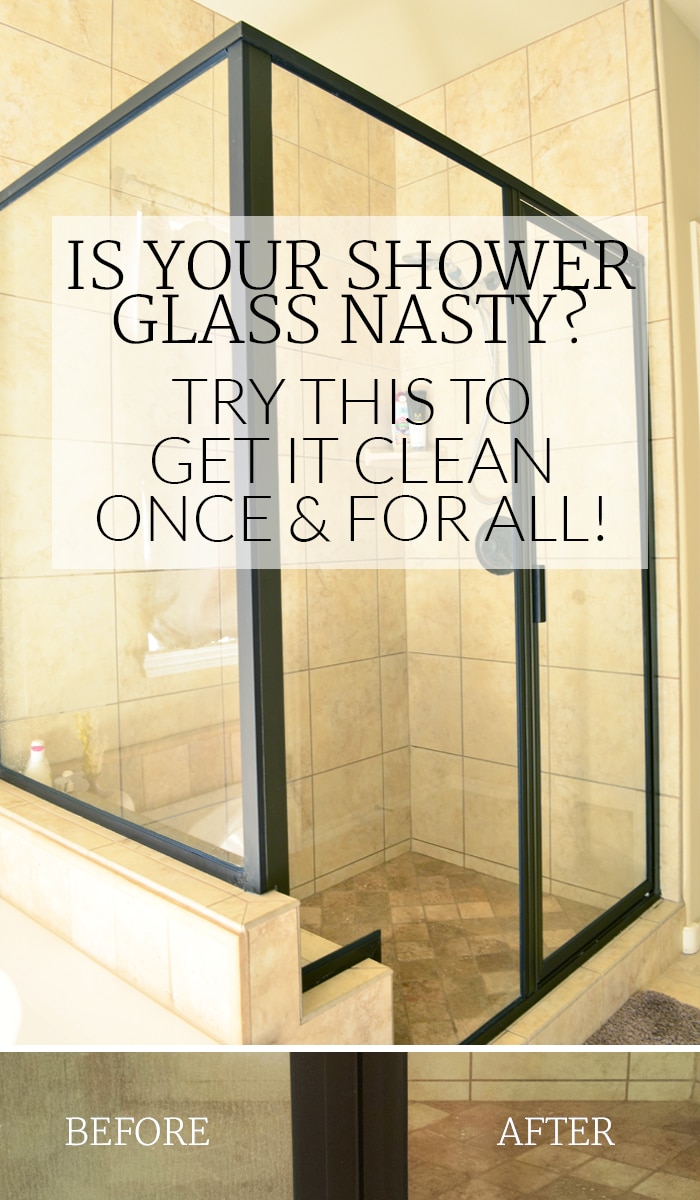 Now that you know how to clean glass shower doors, check out how to clean oven glass!