Who has paint swatches, fabric samples, and other various little decorating items floating all around your house? I can't tell you how many times I've KNOWN I have a stack of navy paint cards, but I can't find them anywhere. Or that I've had to reorder a fabric sample because the first one disappeared. They probably ran off with my socks that are missing mates!
That was my old life.  I've changed! Have you seen the Creative Options organizers at Hobby Lobby? I've walked passed them and they always looked handy for jewelry-making materials or paper crafting, but I couldn't decide why I really needed one. Wait until you see the storage ideas I've been missing out on all these years!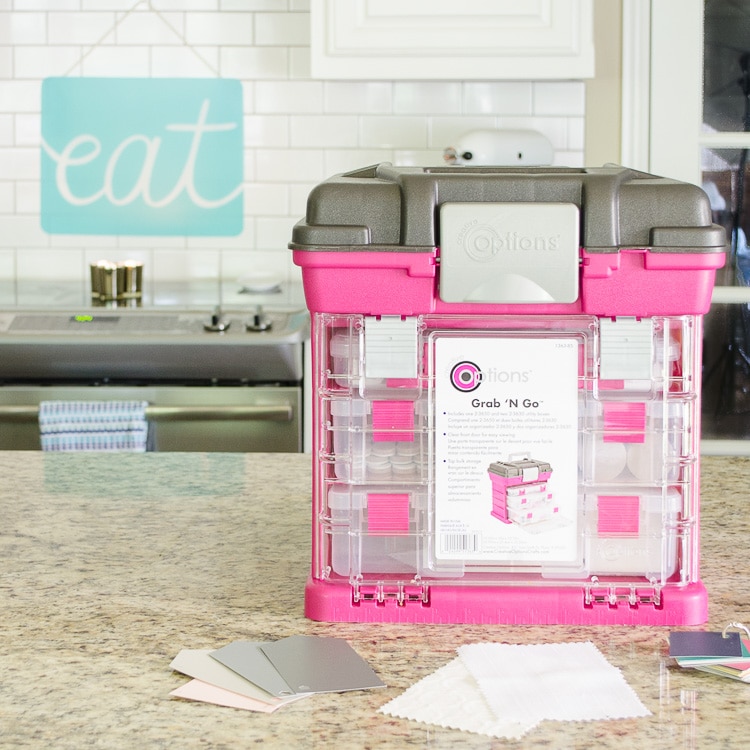 I picked the medium Grab 'N Go box, which worked perfectly for me. There is a smaller and a larger size available so you can customize this project to your needs.
Before I started organizing, I took a couple minutes to jot down what I wanted in my new Home Decorator's Toolkit, and also what didn't make sense. We already have a small tool bag for home improvement projects around the house and I didn't need to duplicate that. But, I'm always moving pictures around so a hammer and level made sense.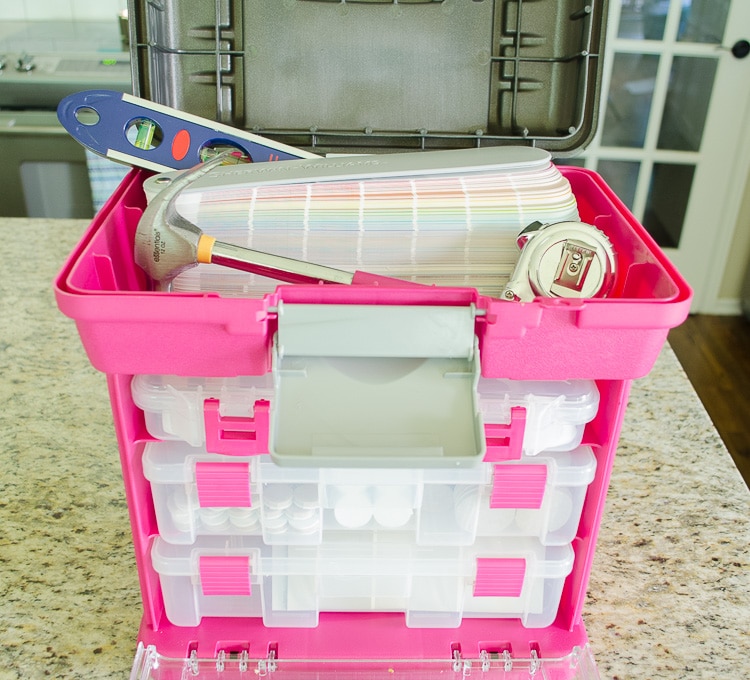 I settled on the hammer, level, tape measure, and my deck of paint colors in the top section. As you can see in the picture above, the front of the organizer also opens to reveal….MORE ORGANIZERS! Oh, happy day.  The fact that each level is completely self-contained is perfect because you can grab just the section you need.
When I pulled out the top tray for the first time, I realized that the inside could be customized with movable dividers. It's like an organizer's dream scenario!
I don't know about you, but I always end up with a few extra pieces when I buy Command products for a project. When I organized the craft room, I had a small bin for them, but it was past the overflowing point and they were getting left in random drawers and cabinets. I'd end up buying more because I didn't know what I had. Consider that problem officially solved!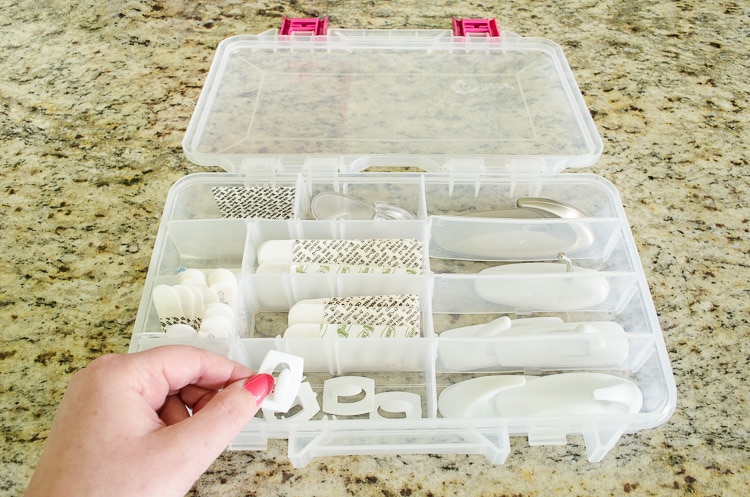 In the next tray, I added the paint cards and fabric samples I could find, along with some vinyl samples. I know there are more lurking around the house, and I feel like I'm going to get a little excited each time I come across them and get to move them to their new home. #nerdalert  I mentioned wanting to paint the beige in my bathroom organizing post recently, and now I can grab my paint cards and pick out a winner.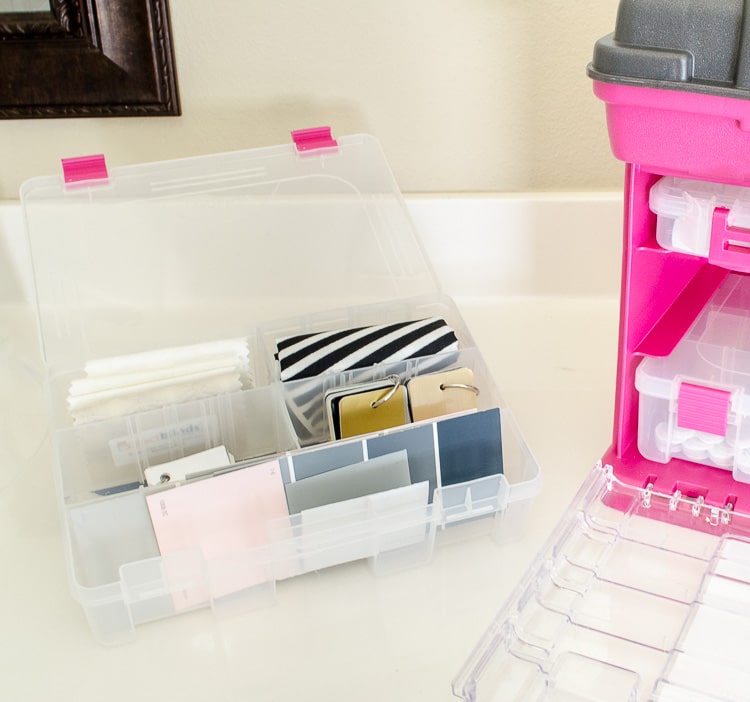 The last tray was perfect for all the other little things I need when decorating. I could never find the felt pads for chair legs and smaller items. I'm worried about scratching surfaces, so this was a great solution. I also added some super glue, liquid stitch fabric glue, a wood stain repair pen, and some picture hanging supplies.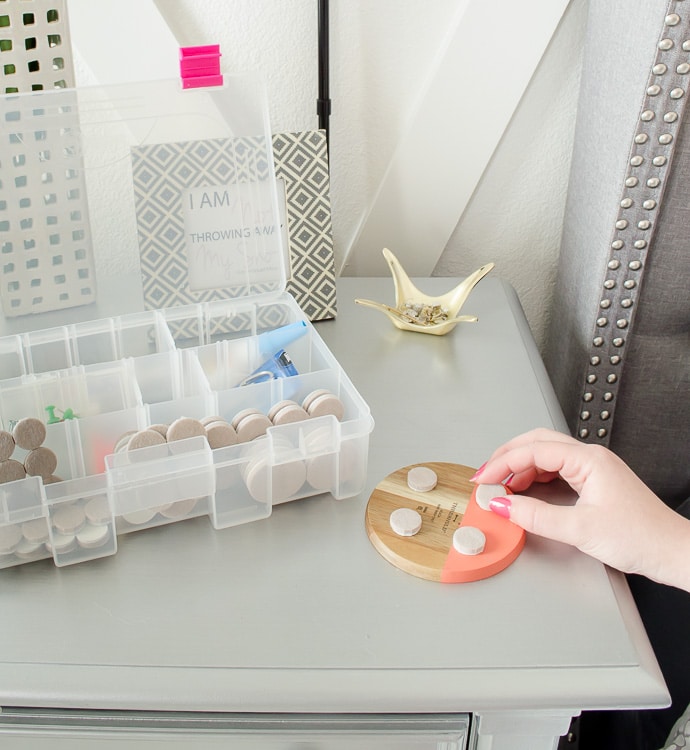 I've been worried I was going to scratch the top of my silver painted nightstand with my coaster almost every night since we finished the bedroom makeover. Problem solved!
Sometimes these small organizing projects that only take 10 minutes have as much positive impact on my time and general frustration level as the large-scale products. Now that I've seen how much thought Creative Options put into this organizer, I can't wait to see what other storage and organization ideas I can come up with using their products!
PS: Don't forget to check for one of those awesome Hobby Lobby 40% off coupons before purchasing. I pull mine up on my phone when I'm checking out, but you can also print them out before you go to the store.

This post is part of a social shopper marketing insight campaign with Pollinate Media Group®  & Creative Options, but all my opinions are my own. #pmedia #Storagewithstyle  https://my-disclosur.es/OBsstV