You know those days that don't go the way that you planned? Boy did we have one of those the day I took all the pictures to show you how we organized and spruced up our back patio. Instead of this post having ugly before photos and pretty afters, it was pretty, then a few hours later it got really ugly, really quickly! Stay tuned for more about that when we get through the pretty tips.
Since most of our spring was spent working on the master bedroom, we were woefully behind in cleaning up all the winter grime from the back patio. I dreamed of using it for mornings with iced coffee and nights with hamburgers, but in my dream it was clean and had lots of bright colors.
Even with those dreams, the back porch wasn't getting any closer to the top of our to do list. Luckily I got an email from a friend (Ursula from Homemade by Carmona) asking if I wanted to join in and share an outdoor space tour along with a group of bloggers. Yes, please! I do SO much better with external deadlines!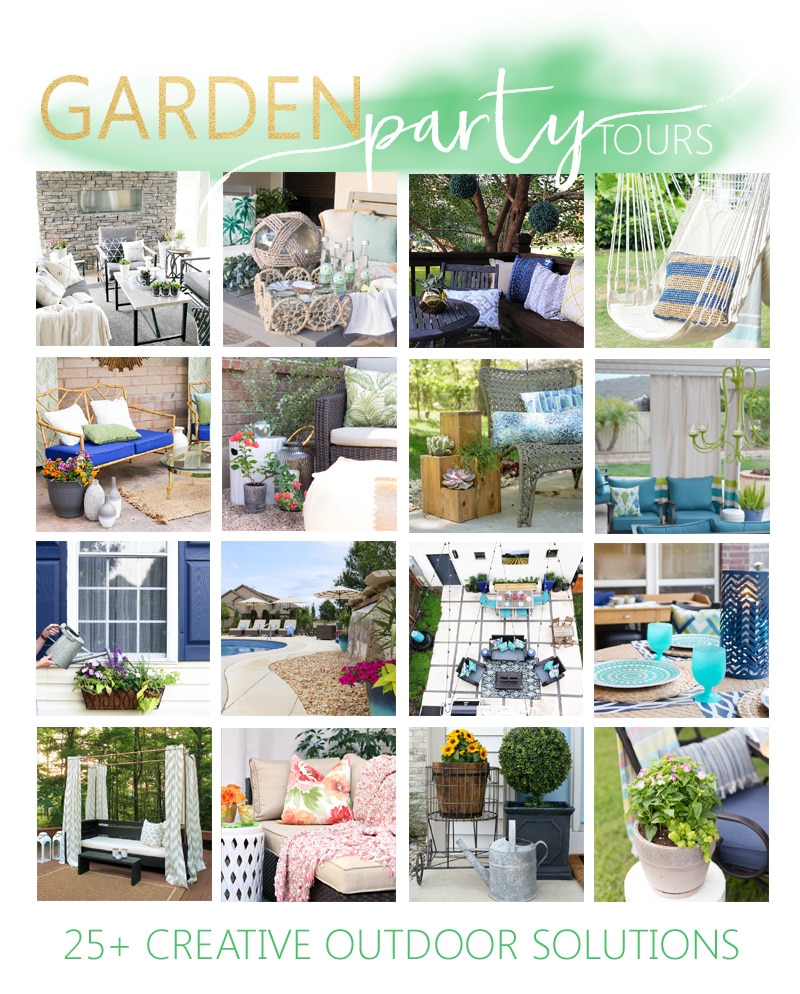 With the deadline looming,  we removed all the furniture, the grill, and the heater from the patio and hosed them all down. I also found the generic Lysol-type wipes were a big help with stubborn dirt that the hose left behind.
With the cleaner blank slate, I had two priorities. Adding a large outdoor rug to make the outside feel more like a room, and adding a combo storage/serving area.
For the rug, I was looking to score a clearance deal since summer had already started. The bad news was that no matter how many times I measured, I needed an 8×10 rug in order to fit all the chairs on it. Those seem to be harder to find in stock and can be so dang expensive. I was hoping for a rug with some navy in it, but it was an area I was willing to compromise for the right price. Especially for an outdoor rug that won't last forever.
My local At Home store had about 5 outdoor rugs at ½ off and 2 of them were 8 x 10. Jackpot! One was even navy. Sadly, it was $175 compared to a green graphic print that was only $49.  For some items, I'd go with the splurge and never regret it. But, I was pretty sure I could make the green work, and for something that will get rained on, I knew saving money was the winning choice.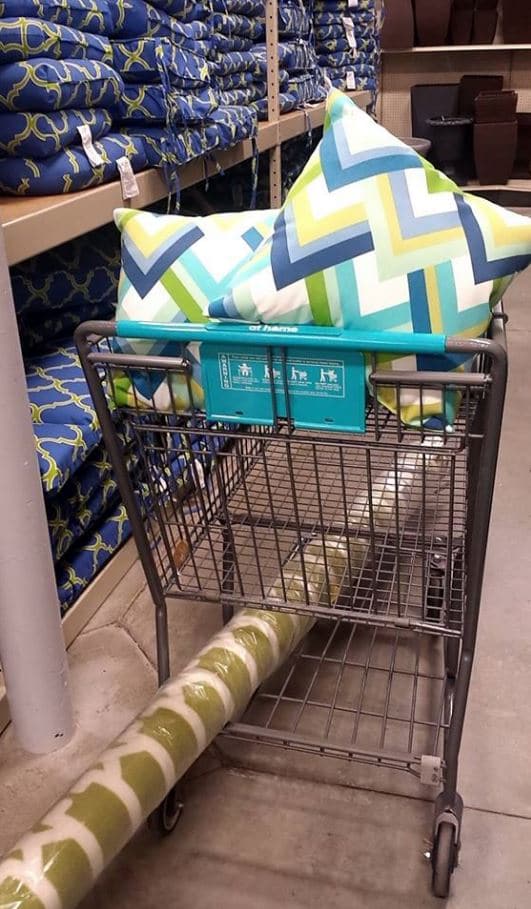 With the rug nailed down, I started searching for some type of tall table or bar that incorporated storage underneath. After lots of Googling and review-reading, I ordered a potting bench on Amazon. Most of the reviewers seemed to be using them for outdoor entertaining, and a couple had even retrofitted theirs to include a sink! It was exactly what we needed at a price that wasn't outrageous. It's not going to be an heirloom, but I think I can extend it's life using some spar varnish to seal it each year. This model with a locking cabinet was a close 2nd. I opted for the version with the potential for a sink in the future, but make sure you check out both before you decide.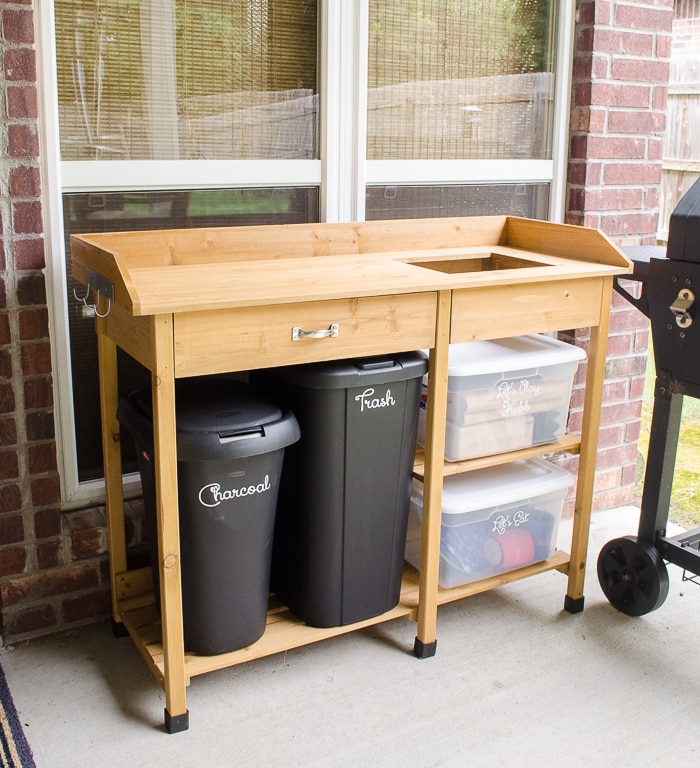 The top is great for serving and should come in really handy when grilling. I used the recessed area as a mini cooler to keep drinks handy.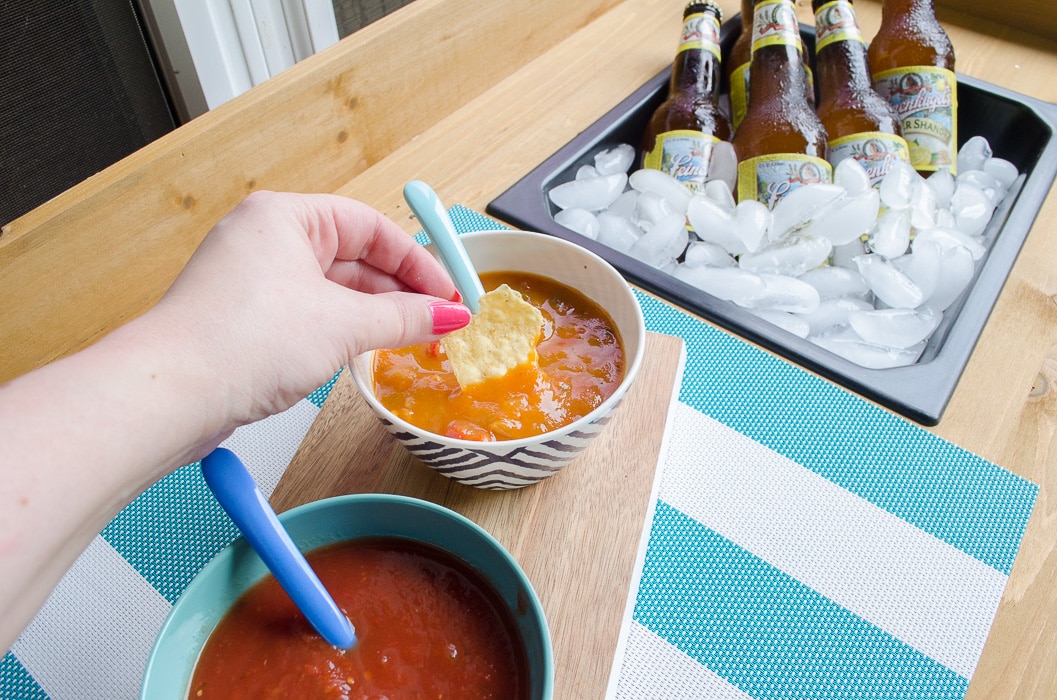 The large drawer fit more than I expected, including our ElectroLight
and other grilling tools.  You can see how the ElectroLight works in this post if you're in to charcoal grilling.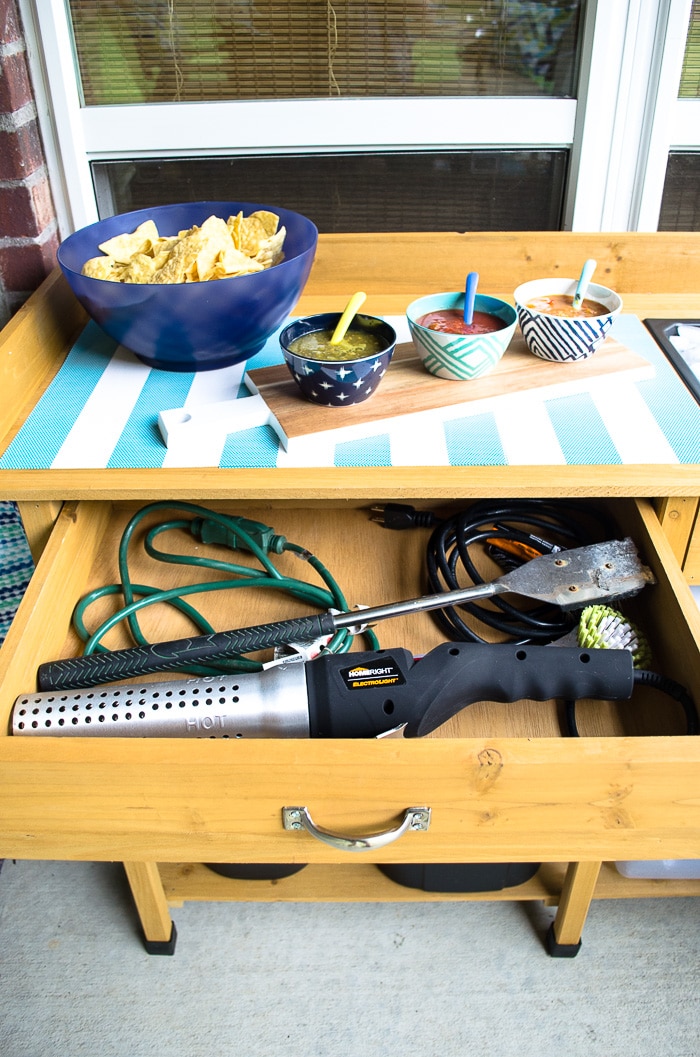 Under the drawer, I'm using a trash can as a charcoal storage container, and another trash can as …wait for it… a trash can! #thinkingoutsidethebox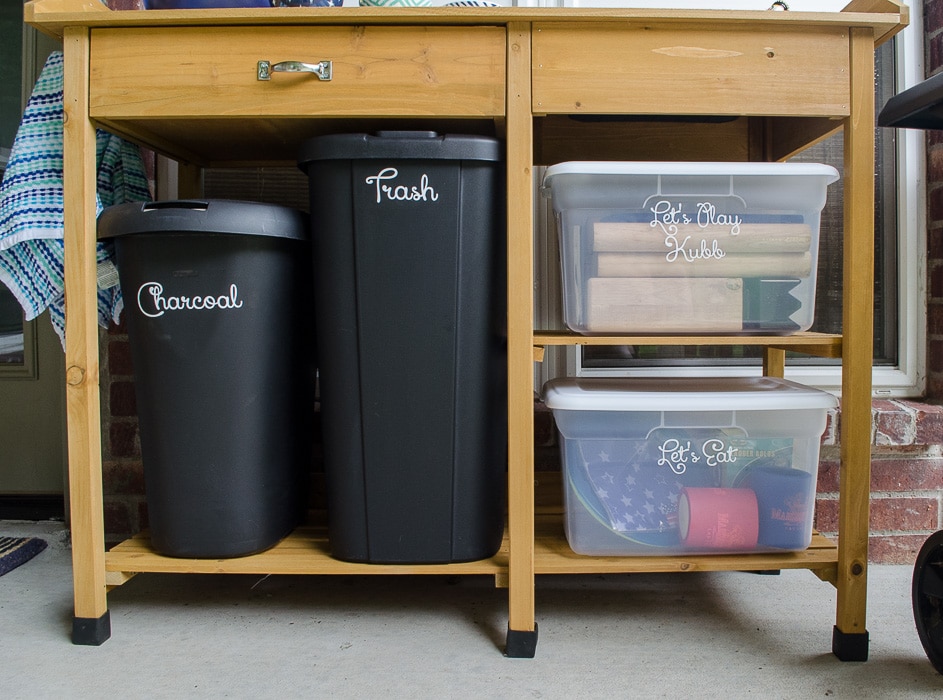 The shelves aren't huge, but I found some perfect containers for them. One holds our new favorite backyard game, Kubb. The other is for items that we always forget to bring outside when it's time to eat, like koozies, paper plate holders, and napkins. I'm sure we'll come up with more for that bin as we use the patio more and more.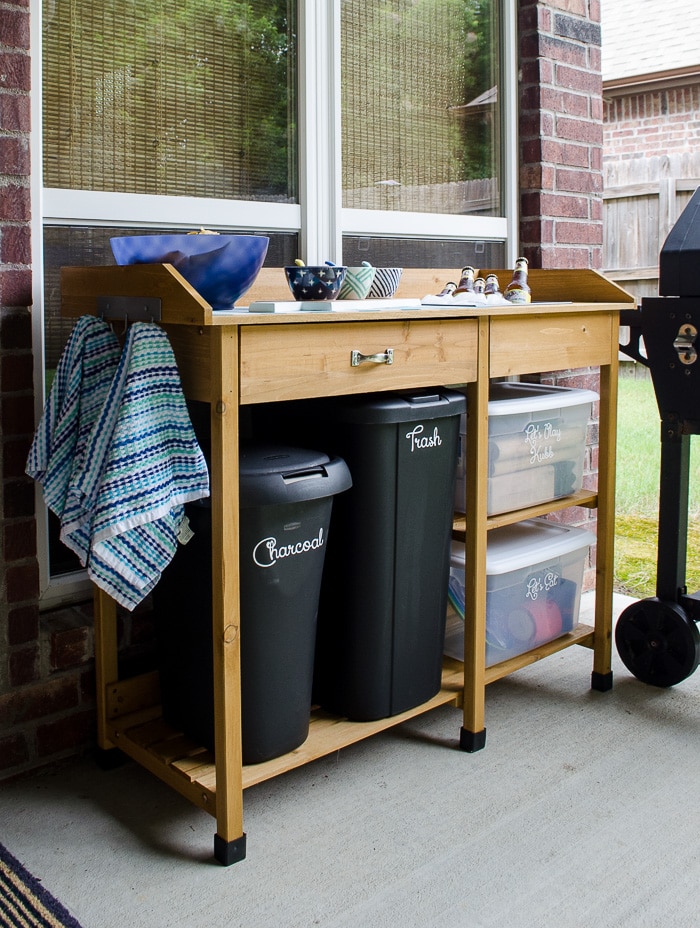 For the table decor, I kept things simple and used the same placemats and plates that I had in the dining room during the summer home tour.  The candle in the middle was a cheap clearance find from Target and the cute outdoor glasses were something crazy like $0.75 each at WalMart.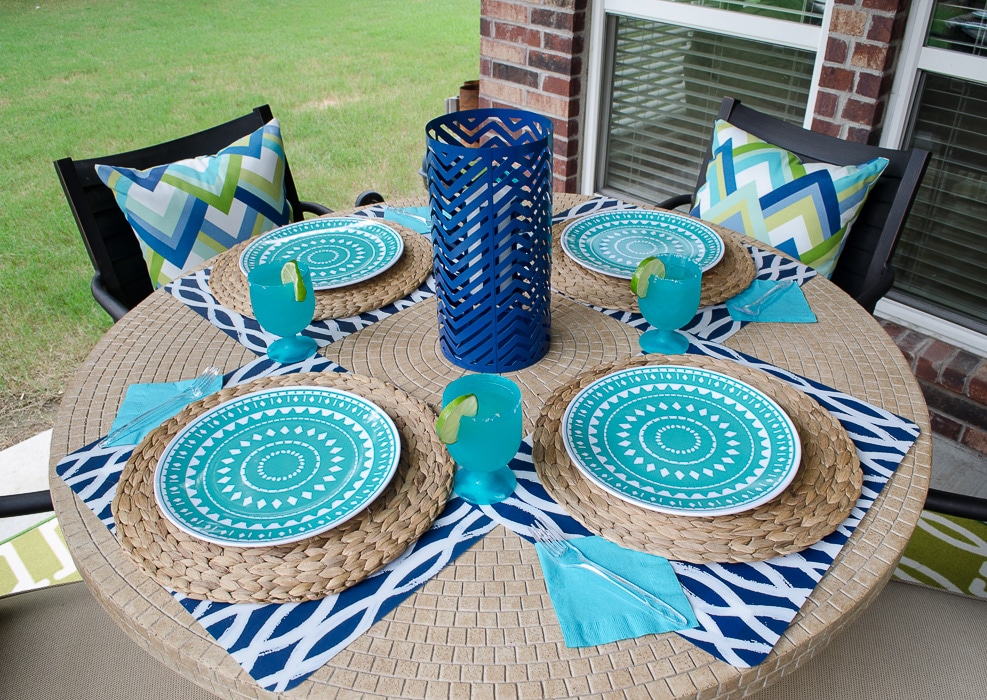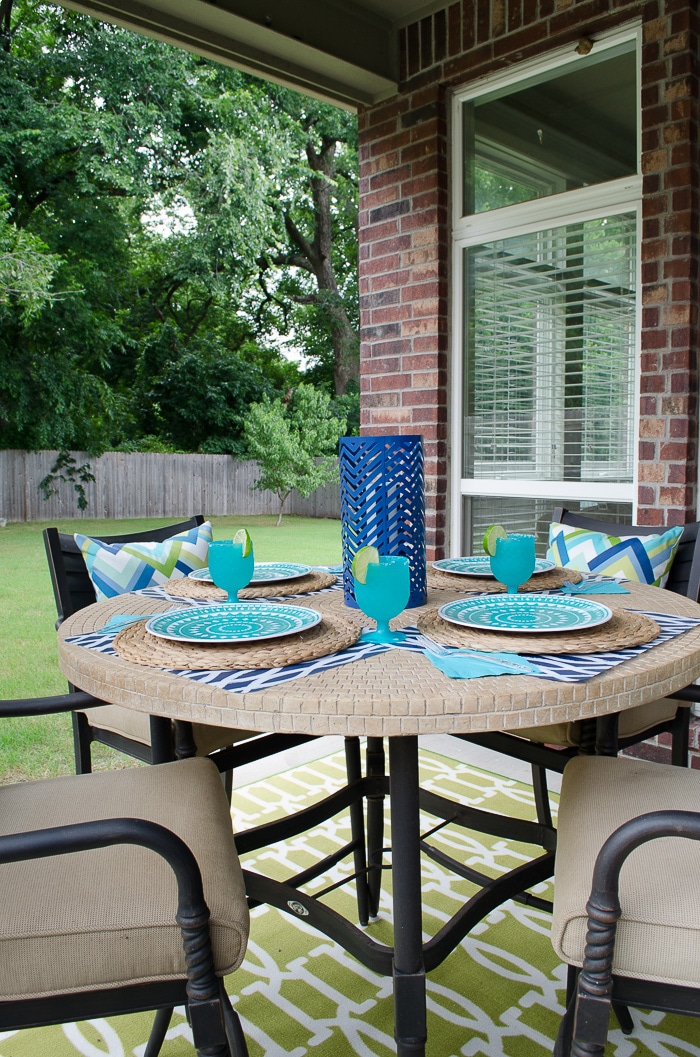 So that's what the patio looked like last Thursday morning when I was done taking the pictures. I was SO excited it was ready for us to enjoy it.
Except as I was taking the pictures, I also knew I was racing the rain. I didn't want the new pillows or anything else to be ruined, so I quickly moved everything inside.
I pulled the last items in the house and checked the radar to see that a storm was only a couple miles away and headed right to me. I was so happy I got the pictures done that I even sent the radar to a friend to show her how close I was to not getting done in time. After that, I started working on some indoor photos for a secret project, but that didn't last long.  
Within minutes, our house alarm started alerting that there was a tornado warning! What the what!?!? I just thought it was going to rain and be a mild thunderstorm. I looked outside and didn't see any imminent threat, but then the city tornado sirens started blaring. Despite living in tornado alley, July is usually calm. HOT, but calm.
I quickly checked the TV just in time to see them talk about the area of concern and then project the path out directly over our neighborhood. Ugh. That's the worst!
So I grabbed some things and Maddie and I went to the storm shelter we have tucked under the stairs in a closet. Thankfully before the storm got to us, I could get the weather streaming on the laptop. I'm much happier in a storm when I can see the radar and weathermen.
Before the front got all the way to us, the tornado warning was canceled (woo hoo), but they expected major straight line winds and decent sized hail. Maddie and I stayed put, and pretty soon we could hear some crazy loud rain and wind. And it kept going. And then the power started flickering on and off, which is the worst because you lose the internet connect and therefore the comfort of being able to watch the weather and know what is happening. 
Then I realized that the power wasn't coming back on. Boo!  We do have a weather radio for these scenarios, so I turned that on and felt a little better again being about to hear what was happening outside my metal box. The storm spotters were saying it was the craziest conditions they had ever driven in, and one reported a bridge with almost three FEET of water ON it because the rain was coming so hard the bridge couldn't drain. Wow, was I relieved to be at home! 
When I knew it was safe to come out, I peeked out the back windows and spotted one of our patio chairs halfway across the yard. And these are big fairly heavy chairs. There were also some large branches, including one that took out a couple fence pickets when it fell. Somehow the only permanent damage was to our gas patio heater. It took a pretty hard fall and the top got pretty crushed up.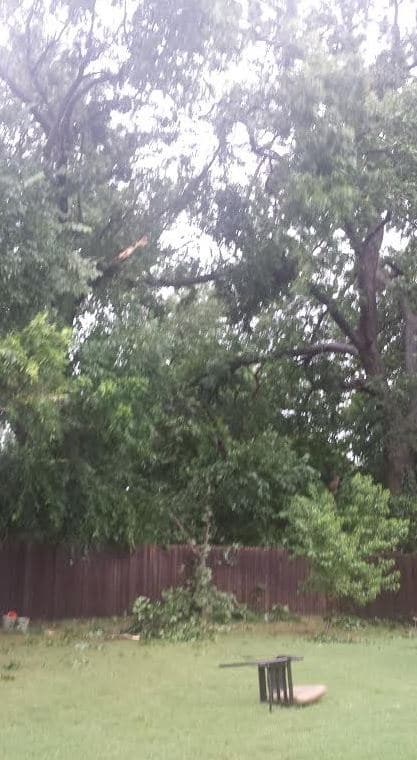 And remember my pretty patio? It's a darn good think I brought all the accessories inside! Somehow the north and south chairs remained perfectly in place, but the east and west chairs went flying.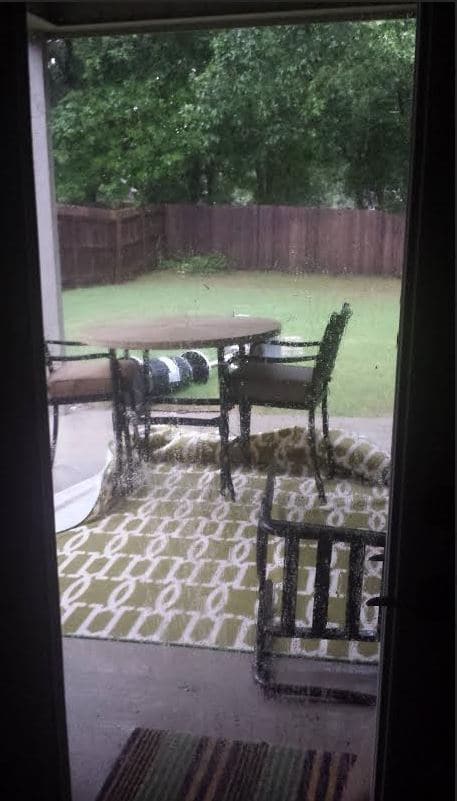 We were SUPER lucky that the house didn't get damaged as others had roof damage, fences ripped down, and way more tree damage than we had to clean up. The trees challenged a lot of power lines to duels, and it seems the trees won every time. The estimate I heard was 80,000 people in Tulsa county lost power. It took right around 12 hours for our power to be restored, which could have been worse as others not too far from us were at 48 hours. The internet was down for about 30 hours, which was a bummer, but way better than not having air conditioning.
We found out the storm was a derecho, which I had never even heard of before. It's comparable to an inland hurricane with ridiculous rain and wind that continues for a LONG time.  I just know that driving around and seeing the tree damage that continues mile after mile, I don't ever want to see another derecho.
So that's my backwards before and after story. In the morning, the patio was all pretty like this: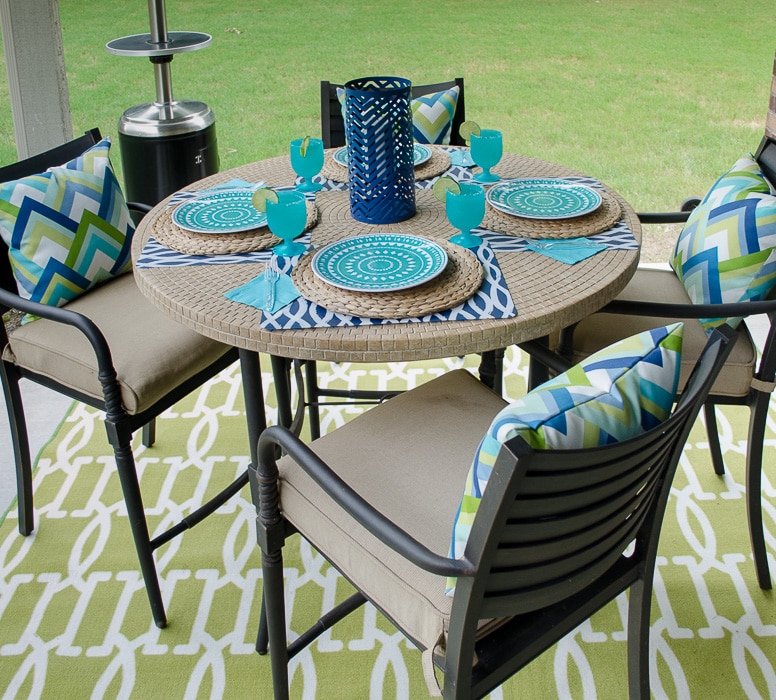 And less than 2 hours later, it looked like this: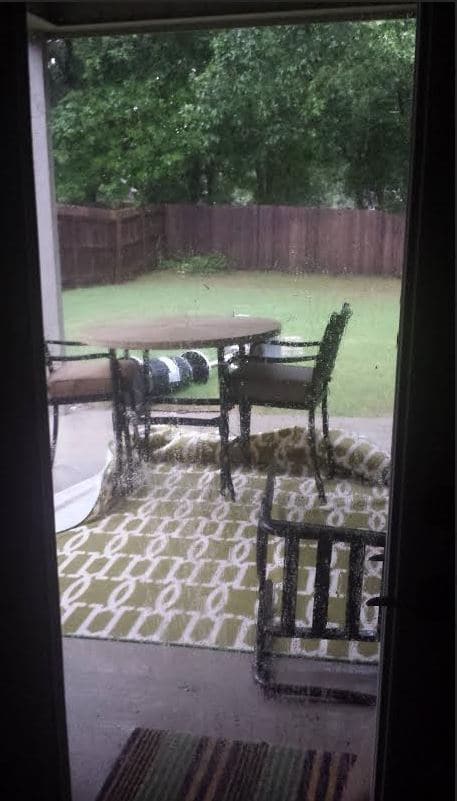 So that's our outdoor update for summer, but there are still 20+ more gorgeous spaces for your to enjoy. Just click on any of the pictures below!