It's kind of odd that I've shown you guys all the "behind closed doors" parts of my master bathroom, like under the sinks, but never done a tour of the actual room. It's probably because I've had an ongoing love-hate relationship with our bathroom. Our first two houses had teeny-tiny master bathrooms, neither with the bathtub I dreamed about. So, four years into living in this house, I'm still pinching myself that the space is ours.
At the same time, I've been REALLY wishing I had chosen different finishes for the room. That feeling was first amplified when we finished the attached closet, and then REALLY amplified again when we finished the bedroom. It left the bland, beige bathroom sandwiched between two spaces full of our personalities.
Changing the tile is totally out of the question budget-wise right now, and I've been stuck on paint color decisions. I want to paint the cabinets navy, but don't have a full vision for the walls, so am holding off doing anything.
I realized it was insane that I hadn't made smaller changes to make the room feel more like us in the meantime. Progress over perfection is my motto in so many things, and I'm realizing how important it is in decorating as well.
And what's my favorite kind of decorating? ORGANIZED decorating! How did it take me so long to see the opportunities in the bathroom to combine function with style?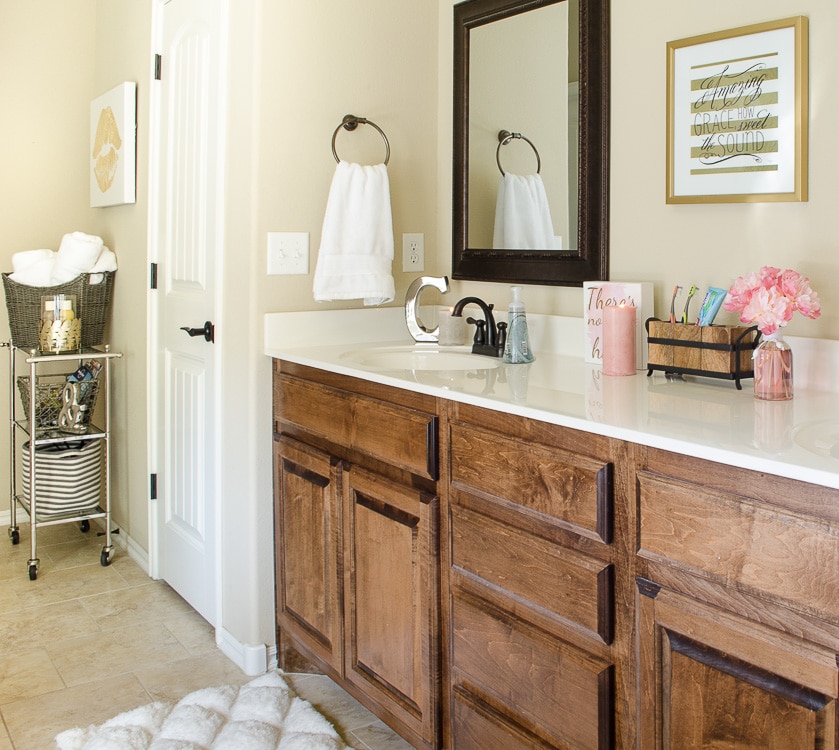 Looking around, I realized everything I changed fit into three main categories that could help you tackle your space. Pier 1 partnered with me for this project, so I added links to everything I used under each photo in case something would work great in your bathroom.
Tip #1: Add a Cart for More Storage
The cart could even be in the bedroom or hallway right outside the bathroom. Why, oh, why didn't I think of THAT at the last house?
We had a totally unused corner that always felt like it needed something. Problem solved!
Luxe Bath Trolley / Collin Gray Magazine Basket / Gold Feather Hurricane / Reid Gray Basket / Silver Ampersand / Regan Striped Basket (no longer available, but this one is cute!)
Tip #2: Think Outside the Bathroom
I didn't really mean to, but I ended up using FOUR items from the kitchen section at Pier 1 to organize the bathroom. They complement the wood cabinets, which makes the cabinet stain seem more stylish and intentional. Even better, I can reuse all three in the kitchen after we do a more major bathroom update.
My favorite is the wine rack I used for washcloths on the bathtub. There are no words for how happy I am that I can't ever get in the bathtub and then realize I forgot the washcloth again. On top of the wine rack, I displayed a monogram mug to help with cleaning. It looks cute sitting there all the time, and now I don't have to go to the kitchen to get a cup to rinse off the sides of the tub after cleaning.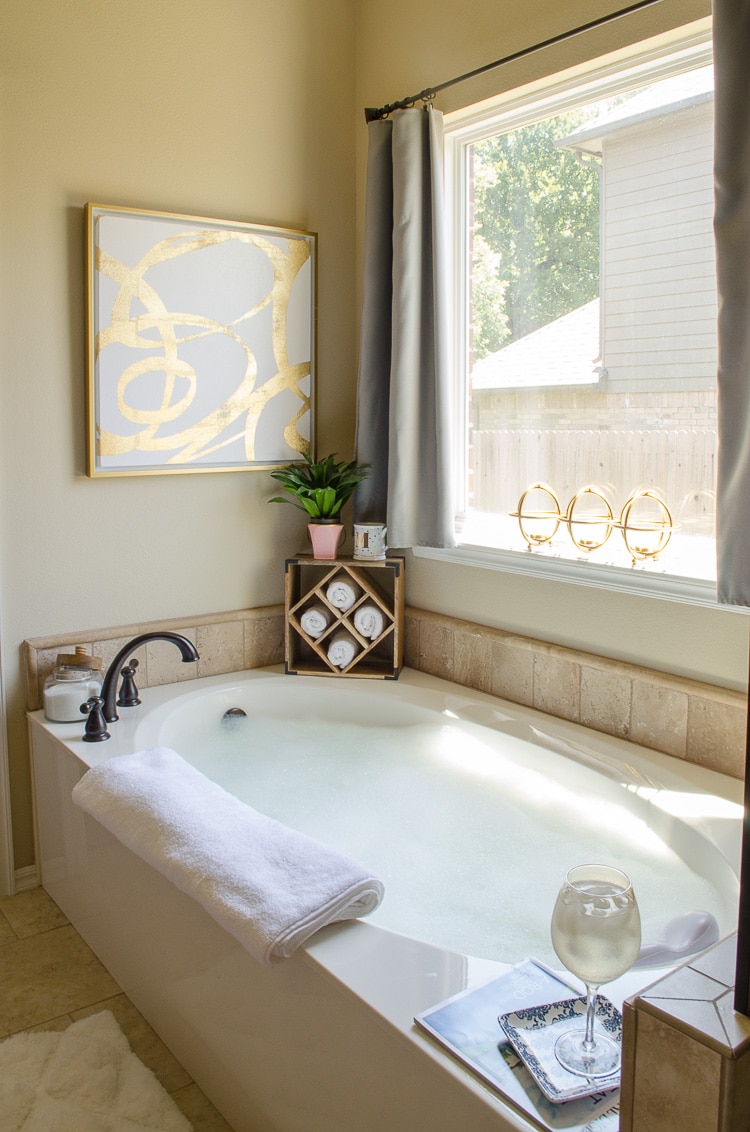 Napa Cube Wine Rack / Gold Orbit Tea Light Holder / McKenzie Monogram Mug / Golden Luster Wine Glass
Opposite the wine rack, there was just enough room to fit a pretty storage jar for bath salts.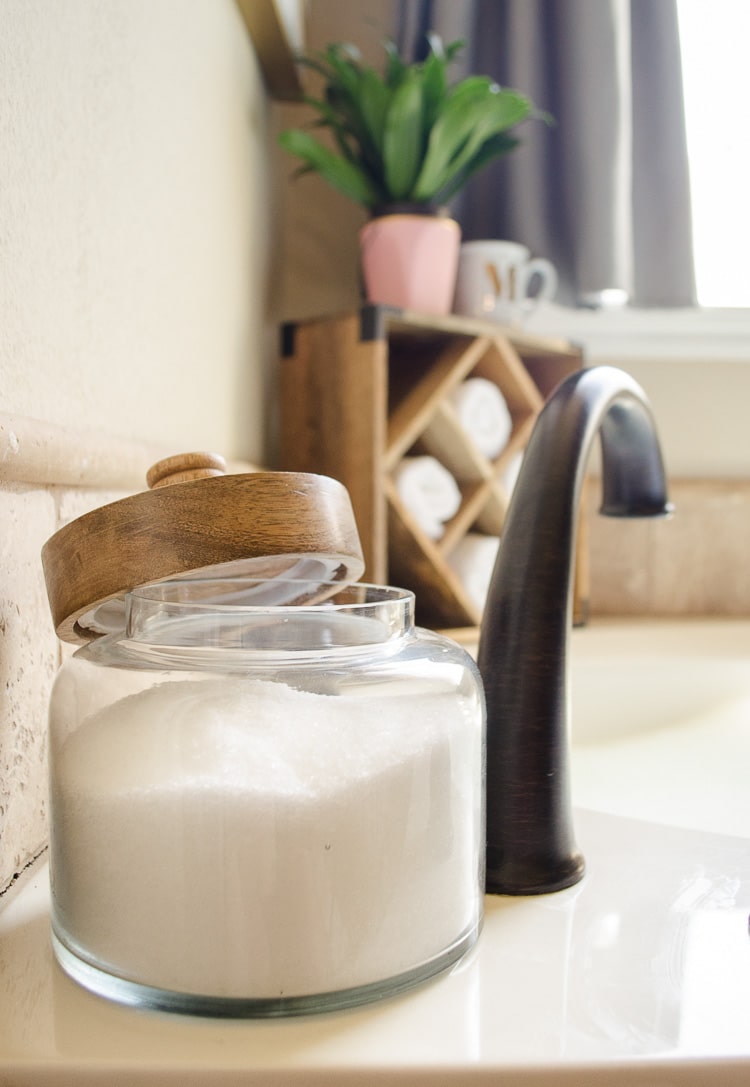 For the vanity, I found a flatware holder that I'm using for toothbrushes, toothpaste, and then scissors and tweezers. And don't think I won't dump those items out and "borrow" the holder for utensils at a party!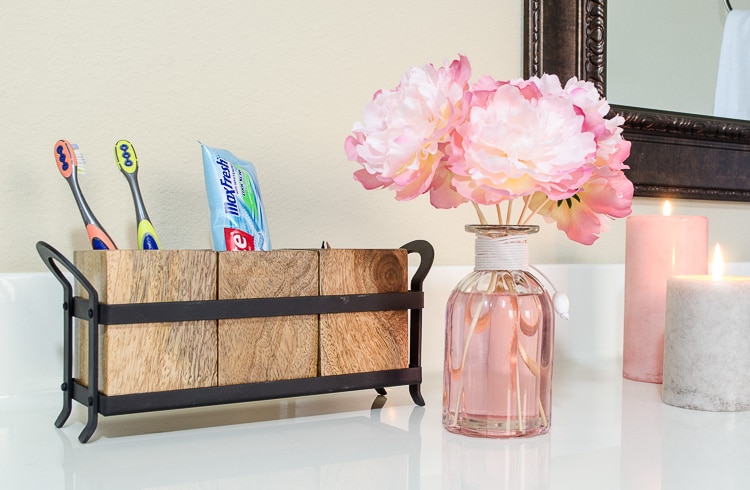 Napa Utensil Caddy / Peony Decorative Diffuser Reeds / Pink Champagne Reed Diffuser
Tip #3: Containing is Key
You saw two corners of the bathtub already, but I also needed somewhere to hide away soaps, razors, shaving cream, etc. The pile of loose bottles I had going on before was not so pretty. Now the mess is hidden in my new favorite basket!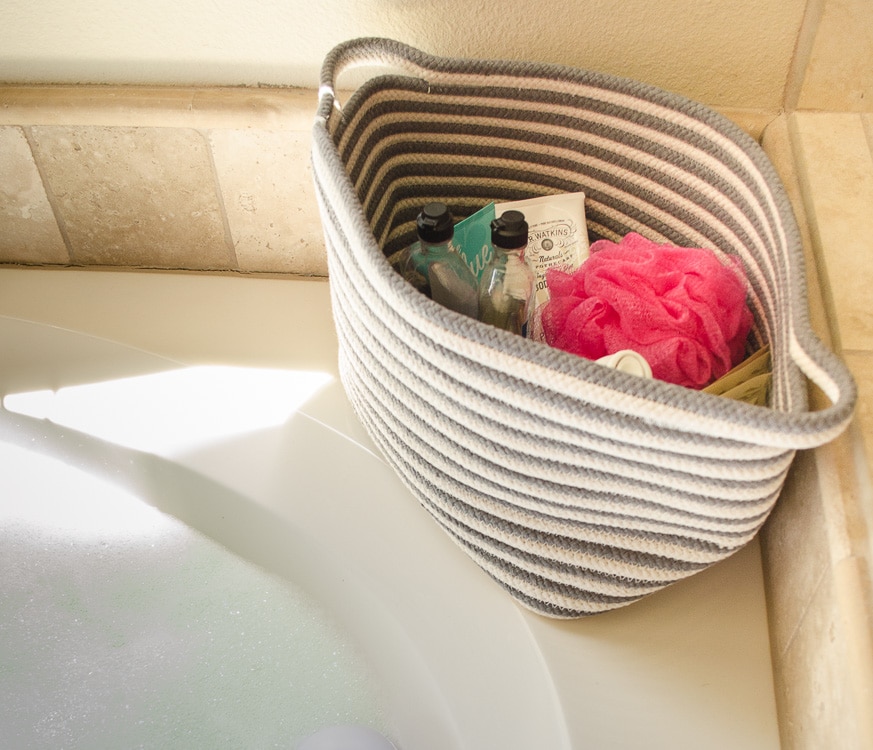 Regan Striped Basket (medium shown)
The addition of containers to the pretty cart I showed you earlier really stretches how much it can hold.
On the bottom shelf, I added a second gray and white striped basket. And guess what's inside? The blow dryer, flat-iron, and curling iron! Woo hoo!!!!!
All three of those items and their long tangled cords used to end up left on the counter almost all the time, even though I only use them every few days. It was just a pain to try and squeeze them into the vanity drawer. Now I grab the basket when I need it, and then can toss everything right back in when I'm done (and they are cooled down). It sounds silly, but that simple idea has been a game changer in keeping the vanity top clean and clear!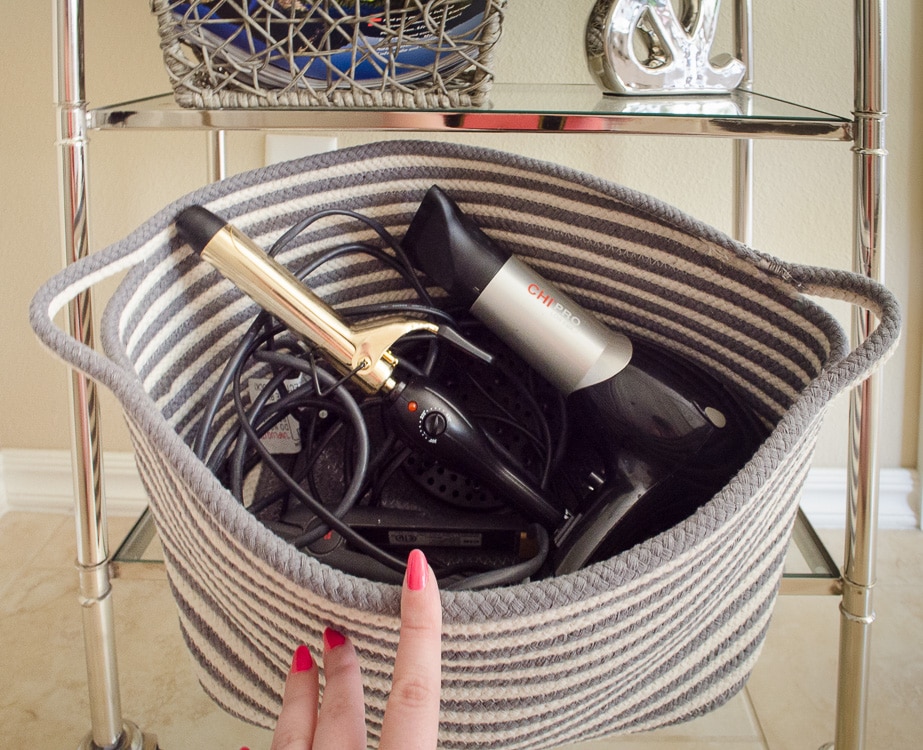 Regan Striped Basket (medium shown)
The second shelf has just enough space for a basket of magazines. Because don't we all have visions of settling into a bubble bath with a magazine? And wine.
For the top shelf, I used a magazine basket, but rolled up pretty white towels to add a little softness and a spa feel. I also used a candle holder to corral three yummy room sprays. Because smelling great is an important part of any bathroom, right?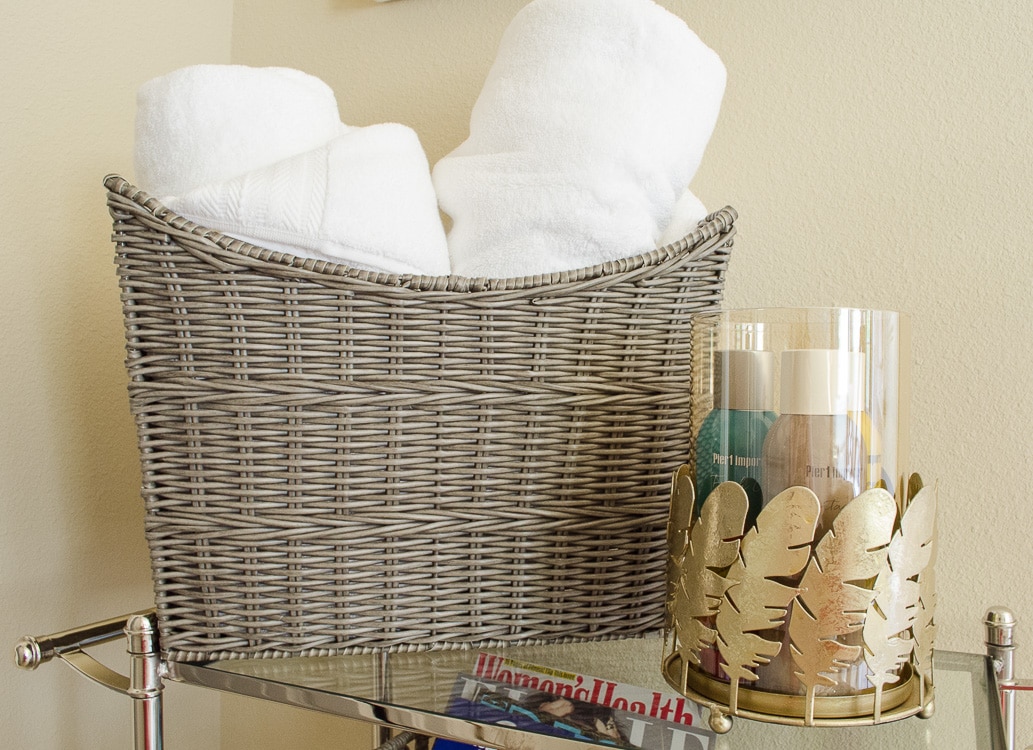 Collin Gray Magazine Basket / Gold Feather Hurricane / Pineapple Basil Spray / Fresh Apple Spray / Vintage Linen Spray
Even though I'm still ready to ditch the beige walls as soon as I can decide on a plan, I'm feeling a little more zen and patient with the process now. Better yet, the bathroom has been easier to keep tidy. We had solved so many of the clutter issues when I organized under my sink, but the hair tools always lingered. Now EVERYTHING really has a place in the bathroom. It's glorious!
To see more bathroom organizing ideas, check out my bathroom closet, my under sink cabinet, and his under sink cabinet!