I feel like I say every project is my favorite – but this one REALLY is my new favorite. Unlike the Shim Tack Sunburst Mirror,  my anchor cooperated with me every step of the way. And it was inexpensive. And it's downright awesome. I'm pretty humble about this one – can you tell? 🙂
Every time I go to Target I drool over the nautical collection they have right now. In fact, I'm hoping some of it goes on clearance soon! In the meantime, I wanted to make my own nautical art. I had the crazy idea to make an anchor image out of twine!
I picked up a pre-cut 24″x24″ piece of wood and several 1″ x 24″pre-cut pieces to use as the frame, along with twine & navy blue spray paint.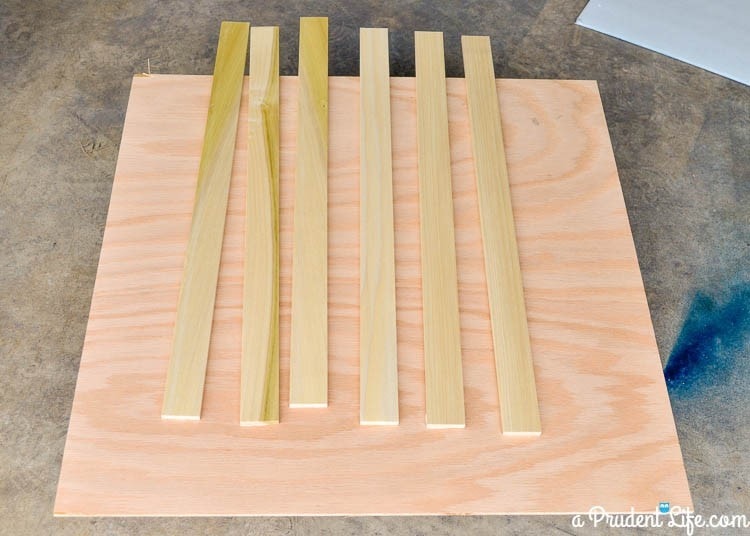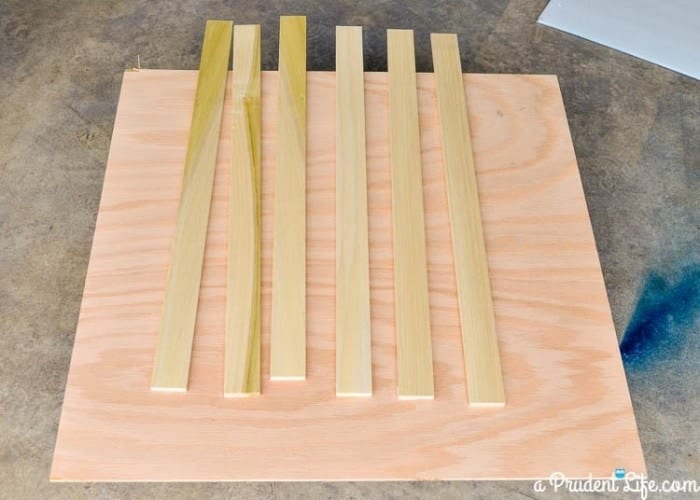 The first step was spray painting the wood navy and letting it dry. I also spray painted the frame pieces aged copper (although they didn't stay copper for long).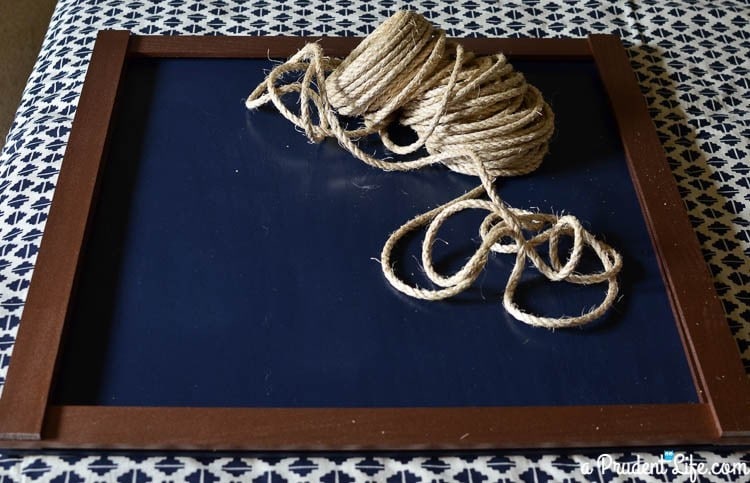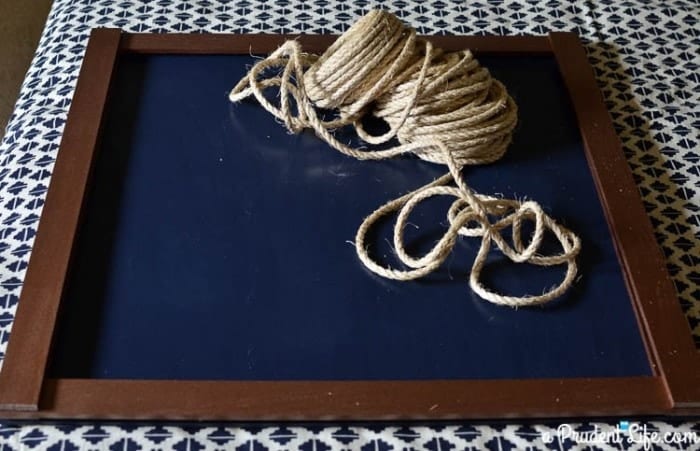 I found a small anchor image online to use as my guide, and printed it as large as my printer would allow. This is where I got really lucky. I realized that exactly doubling all the measurements on my guide anchor would be the perfect fit! Don't try to be lucky like me. Figure out how big you want your finished product, then scale your guide appropriately.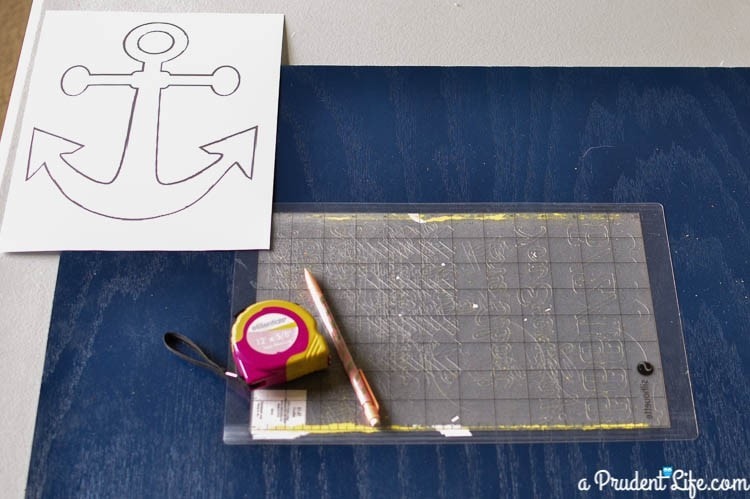 I was to lazy to find a yard stick, so I used my Silhouette mat as a straight edge 🙂 The pencil didn't show up at all on the dark blue background, but chalk was an easy solution. The chalk outline doesn't have to be perfect because it will all be covered up with rope.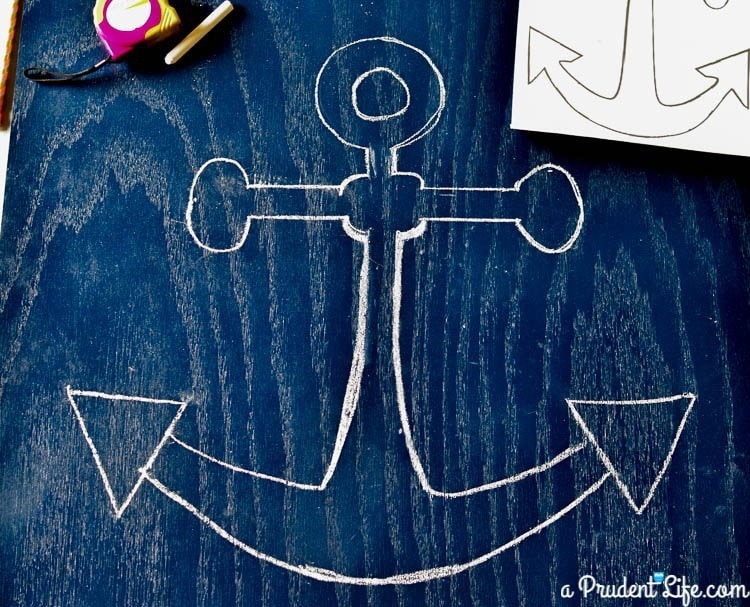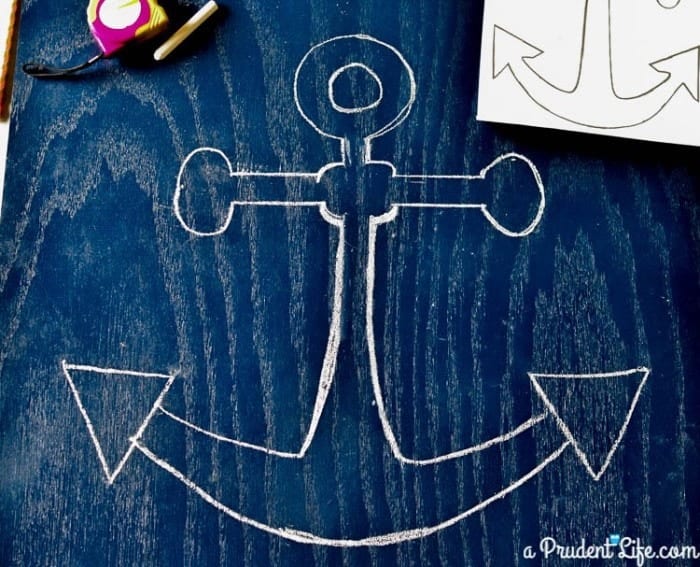 I was pretty shocked that I was able to sketch it out so easily using my guide image. Once I had the outline done, the real fun began! I used hot glue to attach one piece of rope at a time. You'll need some good, but inexpensive scissors to cut through the twine.
Each ring in the circle is a separate piece of rope. Make sure you stagger the end points of the rope to make the seams less noticeable.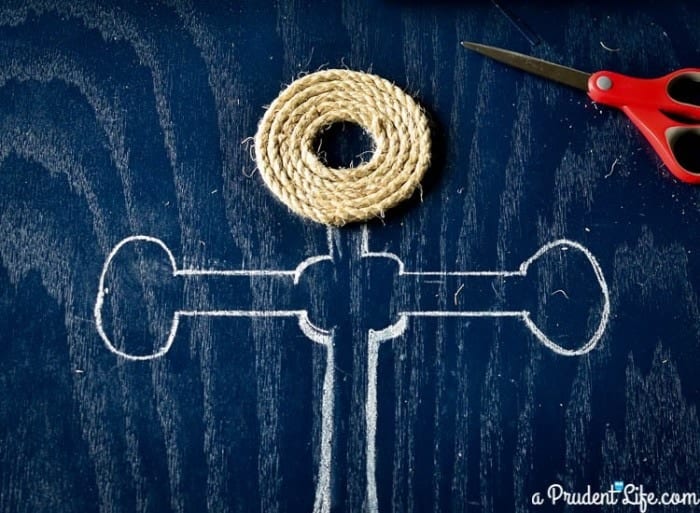 It gets kind of messy with all the rope debris!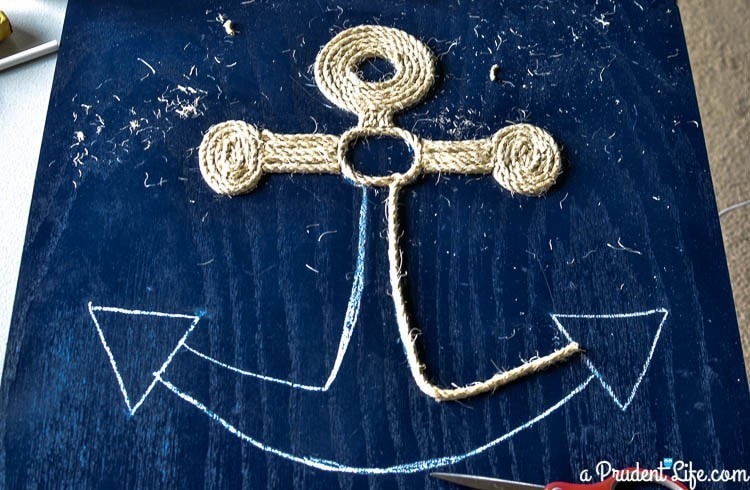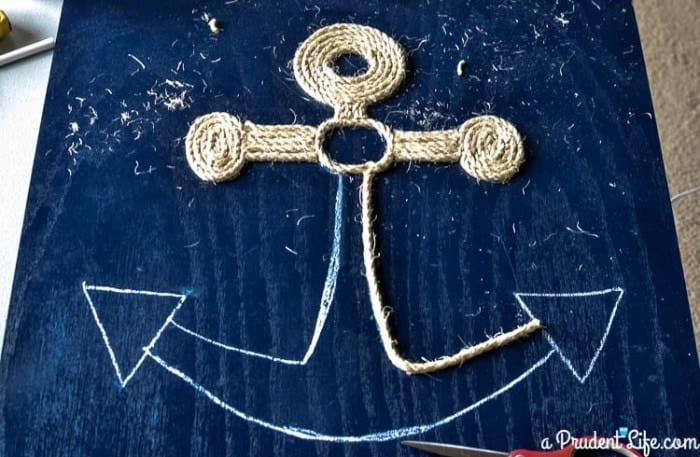 As you can see in the picture below, there were some small gaps along the bottom. They were easily hidden by squirting in some hot glue and then carefully filling in the gap with an unraveled piece of twine. My twine was normally three strands thick, but I could unravel it to get a double or single piece.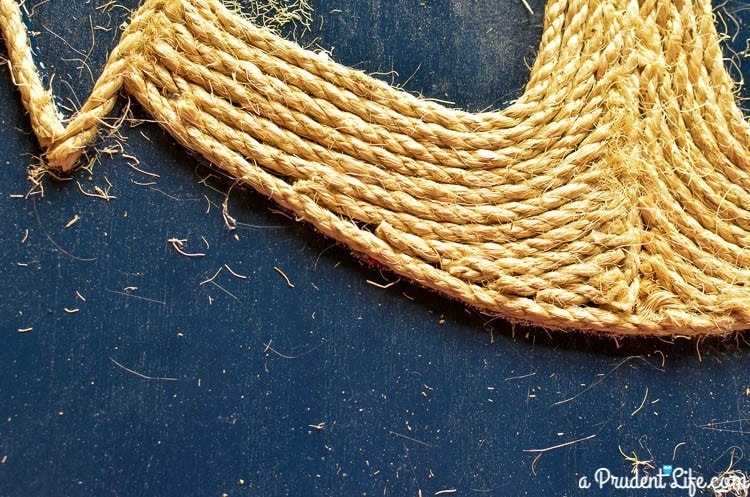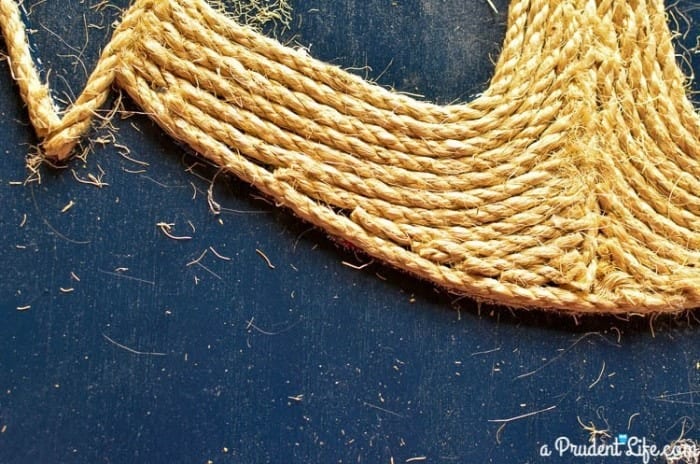 Once I filled in all the gaps, it looked like this. Fun, right?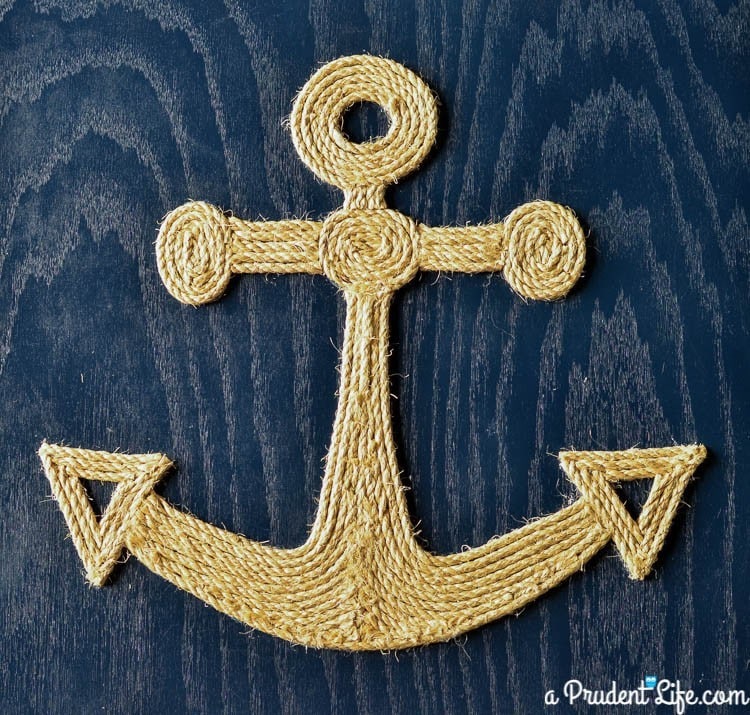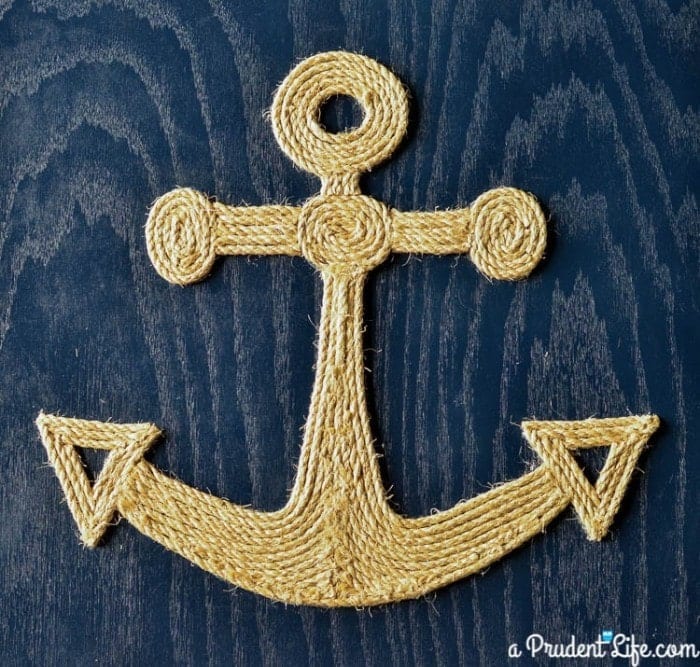 For the frame, I opted to paint it white with some DecoArt Chalky Finish paint I already had on hand.  I hot glued the horizontal pieces directly to the backer board. When those were set, I glued the vertical pieces right on top of the horizontal ones. This method meant there were NO cuts required for this whole project. Everything was straight off the shelf! The overlapping look wouldn't work for every project, but I like it for this one!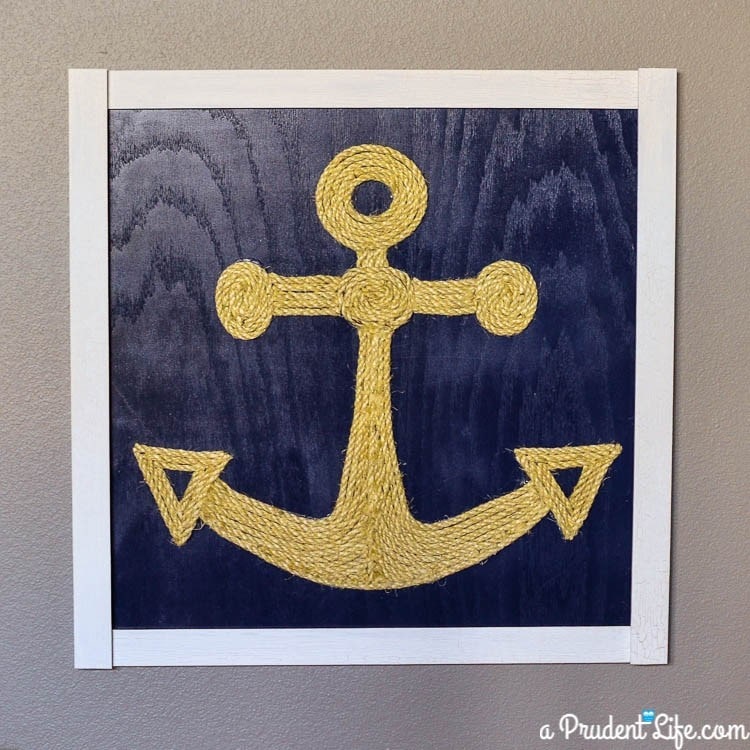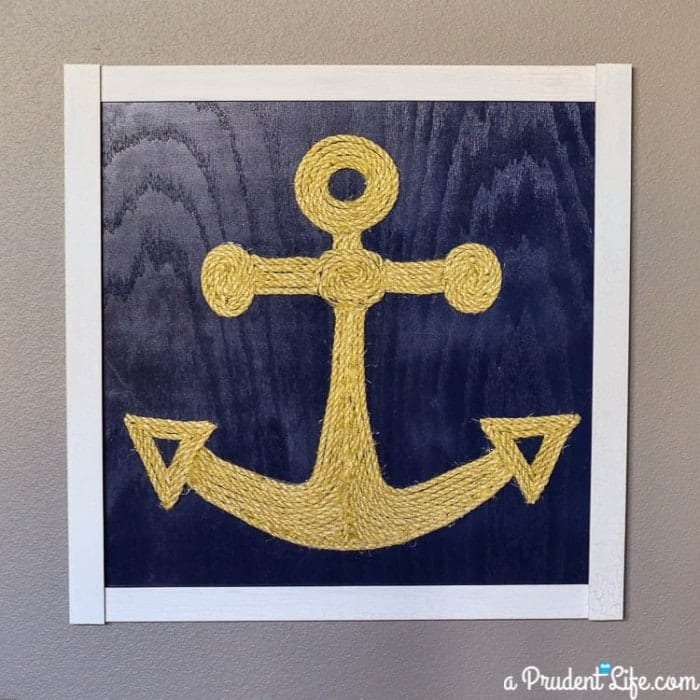 I loved the piece so much, I incorporated it into the office. I hung it up with Command Picture Hanging Strips. It's a little high on the wall, but the chair is temporary (borrowed from the craft room). I expect the "real" office chair to have a higher back.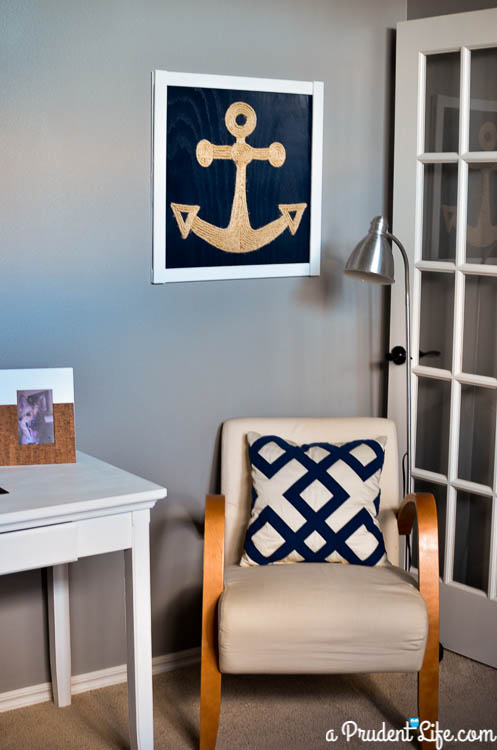 The whole project took a couple hours and cost somewhere between $10-$15. One package of twine was plenty – I still have some left! I love that it was inexpensive, because sadly I know the nautical trend won't last forever. I normally prefer things that are more "inspired by" a trend instead of something so obvious, but when I had the idea for the rope anchor, I just couldn't pass up trying it out!


Need more nautical in your life? Check out my round up of 15 DIY nautical projects!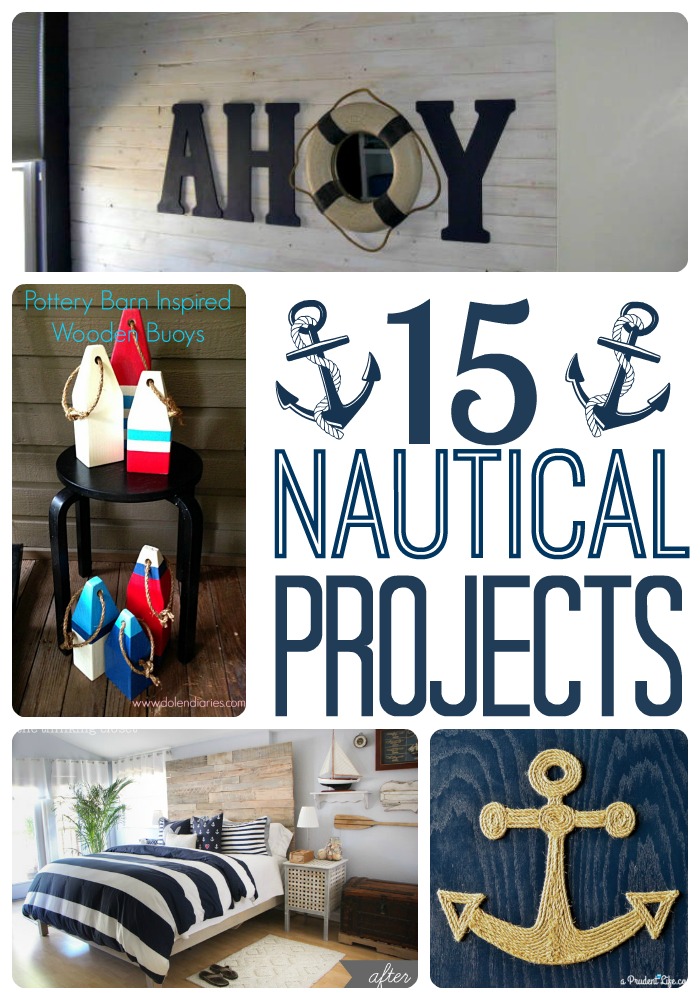 Don't want to DIY it? I found some amazing AFFORDABLE anchor items you can buy!