Our freezer organization situation has been less than ideal for years. Our kitchen has a side-by-side freezer, which is made even smaller because the fridge had to be counter-depth so it wouldn't block the pantry door.
When we built the house, we decided to put an inexpensive second refrigerator in the pantry instead of a wine fridge, which was one of our better building decisions.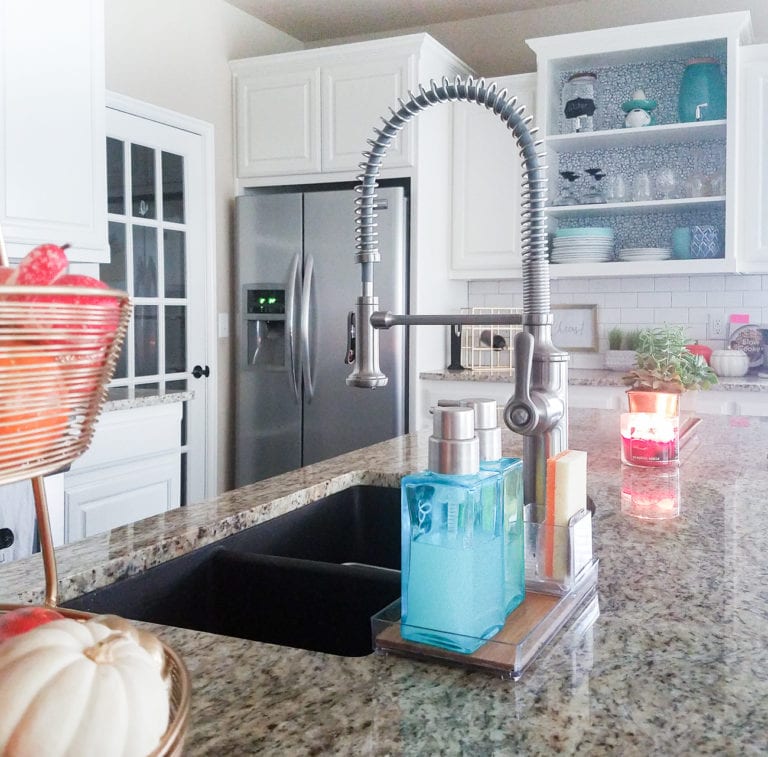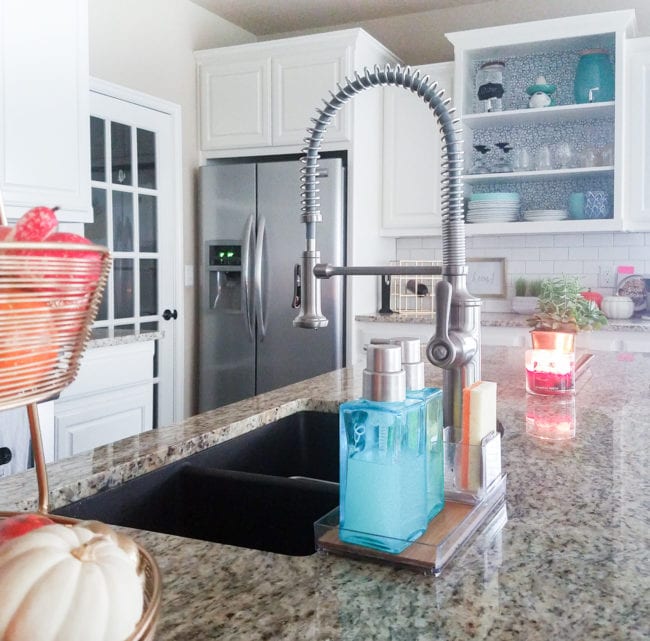 That does expand our freezer space, but the top freezer is just a big open space with no shelves or organization. So basically we had two wonky smallish freezer spaces with no system.
The same day I ordered the new pantry containers for baking ingredients, I spent some time measuring both freezers and finding the perfect bins to make them more functional.
I didn't take before photos because I wasn't intending to do a post, I just needed a solution. But over a month later, both freezers are still just as organized and I'm happy I spent some of the money we've saved while not eating out to get bins that use the freezer space more efficiently!
Here's the pantry freezer. I wish a had a before because everyone was in haphazard piles that could cause an avalanche if you moved the wrong item. Now this space is dedicated mostly meat/main courses and it's always easy to find what we need.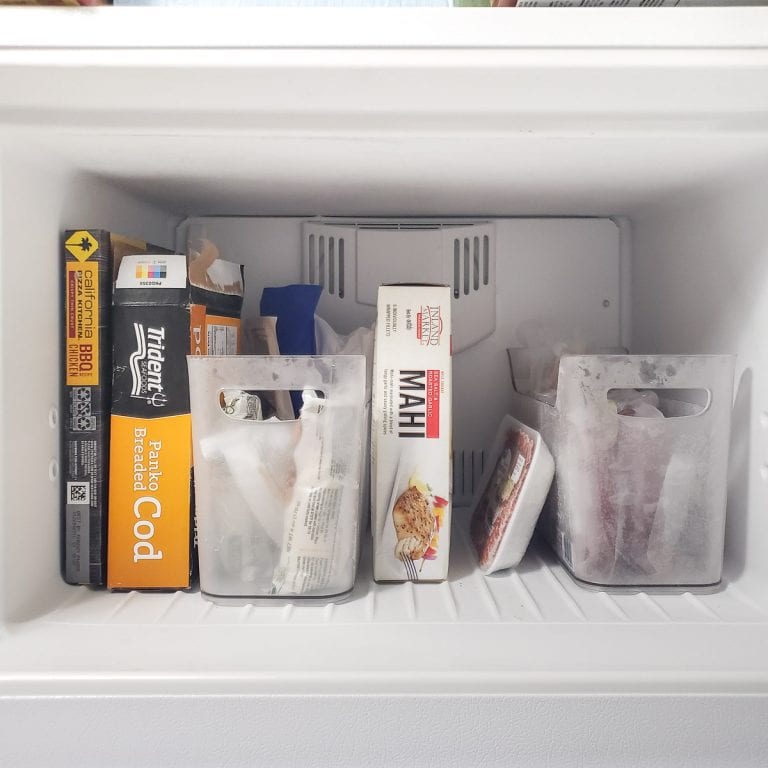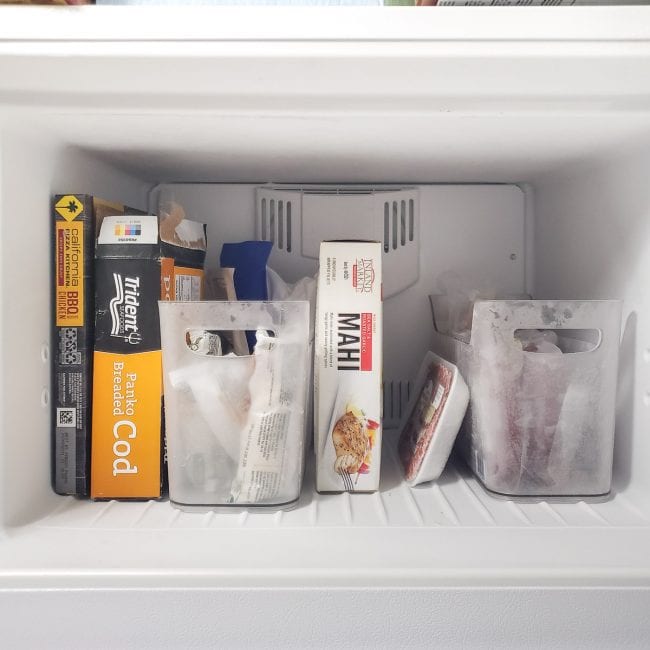 The new containers take up the full depth of the freezer, and because they are divided, it's easy to keep multiple items in one bin.
We currently have 4 lbs of hamburger, wrapped in 1 lb packages, plus several chicken breasts in one of the containers. As we use the meat or chicken, we take the packages from the front and anything new goes into the back of the section so we're always rotating through the items.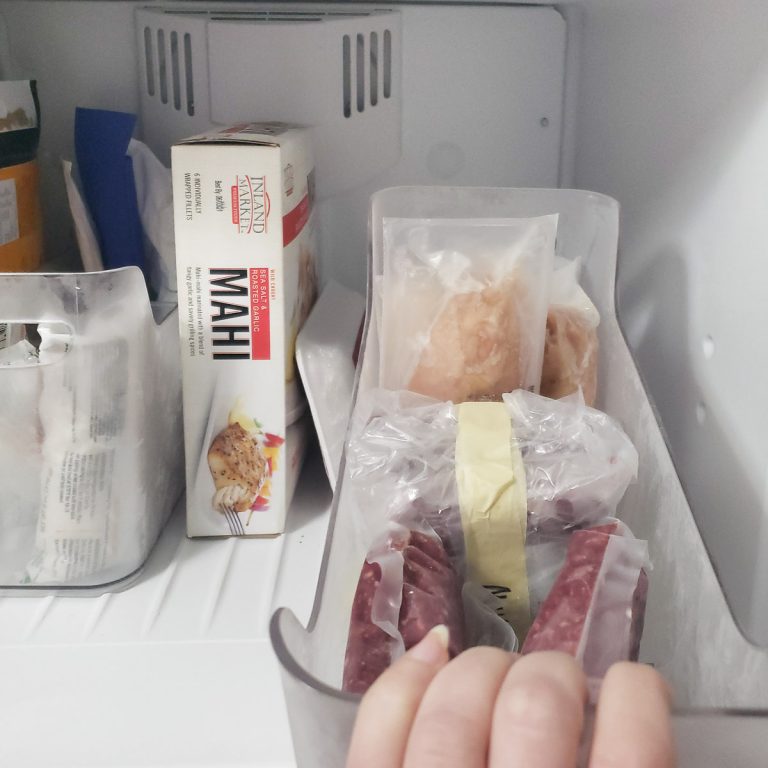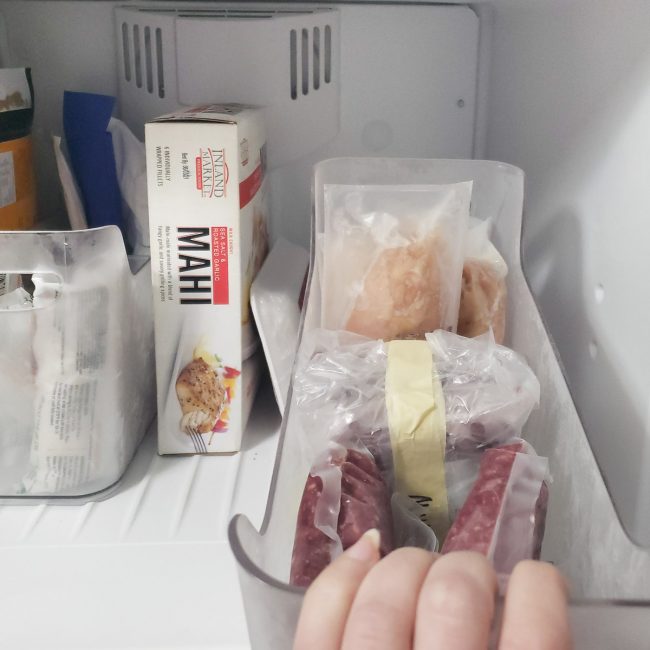 You can see the dividers better in the other container because it has some free space right now. There are a few burritos in the front section, and the back holds reusable ice packs.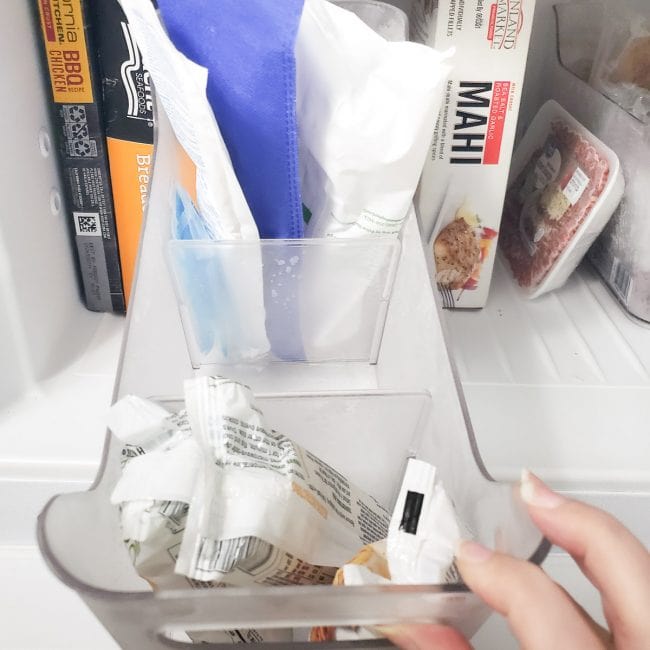 Better, right?
I just found an old photo of our side by side freezer, and while it isn't the exact items from the after photo, you can see the chaos.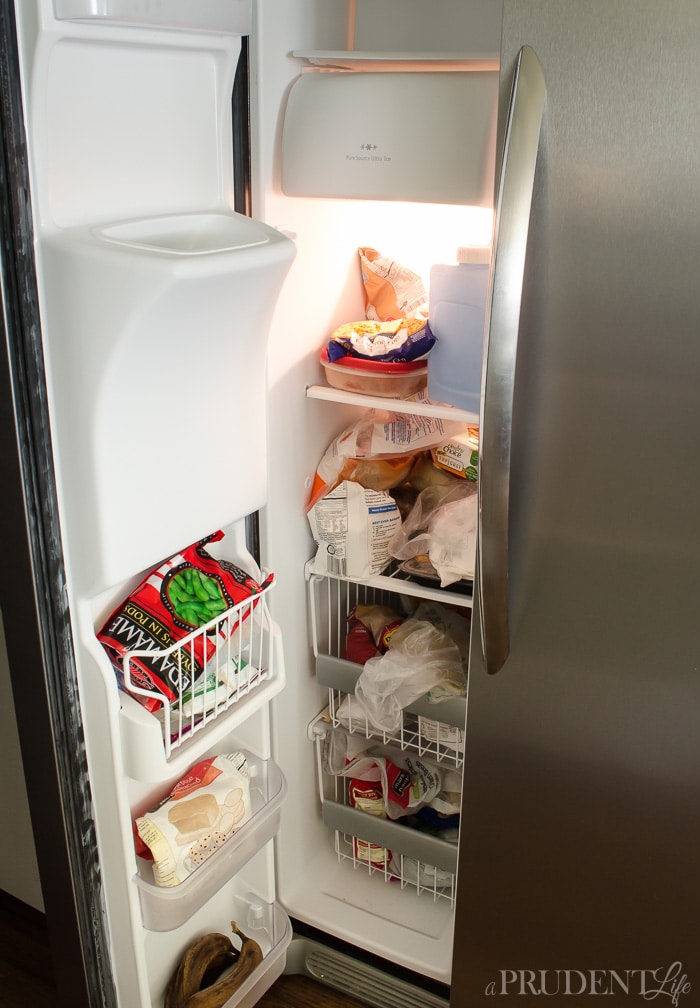 There are only two traditional shelves, which just led to messy piles before.
Now we have two bins on each of the shelves and it's so much better! These bins are a smaller size than the pantry freezer, but fit perfectly to maximize the space.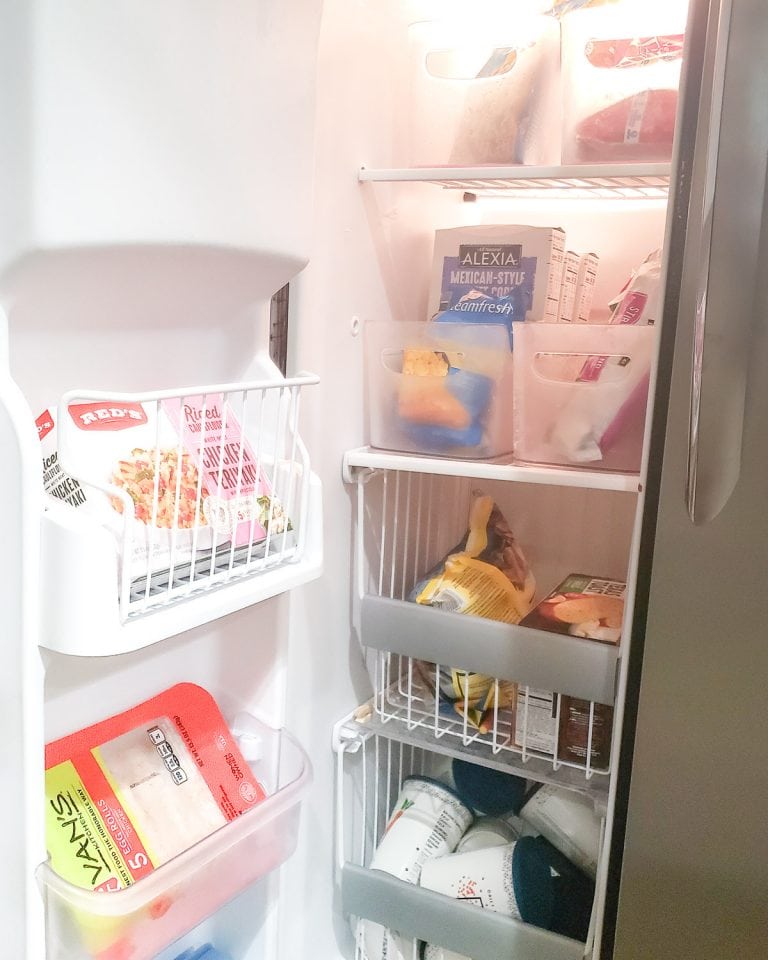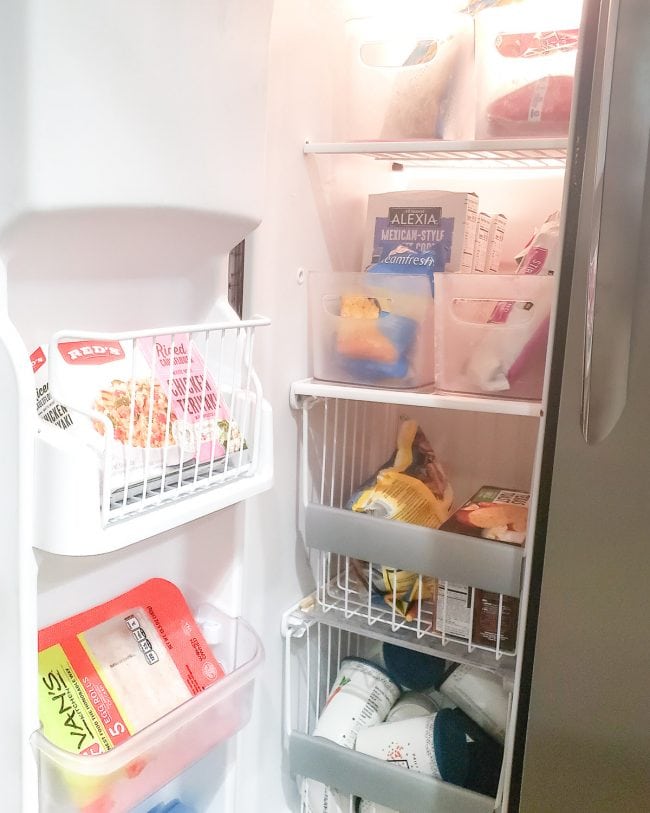 It's so nice to be able to slide the baskets forward and easily access whatever we need. We have a whole bin dedicated to corn, one for stir-fry/mixed veggies, another for rice/potatoes, and one for bagged rolls.
Now, everything is filed instead of piled. It makes meal planning and gathering ingredients for dinner easier.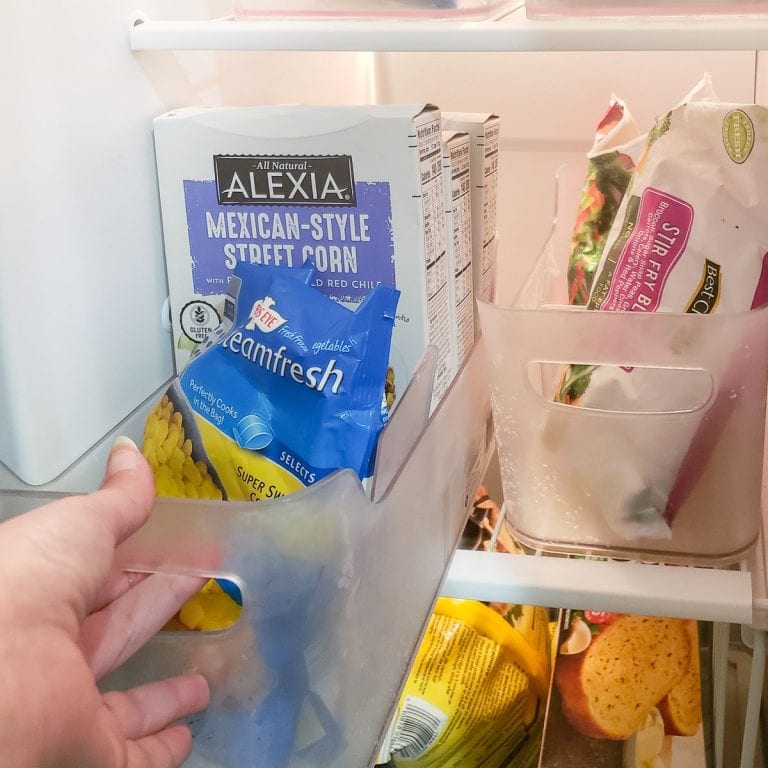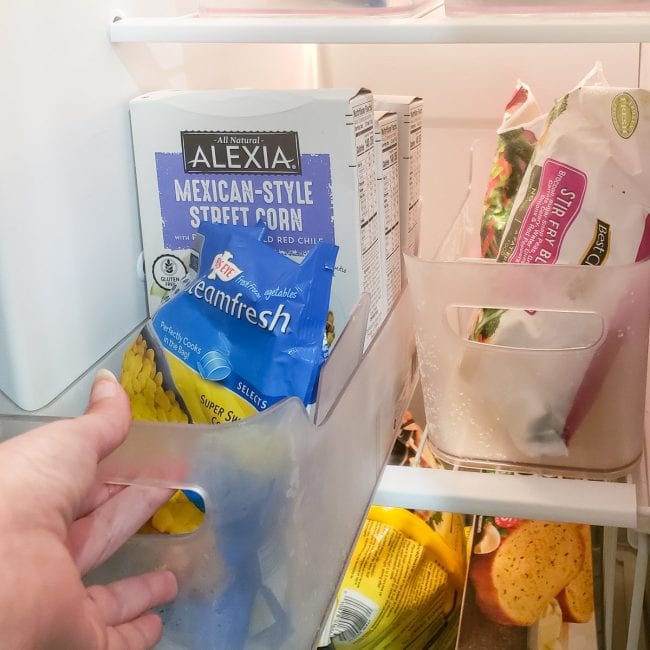 You can find my divided versions of the containers here, or I just found some new undivided, but much less expensive options here. They still come in multiple sizes, so you may find that they would work. Just be sure to measure both the width and depth of your exact freezer.
Another way to make sure you're utilizing all your food without waste is to create a freezer inventory. When you plan meals for the upcoming weeks, look at your list and try to plan around the older items first.
You could keep a simple list in a notebook by the freezer and achieve the same result, but I decided to make a pretty printable to keep me organized.
The printable is divided into sections, just like the freezer.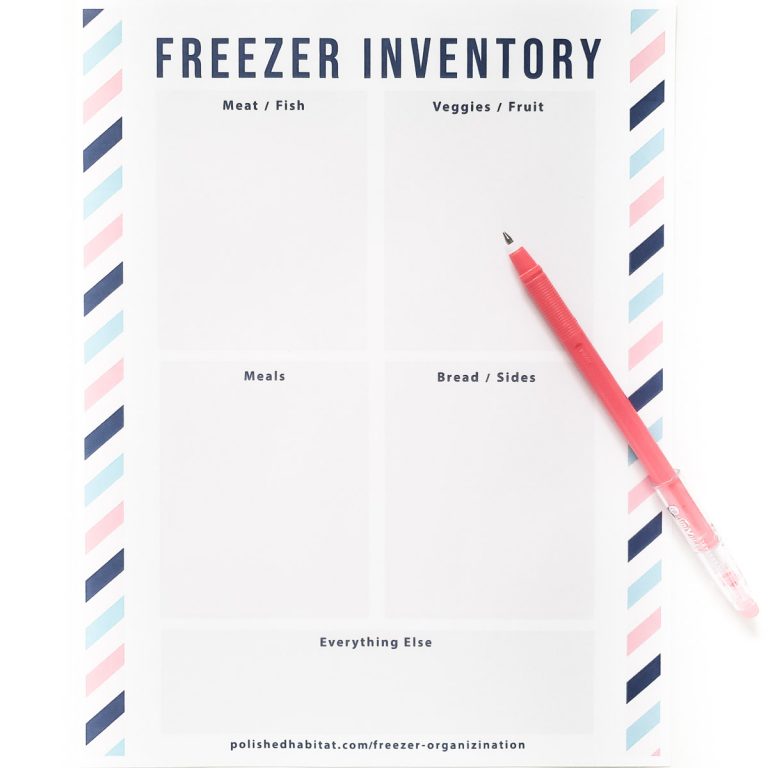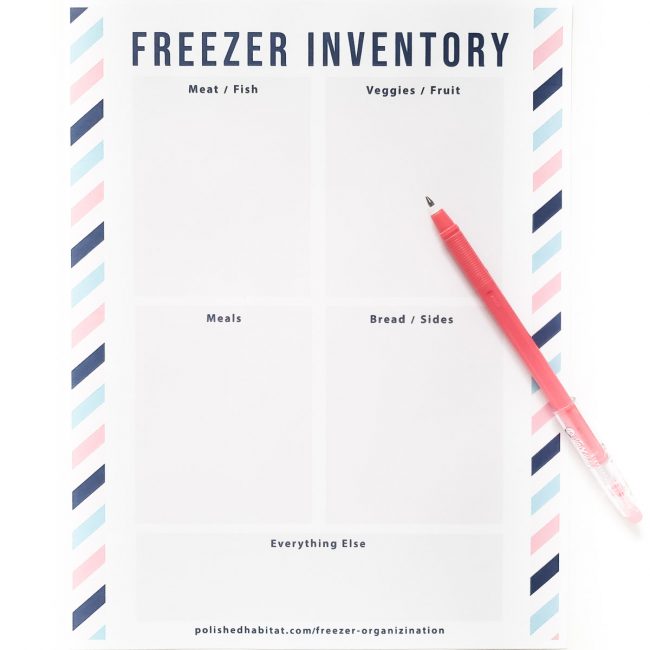 In each one, I wrote down what we had on hand. When we have multiples of something, like hamburger meat, I write it down multiple times (abbreviating it HB) so I can just cross one off when we use it and see how many are left.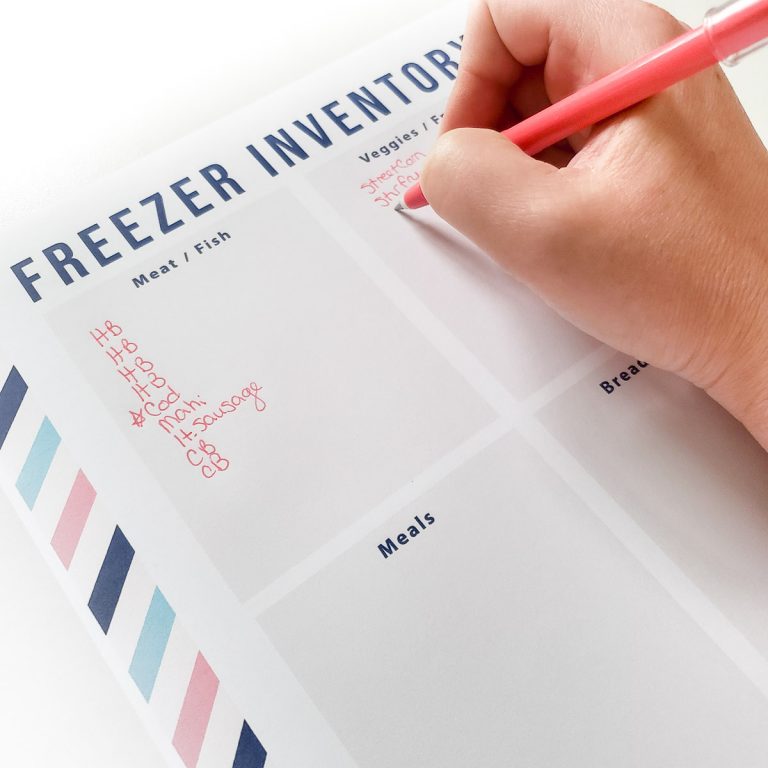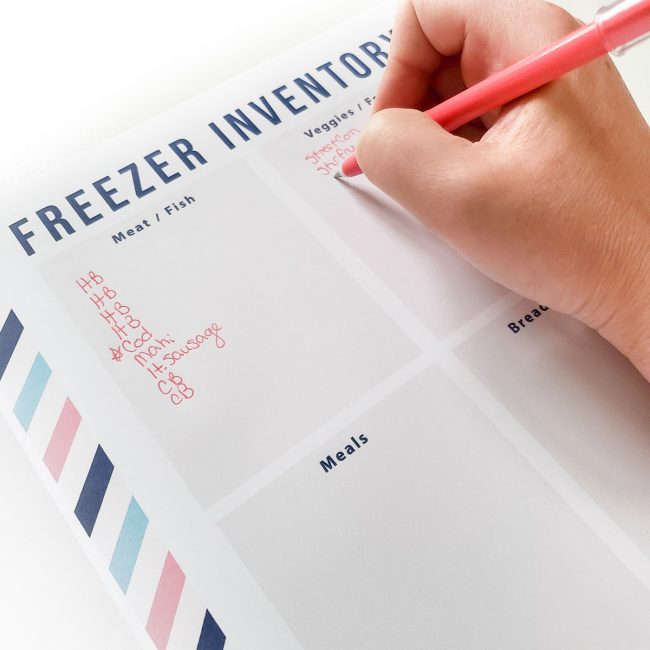 In the Meals section, I add any ready to go meal options, from frozen pizza to homemade freezer meals. Keep a few copies handy so you can replace your inventory sheet when it gets messy.
One other tip is to add a start next to anything you know you've had longer and should prioritize working into a meal soon.
To print out your free inventory sheet click here!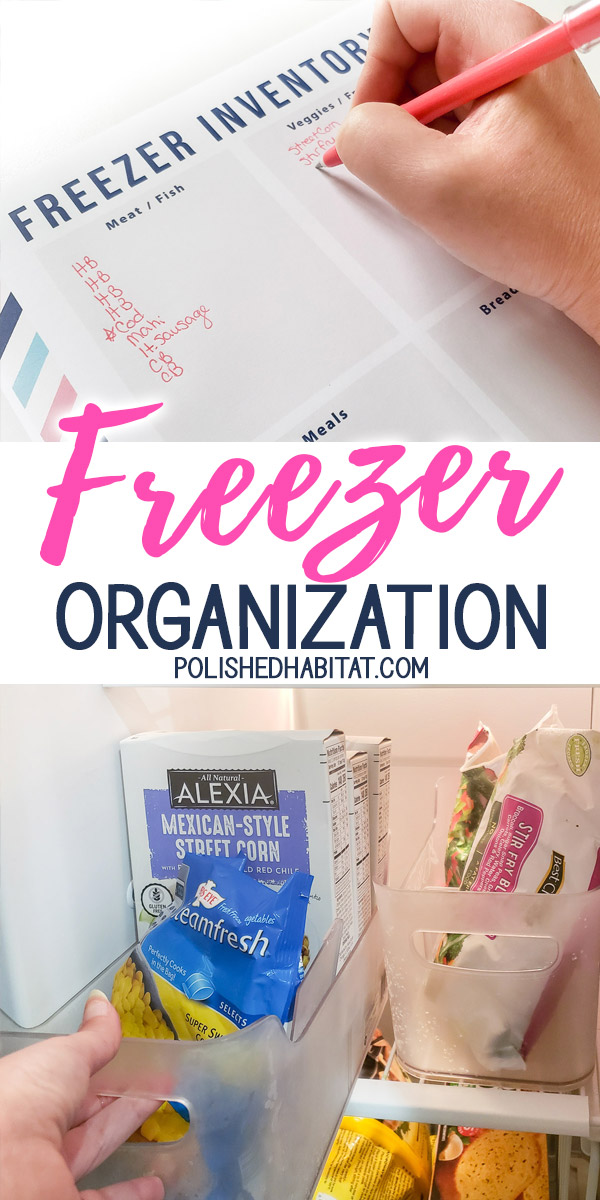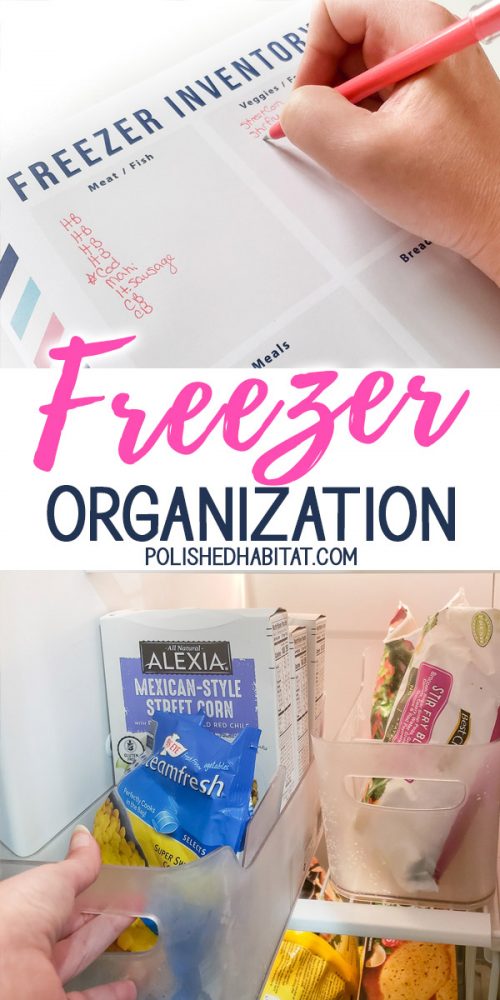 Does your freezer look more like my before or my after?