We've been cooking and baking more often while we've been staying at home, and that has meant reevaluating some of our dry goods pantry storage. I've found myself with more supplies than containers and set out to find the best way to store flour.
Because I infrequently used white and wheat flour before, I kept them in the freezer so they'd stay fresh and bug-free. But waiting for them to warm up before the already long process of making bread wasn't ideal. Plus I needed the freezer space!
We'll also been experimenting with making our own tortillas along with lots of homemade bread, so I needed somewhere safe to keep bread flour and tortilla flour.
Since I planned on keeping the flour in the pantry, I wanted to make sure I found really airtight storage containers to make sure we avoided getting any flour bugs or weevils. Because, yuck!
After searching through Walmart, Target, The Container Store, and Amazon reviews. I think I found the BEST flour container. I liked it so much I bought a variety pack of the brand's other containers to replace other baking ingredients like brown sugar, granulated sugar, and powdered sugar.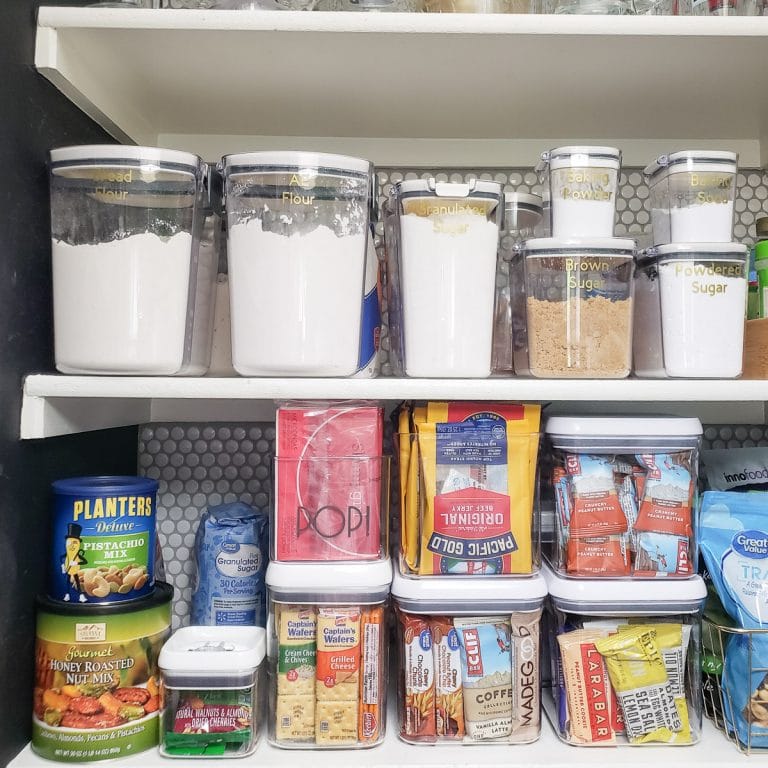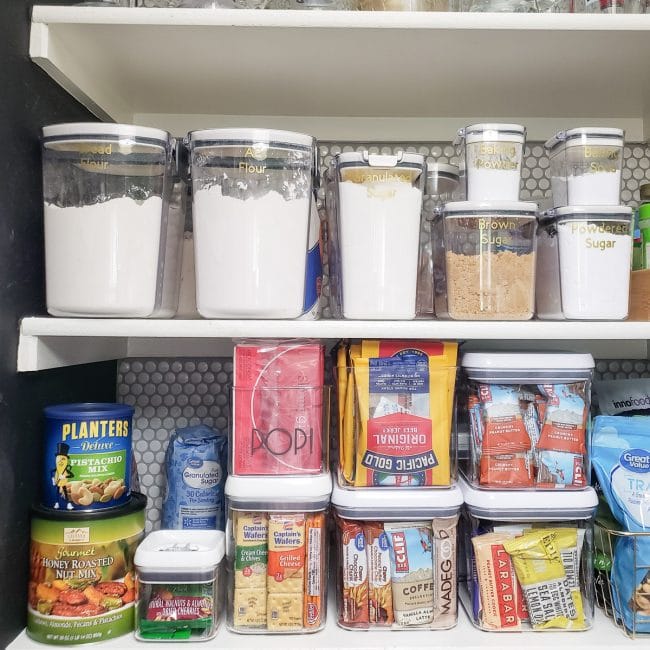 And PS, to clarify, this is NOT a sponsored post. I'm just obsessed with these and wanted to share them! I do get a commission if you purchase, but I bought everything shown.
The lids of the containers have a stronger airtight seal than any other brands I've tried. That alone would be awesome, but each style of container was designed to have added function.
The flour keeper has a removable ledge that lets you level the top of your cup without any additional items. I used to use the backside of a knife, and somehow the extra flour would never land back in the container.

The container holds five pounds of flour, but if you dump the entire bag in, the only downside is that leveling ledge won't be fully functional until you've used a bit.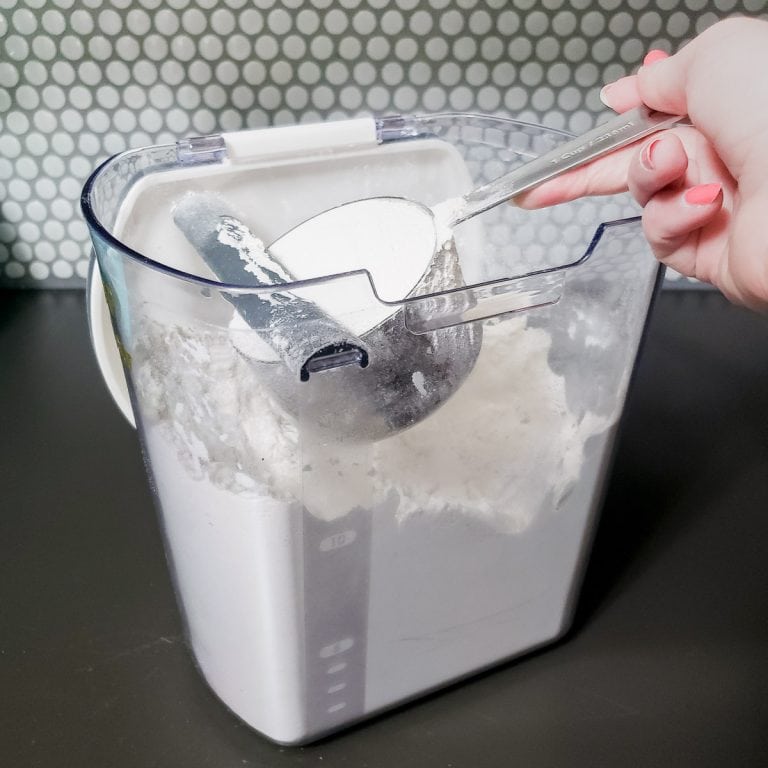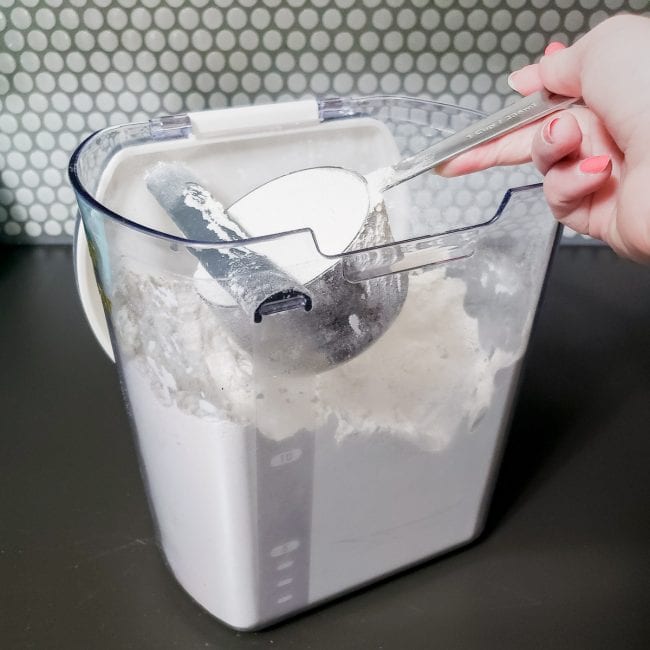 No one needs an extra mess, so I'm in awe that no one had though of this simple solution earlier!
The brown sugar container has a built-in "brown sugar bear" right inside the lid to keep your sugar soft.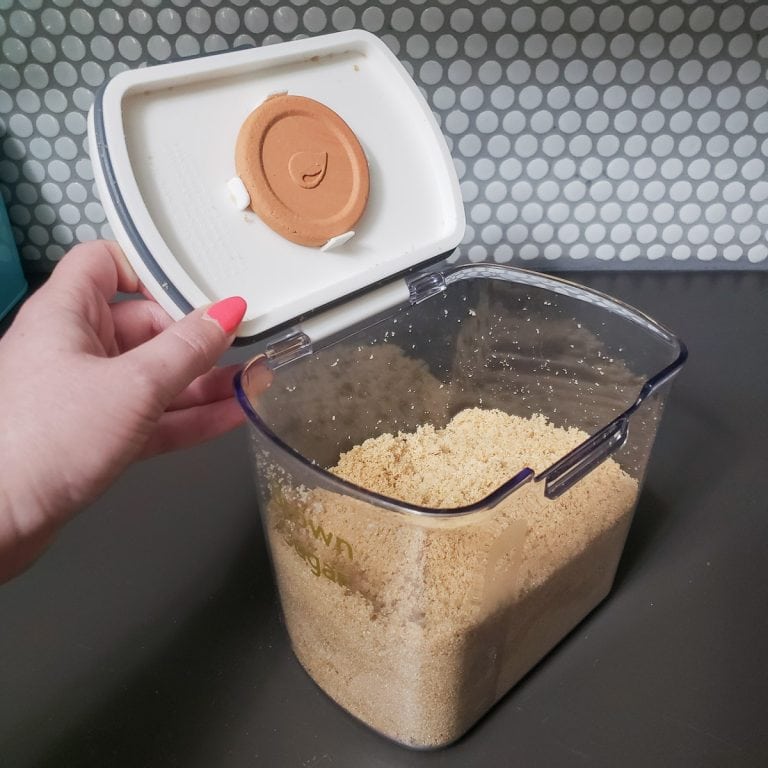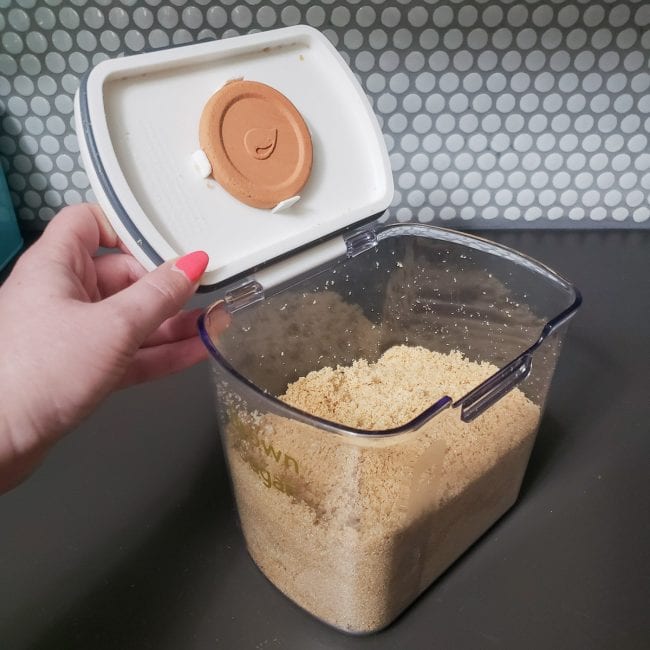 The powdered sugar container includes a little spoon/device to help you sprinkle the sugar evenly, along with a flat bar to level your measurements when needed.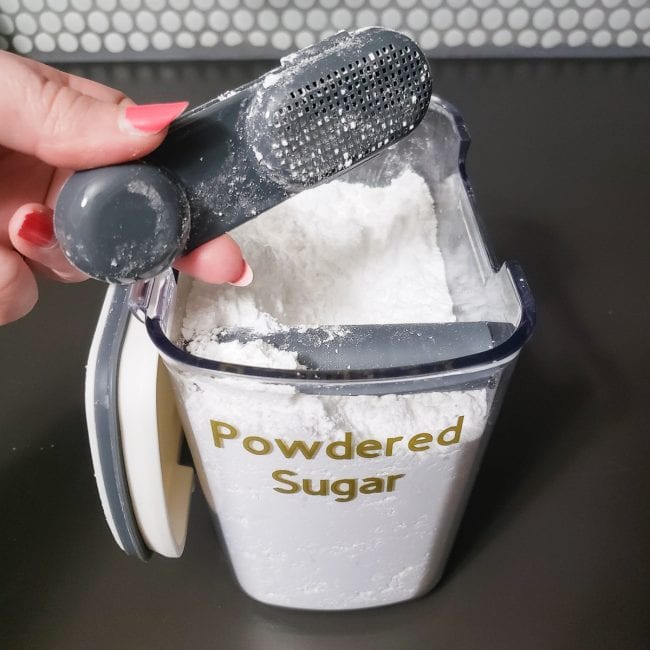 The regular sugar containers have a flap in the top to help you pour sugar as needed. The full top also opens for scooping and refilling.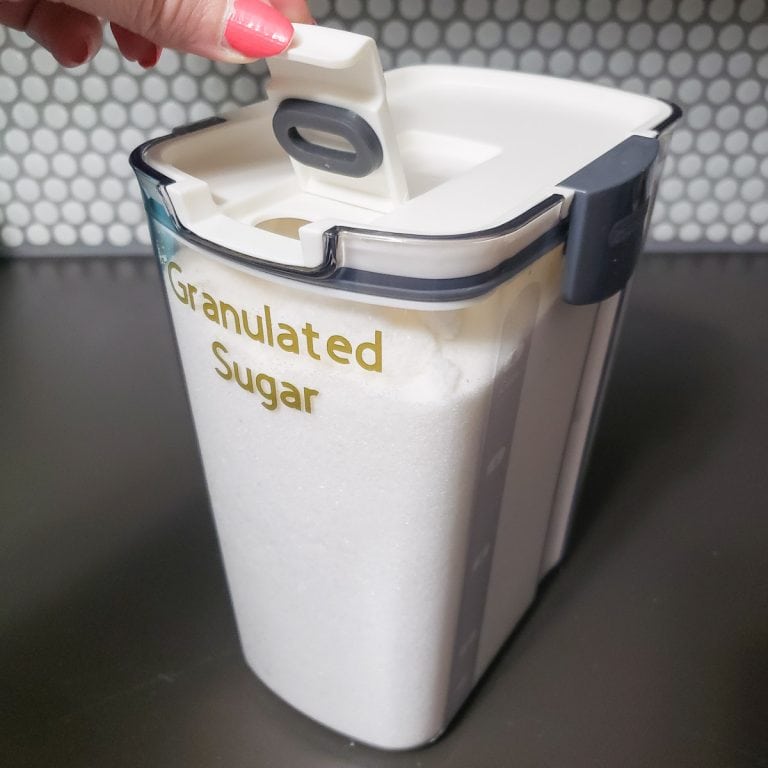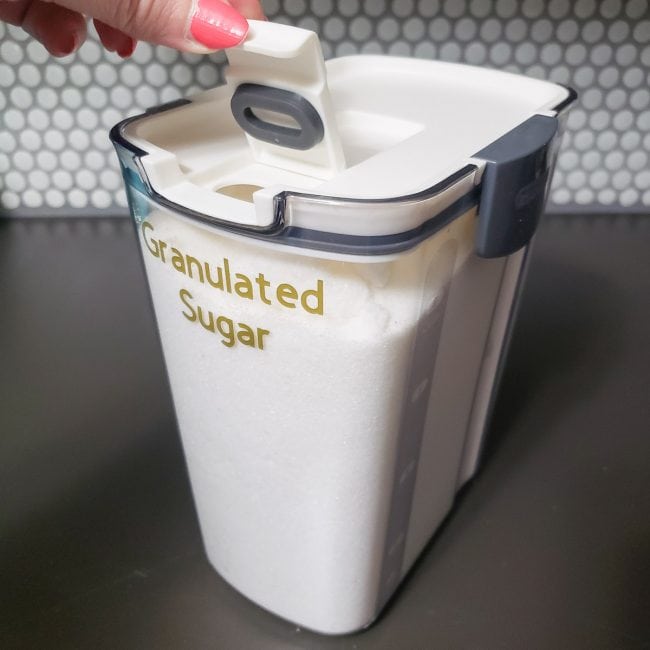 The smallest size holds a box of baking soda or can of baking powder. Both are so much easier to use rather than squeezing measuring spoons into the original packaging. They have a sliding inner lid so you can either sprinkle or scoop.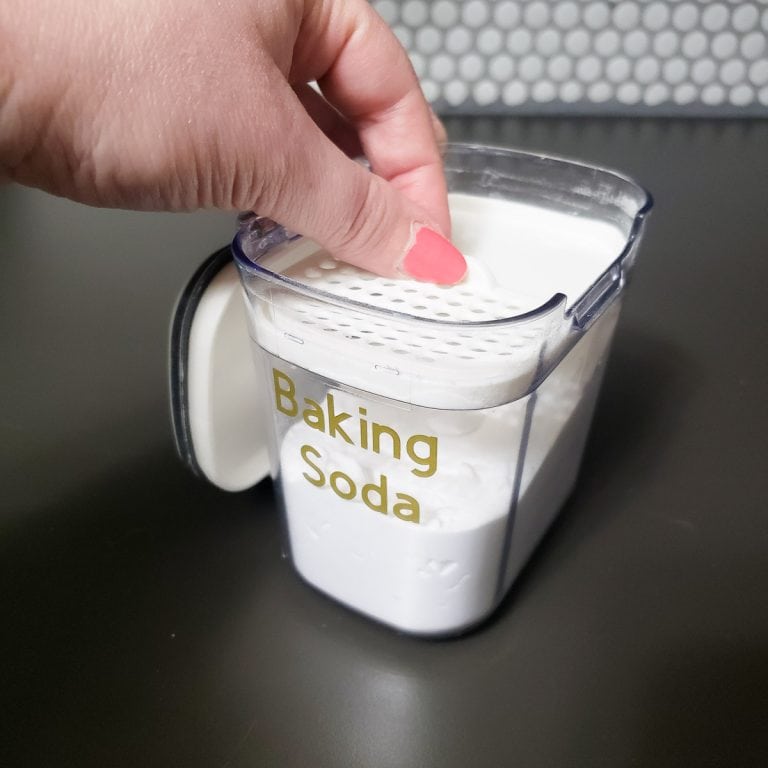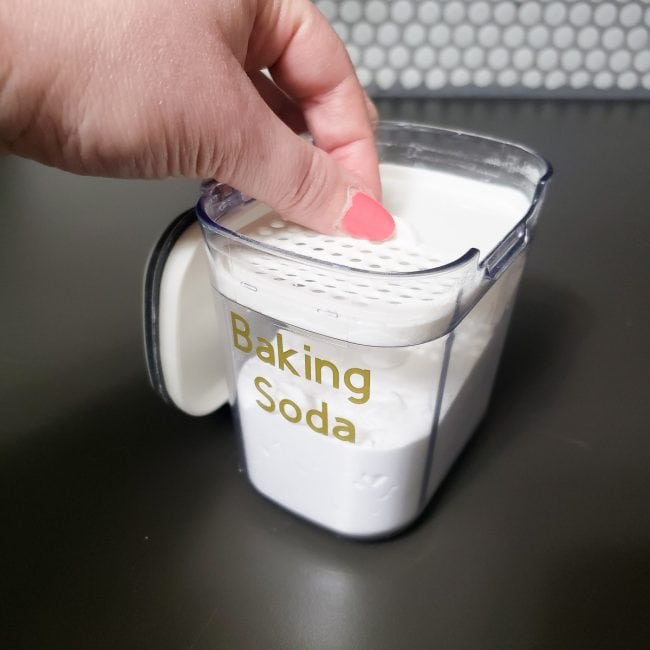 Who knew a person could get so excited about finding the best airtight containers? I just love brands that innovate and come up with functional improvements to everyday items. The stackable design also helps maximize storage space, which is especially important if you have limited kitchen cabinet or pantry storage.
I tweaked a few other things in the pantry as well and now it's working even better than ever.
I moved the can organizers up a shelf so that the other pantry items could move down a shelf where I can see them more easily. Since the cans roll forward, there's no problem seeing or reaching any of them.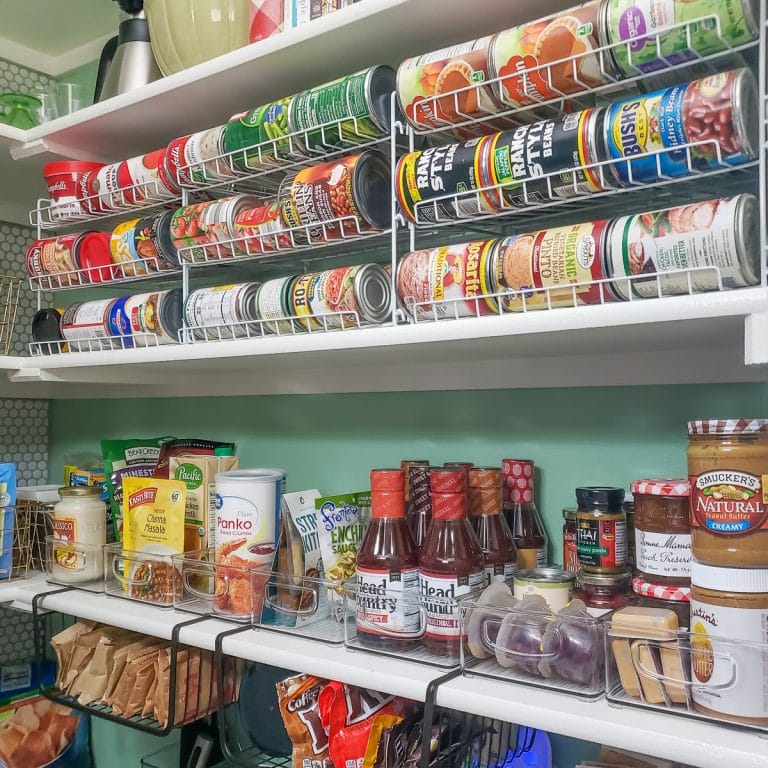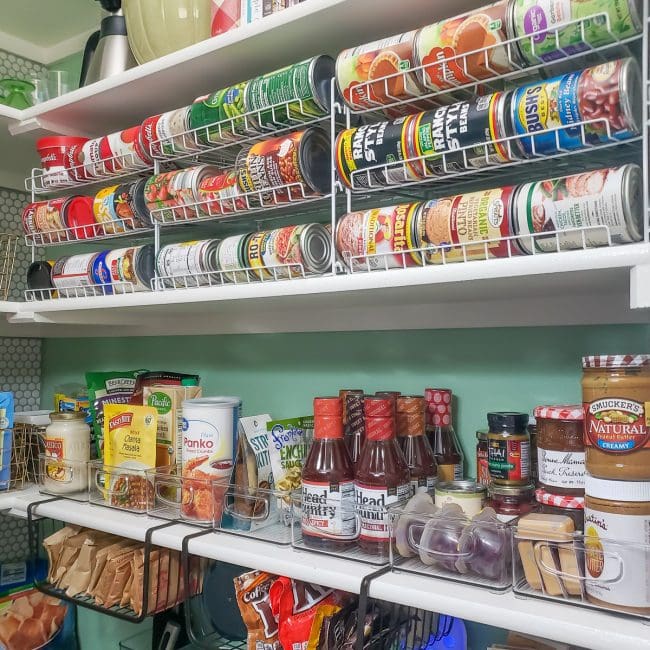 For the pantry items that were moved down to the bottom shelf, I switched to 7 clear rectangle containers instead of the 4 baskets everything was piled in before. Being able to sub-divide the shelf into smaller categories has been a great way to keep things more organized!
I repurposed the 4 baskets previously on the upper shelf to hold larger packaged items, like crackers, which provides easy acess because I can pull the whole basket forward like a drawer to access the items in the back.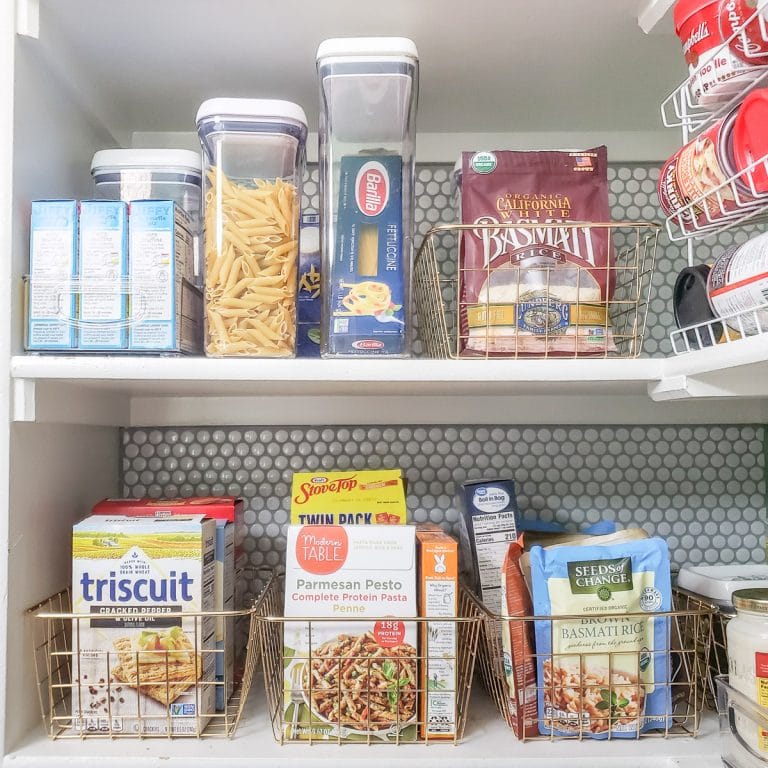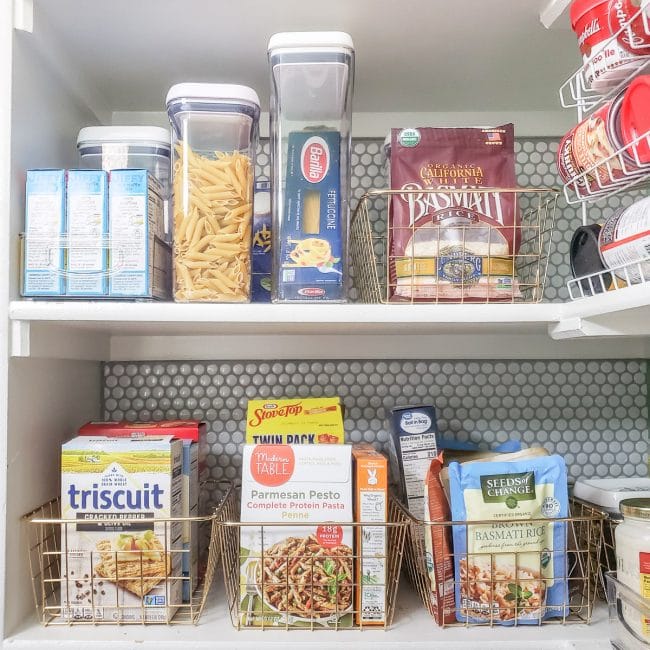 I also combined all the baking supplies to one shelf. Before the large containers (sugars, etc) were on one shelf, while the smaller items like baking soda were way up on a shelf I needed the step-ladder to access.
The snacks were also moved over a shelf, which let the noodles and rice take the old snack spot closer to the other dinner-related items.

In addition to making things easier while meal planning and cooking, these changes have also made coming home from the grocery store easy. Everything has a place!
I'm so glad the search for the flour container led to these other helpful pantry tweaks. If you haven't seen what the pantry looked like before these changes or want links to the other storage items, you can see more pantry organization here.
PS: It seems like everyone has been reorganizing their pantry like we have, so the containers have been in and out of stock on Amazon. They're also available here and here. It did take me several weeks to get the ones I ordered from Container Store, so be patient or do curbside pickup if you have a local store if you go that route!