As part of my ongoing One Room Challenge makeover in my pantry, I needed some gold cabinet and drawer pulls. Most of my budget for the room went toward my penny tile wall, so paying a ton for cabinet hardware wasn't going to fly. Instead of settling on something that wasn't my vision, I did a little DIY magic to get the look I wanted for less!
I loved the Kohler Purist Pull (found on Wayfair), but didn't like the price of $23.33 per pull.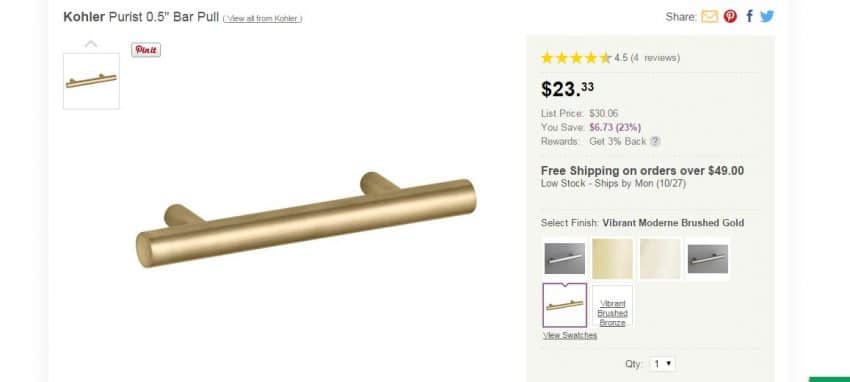 Plus, I wanted to do T-Bar pulls on the doors, similar the ones I used in my laundry room.  I found some in gold, but they were from a different manufacturer so the colors were way off.

Going with the faulty assumption that the colors would have matched,  it would have been $116.65 for 5 of the 5″ drawer pulls + $32.80 for 5 of the small cabinet pulls for a total of $149.45. I knew I could beat those prices!
I found pulls in the right shapes on Amazon, where you can buy them in all different quantities. We are going to be installing the same pulls on our kitchen cabinets, so I went with 25 packs of each style. My total for FIFTY pulls was only $99.70. SO much better than $150 for TEN.
All Pricing was accurate in 2014 and used as an example, not a guarantee of current pricing. 
My total cost for the pantry portion of the hardware was $19.95 plus a $4 can of spray paint. So $23.95. Instead of $149.45.
That's a savings of 84%!!!
For a comprehensive of list of all the sizes and quantity discounts available, check out my updated 2016 cheap cabinet hardware post.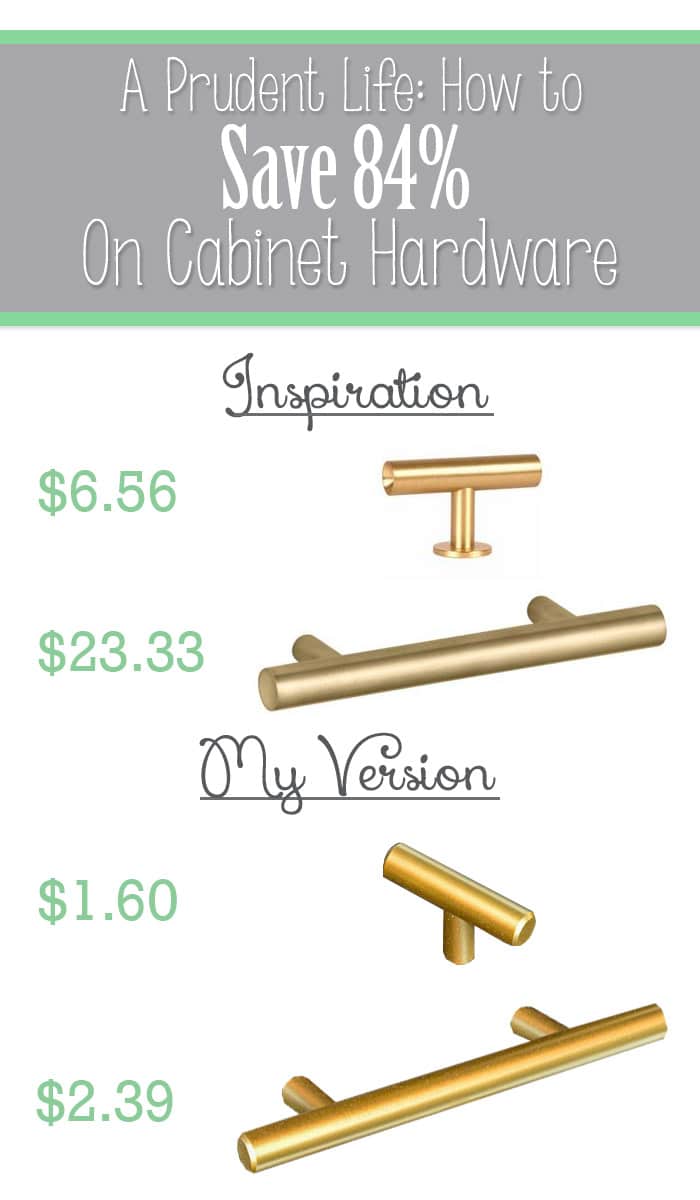 AND not only did I save money, I was able to get the exact shade of gold I wanted. It only took 10-15 minutes for the transformation.
I started by unpacking all my silver hardware.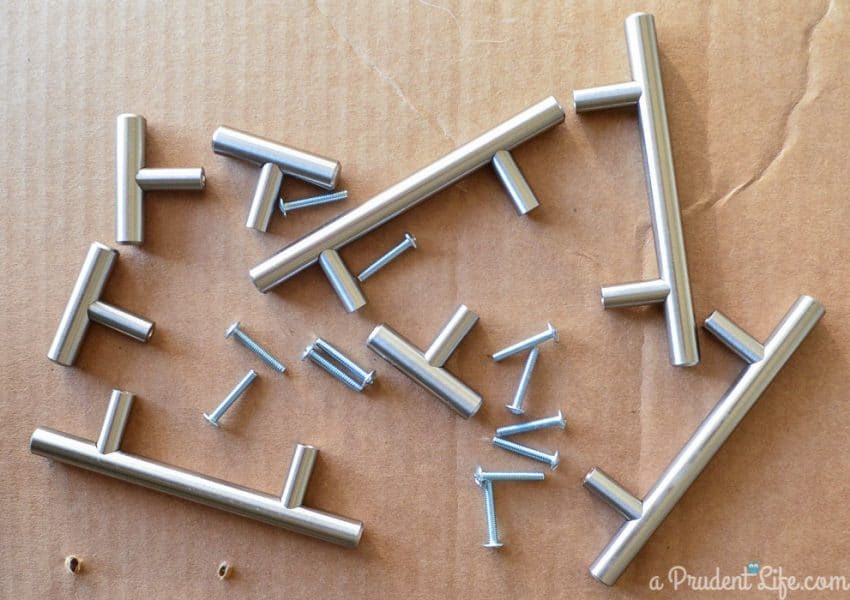 Then, I came up with a great technique that made the painting process easy. I grabbed a cardboard box and pushed the mounting screws through the top of the box.
That way I could attach all my hardware to the box so it wouldn't fall over and mess up the paint!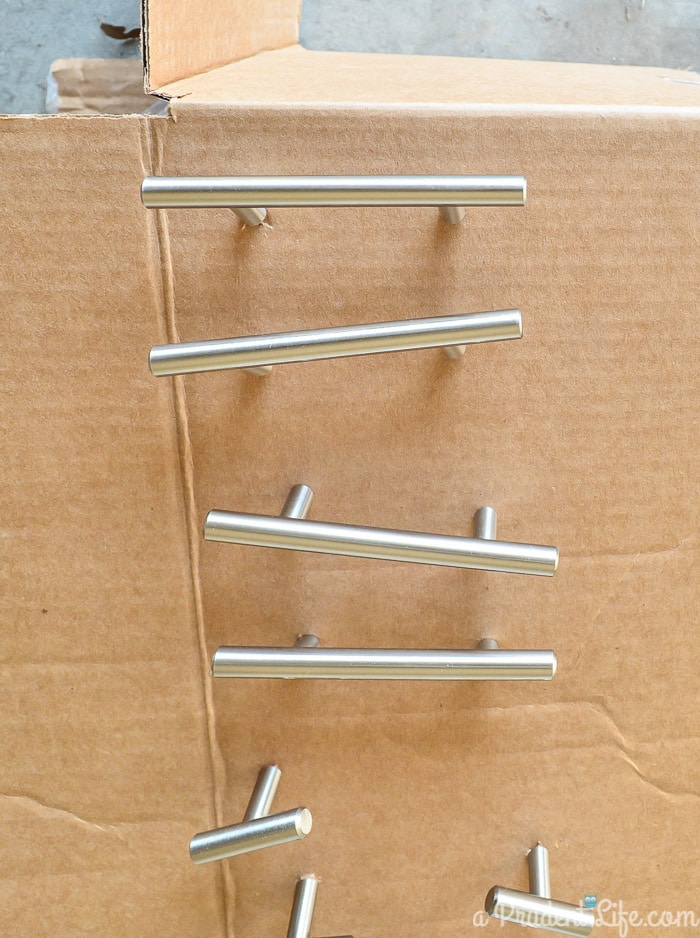 I left the screws loose enough that each piece of hardware could be flopped from side to side, which helped the painting process.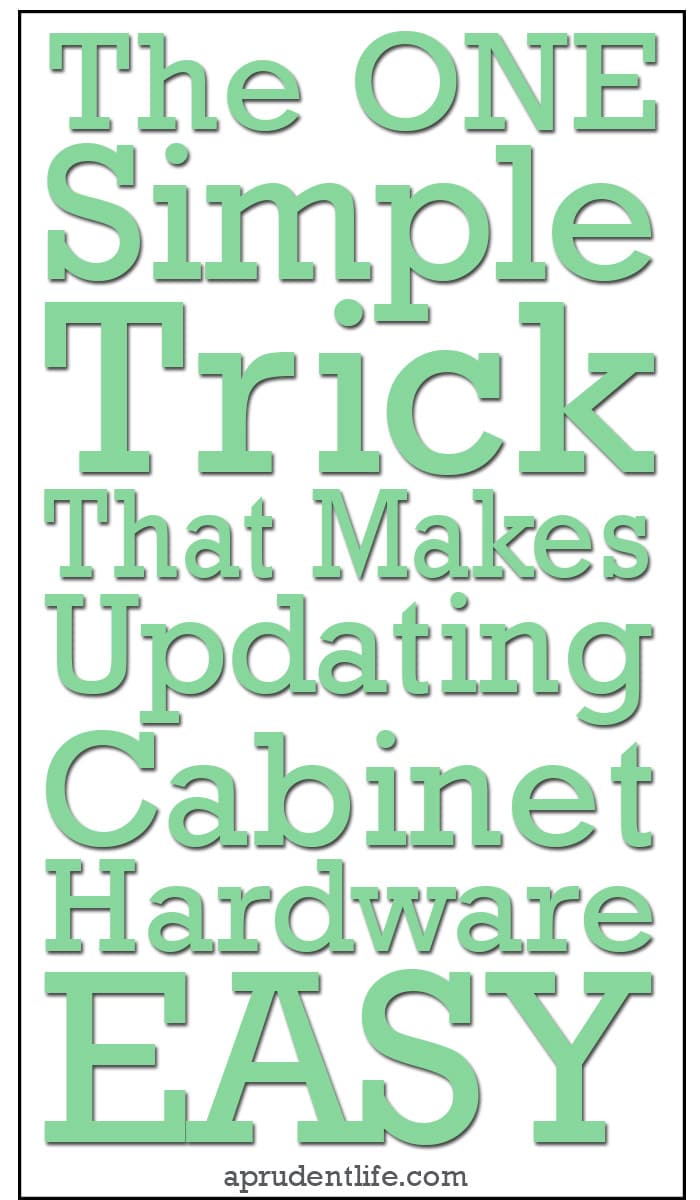 Other than the cardboard box trick, using a quality spray paint made all the difference. My go to gold is Rust-Oleum American Accents in Metallic Bright Gold. For some reason, I have trouble finding it at the hardware stores, but our WalMart carries it.
After a bunch of shaking, I started applying light coats of paint to my hardware. I didn't have any trouble with dripping or running. After a couple light passes, my hardware looked amazing. They really look like it was the factory finish.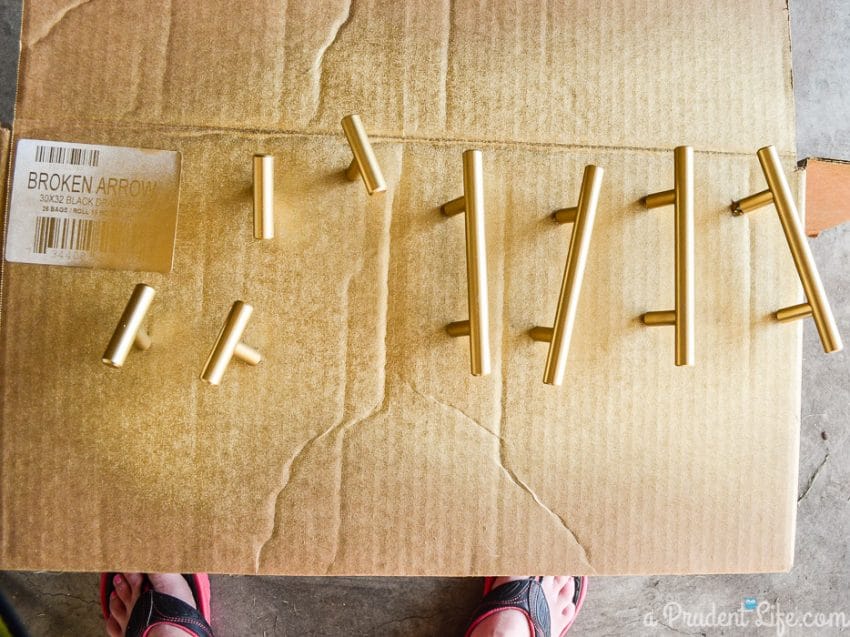 What is up with the weather? I should not be wearing flip flops in the garage at the end of October!
I left my hardware in the unseasonably warm garage for a few hours until it was dry. It actually felt dry after several minutes, but I didn't want to take any chances.
Once the dry time had passed, I was in LOVE.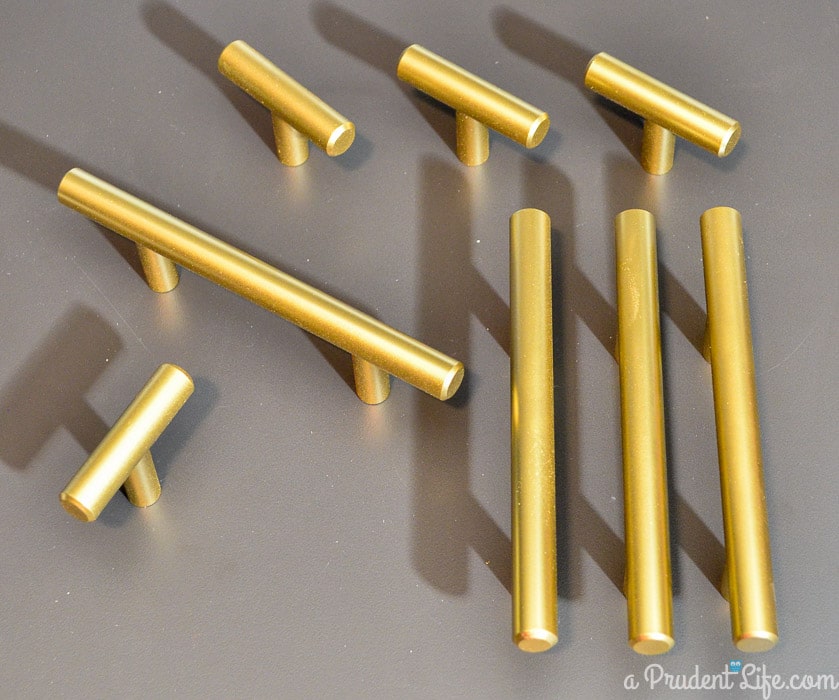 I'm going to be a tease  and not show the pulls installed on the cabinets until the One Room Challenge reveal in two weeks. Make sure you are on my new post email list so you don't miss out! You can sign up at the top of this page.
UPDATE: To see all three rooms I've now used this hardware in, along with a comprehensive shopping guide to this hardware, visit the Cheap Cabinet Hardware post here!
Have you seen the rest of my One Room Challenge posts?
 [metaslider id=3850]
Don't forget to pin it so you don't forget it!