Woo hoo! I'm overjoyed to be posting from Polished Habitat instead of A Prudent Life for the first time! It worked out perfectly that we're starting off the new name with a big before & after post. Way back in July, I shared the 3D design plans for our home office. Quite a few money saving projects later, we have a finished modern space that is much more fun to work in!
Just to recap a little, the office is primarily my workspace on a daily basis, but my husband's computer lives there too. Which meant I didn't want to go all 100% girly glam and block his manly creativity.
UMM: Big News, since this post in 2015 we TOTALLY revamped the office and went 100% girly glam after realizing I was in here all the time and my husband never was. New office reveal here!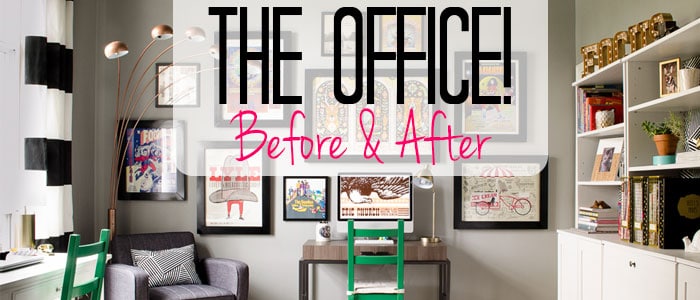 As a reminder, here was the view into the office from our entryway before: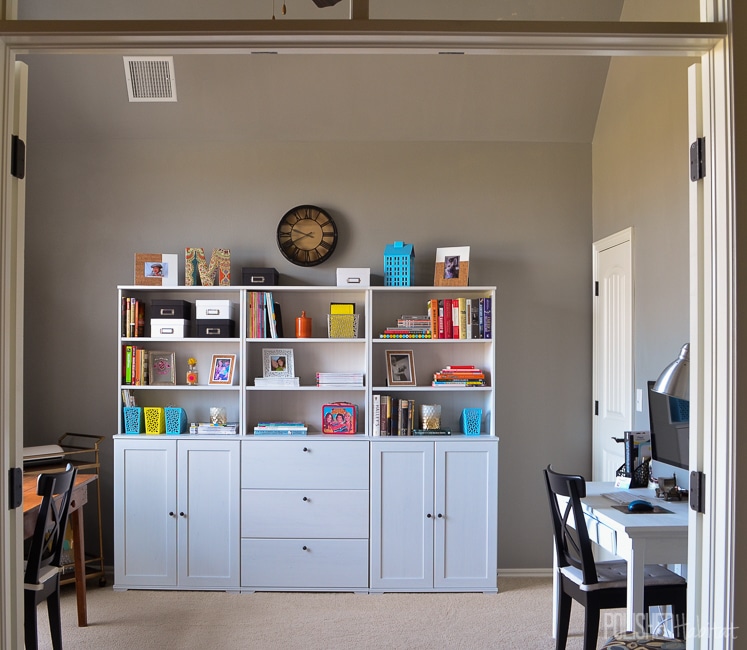 I created the design plan with a focal wall of concert poster art we have collected over the years.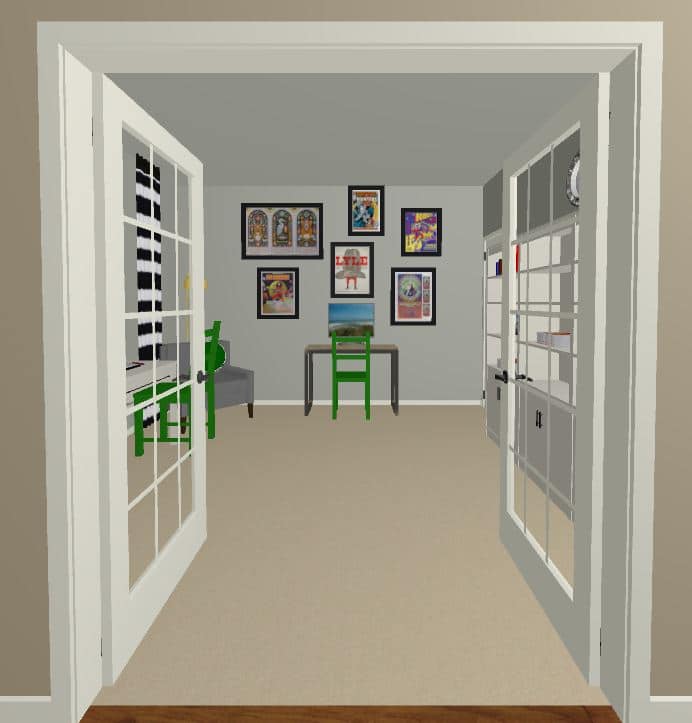 And….drumroll…reality now looks like…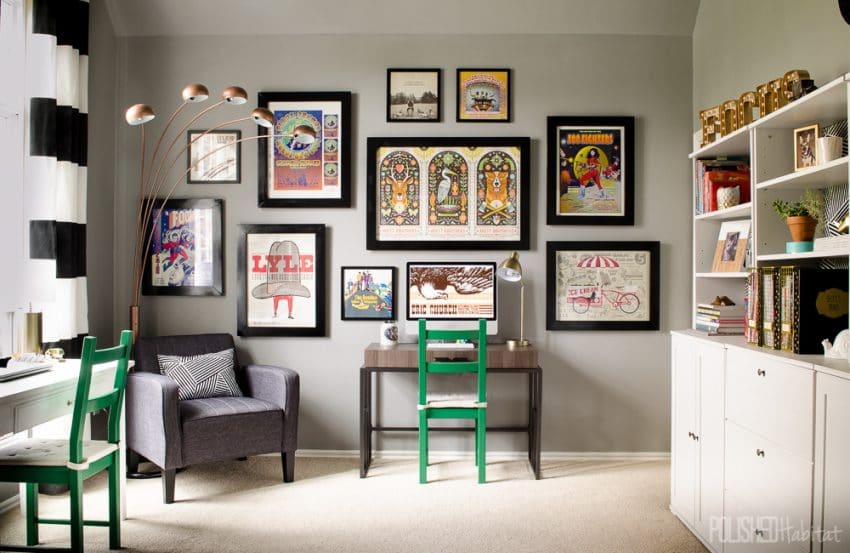 I might be a little in LOVE with it! As you can see, we went even bigger than planned with the gallery wall. As we played with the layout for the concert posters, we realized we already had some framed records that would be a great compliment to the posters. We built the poster frames ourselves, which saved us HUNDREDS of dollars. I can't wait to share that tutorial!
The husband's new desk is the Sauder International Lux Writing Desk. After my guest room post, Sauder reached out to work together on another project. When I saw the International Lux line, I knew this was the perfect opportunity to finish our office. It feels like their designers have been working overtime to come up with fresh modern pieces, which I really appreciate because it gives us an opportunity for affordable stylish furniture.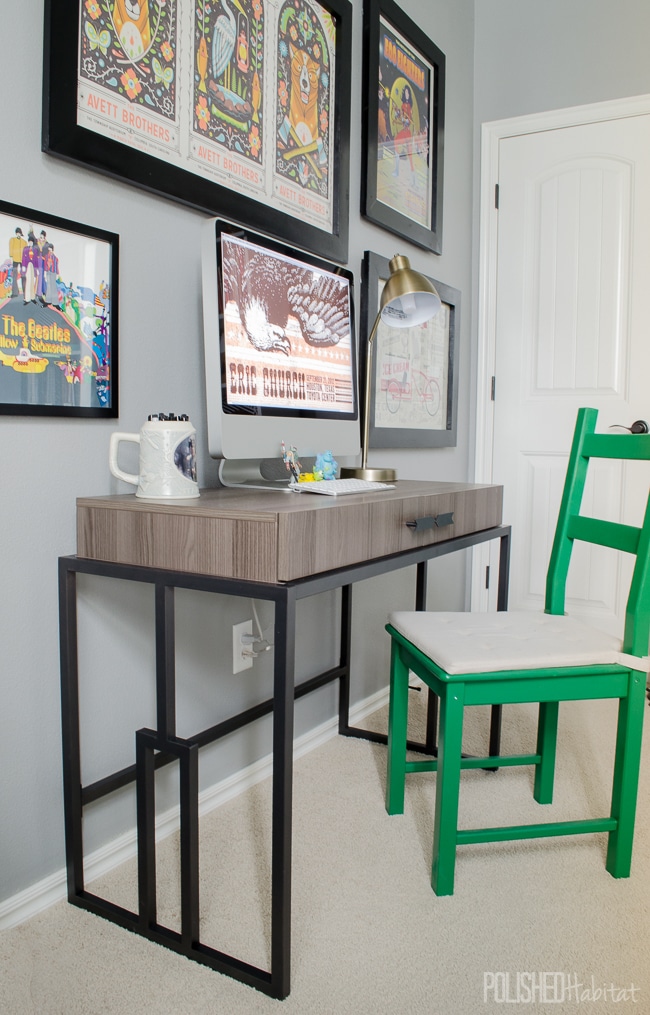 We moved our existing bookcase to the right side of the room, which freed up space to add an accent chair (more on that later). The fun lamp was a freebie from my neighbor. Sometimes she purges and texts me photos asking if I want random things. In this case I said YES PLEASE!
In addition to getting a new place in the space, the bookshelf was backed with Nate Berkus fabric to spruce it up a little. It was a crazy simple DIY (full tutorial here).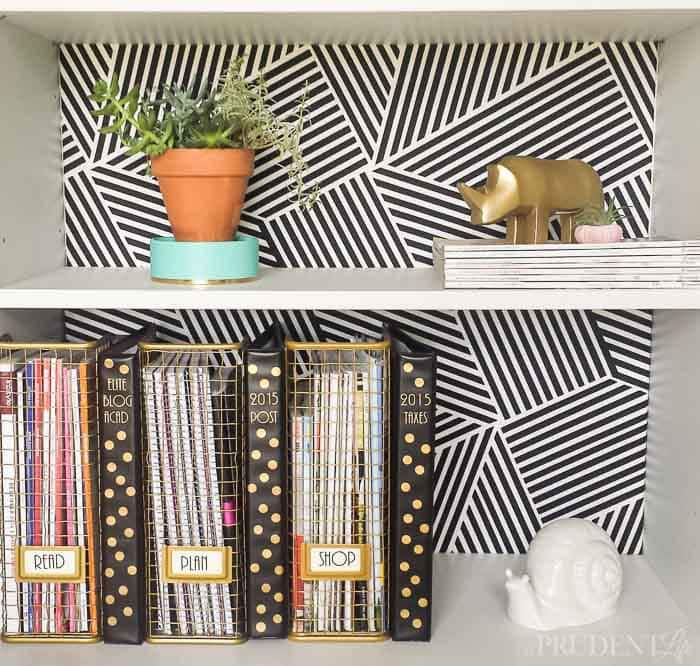 Now let's take a look at the progress on my side. Before, I had a large farmhouse table that I have a love-hate relationship with. Do you know how many piles you can make on a huge surface? Even when it was organized well, it was a magnet for clutter. The curtains were also my nemesis as outlined in my Design Mistakes post.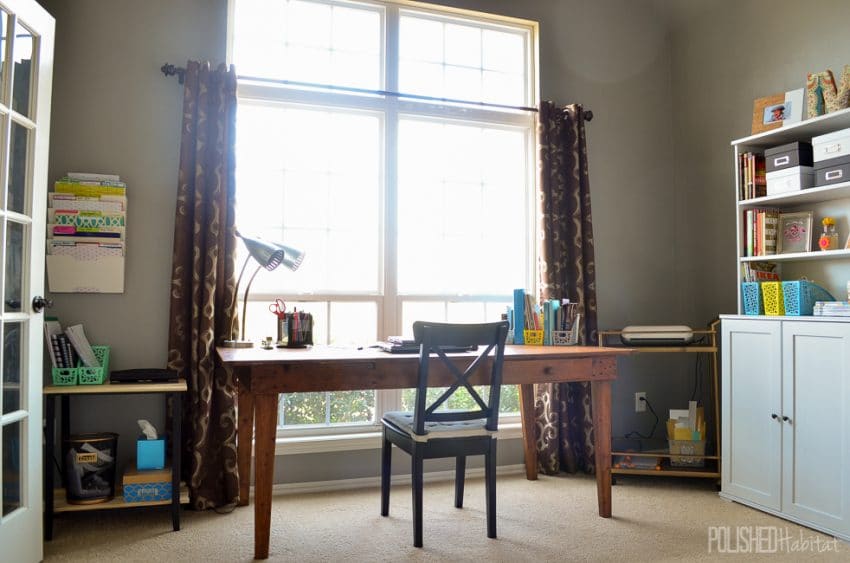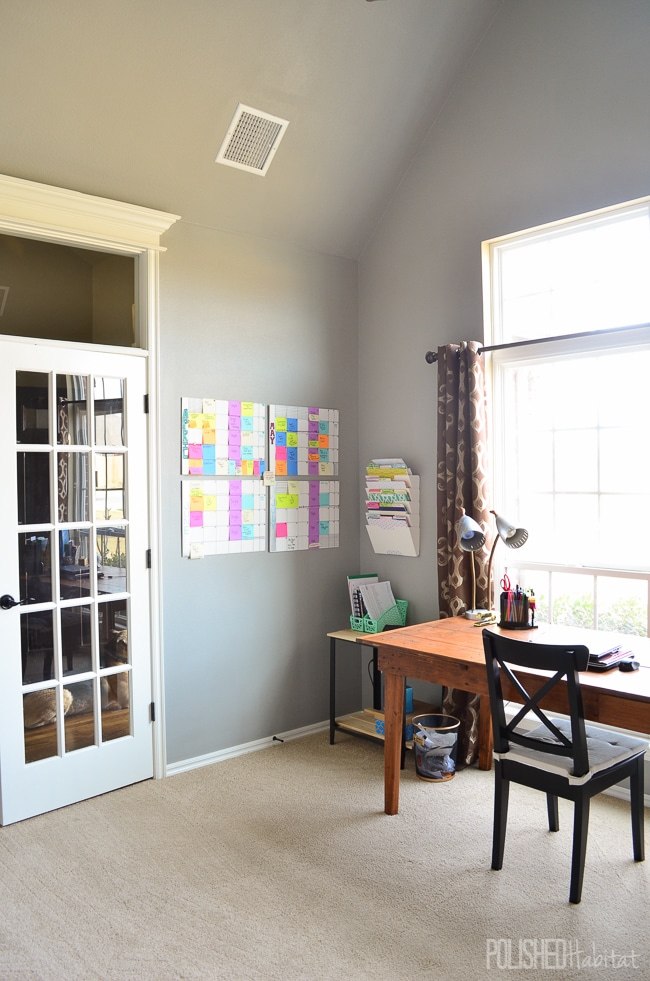 And here is the plan (oh how I wish this was my real view out the window!)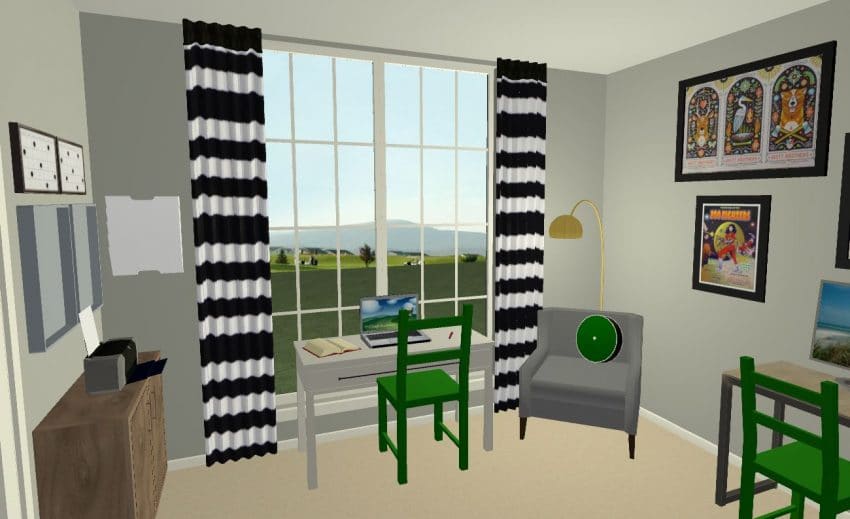 And the real deal! Ahh, the room has breathing space with the smaller desk.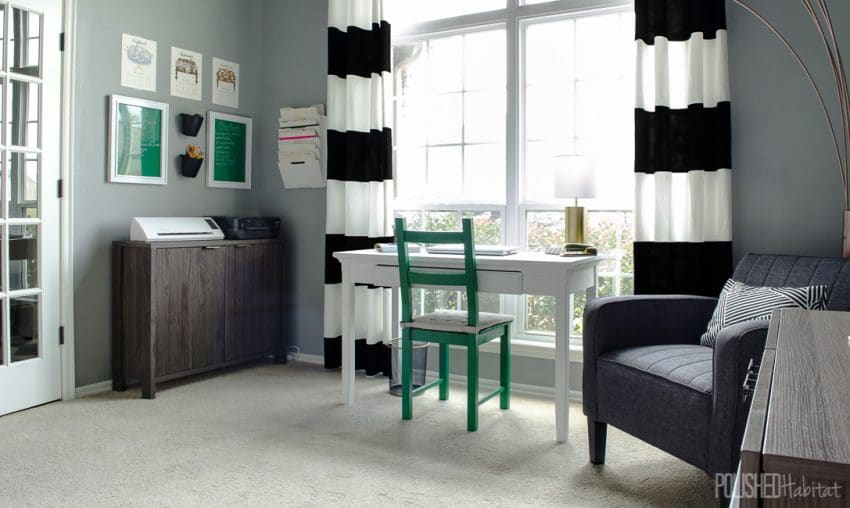 My "new" white desk is the one my husband used previously. It was a Target desk that used to be faux mahogany. A few years ago, we painted it white and extended it's life in our house.
In the corner, I created a mini command center with DIY Dry Erase Boards (tutorial here) to keep track of my most important weekly tasks and monthly goals.
Under those, I used the Sauder International Lux Accent Storage Cabinet. It was the perfect size to hold my Silhouette AND our printer. Now when I fill Etsy orders, everything I need is all in one place.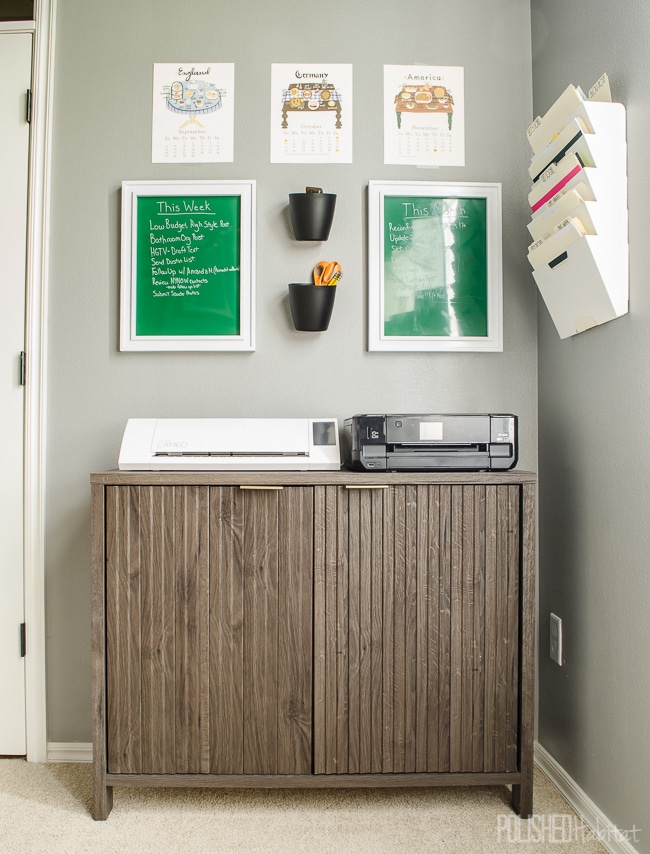 Having our extra paper and ink right below the printer has made my life so much more pleasant. The brass pulls for the doors are so chic!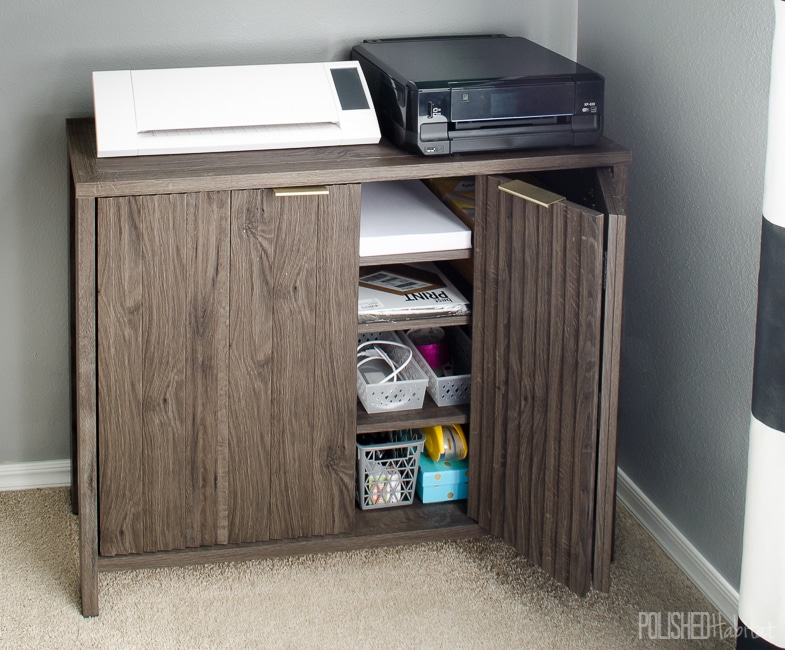 Remember when I said we'd come back to the chair?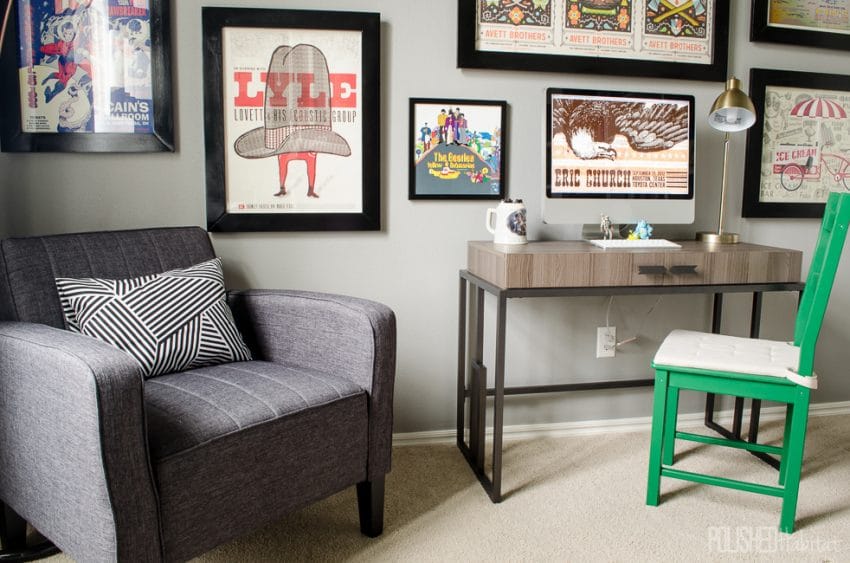 It's the Ellis Accent Chair, and the cutest thing ever! The slope of the arms and suit-ish fabric make me feel like it came from Don Draper's office. BUT…..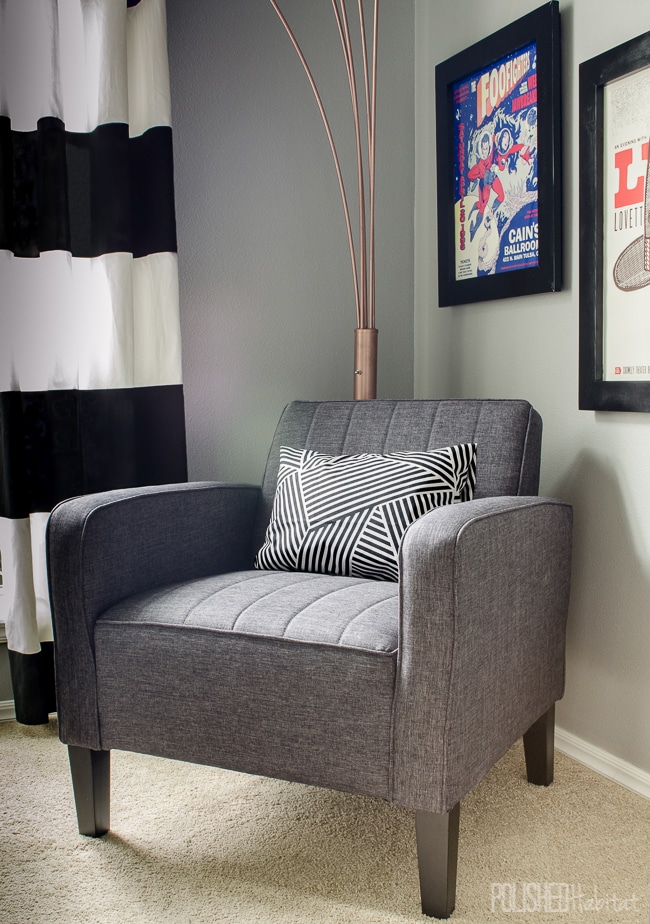 …I had a problem with my gray beauty. Insert serious sad face.
After using it several times with no issues, it suddenly became a recliner. But it's not supposed to recline. Bummer.
It's never good to get a defective product, but when you have received the product in exchange for writing about it, there is an extra level of despair when something goes wrong. On one hand, the next step was easy because I have very clear expectations of myself when it comes to sponsored content. I turn down most offers and only work with my favorite companies that I would buy from without blog involvement AND that I would post about without sponsorship. Above all, I'm honest with you, no matter what.
I emailed my contact at Sauder, explaining the issue and she told me how to get ahold of customer service for a replacement part. It was actually nice to be able to evaluate that part of the company. After live chatting with a rep, she had me email her photos of the problem, and then was able to process the product replacement. She had no idea I was a blogger, and I was impressed with how accommodating she was.
Our new chair back arrived, and it sadly didn't fix the problem. Darn it!
At that point, I knew it was time for a talk about how to proceed with the post. I let Sauder know how much I LOVED the look of the chair, but that I couldn't recommend it with the known issues.
The response I received was like a dream. They weren't upset the post wasn't going to be the perfect publicity I'm sure they'd hope for. Instead, they thanked me. They said things like "We really appreciate your honest feedback – it's what helps us improve and maintain the quality of our furniture!" and "First and foremost, I want you to do right by your readers and be your usual, authentic self" and  "Be honest; we'd want nothing less."
I'd like to say that every company would reply the same way, but that wouldn't be true. The engineers are working to improve the design of the chair, so don't rule it out all together, just don't rush out to buy it quite yet. I'd also say that the exisiting design is fine if the chair is against a wall. We did get a full replacement chair, and it's working great so far, I just haven't used it enough to give you a whole-hearted recommendation. But I'll come back and update the post later to let you know how it's going! (Update February 2016: It's been six months now, and the replacement chair is still sturdy as can be. I start almost every morning reading in it!)
UPDATE Feb 2016: Hallelujah, I came up with the budget to upgrade my desk and chair! We used the writing desk and dining room chair that we already owned during the makeover to save money, but I had been hoping to eventually replace them to something more conducive for hours of work at one time.  I am LOVING having more drawer space and an adjustable chair.
UPDATE 2017:  The office looks absolutely NOTHING like this now. See the girly glam space here!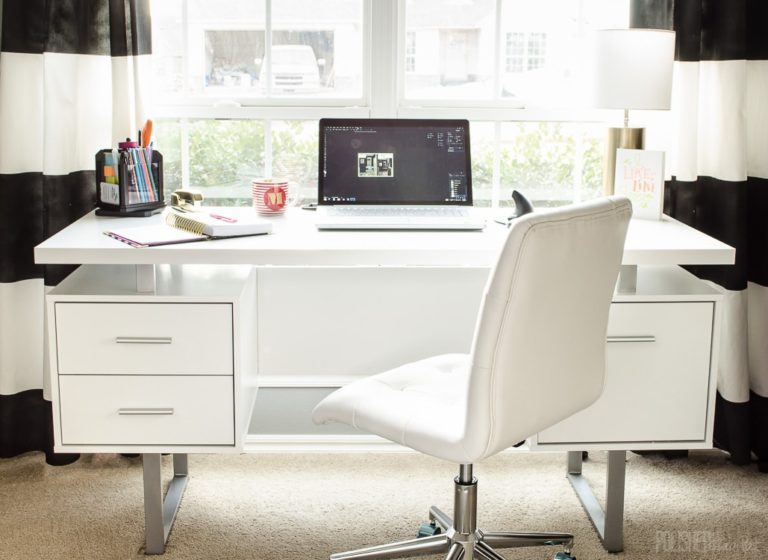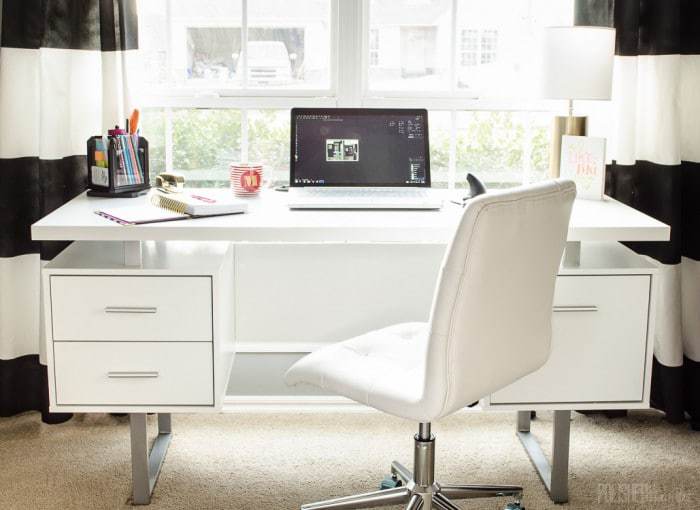 Until then, I'd love you to pin the below image to your office board if you got any new ideas from the space!
What's your favorite part about this room makeover? 
This is a sponsored conversation written by me on behalf of Sauder. The opinions and text are all mine.
Post shared at: Remodelaholic, Link Party Palooza