This post was sponsored by Expressions Vinyl. All ideas, content, and photographs are my own! 
Do you ever have irrational fears that hold you back from trying new projects? Despite my love of working with vinyl, I've been terrified to try layering it. But not any more! As with most fears, once I tried it, it wasn't scary at all.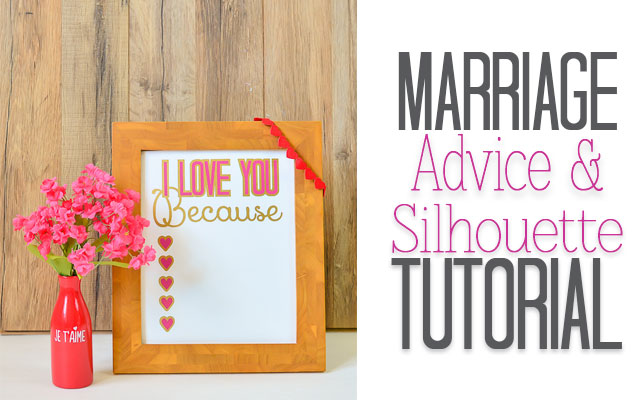 I'm an Ambassador for Expressions Vinyl, and they asked me to create a Valentine project using one of their pretty Valentine's Packs along with a piece of Gold Metallic Vinyl.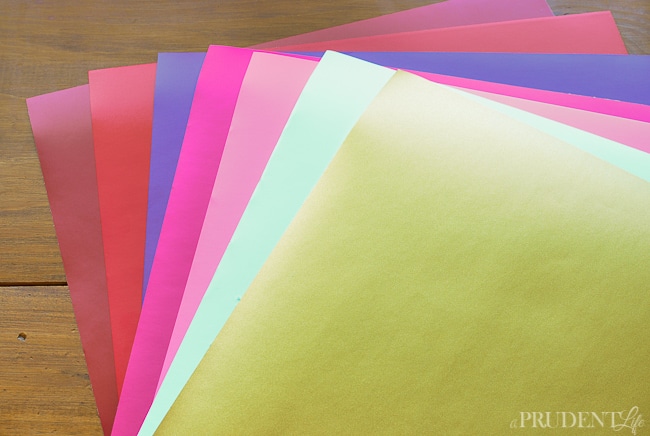 As I was brainstorming possible project ideas with my vinyl, I kept thinking back to a marriage sermon I heard this year. Our Pastor explained how game changing it can be to tell your spouse the REASONs you love them. Instead of saying "I love you", he recommended adding a "because …". As I listened, I thought it was darn brilliant advice.
Before we get to the project, let's just think for a sec about WHY we should all implement this. Of course it's always great to hear positive feedback from your spouse, but have you thought about how it would uplift you as the one giving the compliment? If you are taking the time to verbalize something you truly love about your spouse every day, the positive feelings generated will counteract the frustrations when days aren't perfect. Sadly we are all imperfect people married to imperfect people. If we remember that with grace, day to day life can be so much more pleasant.
Speaking of being imperfect, I obviously comprehended and loved the sermon, BUT NEVER TOOK ACTION. Valentine's Day gave me the perfect opportunity to implement the "I Love You Because" in our house!
I decided to make a little white board that we could take turns filling in. Using Silhouette Studio, I set my page size to 8×10 so my new project would fit in a standard frame.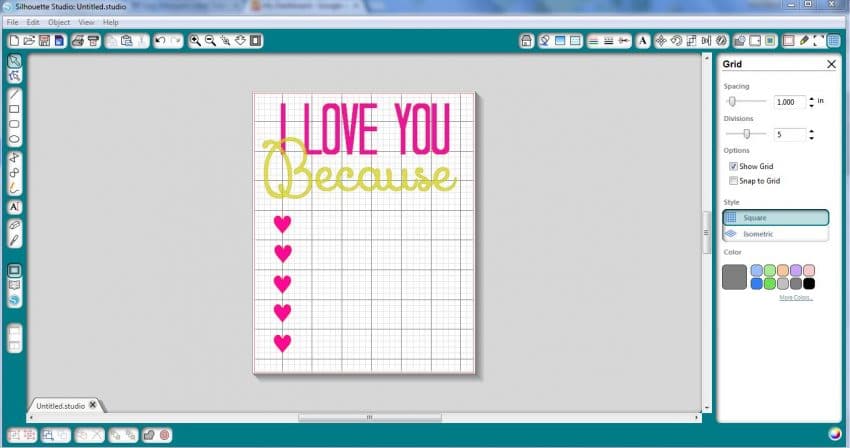 I used two fonts, Tall Dark & Handsome and Xiomara, plus some little heart shapes to make a fun design. Then I got brave and thought it would be fun to add gold as an outline under the pink hearts and the "I LOVE YOU" words.
I selected the "I LOVE YOU" and then used the offset option in Silhouette Studio. I changed the amount of the offset until it looked good to me, which ended up being a 0.10 offset distance. The offset created a new layer, which I  colored gold to help me visualize the final product.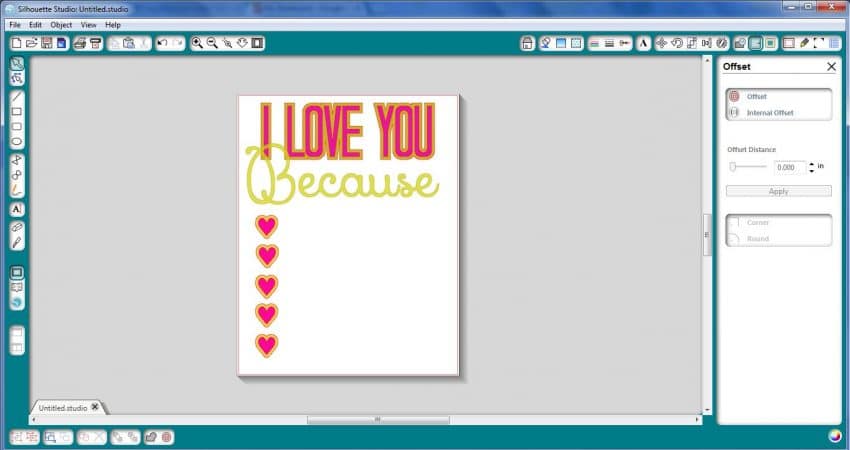 When I was happy with my design, I pulled all the pink portions outside the page. I selected all the gold text and welded it together so it would cut as one piece, then told the machine to cut. Once the gold was finished, I swapped it out and cut the pink sections.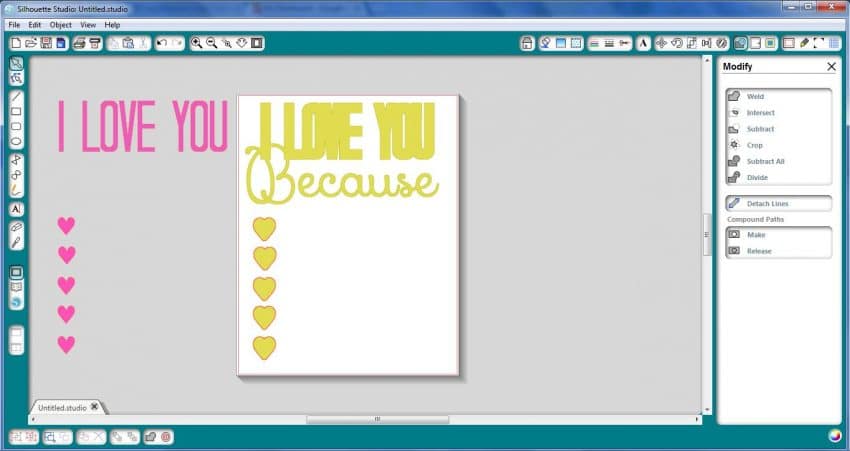 Here's what my pieces looked like when I was done cutting.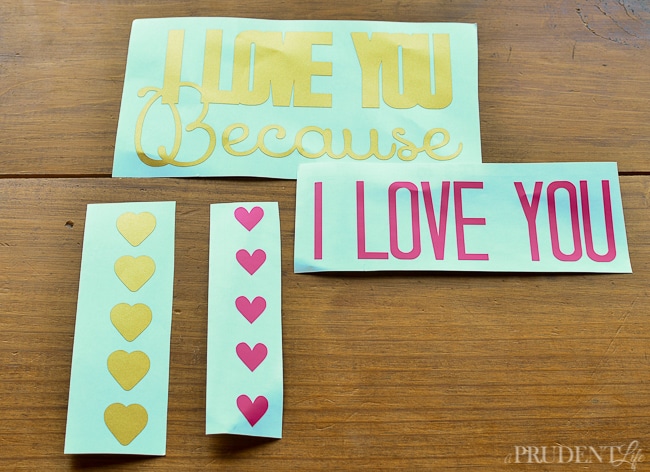 I used clear transfer tape to pick up the pink top layer so I could place it on the gold outline (the bottom layer).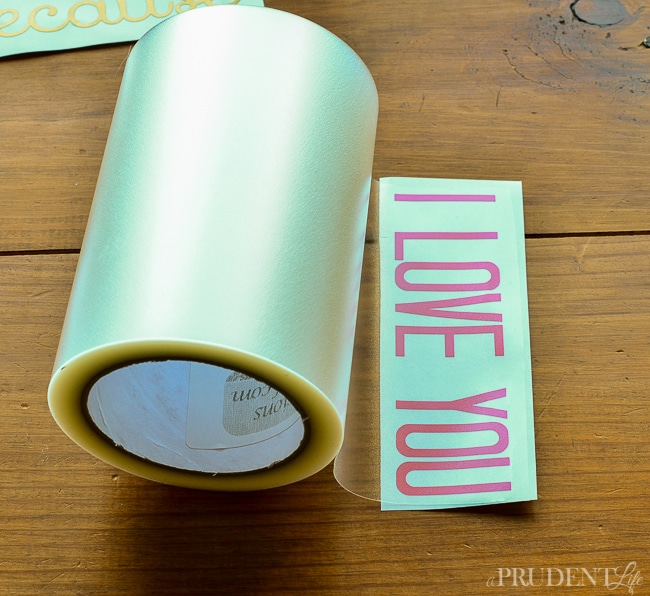 As you can see, the clear transfer tape makes it really easy to line up the layers.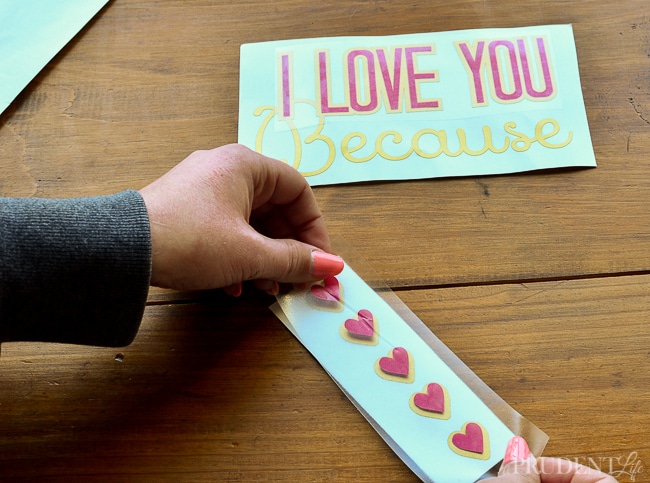 I used a piece of dry erase vinyl as my background. I love that stuff! I put it right on top of the glass in a frame I already owned.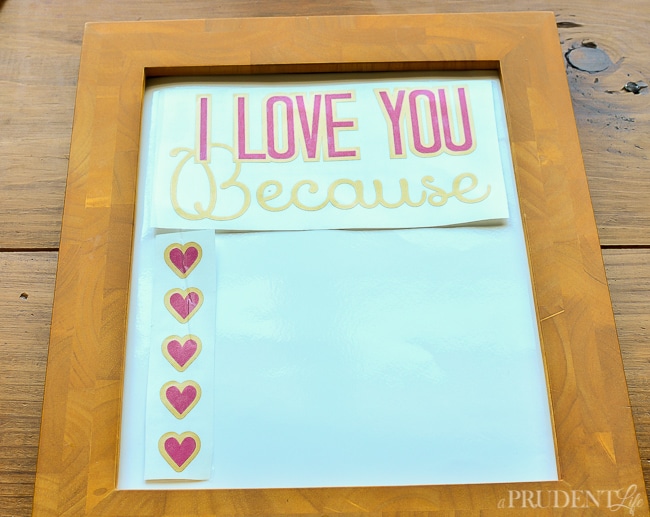 I used more transfer tape to attach my design and that was it! Using the offset tool and layering vinyl was WAY easier than I expected. Take that stupid fear!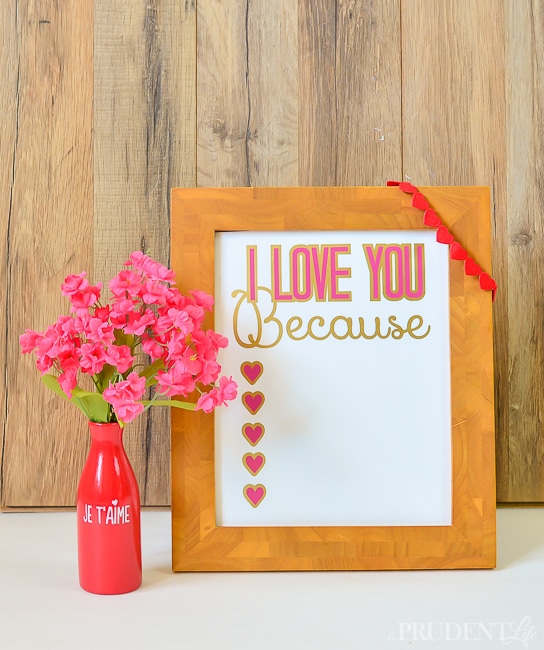 I can't wait to start using our new board. It's going to look great for Valentine's Day!
PS: If you don't already have a frame, I think this would be really cute in a rustic frame like this one that I found on Amazon*. I love mixing things that are a little glam with something rustic.