If you're short on storage space for books or just looking for a wall to display your books in style, I've got a quick and affordable tutorial for you today!

I fall into the camp of people that love having my own library of books at home. However, our living room floor plan doesn't allow space for bookcases without giving up seating and my office shelving is already full of business and decorating non-fiction reads.
I found the perfect solution for anyone else trying to display books – invisible floating bookshelf brackets! We put ours at the end of a hallway, and they're ideal because they only take up the width of a book. They'd be just as great in a bedroom or living room.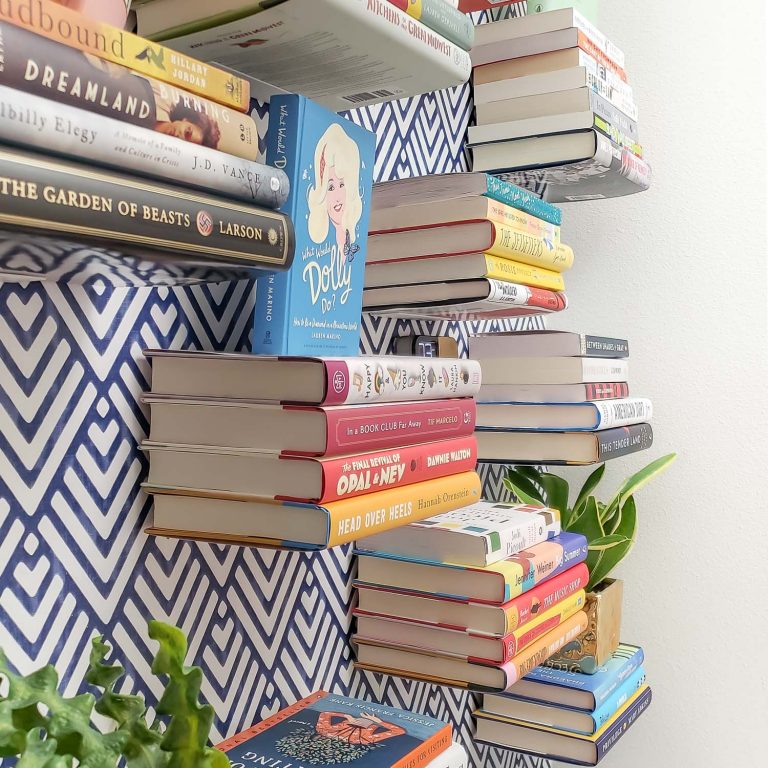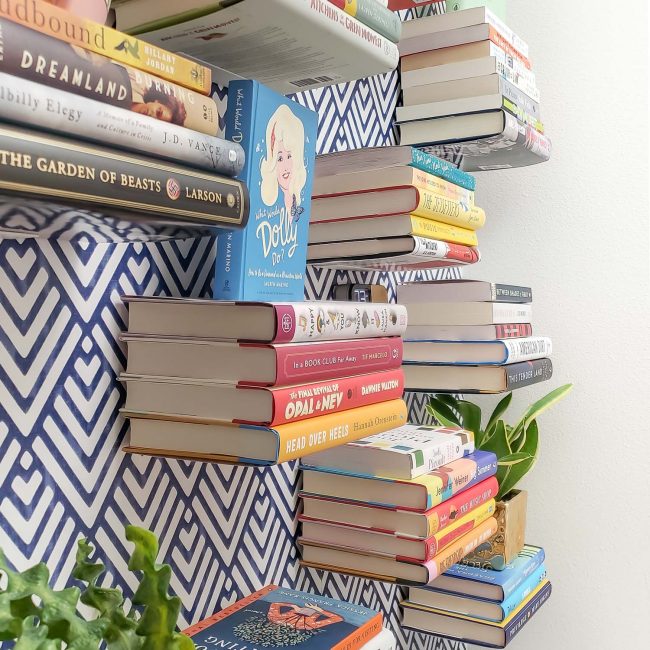 I first saw the Umbra Conceal shelves, but when they were out of stock, I found a different brand on Amazon that came in a four-pack instead of 3. Since I needed 12 of the shelves, it saved me a decent amount of money and we're really happy with the quality.

Here's what the hidden shelves look like before installation.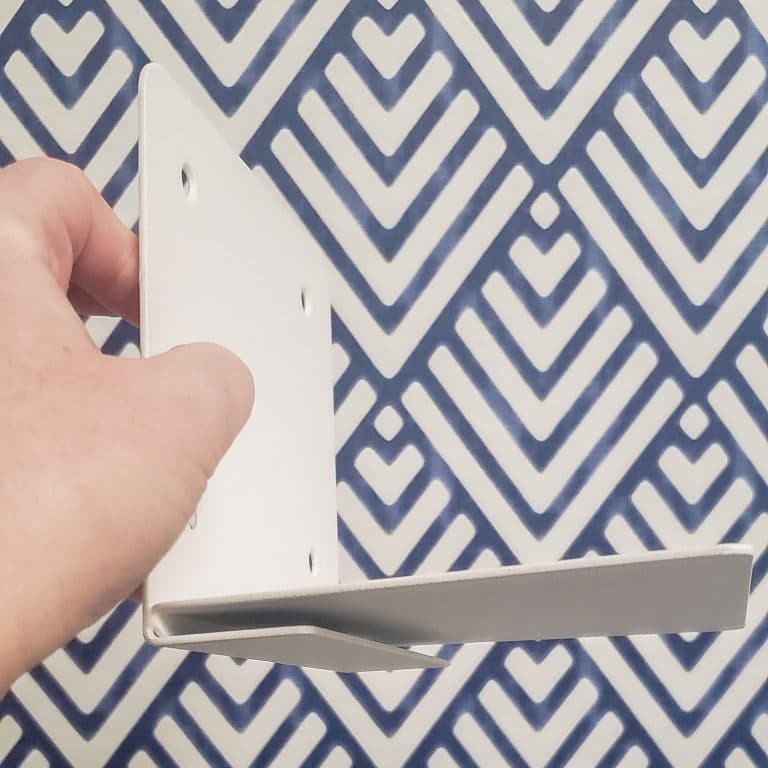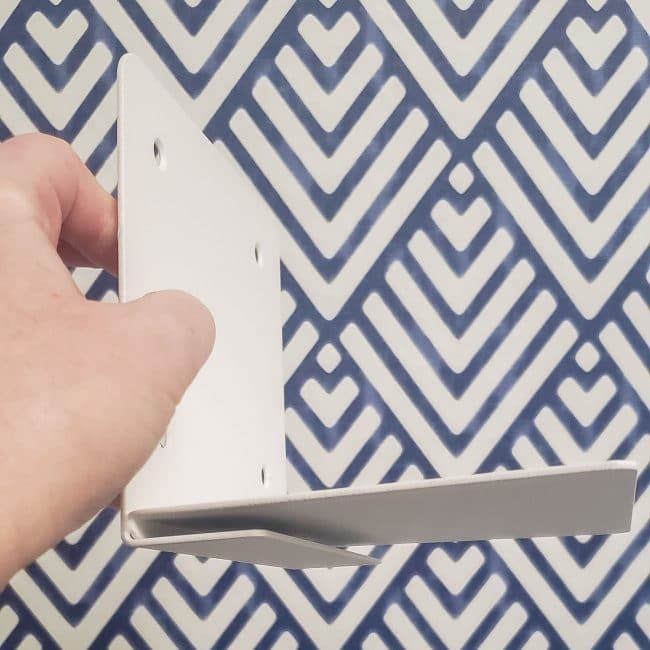 See the C-shaped pocked under the ledge? That is where you'll tuck the back cover of the bottom book. The longer L part of the shelf goes in between the back page and the back cover. This makes the book stack more secure and also conceals most of the shelf.

This photo is probably more helpful than my words!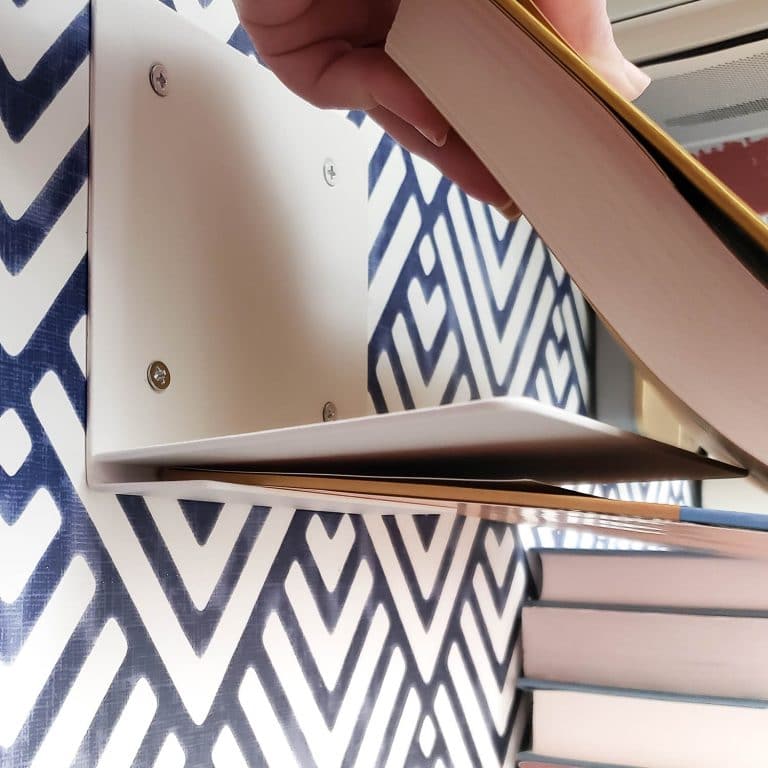 As you can see in the above photo, each shelf has four screws to attach it to the wall.

Installation is quick and easy with basic tools, including a drill, hammer, and ideally a level.

Before we drilled any holes, we spent some time figuring out how to arrange our shelves around a thermostat and light switch. We also had to decide how much vertical space to leave between stacks. Each shelf can hold 15 pounds of books, or a combination of books and decorations. Visually, 5 to 6 books per shelf looks great.

Don't skip the planning part – either lay the shelves out on the floor to figure out your design or even grab a piece of graph paper to sketch it out.

Once you have a plan, grab a pencil and a level to mark the four holes for your first shelf using the actual shelf as a template.

Drill the holes in the corresponding size of your wall anchors. The shelves we received did come with anchors, but they were pretty weak and bent when we tried to hammer them in. We quickly switched to using sturdier 25 lb #6 anchors from our garage stash and would recommend anyone installing these shelves into drywall to do the same.
With your anchors installed, you just have to screw your shelf into them, double-check that they are level, and you're already done!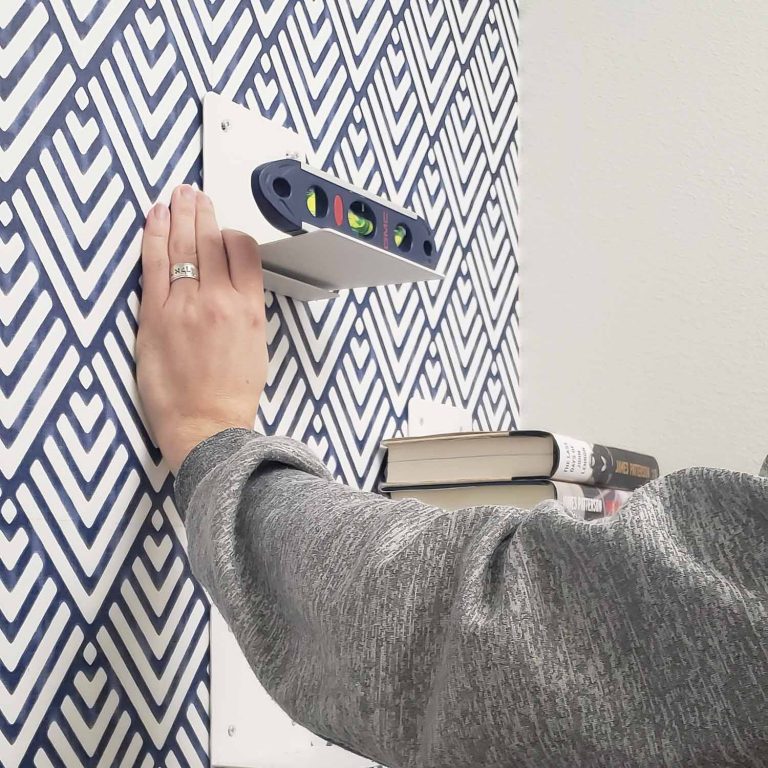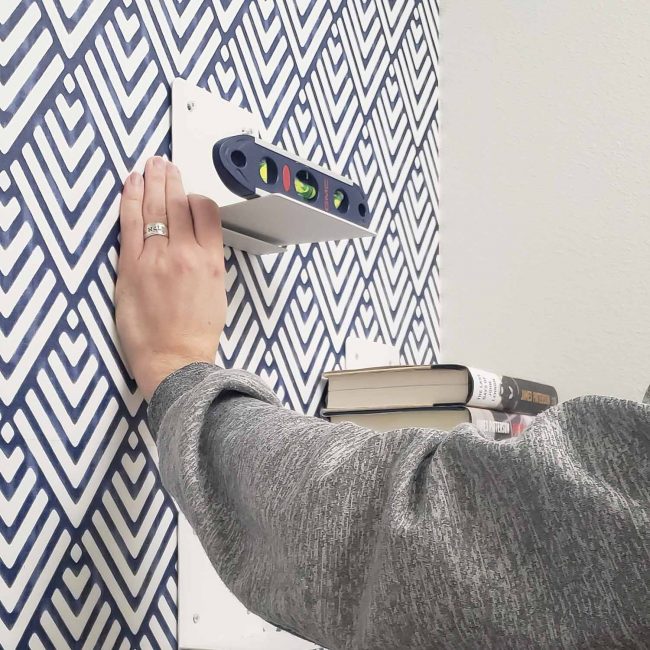 The last part is the most fun – loading your shelves with books! I'm actually not done organizing mine yet, but they're great for now. Perhaps most importantly, our fireplace mantel is back to being a pretty mantel after months of being slowly consumed by piles of books!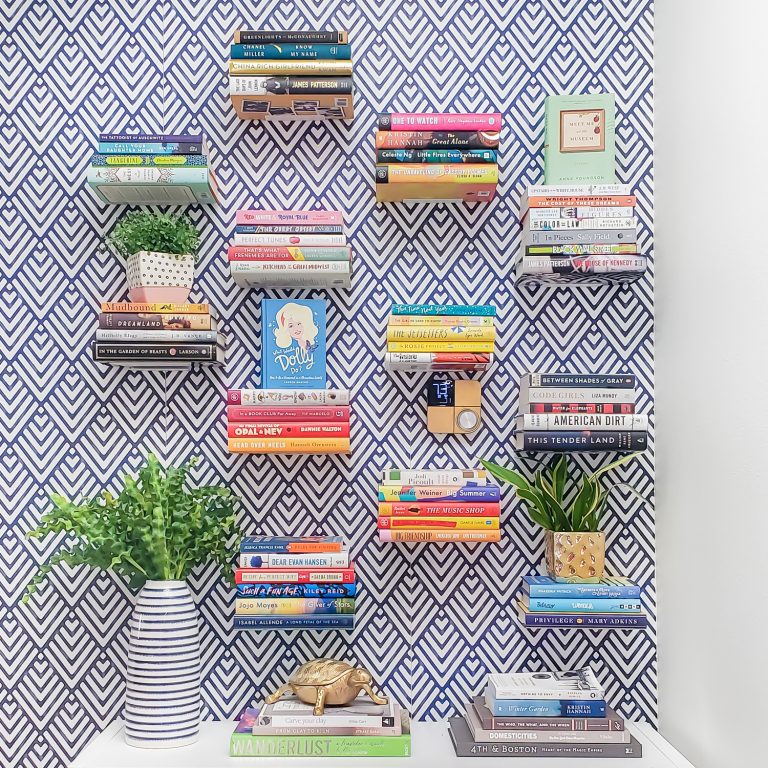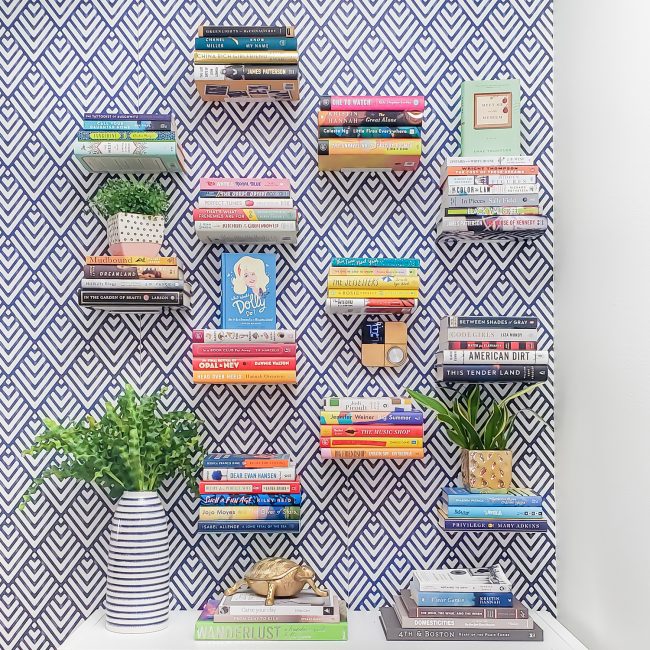 Between these new invisible floating shelves and the picture ledges I'm using for books in the living room, I have space to add a few more new additions before I'm hunting for another perfect book storage solution!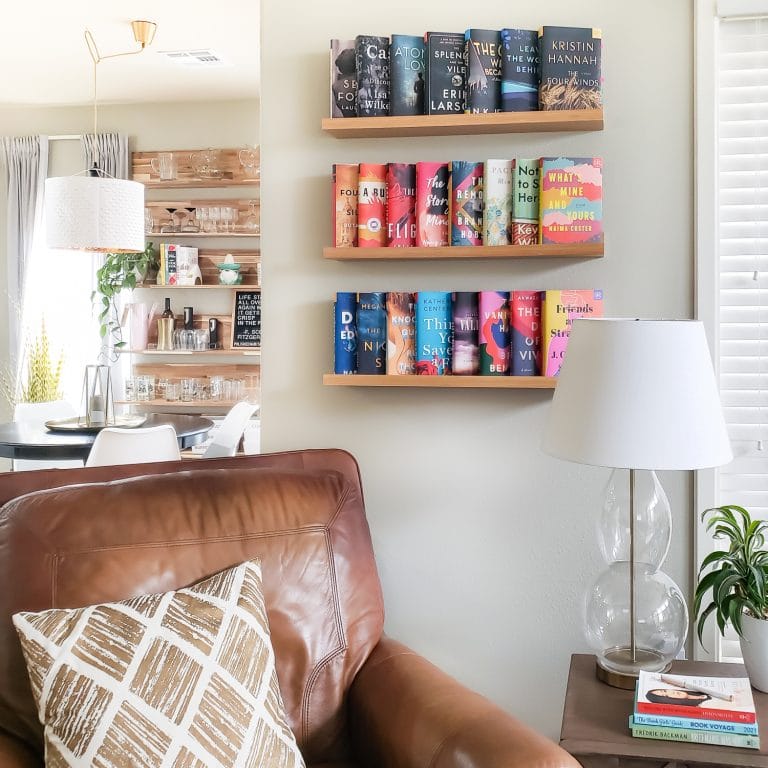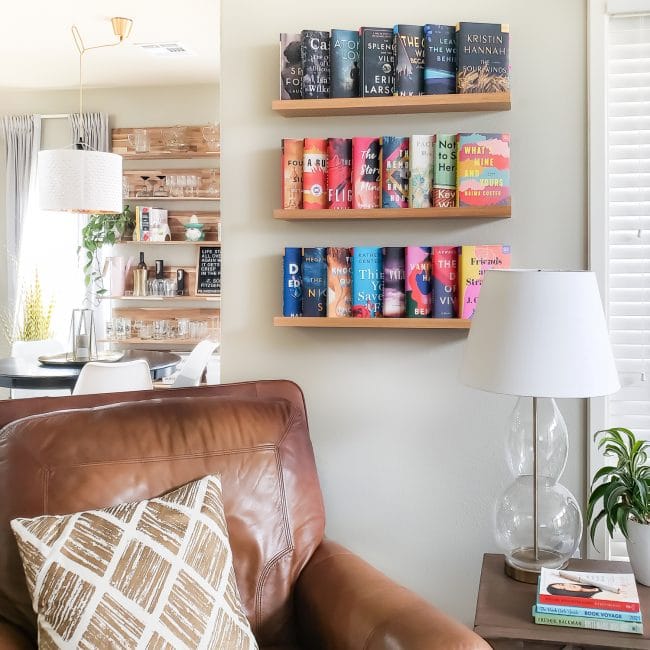 And PS: If you're looking to add to your own home library, I shared my thoughts on the Book of the Month Club over on Book Girls Guide this week. You can also see more creative ways I decorate with books here.

Happy reading!