We recently tucked a new white 6 cube organizer into the hallway between our kitchen and master bedroom. It's become the perfect storage solution for some of our household clutter. You know, those annoying items that are necessary, but don't have a logical home in the house.

In addition to the function, it's been a fun new spot to decorate! Since this is now the third white cube storage unit in our home, it's past time to share all my ideas for decorating and organizing with these affordable multipurpose masterpieces.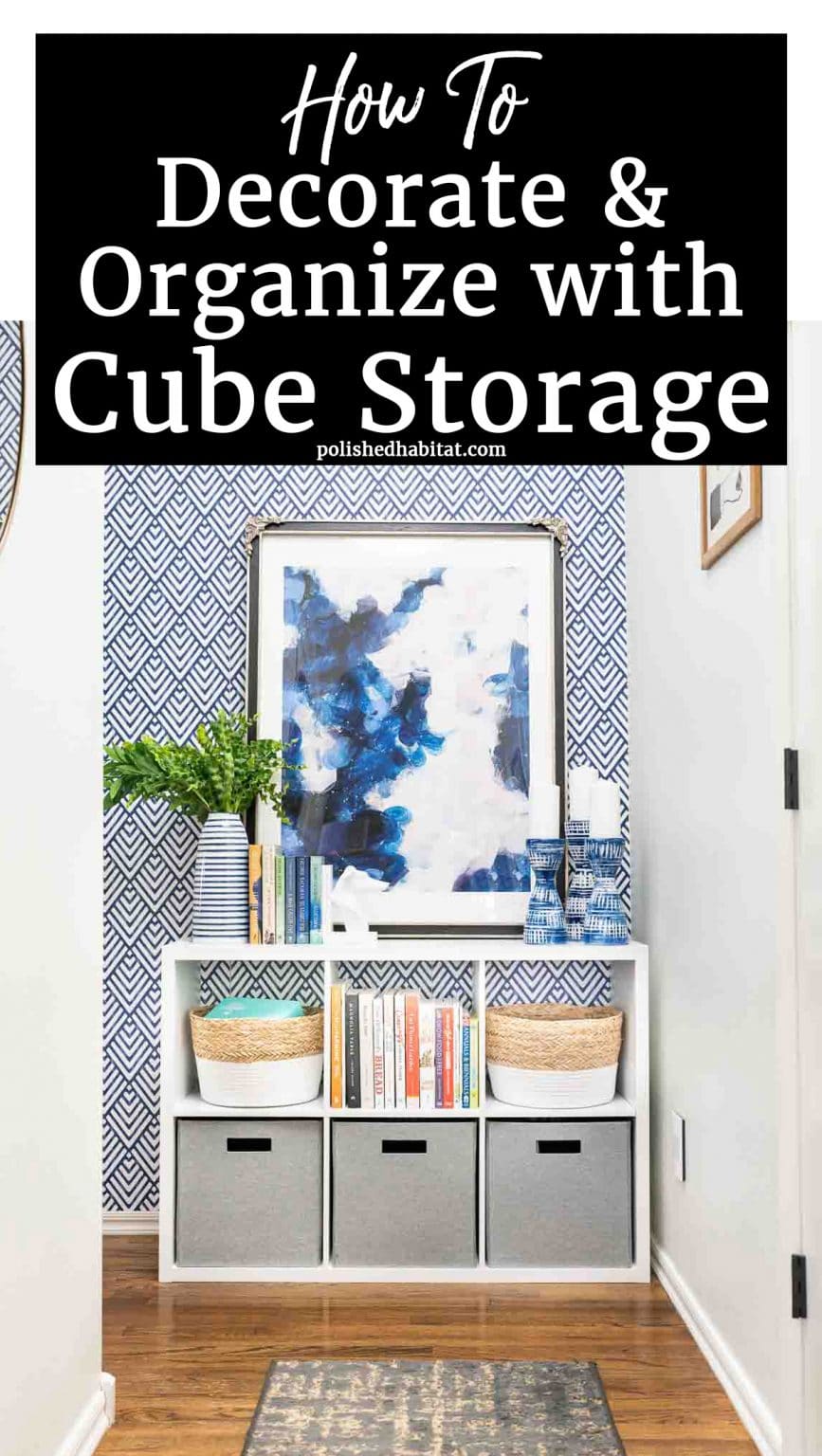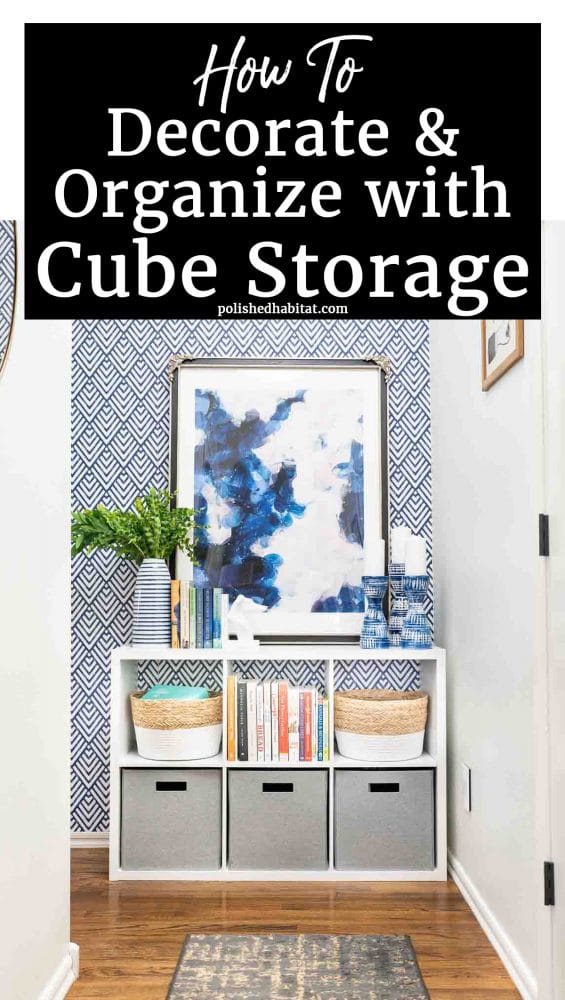 Which Cube Storage Organizers Are the Best?
If you're going to purchase a new unit, step one is determining the size and sturdiness you need, along with your budget. We have three different brands, including the IKEA 4 cube organizer in the garage, a Walmart 4 cube organizer in the guest room closet, and the newest 6 cube organizer from Target in the hallway.

Of the three, we think the Kallax from IKEA is the most sturdy and looks the nicest. Ironic since it's in the garage! We would have chosen the same model in the 6 cube for the hallway if it had been in stock for delivery.

The Target White 6 Cube Organizer we went with had some mixed reviews, but we've found it to be very sturdy as well and a decent alternative if you're not near IKEA. The Walmart organizer we have seems to have a bit more give, and the frame isn't as thick. That said, it is several years old, so they may have beefed them up now.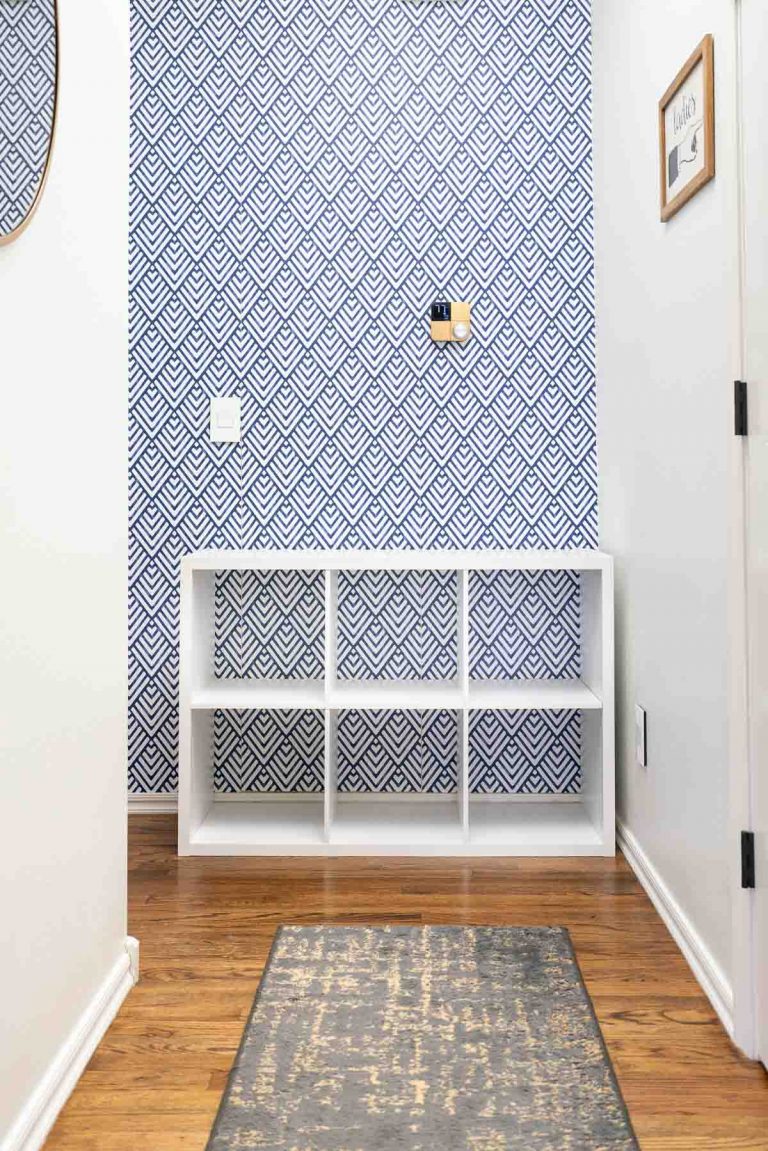 How to Pick a Cube Storage Bin
There's a HUGE assortment of storage bins designed to fit in these cubes, from dollar store options to high-end retailers.

There are some important questions to ask yourself before making your selection.

First, do you want bins in every cube, or will you have some open shelving?

The number of bins you'll need may impact your budget per container, and it will also impact the color and style.
For example, if you're going to be storing books in a variety of colors in the top row, you'll probably want more neutral bins so the colors don't clash. But if you'll be all matching bins, something with a bit more pattern might be a fun choice.

What will go in your bins?

How sturdy do you need the bin bottoms to be? For heavier items, woven baskets, metal, or wood bins might be better than the fabric style that tend to have more flexible bottoms. If you don't need a heavy-duty solution, fabric storage bins are affordable and come in TONS of colors and patterns.

You might be able to mix in baskets that don't fill the whole opening to create a more airy feel. I did this with round baskets on the top shelf of our organizer.

Do you want the items totally hidden?
Wire metal baskets have a great look for holding more attractive items like books or wooden blocks. Other items would look better concealed in solid bins. You don't want Barbie arms sticking out of a wire basket like she's trying to escape!
We started with fabric bins in the bottom cubbies for flexible storage.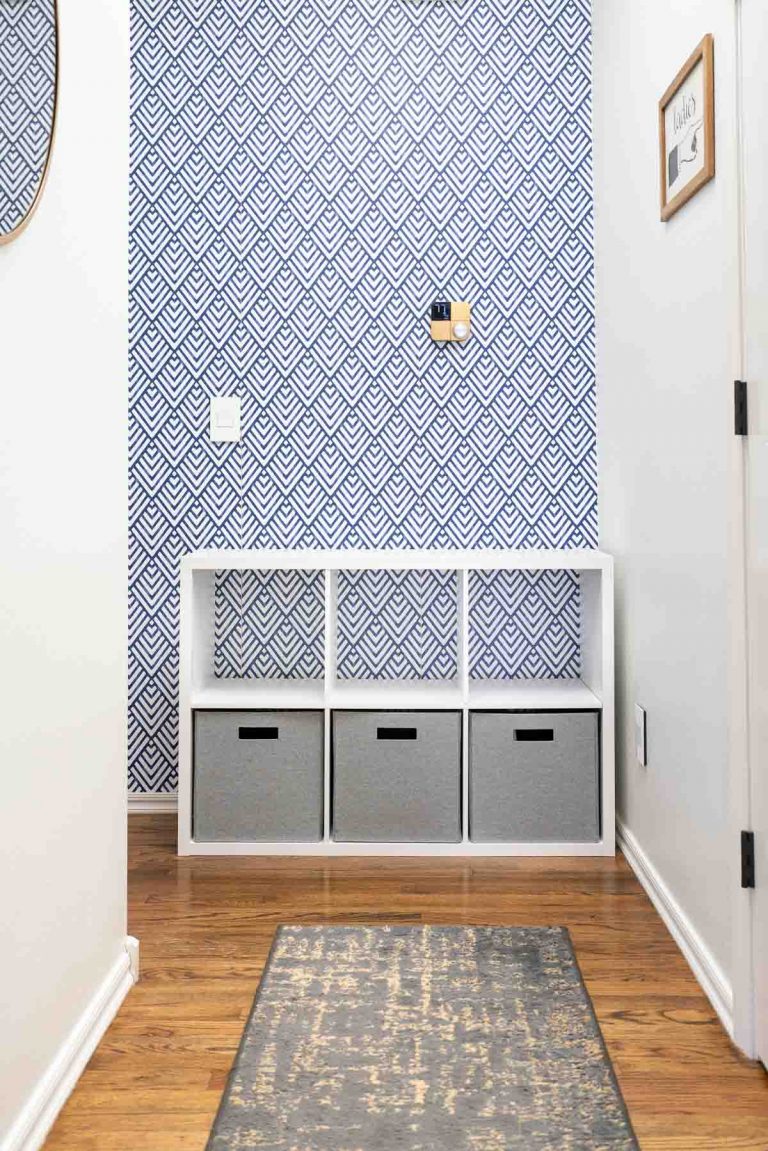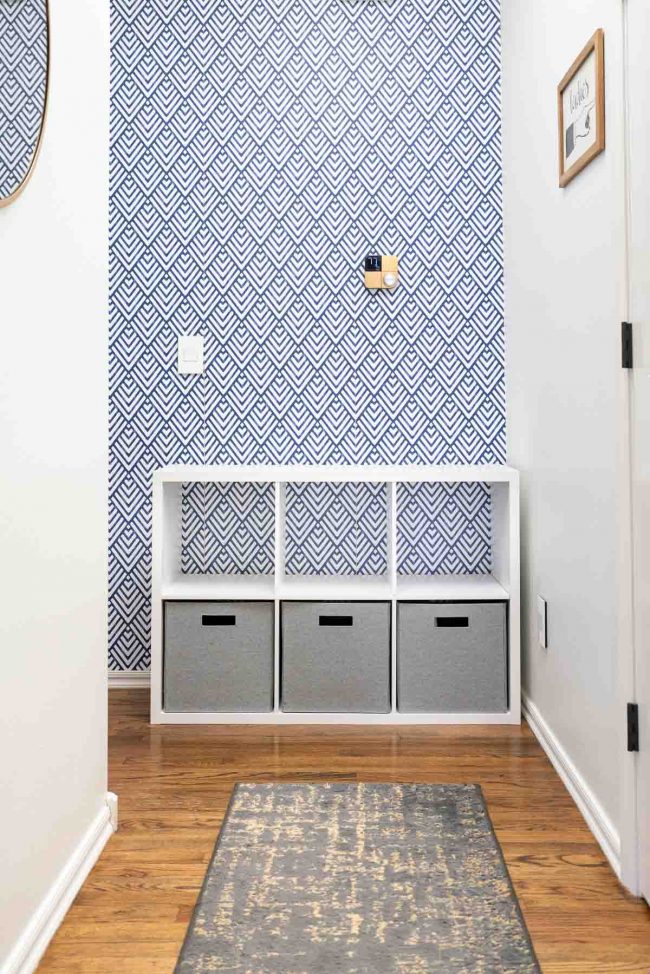 I needed a place to display gardening books and cookbooks, and they fit well in the top middle cubby.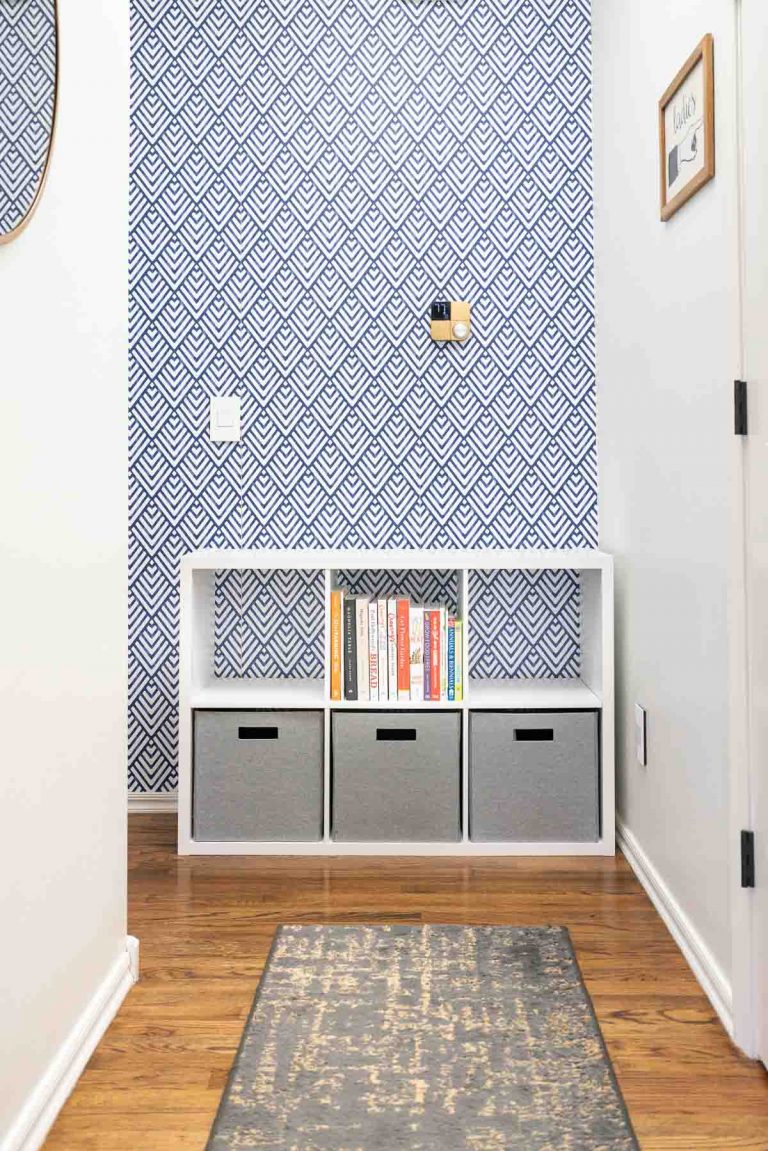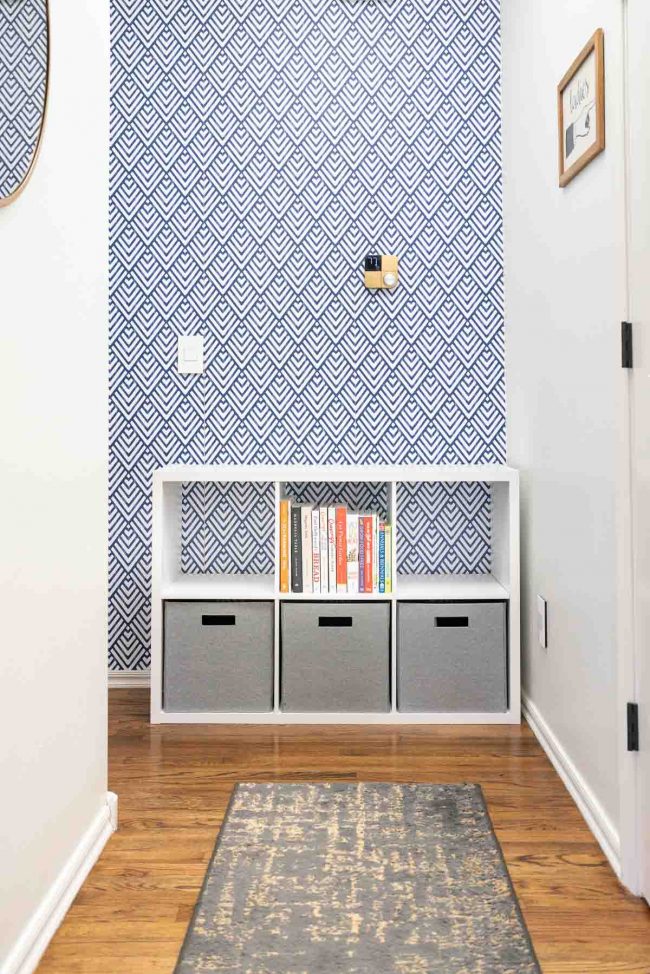 As I mentioned above, I added two round baskets to the final two openings. They're really great for things you want to coral, but also want to be easy to grab. For me, this meant yoga blocks and bands.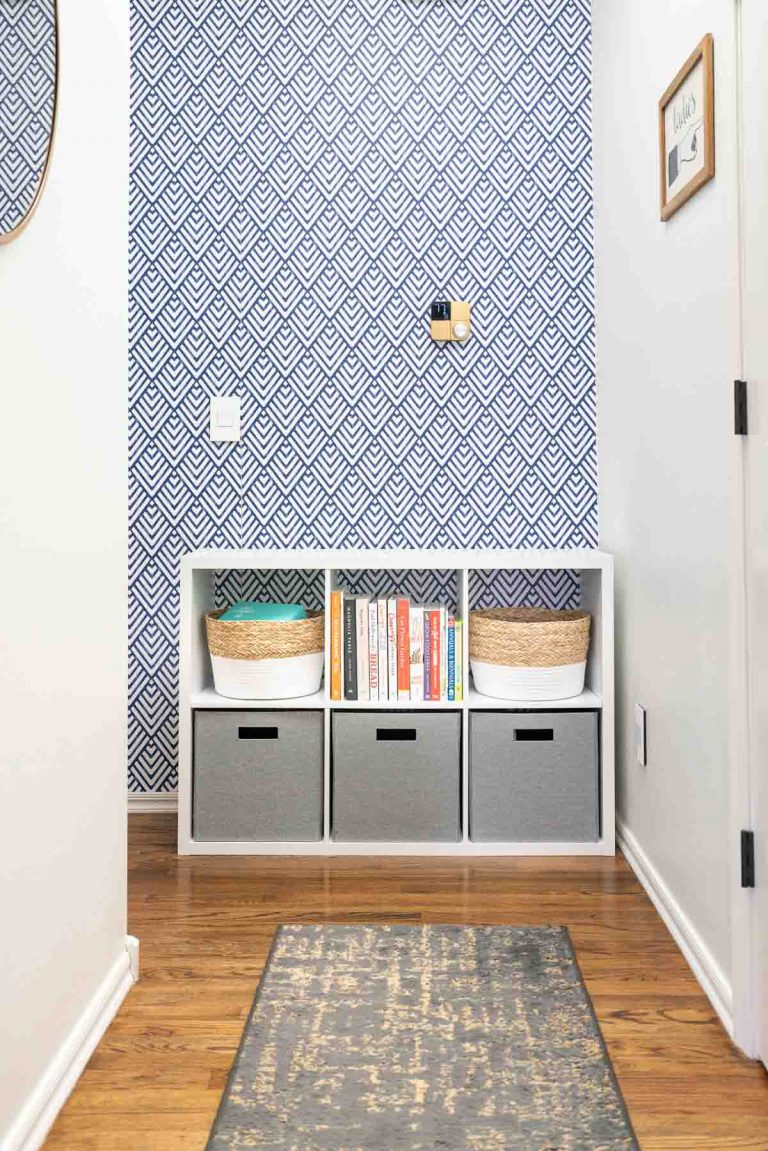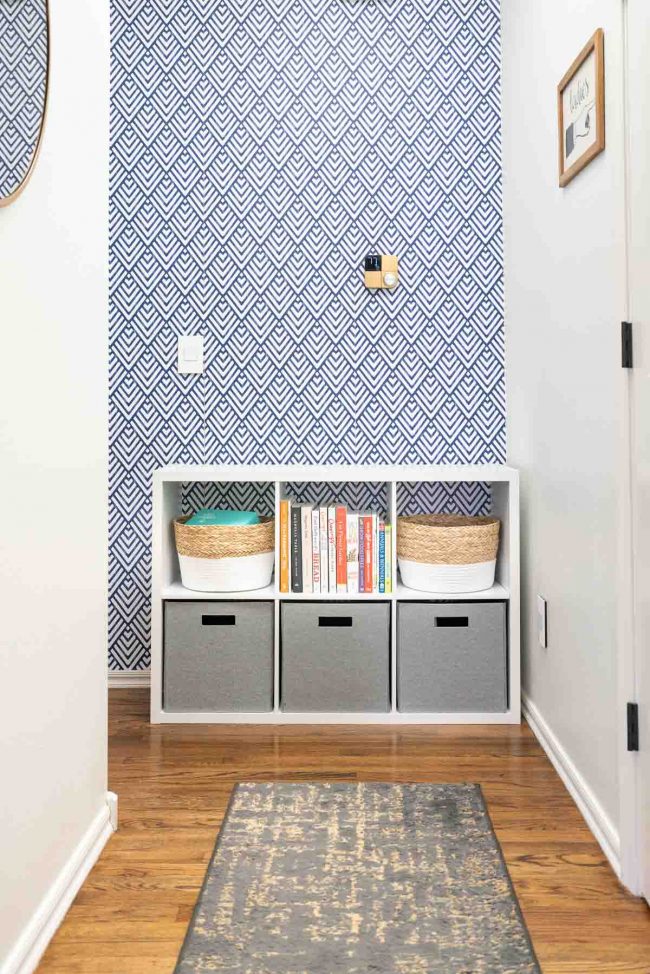 In this case, it's GOOD that the pretty teal block sticks up a bit as a reminder for me actually use it!

Let's talk about a few ideas for other items to store in these shelving units, and then I'll show you how I decorated the top!
Things to Organize in Cube Storage Systems
Cube storage ideas really are endless, but I thought it could be helpful to see some different ideas to get your mind spinning with solutions to your own storage needs.

In or Near the Kitchen

Tupperware
Extra canned goods/shelf-stable foods
Food storage bags/foil/parchment paper
Small Appliances (Mixer, Blender, Waffle Maker)
Party Supplies (plates, cups, etc)
Extra Cleaning Supplies (only if no small children or pets can access them)

In or Near the Bathroom

Towels / Washcloths
Hair Tools – Blowdryer, flat iron, curling iron (totally cooled)
Extra toiletries (perfect for a small stockpile of your favorites)

In or Near the Bedroom/Closet

Shoes and clothing can work really well in these bins. Corey and I each have a bin of swimwear in our closet on an upper shelf since we don't use it regularly most of the year. Sweaters and jeans are perfect when folded onto a shelf or in a bin. Undergarments could even go in smaller bins if you don't have a dresser.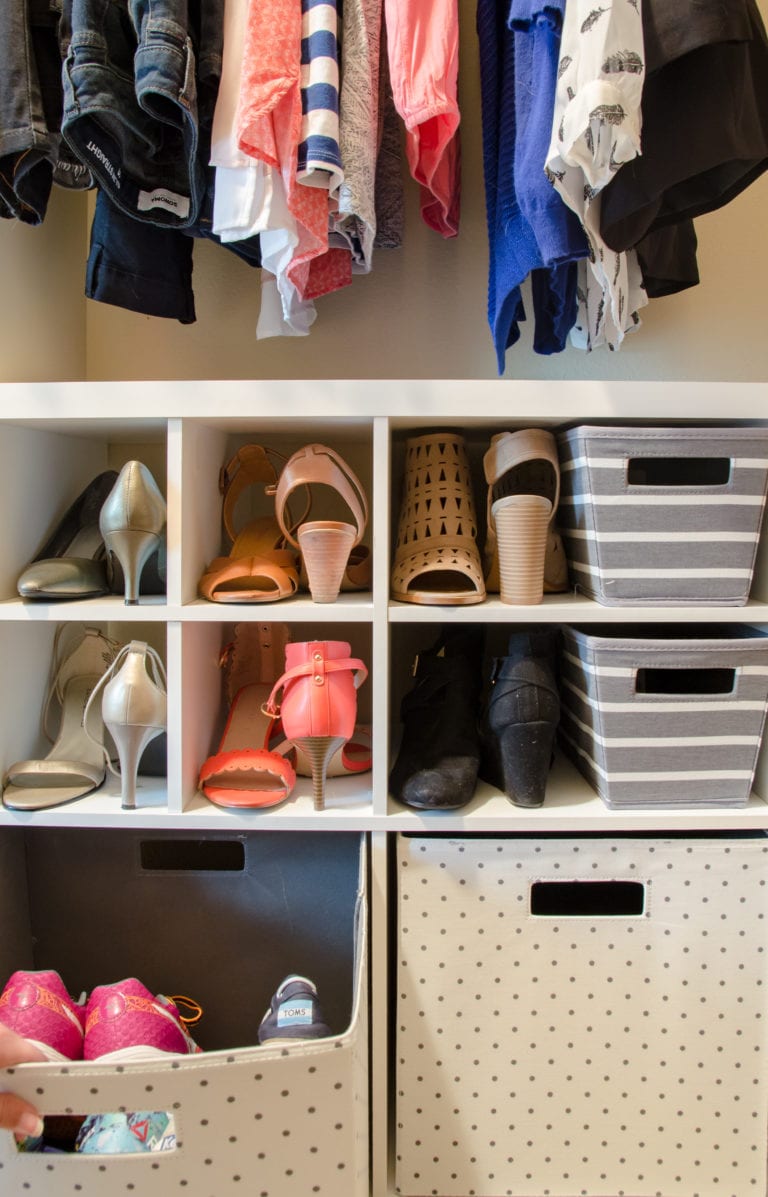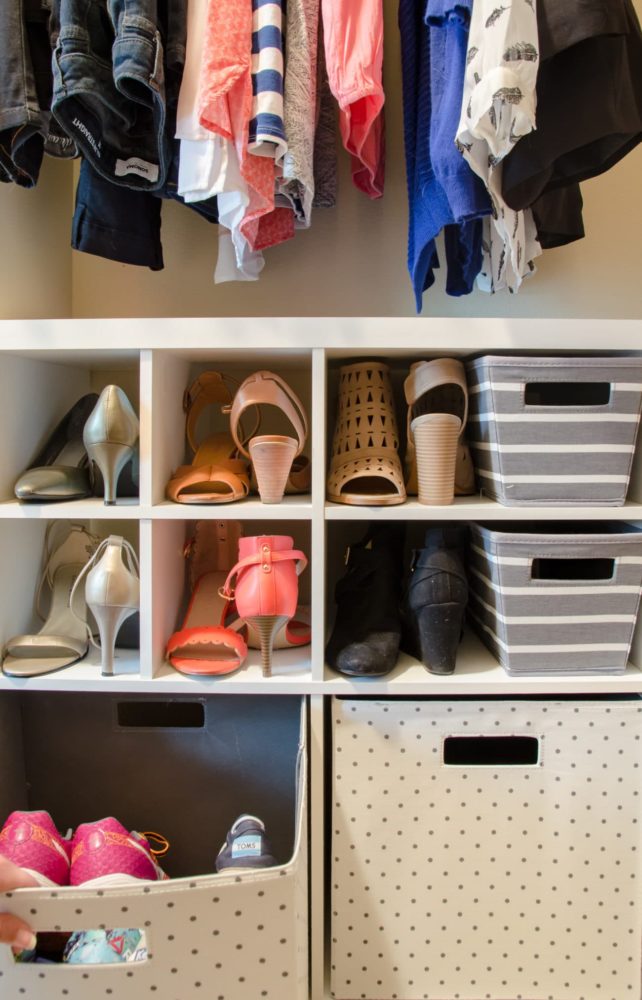 Other Clutter…

Perhaps the most important approach is to figure out what is causing clutter in your house because it doesn't have a designated home. I have some clay and clay tools that I use in the kitchen, but didn't have anywhere to store them. I was so excited when I remembered one of the gray cubes was empty and I could designate it for that craft!

What's creating clutter at your house? Could you add a cube storage shelf anywhere in your home to solve several clutter concerns at one?
Cube Storage Decorating Ideas
Beyond selecting the look of the bins and what you'll store in them, it's important to consider what you place on top of the unit to incorporate it into your decor.

Don't leave the top empty and expect it to stay that way. It's a perfectly flat surface for collecting clutter if you don't designate how it will be used. A few decor pieces will help transform the look of these units from super basic to super chic.
Begin by adding any functional items, for example, a themed collection of books or a basket to collect incoming mail.
Once you've added the function, it's time for style. Vases, plants, decorative boxes, and framed art or photographs are all good options.
When possible, I love picking up decor pieces during travel so they have special meaning. But At Home and Tuesday Morning are great stores to find affordable accent pieces.

One great option for the top of your storage organizer is to create a visual U-shape by placing taller items on each side, swooping down to lower things in the middle. This also allows for art to be hung on the wall behind the lower items.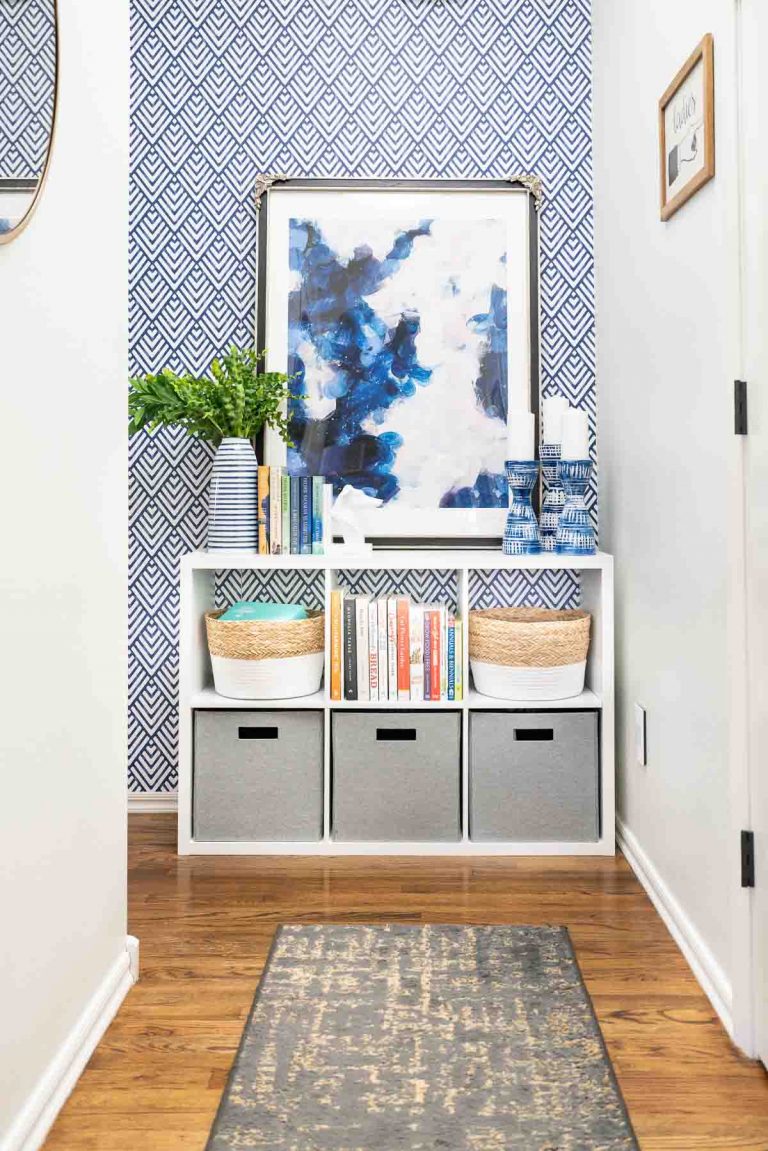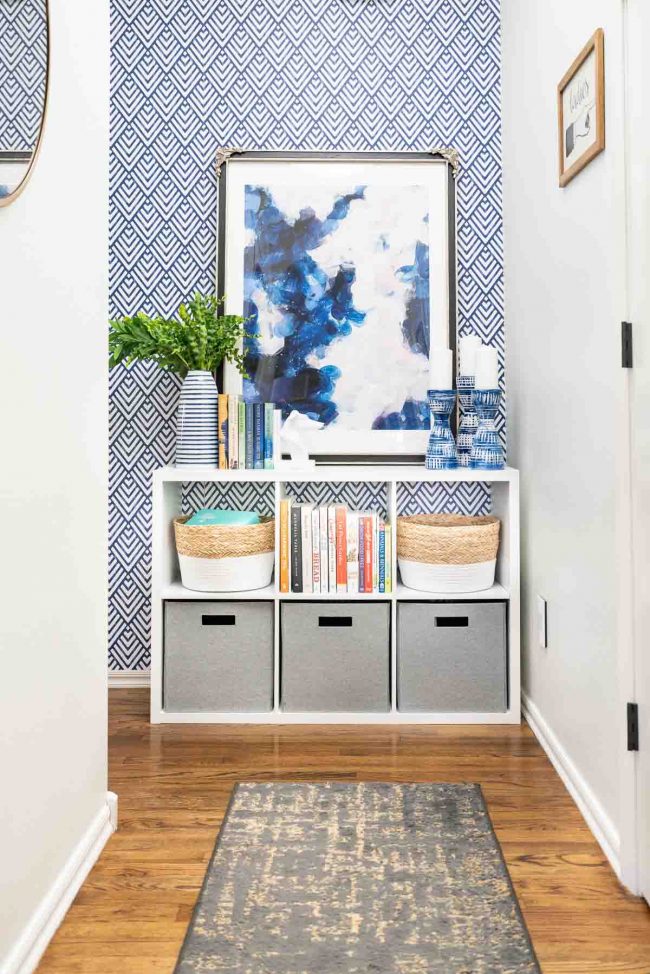 If you need a little height anywhere, don't be afraid to stack things. Books are great helpers, and you can stack a few under a decorative item to boost it up and add interest.

If we couldn't add the art above the storage, I'd add something to the middle of our shelf instead.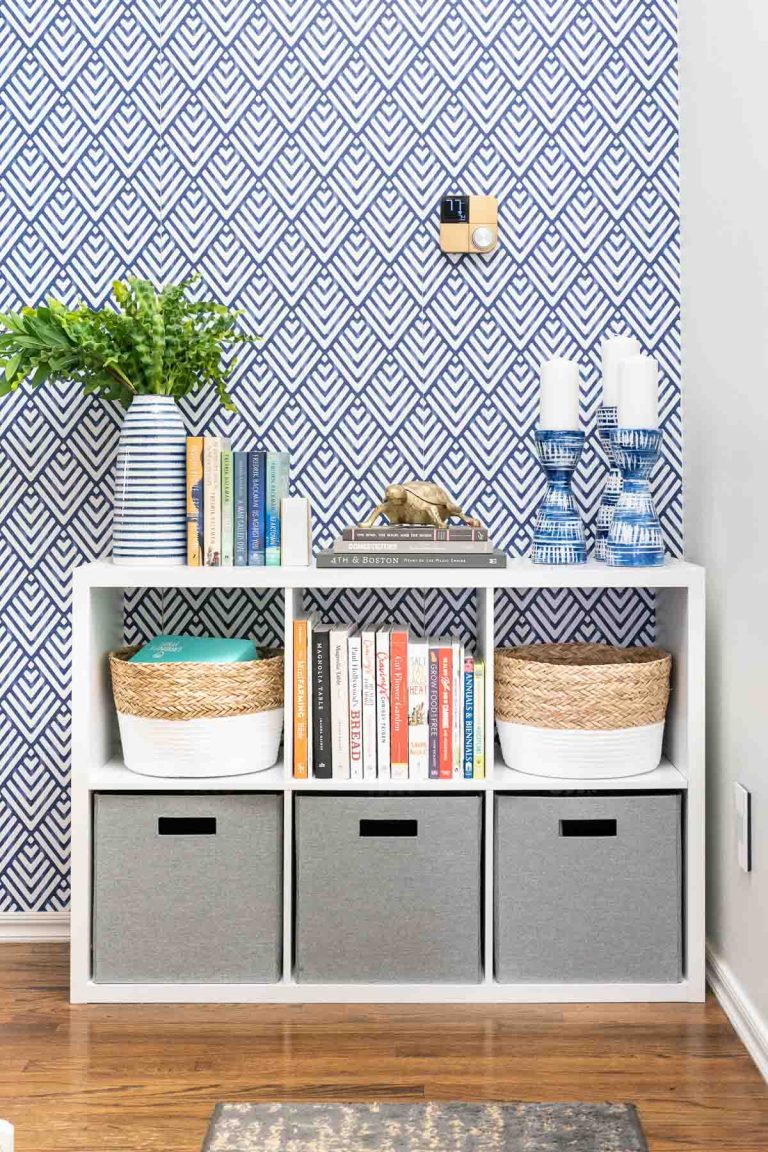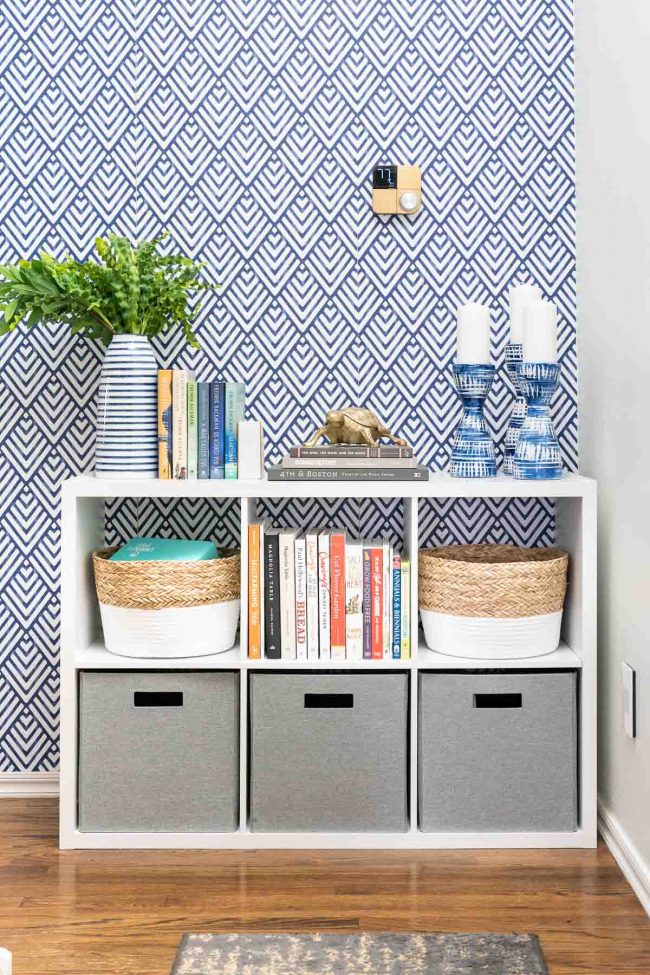 Don't stress about making the U perfectly symmetrical, having one side a bit taller than the other keeps things looking more natural.
Depending on your needs, you can make the wall space over your cube storage functional or just decorative. In our case, the small hallway would feel too cluttered if we added shelves above it, so we went with art.

If you need more storage, like in an office or bedroom, consider using floating shelves matched to the width of the unit for a more built-in look. It would be similar to what we did over the dresser in my office using IKEA brackets. This would be great in a kid's room to display Lego creations or other favorite toys!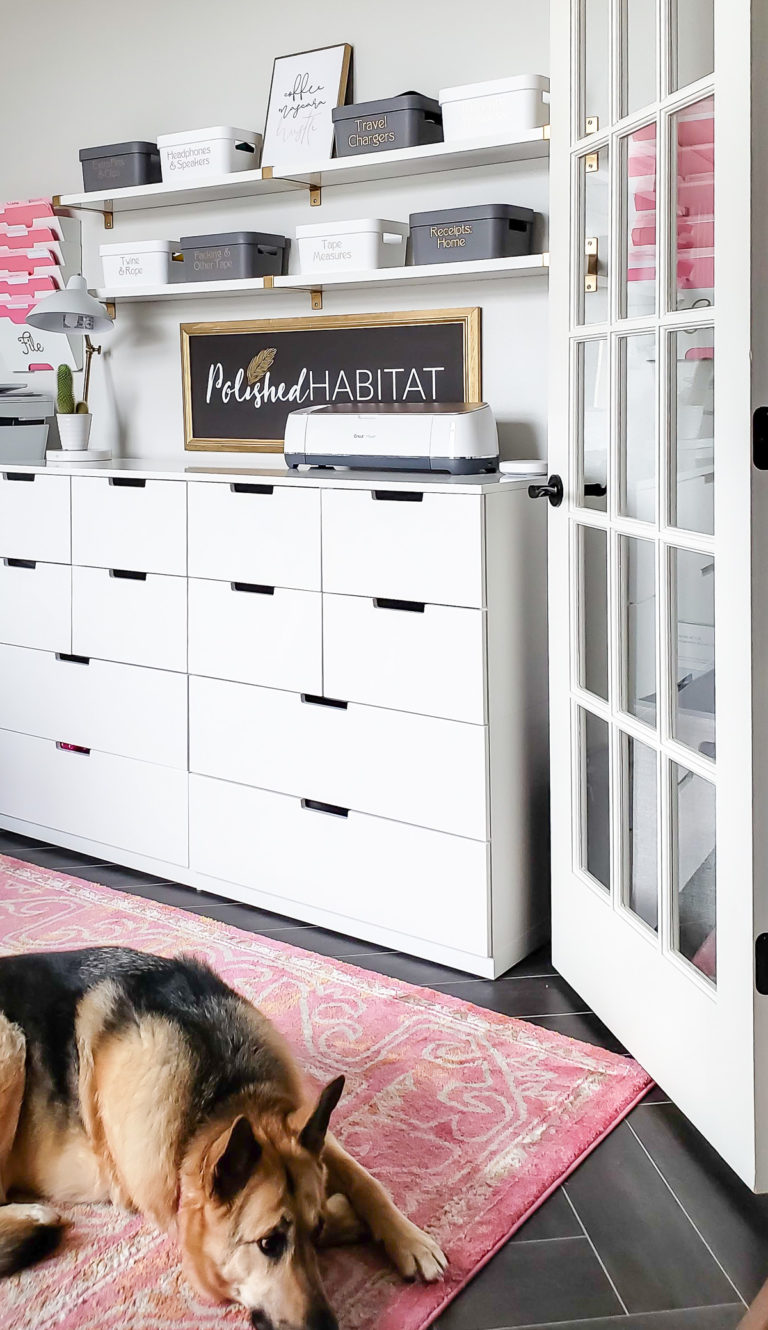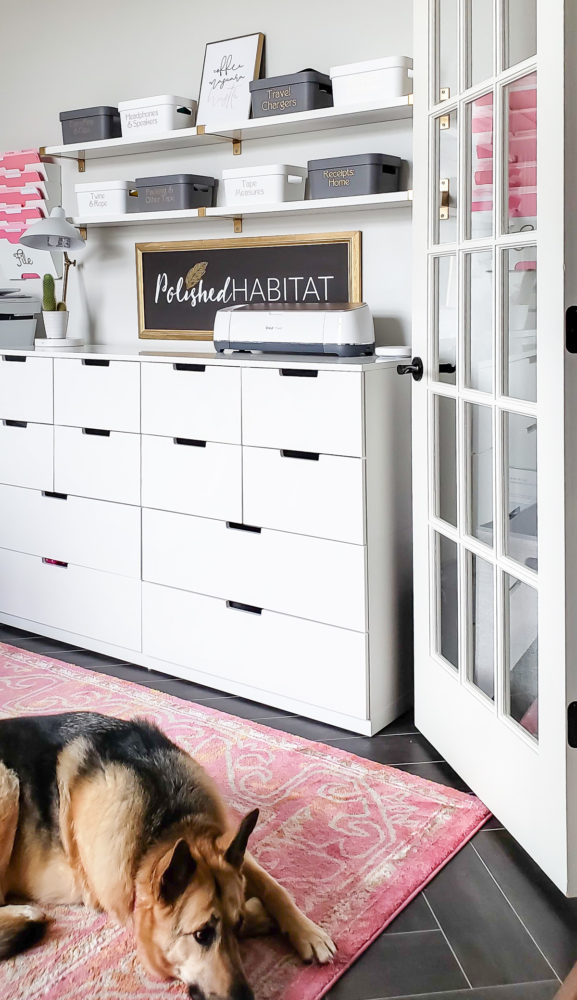 I hope you're inspired to update your existing cube storage systems or add one of these cheap storage solutions if you need to add organization anywhere in your home!
Here's one last look at the versatility of these systems, showing the IKEA KALLAX 4-cube organizer mounted in our garage.