Anyone else have a "junk drawer" in the kitchen? I knew ours was in serious need of help, but I didn't fully appreciate the insanity of the situation until I tackled this project. Instead of just straightening up the drawer's contents, I took the time to turn it into our 'useful drawer'!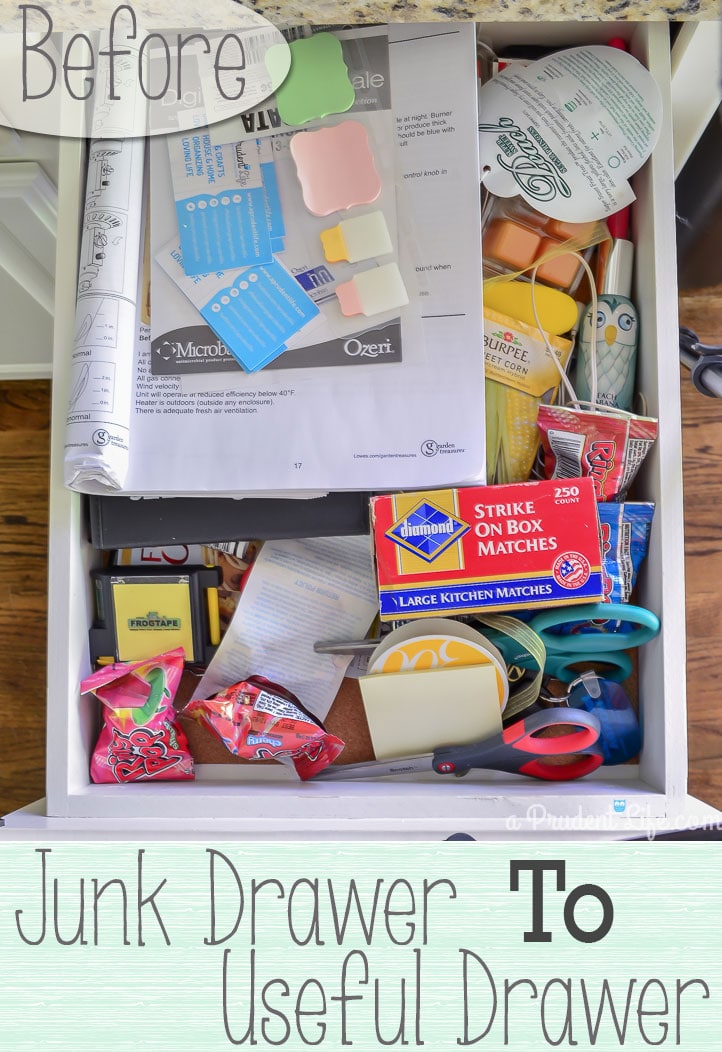 STEP 1: BEFORE even looking in your drawer, make a list of what you need in this location.
We needed a mini office supply stash, along with lighters for the grill, and a place for spare keys. I also thought about what should NOT be in there. For us, that meant coupons, which have their own binder so shouldn't be shoved in the drawer. Instruction manuals were also banned.
STEP 2: EMPTY the drawer and take a moment to be horrified with the multitude of items you have shoved into one drawer.
I found FIVE pairs of scissors,  four large lighters, three pairs of ear buds, and two seed packets. I wouldn't have been surprised if a partridge in a pear tree popped out!
When I finally got to the bottom, I found the nice cork drawer liner we added when we moved in. I love this stuff!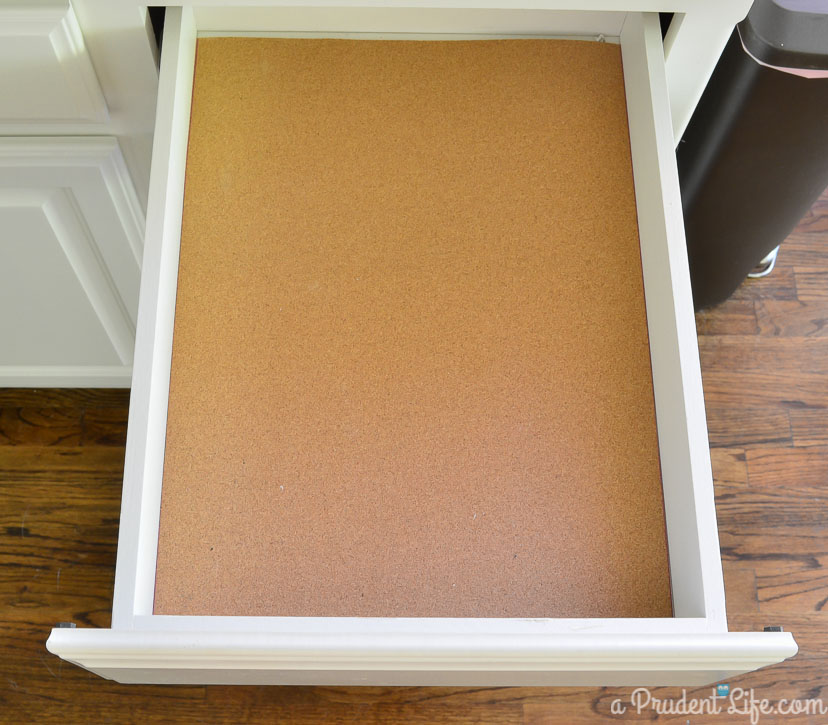 STEP 3: ADD dividers and labels.
This step is the most important part of every organizing project I tackle. Dividing spaces into smaller segments gives each item a home. But, the true key is adding labels. If I had a bunch of unlabeled sections, it would be easy to start adding more items to the drawer. Plus, if you aren't the only one using the drawer, things can get out of place quickly.
Mentally, it's much harder to put things in the wrong place when a label clearly shows something else goes there. I LOVE using my Silhouette machine to make labels, but I wanted to show that you don't need any fancy equipment at all. I had some labels from Staples and hand wrote them with a Sharpie.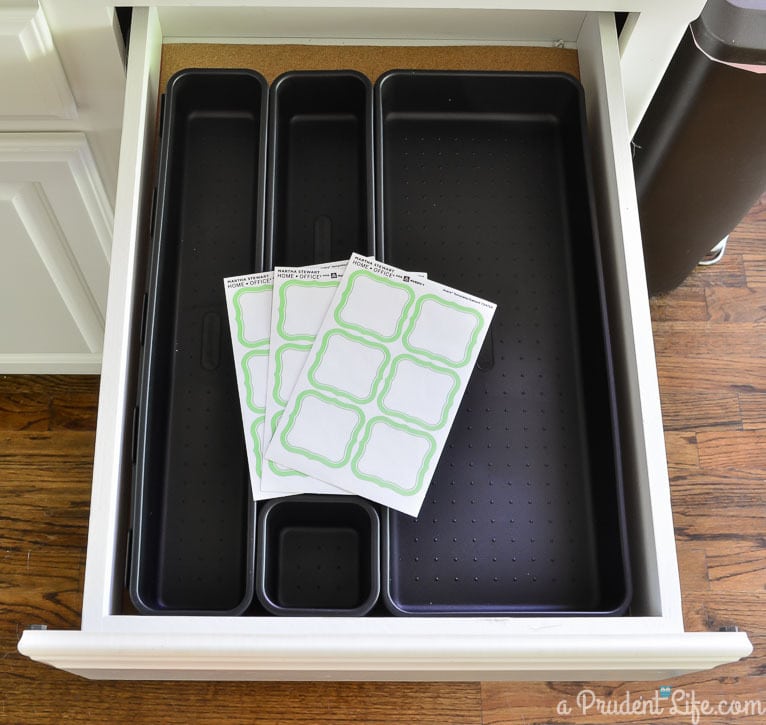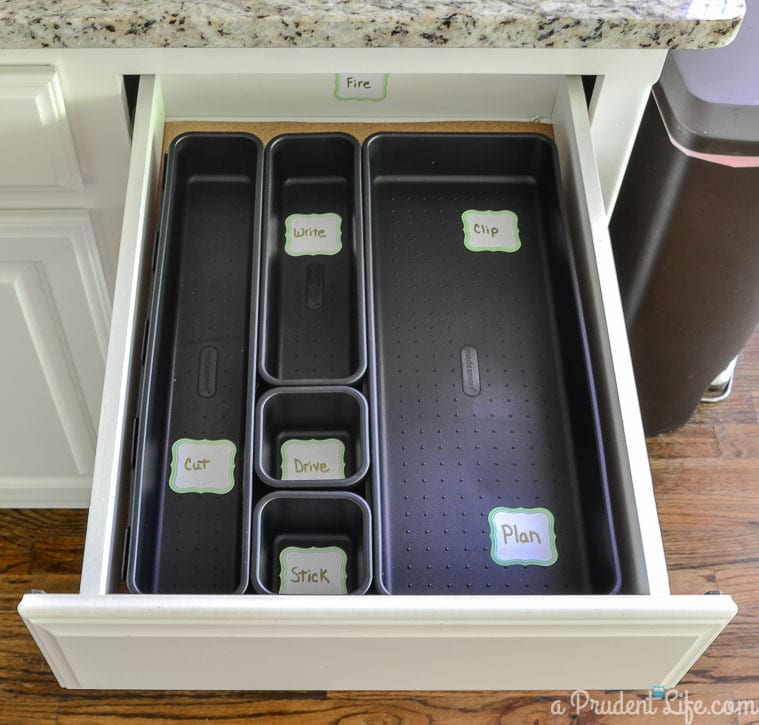 STEP 4: REFILL drawer!
It's so great to be able to quickly find what we are looking for now. Each time I opened the drawer before, it was kind of stressful. And I'd have to dig around, then hope the drawer would close again!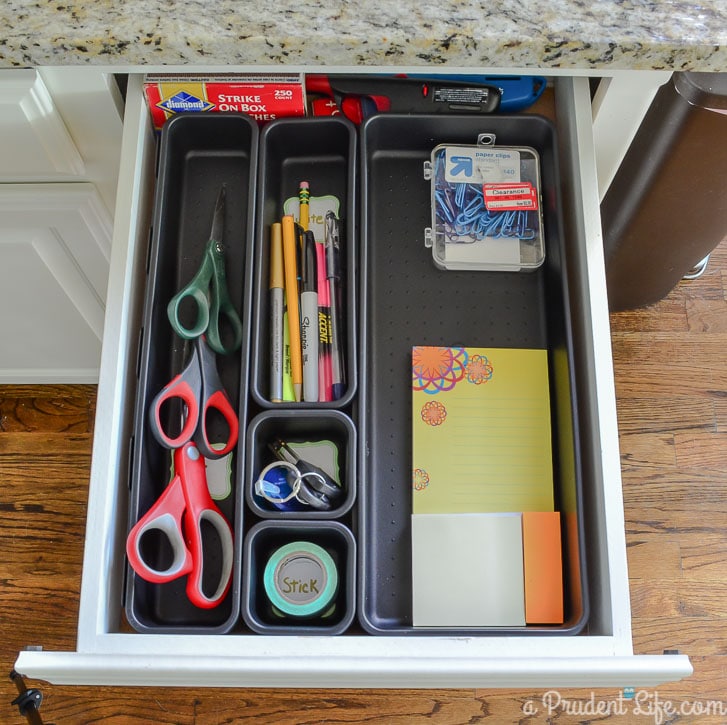 Everyone's drawer will look different depending on what types of items your family needs handy in the kitchen. If you tackle your drawer, don't skip the first step. It was pretty tempting to jump straight into emptying the drawer, but if I had done that, I would have been influenced to make room for some items that really didn't belong.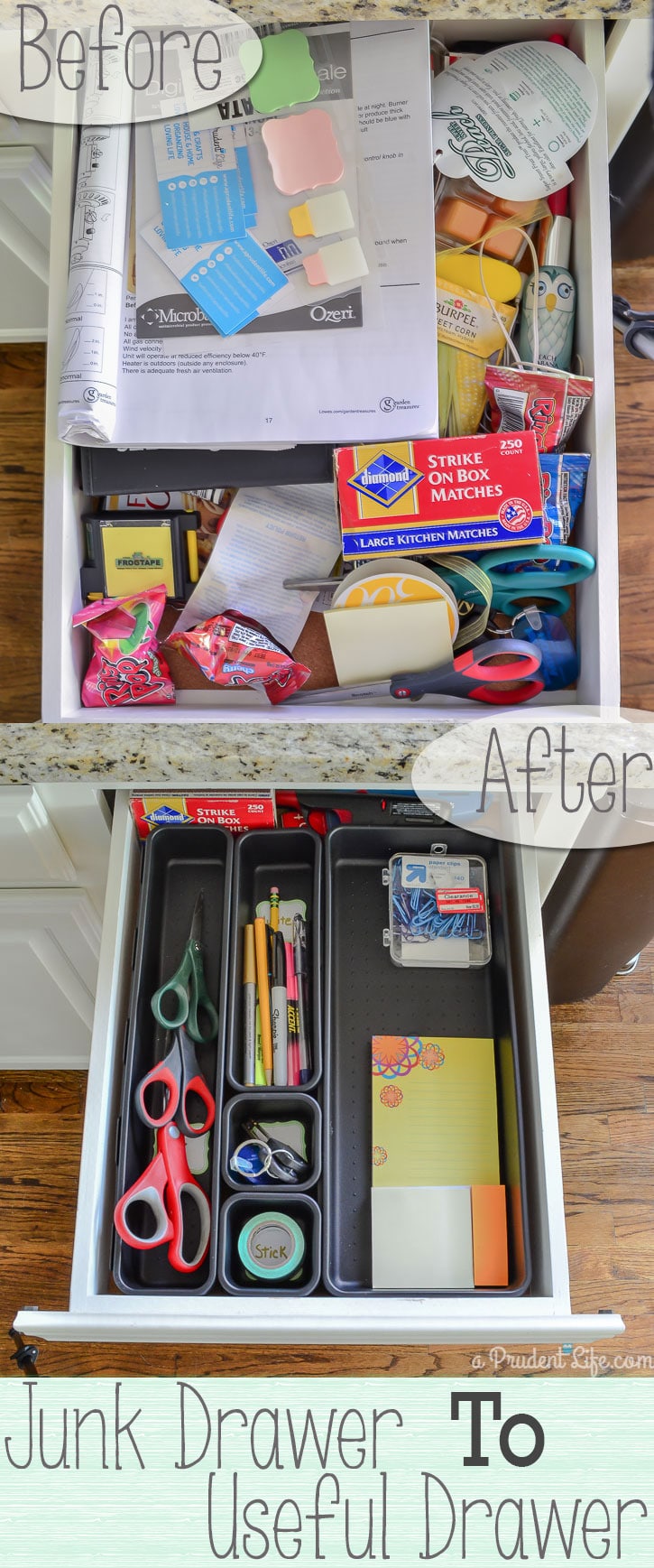 Now I'm curious, what kind of stuff lives in your junk drawer?
Wanna see more organizing posts?
[metaslider id=3436]
Need even more organizing inspiration? Follow me on Pinterest!
Follow A Prudent Life's board Organize Your Home in Style on Pinterest.


Post shared at: The Makers, Hit Me With Your Best Shot, Whimsy Wednesday, Link Party Palooza, DIY Sunday Showcase