I'm sure you've noticed that most of my time this month has been occupied by my ongoing One Room Challenge Pantry Makeover. However, all that painting & tiling gave me LOTS of time to think about future projects. I am really struggling trying to decide what direction to take our master bathroom. It's very beige-y at the moment and kinda driving me nuts. Everything is in great condition because we just built the house 3 years ago, and it's by far the nicest master bath we've ever had. It just doesn't have ANY personality.
I've always picked out our fixtures at the big box stores, but was recently introduced to DecorPlanet.com. Which means my newest hobby is scrolling though THOUSANDS of vanity, lighting fixture, and accessory photos dreaming up my ideal master bathroom. Decor Planet was awesome enough to sponsor this post so I could jump start my bathroom makeover fund.
The biggest stumper in the bathroom has been what to do with the vanity. Do I want black, white, or wood? I love all three!
My new favorite vanity is the Fresca Oxford in the Espresso finish, especially when combined with the white counter top. It feels so simple, yet elegant.
In a very close second place, I also love the COMPLETELY different Fresca Largo in Gray Oak. Design wise, this modern version is a little more appealing to me today. But I also try to make all of the main pieces in our house more cohesive and timeless, which is what gives the Oxford the slight edge.
I'm amazed at all the different faucets available. Especially the neat options at budget friendly price points! This Danze Amalfi is only $132.
Or the ALFI Brand AB1023 is $123. It's got so much style for that price!
I'd only be replacing the existing tub if we suddenly became very wealthy, but I just love the look of the Neptune Amaze. If I was totally gutting the bathroom, I'd be ordering this today. I think it would work beautifully with either of the vanities I like.
For lighting, I think the Kichler Quincy Collection is fabulous! It fits right into my goal of picking timeless pieces.
For the ceiling light, this Kichler Lacey Collection Semi-Flush model would be infinitely better than the boob light I've got going on right now 🙂
Spending some time picking out my favorite pieces has really helped me define the look I'm going for in the master bath. Just trying to plan it all out in my head was not working!
I put all the pieces together on the mood board below so I have something to refer to in the future. I'm kinda feeling a purplish paint for the room, but nothing as bold as the room's Radiant Orchid closet.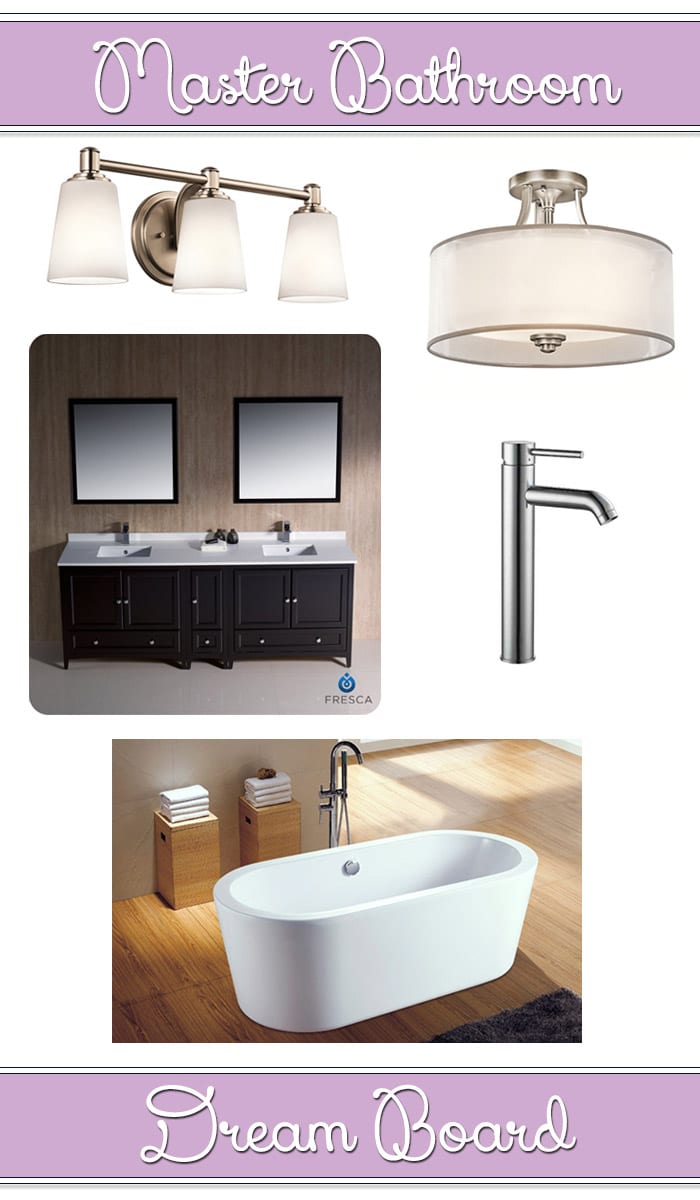 I want to thank Decor Planet for inspiring me to brainstorm my ideal bathroom. Even though I won't have that gorgeous tub any time in the near future, browsing through all the options helped me define the style I want the room to be. While I was looking, I also noticed that Decor Planet offers free US shipping, with shipping also available to my Canadian friends. I love free shipping!
What does your dream master bath look like? Is it traditional or modern?
Post shared at: The Makers