It's been a few years since our DIY master bedroom makeover. For several months, I've been itching to make some changes.
This month, I got the chance to partner with Crate and Barrel to share some tips and ideas for decorating a master bedroom!

To highlight what a difference you can make with just furniture and home accessories, they provided some new items for our room.
As a reminder, here's what the room looked like before phase 1 of the makeover. Yikes.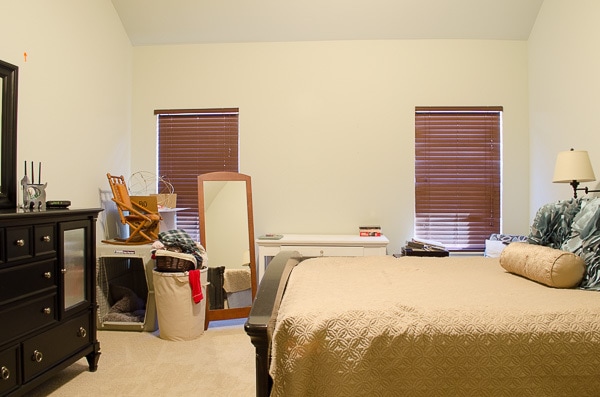 And here's the window wall after phase one, which we did in 2016. Better, right?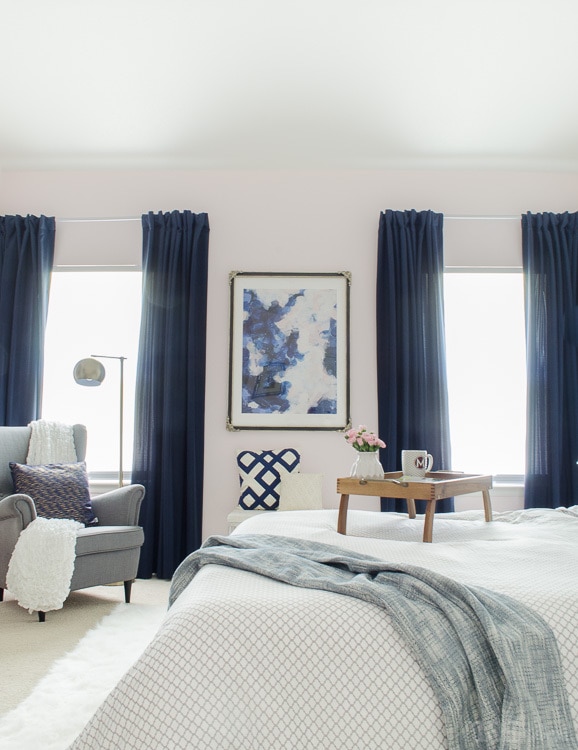 The stars of the room continue to be the modern feature wall and DIY art project.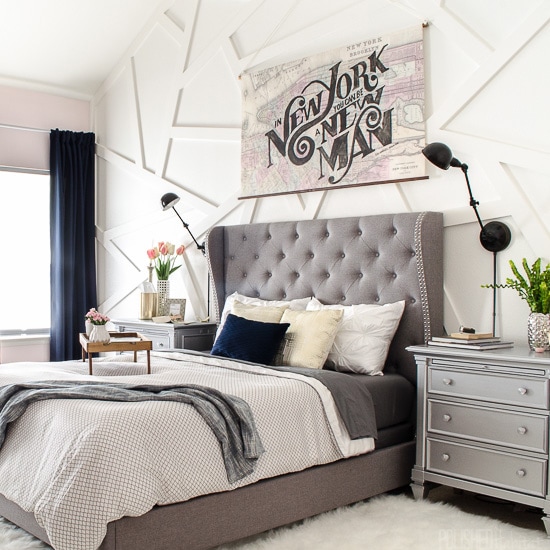 At the time, the only new furniture we could afford was the bed. Instead, we painted the old black furniture silver, which was a great solution.
However, if you look at the last photo in more detail, you'll see that the old nightstands are quite a bit taller than the mattress. It's not the most functional arrangement.

The other problem is that I've never been nearly as happy with the other side of the room. The bigger dresser being silver was a bit much when combined with all the other silver in the room.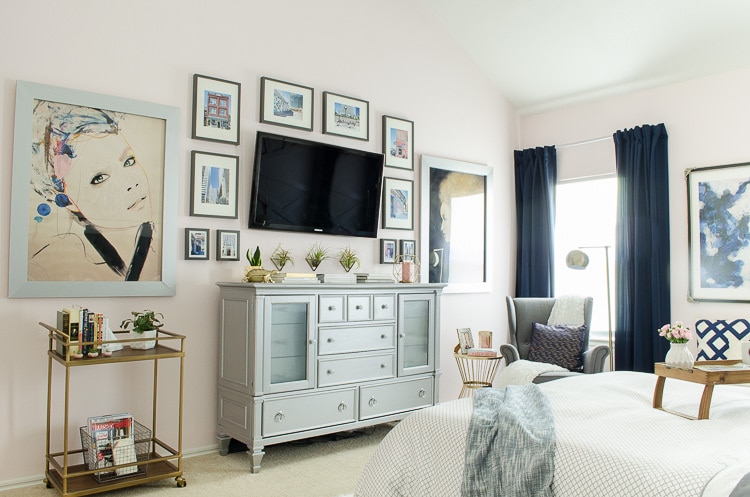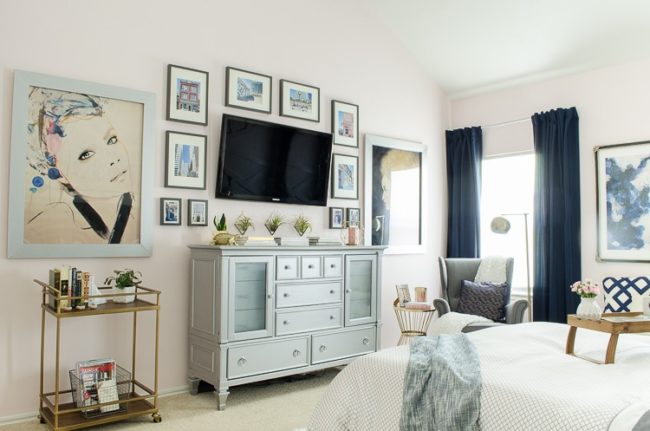 We needed to add some warmth, and I knew switching to a wood dresser would balance out the room. It's always been a bummer that the wall I look at from the bed has been my least favorite.

But not anymore!!!
We normally talk about what a difference painting a room can make, but in this case, it's fun to see what a difference you can make WITHOUT painting.

We kept the bed, art, chair and feature wall, but replaced the old furniture and added some new accent decorations.
Let's look at the huge difference the gorgeous pieces from Crate and Barrel have made, then I'll share some bedroom decorating do's and don'ts for your own makeover!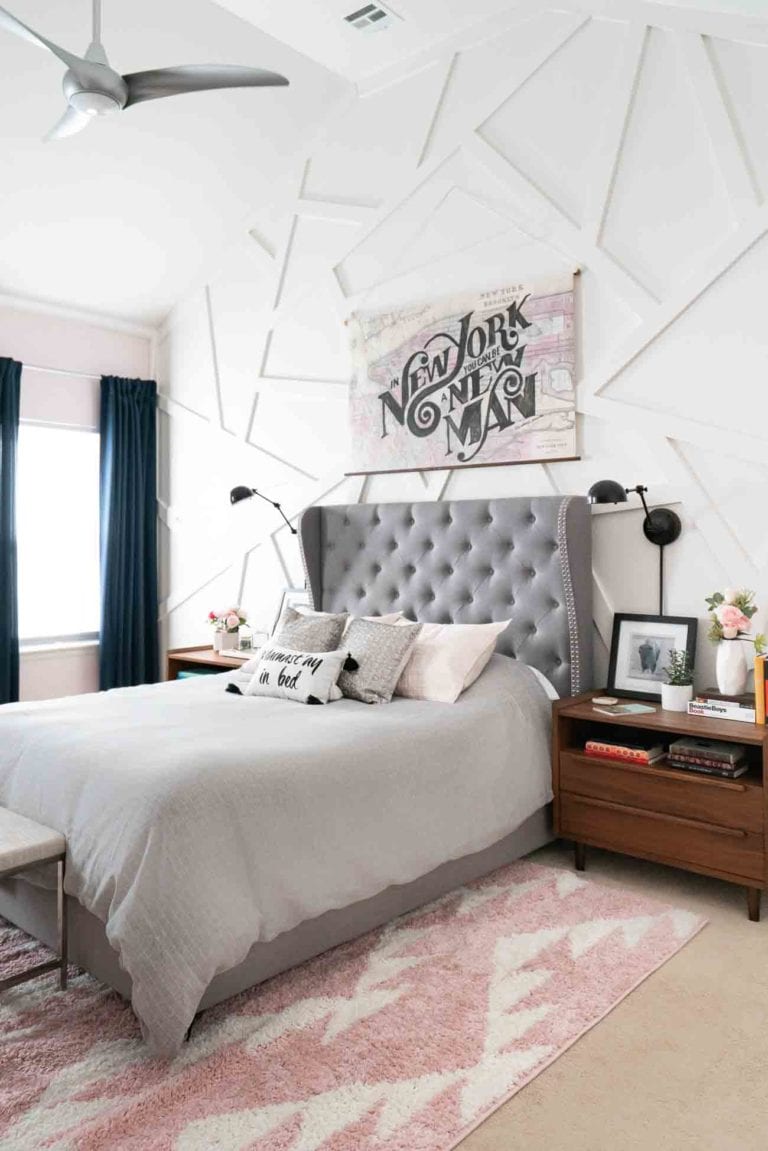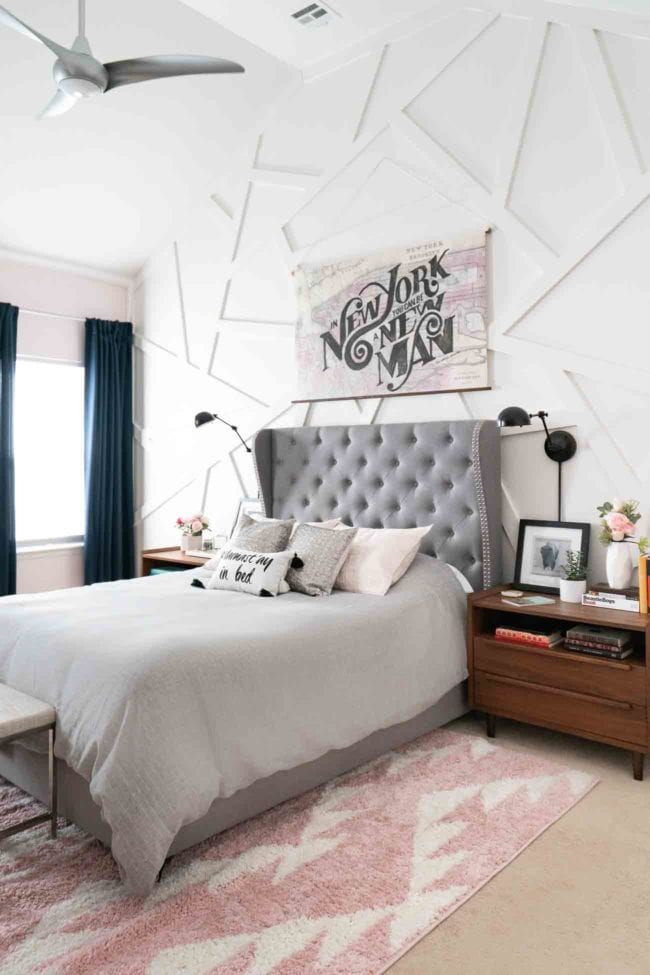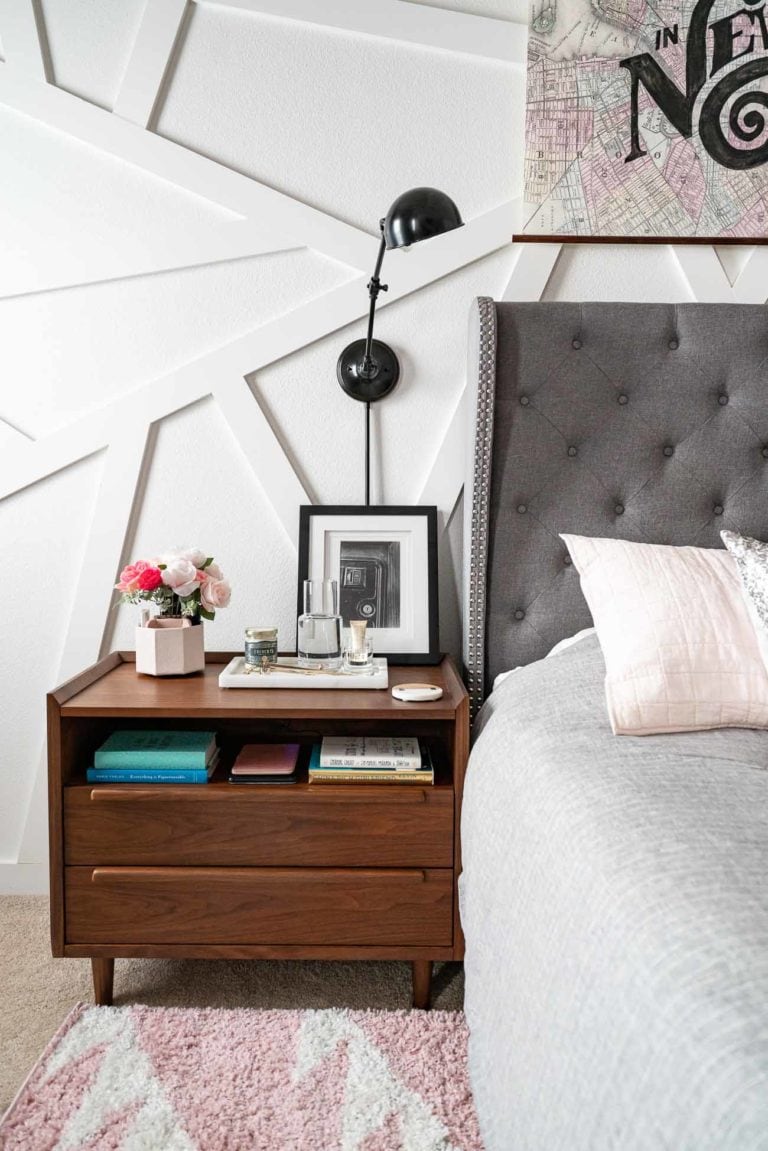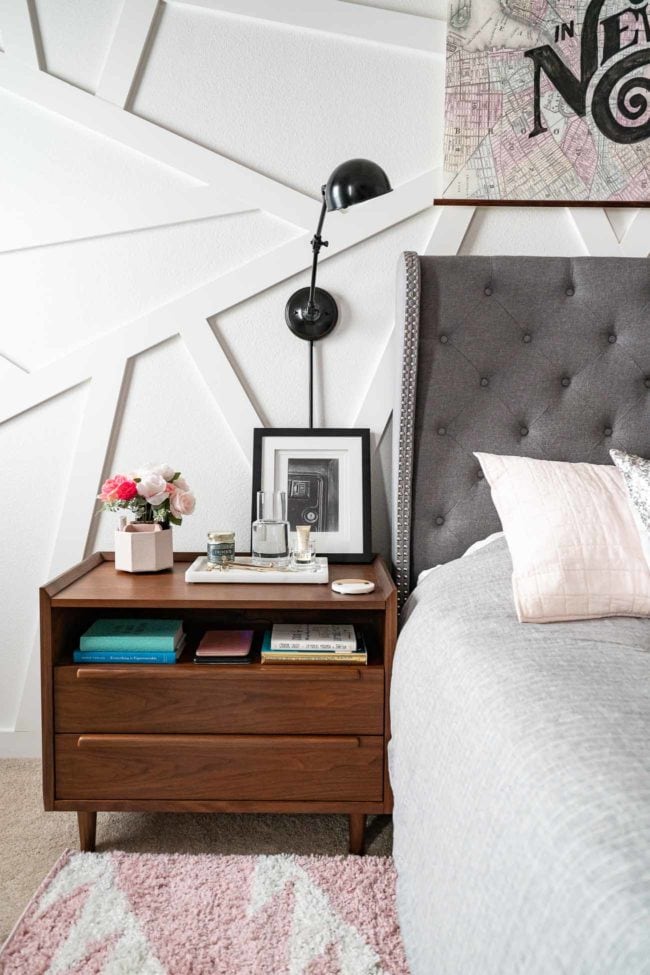 The new nightstand is a much better height for our bed and looks great against the accent wall!
Across the room, the dresser wall feels warmer, and the drawers are more functional than our old dresser, which had way too many tiny drawers.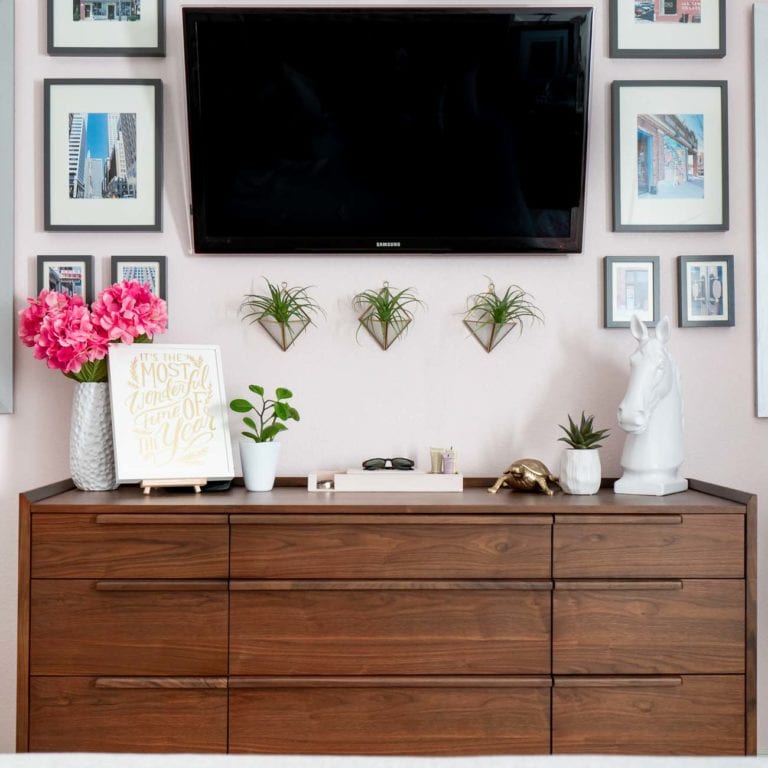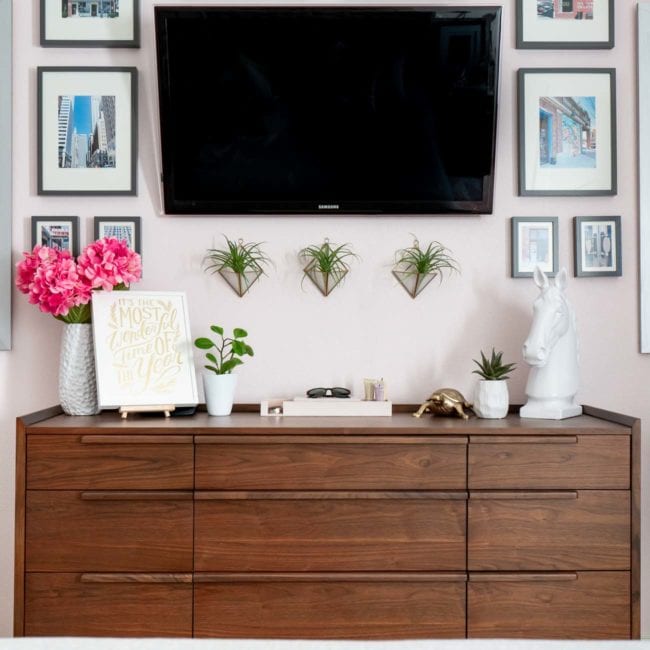 Bedroom Decorating Do's and Don'ts
1) DON'T wait for perfection.
I can't fathom still living in the beige clutter we had before phase 1 of our bedroom makeover. And I'm so happy we went ahead with this phase instead of waiting until we could replace the carpet.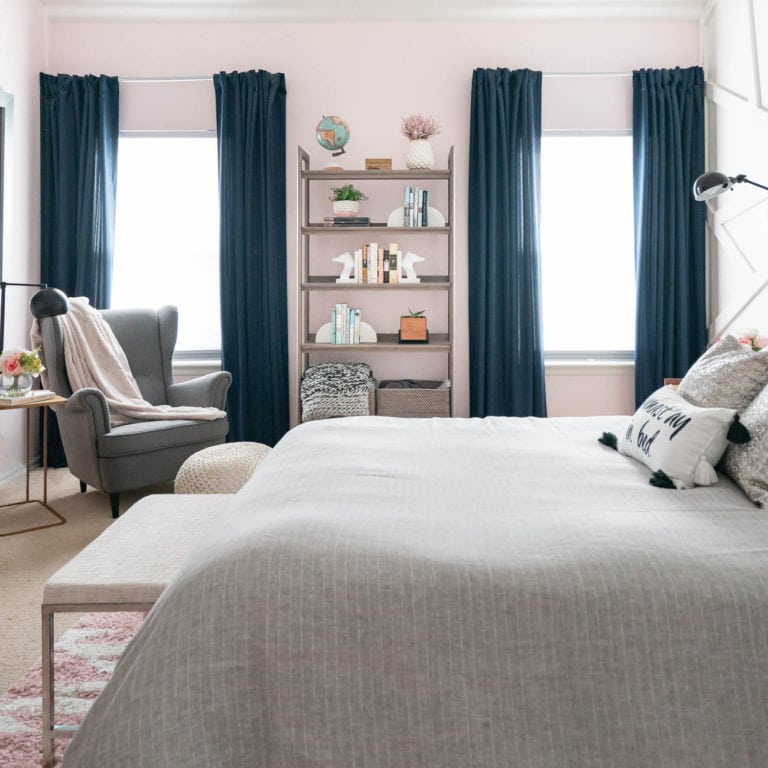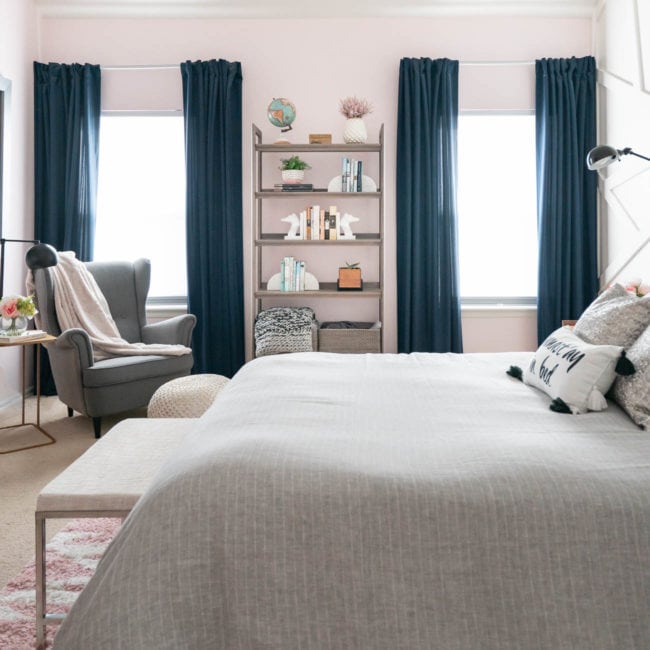 2) DO balance styles.
When considering master bedroom ideas for couples, try to incorporate elements that each person loves. The new dresser helps our room feel more balanced against the blush pink walls.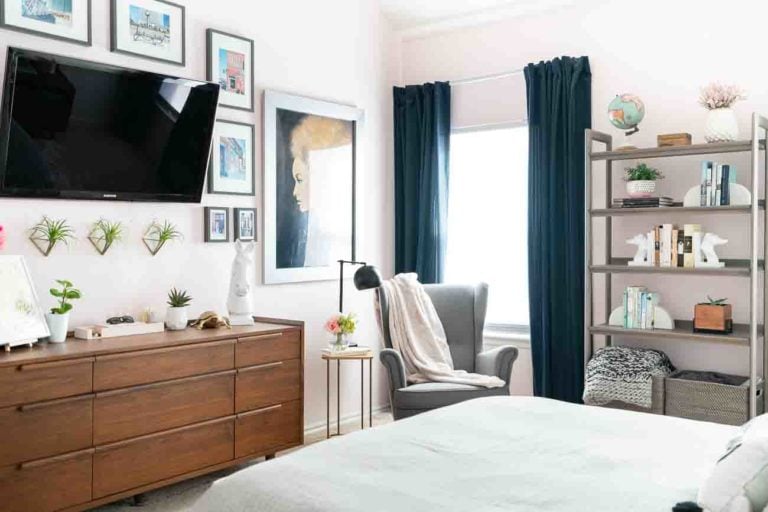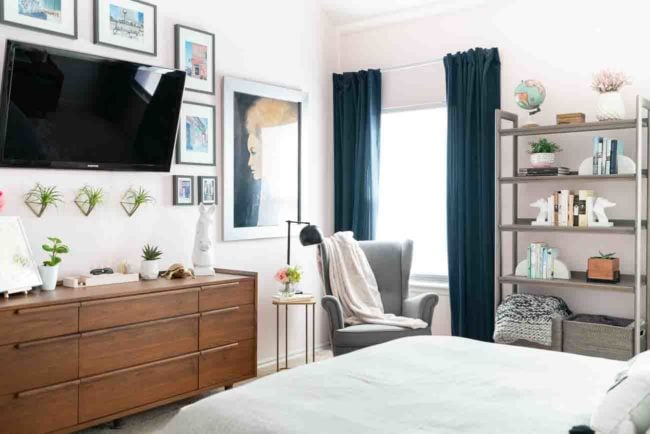 3) DON'T match everything.
It's tempting to buy a full matching set of furniture from the bed and nightstands to the dressers. It feels safe because you know it will match.

However, you can end up feeling like you live in a furniture store instead of a room that really feels like you.

Try mixing an upholstered bed with wood nightstands to mix things up.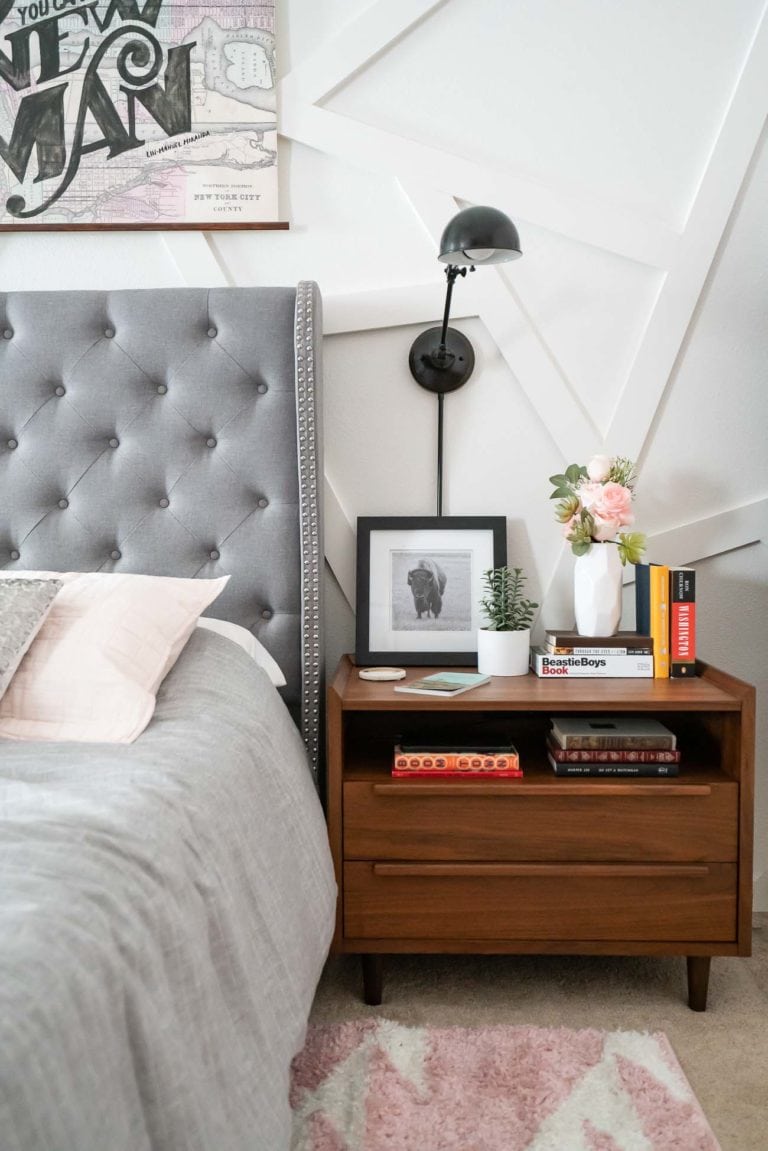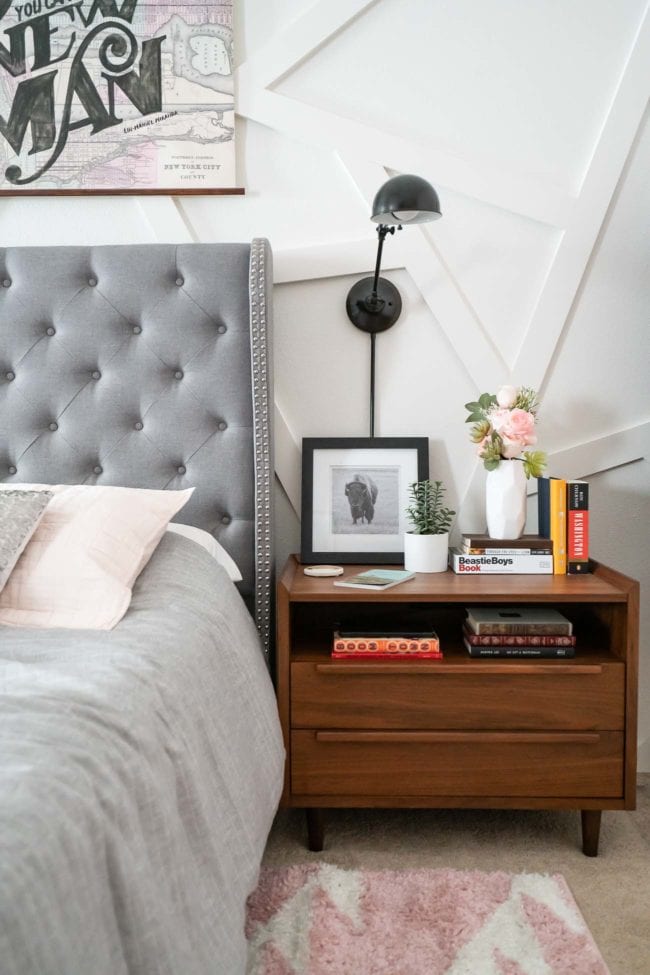 4) DO prioritize sleep.
From the linens and art to the wall color, make choices that feel soothing and relaxing. You want this room in the house to feel like a retreat.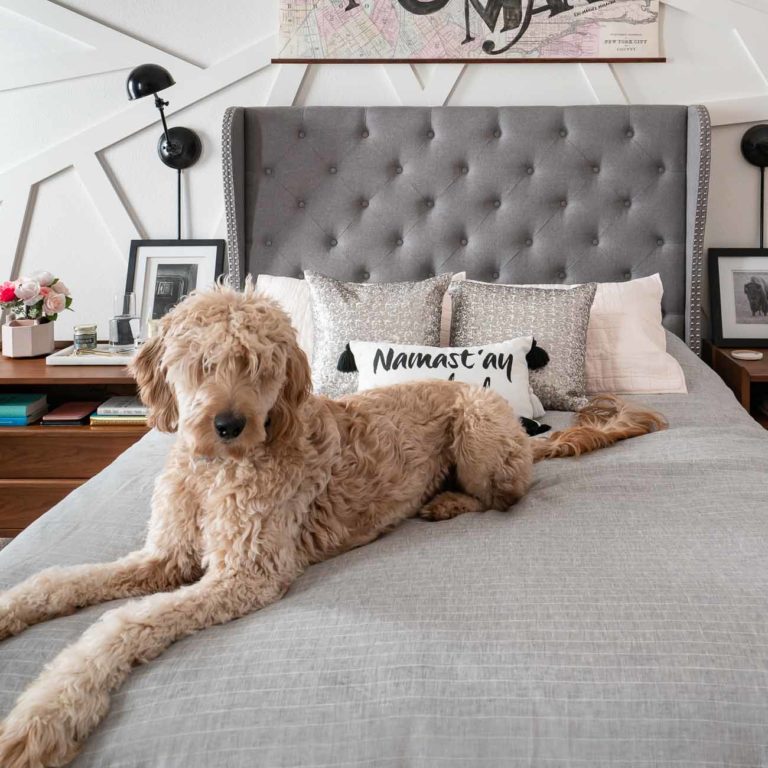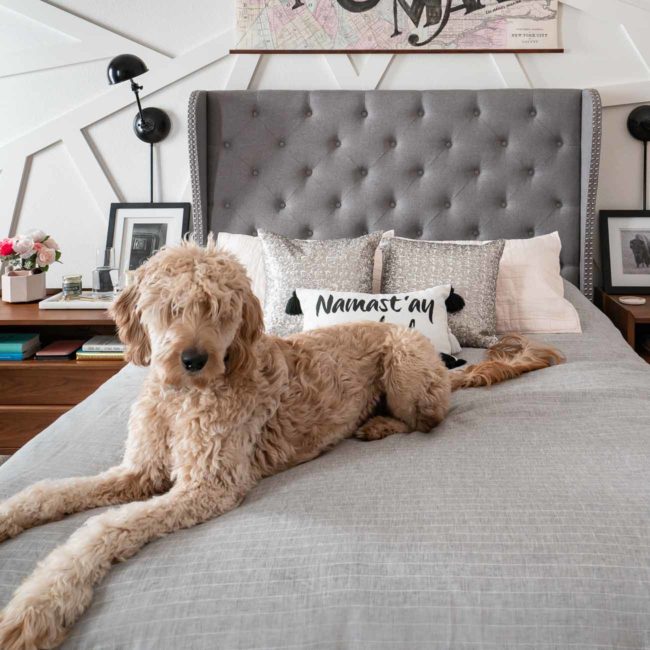 Grey Pinstripe Duvet | Blush Shams
Gus is a big fan of the new grey duvet, and wanted to demonstrate how comfy it is. Plus, it looks great!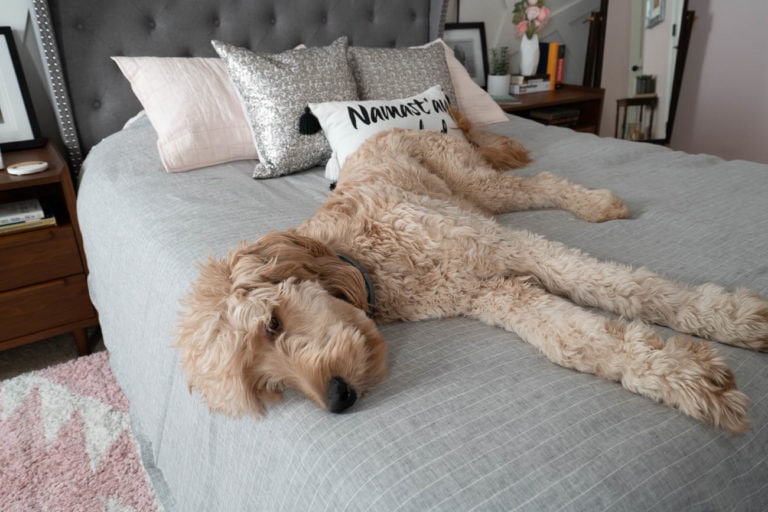 5) DON'T forget to consider function.
When I started looking for new nightstands, I knew I wanted a midcentury style. However, like people, the inside matters as much as the outside when furniture shopping.

I hoped to find a nightstand with USB charging ports, plus two drawers for storage. When I spotted the Crate and Barrel Tate Nightstand, I knew it was the perfect mix of function and style!

There are 2 regular outlets and 2 USB outlets in each nightstand. It's so nice to finally have an out of the way spot to charge my Kindle!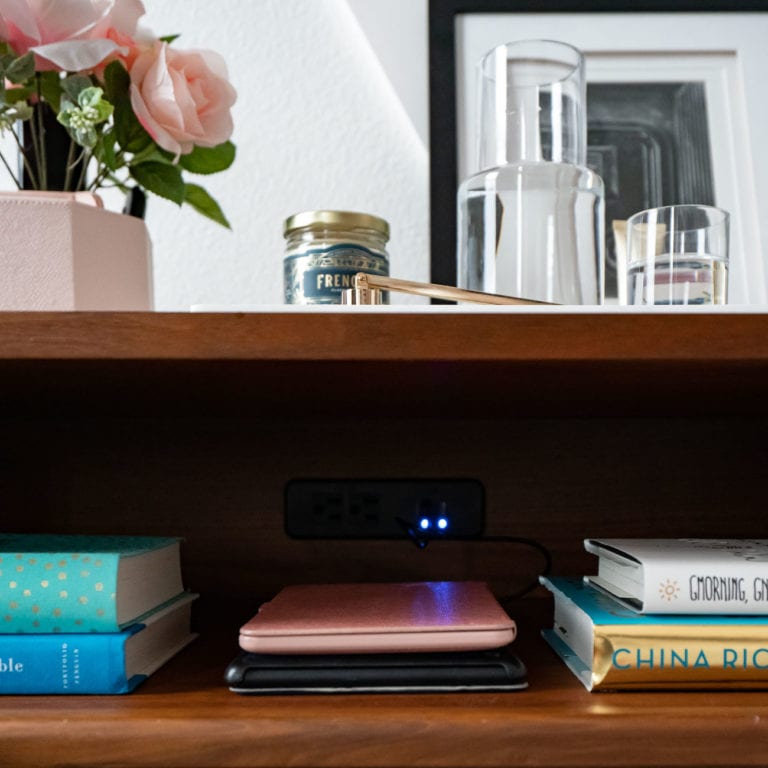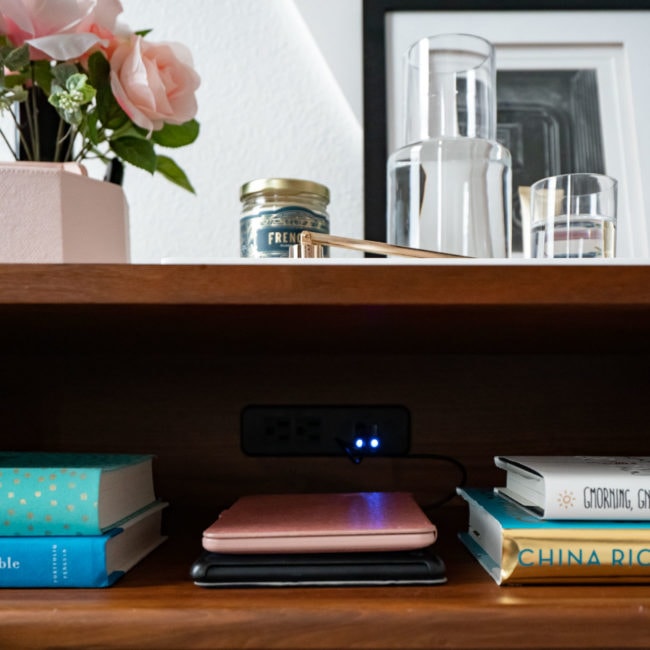 I also added a simple carafe and cup set to the top of the nightstand. Almost every night I end up getting out of bed to refill my water, and then struggle going back to sleep once I've been walking around. This chic solution was perfect! You can't beat functional home accessories!

I grouped the carafe on a marble tray with a gorgeous gold candle snuffer and wick trimmer. I spotted something similar on vacation, but they were $40 each and I couldn't rationalize that price. The Crate and Barrel versions are just as nice and a much better price!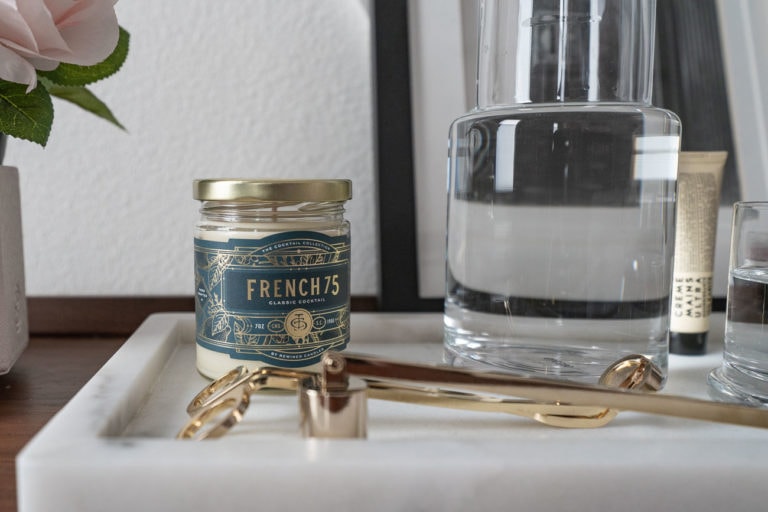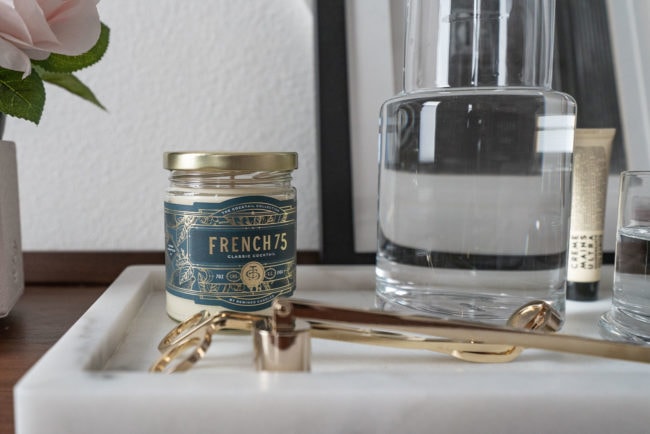 I also added a full-length dressing mirror that complements the room. We made a space for it right next to the bathroom for a quick wardrobe check on the way out the door. Aren't the gold accents beautiful?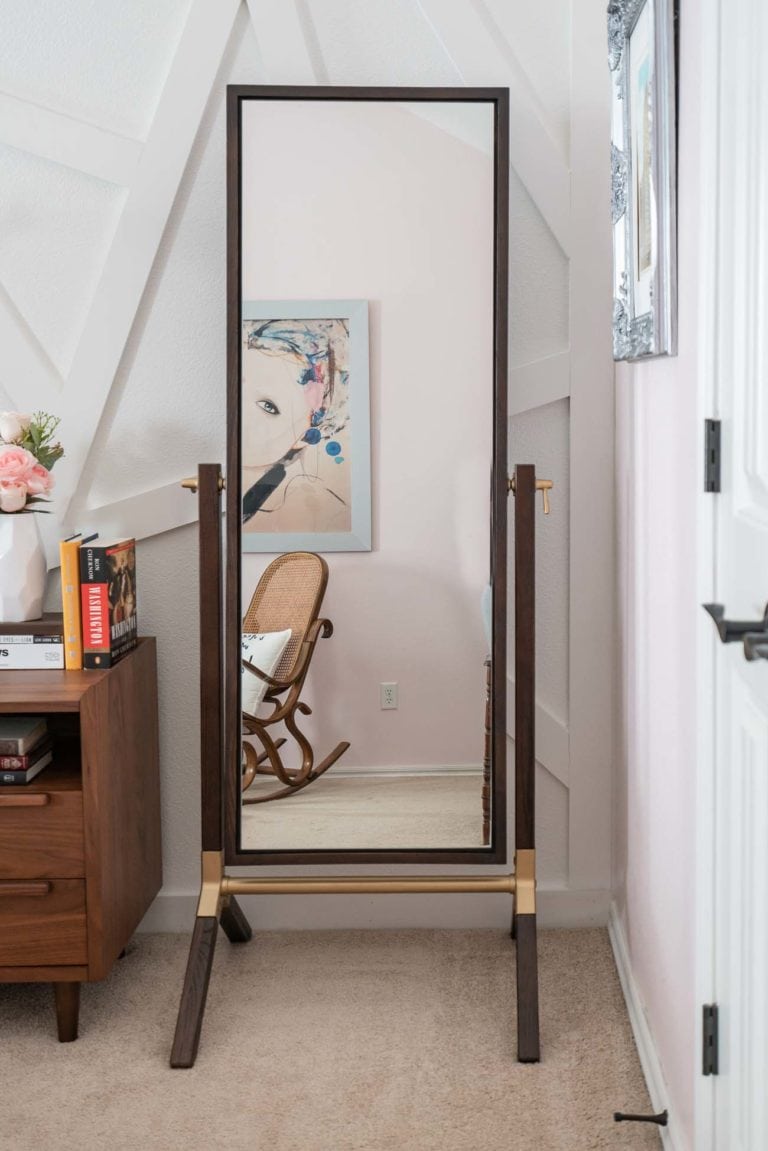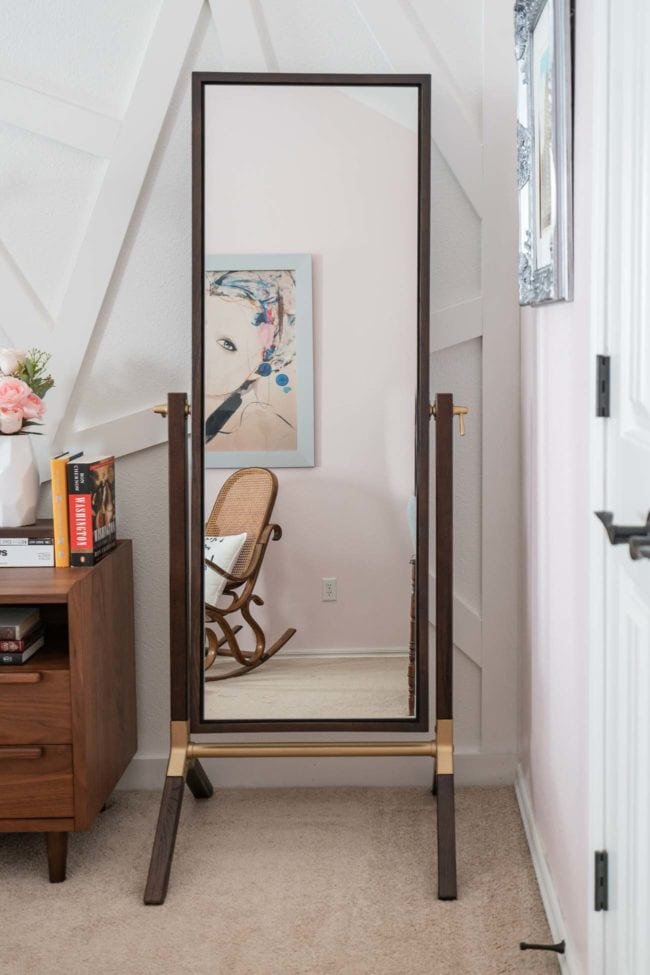 6) Do think outside the box.
Some of the accessories that are perfect for our bedroom were designed for other areas of the house.

This marble tray on my nightstand is from the kitchen section, and I found a blush office organizer that we're using to corral remotes on my nightstand.
I added some faux flowers to the middle so it looks like a vase from a distance, but the outer sections hold the remote for the fan, TV, and Fire Stick.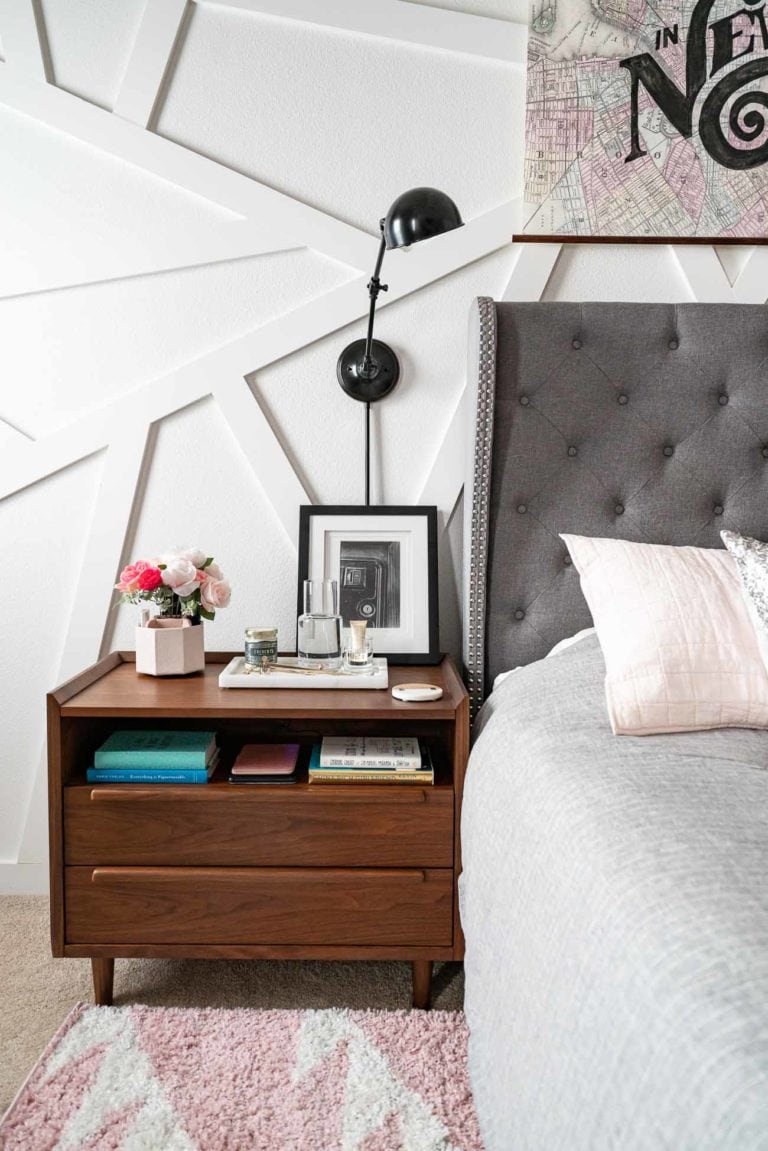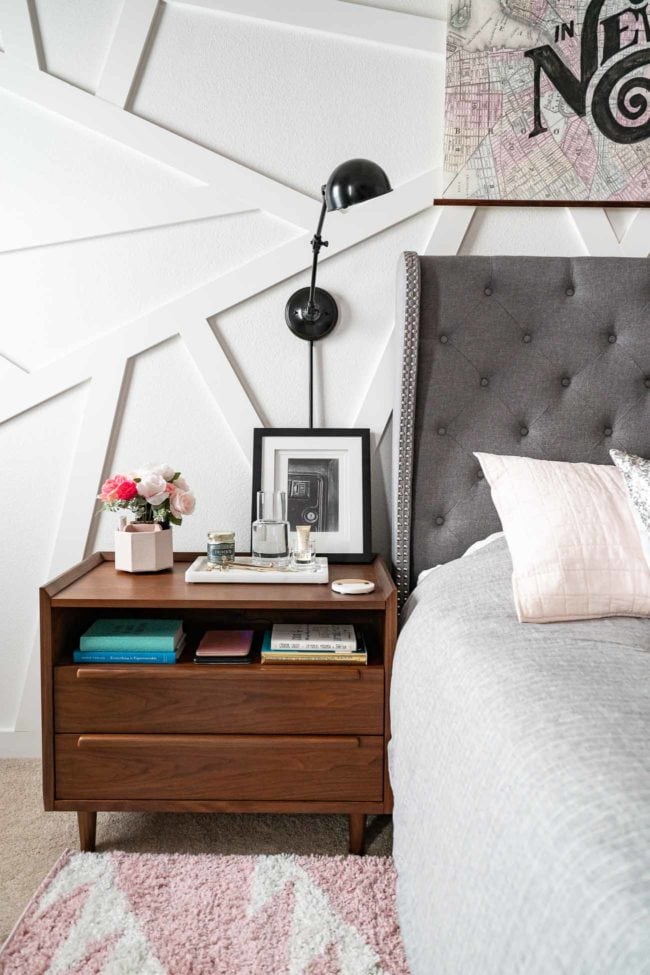 7) Don't be afraid to compromise.
I already mentioned one of our biggest compromises was keeping the existing carpet a bit longer and being okay that it's not up to par with the rest of the room.

I also had to prioritize function and remove a piece of art I really love in order to add a bookcase between the windows. We needed more space for books downstairs and I LOVE the new bookcase, but I had to be willing to give up something else to get it.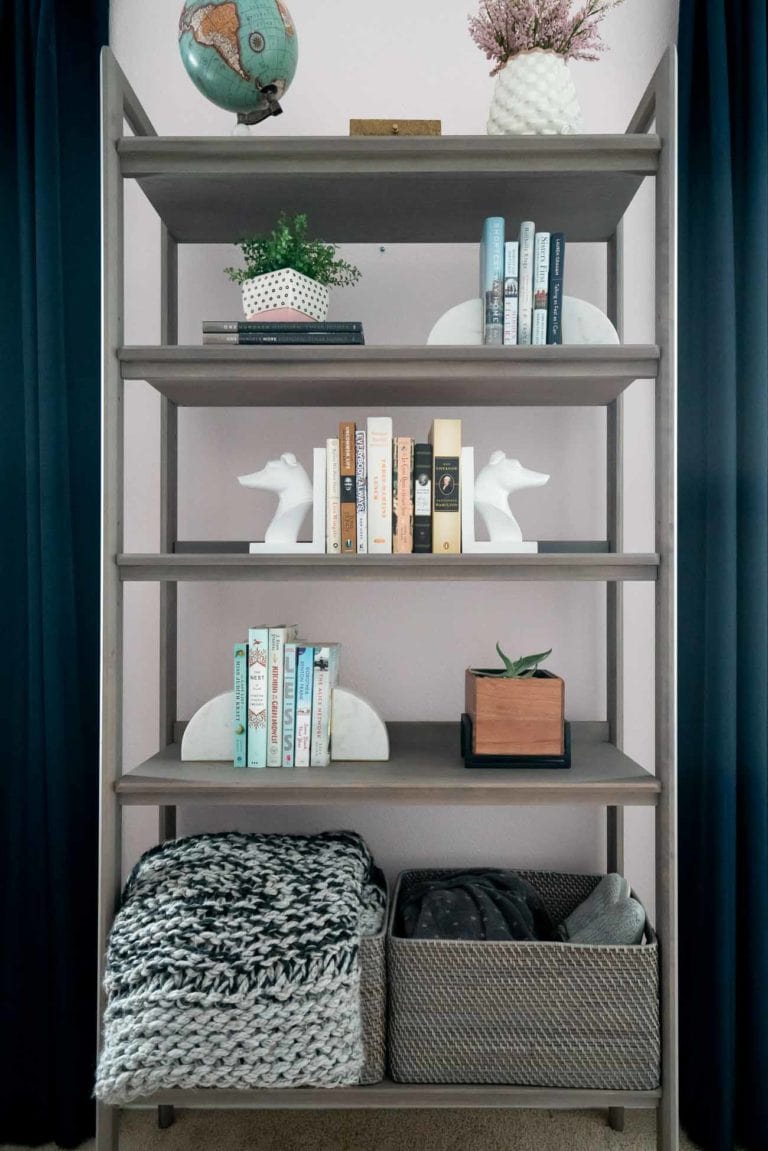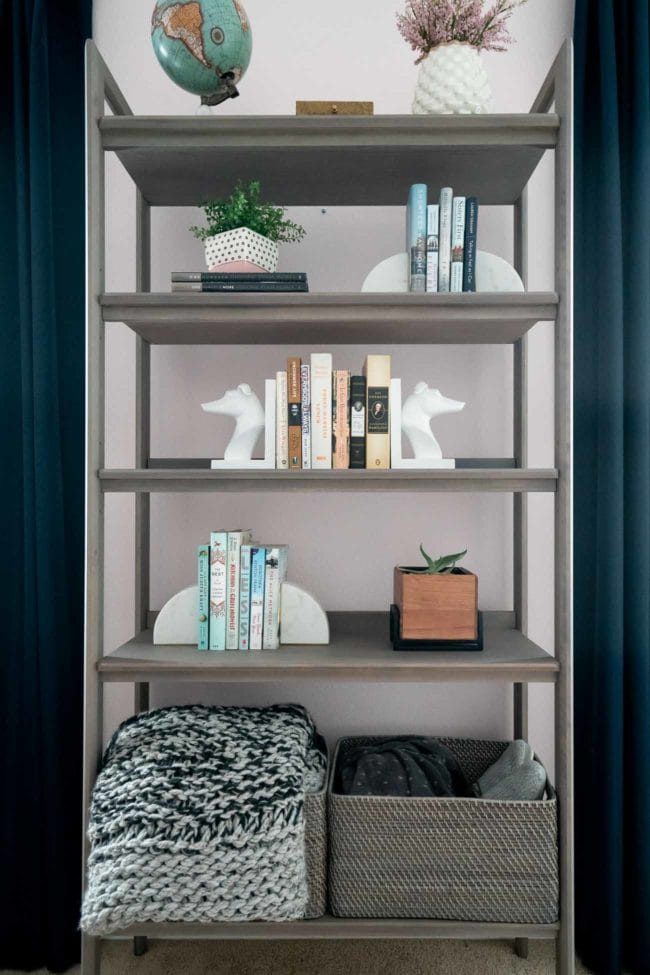 Grey Bookcase | Marble Book Ends | Wood Planter | Grey Bins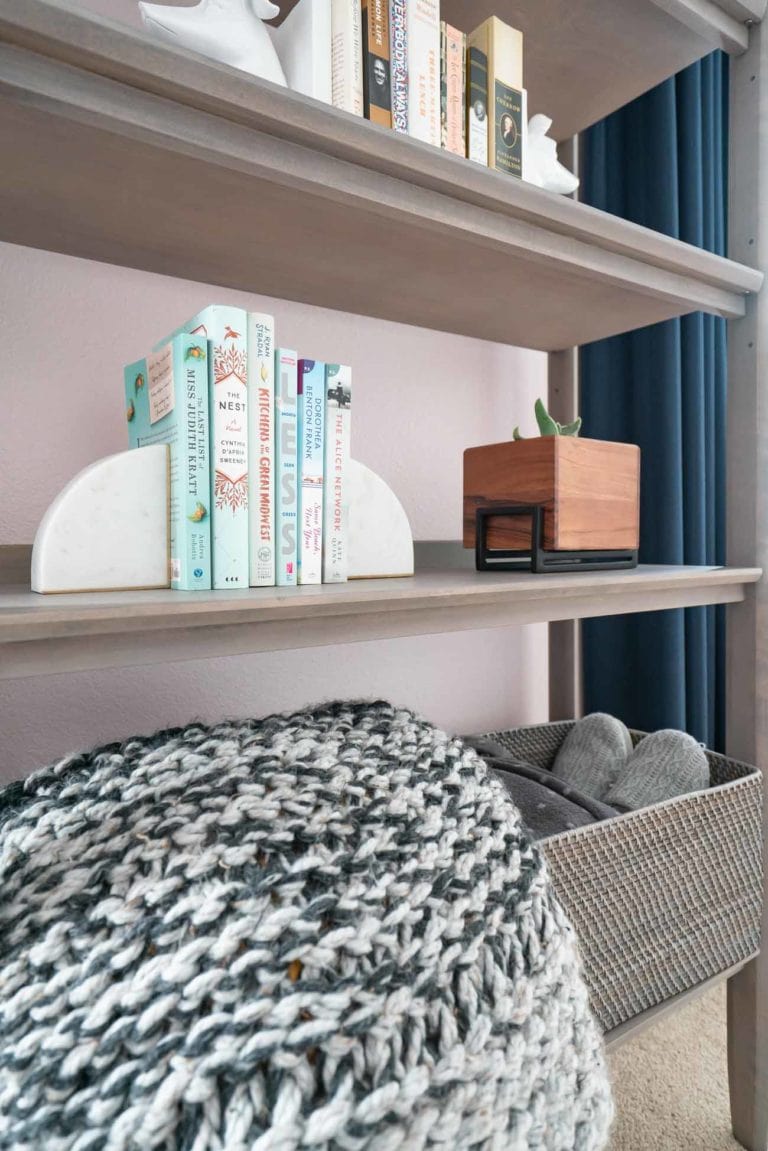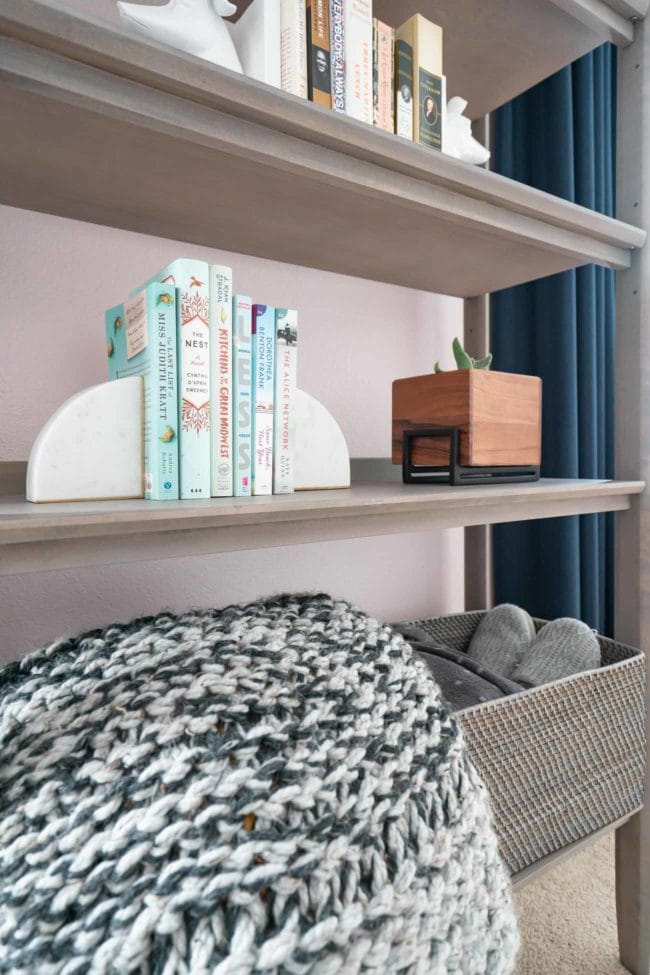 I added a shopping guide below for all the new items in the room! We are LOVING our new Crate and Barrel Bedroom Furniture and highly recommend the Tate line. The drawers are so smooth and the style is timeless!
Here's one final look at our updated space from the doorway. We love it!
Let me know if you have any questions about decorating your space or about any of the products we used!