I probably shouldn't set the bar so high, but this is by far my favorite project & post to date!
We started with two problems in this closet. First, it was getting too difficult to find things in my soft-sided bins. I was losing track of what I already owned and what I needed to stock up on when there was a sale. Second, it's B-O-R-I-N-G!!! Here's a before pic: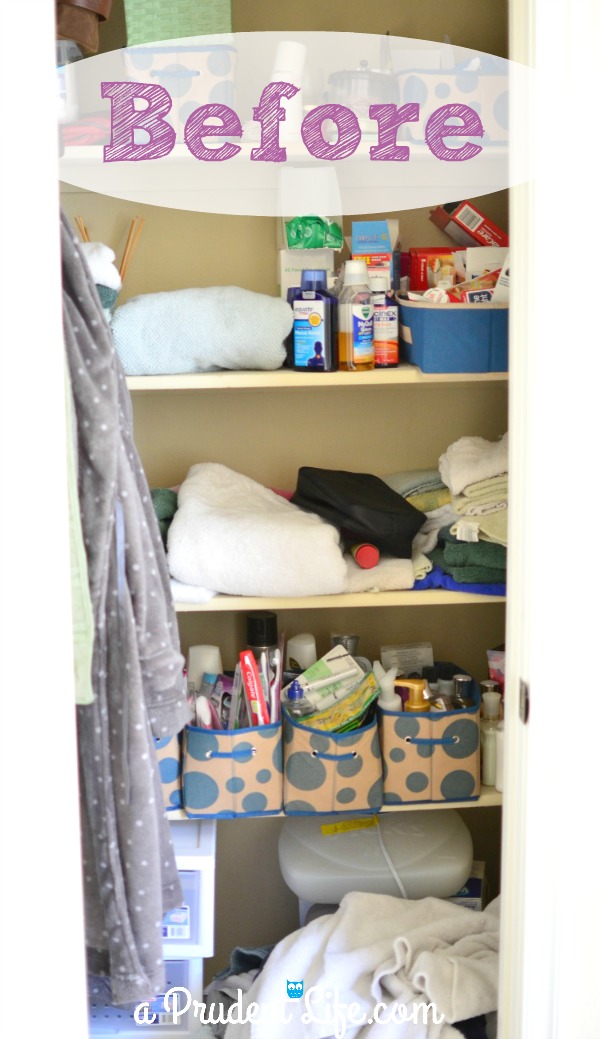 Can you imagine trying to find the right medicine quickly in this closet when you don't feel good? Sick + messy medicine = cranky!
To get started, I cleared everything out of the closet and finally got to crack open my Pantone Radiant Orchid paint! It took two coats to cover the walls, but they are now gorgeous! I had a big fear of turning the closet into a cave, so I taped off a line at the top & bottom to leave a couple feet of neutral light reflecting space. The shelves got two coats of Valspar Ultra White paint AND were edged with Rub 'n Buff Antique Gold. Every room needs some Rub 'n Buff! Have I made you wait long enough for the reveal photos? I think so too – here you go!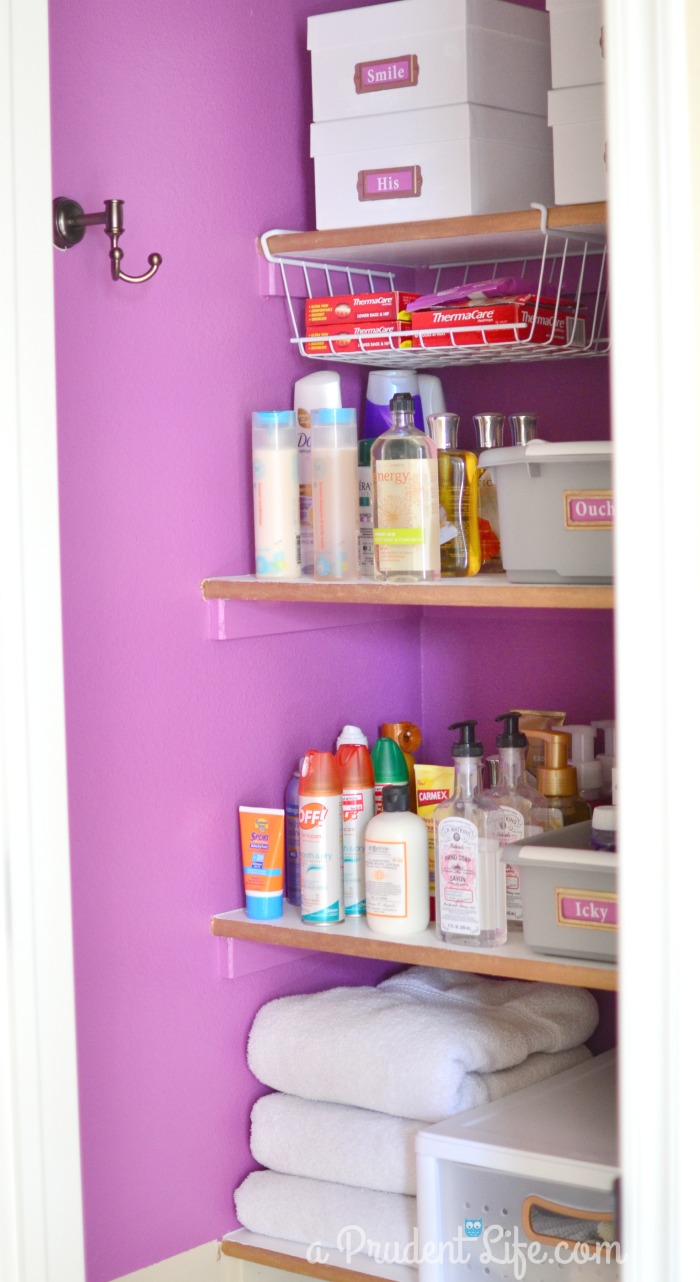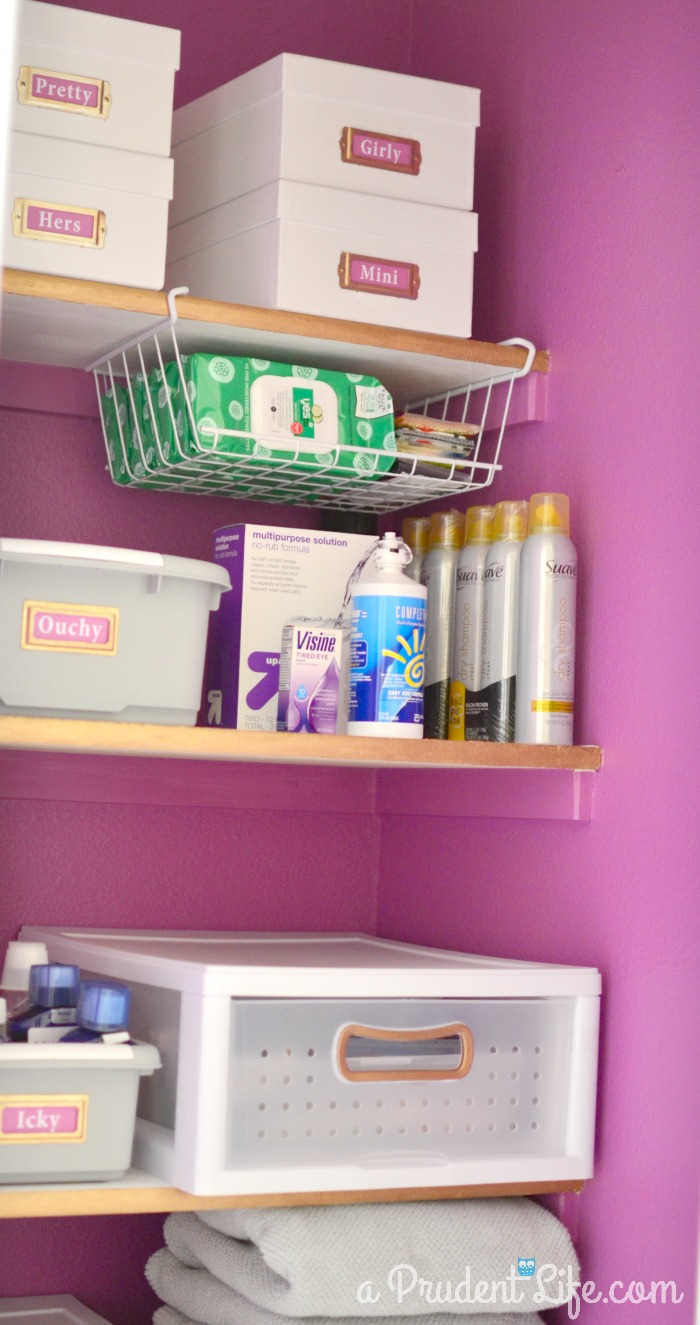 Let's take a closer look at a few of my favorites. The top shelf has six photo boxes from Michael's.
They were on sale 6 for $10 before Christmas so I snatched up a ton of them. They came with gold label holders, but I still rubbed a little Antique Gold over them to get a perfect match. I made the labels in PowerPoint, using the RGB code from Pantone for Radiant Orchid. The color match between the printed label & the wall paint is amazing.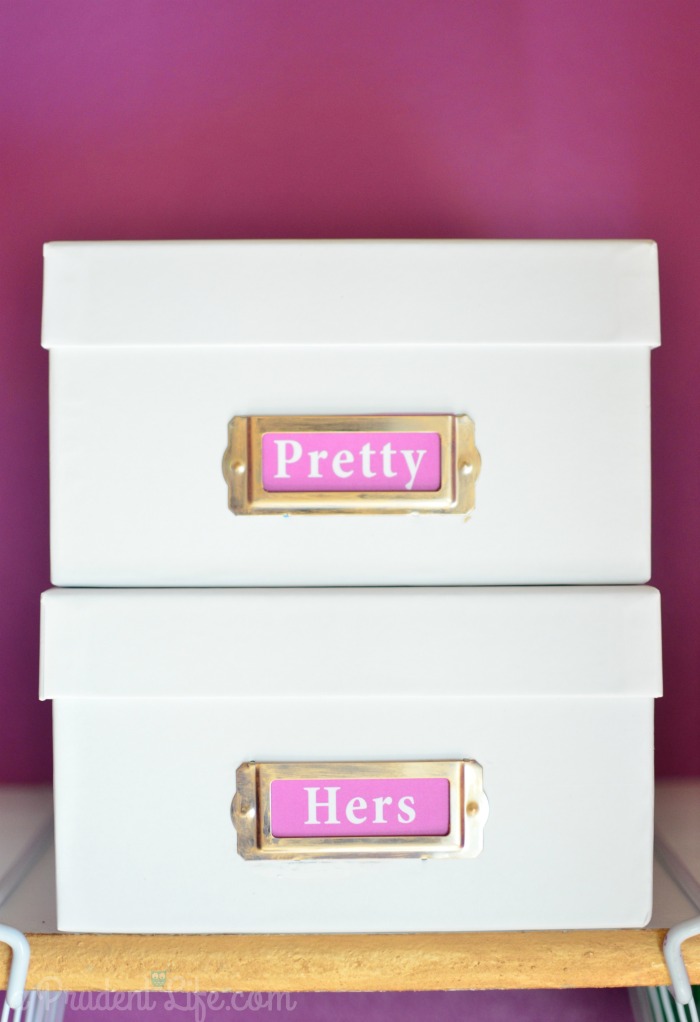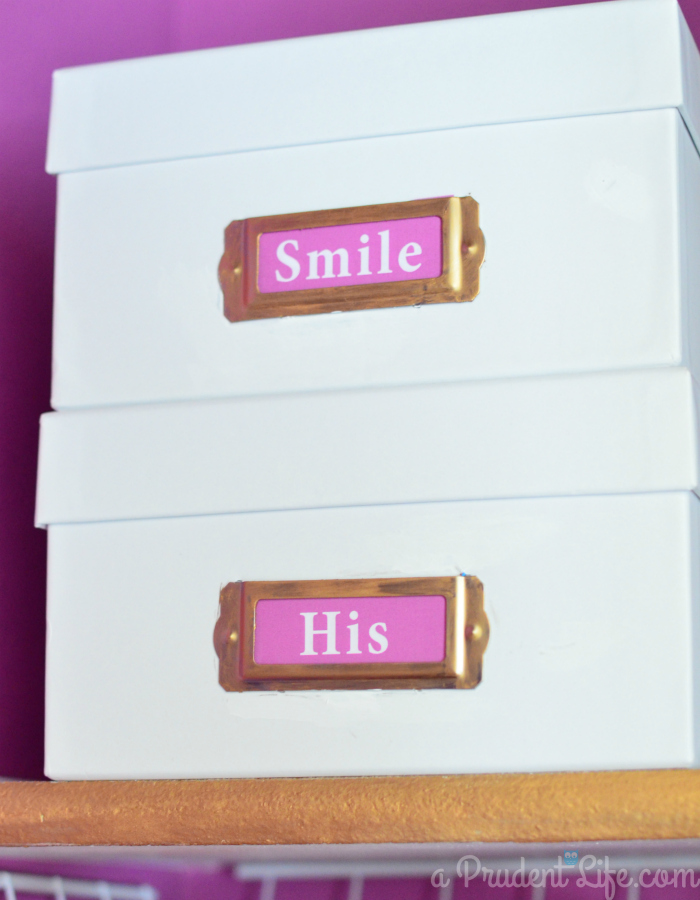 I taped the same printed labels on our laundry bins.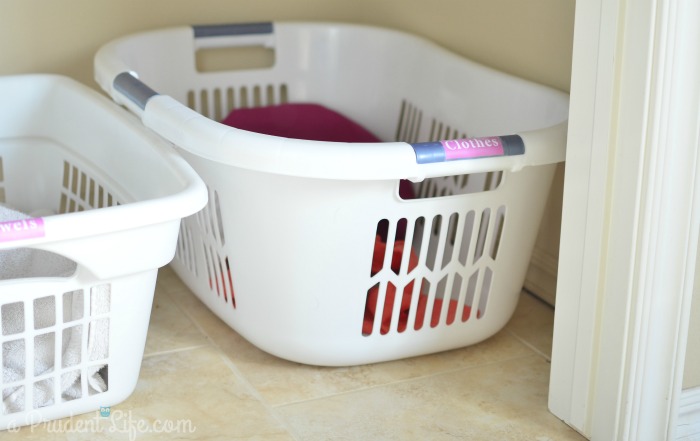 I found some hanging baskets at Lowe's for $6 each and used them to maximize space without adding an extra shelf. (You can also get them here on Amazon!)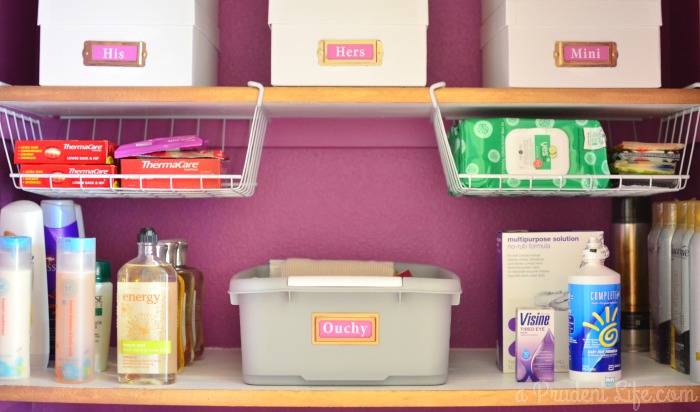 It seems like towels always fall over when they are stacked side by side, so I separated them with a storage drawer.
The drawer was a perfect solution because it can hold the wash cloths & extra hand towels. So much easier than trying to keep a stack of wash cloths perfectly straight! The drawer handles were white until I got to them with my bronze Sharpie. It was an exact match to the shelf edges!

Cost Breakdown
Paint (2 samples Radiant Orchid + 2 Samples Ultra White): $15
6 Photo Boxes (Michael's Sale): $10
Storage Drawers (Target sale): $14
Gray Baskets (Staples Clearance): $5
Hanging Baskets (Lowes): $13
Label Holders for Gray Baskets (Staples): $3
Total Cost: $60
Secret Decoder Ring for Labels
Smile – Toothpaste, brushes, & floss
His – His razors, shaving cream, & deodorant
Hers – My razors, shaving cream, & deodorant
Pretty – New makeup
Girly – Used once a month 🙂
Mini – Travel size shampoo, conditioner, body wash & lotion
Ouchy – Bandaids, aloe, ointment – basically stuff for flesh wounds
Icky – Liquid medicine
All the toiletries in the closet are the extras we buy when I can get a great deal. We save a ton of money by having a small stockpile instead of having to pay full price when we run out of something.
Now that things are organized, I can be more effective and stay on top of our stash. For example, if we have NO toothpaste in our smile box, I will grab a box if a sale/coupon combo makes it $1 per tube. But if I check and we already have 4, I wouldn't buy any unless it was free after the coupon. I'm not a crazy stock-piler, but I love having a few of everything on hand.
Well, correction, I don't PLAN to be a crazy stock-piler. It seems my messy stash before was hiding toothbrushes. Oops!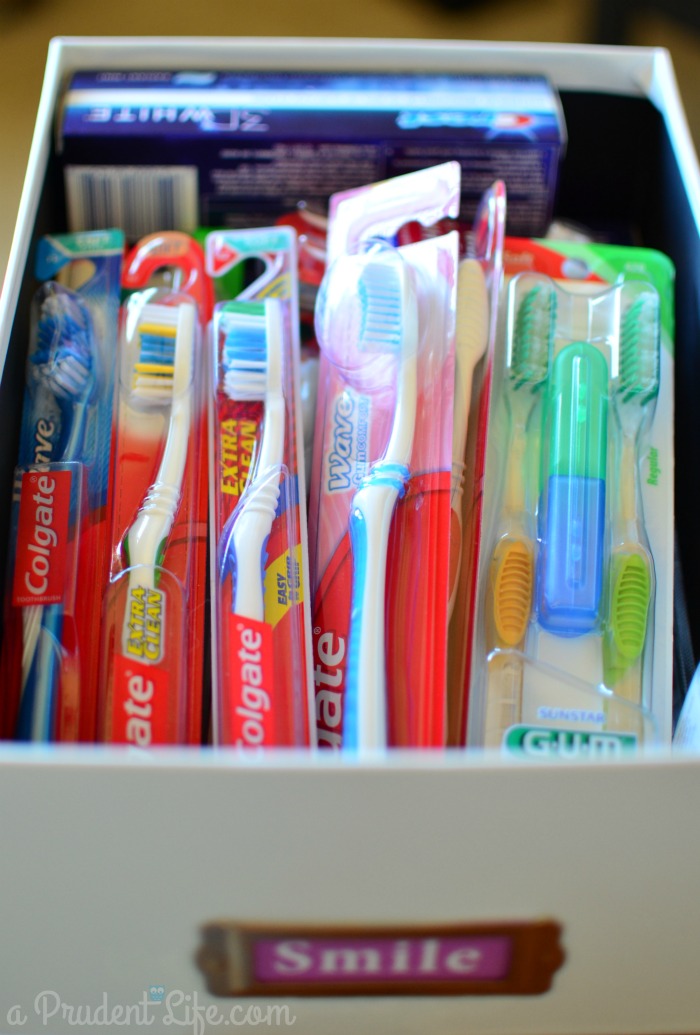 No more toothbrush purchases for a while!
How about one more view of all the shelves?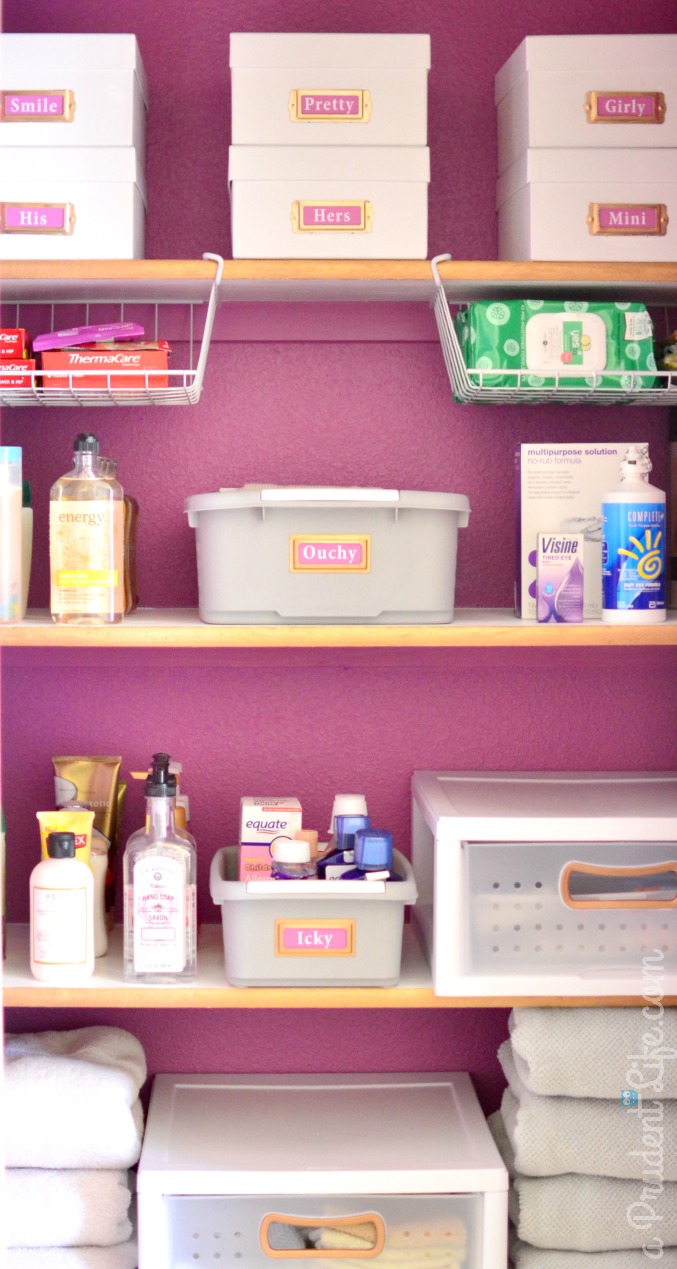 Ready for another closet makeover? See how we turned out coat closet into a cleaning closet!