We've got a new tool in the fight against dog hair covering our wood floors – the Shark IONFlex 2x DuoClean vacuum!
The biggest struggle we have keeping our house clean comes courtesy of Maddie. She sheds more dog hair than I ever knew was possible.
And the dang hair doesn't even cooperate and stay where we can quickly vacuum it up. It sneaks way under and behind furniture like it's made up of microscopic ninjas.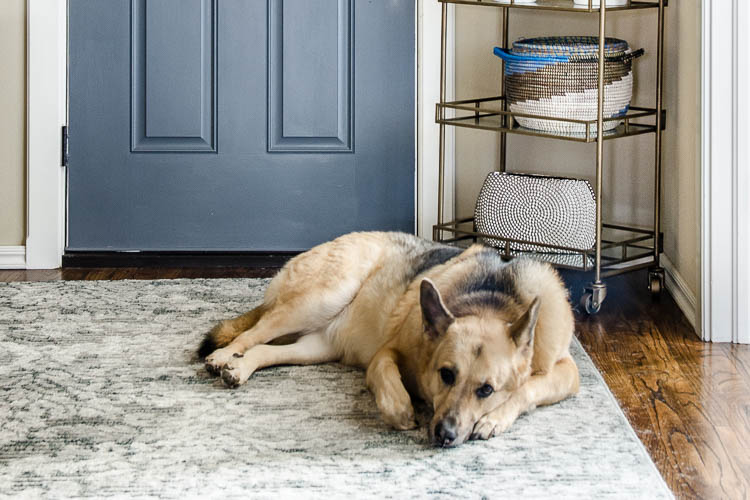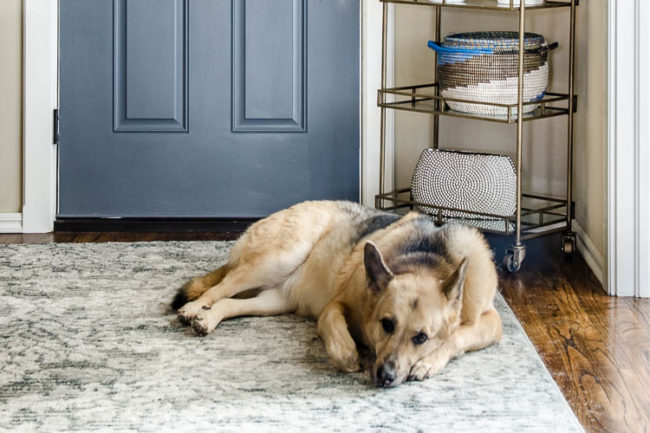 Post contains affiliate links, which means I may get a small referral fee if you purchase. The vacuum reviewed was provided by SharkNinja, but I didn't receive any other compensation and wasn't obligated to write a positive review. 
I did a post on my favorite cleaning tools back in 2015, including our Shark vacuum, which is still loved and going strong despite all our other vacuums biting the dust after a year because of all the hair.
That said, we still don't vacuum up the hair quite often enough and it tends to gather like tumbleweeds. I had a grand plan to commit to Swiffering at least once a day, but even that frequently there is enough hair that you get a big pile that can't be easily moved to the trash. I was having to vacuum up the pile, which defeated the purpose of a quick daily Swiffering.
So when I saw a commercial for the Cordless Shark IONFlex last fall, I was beyond intrigued. It seemed like it would be as easy to grab as the Swiffer, but more powerful and effective.
Plus, I've turned into a collector of SharkNinja products. I'm still LOVING my Coffee Bar, Corey bought me the Intelli-Sense Blender/Food Processor for Christmas this year, and I picked up their Slow Cooker on sale after Christmas. We find that their products are designed for function and ease of use in a way that seems way too rare these days.
Total side note, but that blender is a beast of ice-crushing power like we've never experienced. And it has programs for common things like smoothies, so you just push the button and it cycles on and off at the perfect intervals to let all the solid pieces sink to the blades. I can hit the button and walk away to clean up and by the time I'm done, the smoothie is done to perfection. It is loud, but so much more effective than our old blender.
So back to the cordless vacuum. Based on my genuine obsession with their products, I asked SharkNinja if they would ship me an IONFlex for testing and review.
Spoiler alert – I'm obsessed! It basically is a vacuum that does party tricks.
With the push of a button, the IONFlex channels a contortionist and bends to slide right under furniture.
Maddie's hair hides under the entry console, but look how easy it is for me to take care of that now.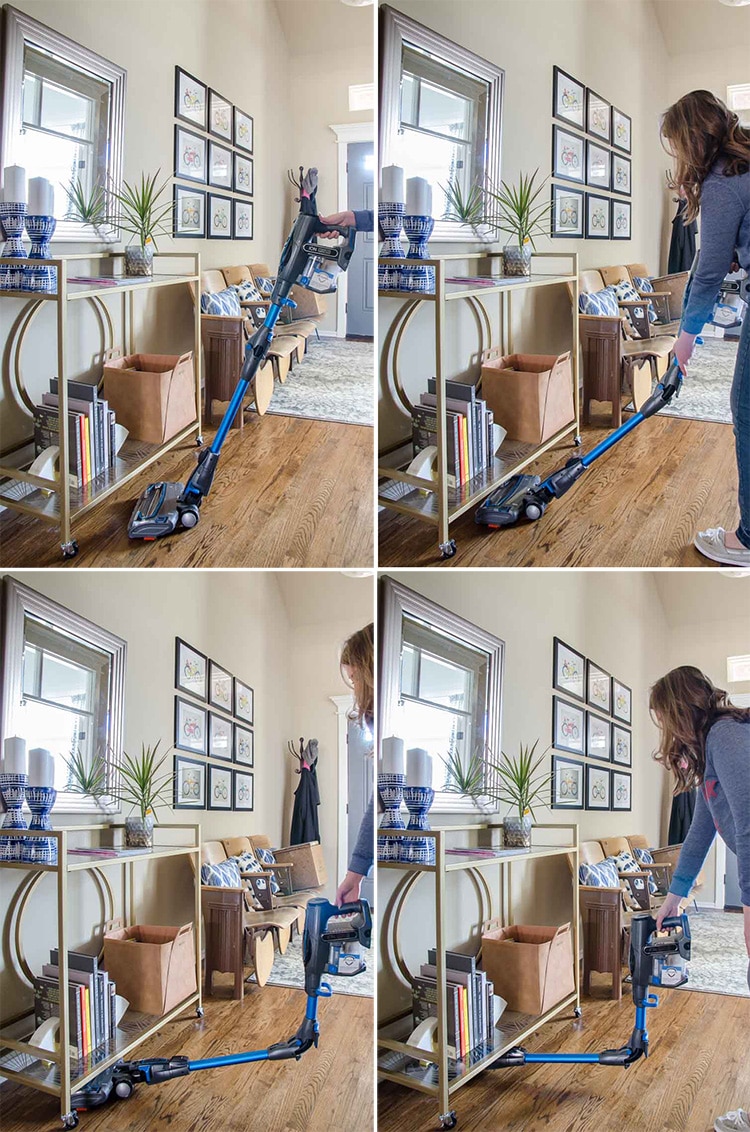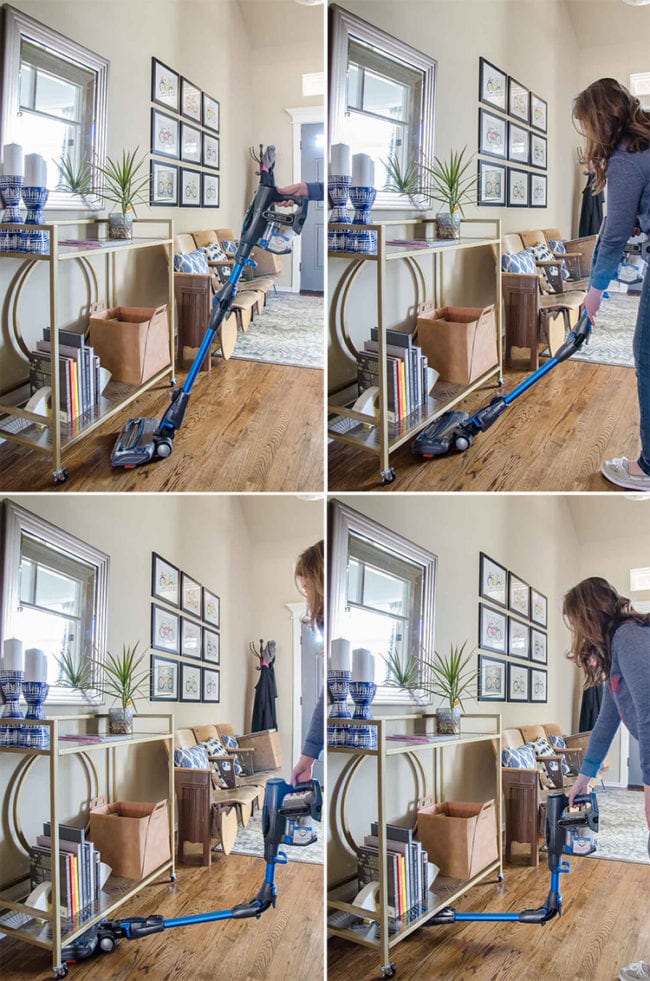 Isn't that amazing? I get excited all over again every time I use that feature.
Party trick #2 happens when you step on the base to detach the nozzle.
Suddenly, I have a long hose that works great for baseboards without bending over,  in smaller areas like behind our auditorium seats in the entry, and even for ceiling fans.
It's also perfect for a quick clean up of spilled items like coffee grounds.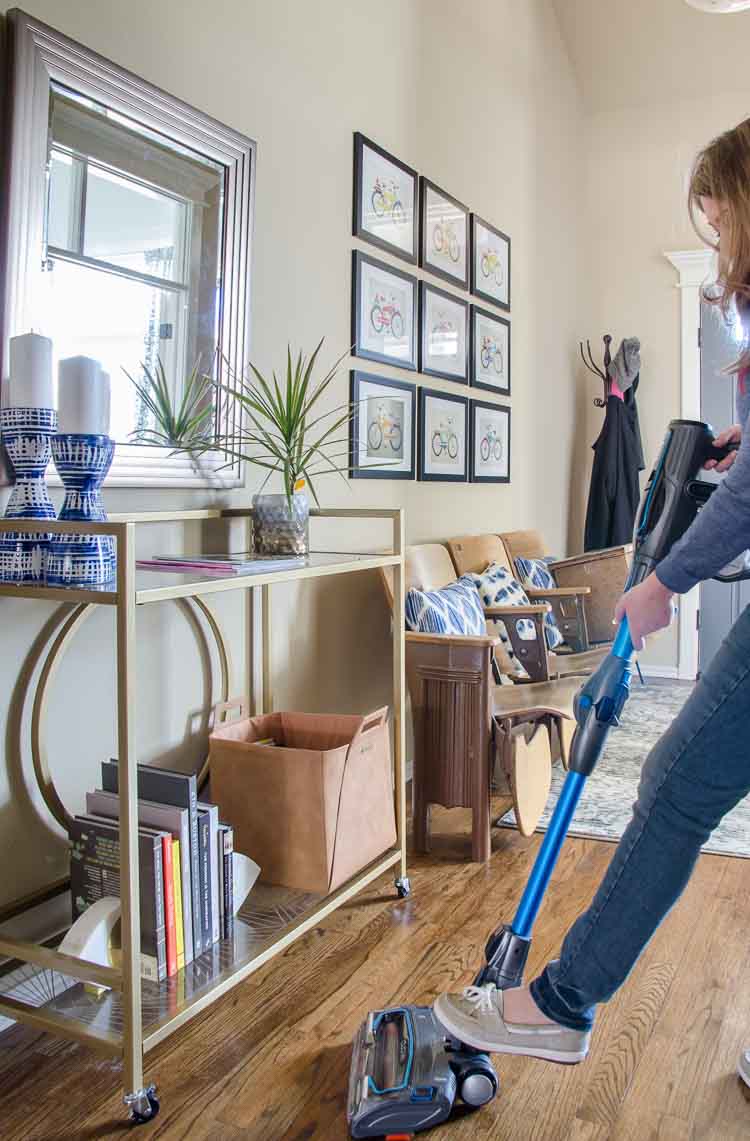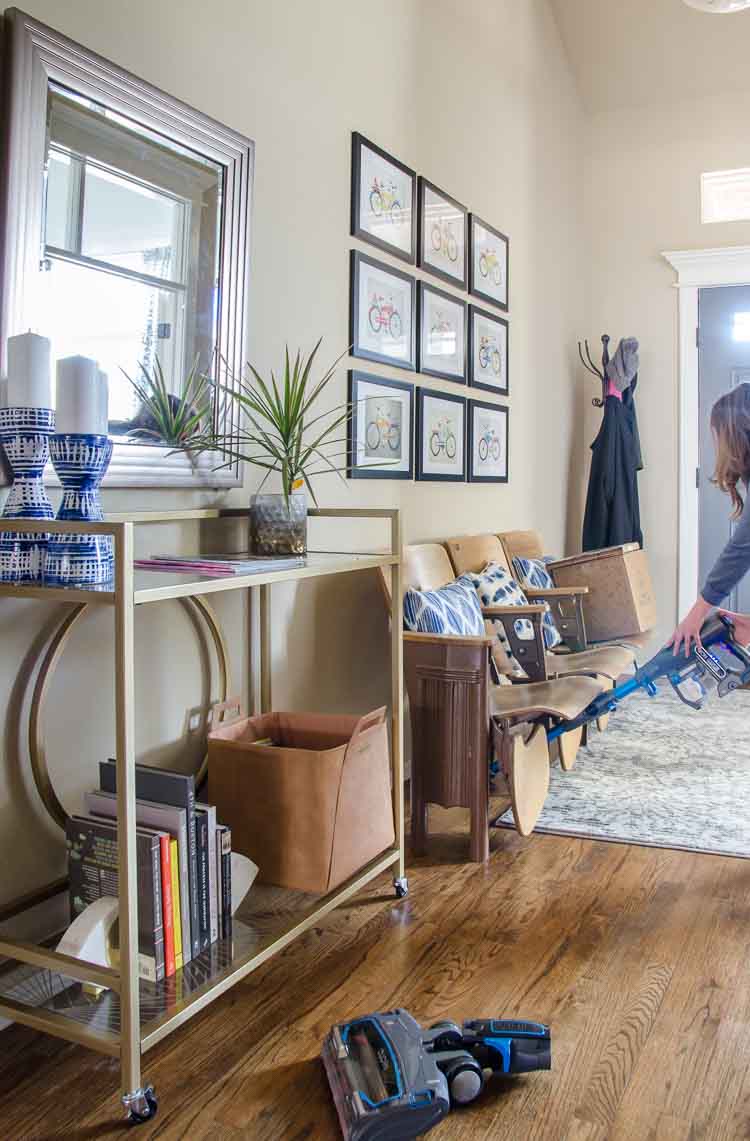 Party trick #3 might be my favorite. This thing is so versatile that it doesn't only bend in the middle and detach at the bottom!
You can also use only the motor section for countertop spills and/or with shorter attachments for everything from cleaning out the car to your normal dusting.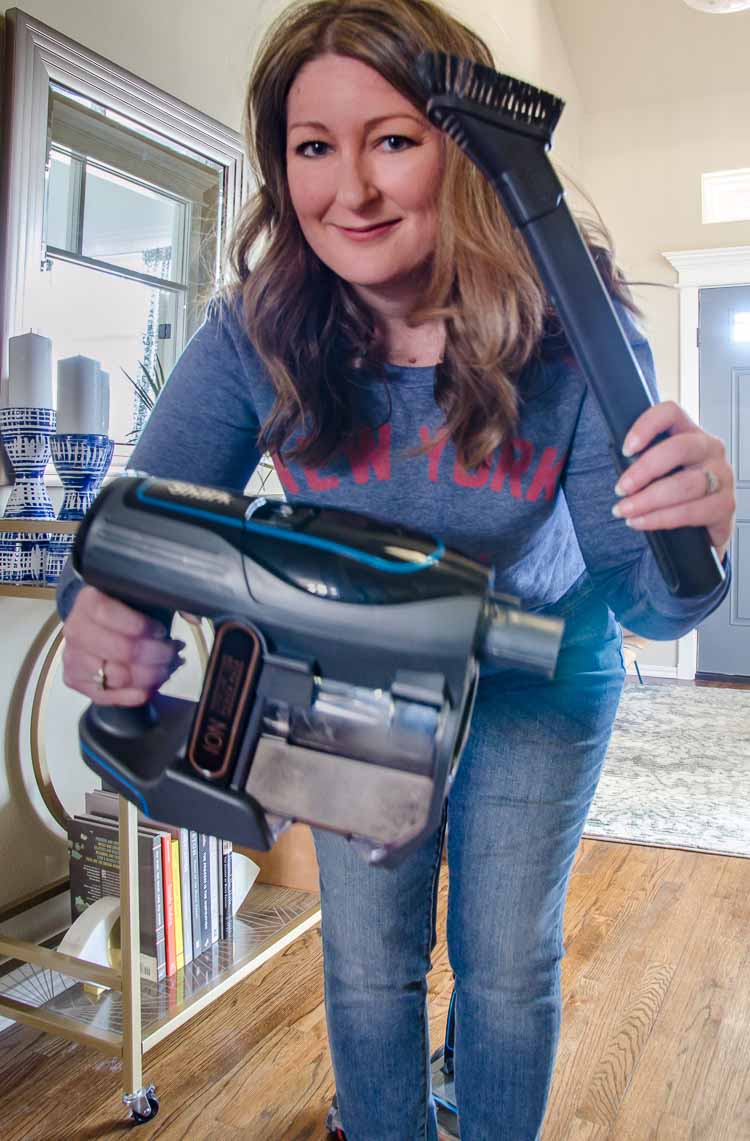 It's nice to know the dust is getting sucked into the filter and not just spread around into the air.
And check out the pic below. While you're dusting, the base can stand up all by itself.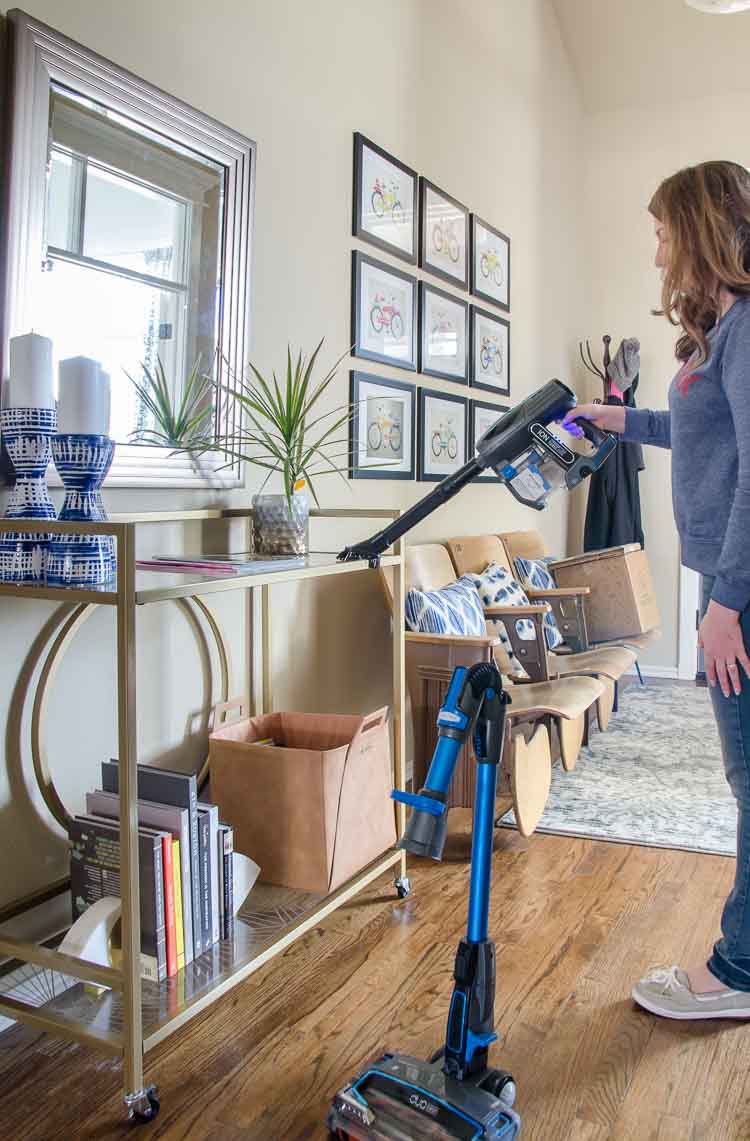 Thankfully, it's not just a 3 trick pony, it actually works for simple vacuuming of solid floors, rugs, and carpeting.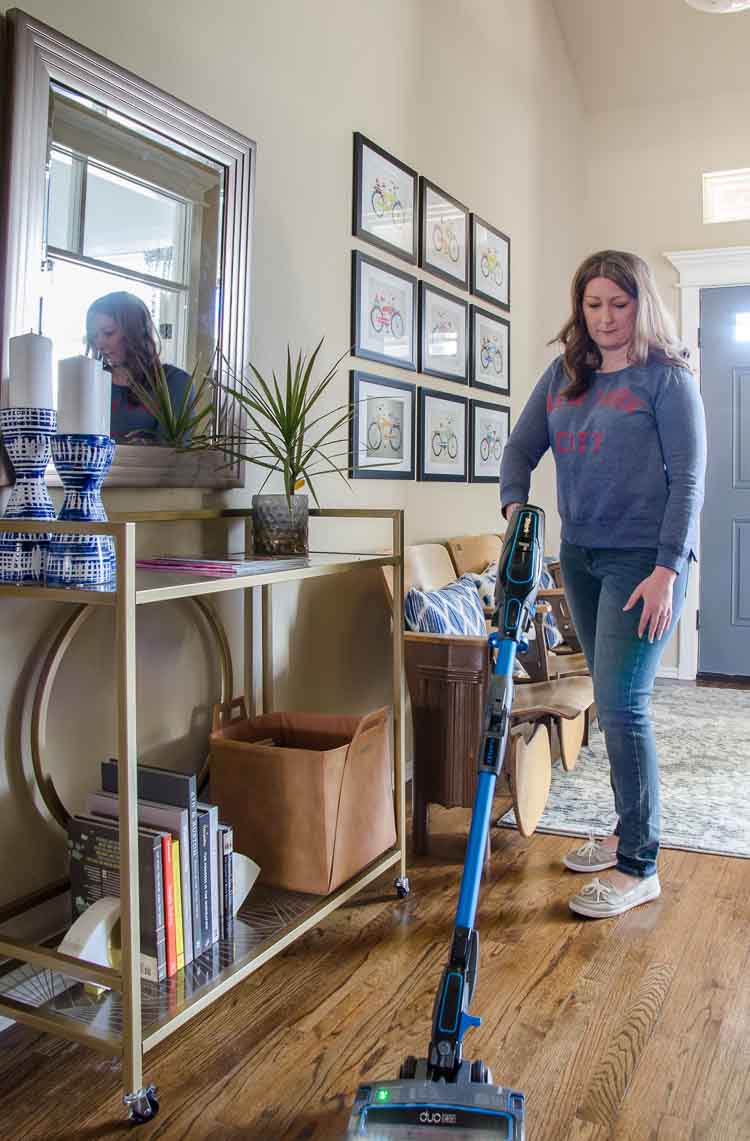 Clearly, the testing went well and we are now using this more than our corded vacuum.
It comes with two batteries, so one can be charging while the other is being used. After each use, we swap the batteries. By the time we're ready to vacuum again, both are always fully charged.
I also like that you can buy replacement batteries. Any rechargeable battery loses some gusto over time, and in a previous cordless vacuum we have, the battery was internal and not replaceable. We had to send the whole vacuum to the landfill when the battery stopped holding a charge. Not cool!
The price is higher than we normally pay for vacuums, so I'm NOT going to say EVERYONE needs to run out and buy one this weekend.
That said, it is less expensive with more features than the other high-end cordless vacs. For some households, it could be sanity-saving.
IF your whole house is carpet and you don't have any pets, I'd probably save the money and go with the corded version. The IONFlex has a roller for carpet and is great for touch-up vacuuming on the carpet, but the corded version has more power to suck dust and everything else that settles deep in carpet.
IF your whole house is hard flooring, I'd consider donating your corded vacuum and going with the IONFlex as your only vacuum. It's not only versatile enough to handle everything, it's so nice not to deal with the cord as you change rooms.
If you're like us and have an even mix of hard surfaces and carpeting, I'd 100% recommend it if you have a shedding animal or a toddler with frequent spills.
If you're pulling your corded vacuum out daily for the hard floors, it's also a good sign this model could make daily life easier.
Let me know if you have any questions about it in the comments below! You can also read more here.