While I'm normally writing about turning your home into a haven that recharges you, I also firmly believe in the power of vacation. Experiencing new places can help us grow and recharge our creativity.
You don't even need a big budget! With some careful planning, a quick weekend getaway can leave you refreshed and ready to tackle daily life with gusto.
Over the years, we've done quite a few 1-3 night trips, some more successful than others. Earlier this month, we spent two nights in Oklahoma City and despite unseasonably cool temperatures and near-constant rain, we had the best time. It wasn't just a fluke either, I figured out a few specific things from our planning that we could duplicate in the future. Hooray!
Visit OKC invited us on this trip and we can't thank them enough for all their ideas and partnership for this post! 
Weekend Getaway Tips
Destination Selection
Start your getaway-planning looking for locations within 1-3 hours from home. Anything too close may be too familiar and anything much father feels like you're spending too much time in the car compared to at the location.
Don't rule anything out before researching.
Despite being the largest city in Oklahoma and only 90 minutes from us, we had never even considered spending a weekend in OKC. We've driven through countless times visiting family, but never took the time to dig into what it had to offer. Total mistake on our part!
I bet we've overlooked other gems around us, so there is a good chance you have too. Ask your friends for recommendations and check out state travel guides for ideas. Or if you're local, start planning a trip to OKC!
Where to Stay
A weekend trip is a perfect time to try out unique lodging.
Since you'll be geographically closer to home, staying somewhere with a different feel will help get that full vacation mindset in a shorter period of time.
We've stayed in cabins on prior getaways, but for this one we tried out the 21c Museum Hotel.  They have 8 locations, and each has a large contemporary art gallery space in addition to being a boutique hotel. The Oklahoma City location was in a former manufacturing plant and retained tons of industrial character.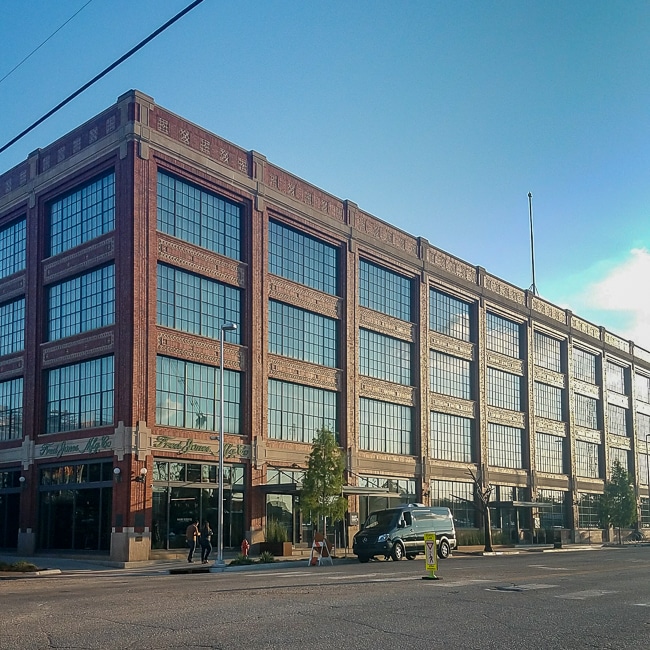 Those giant windows on the outside meant a beautiful wall of windows inside our room!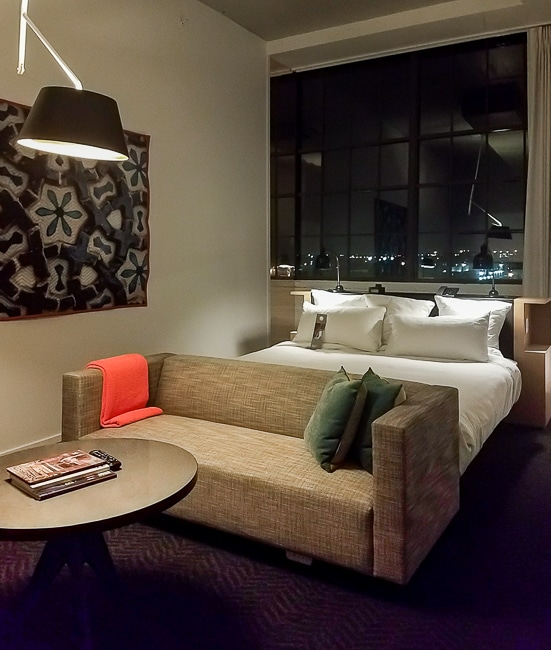 The modern, industrial space definitely met our goal of finding unique lodging. Check out the gigantic sculpture that was just outside the elevator when we reached our floor!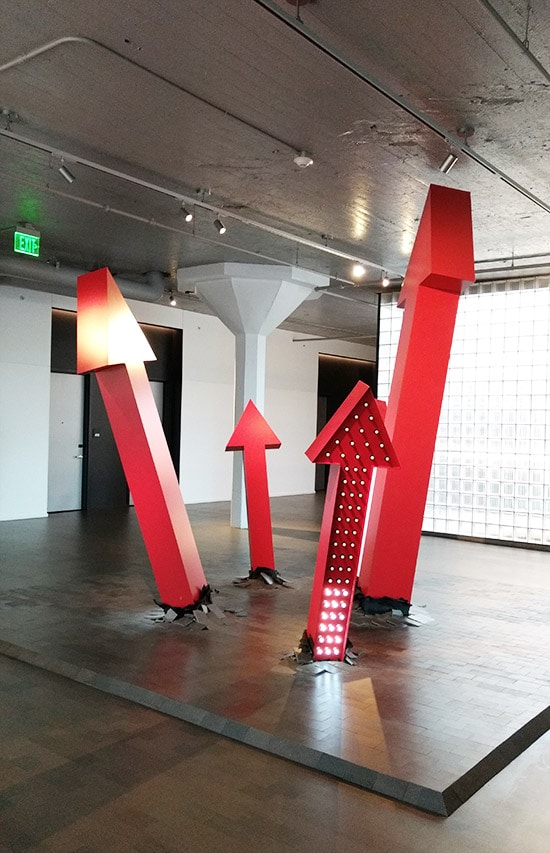 The contemporary art galleries downstairs were more eclectic than our normal style, but fun to see. I loved that 21C wasn't trying to please everyone with the design, and instead was committed to being unique and in tune to their own vision. Most of all, we REALLY felt like we were farther away from home because we were staying in such a different space.
PS: Room Service comes from the hip Mary Eddy's restaurant downstairs and is a great breakfast option! 
What's for Dinner
We used the same food strategy for this trip that was hugely successful when we went to New York City.
The first step is gathering recommendations before you even leave home. Put them on a list along with any notes of who recommended them, the location, and what style of food is served.
Make sure you have more recommendations than the number of meals you need. Having the list of great options prepared in advance makes things way easier than starting from scratch for each meal, but you have the flexibility to choose what sounds good for each meal based on your current location.
That said, don't be afraid to go off-list if you get a great recommendation from a local during your visit! We stuck to our list for most meals, but after hearing about the Plaza District and Goro Ramen, we headed to check it out. It was SO GOOD! Go there and eat steam buns. Trust me. Mmm!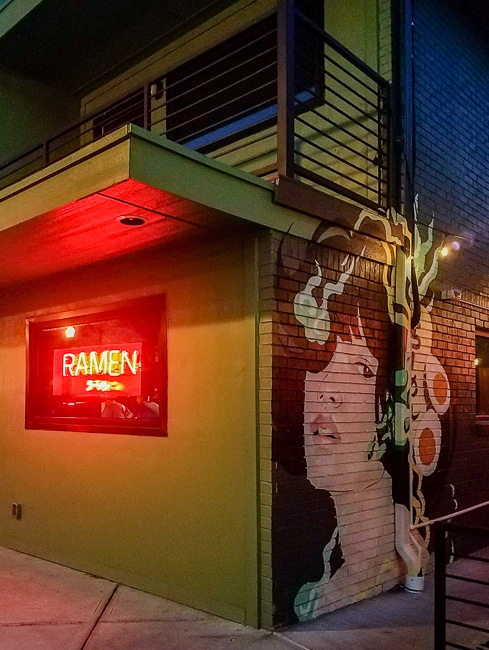 Saturday night, we had reservations at Barrio's Mexican Kitchen, which was a good thing because they were hoppin' with no walk-in availability. I'm a sucker for great restaurant decor, and Barrio's delivered, along with tasty fajitas, guacamole & cocktails! Corey's sister lives just south of OKC, so she and her husband were able to join us for dinner. Total bonus if you can sneak in a little family or friend time during your getaway!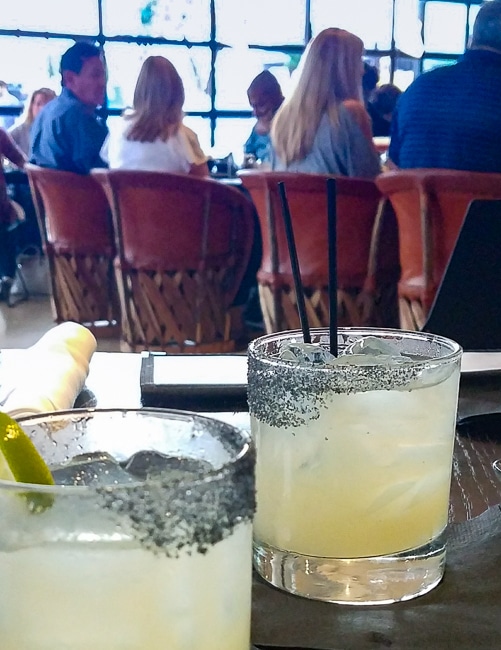 Did you see those cool chairs in the photo above? Or were you just looking at the yummy margarita with black salt?
For dessert, we headed back to the Plaza District for Roxy's Ice Cream Social AND Pie Junkie. You can't beat two delicious dessert options right across the street from each other!
We weren't able to get reservations at Jones Assembly, but it's the hottest place to be and like the 21C, is in a refurbished assembly building. Everyone we talked to asked if we knew about it.  It's on the list for next time!
Cultivar, The Hall's Pizza Kitchen, Tucker's Onion Burger, RePUBlic Gastropub, Empire Slice, The Mule, Waffle Champion, Kitchen 324, and Cafe Kacao were also referred to us as amazing options for great food in OKC. So much food, so little time! Clearly, we need to go back soon.
What to Do 
Something Adventurous/Outside Your Normal – Having a new experience that scares you a bit (within reason!) is a huge part of travel. We're not too outdoorsy on a day-to-day basis, so doing an outdoor adventure on a trip is perfect.
Right next to all the tall buildings in Oklahoma City, there is an amazing whitewater rafting course at the RiverSport Adventure Boathouse District!
Yes. Full-out rafting IN the city!  I was 75% intrigued and 25% terrified.
Spoiler alert – we survived and it was AMAZING. I'm trying to figure out when we can go back with friends and family before summer ends.
I was at the front of the raft (think front of the roller coaster) on the first couple runs and it kills me that we have zero photo evidence. It was raining the entire time, so the photographer they normally have wasn't out taking photos. 🙁
We did snap one quick post-rafting selfie, complete with rain.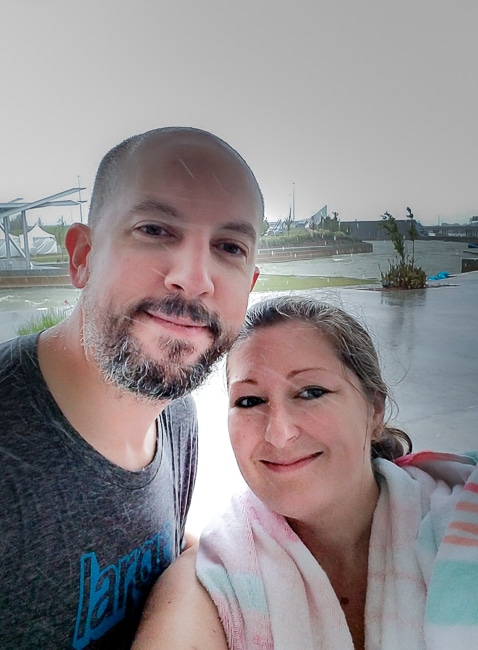 Our guide was from Nepal and I learned that RiverSport Adventures brings in expert rafting guides from around the world. More points for our weekend getaway feeling like a big vacation!
If you're a rock-climbing, river-rafting, pro-adventurer, you can still do those things on your getaway, but see if you can find something else outside your norm. Maybe a new type of food or a painting class? Anything outside your normal will help launch you into vacation-mode!
Something To Make You Stop & Think – We wish the Alfred P. Murrah Federal building still stood instead of the Oklahoma City National Memorial, but since that isn't possible, I'm glad we took the time out to walk the outdoor memorial.

I still remember someone coming into my English class the morning of April 19th, 1995 to tell the teacher about the bombing. It was devastating to our state that 168 innocent lives were lost, way too many of them children, and that so many others were impacted.
In 2000, on the 5th anniversary, the Oklahoma City National Memorial opened and it is very powerful. Each victim has a chair with their name etched on it, representing the empty chair left behind at their family dinner table.
The photo below is just a portion of the 168. The most heart-wrenching of all is the smaller scale of the children's chairs.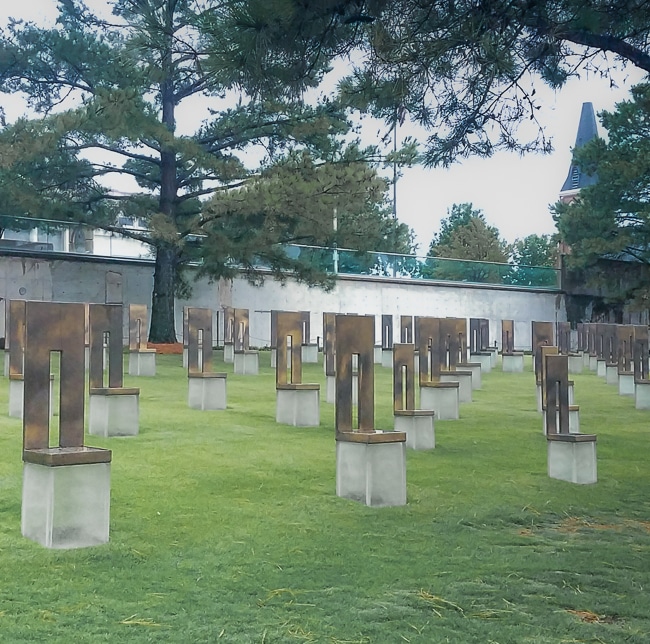 While you don't really set out to cry on a vacation, it's important to take a moment to reflect when you have the opportunity. Your perspective changes and you'll go home thankful for what you have and more aware of what is truly important.
Something Historic – On a much lighter note, we also visited the National Cowboy & Western Heritage Museum. Every town has a unique history, and it's worth dedicating a few hours to explore something historic on your weekend getaway.
The variety of items in the museum's collection REALLY surprised us. We saw beautiful art, sculptures, comics, cowboy boots, elaborate indian headdresses and movie memorabilia. We even stepped through a door and found ourselves unexpectedly inside an entire old west town. Each separate gallery had a completely different feel and we were very impressed with the whole museum. 100% worth a visit for both kids and adults.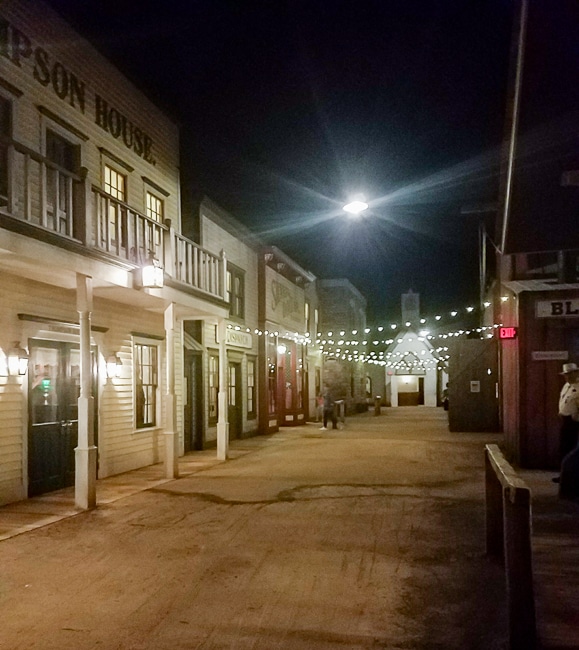 Something Creative/Inspiring – Continue to stretch your new experiences by planning a few hours surrounded by something inspiring.
For this trip, we went to the Oklahoma City Museum of Art. Through September 10th, they have an incredible exhibit by an artist we weren't familiar with before, Kehinde Wiley.  He combines a traditional European portraiture style with modern subjects, colors, and backgrounds to create a 100% unique style. I love combining separate modern and vintage items within a room, but this exhibit pushed me to think about combining styles in a new way.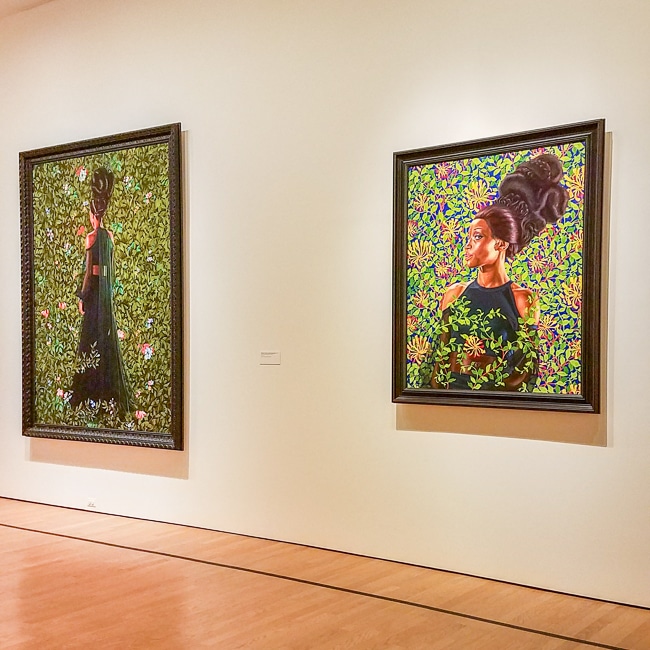 The OKC MOA also has an extensive Dale Chihuly glass exhibit that inspired me to think about using basic materials in new ways. The creative juices were definitely flowing when we left the museum!
Something Like a Local – I mentioned getting referred to the Plaza District, which was perfect because it's smack in the middle of a neighborhood. We love spending time in areas that give you a real feel for the city vs tourist areas.
While we were waiting for a table at Goro, we set off to stroll around the neighborhood. It's going through a revitalization, so there a mix of original architecture than had been restored and others that had a totally new look.  Don't hesitate to take off on foot and explore on your next weekend getaway.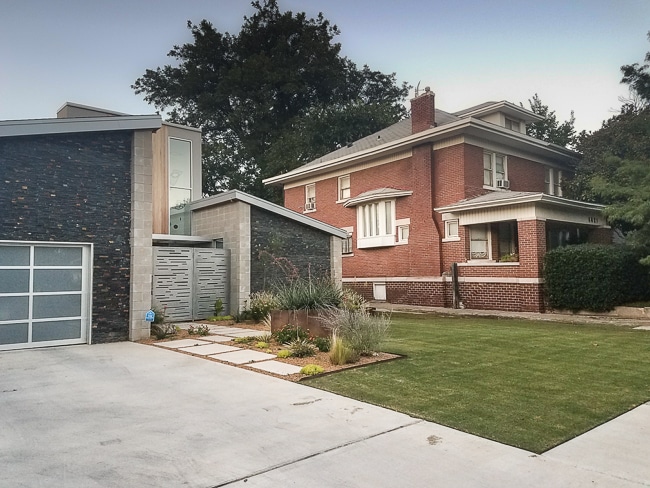 PS: If you aren't sure about the safety of an area, you can ask locals and use the Google street view to take a virtual walk first.
Something Tour-y – I love finding out how things are made, and reserving a little time for a guided tour is essential in our getaway plans.
We're partial to winery and brewery tours, but with a little research, you can find a huge variety of options. Our town has ice cream plant tours!
We lucked into having time for two different brewery tours in Oklahoma City.
We were familiar with the first, Coop Ale Works, and couldn't wait to visit. Their taproom did NOT disappoint. In the photo below, the top row of taps contain their regular brews, while the bottom row is all exclusive to the taproom!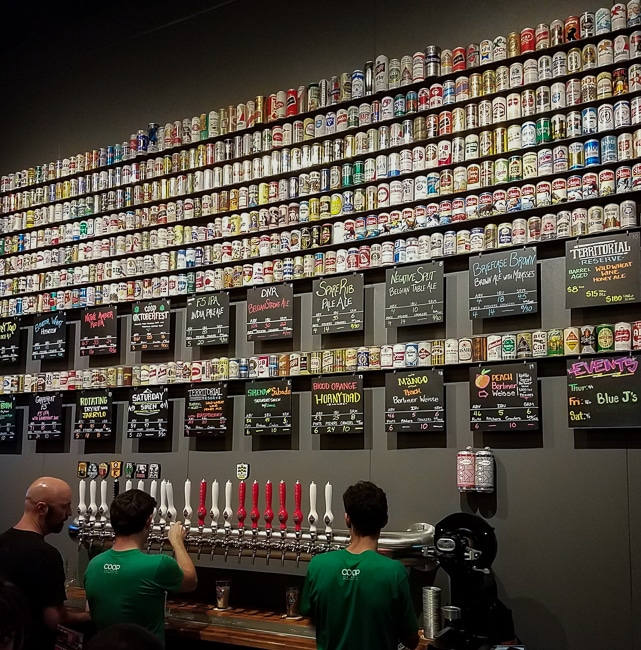 As Coop fans, it was a beautiful sight to behold.  They were kind enough to give us a great tour and share the history of the brand, which was one of the first breweries in Oklahoma.
We still have some strange liquor laws, but when they started, there were even more barriers. I love that they still pursued their passion and found a way to make a successful company with a superior product!
If you're in Oklahoma, they're stocked fairly widely at restaurants and liquor stores. They just started releasing Oktoberfest and it's delicious!  Email me if you need more recommendations. 🙂
Since I'm fascinated by how things work, seeing the canning line was fun!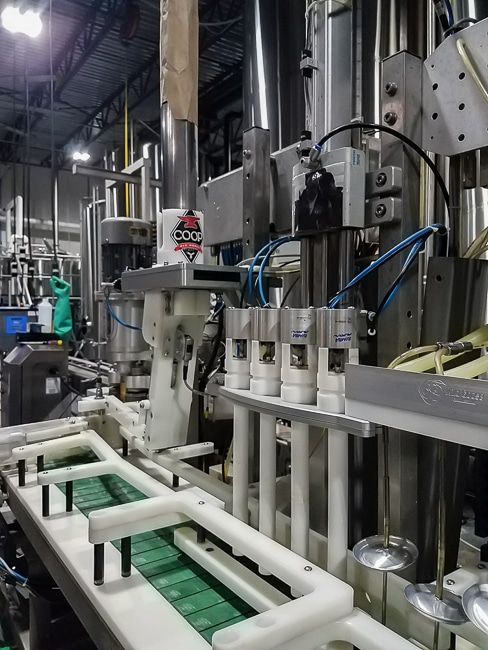 The second tour stop was the brand new StoneCloud Brewing. They just finished a multi-year restoration of the historic (but previously 100% dilapidated) Sunshine Laundry Cleaners building.
It hadn't had a roof for years, and was in an area of the city that was rough at the time, so you can imagine the state they started with. Or maybe you can't, because there was even a boat hanging from the rafters. It was crazy!
It would have been much faster and less expensive to do a tear-down and start from scratch, but they took the time to save the building and get it listed on the historic register. Even if you're not a beer-drinker, it's worth a stop to see what a beautiful job they did.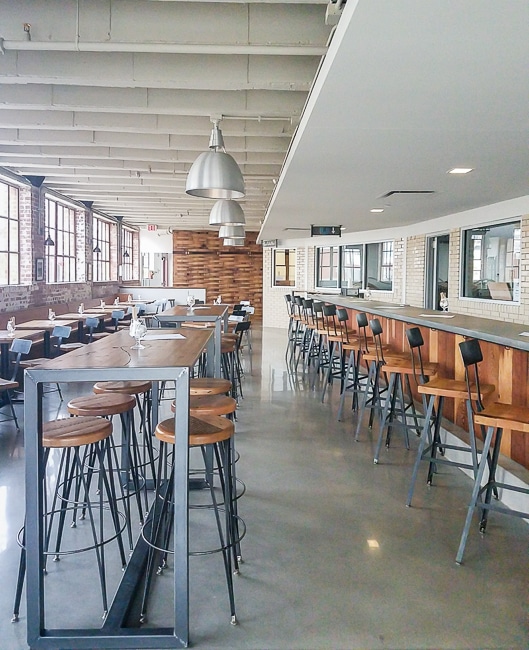 The StoneCloud attention to detail didn't stop with the building, the beer was excellent too! They have a great variety from Neon Sunshine, a Belgian wheat beer with a bit of tangerine to Purple Rain, a blackberry and blueberry sour. Here's our first-ever beermosa. Sounds strange, tastes amazing!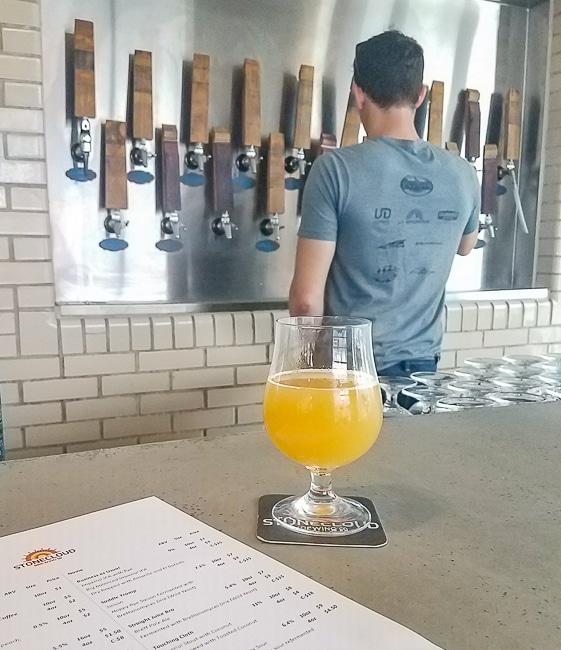 Whew, I know it's sounding like a lot of planning to create a weekend getaway that leaves you feeling like you've been on a full vacation, but it's so worth it. I just have one final tip and then you can get started!
Make Back Up Plans for Rain
It's possible we have a rainy vacation curse, but I'd guess we aren't the only ones that feel that way.  We finally learned that we need to have backup plans so our weekend can keep charging forward without hours of disappointment, boredom, and "I don't know, what do you want to do".
The RiverSport area we went rafting has a ton of other outdoor activities we wanted to try, like zip-lining, a ropes course, stand up paddleboarding and kayaking.
We also knew there was a chance some, if not all, of the activities, would be rained out.
Thankfully, as you read above, the rafting was still open. But after we finished and the adrenaline started to wear off, we were soaked and cold.
Our disappointment at not getting to test out the other activities was tempered because our starting list of plans for the day was a bit aggressive, knowing the rain could affect them. Having a partial rain-out just meant being able to add a bit more time onto every other stop.
We also had a plan in case lightning caused the rafting to be canceled. There was a production of In the Heights at the Civic Center, and the matinee would have a perfect rainy afternoon activity.
If one day of a seven-day vacation gets rained out, it's not the end of the world, but when you only have two days, it's vital to have a contingency plan!  Since we had one this time, we were able to optimize our weekend trip and not spend time worrying about the what-ifs.
Although we were only away from home for 48 hours, I came back home feeling recharged and ready to conquer the world. Whether you're close enough to visit the same places we did in OKC or on the other side of the world, I hope these tips inspire you to start planning your next weekend getaway!
Thanks again to my friends at VisitOKC for opening our eyes to all Oklahoma City has to offer!