Is the area under your bathroom vanity a mess? If so, this post is for you! I'm constantly in and out of the cabinet under my sink, and every day for months I've been annoyed at the mess. I finally got it under control and it turned out even better than I planned.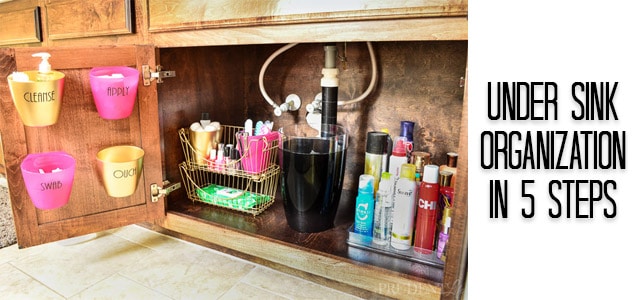 The before picture I'm about to show you doesn't really reflect the worst part. In the emptyish space in the middle, there was a cheap clear trash can that was ALWAYS overflowing, no matter how often I emptied it. Since everything else was so cluttered, I'd find Kleenex in my hair product bin. Ugh.
Bathroom Organization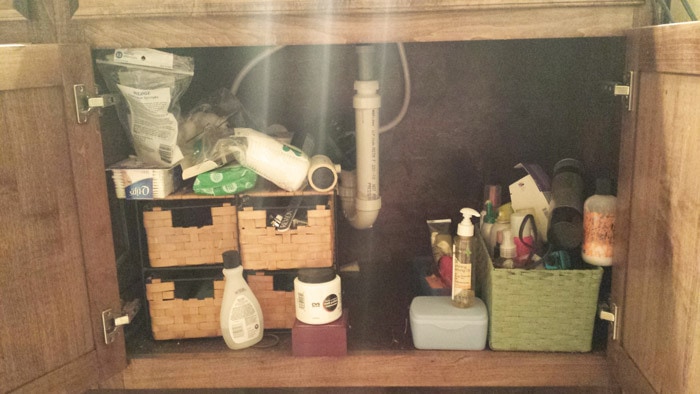 The really crazy part of this mess was that I only used 10% of the stuff jammed under there. There was no room for my CURRENT products, so those ended up on top of the vanity. Which leads me to my first tip…
1) Declutter with HONESTY
It can be hard to get rid of products that aren't empty. But I've got a hunch I'm not the only one who has ever purchased a hair product, used it awhile, and decided it wasn't for me. Then they linger. For YEARS. Because you spent good money on that creme, mousse, or magic potion! But you know what? If you haven't needed to put it on your hair (or face or body) in the last year, it needs to GO.
Having the old stuff around is a lot more costly than getting rid of it. It's just creating aggravation in your life that you don't need. We have traffic jams for that. So pull EVERYTHING out of your vanity and be honest. Are you 99% convinced you will use the product in the next 30 days? If not, out it goes.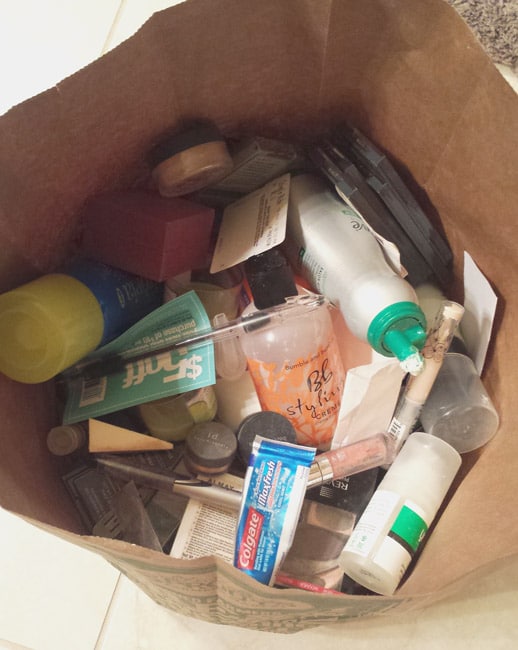 Ah…the cabinet is so much better empty. Every time I clear a space out like this, I feel like I can BREATHE again.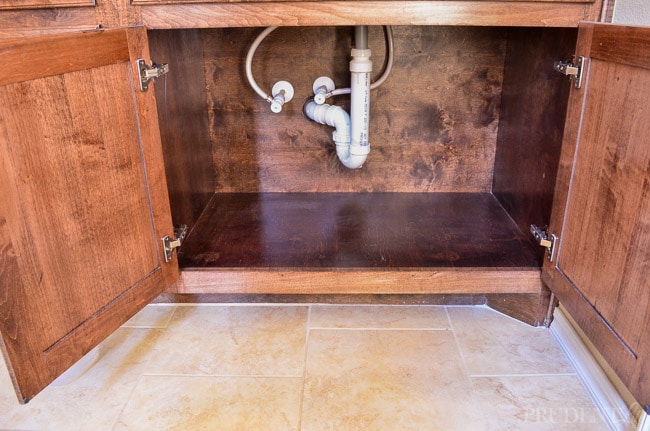 2. Create zones
Think about what you use from the cabinet. I ended up with three groupings of items – hair products, nail stuff, and cotton-y stuff. I didn't know what to call the third group, but basically it's the stuff I'm in and out of the cabinet for constantly. Things like make-up wedges, cotton makeup remover pads, & Q-Tips.
Once I knew what types of things I needed to organize, I looked around the house for bins that would fit each need. I also wandered through WalMart to find a new trash can and see if I had any other ideas. I did. And it was brilliant. Stay tuned for that in a later step!
3. Use the Doors
I'm a huge fan of using the cabinet doors for organization. My most popular post by far has been my kitchen under sink storage ideas, all because of the way I used 2 clothes pins on the cabinet door.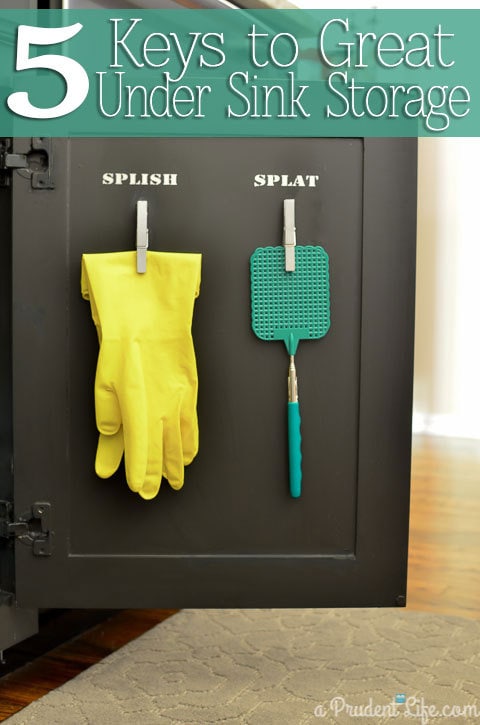 I knew I wanted to use the door space in the bathroom as well. Specifically, I wanted the items I used all the time on the door so I wasn't digging through a basket every day. I already owned the perfect solution! I had some leftover IKEA BYGEL containers that I didn't use when I organized the craft room. I used Command Large Picture-Hanging Strips
 to attach them to the door. The strips were too long, which was perfect because I was able to cut the end off the strip and use the excess at the bottom of the container for extra stability.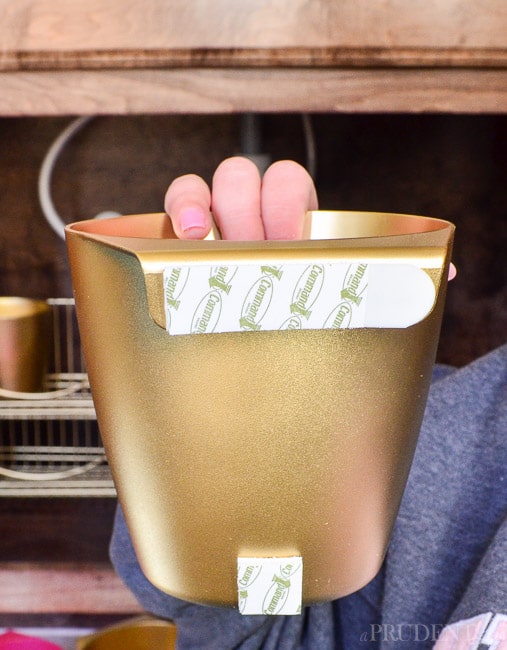 I had both blue and pink containers, so I decided to keep the pink and spray the blue ones gold. I got super lucky and we had one day that was warm enough that I could paint them. I also added the same type of labels I made for the pantry. The labels are available in the Etsy shop.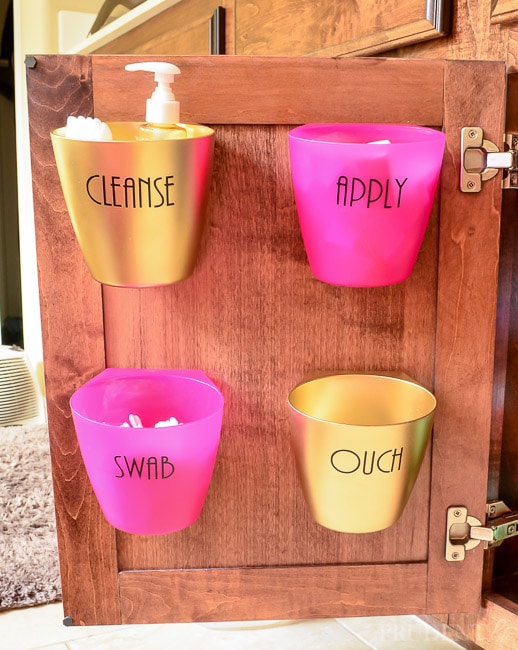 The CLEANSE bin has my makeup remover and cotton pads. The APPLY bin has makeup wedges, SWAB has q-tips, and OUCH has wax strips. To avoid constantly losing Q-Tips out of the bottom of the SWAB container,  I added a snack size baggie as a liner.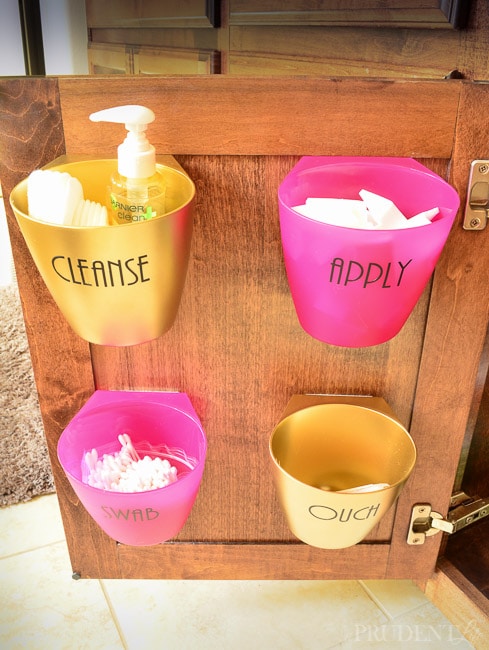 4. Think Outside the Bathroom
Remember how I said my WalMart wandering led to something brilliant? I found an acrylic tiered spice rack that is absolutely perfect for hair products! You know, if you still have a collection of them after the purging in step 1.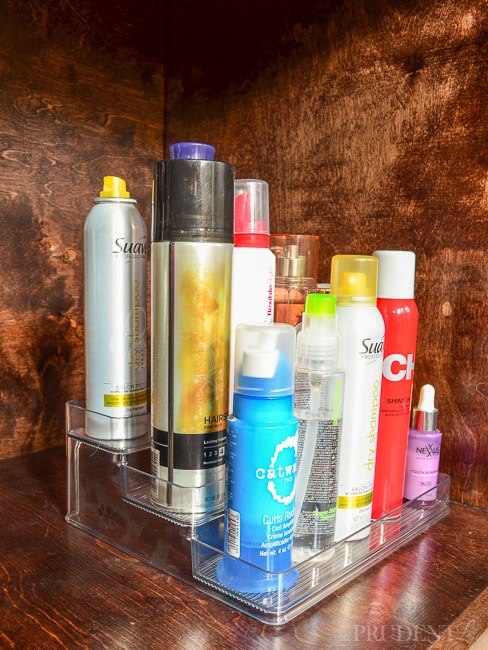 I had enough room to add some lotions and STILL have some open space for future purchases. I'm definitely going to be buying more of these stands for other organizing projects.  I found the same stand on Amazon
 if you want one delivered!
5. Make it Pretty
If you've read any of my prior organizing posts, you know I'm all about adding a pretty flair. It's fun to plan how to make a project pretty, and it makes fun blog photos, but there is a bigger reason.
My natural tendency is not to put things back where they belong. I'm working on that, but I've found that if a space is extra pretty, I want to keep in that way. Especially if it's labeled!
Usually the pretty touches are inexpensive and don't take long. The joy I get in seeing the pretty outweighs the extra time and cost tenfold.
One of the quick changes I made to make this project prettier was to spray paint these stacking metal baskets in Rustoleum bright gold. I got them for $5 each at Marshalls. It was a total deal because similar ones on Amazon
 are selling for $13.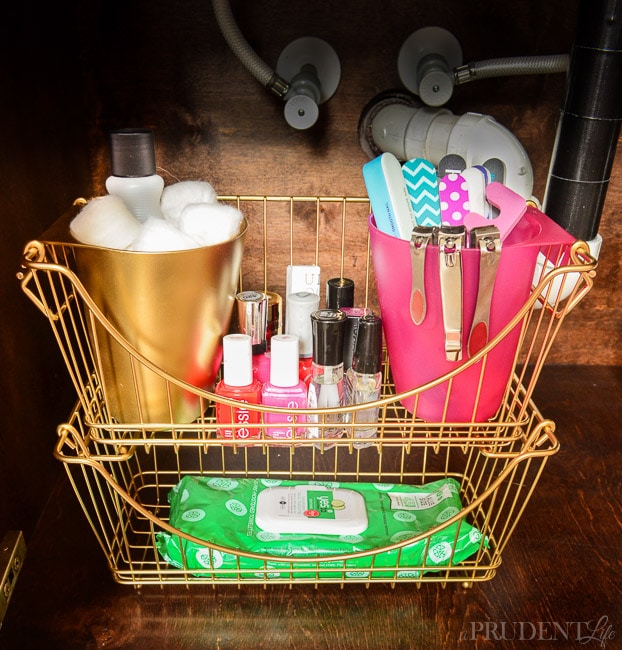 I used the top basket as a nail station. I had two of the BYGEL bins left, so I put them to good use.  One holds polish remover and cotton balls and the other was perfect for files and clippers. I'm loving that the whole set up is portable. I can take the whole basket to the kitchen island where I normally end up doing my nails.
Sometimes when I'm walking through our bathroom, I open the cabinet door just to admire how much better it looks.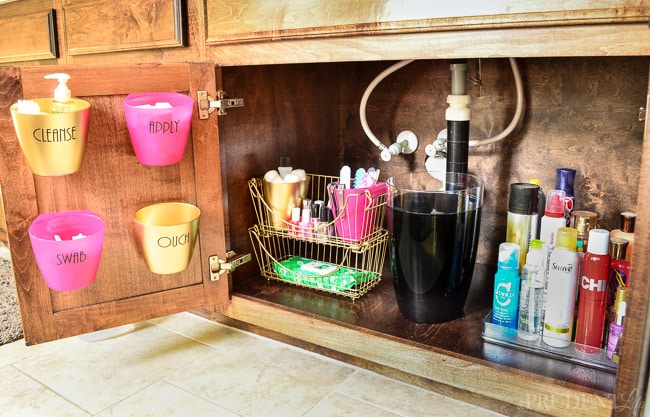 Next up, make sure you click over and check out how I organized under the other bathroom sink. It includes cleaning supplies and a clever-if-I-do-say-so-myself  way to keep track of the date we are supposed to change our contacts. Here's what it looked like before, click the picture to see the after!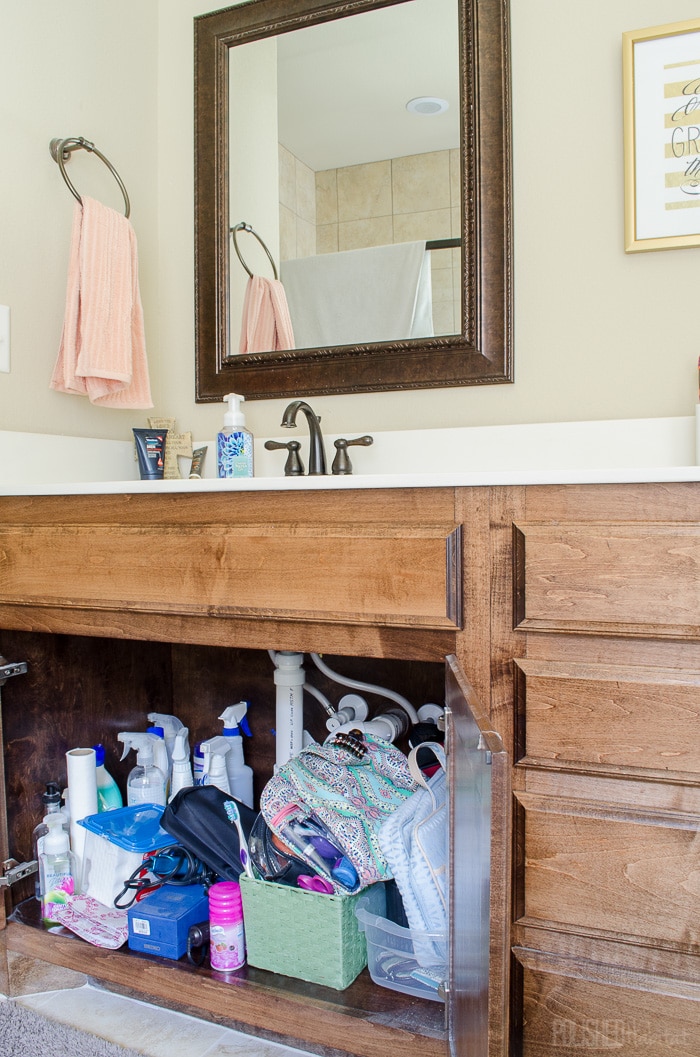 AND don't miss how to organize the bathroom counter and tub surround!
Are you inspired to organize your bathroom?