Each time we decorate or remodel a room, we consider whether it's better to DIY or BUY.
Buying could mean anything from purchasing a throw pillow or piece of furniture to hiring a painter or plumber.
Sometimes the answer is simple, and for other projects, we have to put more time into the decision.
Here's some of the questions to ask yourself when you're faced with a BUY or DIY scenario.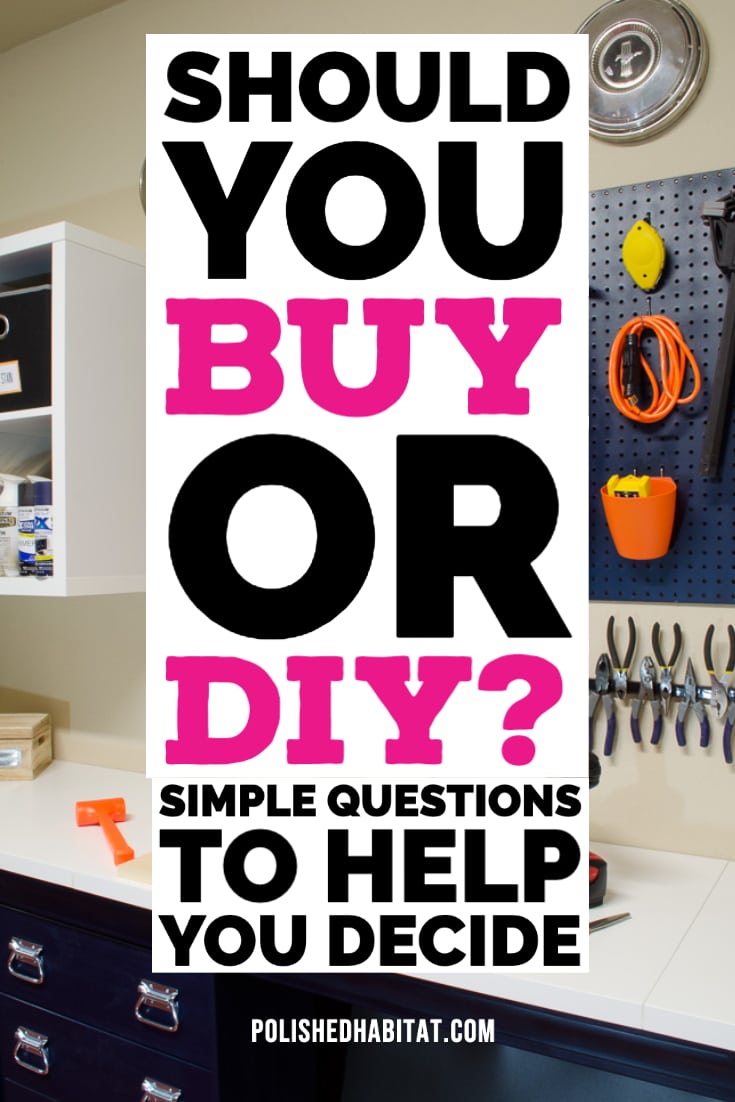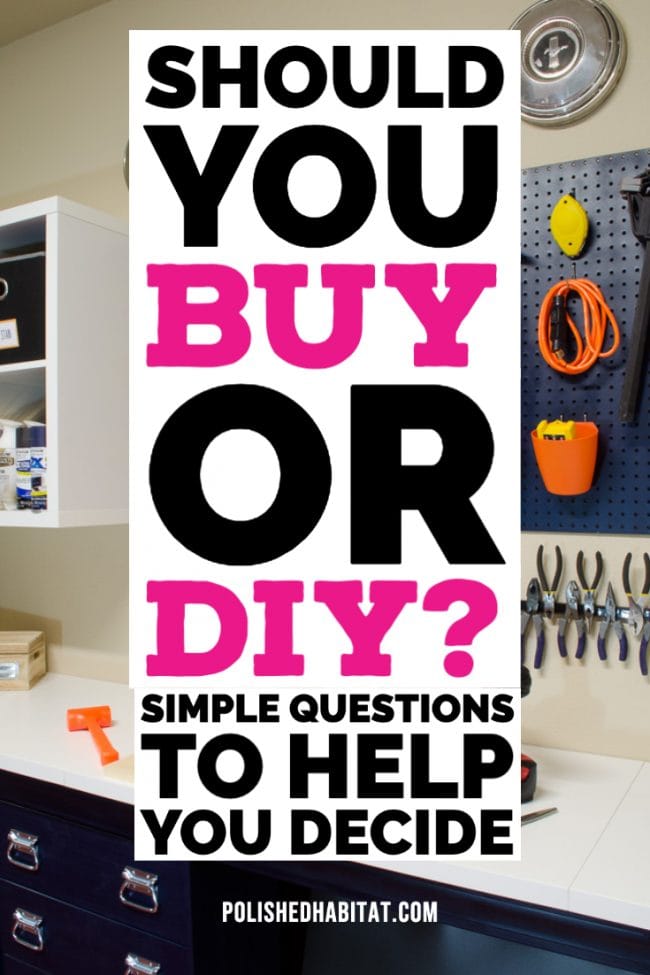 PS: A Pro does NOT always do a better job than a homeowner, so remember to get multiple references and try to see their work before going that direction. I'm writing the post with the assumption that any pro mentioned is experienced, licensed with insurance, and great at their job.
Do you worry more about money or having enough time to spend with others / pursue passions?
Whether it's financially worth it to buy or DIY can be calculated in two ways.

The first is simple math. Multiply your hourly wage x how many hours the project should take (which is always longer than expected). This will give you a labor rate.
Add that to the cost of materials + any tools needed. The total will be the DIY price that you can compare to the BUY price.
The second is a bit more abstract. What are the opportunity costs? Will you have to drop a hobby you love or miss out on time with loved ones if you go the DIY route?
If you'd rather spend the money buying so you can spend time with your family, do you need to make other concessions to the budget? Is it worth delaying a vacation to hire a pro for a project?
Do you have the cash now to buy OR are you willing to wait?
It's also important to be realistic about whether buying is an option. I find that our situation usually falls into one of four financial categories.
We have the money to buy and it seems like a good deal and something we're willing to purchase (BUY).

We don't have the money right now, but the price is fair and we can save up because the purchase isn't urgent. (SAVE)

We have the money to buy, but don't want to spend it when we can DIY it for much less. (DIY)

We don't have the money, but we want to do the project now. (DIY)
Does the project require custom sizing?
For example, in a master closet makeover, you have three options.
Build everything yourself
Buy a gorgeous Container Store or IKEA system
Hire a custom closet company/contractor
In our case, the closet had some very strange dimensions, nooks, and an awkward window. The pre-made options would leave us with wasted space so we ruled out option #2 pretty quickly.
The price for #3 was WAY beyond our budget so we were left with a choice. Wait on the project and continue saving money or stretch our skills and attempt to DIY it.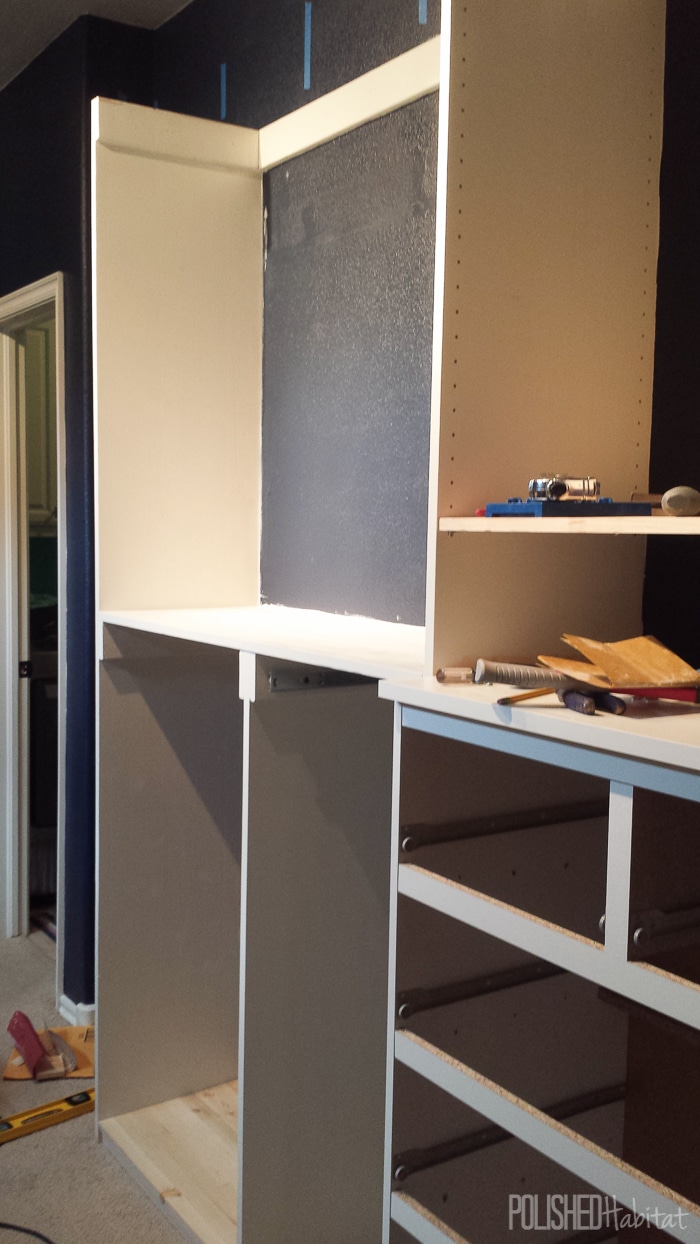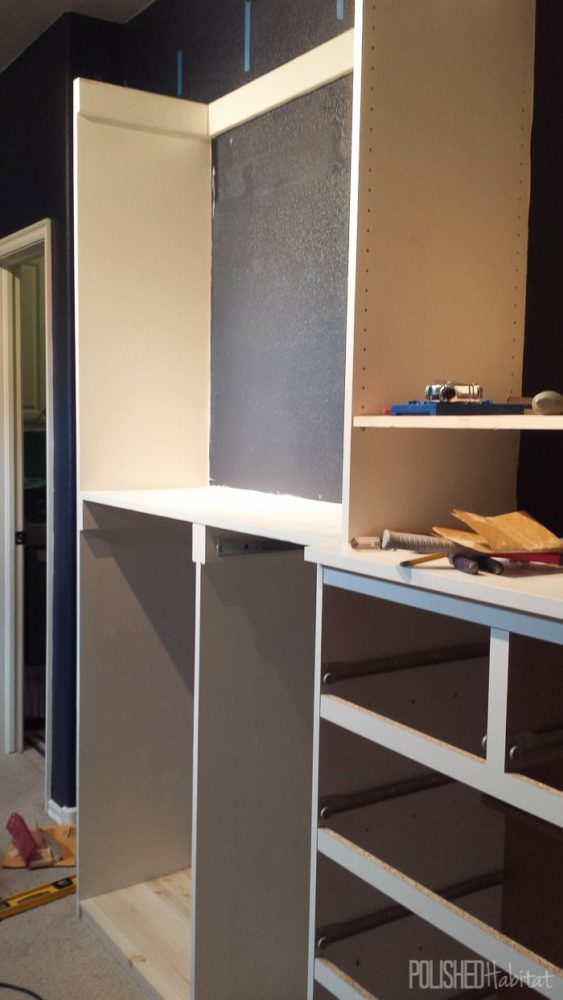 We tackled the DIY route and it took us 5 solid weeks of working on it most evenings and every weekend. Blood, sweat, and tears were all involved, but the end result was my dream closet.
If you measure your closet, the sizing may be more standard than ours, opening up other options for you.
Even assembling an IKEA closet system takes some time-dedication, but it would be easier than starting from scratch and less expensive than hiring a custom closet pro if cost is a factor.
Do you have the tools needed?
When you're considering the cost of buying an item versus DIYing, don't forget to factor in tools.
If you can save $400 on a dining room table building it yourself, but you'll need $300 worth of tools you won't use after the project, you're probably better off saving the time and buying the table.
What's the risk if it goes wrong?
This is an important one!
Each project has a risk of things going wrong.
For example, an improper tiling job in the shower can lead to leaking and mold. The financial and health risk may not be worth the money saved if you're not experienced.

On the other side, tiling a laundry room backsplash as a first tiling job is a lower risk as long as you prep and protect the area from mess. You could waste materials, but if you're detailed oriented and watch some videos, it's a doable project for beginners.
In our recent laundry room makeover, we replaced the flooring, cabinets, and molding ourselves. It was a mess, but worth it!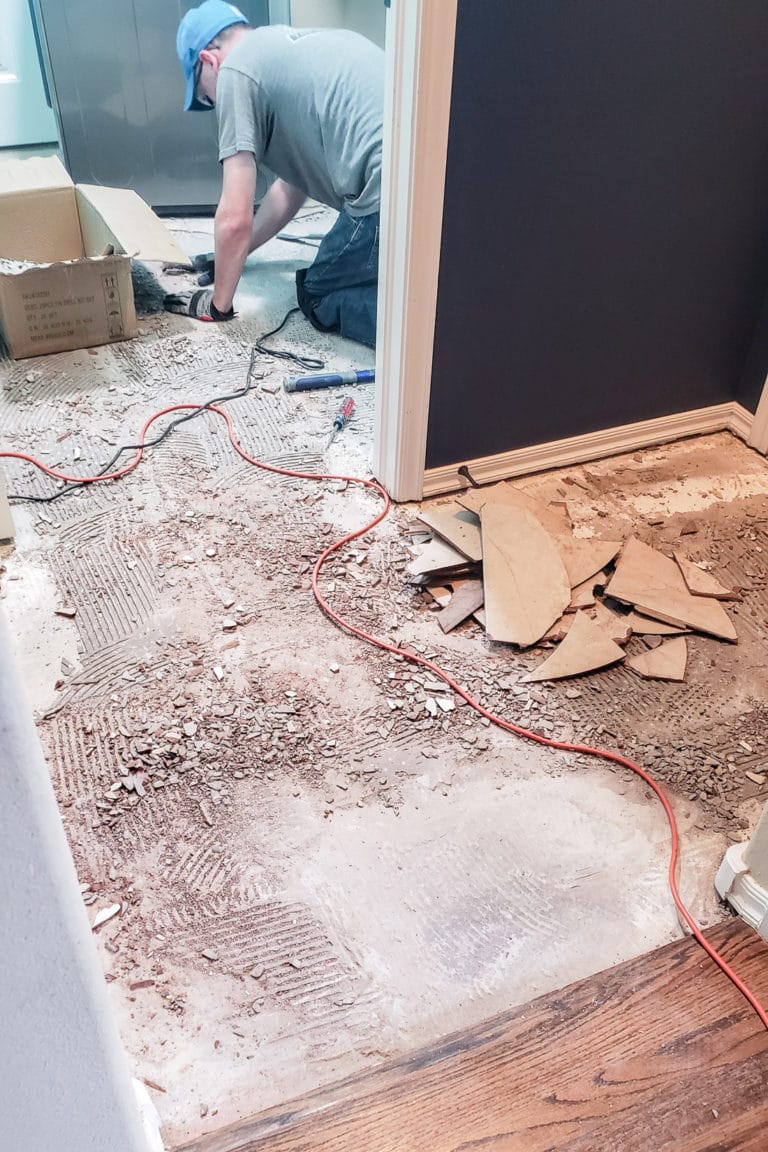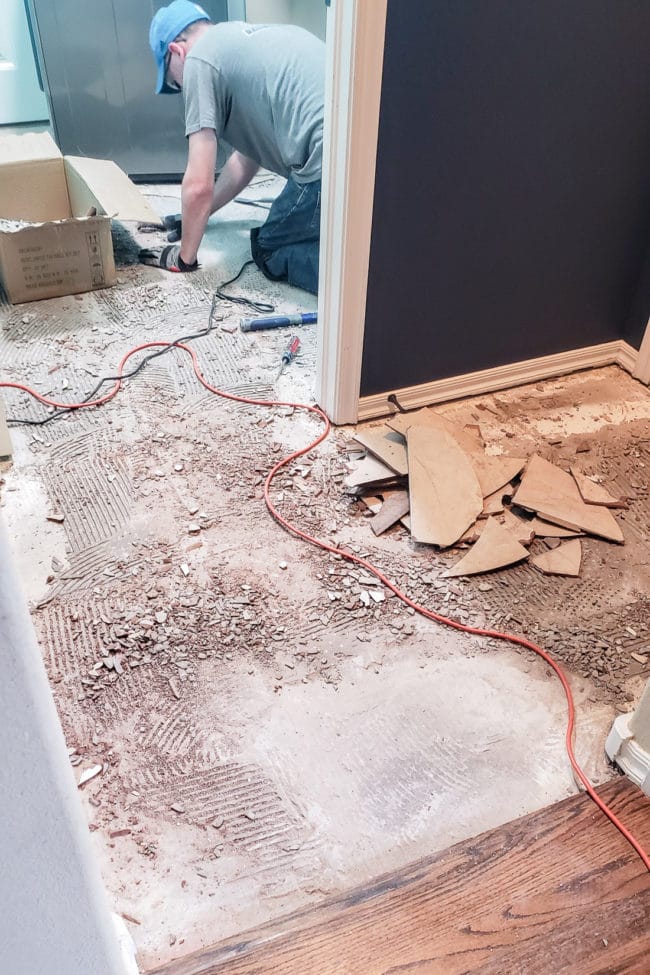 However, we didn't have a sink in the room before.
There was only rough plumbing with no shut-off values, no P-trap, etc. Just raw pipe and a sealed drain hole. Even though we've changed lots of faucets in the past, connecting to the raw plumbing was trickier.
We risked flooding the new laundry room, plus the master closet and wood entryway flooring if messed up.
We happily paid a licensed plumber to make sure everything was done right. It ended up saving us a ton of time and was well worth the cost.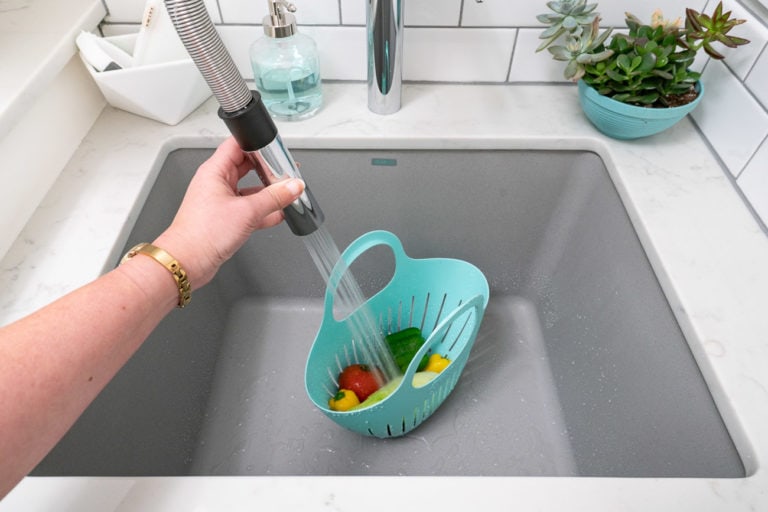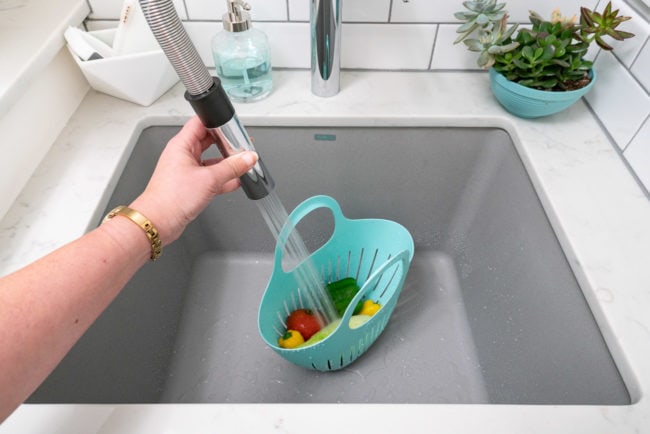 Do you enjoy working on projects and learning new home-related skills?
Some people LOVE the sense of accomplishment that comes with DIY projects. They crave expanding their skills and would happily spend every weekend working on their home.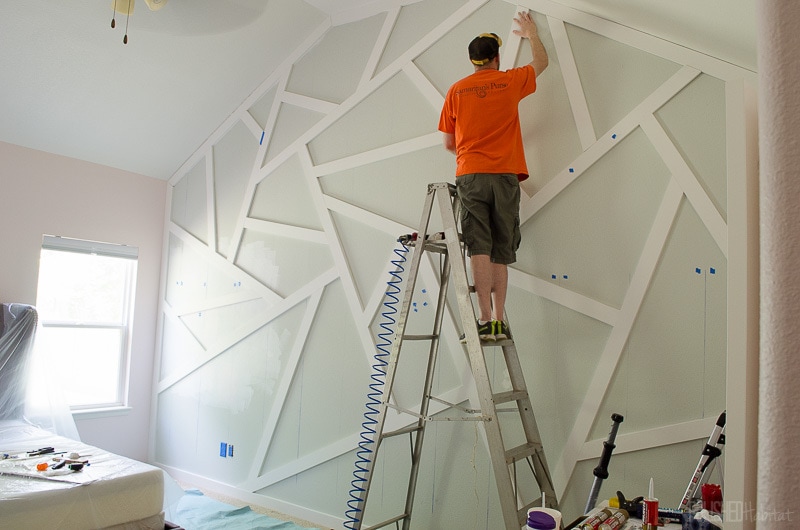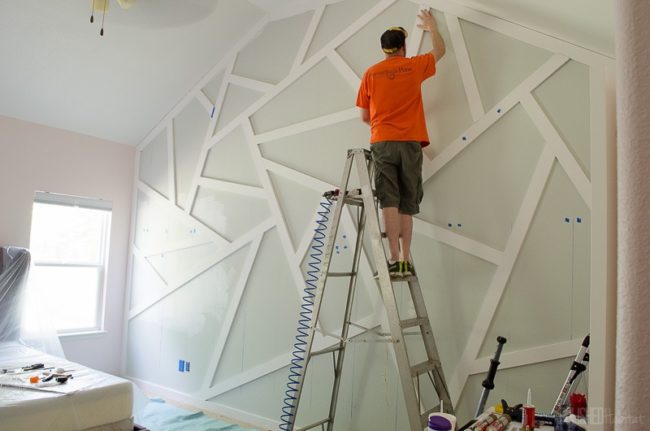 On the flip side, it can make other people frustrated and cranky. Where do you fall on that scale?
Will the project impact your home value?
Some projects are simple and decorative, like deciding to DIY throw pillows. Others are extreme, like gutting a bathroom.
For projects that have a large impact on your home value, making sure the project looks professional is important. If you can do that on your own, it's great.
But if you've never picked up a paintbrush, consider going Pro for something important and highly visible like having your kitchen cabinets painted.
This question came into play in our laundry room as well. We struggled to decide what to use as a countertop because I desperately wanted to DIY something on the cheap.
However, going with a solid surface material would be more in line with other houses in our neighborhood and finished off the polished look of the room.
Since the room is small, I was able to look through the remnants the countertop company had leftover from other jobs and get a great deal!
The end result helps the overall value of our home!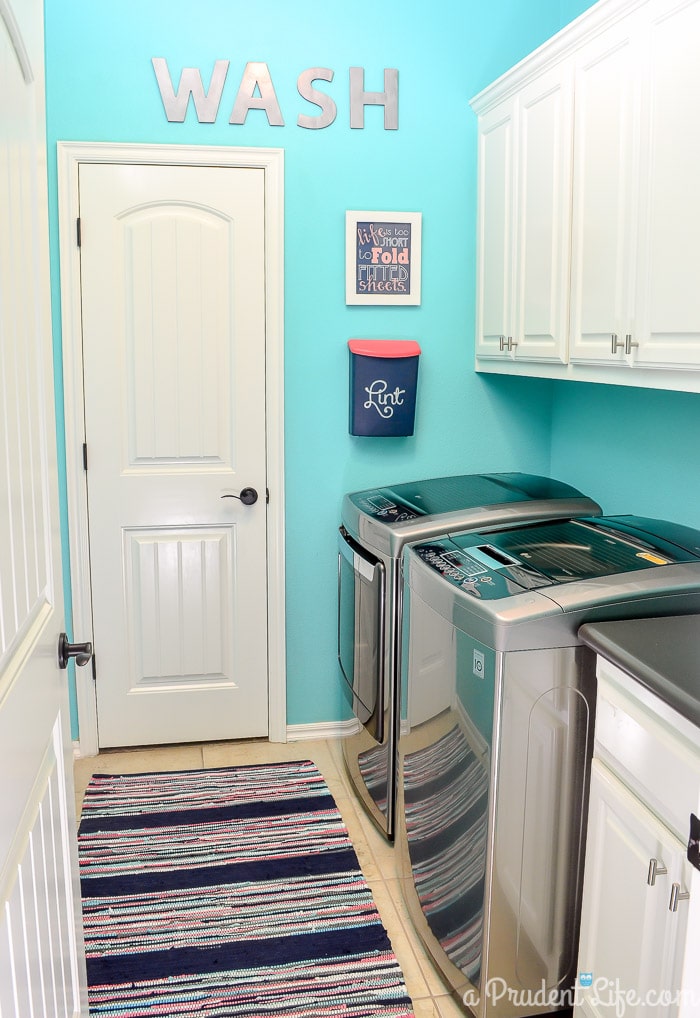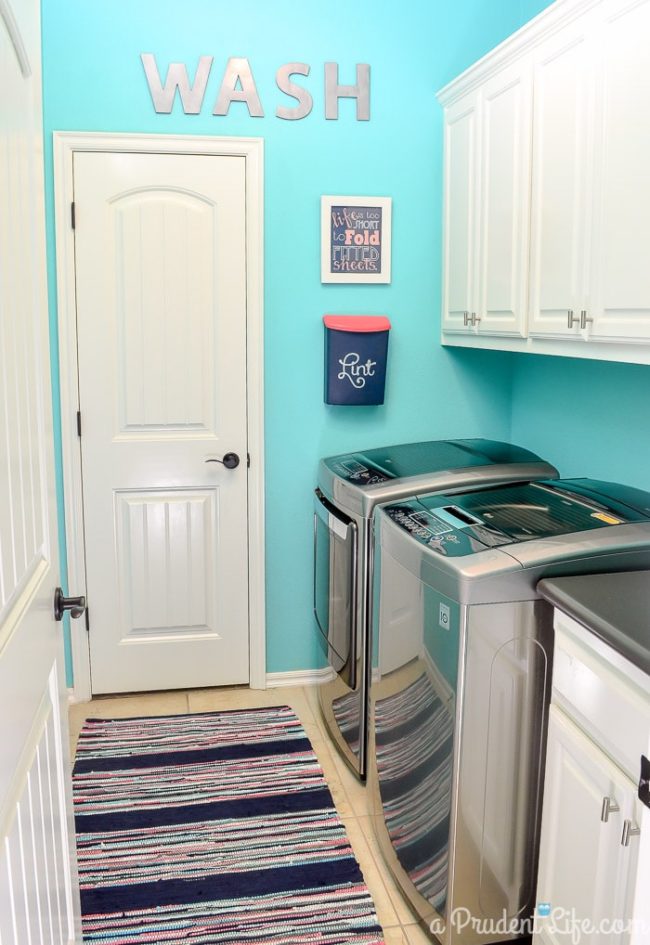 Paying only the plumber and countertop installers and DIYing the rest of the space helped us complete the dramatic laundry room makeover on a much smaller budget.
So which is better? BUY or DIY?
The biggest thing to remember is that the choice to DIY vs BUY is personal and changes project to project.
What's right for one family and room may not be ideal for their neighbor.
Think through these questions and decide what is right for YOU!