Product links in this post may be affiliate links.
We made a couple of minor organizing and decorating updates to the entryway that I thought you might like to see this week. Hopefully, as I talk through them, they'll inspire some helpful changes in your home!

Let's start with the theoretical before photo of what the room had looked like since 2018. I'm calling it theoretical because this is what it looked like on an ideal day.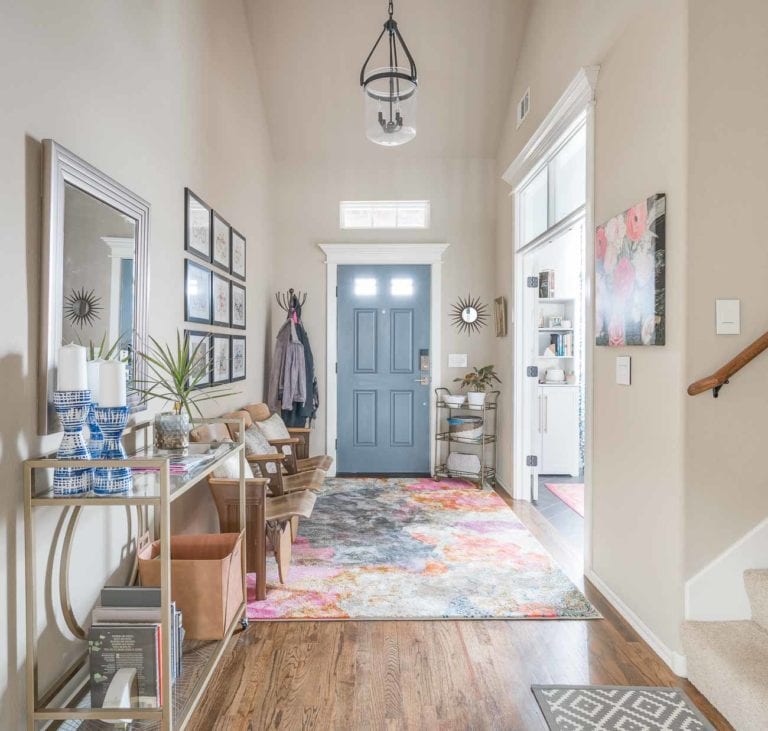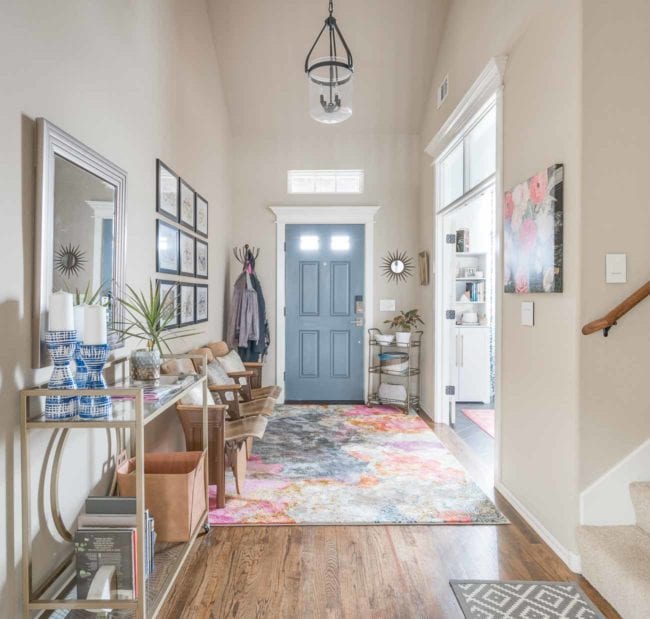 The reality was that things would slowly accumulate on the top of the table/cart and it was an adventure digging through all the coats we managed to balance on the coat rack. The tiered cart by the door had been moved to the dining room as a bar car, so that corner was empty.

Since the space had been relatively untouched for three years, it was time for a spruce up both in terms of style and in function. We kept many of the core pieces, like gold cart, rug, vintage auditorium seats, bicycle art we bought from the artist, and door color (Sherwin-Williams Web Gray). The rug doesn't appear to be available any longer, but this one is similar.

My first target for replacement was the bulky silver mirror over the gold cart. The mirror was purchased to go over a different table years ago, and it had never been quite right since we switched to using the larger entry table. Instead, I found a slim round mirror that feels so much better!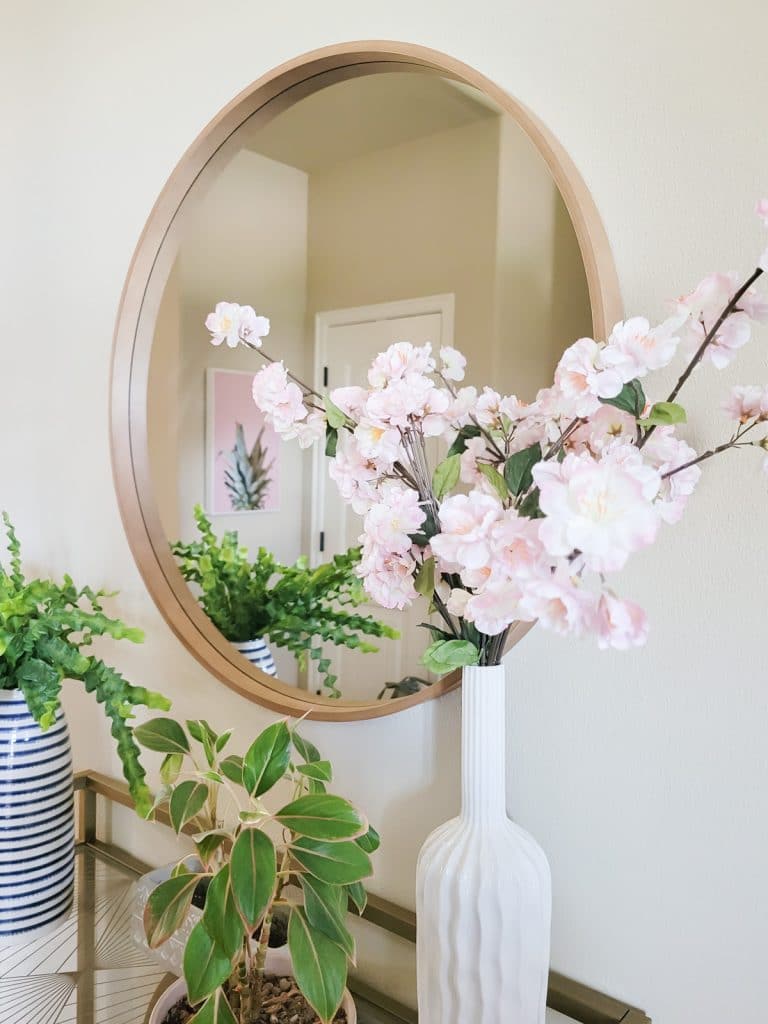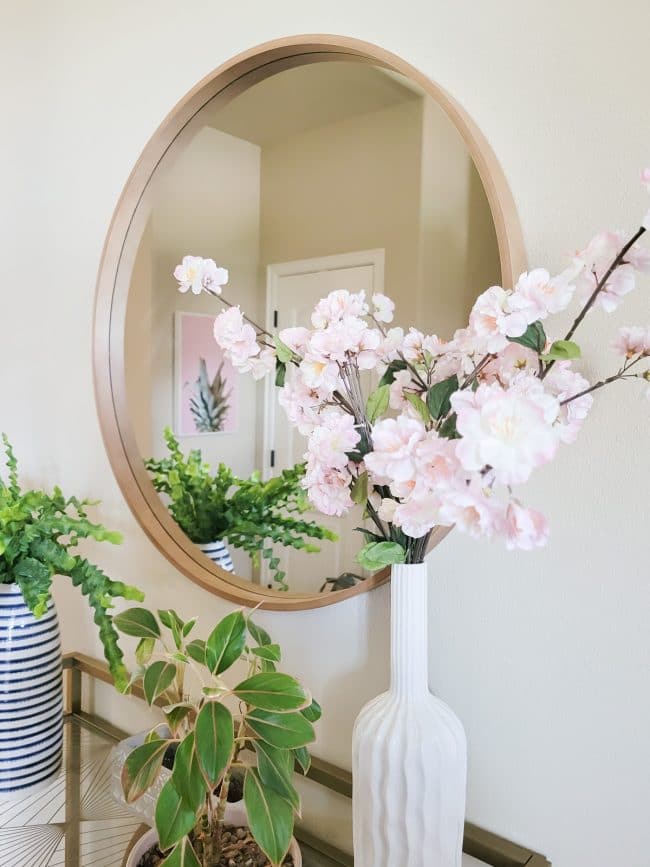 On the bottom shelf of the entry table, I prioritized more function. Luckily, I had two grey bins from the bedroom that fit PERFECTLY across the bottom. Instead of jamming the bins full of things to start, we're living with the free space and use it to tuck away items as needed. For example, right now, one is full of library books that need to be returned instead of them cluttering the top shelf. I've also used them for things that needed to be returned to the store.

Moving down that wall, I also swapped out the throw pillows. The blue pillows are almost the exact color as our front door, and have the same repeating diamond pattern that we use regularly. To break them up, I found a white pillow with a similar cozy feel, but a simple textured stripe design.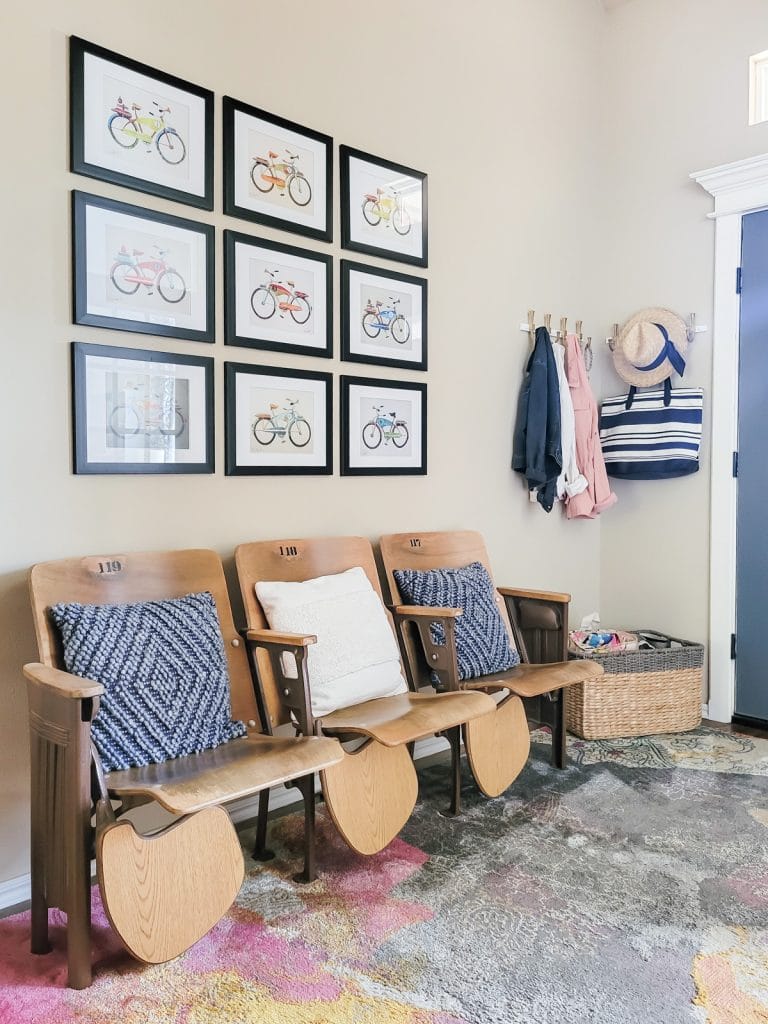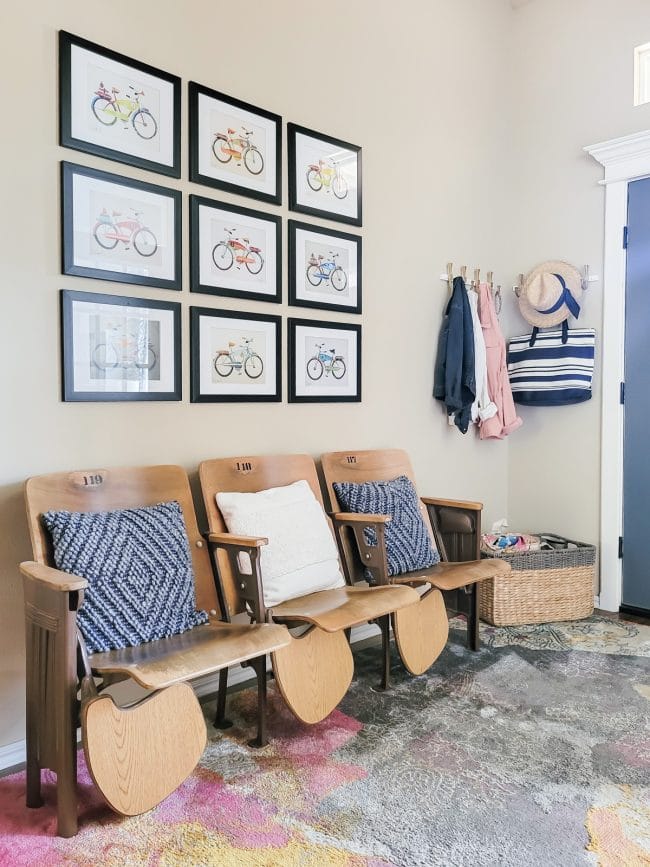 Next, we mounted simple coat hooks in the corner to replace the freestanding coat rack. Now it feels like the corner can breathe and it's easier to find what we need. Hallelujah! I'll swap out the pool bag and hat for more coats when we leave 100 degree days behind for the year.

Under the coat hooks, I picked up a giant basket that will have different uses seasonally. In summer, it's great for anything we need to go to the neighborhood pool and flip-flops to wear when I get the mail or take out the trash. In other seasons, it will most likely hold rain and snow boots.

On the other side of the door, I found the cutest leather-look wall organizer with hooks on the bottom. I assume the hooks were designed for keys, which would work great, but I use them for sunglasses instead. Having ONE place to store my sunglasses when I get home has saved me so much time and frustration.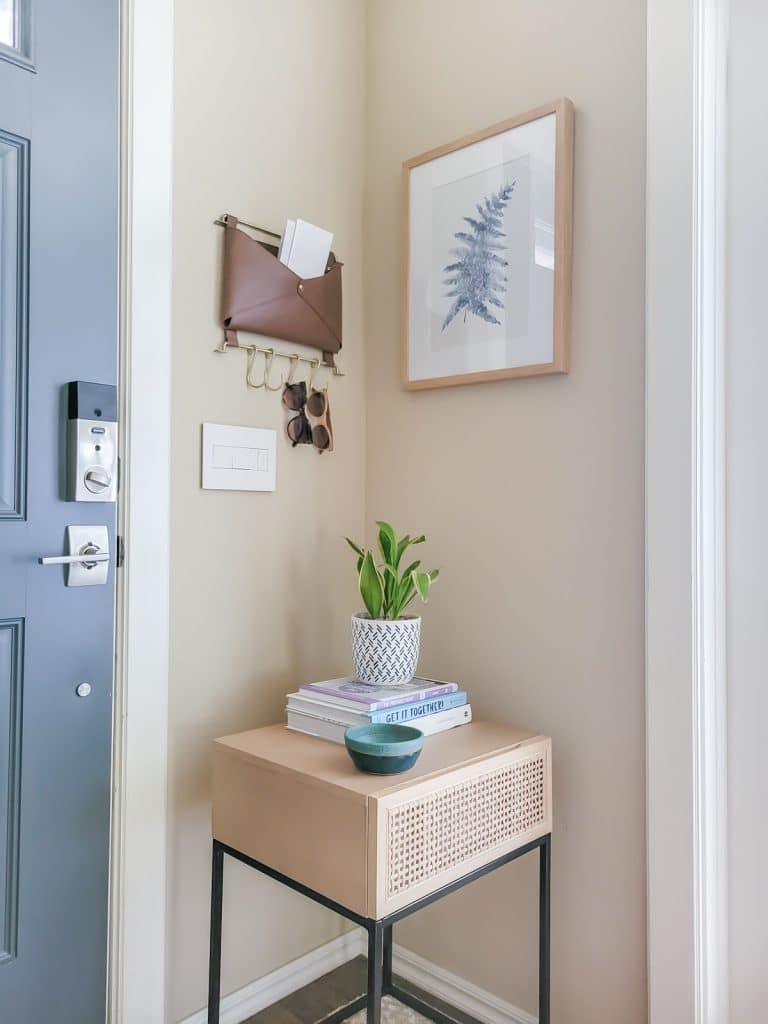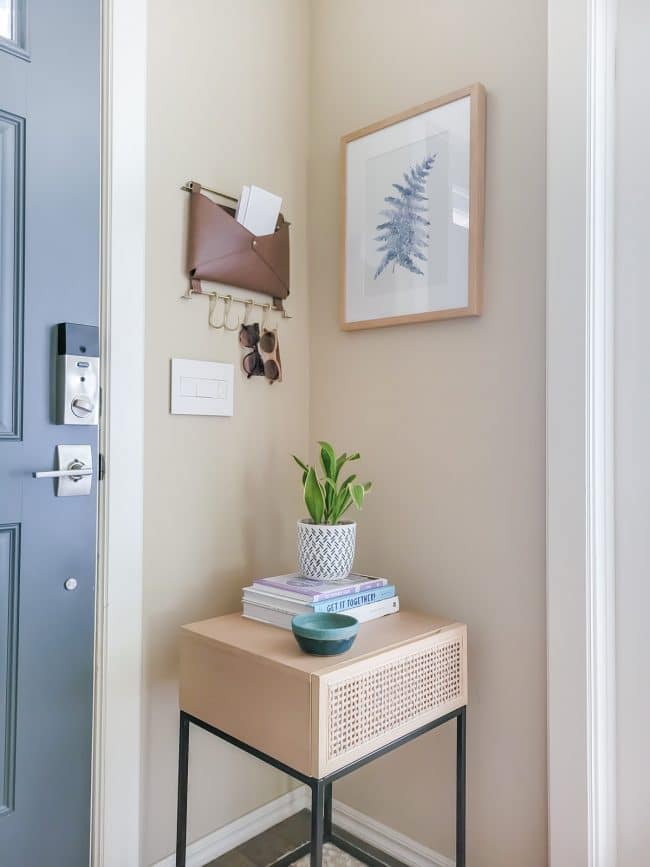 Before we added this organizer, every time I left the house, I'd have to do a loop checking my purse, the kitchen, the living room end table, my nightstand, the bathroom, and the closet to figure out where I left my sunglasses. And that was just to find ONE pair. I could never make an actual decision about which pair to wear because I just went with whatever I found first.
I've tried putting them in other designated places before, but nothing stuck. It's been a couple of months and the hooks are still working! The mail pocket will be used for outgoing mail since we have another method for incoming mail.
Under the new wall organizer, I added a small end table with a drawer. The hidden storage the drawer provides is great for other small items we may need to grab on our way out the door, like gift cards, chapstick, clean masks, etc. I need to order more of the same drawer organizers I used in our bathroom to keep the drawer tidy. I had a less expensive brand delivered and they were terrible. Several were broken because they were so thin and brittle – avoid the 25 pack Seseno drawer organizer on Amazon!

The final little swap was the artwork on both sides of my office door. I wanted something a bit lighter and more cohesive with the room and some basic blue leaf prints in light wood frames work well with everything else.

Here's what it all looks like together.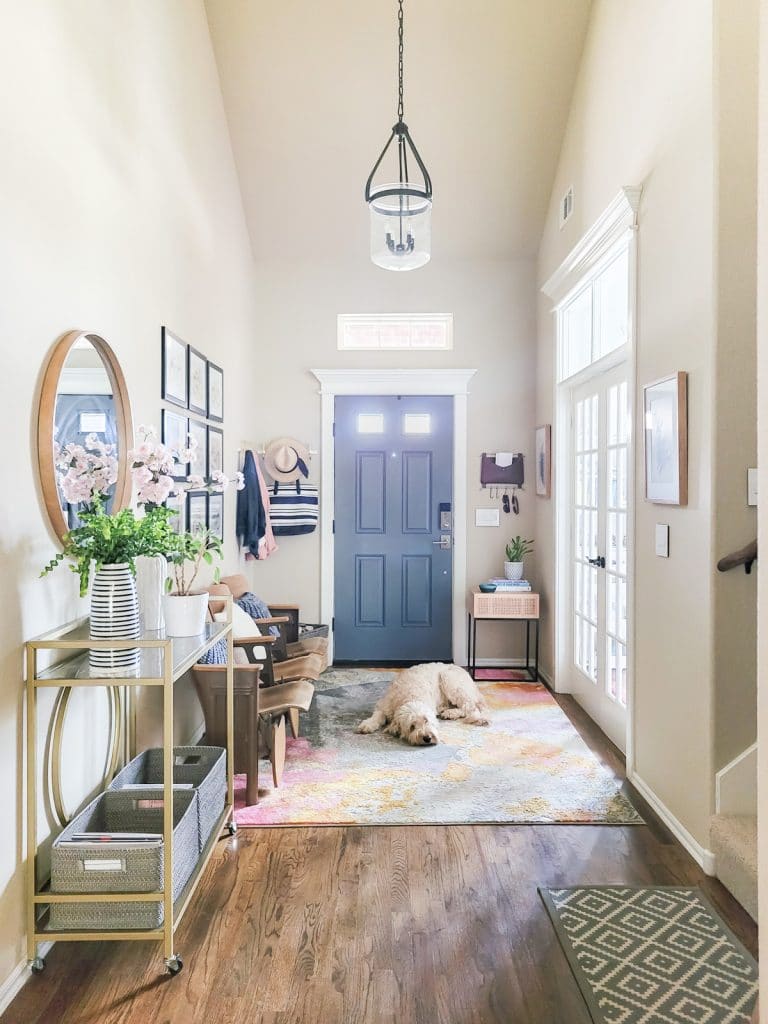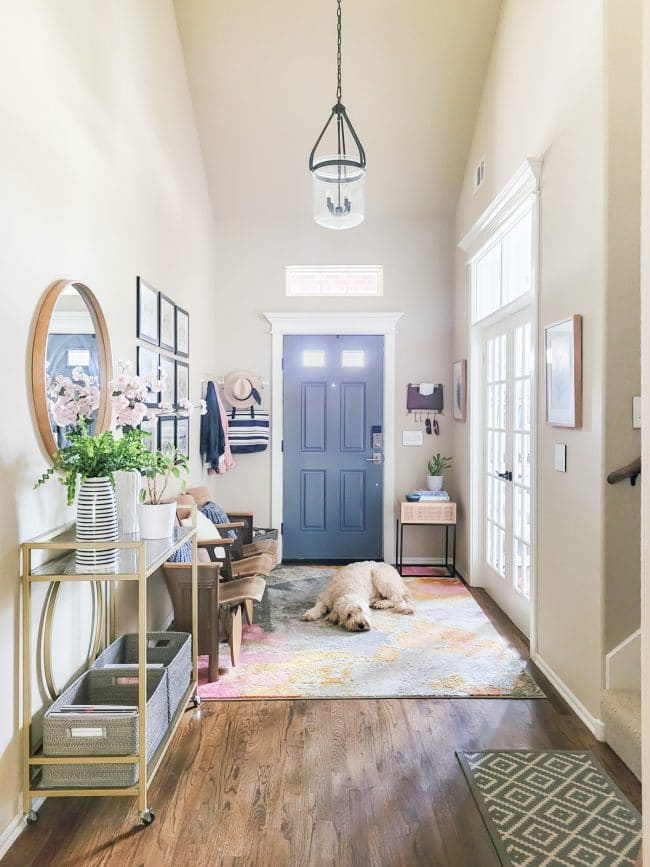 It's not a major change but feels less cluttered without the freestanding coat rack. And most importantly, the little organization swaps make it so much easier to keep tidy! Clearly, Gus approves too!