Over the years, I've narrowed down the best home organization products through a lot of trial and error. Last month, I sent a box of clear drawer organizers back because I strayed from my favorites to see if something cheaper would work. Unfortunately, the less expensive versions were so thin and brittle that several were already cracked when I opened the box. I could tell immediately they wouldn't last.

That experience made me realize it would be worth sharing my go-to list of organizing products that haven't let me down. I love helping others learn from my mistakes! Of course, the best aren't necessarily the most expensive. Some items on the list are very affordable. But in other cases, like the clear drawer organizers, it's worth paying a little more for something that will last a lot longer.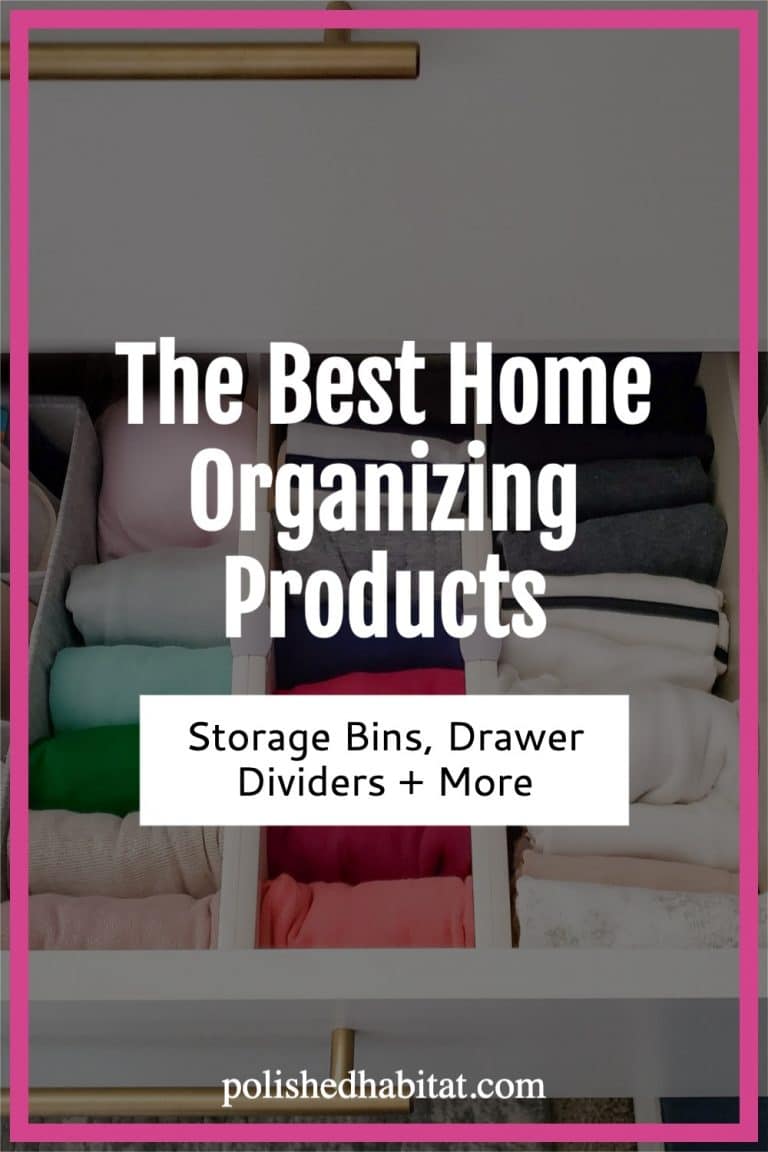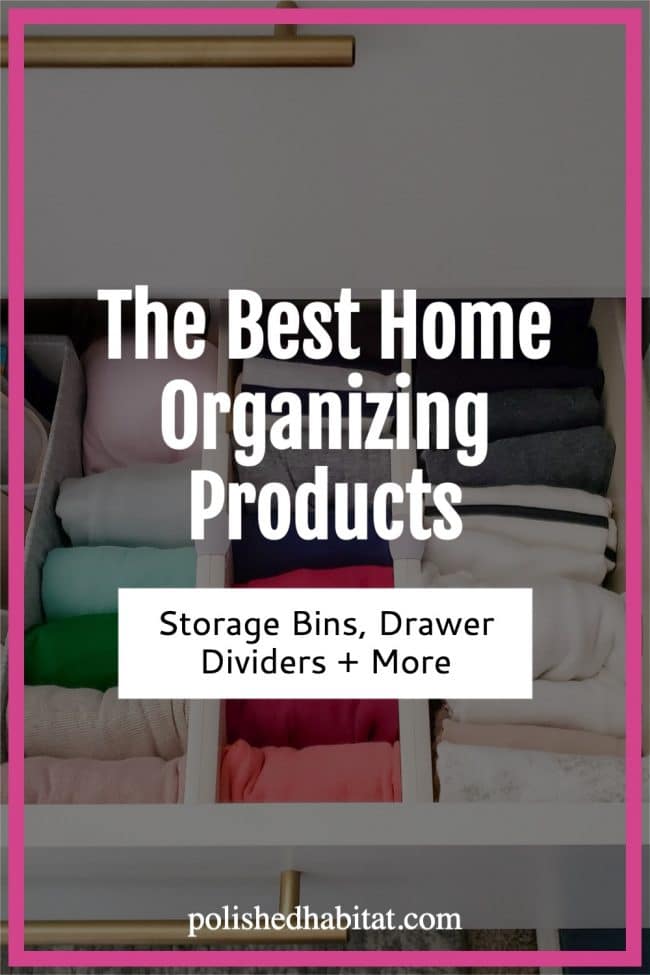 That said, I hesitated writing this post. I hate the stereotype that you have to spend endless money to be organized. And writing one post full of the best products we've found over the years supports that stereotype on the surface. But, you can absolutely be organized without these additional tools. When we originally organized the pantry, the containers were from Dollar Tree. They were a big help and we used them for years. I really believe you can improve your organization on any budget.

Don't read this thinking you MUST use these examples or you'll never be organized. Instead, I want to highlight the things that add the most value and function in the long run because they're the optimal solutions and well-made. They're the products that make sense to save for as needed. My natural instinct is to get the best deal. While that has been very beneficial in the past, there's also something to be said for getting the best tool for the job. Within reason, of course!
Now that I've probably accidentally terrified you into thinking I'm recommending thousand-dollar gold-plated drawer organizers, let's dig into the list. I promise it's not that bad, I just really, really hate people thinking they can't make organizing progress without perfection and didn't want to accidentally perpetuate that rumor!
Best Bathroom Drawer Organizers
Since I mentioned the terrible drawer organizers I received in the intro, let's start with the best clear drawer organizers I've found. The STORi brand is the most sturdy I've tried and also a bit deeper, using the full height of our drawers. The acrylic is much thicker, and it seems like they'll last forever. I linked to their variety pack, but you can also order the sizes individually if needed.

It's been almost two years since I organized all our bathroom drawers. The hair accessory drawer remains my favorite. Being able to mix and match the sizes meant being able to custom design a layout that worked for everything from bobby pins to large brushes.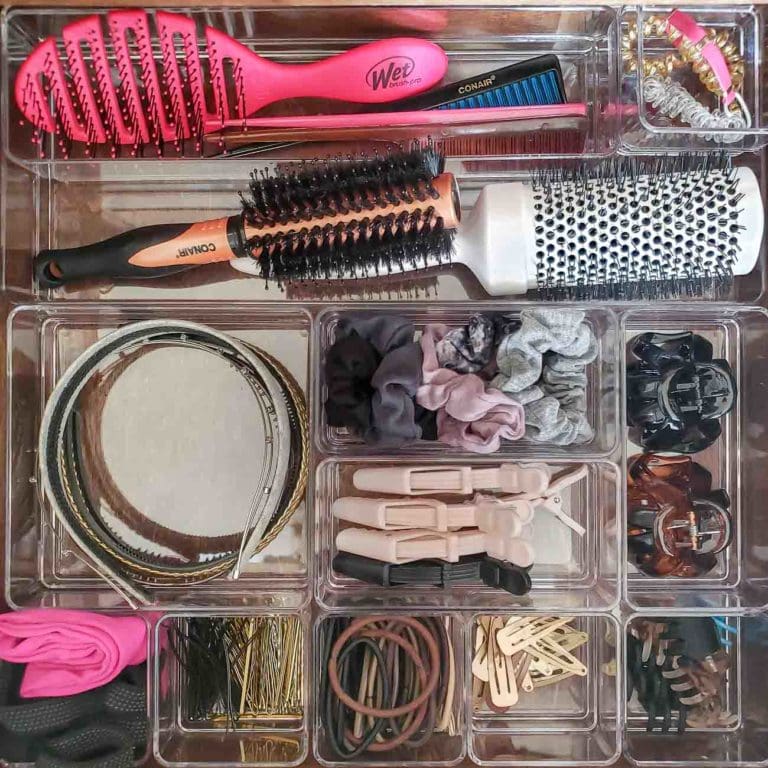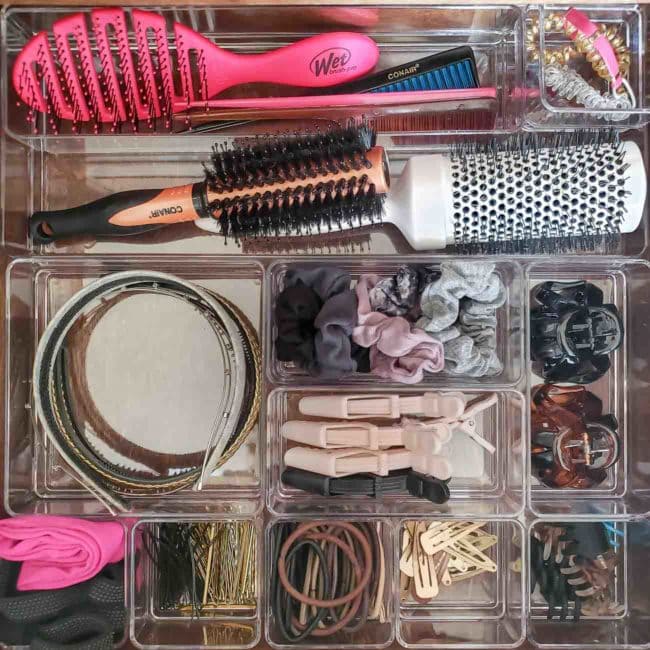 As soon as I measure my desk drawers and new accent table in the entryway, I'll be ordering more of these perfect clear drawer organizers!

Clear Shelf Storage Bins
While we're in the bathroom, the other clear containers I'll reorder again and again are BINO brand. They're also open containers, but larger for shelves or even deep drawers. Like the STORi brand, they are more sturdy than others I've tried. That's important because I often pull them forward off the closet shelf to access things in the back. Unlike other brands that waste shelf space, these come in a 14.5″ long option that is perfect for 15″ closet shelves.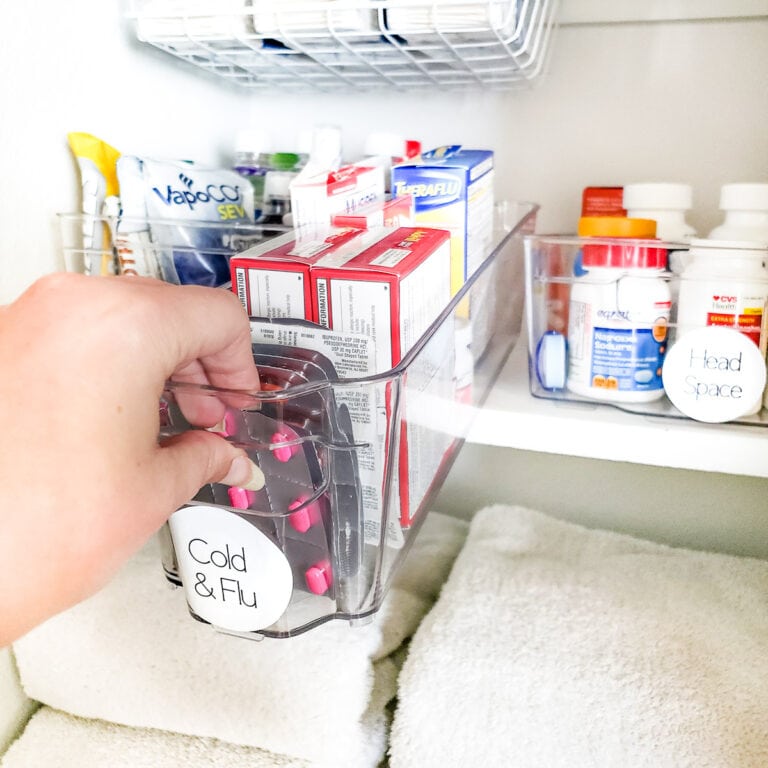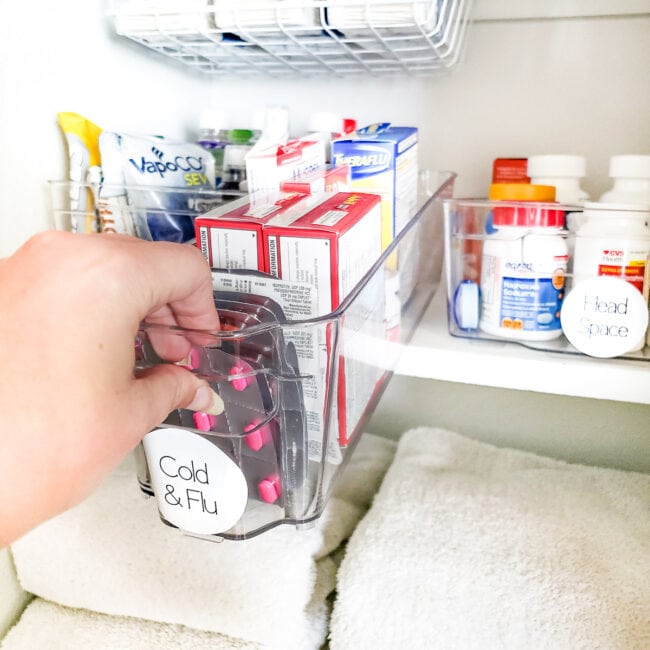 The other brand I like for acrylic bins is mDesign. Our pantry shelves aren't as deep as the bathroom, so I needed 10″ containers. They help keep everything orderly and easy to find on the bottom shelf while still being streamlined. While it seems like they wouldn't make that much difference since everything is still lined up on the shelf, they really do help it stay tidy.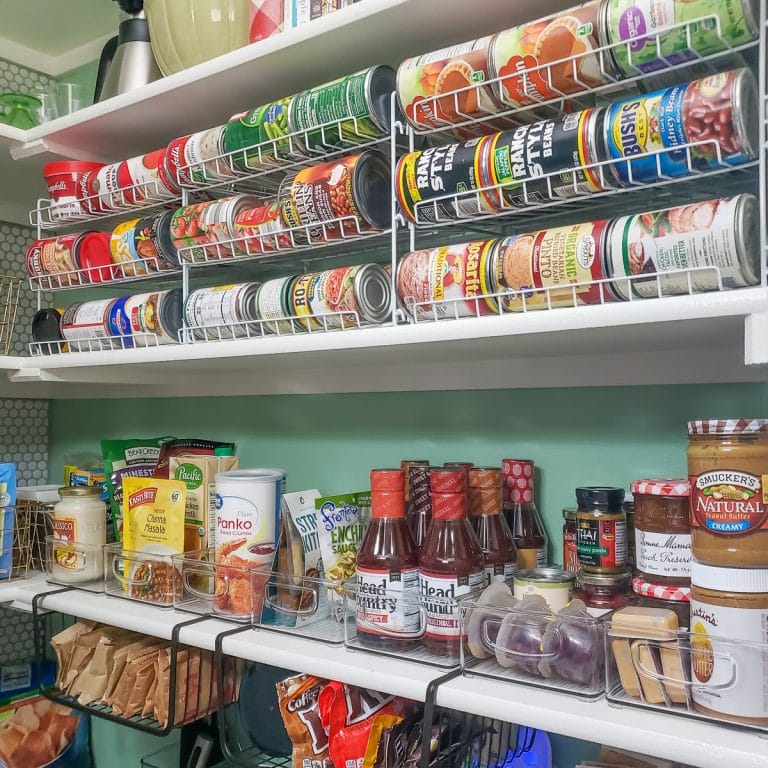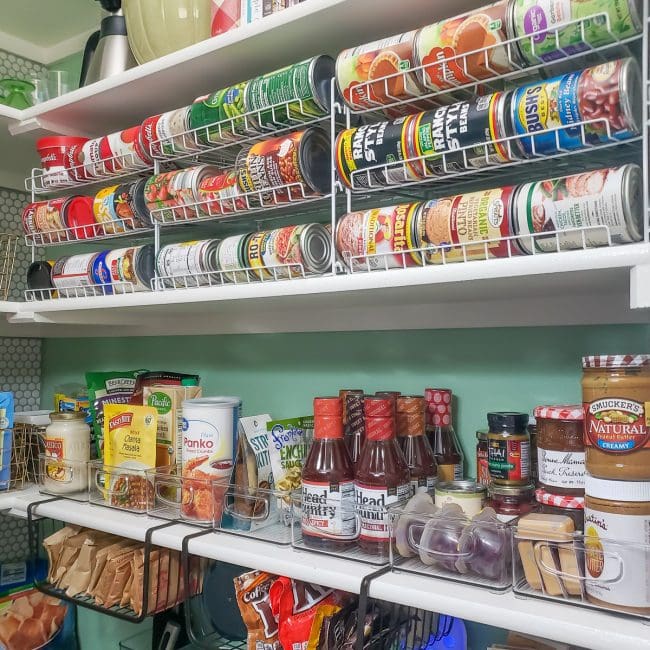 Clear Stackable Bins with Lids
All the bins I've shown so far are open, which I always recommend for any items used regularly. However, for anything that is being used less often, stackable containers are really nice.
In closets, I prefer them to be clear so I can see everything at a glance after opening the closet door. I really like the mDesign bins with lids, so I'm including them, but this is the one item on the list I think should be a bit less expensive. They're worth it when clear makes a big difference, like helping kids put their toys in the right bin, but I always consider whether another option could work as well based on the price.
Other Stackable Storage Bins with Lids
While I don't find the clear stackable bins above to be a great value, I'll make it up to you in this section.
The IKEA KUGGIS boxes with lids are fabulous, versatile, and a great deal! They come in a huge range of sizes and are designed to stack efficiently. We use the 7×10 ¼x3 ¼ " size in the kitchen and bathroom, but I'm going to be ordering more soon once I've landed on a layout for our upstairs linen closet. It's a total underutilized disaster, but has a ton of potential!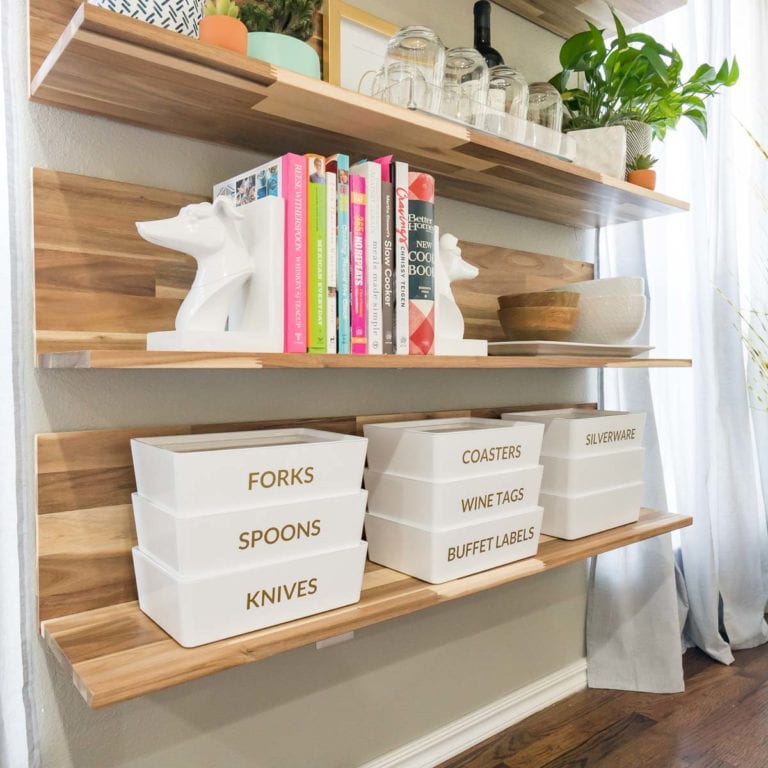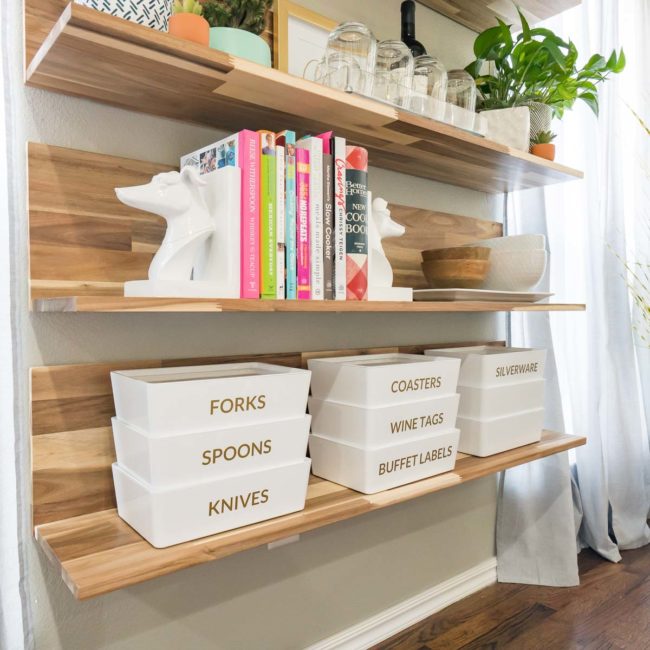 The other affordable stackable bins I love are photo boxes from Michaels. Be sure to catch them on sale, which happens pretty often! I've written two posts of things you can store in photo boxes – one for year-round and one for Christmas storage. The one that's been the biggest helper for me is still the cookie cutters & decorating supplies. I keep them on the very top shelf in the pantry, but it's easy to grab the stepladder and get what I need since they're labeled and contained.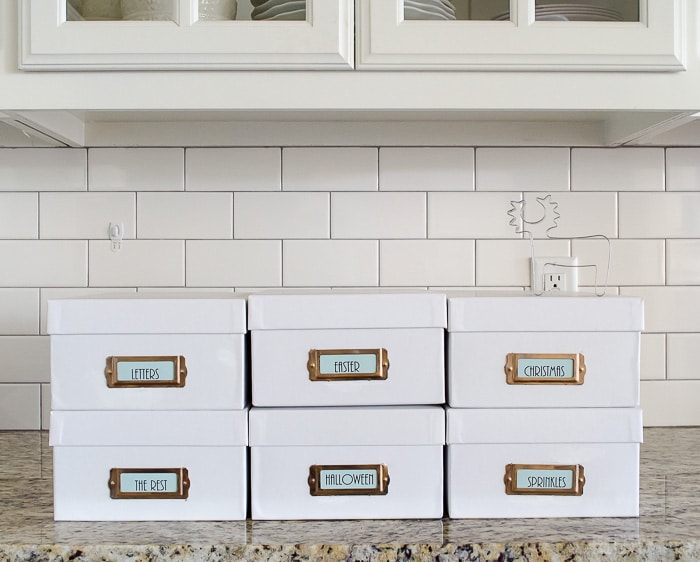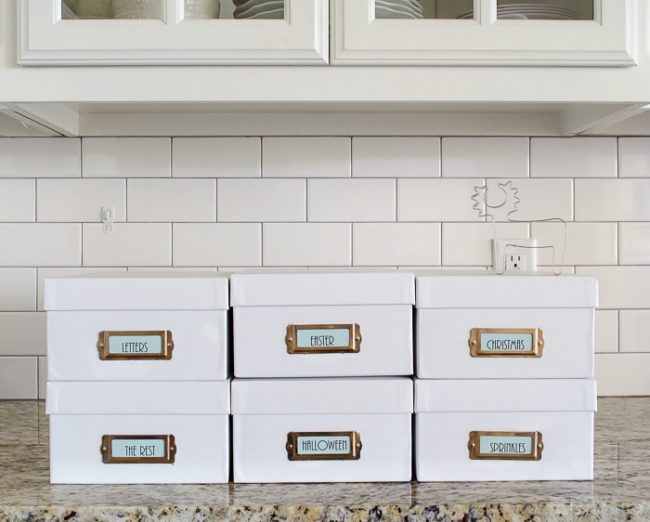 The Best Drawer Dividers
While adding bins to drawers is often the perfect solution, sometimes expandable dividers are a better choice. For example, if you need to store long kitchen utensils, standard drawer organizers are often too short, narrow, or just don't maximize the space well.
Expandable dividers have been the game-changer for us!

I choose these bamboo kitchen drawer dividers, and they're still just as strong two years later. In this case, I haven't tried any other brands to compare, but the six-pack has been a good value for us. It was enough to divide three drawers into three sections each, and now I'm so happy every time I open a drawer!
It's another thing that seems like it wouldn't make that much difference, but before, things would shift sideways, and you'd end up doing something similar to the pick-up sticks game trying to grab the tongs. Now, nothing gets tangled!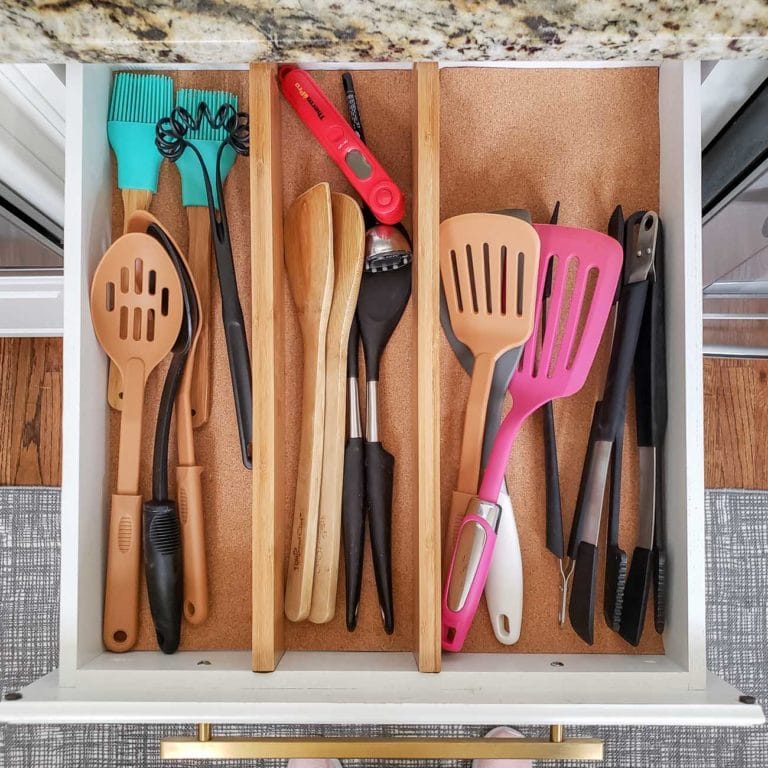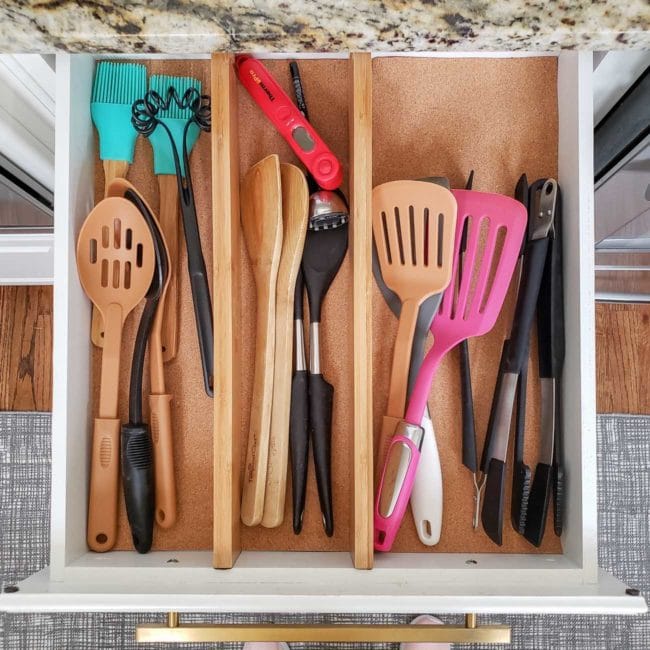 We also fell in love with these dresser drawer dividers. Decades of messy clothing drawers were solved so quickly! One important note is that the product listing references kitchens and utensils, but these particular dividers are too tall for any of our kitchen drawers. On the flip side, that height is beneficial when it comes to separating clothing. At a minimum, I recommend them for smaller items like workout clothing and tank tops. But I don't know how I lived without them in every drawer, from pajamas to denim.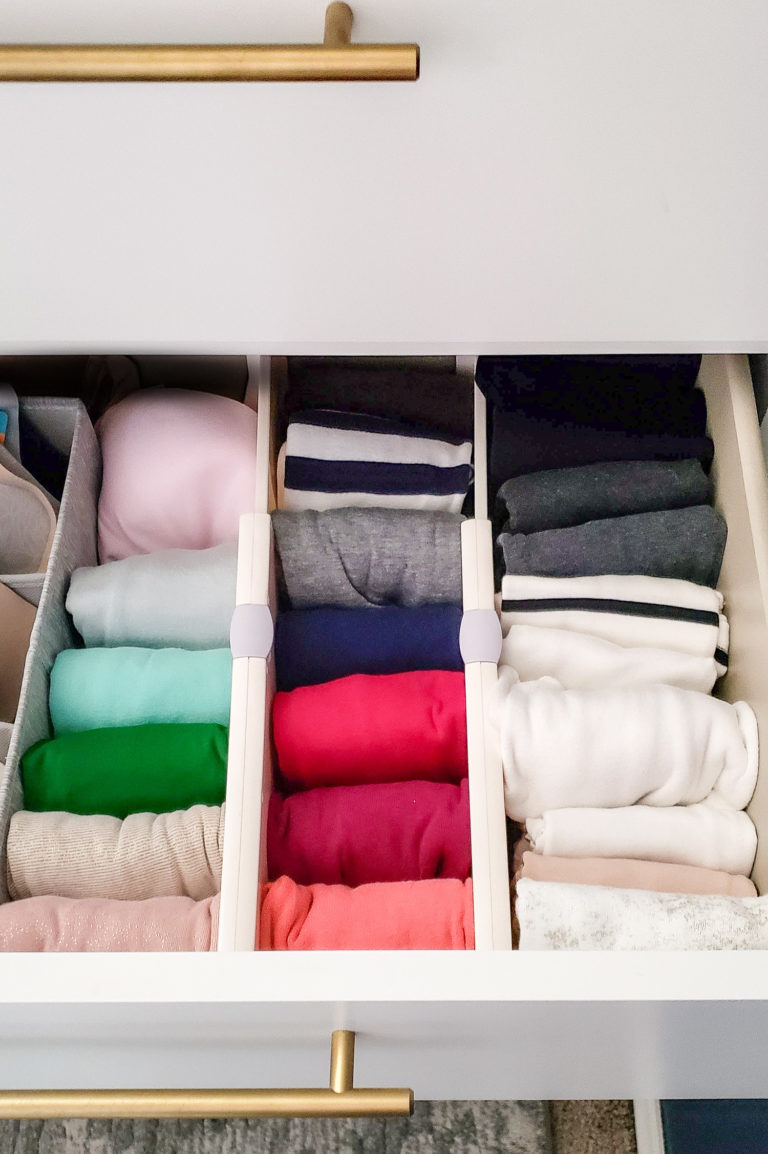 Best Over the Door Organizer
For years, I resisted joining the Container Store Elfa Door Rack club because they felt expensive. I was missing out!

For under $150 and in under 15 minutes, I can make functional, easy to access, brand new storage space appear in any room of our house. We now have them in our master bathroom closet, under the stair closet, and in the cleaning closet. Instead of having things tucked away in bins, I can find anything I need quickly.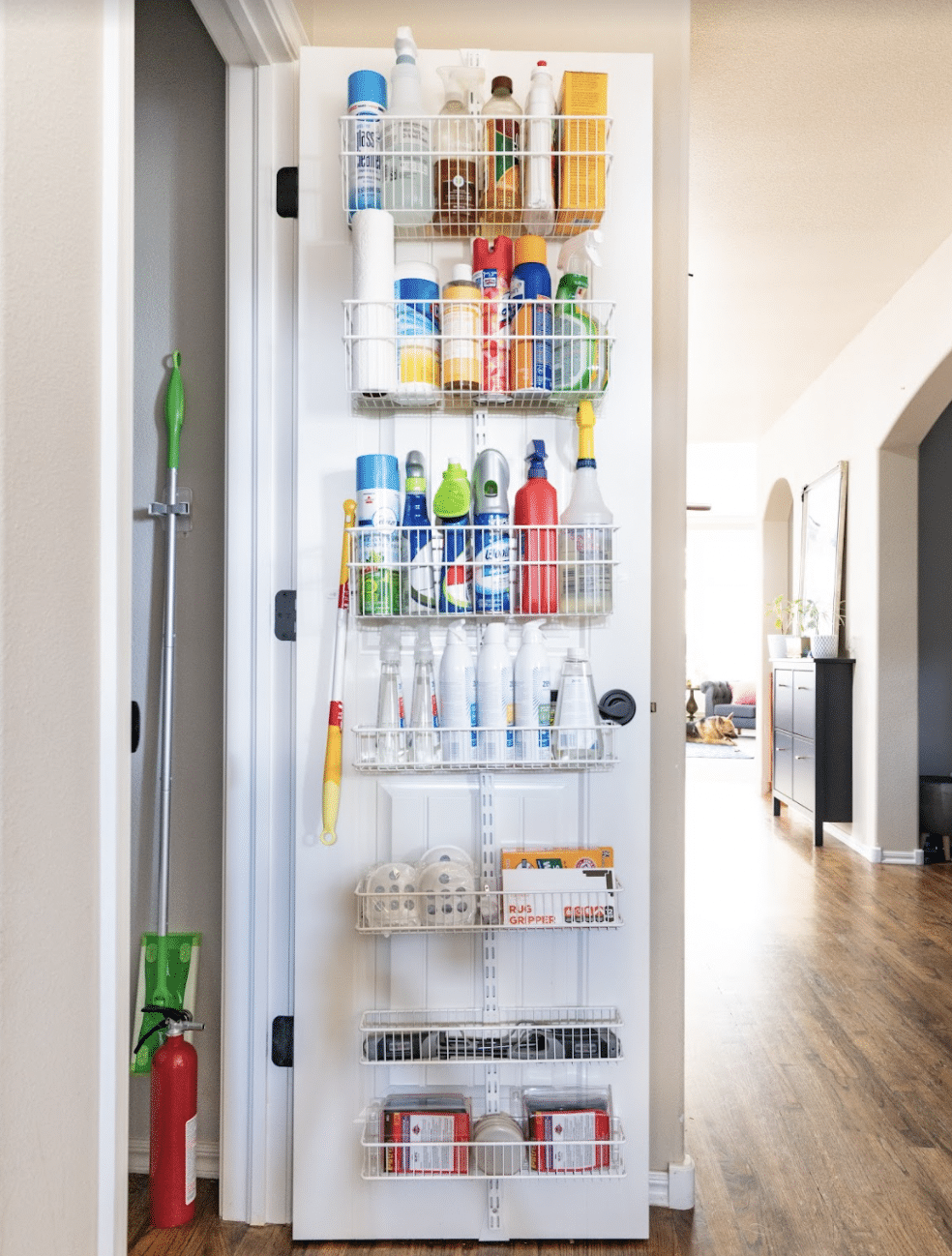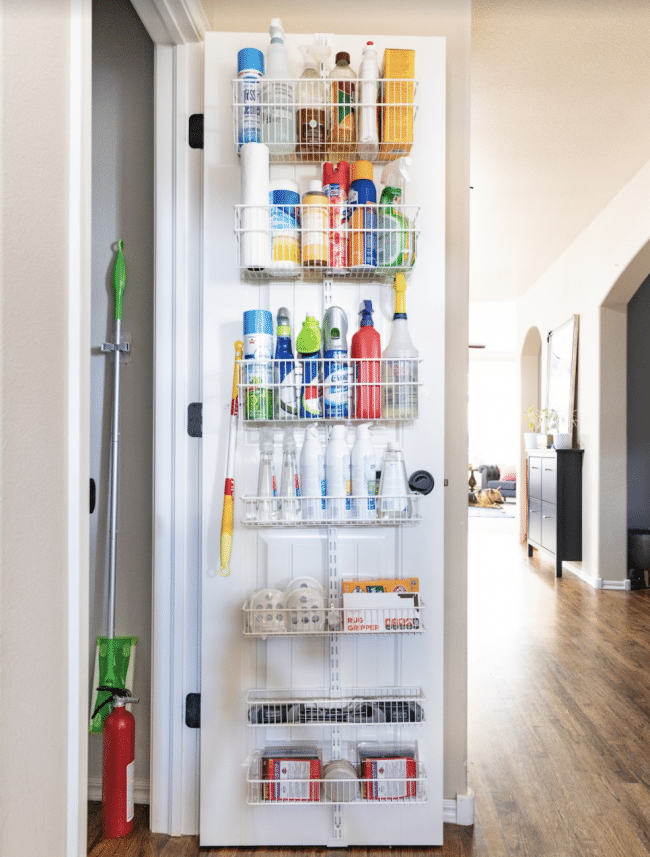 I like to reuse old storage bins within the Elfa racks to keep each basket organized. For example, I used old, inexpensive plastic drawer organizers to hold bandaids of different sizes. While the containers weren't optimal in the drawer, they're perfect for this job!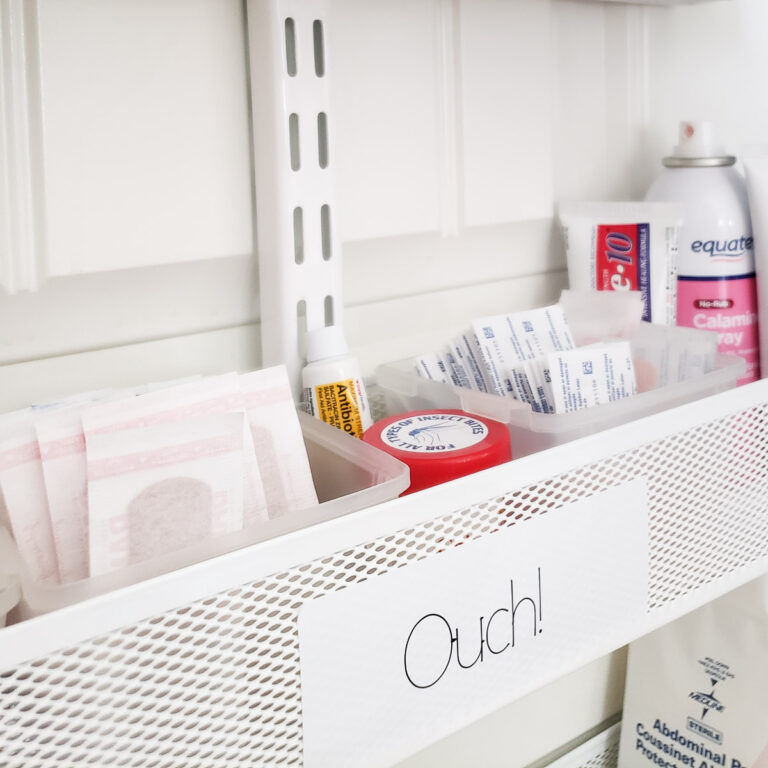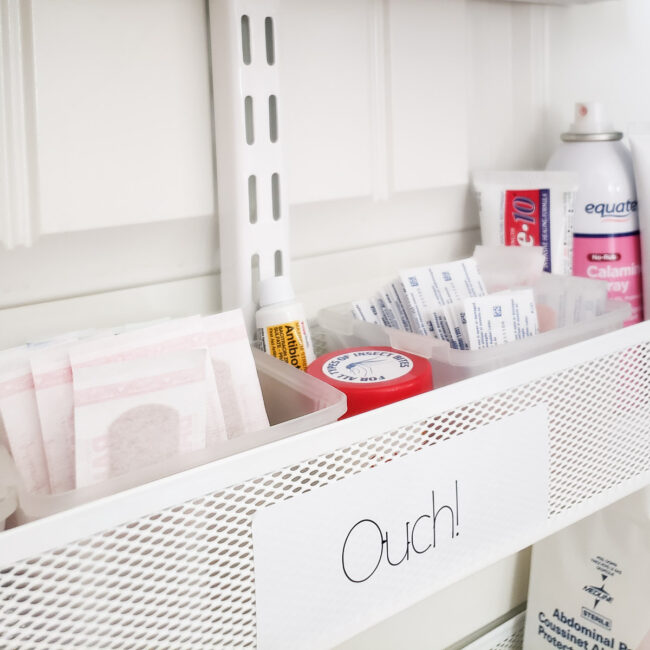 However, don't use sticker labels like I tried in the photo above. I hoped for the best, but they peel off. I ordered some Elfa labels to replace them. This reminds me that I need to go swap the labels. 🙂

So those are my favorite home organization products!
We also use other specific items like my favorite baking containers and candle storage organizer, but I wanted to stick with the versatile items that could help every home today. I hope you find something that makes every day easier for your house!