Welcome to the new Polished Habitat Decorating Method series! Today we're going over the important first and most important step when decorating. Too many people skip right over this one and end up in rooms that are pretty, but still don't feel right.
I've had some great conversations with readers lately that spurred a new monthly series that will take us through the decorating process over the next few months. I hope that by the end, you'll feel confident and empowered to create a space that is perfect for you and your family.
As I outlined my process to plan this series, I realized that the very first two steps are VERY easy to skip, but more important than anything else along the way.
In fact, getting the first two right will make everything else easier AND I'm pretty confident you'll be happier with the finished space.
Today we're tackling #1!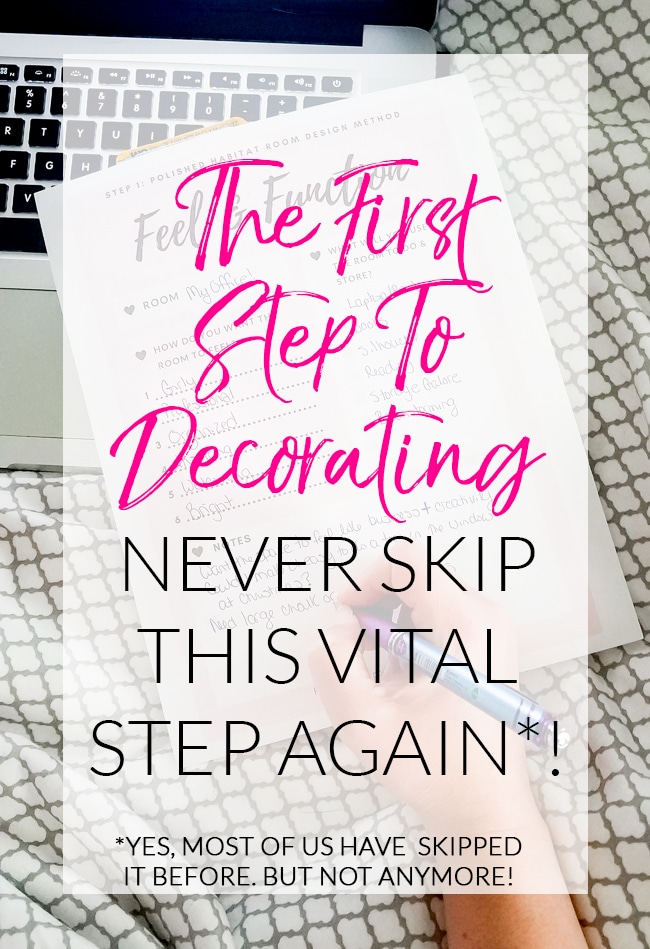 As we go through the exercise, I want to really emphasize that there are NO wrong answers.
This is about YOUR home and how you want it to feel & function. Notice that I didn't say LOOK, which is where you might have started your decorating before.
And we'll absolutely get there.
But I deeply believe that if we create the most beautiful magazine-worthy space in the world, with the perfect paint colors, it's still not going to bring us much joy if it doesn't function and feel like home to us.
Decorating Step 1: The Two Essential Lists
That's right, step one doesn't require anything more than a pencil and notebook! Grab them and cozy into a chair with your favorite music and beverage. Try to minimize distractions and then dig in, writing all your answers in your notebook.
Or to make this process even easier and a bit more fun, I created a free worksheet to go along with the post. Just fill out the box below and I'll send it right to your email address within a few minutes!
You might find that you brainstorm better skipping around, which is totally normal.
Don't let yourself get hung up on one question for too long. Move to the next one and then come back.
List #1: Feeling
What do YOU want to feel when you walk into the room?
(Energized, relaxed, airy/light, comforting/cocooned, cool/streamlined, warm/homey, formal or informal etc)
Is the space somewhere you'll have company? How do you want guests to feel when they enter the space?
Think about the favorite place you've ever been, whether it's a room in your house, someone else's, or an entire city. List out a few reasons you loved it so much.
Flip that one around now and think of a time you've been uncomfortable somewhere. What about the room made you want to run away?
(Overcrowded/maximalist, too minimalist/cold, everything looked breakable, too colorful or too neutral)
Don't edit yourself or worry if the words contradict each other, that can still work (I'll show you an example below).
And remember, there are no right and wrong answers here. It's not about creating a room that would receive perfect grades in a school of design, it's about creating a space you love to come to.
List #2 : Function
What are all the ways you use the room now?
(Reading, TV, Exercise DVDs, Book Storage, Entertaining, Etc)
Are there things in the room now that would be a better fit in another room?
Are there things you wish the room was more useful for?
(You'd read there if you can a cozy corner with a chair and lamp. Or you don't mind that the kids play in the space, but you have nowhere to store the toys.)
What do you need to store in the room?
How much seating do you need?
Don't forget to consider what other family members need in the space as well. If it's the only spot the kids play video games, you need to plan for that upfront so the console doesn't end up being an afterthought messing up your pretty space.
I know many of us learn better with visual examples, so I thought we could break down a couple of the spaces in my house to show you what I'm talking about.
My feeling words for the office were:
Girly
Professional
Organized
Inspiring
Welcoming
Bright
My functional needs for the office were:
Desk with reachable storage for important files & easy access to the printer/scanner
View out the front window
Book Storage
Place for Reading
Additional seating beyond the desk chair
Tons of easily accessible storage for books, personal & business files, Silhouette machine, supplies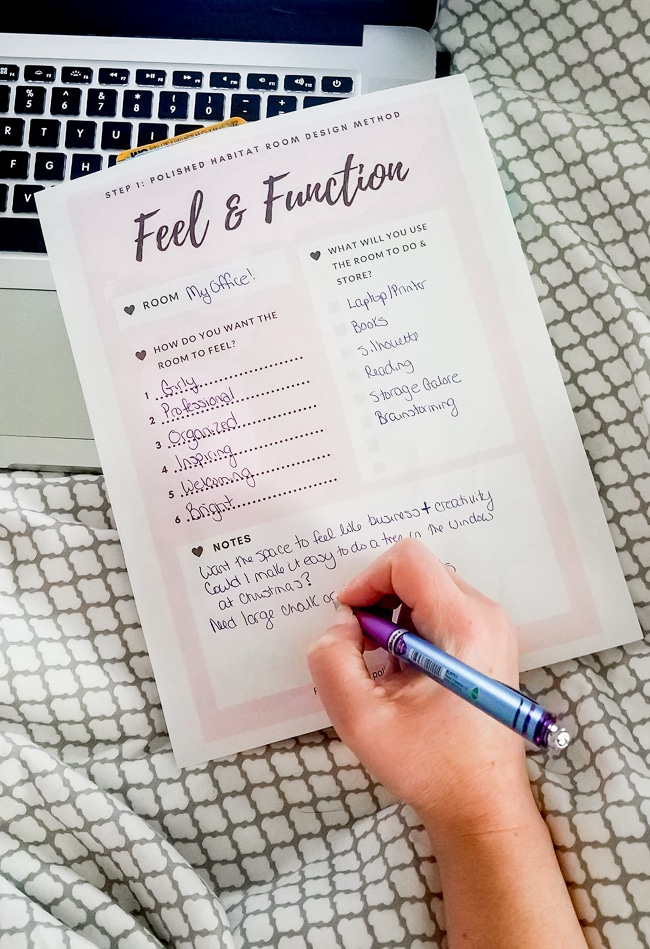 Starting with those feelings and needs gave me the first half of a treasure map that showed me how to create the perfect office environment for myself.
We'll talk about the 2nd half of the treasure map in the next installment, but here's where I ended up.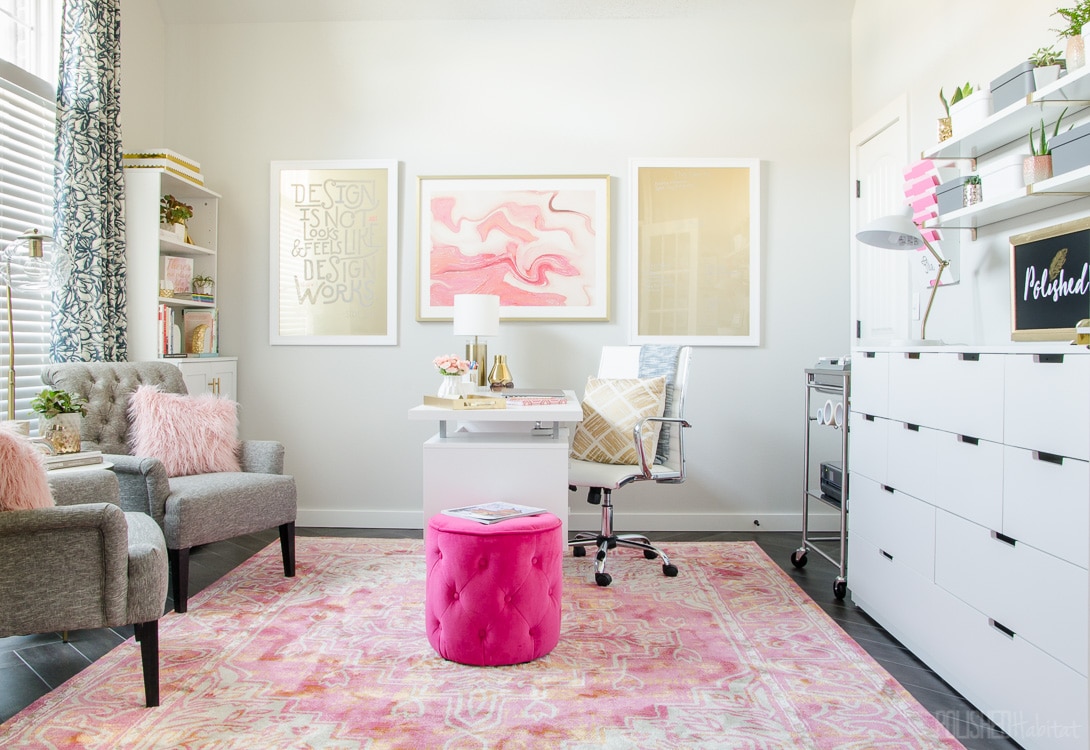 If you look back at my list of feelings and functions, I was able to get everything I dreamed of within our budget. The list gave me priorities for spending because I knew what had to come first, and then the rest could be worked around the priorities.
Also, my first sketches of the room before I made my lists didn't have extra seating. I LOVE that when I'm still in the office working when Corey comes home, he has a comfortable place to come sit and chat.
The feeling list also gave me permission to make a bold choice with the pink rug. I knew I wanted the space to feel girly because it had always been more masculine (see the office before photos here) . If I didn't have the word girly in my head, I never would have had the courage to order the rug. And it totally makes the room!
Feeling Words:
Bright/Airy
Moody
Uptown
Downtown
Glam
Comfortable/Cozy
Chic
Unique/Bold
Functional Needs for the Bedroom:
Reading Corner
Bedside Lighting
Stylish TV Solution (We hadn't had a TV in the bedroom in the 3 prior years, but voted to bring it back
Getting the feel of an entire new room without a huge budget
The bedroom didn't have as many functional needs as the office. The layout and most furniture was 100% functional, but the decor was terrible/non-existent which gave us no pride in the room, which meant it was often messy.
And the direction I wanted to go was ALL over the place. As you saw, the feeling words were often in total contradiction with each other. I spend weeks and weeks debating styles and trying to decide if I should go light, airy, and bright or dark, cozy, and moody.
I finally realized I would be most happy if I could find a way to at least nod to ALL of those. More about the turning point that helped me accomplish that will be in the step 2 post, but here's how it turned out.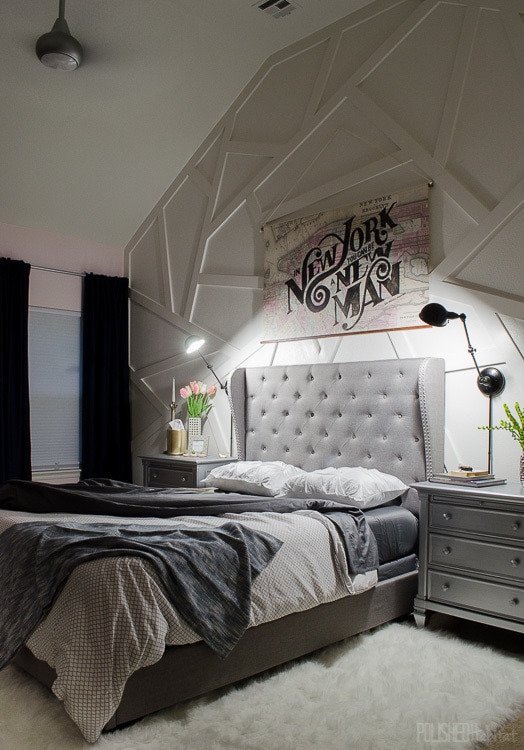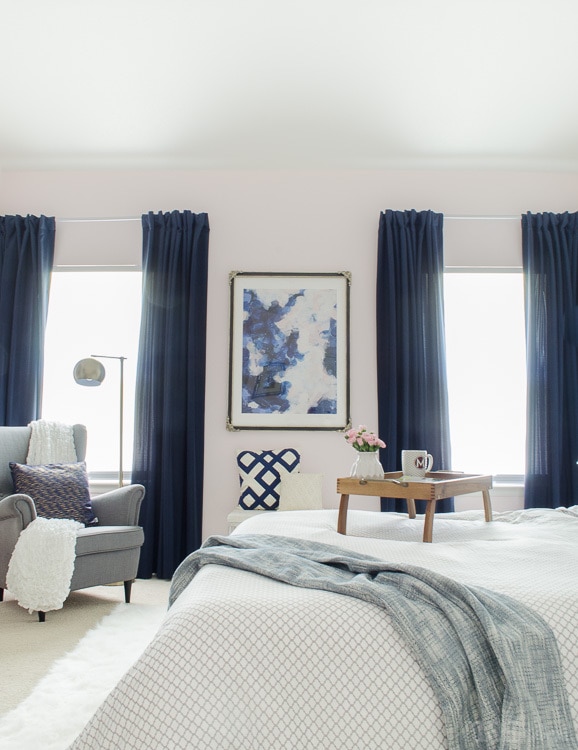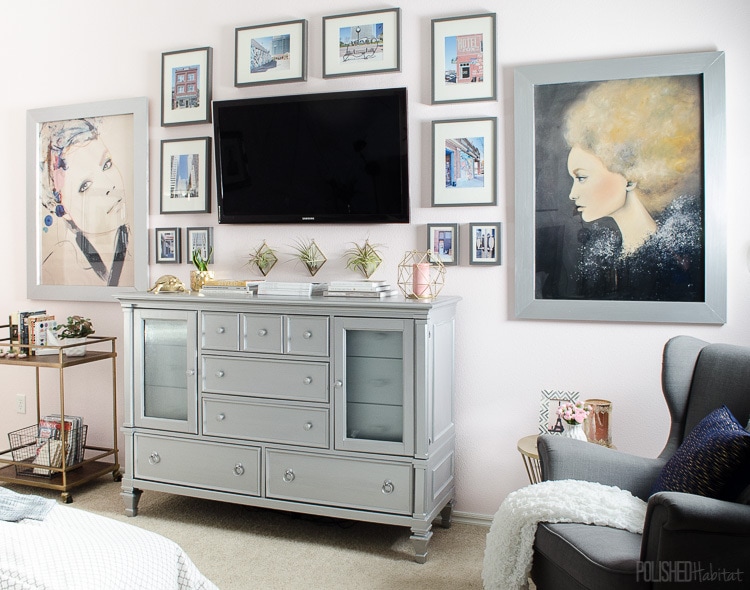 Like the office, if you go back to my list, I think you'll find aspects of all the random words. Combining them together helped us create a truly unique space.
If you didn't do this already, make sure you enter your email address right below to get your free worksheet.
Even if you don't have any room makeovers planned now, you can print a copy for each room in the house to guide any new purchases.
You know those things you can't resist at Target when you're supposed to be grocery shopping?
Having this worksheet complete for each room in the house can help you decide if the object meets the requirements for any of your spaces. Educated impulse buying decisions usually turn out way better than random impulse purchases. 🙂
Let me know in the comments if this changes how you'll approach redecorating the future!